Software as a service (SaaS) is a business model in which customers pay to use software that is hosted on a remote computer. These days, the SaaS space is more crowded than ever, so finding, nurturing and converting qualified leads can be challenging – but not impossible.
Implementing an SEO strategy can help you with that challenge.
Should SaaS Companies Do SEO?
Search engine optimization is the most significant source of attracting users for SaaS companies – driving up to 68% of the organic traffic that they receive – yet only 11% of companies invest in content marketing. This means there's plenty of room for your SaaS business to rank at the top of the search results if you invest in content marketing as a tactic to boost your SEO.
SaaS companies such as Pepipost, PDF Pro and Maptive invested heavily in SEO and were able to increase organic traffic and generate leads:
Going by the numbers, it makes sense to say that SEO should be a priority for SaaS companies!
5 Reasons How SEO Benefits SaaS Organizations
1) Helps Spread the Word About Your SaaS Business
You might have built an exceptional product, but if no one knows about it, all your efforts are in vain. However, you can publicize your business and capture the attention of your target audience by leveraging SaaS-specific SEO strategies.
When you appear at the top of the search results, people are more likely to remember your brand – which increases word-of-mouth marketing, too. Think about it: when discussing CRMs with your colleagues or managers, how many times did the name Salesforce or HubSpot come up?
Apart from creating a great product, both these SaaS companies focus  heavily on SEO. Even people who don't yet need a CRM know about them!
Let's take HubSpot for instance. This SaaS company:

has acquired around 26,150,750 backlinks
has more than 350,000 subscribers to their blog (which features marketing, sales, agency and customer success content)
focuses on creating informational content and courses, which helps them increase their brand exposure
Related Content: Is Netflix a SaaS? 25 Examples of SaaS Companies that Are Rocking It
2) Drives Traffic to Your Website
SEO is one of the most scalable and predictable approaches to SaaS growth. Most people start with a Google or other search engine query when conducting product research, and that includes business owners looking for a SaaS product for their company.
But to get listed at the top of the organic search results (i.e. everything underneath those first few ads), you need help, and SEO can do that. Why do you need to get to the top of the SERPs so bad? Because the top result in search engine results pages gets 31.7% of all the clicks – which means attracting a huge chunk of traffic:
BuildFire, a California-based SaaS company, generated over 1 million page views of their product release in 12 months. All organic. They were able to do so by inviting influential writers within the industry to become key members of their blogging team. This helped them increase their reach.
SEO is an excellent way to acquire lots of traffic to your site, and if you rank #1 for a search term, you can predict how much traffic you will receive which, in turn, gives you an idea of how much you should continue to invest in SEO.
3) Gives You an Edge Over Your Competitors
People trust businesses that are displayed at the top of the search results, and SEO is one of the best ways to stay ahead of the competition. Your competitors are likely already taking steps to improve their rankings in the SERPs, because acquiring customers via inbound marketing is a long-term strategy that no SaaS company can afford to ignore.
Inbound marketing simply means organically attracting new potential customers to your product or service via such techniques as content marketing or search engine optimization. If you don't have an SEO strategy in place, your competitors will snag most of those potential customers.
Here's a tip: Learn how to defeat your main competitors in the organic search results by uncovering your competitors' major SEO strategies with this Beginner's Guide to Discovering the Competition's SEO Strategy.
Learn More:
4) Gets More People to Subscribe to Your Software
One UK-based SaaS company saw a 508% increase in conversions in 12 months after they implemented content marketing as part of their SEO strategy.
When potential customers search for solutions to problems (that your product solves), higher search engine rankings go a long way in influencing the decision of those potential buyers. People trust Google, so ranking at the top of the SERPs builds trust and credibility for your brand.
When it comes to organic content (like blog posts, videos, infographics) versus ads:
This means having great content on your website that educates your customers can influence their buying decisions.
Modern SEO is all about understanding user intent and preparing content accordingly. From brand awareness to nurturing prospects to converting them, content marketing and SEO can help you convert your prospects quickly and easily.
Learn More:
5) Reduces Dependance on Paid Advertisements
For many SaaS companies, paid advertisements can eat up your entire marketing budget.
While paid channels can be effective at the start, as your SaaS company grows, it'll be necessary to move from paid media to more long-term and cost-effective strategies like SEO.
With paid customer acquisition strategies, you stop generating traffic and leads as soon as you stop spending. But SEO keeps sending customers to your site even after you stop actively optimizing. Although it is not recommended to stop your SEO strategy, you can still be extremely flexible with your campaign budget, depending on your cashflow.
With SEO, you will see a clear pattern of growth in just a few months, and as your organic traffic increases, the marginal cost to acquire customers through SEO decreases.
Learn More: SaaS CAC: A Guide to Customer Acquisition Costs
Starting a SaaS SEO Campaign
Starting an SEO campaign for your SaaS business is easy if you know the right steps.
Keep in mind that you can always hire a digital marketing agency to help you with your SEO efforts at any point if you want to focus more on your product and less on marketing. And certainly when your company starts growing more rapidly, choosing to use experts to manage the organic presence of your product is the best thing to do.
Let's have a look at how you can start an SEO campaign for your SaaS business.
Learn More: 7 Advanced SEO Hacks for Your To-Do List in 2023
1) Define Your Target Market and Create Your Buyer Persona
In the SaaS industry, the customer base ranges from small businesses to large enterprises.
Regardless of your SaaS niche, it's essential to know the market you want to target: who your potential customers are, what they are looking for and how you can solve their problem. This is why you need a buyer persona for your SaaS customer:
Here's another, simpler, example: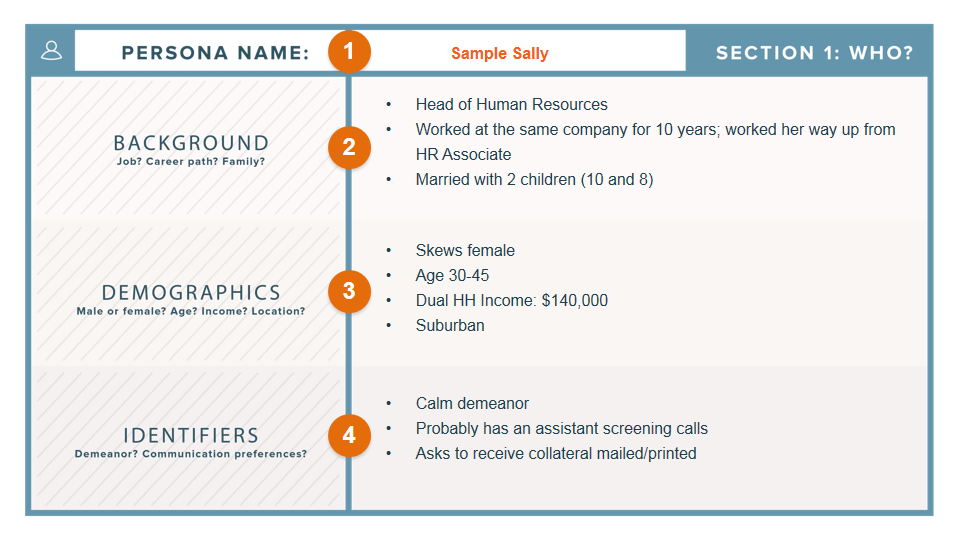 Defining your target audience also ensures that you will not miss out on any opportunities during keyword research and market expansion.
Keep in mind, as Price Intelligently points out, some of these common buyer persona problem areas: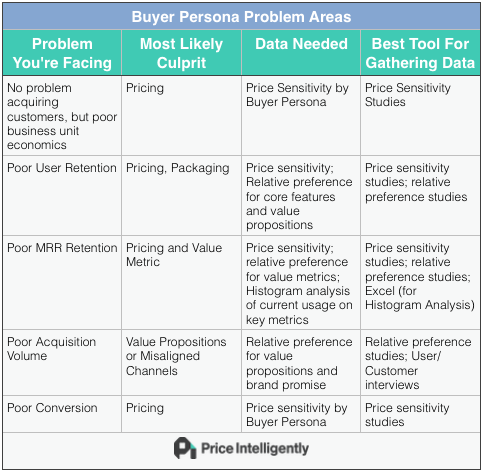 In order to really understand your target market, start by preparing a customer or buyer persona, then list the benefits of your products, and finally identify what your competitors are doing. When creating a buyer persona, begin by looking at your current customers' data. Google Analytics can help you with their demographics and interest reports.
Additionally, consider adding a pop-up to your website to survey your customers. Ask questions like which features are most important to them? What would they like as a feature to the existing product? What's their preferred channel of communication? And so on.
Bonus tip: Don't make them type everything; give them multiple choice questions to choose from.
As a SaaS company, you have a lot of touchpoints throughout the customer lifecycle. From marketing to sales to support, you interact with your customers from different angles. Each department can share some valuable insights about your customers, which can then be used to make the personas better.
Related Content: The Ultimate Guide to Developing Buyer Personas (with Templates!)
2) Focus on the Right Keywords
Now that you know your target market, you can start creating a list of both technical and non-technical keywords that your audience uses to search for your SaaS product.
Follow these techniques when doing your keyword research:
Think of all the words and phrases that both experts and novices might use to find your company or product.
Browse through Quora to look at what people in your industry are asking.
Check out "Searches related to…" keywords at the bottom of Google: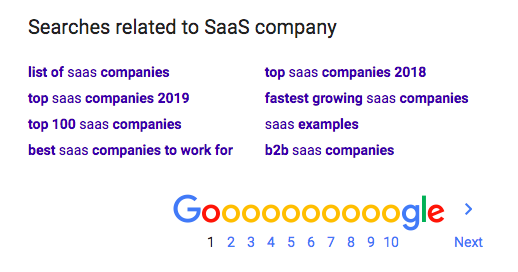 Use Google and YouTube auto-suggest. Simply enter your primary keyword/content topic into Google and YouTube. Note down the terms that are suggested: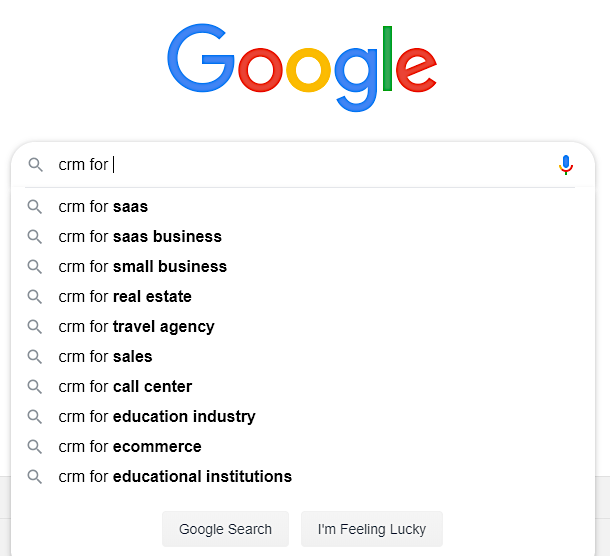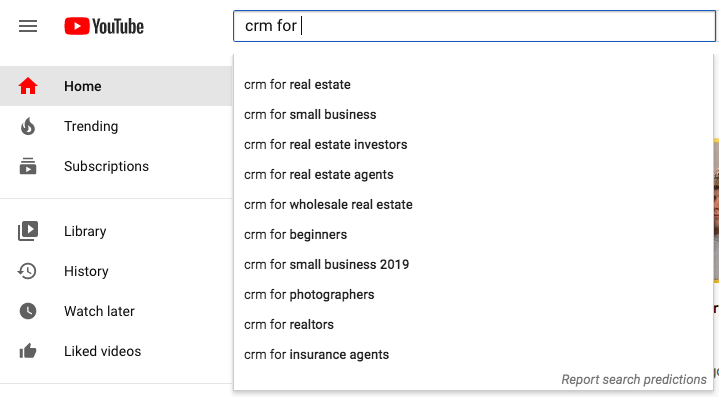 Instead of only focusing on short-tail keywords such as "CRM," include niche-specific long-tail keywords such as "CRM for small businesses." There are two reasons for it:
Short-tail keywords are difficult to rank for.
Long-tail keywords will attract more relevant traffic, increasing the chances of conversion.
You can use tools like SEMrush or Ubersuggest to check which keywords drive a decent amount of traffic: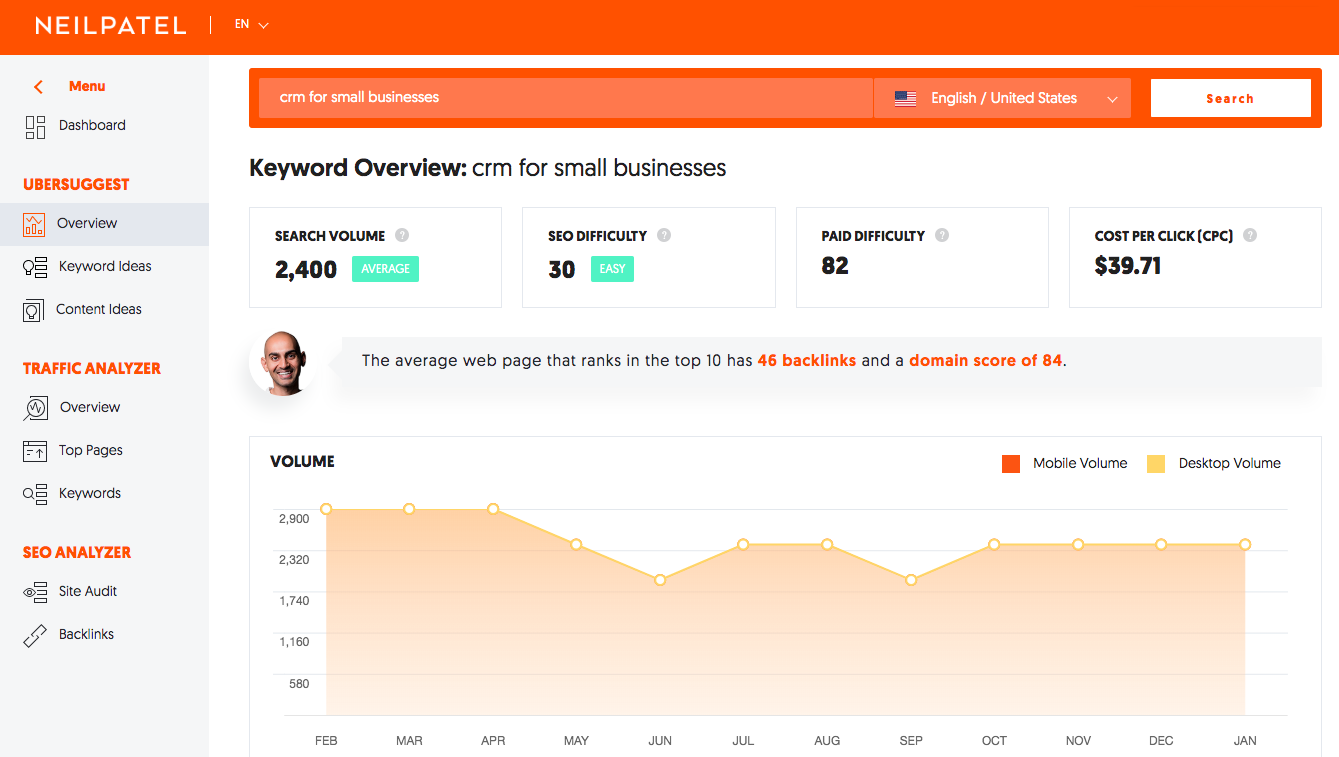 You can also use a tool like Moz to find the organic keywords of your competitors.
Enter your site URL into the Moz keyword explorer and click on the search button. You'll see "Ranking Keywords" on the left-hand side. Click on it, add competitors and check out their top-performing keywords: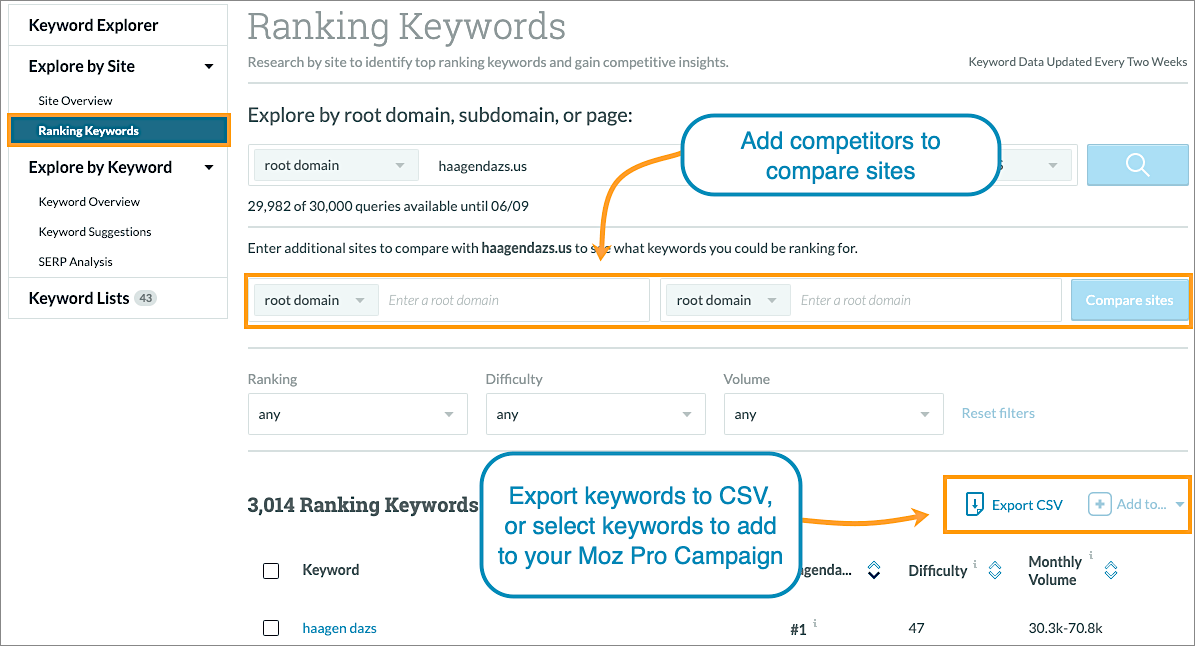 Related Content: Why You Should Use Long-Tail Keywords in Your SEO Campaign
3) Optimize Your Website for Conversions
Now that you have curated your keywords list, start incorporating them throughout your website. This will maximize your chances of ranking higher in the search results.
Follow these simple but important steps to optimize your website for conversion:
Use keywords on all the webpages, including the homepage and product pages.
Build a user-centric website, which means easy to navigate for people other than your developer.
Offer a free trial for a limited time to help on-the-fence prospects explore your product with hands-on use which will likely answer any of their questions or concerns.
Integrate a chatbot on your website.
Run user behavior reports to get insights into what people do when they arrive on your website and then analyze what needs to be improved.
Write enticing headlines for your blog posts; for example, outline the biggest benefit of your product in the headline.
Create a sense of urgency.
Add social proof and customer testimonials.
Add an FAQ page.
Simplify, simplify, simplify the sign-up process. For instance, Asana only asks for a work email address to allow users to sign up for free (apart from increasing the chances of conversions, it also improves the user experience):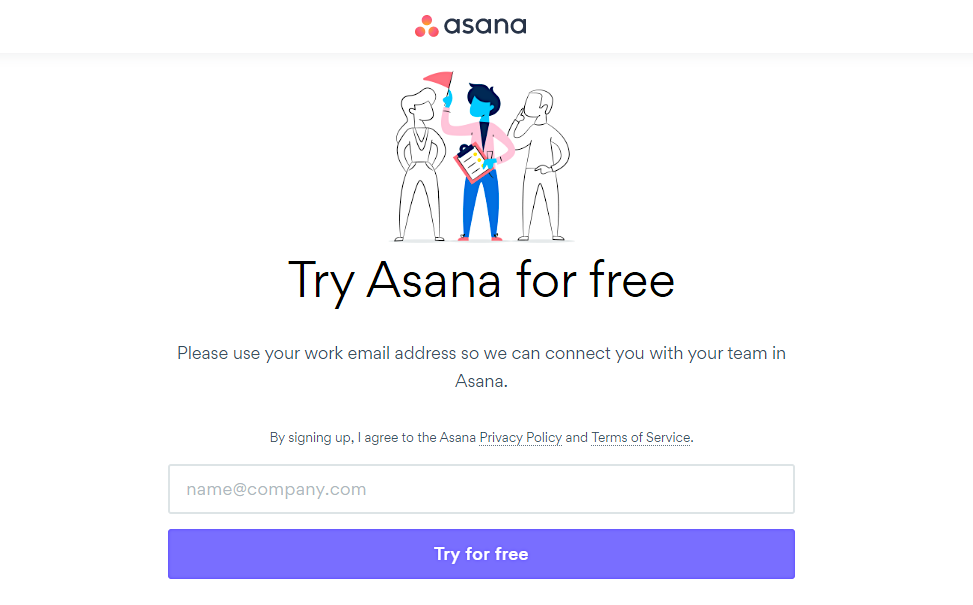 Related Content: SEO & CRO: How Rankings and Conversions Complement Each Other
4) Create and Publish Informative Content
Content marketing helps you spread brand awareness, create interest in your product, generate leads, and retarget potential customers.
Although each page on your website should be optimized for a specific group of keywords, your content must be informative and relevant to the user intent.
For SaaS companies, the two significant types of user intent are informational and transactional:
Informational: The user is not specifically looking for a SaaS product, but is looking for a solution to their problem. Their search will look something like this: "how to automate a database" or "how to schedule social media posts".
Transactional: The user is interested in purchasing a SaaS product. Their search may include your brand and product names, like "HubSpot CRM," or could be generic, such as "best CRMs" or "CRM comparisons".
You should follow a content-driven SaaS growth strategy to target both query types: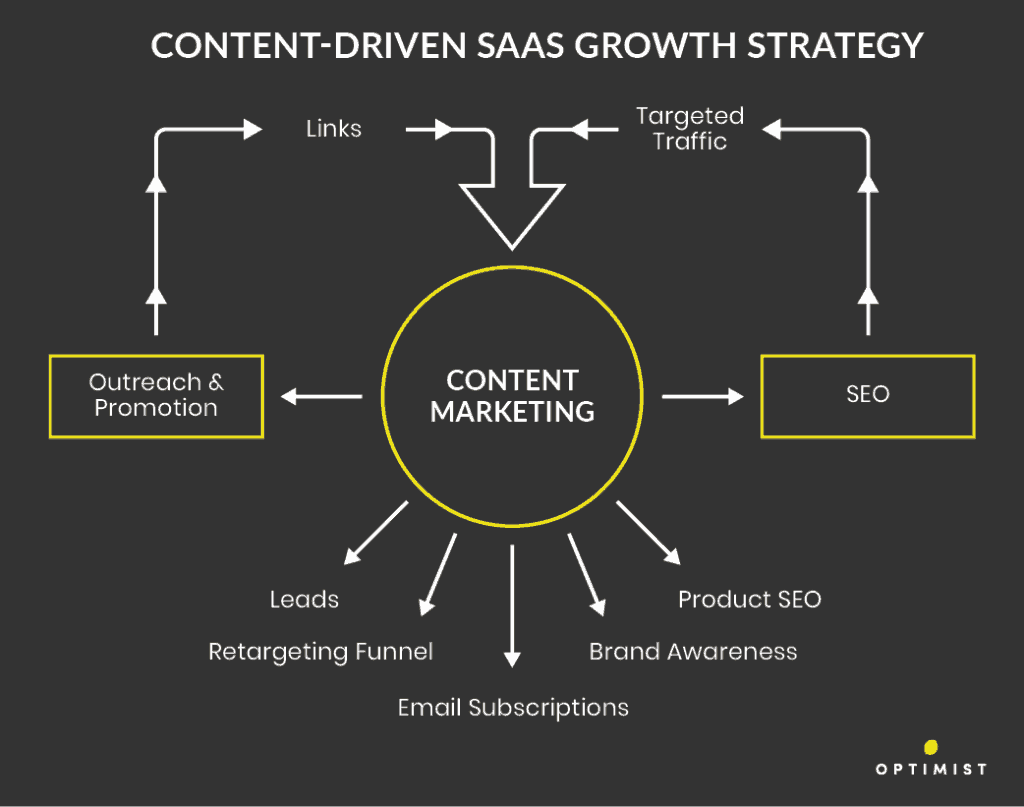 Every content piece you create should be used for outreach and promotion. Content will help you acquire links, thereby boosting SEO and generating leads for your business.
Related Content:
5) Acquire Links
Links are one of the most important ranking factors used by Google. The higher the number of high-quality links your SaaS website has, the higher its ranking will be.
Ahrefs Keyword Explorer can tell you how many links it will take to get on page one of the search results for a specific keyword.
These steps can help you get backlinks naturally:
Publish a lot of surveys, studies, guides and tools.
Create data-driven stats posts.
Create infographics and video posts.
Leverage newsjacking.
Create an outreach strategy to reach out to influencers, reviewers and journalists in your industry.
Related Content: The Ultimate Guide to Link Building with Content for SEO
6) Optimize for User Experience
Being a software company, it's important to ensure that your site functions properly. Technical SEO plays a vital role in your site's ranking. Here are a few things you can do to optimize the UX of your site:
Improve site speed: Since you're promoting a technology-based product, the least your audience expects is a fast website! Besides which, page speed is a direct ranking factor. You can use tools like PageSpeed Insights to discover elements that are affecting your site's speed and get actionable tips to improve it. A score of 0-49 indicates that the website is too slow, 50-89 that the speed is average, and 90-100 means the website loads quickly.
Make your site mobile-friendly: Mobile traffic accounts for more than half of web traffic globally. Google shifted to a mobile-first indexing strategy in July 2019 (i.e. it uses the mobile version of your site for indexing and ranking), which means that having a mobile-friendly site has become more important than ever. Use Google's Mobile-Friendly Test to check the mobile-friendliness of your website: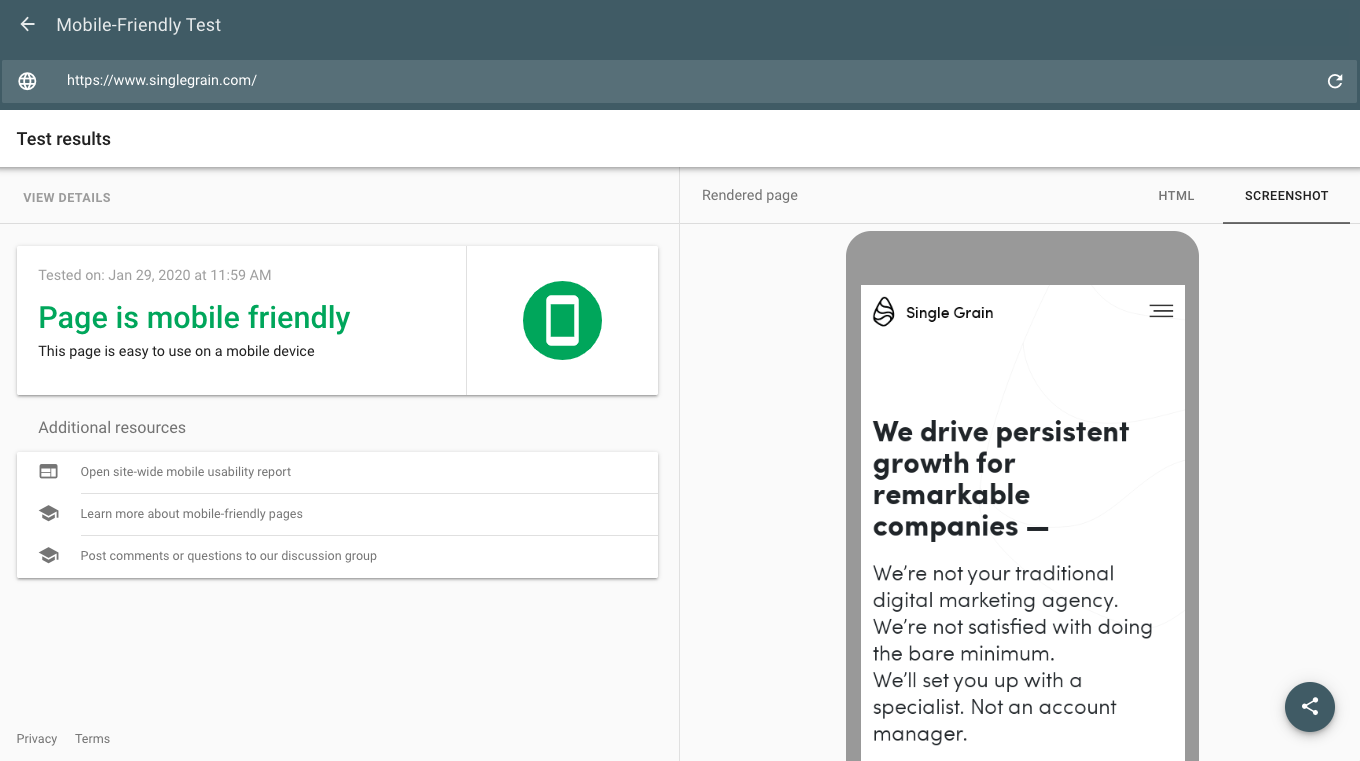 Fix broken links: When it comes to technical SEO, broken links can be one of your biggest enemies. Many SaaS companies have a lot of dead pages on their website. People hate the "Oops! Not Found" message on a page they were trying to visit. If you have recently removed a page from your site, make sure you create a 301 redirect that automatically redirects your visitors to the updated content: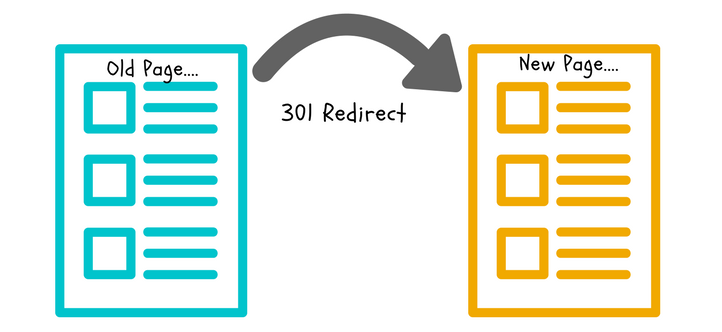 Tracking Your SaaS SEO Success
You can't fix things if you don't know what's wrong. This applies to your SEO strategy, too. You might have improved your page speed, made your site mobile-friendly, and begun publishing high-quality content, but how do you know if you are generating real results?
A few important SEO metrics for SaaS success are:
Visibility/Share of Voice: This is the percentage of clicks that you are receiving from your target keywords. Tools like Pi Datametrics can help you calculate your share of voice: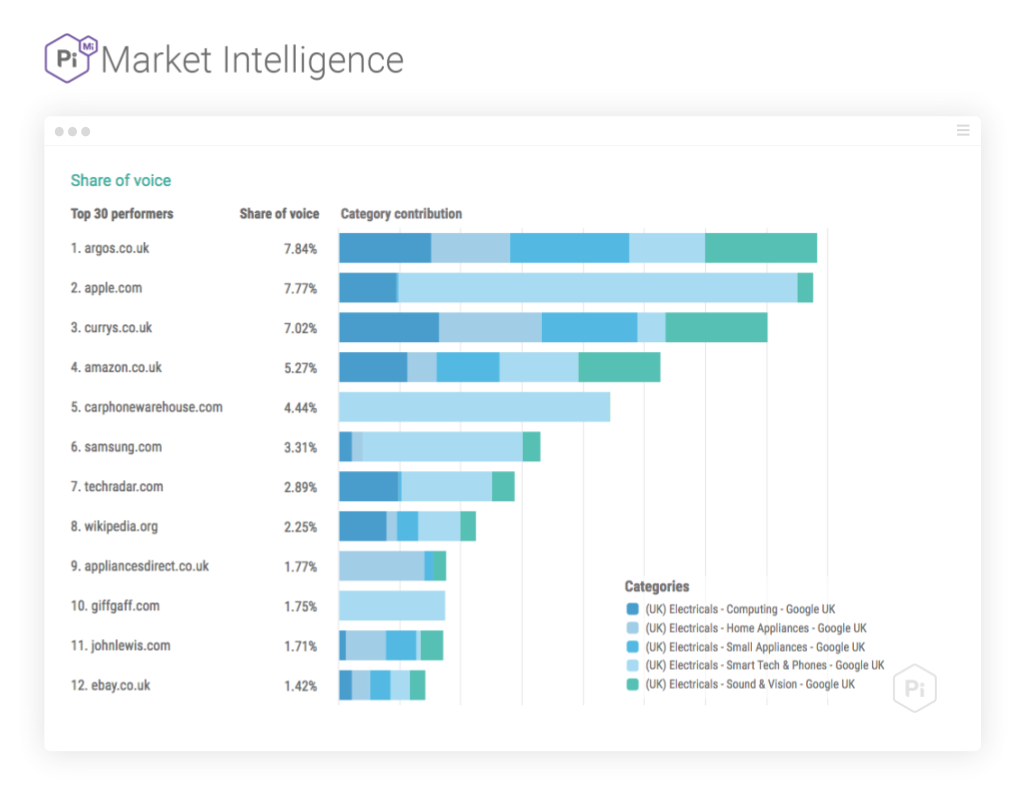 Year-over-Year Traffic and Users: Once you've been doing your SEO for more than 12 months, start measuring YoY traffic. Tools like Google Analytics can help you track traffic easily.
Revenue/Signups from Organic Traffic: You're doing SEO to boost your SaaS business's revenue. So, tracking revenue and/or signups from organic traffic makes sense.
Lead-to-Customer Conversion Rate: Lead-to-conversion rate helps you figure out how many new organic visitors, email subscribers and free trial users are converting into paying customers.
Customer Lifetime Value: Calculating LTV will help you figure out how much you are spending on SEO to acquire new customers. If you don't know customers' lifetime value, then you will have no idea if your SEO strategy is profitable or not.
Upon implementation of your SaaS SEO strategy, you or your SEO consultant will track these things for you so you can see when you start getting traffic, leads and revenue. Exciting!
Learn More:
Best Examples of SaaS SEO Case Studies
Example 1:
One SaaS company based in the U.S. started with on-page optimization (eliminating duplicate content, optimizing meta description, enhanced CTA placements and creating 301 redirects) and then went on to create more than 40 articles for their website.
They also started leveraging guest posting and creating skyscraper content to scale up their link building. In 12 months, they saw an increase in their organic traffic by 269% and revenue by 332%:

Example 2:
Another SaaS company had a decent amount of content but was struggling to attract enough organic traffic. They barely had any backlinks.
So they started looking for keywords with monthly search volumes of 301-10,000 (all with CPC) and curated content around it. They also started guest posting twice a month to build high-quality backlinks.
Within three months, they received over 947 backlinks from 228 domains, and their organic traffic value rose to $9.3K:

Example 3:
A cloud-computing SaaS business saw a 46% YoY growth in U.S. organic traffic (300K additional visitors) by optimizing their site's content for user intent.
They evaluated the top-ranking pages for cloud computing and noticed that most of them were informational, such as "what is cloud computing?" They immediately optimized their existing content to match user intent, updated metadata, and created additional educational pages.
Final Thoughts
So if you're wondering whether SEO for SaaS companies is important, the answer is: yes!
Search engine optimization is essential for every SaaS company that aims to become a leader and the go-to choice in their niche industry. SEO will help you attract highly qualified traffic to your website, spread the word about your brand or product, and reduce your dependency on paid ads.
When executed correctly, SaaS SEO will influence more people to buy your product or sign up for your service.
More Content on SaaS Success: