SaaS (Software as a service) is a rapidly growing industry. There are over 15,000 SaaS companies in the market, which is projected to reach $157 billion by the end of 2023.
With the ever-increasing number of SaaS companies, it is crucial for you to follow certain growth strategies to outdo your competitors.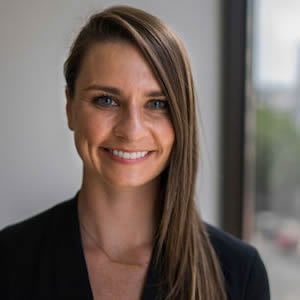 Jacqueline Foster
Demand Generation Marketing, Lever.co
We can count on them to bring new ideas to the table consistently
What Is SaaS?
Software as a service (SaaS) is a software distribution model in which a third-party provider hosts applications and makes them available to customers over the Internet. SaaS is one of three main categories of cloud computing, alongside infrastructure as a service (IaaS) and platform as a service (PaaS).
Some popular examples of SaaS companies include:
Salesforce
G Suite (Gmail, Calendar, Hangouts, Google Drive, Sheets, Docs, etc.)
Dropbox
MailChimp
Slack
HubSpot
Dive Deeper:
* Vertical SaaS: The Future of SaaS Is in Niche Industries
* Is Netflix a SaaS? 25 Examples of SaaS Companies that Are Rocking It

What Is Different about SaaS Marketing?
As Rahul Varshneya puts it:
"The buyer's journey and the marketing funnel for SaaS are different from conventional businesses because the target audience for which the SaaS offering holds value (and thus makes them likely candidates for closing sales) is very limited, which makes reaching out to them a challenge.
How do you explain the benefits of your SaaS offering when it doesn't have an element of tangibility associated with it?"
Traditional digital marketing for businesses often has many goals, including making a sale, earning an email address or even raising brand awareness.
For SaaS companies, though, almost every digital marketing dollar spent can be traced back to one unifying goal: to convince prospects to sign up for a free trial, demo or a paid version of your software platform.
Now that we have a clear understanding of what SaaS is and how marketing a SaaS product differs from traditional marketing, let's move on to SaaS growth strategies.
Dive Deeper: How We Built a B2B SaaS Marketing Agency Unlike Anyone Else
Top 12 SaaS Growth Strategies
Here are the top 12 SaaS growth strategies to help you compete, survive and thrive in the world of software.
1) Automate the Sales Motions to Get the Conversation Started
A sales motion is the combination of actions and the general sales philosophy that you implement in your organization to sell your product. Sales motions give your salespeople a more definitive picture of how they should be selling your product and whether they're doing it right.
Automating the sales motions is one of the best growth strategies for SaaS companies because:
It gives you more visibility in your sales ecosystem, enabling you to identify highly qualified leads quickly
Saves a lot of time that you can spend nurturing and converting leads
It can create legal contracts quickly based on your terms and pre-approved clause library
Provides seamless integration with your existing CRM and systems
Let's look at a real-life example to better understand sales motions and how it helps SaaS businesses.
As Eric suggests in this podcast, here's how the sales motion might look for a site like Single Grain.
Step 1: A user visits Single Grain and opts in for a YouTube ads e-book. A customer data platform like Hull.io will detect that and send the visitor's information into a sales engagement tool like Outreach.

Step 2: The sales team will analyze whether the visitor is actually a good fit based on enrichment from a tool like Clearbit, which shows how big the company is and how many employees it has.
In other words, the prospect list will consist of qualified leads who have downloaded something or taken certain actions that fit the buyer persona. To get these data, you only need to enter your lead's company name in Clearbit.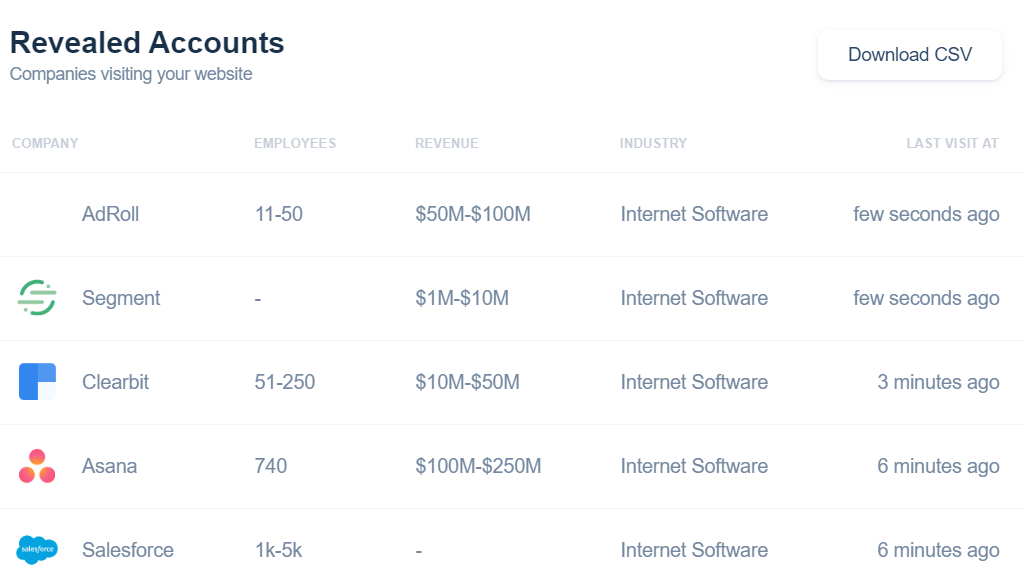 Step 3: A salesperson will analyze the visitor's data and say something like, "Hey, I noticed you downloaded this YouTube guide. Would you like us to do a one-on-one (let's call it personalized webinar)?" The conversation is going to be customized for the visitor, and they can say "yes" or "no." If the visitor says yes, then the salesperson will put something together for them, and generate an actual lead from the conversation.
Now, depending on the clients' requirements, they may or may not convert. If your site generates a decent amount of traffic like Single Grain (over 250K), you will be more likely to get some new clients every few days by automating the sales motion.
Dive Deeper: 3 Steps to Increase SaaS Conversion Rates with Customer Education
2) Change the Registration Flow for Purchases of a SaaS Product
Changing the registration process for purchasing your SaaS product can have a positive impact on your conversion rate.
Here are three excellent ways to optimize your registration flow for purchases:
Create a two-step checkout: Creating a two-step checkout instead of a one-step checkout can improve conversion rates by roughly 10%. The customer's name and email would be in the first step, and then the next page would be credit card details.
Use third-party authentication services: Third-party authentication services like Google, Facebook or Twitter authentication make it easier for your prospects to register on your site. Adding third-party authentication services also eliminates the need for email verification and ensures that you have the correct information.
Reduce the mandatory fields in the sign-up process: If your existing registration flow requires users to fill in a lot of details, such as company name, role, size, etc., you might see a decrease in conversion rate. Since you are asking for commitment (in terms of data), prospects might have no idea whether your product is really worth all the friction of the registration process they have to go through.
The best way to eliminate this friction is by providing immediate access to the user with only necessary details like name and email. Let them have a glimpse of your product; you can collect more data when they are comfortable using your product. If you are skeptical about reducing the mandatory fields, then give reasons for why you need them to fill the information.
Dive Deeper:
* 8 SaaS Marketing Trends You Can't Ignore in 2023
* The Anatomy of an Effective SaaS Lead Generation Strategy
* SaaS CAC: A Guide to Customer Acquisition Costs
* A 3-Step Strategy to Build Links and Drive Referral Traffic to Your SaaS Website

3) Try Product-Led Growth Using the Freemium Model
Product-led growth is a business model that relies on the product itself for user acquisition, conversion and retention. In a product-led growth strategy, you rely on word-of-mouth marketing more than traditional promotion tactics.
The CEO of Appcues, Jackson Noel, says:
"Organizations that adopt product-led strategies don't just have higher customer satisfaction ratings, they scale faster all while spending a fraction on acquisition costs."
Product-led SaaS companies usually rely on a freemium model to generate leads and get more conversions. The freemium model gives prospects limited access to your product for free for a lifetime. Then, if customers want to really get the most of your product, they will have to pay for it.
There are three primary types of freemium models in the SaaS business:
Limited features: In this model, you limit the features that a free user can use or put restrictions on the enhanced functionality of available features. Evernote is an excellent example of a SaaS company that does exactly this: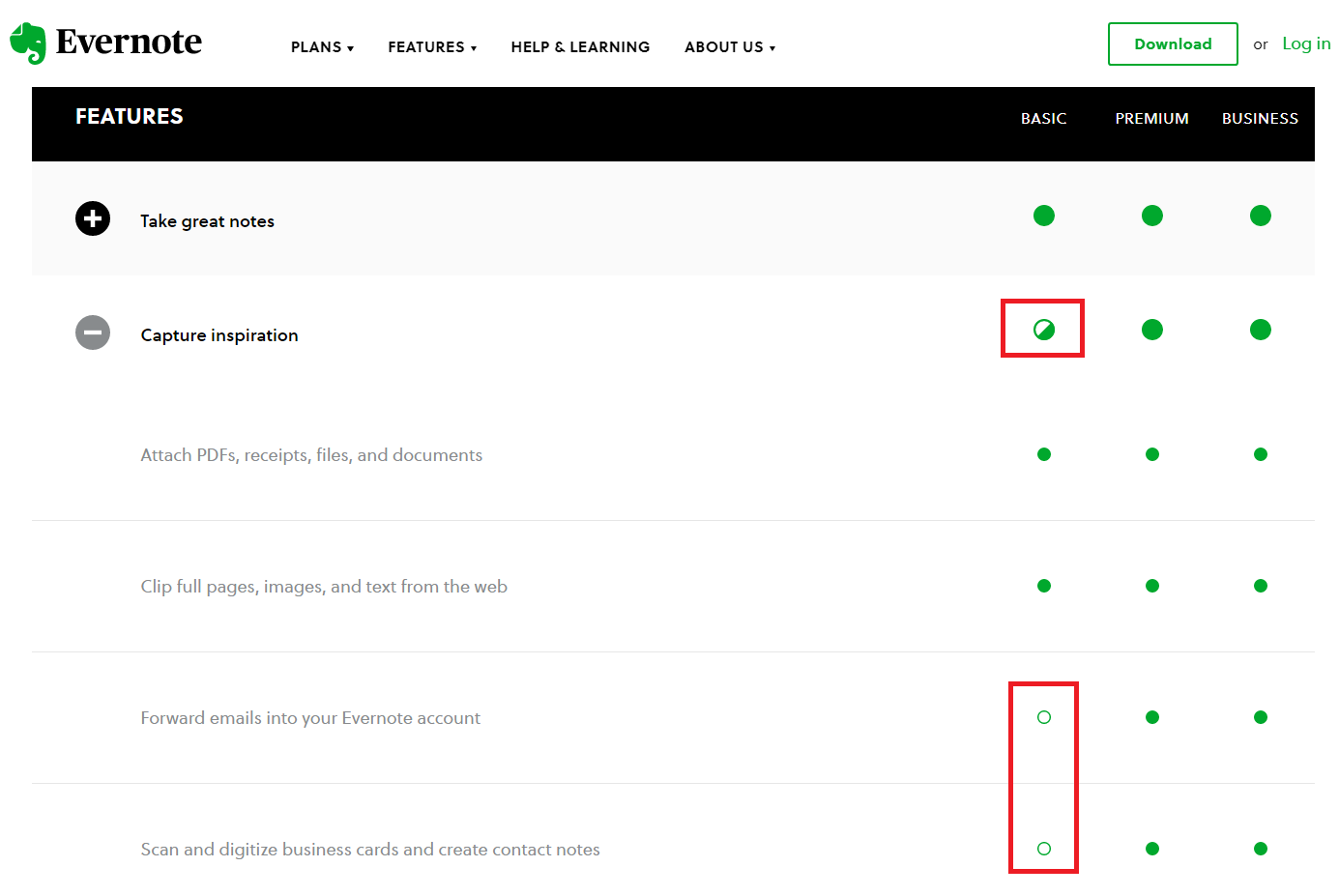 Lowered capacity or usage: In this model, you put limits on storage or data quotas to restrict usage. Sendinblue is a good example of a brand limiting the usage for freemium users. Sendinblue lets its free users send 300 emails per day. Anything more than that requires users to upgrade to a premium plan: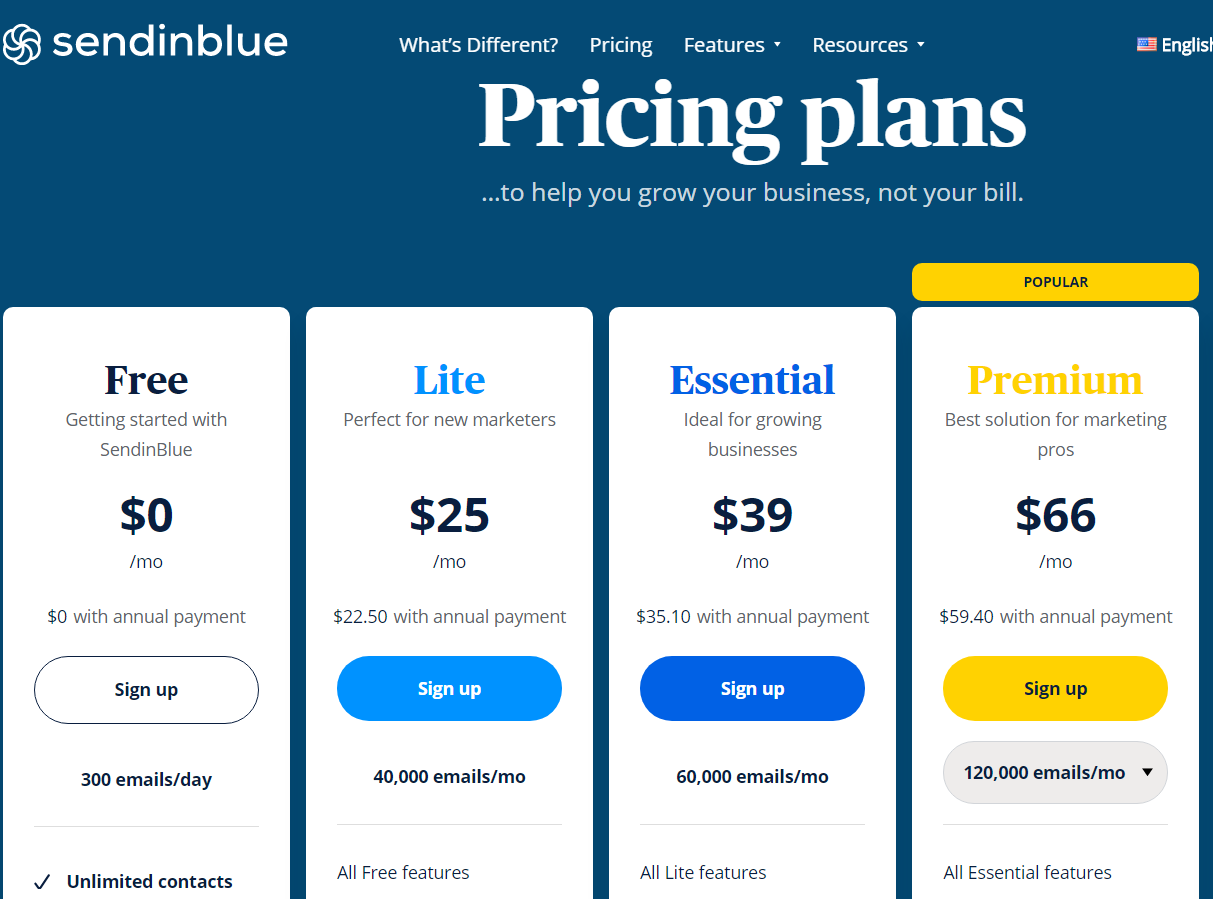 Reduced support: In this model, the free user doesn't get priority customer support or access to self-help resources. Heap Analytics is a great example of a brand limiting help to free users. They offer a "silver level" email support to free users: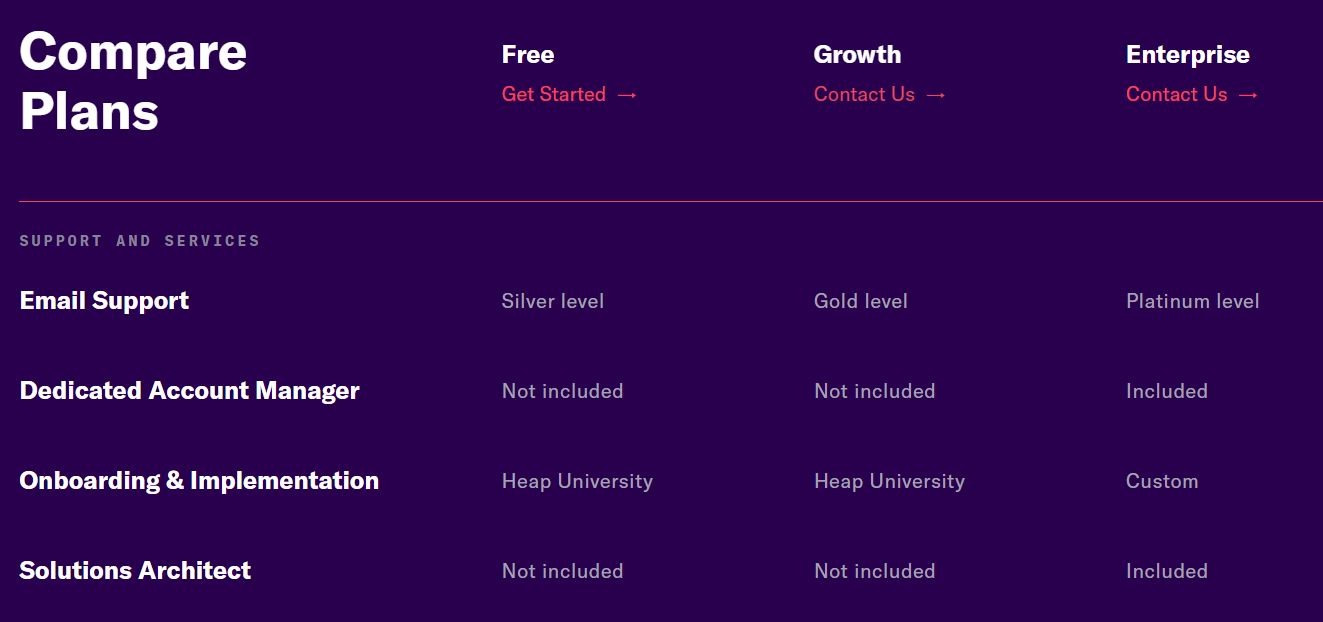 HubSpot is yet another brand that has done really well in implementing the freemium model. About 99% of the employees at HubSpot were against the idea of switching to a freemium model because they weren't sure what was going to happen with it, but it actually ended up working well for them.
HubSpot has a CRM (customer relationship management) tool which they offer in their freemium service, about which they say: Hey, we're going to give you CRM for free, but all the other tools and all the other features that could be helpful to you, we're going to lock those features. If you want to get those features, you're going to have to pay.
That's when they get a sales agent on the line with the prospect and try to get them on an annual contract.
Implementing a freemium model will not only help you generate lots of leads and website traffic, but it will also increase the number of links to your website. Major publications in your industry are likely to create content highlighting that you now have a freemium model.
4) Create Tons of Content for Your SaaS Company
Content marketing is one of the best growth strategies, and is followed by almost all the rapidly growing SaaS companies. This means creating a lot of blog posts, video content, etc. on the topics you're an expert at.
Let's say you have an SEO SaaS app. Create marketing-related articles that not only talk about search engine optimization, but also topics related to pay-per-click, SEO, email marketing, push notifications, Facebook, and social media. Because it all drives people into your funnel, thereby increasing your chances of getting more conversions.
Creating tons of content also supports your SEO, helps you acquire backlinks, and boosts brand awareness.
When doing content marketing, you might find yourself in a situation where you will be thinking, "Hey, I'm getting a ton of traffic, but they're not converting at the same rate." As you're doing content marketing and getting people in the door, you need to set up calls or do webinars to convert this traffic.
You can use tools like WebinarJam to create and engage your audience in a webinar. You can then educate the participants about your SaaS app, show them what they can achieve by using your product, and share some customer success stories to entice prospects to convert.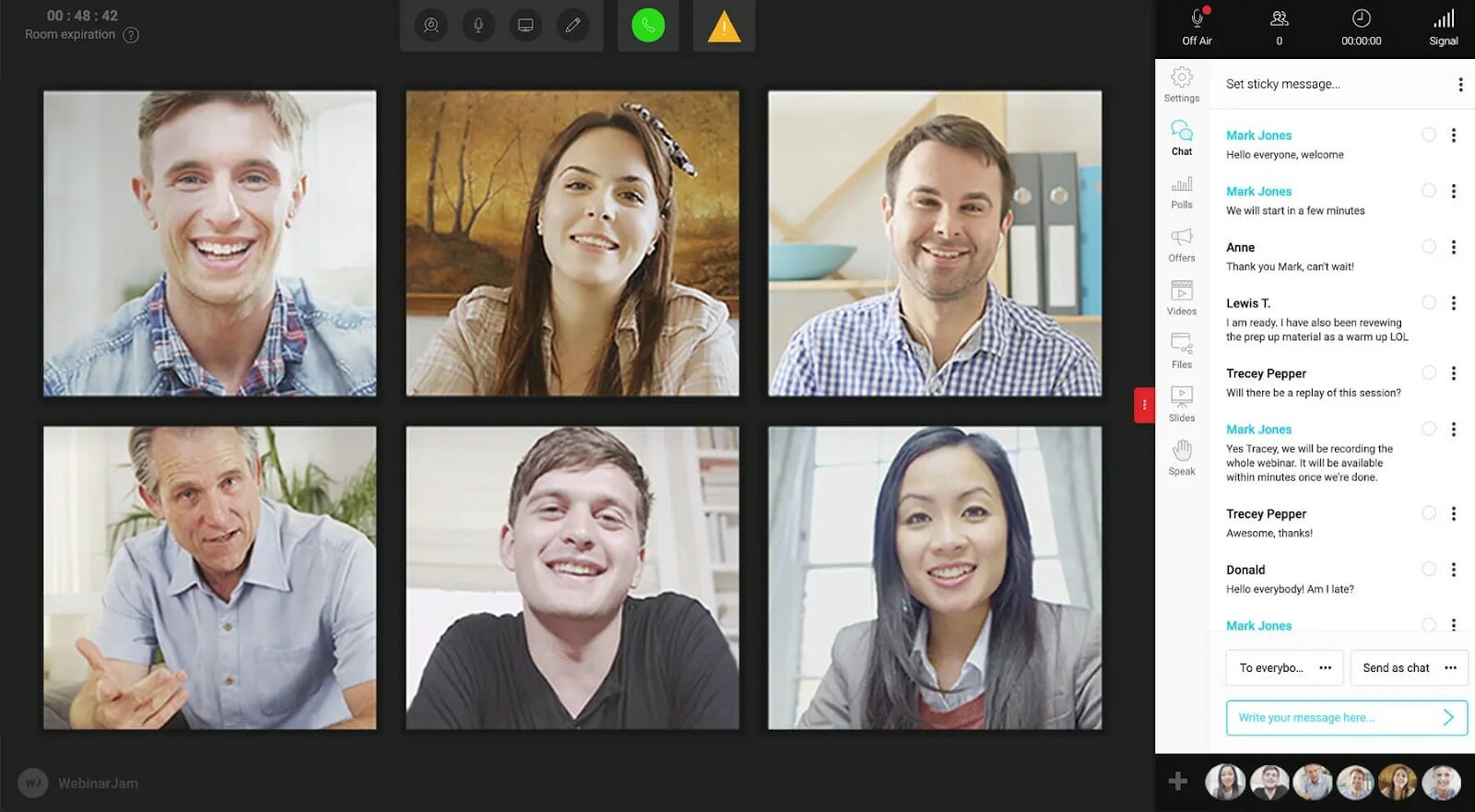 Also, follow content marketing best practices to generate better results and get the most out of your efforts. Here are a few tips:
Write on topics that are searched more often. You can use Google's "People also ask" section to find the most searched questions in your niche. Enter your seed term in Google and click on search. Scroll down, and you will find the "People also ask" section. As you click on any of the questions, the list will start expanding.
Create content for your target audience and not search engines. This means your content should address your audience's problems and offer them real value. It shouldn't be just about stuffing as many keywords as possible into a poor-quality, 500-word blog post.
Make your content scannable. Doing so makes it easier for users who want to acquire information without reading the whole post word by word. Use subheadings, short paragraphs, and numbered or bulleted lists.
Include visuals in your articles and blog posts to make them more engaging. This could be a screenshot to help the reader better understand what you're talking about, a chart, a stand-out quote or a video.
Add captions on every video that you create. Whether the video is for your landing page or social media, captions help users who watch it on mute grasp your message.
If you visit any of Single Grain's blog posts, you will notice that they follow all the aforementioned best practices every time (even in this one). They ensure that there are enough visuals, the content is scannable and, most importantly, the posts are full of information: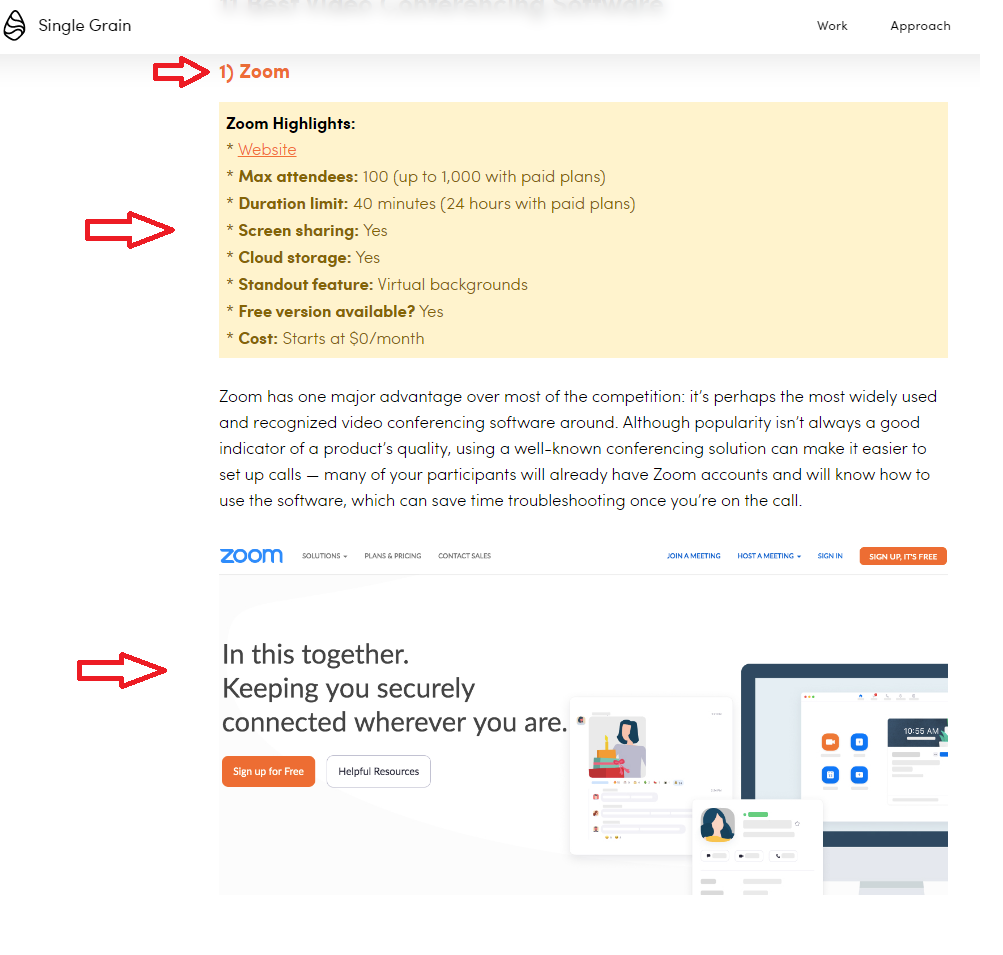 Dive Deeper:
* Should You Offer a Freemium Level for Your SaaS Platform?
* 30 Ways to Come Up with Great Ideas for Your Blog Posts
* How to Create a Killer SaaS Content Marketing Strategy
* Beyond the Blog Post: 21 Inspirational Branded Content Examples

5) Allow Immediate Booking of Calls to Get Highly Qualified Leads
A customer is more likely to convert when they are assisted by a salesperson who helps them understand the potential benefits of your SaaS product.
Allowing prospects to book sales or product demo calls instantly helps your sales team connect with them right when they want it. You can use an appointment scheduling software like Appointy to let prospects decide when they want your sales team to contact them:

Single Grain allows users to book calls immediately, and it's working really well for them. If you visit the Single Grain website and try to book a consultation for marketing services, you'll have to fill out relevant information, such as the marketing budget that you have, the services that you're looking for, your website URL, and your role: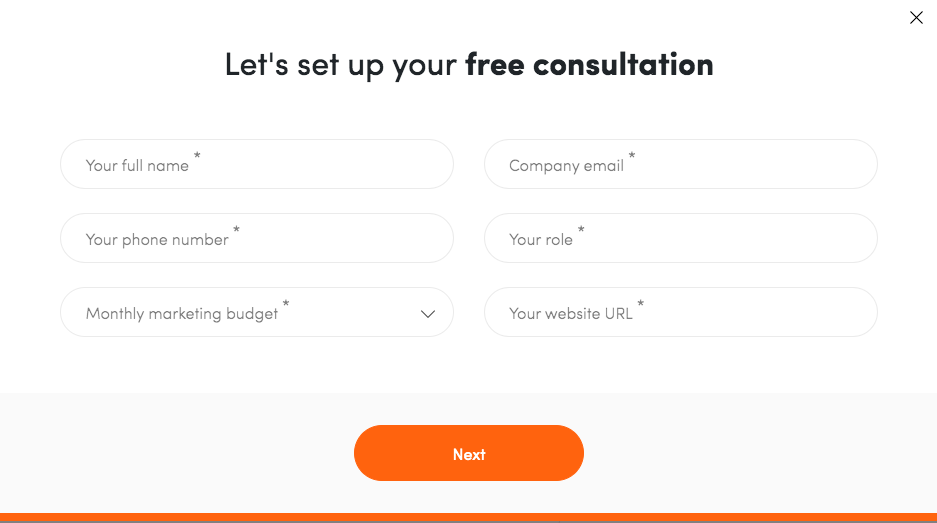 If it looks like it's a good fit, Single Grain will put their Calendly widget on the thank you page, meaning that you can book a call immediately with their salesperson.
As a result, Single Grain's booked calls went up by about 40% (in terms of qualified leads).
Dive Deeper: B2B SaaS Lead Generation: How We Improved Axure's Lead Quality Overnight
6) Create Partner Pages for Driving Up Enrollment
A partner page is a page on your website that showcases other related SaaS products (that are not your direct competitor), who then promote you in a similar way on their site.
This growth strategy was introduced to me by Neil Patel who learned it from a guy named Andrew Dumont, who used to work at Moz. Andrew used to create partner pages to promote other related SaaS apps, and they would advertise Moz. Partner pages alone drove Moz hundreds of sign-ups each month (although for some reason, Moz discontinued this practice).
You should consider creating partner pages to boost enrollment to your SaaS product. When creating partner pages, follow these four best practices:
Define your ideal customer persona and check whether it overlaps with your partner's target audience. Does your potential partner have a product that works well when combined with yours?
Establish partner goals. Identify what a fair trade is for their services. For example, it might be a "promote and get promoted" strategy or "promote in exchange for money."
Make sure to communicate what you are expecting from your partners on a monthly, quarterly or annual basis.
Empower your partners with the right content and resources to help them confidently promote your SaaS product.
7) Set Up Product Tours
One of the biggest problems every SaaS business faces is customer retention. You can test various tactics to acquire customers, but when it comes to keeping them, you must use tried-and-true strategies.
The best way to retain customers is by setting up product tours. Look at it this way: You have created a great SaaS app, but are your customers able to get the most out of it?
Many SaaS products are complex to use, and if customers get confused, they will likely churn. But if you offer product tours that help your customers find the value you have to offer, then they won't churn as quickly.
Intercom is a great example of a brand that knows how to help customers make the most of its product. Apart from its website, Intercom offers product tours in its chat app: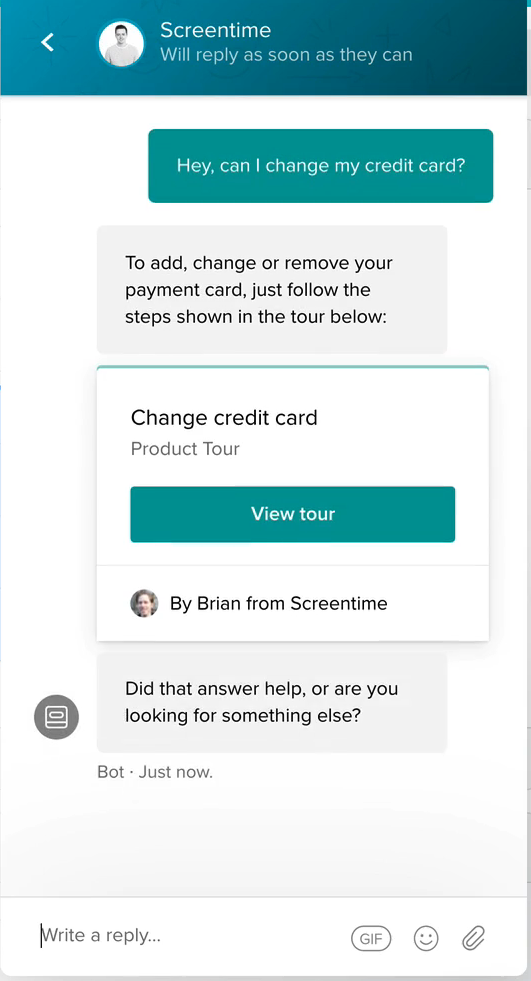 8) Tell Customers Why They Need to Enter Specific Information
When you tell your customers why they need to enter specific information, such as email, phone number or website URL, they are more likely to trust you with their data and complete the sign-up process.
When Neil Patel spoke at a Marketing School Live event, he showed people a slide with the product tour on a conversion page where people put in their info or credit card number – and the conversion rate was around 13%. It doesn't seem huge, but it all adds up.
So the sign-up page only shows you the form field that you are filling in. As soon as you fill out one field, it shows the next field. That way, you won't see all the form fields at once, so it's not overwhelming.
The other thing that the conversion page had was a speech bubble next to each form field. If the field says "email," the speech bubble would say "We need this information to send you your PDF, or we need it to send you your account details." Or when it asks for your address, it would tell you, "Hey, we need your address so we can verify that it's you, or send you a free shirt (or whatever it may be)." So the speech bubble tells people why they're required to fill in this information.
Little things like these helps guide people and thus boost conversion rates.
Even when you visit Ubersuggest, you will see a pop-up in the top right corner that says, "Register for free and get: more keyword suggestions, daily rank tracking, and personalized SEO suggestions." The pop-up gives three reasons to register with Ubersuggest, which help entice customers into signing up: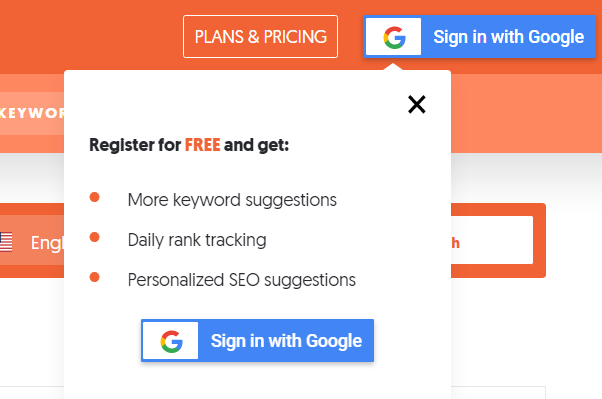 9) Leverage the Power of Referral Marketing
Referral marketing might be the most common growth strategy in the market, but it works really well.
Dropbox created a worthy referral program that drove incredible growth, increasing its user base by 3,900% in 15 months! They created a two-sided referral program, where they offered 500 MB of additional storage space to both the referrer and the one being referred: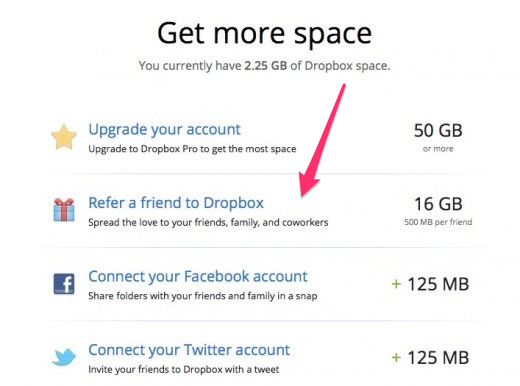 Follow the below referral program best practices to get the most out of this growth strategy:
Display your referral program as a tab on your products' homepage or on your website. That way, customers will be able to find it easily.
Let users know what they will be getting in return and how long the reward will be valid.
Determine what motivates people to buy your product and give that as an incentive. For example, in the case of Dropbox, people buy it to get cloud storage space, and they offered exactly that as an incentive (500 MB of additional space).
Make it easy for customers to refer a friend. You can add social media links or copy your referral code options, so that customers can refer someone with one tap.
Promote your referral program on different channels, such as emails and social media, to increase visibility.
Dive Deeper:
* How B2B Firms Can Acquire Leads with Programmatic Ads
* How to Increase Your SaaS Trials with a Facebook Ads Funnel
* 10 SaaS Business Lessons from $1B+ Unicorns (like Slack, Twilio, Lyft)
* 16 SaaS Marketing Strategies to Implement Today

10) Get Your SaaS Product in Third-Party Review Sites
Getting your SaaS product in high-quality third-party review sites acts as social proof for your business.
Many prospects trust these websites, and when they vouch for your product, you are more likely to get a customer. Another benefit of getting your product in third-party review sites is that they give your website a backlink, which is great for your SEO.
The only concern is that these websites allow prospects to compare numerous similar products and choose the one they deem the best fit. This might be a challenge for you, especially if you are new to the market. The best way to overcome this challenge is by asking your customers to leave a review on your product listings. People trust reviews as much as personal recommendations.
Make sure to send your existing customers a link to your product, so they don't have to search for your software after reaching these third-party review sites.
Some of the third-party review sites that SaaS companies can leverage include:
Gartner: The network of Gartner sites include Capterra, GetApp and Software Advice. All three websites can prove beneficial in promoting your SaaS company. Capterra offers CPC ads to help you get on the top of the category listings.
G2 CROwd: Since G2 CROwd requires users to verify themselves via their LinkedIn profiles, the reviews are seen as a bit more genuine. As a result, prospects are more likely to try your product if it has lots of reviews in the G2 CROwd.
Trustpilot: TrustPilot showcases reviews for all kinds of websites and products. Since they rank well on Google SERPs, getting your SaaS product on Trustpilot can help you attract more customers.
11) Optimize Your CTA
Many SaaS companies rely on traditional CTAs, such as "learn more" or "book a product demo." However, relating your CTA to something that your product does might prove more fruitful.
Make sure to conduct keyword research to determine what terms customers are using to find you as well as identify why customers are using your product. By combining these two points, you can reverse engineer your CTAs and increase the chances of conversion.
For example, this CTA text on Mailchimp's website clearly highlights the action that you might want to take. The CTA for Mailchimp's survey feature reads "Survey your audience," which is better than the generic "sign-up," "learn more" or "talk to sales" CTAs: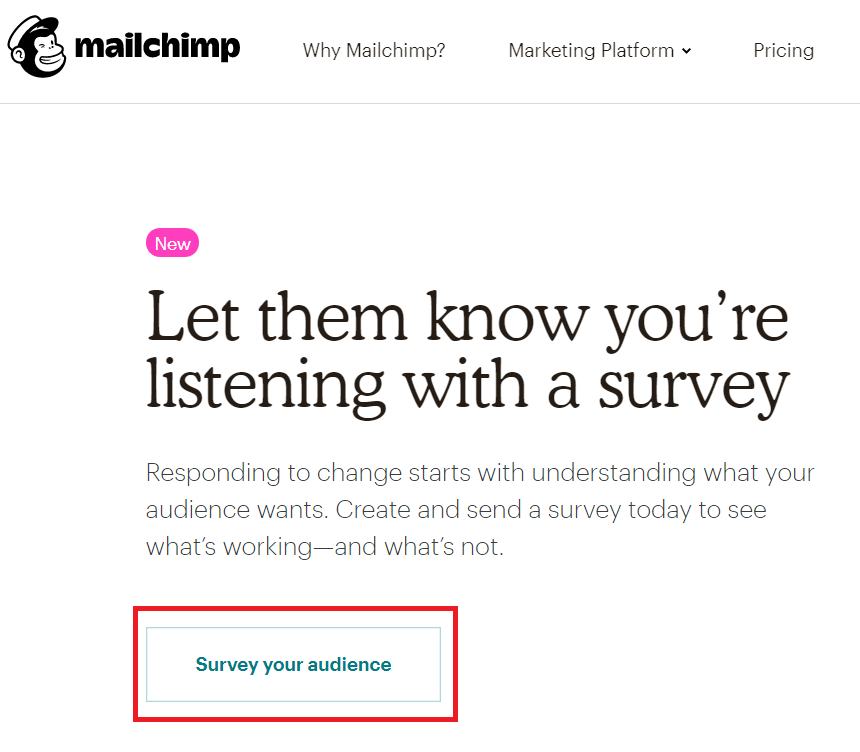 Dive Deeper: How to Create Better-Converting In-Content Calls to Action (CTAs)
12) Conduct Business Networking Events
Business networking events and workshops are yet another great way to promote your SaaS product and get more contacts. SaaS companies like SEMrush leverage offline networking events as their go-to growth strategy to meet industry leaders and spread the word about their SaaS product: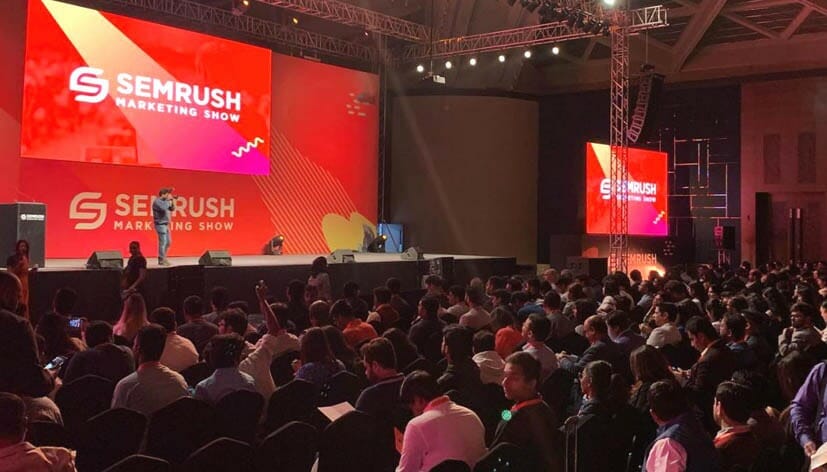 If you don't have the budget to conduct networking events, contact local and national event organizers to find out if there's a trade show going on in your neighborhood. If so, try to get yourself on board as a sponsor or a speaker. Being a sponsor of networking events (in your industry) costs less and requires less work for you.
Remember to collect email addresses of potential clients or participants so you can follow them after the event. You can also share your business cards with a barcode (that takes prospects to your website) to increase the chances of engagement after the networking event.
Final Thoughts
SaaS businesses face fierce competition in the market. Therefore, it is essential to create tactics that deliver exceptional results.
The 12 growth strategies mentioned above are tried and true to produce a higher ROI, increase client base, and improve customer retention. Make sure to track the performance of these strategies and continue to optimize them for even better results.
Listen to the Marketing School podcast that this article is based on!