The SaaS industry is growing rapidly: Between 2019 and 2023, the global SaaS market is forecast to be worth a staggering $60.36 billion and is expected to register a 9% CAGR (compound annual growth rate) within these four years.
When SaaS started, vendors focused on providing solutions that covered various industries (also known as horizontal SaaS). Some prominent examples include Microsoft 365, Quickbooks and Slack.
However, in the last few years, there has been a surge in vertical SaaS companies, which create solutions that are catered to niche industries. Some prominent examples include Veeva, Procore and Clio.
Now, the question is: What exactly is vertical SaaS? Is it the future? And if so, how do you implement it in your business? That's what I will talk about today.
In this article, you will learn: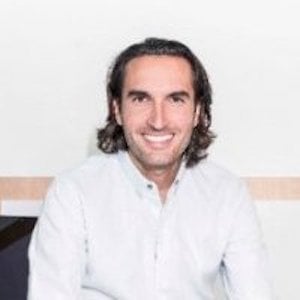 Yaniv Masjedi
CMO, Nextiva
Their expertise has helped Nextiva grow its brand and overall business
What Is Vertical SaaS?
Vertical SaaS is a group of software solutions that serve the needs of a niche industry. In other words, vertical SaaS companies cater to the distinct needs of a single industry, such as retail, banking, healthcare or hospitality.
Vertical SaaS may be designed to solve a single problem or a myriad of business issues, but regardless of the model, all vertical SaaS companies target a narrow market. This model takes a more conservative approach to marketing the product than their horizontal counterparts.
The Growth of Vertical SaaS
As with any product, constant use ensures its regular evolution.
Software as a Service really began back in the 1960s, although it was known as "utility computing" or "time-sharing," and consisted of the "centralized hosting of business applications." Mainframe providers such as IBM offered services like database storage and computing power to enterprises.
Then in the 1990s, the Internet helped evolve this service into "a new class of centralized computing, called application service providers." An ASP is a "company that offers individuals or enterprises access to applications and related services over the Internet, colloquially known as 'apps-on-tap'."
SaaS, as we know it today, is basically the evolution of the ASP model: It's a business model in which customers pay to use software that is hosted by a company on a remote computer. Netflix is a prime example. This business model has has been growing steadily in popularity simply because it provides greater flexibility for the customer.
And now we've entered a new stage of SaaS evolution – vertical SaaS: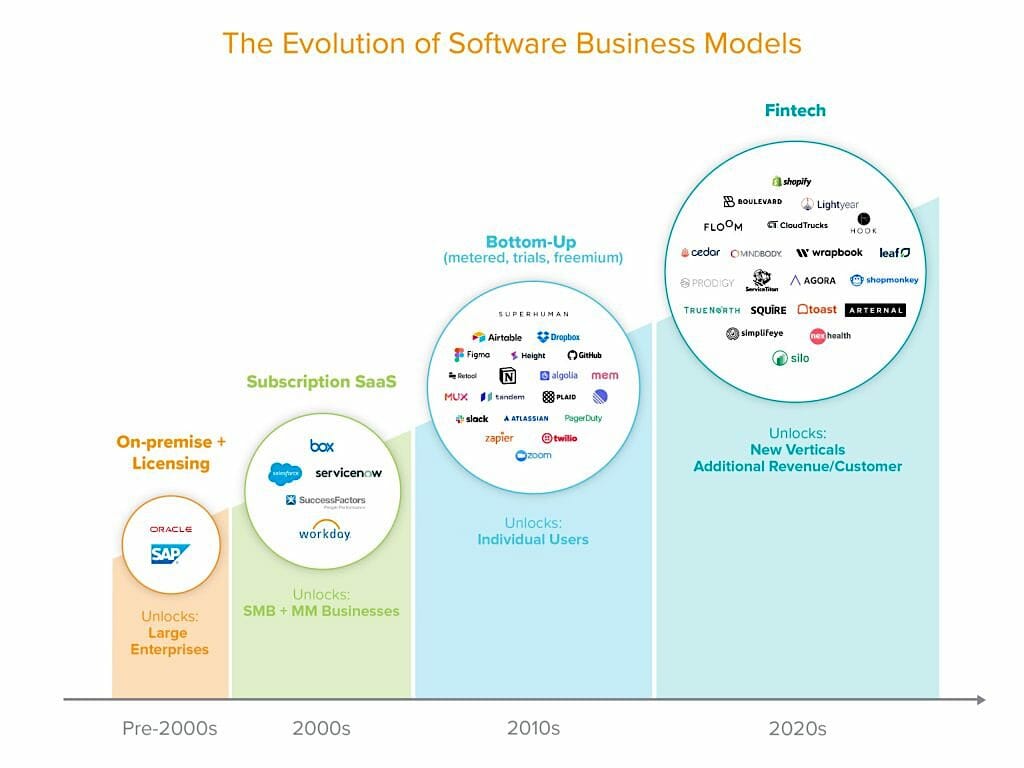 In recent years, several vertical SaaS companies have seen huge success:
Veeva, a cloud-based CRM and content management solutions provider to the life science industry, went from zero to $2.4 billion in less than six years. They raised just $10 million in initial funding.
Cox Automotive, which offers a set of solutions for the automotive industry, acquired Dealertrack, an on-demand software provider for the automotive industry, for $4 billion.
Lufax, a Shanghai-based financial asset exchange SaaS product that focuses on P2P lending solutions for banks and insurance companies, rose in valuation to $39.4 billion within a short span of eight years.
These numbers indicate that the vertical SaaS market is gaining popularity and will likely be a tough competitor to horizontal SaaS companies in the coming years. It means that no matter which industry you want to target with your vertical SaaS product, you will probably see a huge momentum in your product's demand.
More SaaS Content:
* Is Netflix a SaaS? 25 Examples of SaaS Companies that Are Rocking It
* SaaS Marketing Strategy: 12 Killer Ideas to Grow Your Company
* The Anatomy of an Effective SaaS Lead Generation Strategy

Difference Between Horizontal and Vertical SaaS
Before you start building your SaaS product, it is essential to understand the differences between horizontal and vertical SaaS in order to determine what is right for your business so you can create your product accordingly.
This table explains the key differences between horizontal and vertical SaaS: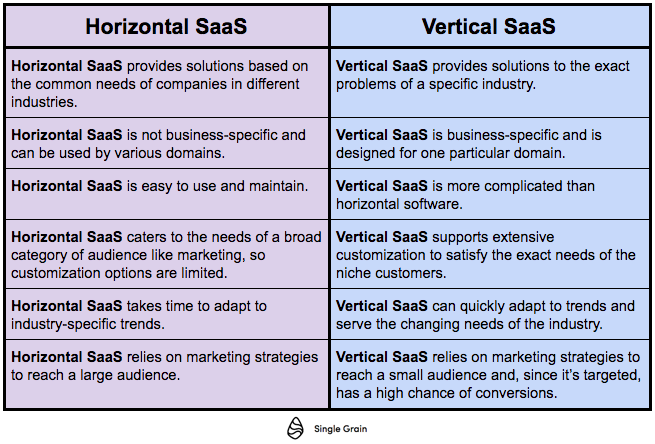 Benefits of Horizontal and Vertical SaaS
As you can see, horizontal and vertical SaaS enjoy different benefits. Let's discuss the advantages for each of these SaaS industries.
Horizontal SaaS Benefits:
covers a broad market, hence the revenue acquired is also enormous
companies have higher chances of acquiring a higher market share in the SaaS industry
Vertical SaaS Benefits:
covers niche markets that offer higher chances of lead conversion
companies enjoy a lower customer acquisition cost and limited marketing spend
is compliant with industry-specific standards and requirements
companies often have higher customer retention due to the level of niche expertise they offer
Challenges in Horizontal and Vertical SaaS
Though both horizontal and vertical SaaS offer specialized software to companies, they also face unique challenges.
Horizontal SaaS Challenges:
has low customer retention rate as they don't always meet industry-specific requirements
establishing leadership in a specific industry is cumbersome
has a high customer acquisition cost because the marketing spend is huge
Vertical SaaS Challenges:
acquiring leads is challenging because the marketing strategy is centered around a small group of niche audiences
convincing prospects to migrate from horizontal SaaS (if they're using it) to vertical SaaS is not easy
Related Content: SaaS CAC: A Guide to Customer Acquisition Costs
Vertical vs. Horizontal: Which Should You Choose for Your SaaS Business?
The right type of model for your SaaS business depends mainly on your long-term goals. Ask yourself:
Do you want to serve customers across multiple industries? Or do you wish to excel in one industry? If you choose the former, go for horizontal SaaS; if you choose the latter, go for vertical SaaS.
Remember, building a vertical SaaS product requires you to take a different approach than a horizontal SaaS.
To help you gain more clarity, here are some insights on how creating a vertical SaaS product is different from building a horizontal SaaS product:
Horizontal SaaS companies need to attract decision-makers from various industries. This requires that they create multiple platforms that allow their customers to configure (or customize) the product to suit their needs.

Vertical SaaS has a specific target audience. This gives them the ability to offer industry-specific features so users can get started with minimal customization.

Horizontal SaaS companies often need to invest more in their products to demonstrate how their product solves the one-of-a-kind problems of different industries.

In contrast, vertical SaaS companies are more capital efficient.

Vertical SaaS products need to consider industry-specific compliance issues to better manage data governance and improve efficiency.

Horizontal SaaS, on the other hand, can offer one-size-fits-all features.

Companies in the vertical SaaS market rely on customer feedback to add and improve their product's features.

In contrast, horizontal SaaS focuses on features that address the needs of multiple industries.

Vertical SaaS companies must have various features that differentiate them from their horizontal SaaS counterparts.
How to Implement a Vertical Strategy for Your SaaS Business
Now that you know what vertical SaaS is, its benefits, challenges and how it differs from horizontal SaaS, let's take a look at how to implement a vertical strategy for your SaaS business.
1) Pick the Right Vertical
As mentioned above, vertical SaaS solutions do not follow the "one-size-fits-all" approach. Instead, it addresses industry-specific challenges remarkably well.
Thus, it is imperative to pick the right vertical. By "right," I mean an industry that has the potential for growth and is not nearing saturation.
Research by Bowery Capital found that vertical SaaS companies in the manufacturing, cannabis, transport and drones industry are likely to see continued opportunities: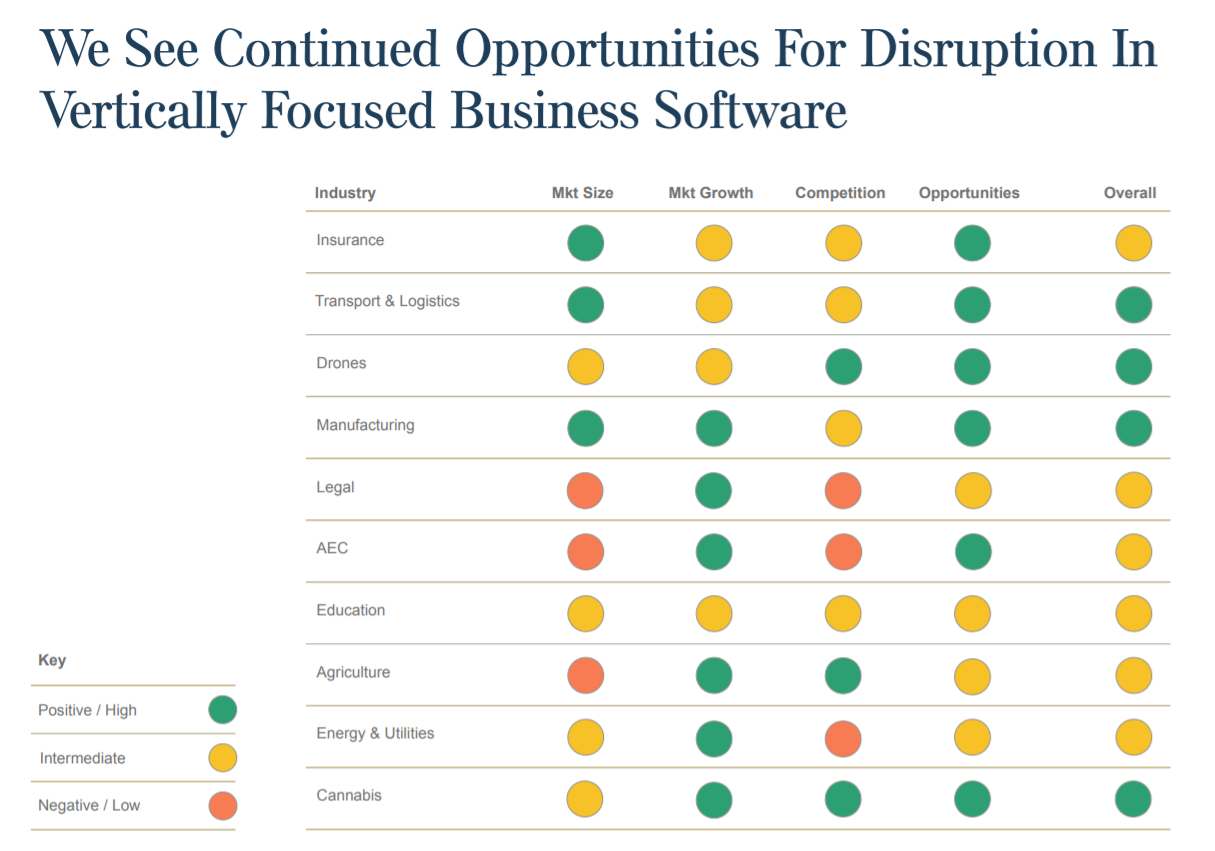 Here are other key findings in the research:
The restaurant industry is not ideal for vertical SaaS because of its small market, limited growth and increased competition.
The education industry has a decent market size, but growth is limited due to high competition and fewer opportunities.
The energy software market continues to grow with energy demand forecasted to rise by 48% by 2040.
Conducting market research is equally important. Once you decide on your vertical, identify the top ten SaaS companies (both horizontal and vertical) and check their offerings (both pricing and features).
Then, determine how you can differentiate your product from theirs. If there aren't enough things that you can do to make your product unique, you will likely struggle to gain a significant market share. In that case, you should try another vertical.
Pro Tip: Pick at least three verticals and conduct extensive market research. It helps determine the right industry that offers enough opportunities to outdo your competitors.
Related Content: Creative Marketing Strategies: How to Market a Cannabis Company
2) Stick to One Vertical
It might be compelling to jump to another vertical because they also have similar problems or you wish to increase your customer base. But you should avoid doing that. Each additional vertical requires you to customize your product to a certain extent which will limit your capability to offer solutions to solve the problems of a specific vertical.
For example, Innovaccer, a healthcare data activation company that changes the way care is delivered, started with its focus on diverse sectors like finance, retail, entertainment and healthcare. However, in 2016, Innovaccer's founders decided to narrow their focus to just healthcare.
They let go of their non-healthcare customers, losing almost 60% of their revenue. Soon enough, the company started gaining momentum and has raised more than $120 million to date.
Pro Tip: Another benefit of sticking to one vertical is that you can acquire, aggregate and store industry-specific metrics. You can then monetize this data via value-added solutions like benchmarking or marketing reports.
3) Ensure that Your Product Offers Industry-Centric Compliance Tools
Targeting a single market allows you to offer industry-specific compliance tools and standards. For example:
If you serve healthcare customers, you could provide built-in HIPAA (Healthcare Information Portability and Accountability) compliance options. Here is an easier-to-read version of HIPPAA compliance.
If you operate in the finance industry, you can offer financial services compliance options.
The more industry-specific compliance tools you offer, the better your product will be. This will also enable you to stand out from the crowd and penetrate the market much faster.
Pro Tip: If you serve global customers, make sure you know the laws and standards of different countries.
4) Engage Industry Insiders to Understand the Challenges of Your Target Customers
It is essential for vertical SaaS companies to speak the language of prospects and provide solutions that completely address the industry's pain points. Doing so increases your chances of acquiring and retaining customers.
Insiders can provide deep insights into the industry nuance, which can help you improve your product. Another benefit of engaging with industry insiders is that it empowers you to quickly understand and adapt to the market changes.
Insiders could be anyone who has been in your industry for a long time, such as:
Your customers
Researchers
Professors
Pro Tip: If possible, try to hire a few veterans in the industry because they have decades of knowledge and have seen the industry transform. They can offer guidance and help you understand the key challenges of the industry.
Related Content: 3 Steps to Increase SaaS Conversion Rates with Customer Education
5) Promote Your Product Aggressively
No matter how good your product is or how much better it solves your customers' problems, if they don't know about it, they can't buy it.
Another reason to promote your product aggressively is that your competitors have probably been in the market for years. In order to make people choose your product over theirs, you need to build trust with tailored marketing.
Follow these tips to promote your product:
Top Vertical SaaS Companies
I have discussed what vertical SaaS is, its future potential, benefits, challenges and ways to implement a vertical strategy in your business.
Now, let's look at some of the top global vertical SaaS companies that are shining in their respective industries.
1) HotSchedules: Restaurant Management Software
HotSchedules is an end-to-end restaurant management SaaS company that generated over $100 million in revenue in 2018. It features inventory management, workforce management, payroll services, training and development, and analytics.
This SaaS product makes it easier for restaurant owners to communicate and manage staff better. It is developed by keeping industry-specific things in mind, such as different schedules, shift changes, and restaurants' unique working environment: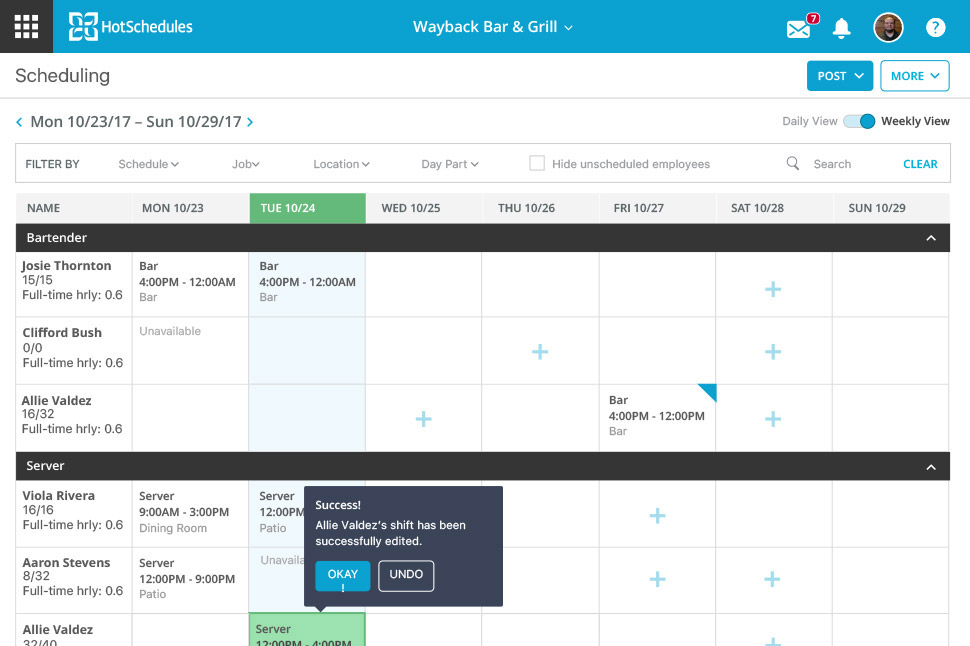 2) Kinnser: Home Healthcare Software
Kinnser offers web-based healthcare solutions for home health, hospice and private duty clinics. Founded in 2003, Kinnser serves more than 4,000 customers.
From administration to point-of-care to billing, Kinnser is designed to help users improve communication, increase efficiency, and coordinate care for patients. Kinnser is also a HIPAA-compliant tool.
It offers reliable claim submission tools and eligibility checks so that doctors can focus more on providing the best possible solution to their patients: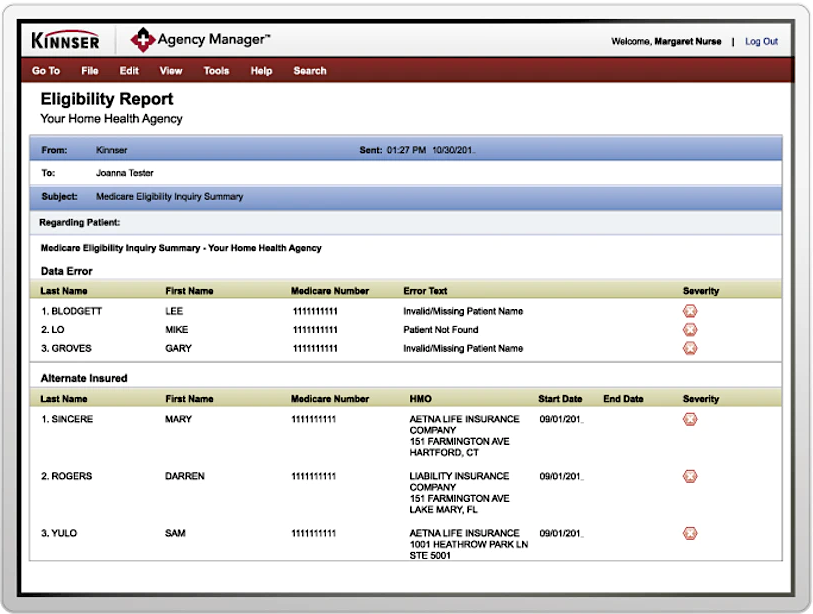 3) Medidata Solutions: Clinical Research Software
Medidata Solutions is a leading provider of cloud-based solutions for clinical research in the life science industry. It aims to improve the productivity and quality of clinical testing through its advanced application like intelligent data analytics: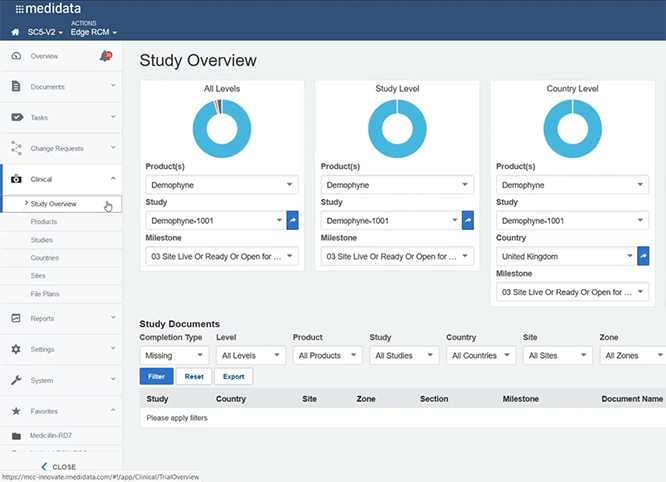 Medidata is CFR Part 11 compliant that allows users to record patient information (like visits, lab, and adverse event data) using customized forms.
In 2019, Dassault Systemes SE, an industrial design software maker, bought Medidata Solutions for $5.7 billion.
4) MyCase: Software for Legal Industry
MyCase enables law firms to run their business from anywhere. It offers features like case management, lead management, billing, client experience, and customer support: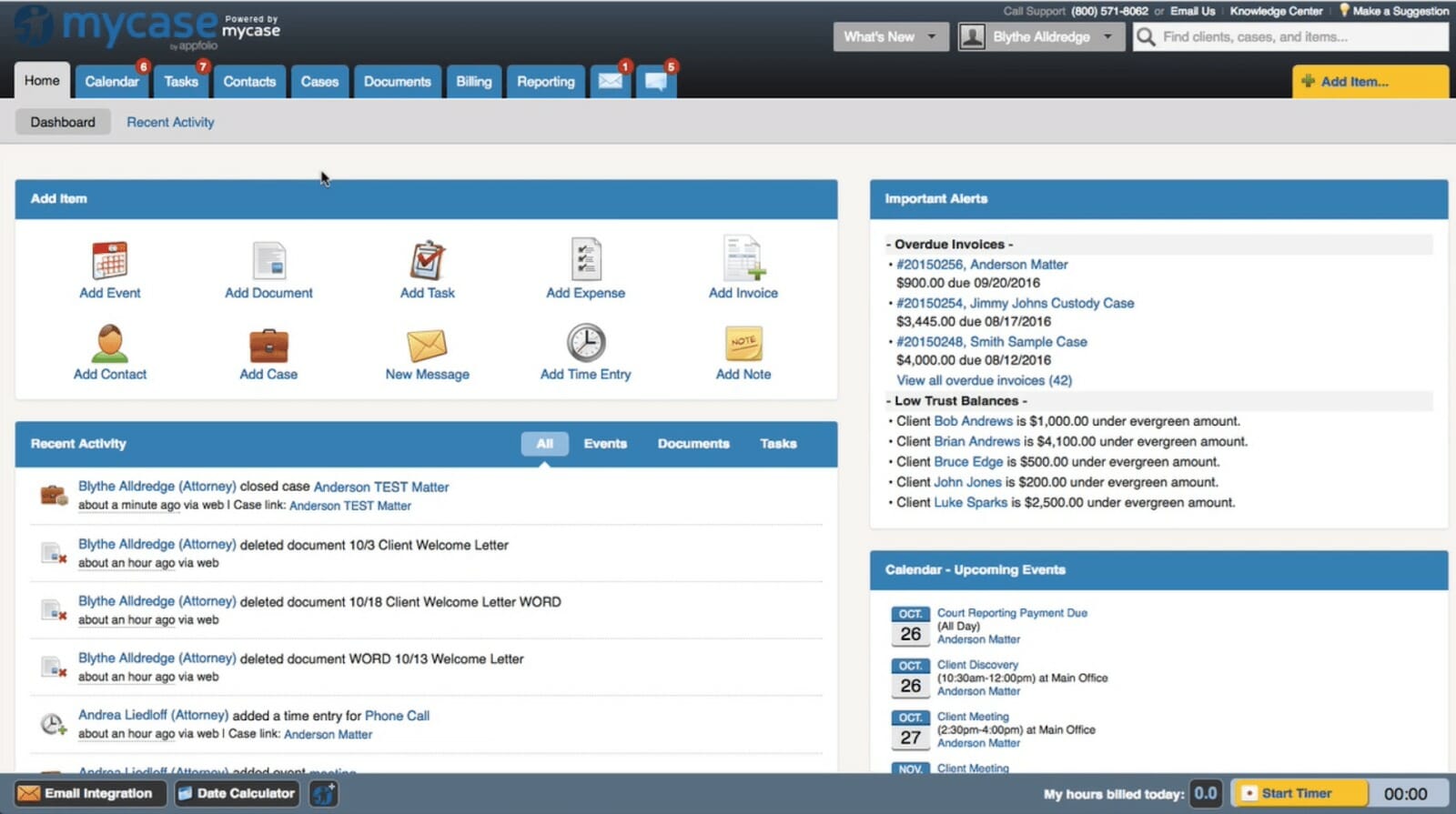 It allows users to manage and sync their calendars to collaborate with clients efficiently. MyCase also has a messaging platform that provides lawyers with a better way to communicate with their clients.
The Future of SaaS: Vertical or Horizontal?
Vertical SaaS is growing at a fast pace because this model offers better solutions than its horizontal counterparts.
The future of SaaS is certainly heading towards vertical because more and more niche-specific software is being launched these days to serve the unique needs of the industry.
Artificial intelligence, blockchain, API integrations, and mobile SaaS products are helping vertical SaaS businesses to dominate their respective niche markets.
Are you considering getting into the vertical SaaS industry? Follow the tips mentioned in this article to implement a vertical strategy in order to get the best results from your efforts.
More SaaS Content:
* 8 SaaS Marketing Trends You Can't Ignore in 2023
* How to Create a Killer SaaS Content Marketing Strategy
* Should You Offer a Freemium Level for Your SaaS Platform?
* 5 Reasons How SEO Benefits Your SaaS Business (+ SaaS SEO Strategy)
* 10 SaaS Business Lessons from $1B+ Unicorns (like Slack, Twilio, Lyft)
* A 3-Step Strategy to Build Links and Drive Referral Traffic to Your SaaS Website