The Anatomy of an Effective SaaS Lead Generation Strategy
Leads are the name of the game. More sales qualified leads = more sales. It's that simple.
If you do lead generation for your SaaS business on a daily basis, you've probably noticed that leads don't always result in thousands of sales.
There are multiple factors that could be affecting your efforts, including:
Your lead source
Quality of incoming traffic converting into leads
Lack of an effective lead nurturing strategy
The way your business development or sales team handles a prospect afterwards
And when your lead-generation efficiency slows down, your sales take a hit. Not cool.
HubSpot recently revealed that the three best lead sources for B2B companies are:
SEO
Email marketing
Social media
If you can master these three sources while simultaneously uncovering a powerful sales and marketing alignment and nurturing your leads, in due time you can turn things around. Leads will move through your funnel so that your conversion rates rise, and clients will hopefully no longer drop out and "use" you for as long as it suits them.
In this post, I'm going to show you how to design your lead-generation strategy so that it focuses on attracting those users who are not only ready to try your product/service, but who will also become your most loyal users.
Set Up Your Lead-Gen Activity Indicators to Grab the Right Leads
It's much easier to evaluate the efficiency of your lead-generation activities if you have some benchmarks to begin with. Even if you've never done lead generation before, you still need to know what kind of conversion rates you have across your various traffic channels.
Also, don't forget that the best conversion rate will most likely be from users who are coming via branded keywords and a direct traffic channel as they're aware of your brand and most likely ready to act.
Setting up health indicators will help you understand whether a particular channel brings you the right type of leads. When it comes to SaaS businesses, whose business model is subscription based, there are some metrics that are especially important, such as customer acquisition cost and lifetime value.
The majority of companies that are running lead-generation activities are sending all their leads into a CRM system. This helps them not only track the conversion rates, but it also lets them see how long on average it takes for a user associated with a particular campaign to turn into a client.
Moreover, those who are using marketing automation can also see how a user is interacting with their website, such as downloading gated content and participating in webinars.
Benchmark metrics are super effective in situations where your lead-generation strategy is geared heavily towards "more is better." Getting more leads who are not interested in your products or services won't help you sell more. On top of this, designing nearly any lead-generation campaign requires a good number of hours.
Without a doubt, conversion rate is the most important metric when it comes to acquiring leads – but that's not the only one you need to keep an eye on.
Here are the top conversion rate metrics to monitor:
Do the leads that you're bringing on board match your ideal customer profile? For example, if your ideal customer is C-level managers and founders, then go and check who you've been bringing in so far.
What percentage of leads are disqualified

 –

and the reasons behind this (most likely you need to work closely with your sales reps to find out more).
What is the customer lifetime value (LTV) of clients that are associated with your lead-gen campaigns? (On a general note, LTV should be not dramatically below an average, otherwise leads that you're bringing are not a good match for your business.)
What's the churn rate? Churn rate is the amount of customers who stopped using your service over a set period of time (typically a month but you can also measure it per quarter). It's reckoned that 5% is a good churn rate for SaaS companies.
There are probably more metrics that are relevant for your particular business model. For instance, some SaaS businesses like to keep an eye on how often a user is engaging with their tool (e.g. viewing particular reports and so on).
Dive Deeper:
* MQL vs. SQL – Serve Up The Right Type Of Content To Your Leads
* 7 Easy Ways to Generate and Convert More Qualified Leads
* A 3-Step Strategy to Build Links & Drive Referral Traffic to Your SaaS Website
* B2B SaaS Lead Generation: How We Improved Axure's Lead Quality Overnight

Select the Most Promising Lead-Generation Channels
Once you know which metrics you need to prioritize, you can move onto the next step: selecting your most promising lead-generation channels.
It's important to start by reviewing the efficiency of your existing channels. Sometimes businesses can generate up to 20% more leads simply by adding optimized forms or installing chatbots to collect emails on pages that are already bringing in a solid flow of traffic.
Here's your step-by-step plan:
Step 1
Go to Google Analytics and filter out those pages that are receiving a solid amount of visitors already. You can find a report with the most visited pages under the section "Site Content":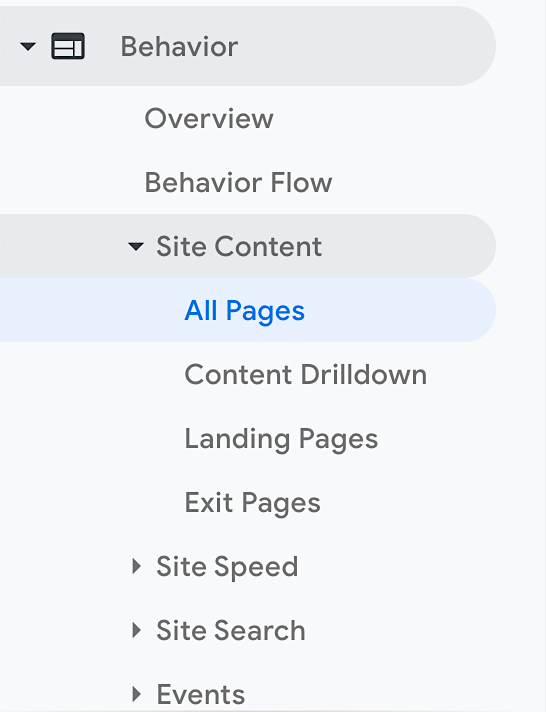 Then double check what kind of forms are used on those pages.
If there are none geared towards lead generation, you should definitely add better ones to maximize conversions. In case you're lacking design ideas, I highly recommend checking out this post that has a great collection of lead-capturing forms: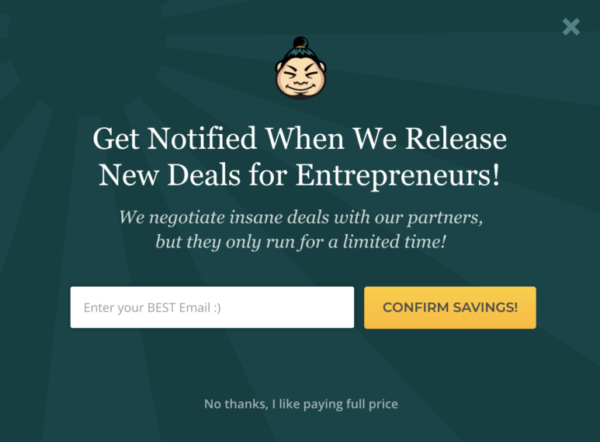 Step 2
Check to see what kind of traffic sources are bringing you the best leads.
Your best bet will be to connect your future lead-generation activities with traffic sources that have already worked well for you so far. This may include organic traffic, but it may also include other sources, such as referral traffic and even paid traffic.
Organic Traffic
Organic traffic is known as the best traffic source, but this might not necessarily be the case for you. Users have different search intent, and all search queries can be divided into three kinds:
Transactional Intent – DO
Informational Intent – KNOW
Navigational Intent – GO
The majority of a searcher intent is informational. This means that your organic traffic might take ages to convert and that's something you need to keep in mind.
Referral Traffic
For newly established SaaS businesses, referral traffic might become a super-powerful source of prospects. It works well because there aren't too many professionals who are aware of your tool right now. Once an expert features your solution on their blog with the right audience, the traffic and leads will hit your site immediately.
In this way, referral traffic can form part of your content marketing strategy as you chase leads.
Here's a good example that perfectly illustrates what I'm talking about: Literally each and every digital marketer knows about a list of SEO tools on Brian Dean's Backlinko site because it's a trustworthy source. Plus, Brian's SEO tools post gets nearly 2K organic visitors on a monthly basis, shown here in this screenshot: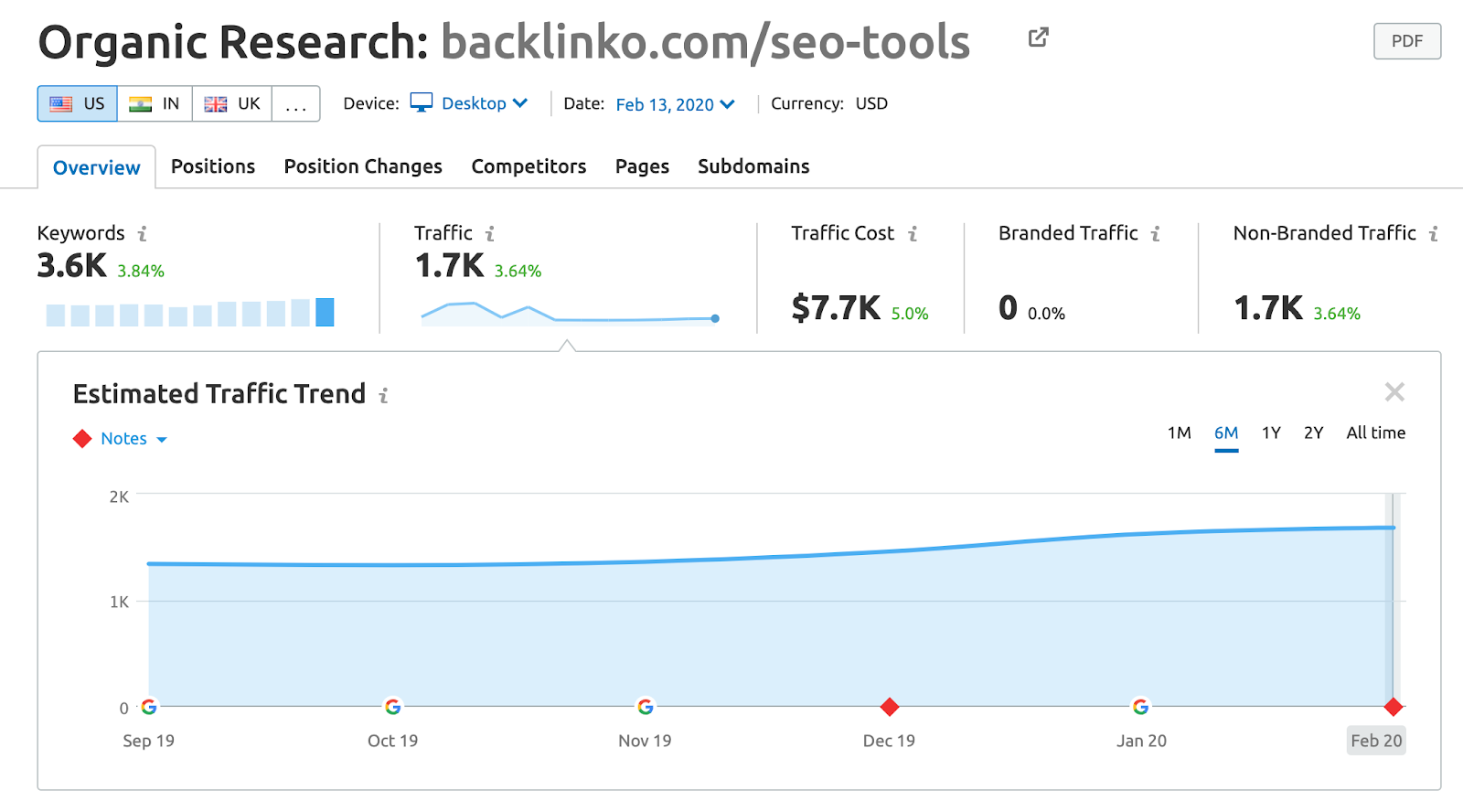 In fact, it's due to all that organic traffic that the tools listed receive so much referral traffic. Backlinko ranks very well organically, and it passes on traffic to those tools. In a way, you could say that this opens up a whole new lead-generation source that we can call referral traffic through an organic channel.
Paid traffic will without a doubt be a sure shot here – but only if you're an experienced ad manager. If you're not, you might find that it costs too much.
Cost per lead isn't actually listed in the top three lead sources, probably because the CPL can quickly go through the roof. For example, in the IT Services niche the average cost per lead is $208 USD, while digital marketing agencies pay only $99 USD per lead: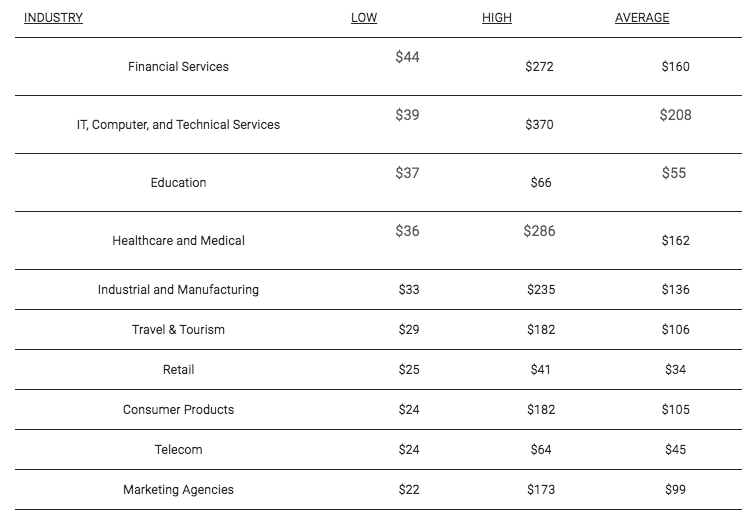 If you have a healthy budget and want to spend it wisely, here's my tip:
Find industry blogs and some laser-targeted communities that allow you to purchase ads, such as sponsored posts and a dedicated newsletter.
For instance, established digital marketing blog SEJ will charge you $2,500 USD for a dedicated newsletter.
Finally, for those who have no experience with paid channels, but who want to understand the quality of leads they're generating without the complex process of setting up a Google Tag Manager event, there's a great workaround.
A tool called Finteza has a good number of prebuilt lead funnels that will help you see whether ad traffic is really engaging with your site's content by visualizing such activities as:
Mouse hover
Button and form clicks
File downloading
Application filling
Clicking on particular elements on your page/site
Add-to-cart
Scroll down to a page and so on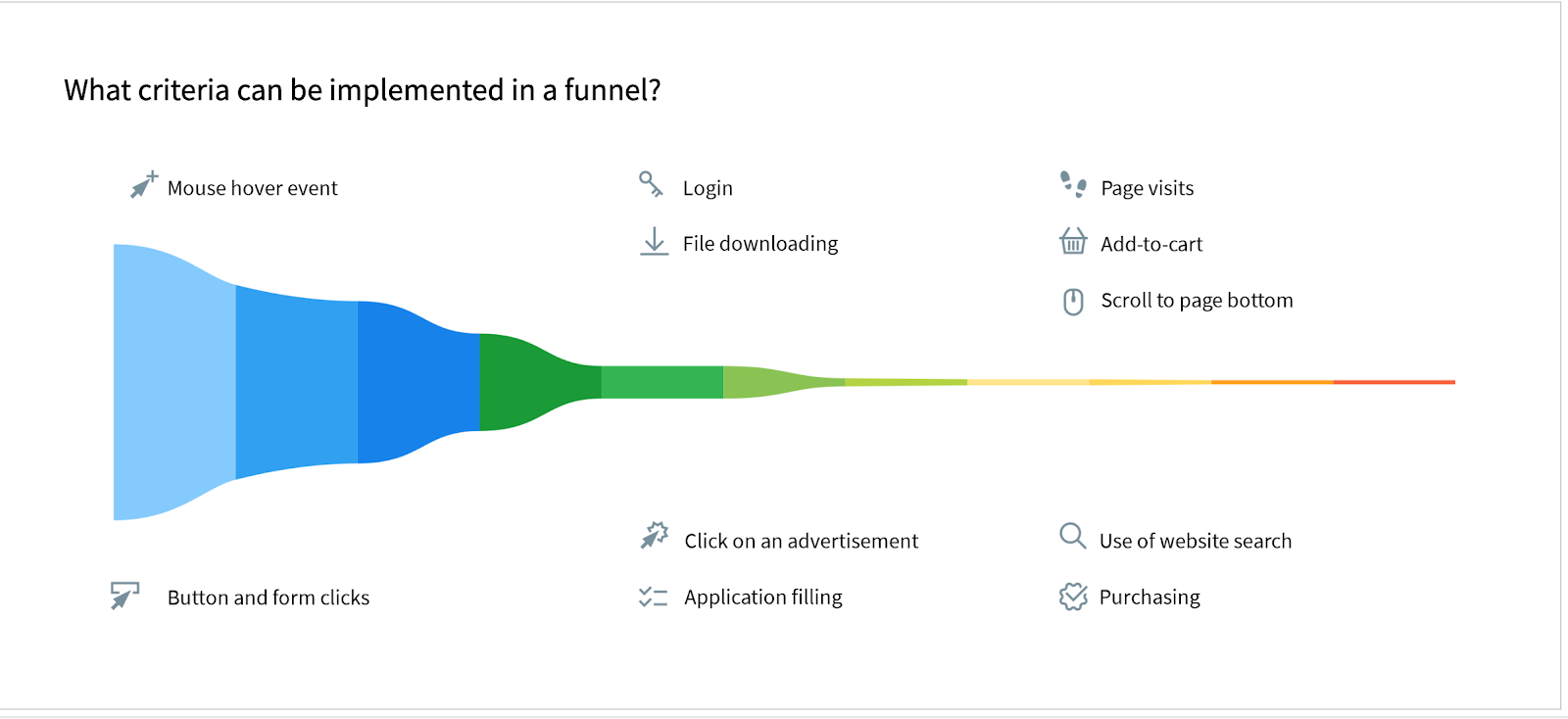 However, my tip is firstly focused on free traffic channels that you should experiment with before switching to paid ones.
Dive Deeper: How to Create a Killer SaaS Content Marketing Strategy
Step 3
Competitor analysis is never a bad idea. Look at the kinds of channels that your competitors are using and then reverse engineer it. This can be done with the help of tools like SEMrush or SimilarWeb, both of which have traffic analytics reports.
In the screenshot below, you can see the distribution of traffic sources for RightInbox. It clearly shows that at the current stage their main channel is organic traffic: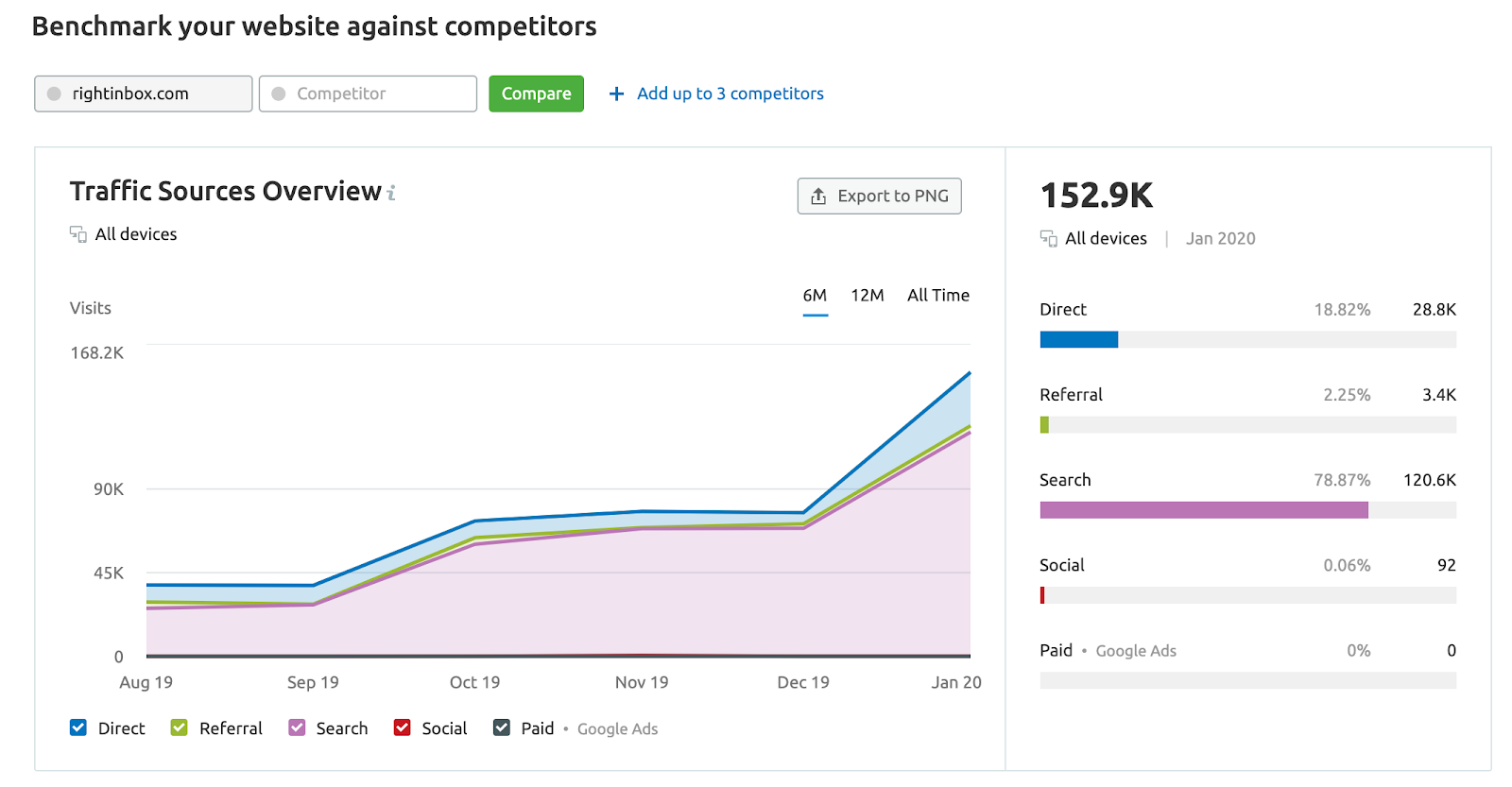 Also, review how your competitors are capturing their leads. In other words, find out whether they:
Run webinars (subscribe to their webinars to review the number of attendees they have, and what kind of email sequences they're using before and after the webinar)
Create gated content (if yes, what kind of gated content?)
Use lead-capturing forms that are integrated in their blog posts
Run affiliate programs
Use any specific tools to capture leads (there are a good number of tools out there that show what kind of companies are visiting your website, including Albacross, Leadfeeder, HubSpot, and many others)
Based on this data, you could pick up the most promising lead-generation channels and start capturing leads. But that's not all, as you need to make sure that a conversion rate to a client won't disappoint you and your boss.
As Ross Simmonds, Digital Strategist at Foundation Marketing, told me:
"Reviewing what your competitors are doing is a great way to see what's working for them [so you can] evolve. You can uncover insights around what pages they're prioritizing with paid media or even what pages they're attempting to get more backlinks to.
All of this can be valuable. Reverse engineering the marketing efforts of a competitor can unlock opportunities but also comes with risk. You don't want to find yourself playing cut and paste with your marketing strategy when experimentation and innovation on a channel could unlock new growth. Use this research to be informed but don't just cut and paste."
Dive Deeper:
* Vertical SaaS: The Future of SaaS Is in Niche Industries
* 8 SaaS Marketing Trends You Can't Ignore in 2023
* 5 Reasons How SEO Benefits Your SaaS Business (+ SaaS SEO Strategy)
* 12 Best SaaS Marketing Tactics for Business Growth
* SaaS Marketing Strategy: 12 Killer Ideas to Grow Your Company

Design Lead Funnels for Each Lead-Gen Campaign
Lead funnels work in a similar way to shop assistants: they explain how things work and maybe even give you a tour of the product or service.
A lead funnel – in the form of a sequence of emails – can function in the same way. It's designed to nurture leads by explaining how things work and reiterating the benefits.
When you subscribe to any tool, you'll get a sequence of emails that:
Welcome you on board
Educate you about the tool's capabilities
Show you how similar businesses have been growing/solving their problems thanks to this tool
Invite you to join a webinar or even a product demo
Encourage you to try a paid version
Basically, these lead funnels are warming you up as well as making you aware of all the possible benefits that a tool has.
Some SaaS products have features that are focused on different groups of users. For example, marketing automation tools like Monday.com can be used by nearly every team to manage their daily work. But this doesn't mean they don't personalize their lead funnels and qualify all leads in the same manner. They have a set of user case pages that clearly show who their best types of users are:

A lead that was captured on a page about marketing wants to learn more about the features related to how they can improve their marketing processes – thanks to the Monday tool.
Without a doubt, it's great when leads are captured on a page that perfectly describes their business needs. But what if it doesn't work like this and you still want to send to the right lead funnel? In that case, you can look at some other data that should help you make the right decision:
Job role: Are you talking to a specialist or C-Level manager? A C-Level doesn't need to know that your tool has a fantastic feature that allows them to upload a list of keywords at once with all their tags. But they do want to hear how your tool will help their company grow quarterly/annually.
Size and industry: You need to set up one funnel for SMB businesses and another funnel for the Enterprise level. And not just for company sizes, but for industries, too. For instance, it'll be much more effective if you add some user cases that are relevant to a particular business industry and size rather than go with a set of generic ones. If you want to learn about setting up an account-based marketing strategy, here's a great post.
Lead source: If you've created a series of webinars, for example, it's quite clear that those users should be sent to a specific lead funnel versus other leads who are simply brought in through an organic or referral source.
Now you have plenty of approaches on how to split prospects across your leads funnels based not only on the source of a  lead, but their business needs, industry and even their business size.
Dive Deeper:
* The Account-Based Marketing (ABM) Mega Guide
* How to Increase Your SaaS Trials with a Facebook Ads Funnel
* How to Create the Ultimate Marketing Funnel (Templates Included)

What Your Strategy Should Look Like Once a Lead Is Captured
Your strategy starts with creating a set of email sequences that is typically focused on these three stages:
Stage 1: Unique Value Proposition
Unique value proposition emails are key because they set the tone for your ensuing relationship with your prospects.
Such emails should include some "freebies" that are considered truly valuable by your audience. Some things that people like to see the most are:
Unique "how-to" content that is delivered by a well-known industry expert
Exclusive research insights, such as case studies
Access to your educational portal
Access to your private community
Unique content that is solely produced for this channel
But there are, of course, many ways you can nurture your relationships with your subscribers.
Derek Gleason from CXL, for example, shared how they improved their email copy by simply adding some thoughts from their founder Peep Laja:
"About a year ago, Peep started writing 'On my Mind' sections to open each email. These are a few short paragraphs that touch on business and personal growth. It's unique content that isn't published elsewhere. Often, it's a refined and/or expanded version of things Peep has posted on Twitter or LinkedIn during the preceding week, which has proven a useful testing ground for which ideas might provide the most value to our audience.
Of all the recent things we've done with email, we probably get the most (positive) feedback about that addition. It's a simple, genuine reason to open our email, doesn't take much time to consume, and provides immediate value. It's also very inexpensive to produce since Peep is constantly reading and tweeting.
Example from this week":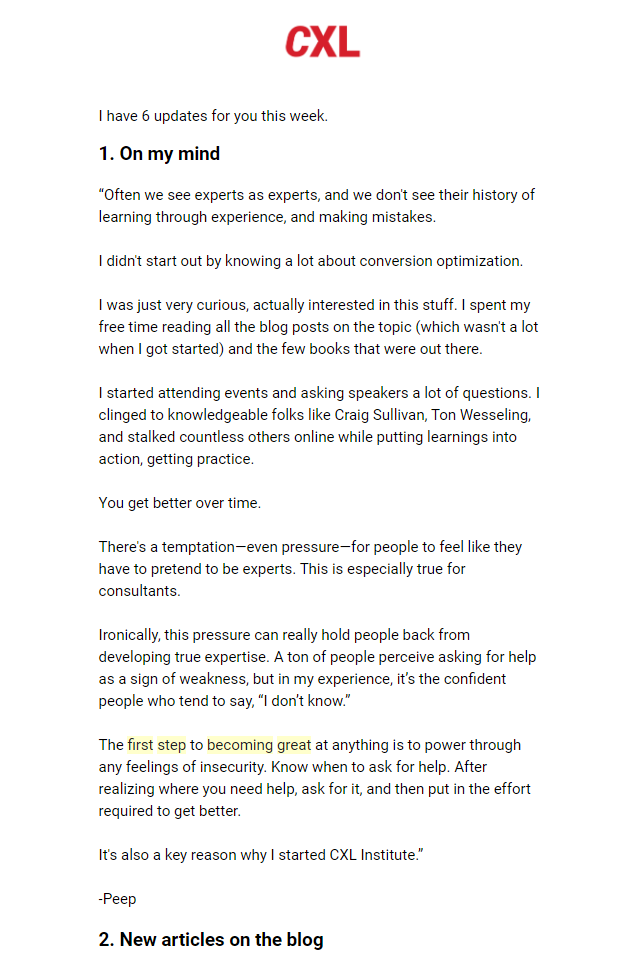 Stage 2: Social Proof
Social proof emails usually include links to your website's content pages that offer more details.
This might include case studies, success stories or testimonials from expert clients who show others what kind of features they're enjoying and why.
Some SaaS companies love directing users to their G2 page, which includes feedback from 100% real users who are actively using their tool.
If you run a blog, you could also direct prospects to your most recent blog post. But what's even better is if you tailor the email and the blog to specific readers so that the content is super relevant to them and their interests right now.
There's also the option of webinars, which are great lead-nurturing weapons. In terms of social proof, you could invite experts in your niche who have used your services to join you on the webinar. Here, they can discuss certain features and show viewers what your services can do for them.
In fact, SEMrush is one example of a company that has done just this. They invited experts onto their webinar to demonstrate specific aspects of their tool. This worked as both a form of social proof and as a  "how to" educational lesson that further cemented SEMrush's relationship with their prospects.
From Marko Mijatovic, Content Marketing Manager at LeadQuizzes:
"We launched an onboarding email campaign where we shared a new case study/success story in each email of the campaign. Each email was geared towards a particular audience, trying to get them to subscribe for a free trial and showing how a similar user persona used our quiz maker to boost their business. The screenshot below shows an email aimed at people running an e-commerce business":

Moreover, a webinar is really personal because you're literally talking to people face-to-face. This kind of real interaction helps build trust in your company.
If you're not sure how to start planning your webinar, here's a post on how to put together a top-notch webinar.
Dive Deeper:
* How to Build a Strong Personal Brand Using Webinars
* 6 Easy Ways to Build Social Proof and Incorporate It into Your Website
* 10 SaaS Business Lessons from $1B+ Unicorns (like Slack, Twilio, Lyft)

Stage 3: Product Demos
At this stage, your users are ready to buy. Finally! And yet, there's still work to be done if you're to persuade them to buy from you.
One of the biggest barriers to conversion is the inability to use a piece of software.
You might have an amazing service, but if your prospects are unsure how to use it, they simply won't convert.
Product demos are useful because they are educational tools that offer lots of value to the end user. You can use them to show prospects how to get started with your services, how to use its special features and how exactly your services will benefit them.
So make sure to invite your users to a product demo. You could also double down by giving them an extended trial so they can get to know all of its features.
All in all, what's really important is that your funnels are adjusted to meet your leads at every step of their journey. From warming them up by presenting the tangible benefits of your product, through real life success stories, and finally tailoring your offer to speak to their personal challenges, your job is to make them ready to purchase from you.
Final Thoughts about Lead-Gen for SaaS
It can seem as though you're sometimes swimming against the tide where lead generation is concerned, because there's a lot to do. However, with a well-designed strategy you will be able to automate your process and start generating high-quality leads even when you sleep. 
Here's a quick recap of all the steps we've discussed:
Define the right metrics for your lead generation efforts

Choose and validate the most effective customer acquisition channels for your business

Monitor your results and adjust the strategy when needed.

Design coherent funnels for all customer/leads segments.
Your lead generation strategy serves as a foundation of your sales funnel. If bringing in more customers is your goal for 2023, then it's time to roll up your sleeves and get to work. Good luck!