Tired of putting energy into SEO work and not getting any results?
Plenty of businesses comb through blog posts, online courses and webinars that all promise to help them improve their on-site SEO, only to find themselves reading the same basic information over and over.
You already know about meta descriptions, title tags and primary keywords. You've implemented tips like removing dates from URLs and understand why you need to create great content. You've done all that and more… and yet you're still not outranking your competitors.
We're going to help you change that.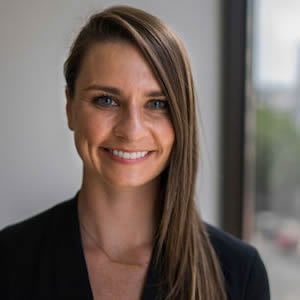 Jacqueline Foster
Demand Generation Marketing, Lever.co
We can count on them to bring new ideas to the table consistently
7 Advanced SEO Hacks for Your To-Do List in 2023
In this post, I'm going to give you an advanced SEO to-do list for 2023, which is going to go over in-depth tactics that you aren't seeing anywhere else. These strategies will give you a distinct competitive edge and can help you get that much sought-after boost in the SERPs.
Advanced SEO Tip #1: Create an FAQ Page Schema
FAQ schema is structured data, or code, that you put on your website to let Google know that you have a Frequently Asked Questions page – which increases your chance of being featured as a rich snippet in the SERPs.
Many brands have an FAQ page on their site already to address the most popular customer questions, overcome objections, and even educate the customer.
Adding an FAQ schema takes this strategy a step further, because it pulls part of your FAQ page off your site and highlights it in the SERPs.
Just as you can add Review schema to your site to have a five-star rating displayed or Event schema to highlight your upcoming events, as in this example…

…you can do the same with commonly asked questions and answers. You can create your own questions and answers, which will appear under your link in the search results as drop-downs:

FAQ schema gives you significantly more real estate on the search results pages and gives you an instant air of authority.
And your click-through rate, in many cases, can more than double. We experienced this ourselves, but there's plenty of other data to back it up:
One case study found that adding an FAQ schema to their landing page increased conversions from 1.82% to 2.75%.
Another study saw their click-through rate increase from 6% to 14%.
Matthew Woodward also saw a 2.6x increase in click-through rate after implementing this strategy.
Zero-click searches – which are exactly what they sound like: a search result that requires no click – have actually surpassed organic clicks, now accounting for over 50% of searches.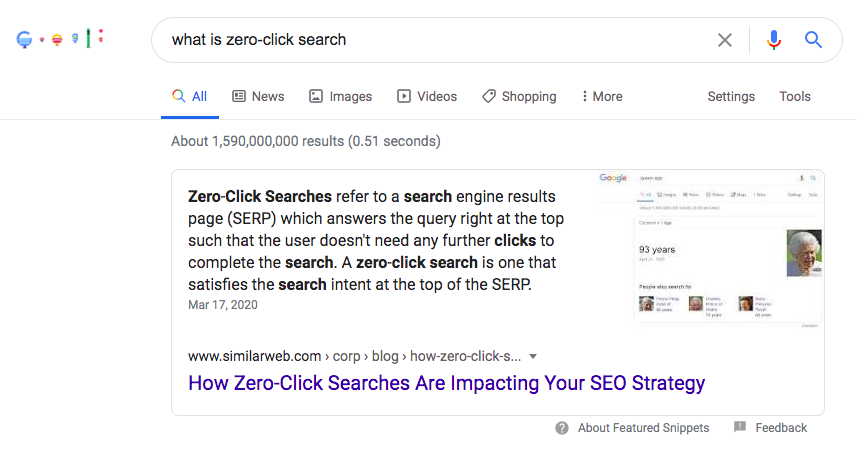 Since Google is trying to optimize for more voice searches, questions and answers with FAQ schema can have a distinct advantage.
How to Implement this Tip
If you're feeling stumped on which questions to ask and answer (i.e. what will give you the most search visibility), there are plenty of places to gain inspiration from.
A lot of times, when you do a Google search, you come across the "People Also Ask" box, so you can see exactly what kinds of related or follow-up questions people are Googling. If you searched for "how to care for marble," for example, you'll see questions like "How do you take care of marble countertops" and "What cleaning products are safe to use on marble countertops?"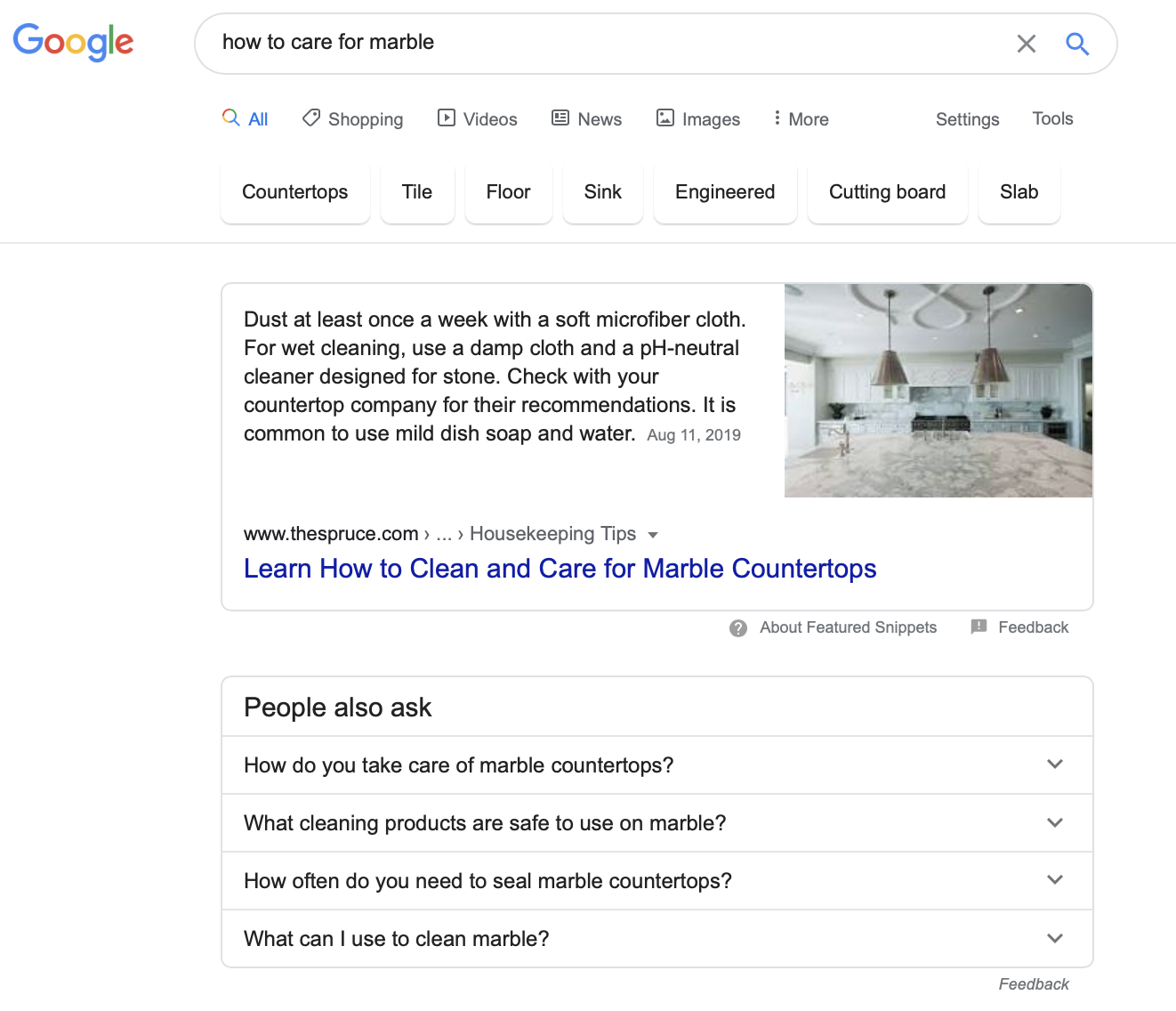 Use these topics for inspiration, because there's a need for them. And keep in mind that you can answer the questions however you see fit, though you should provide authoritative and (most importantly) straightforward answers. Avoid blatant self-promotion; treat it like an extension of content marketing that can be used to pique interest and trust, and keep clicks away from your competition.
Using FAQ schema strategy is incredibly fast-acting; it shows up within about 30 minutes after you upload and submit it to the index in Google's Search Console.
For WordPress users, take advantage of Yoast SEO for this, which makes the process particularly easy:
Create a new post
Add a new "block"
Search for "structured data"
You'll see the FAQ block pop up: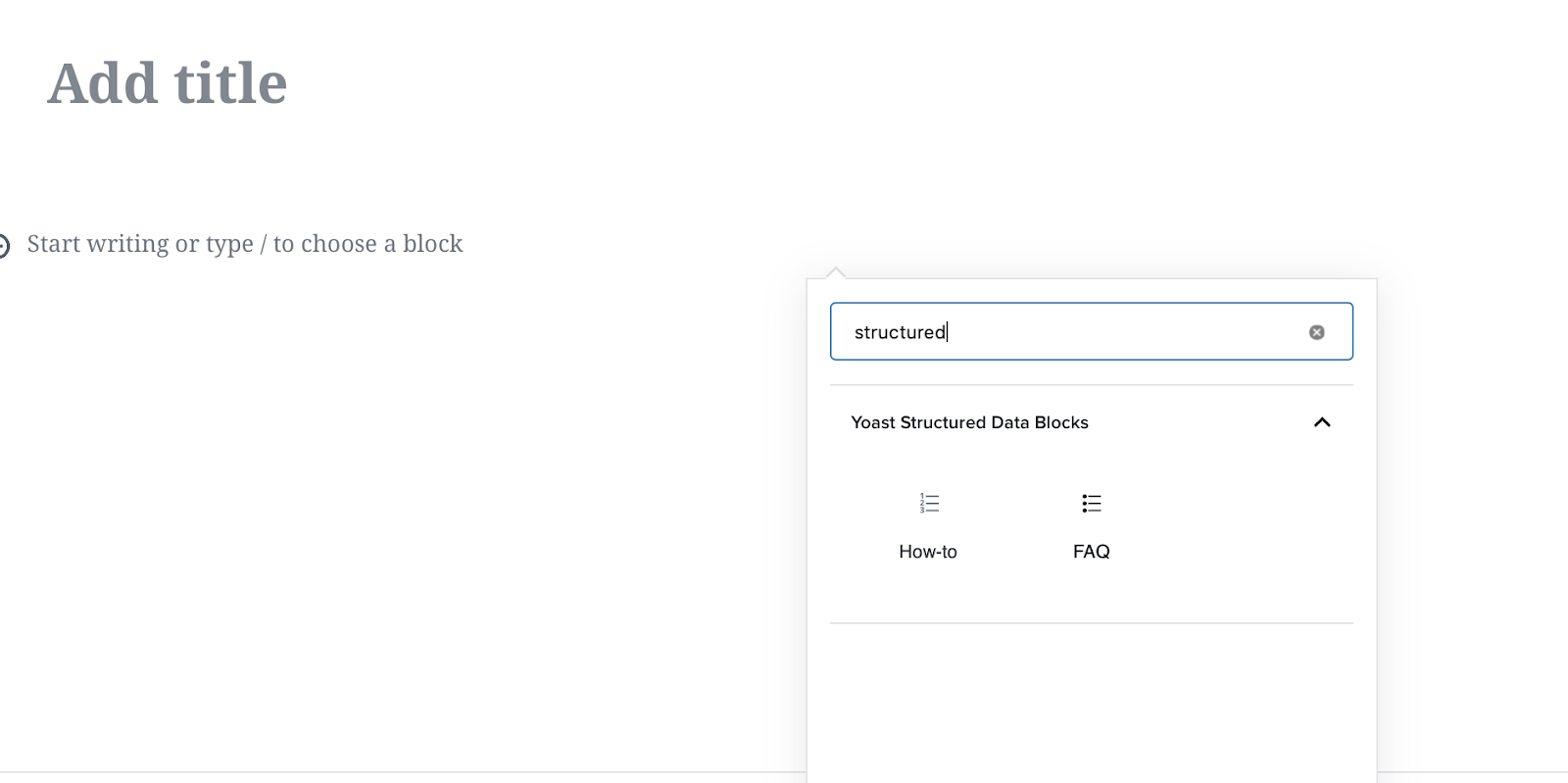 Add it to your post, and then enter as many questions and answers as you want:

Remember to do keyword research to increase the likelihood of having these appear in search.
If you aren't using Yoast:
You can learn more about how to add schema to your site in this guide.
Also, here's Google's guide to Schema markup that explains the type of code you need and how to implement it.
Dive Deeper: 10 Effective SEO Techniques to Drive Organic Traffic in 2023
Advanced SEO Tip #2: Improve Page Load Speed with CDNs
You're probably familiar with the importance of having quick website loading speeds, as page speeds can impact SERP potential. And you likely already know that you can use Google's PageSpeed to look for quick-fix suggestions about improving site loading speed, such as compressing images or addressing broken redirects: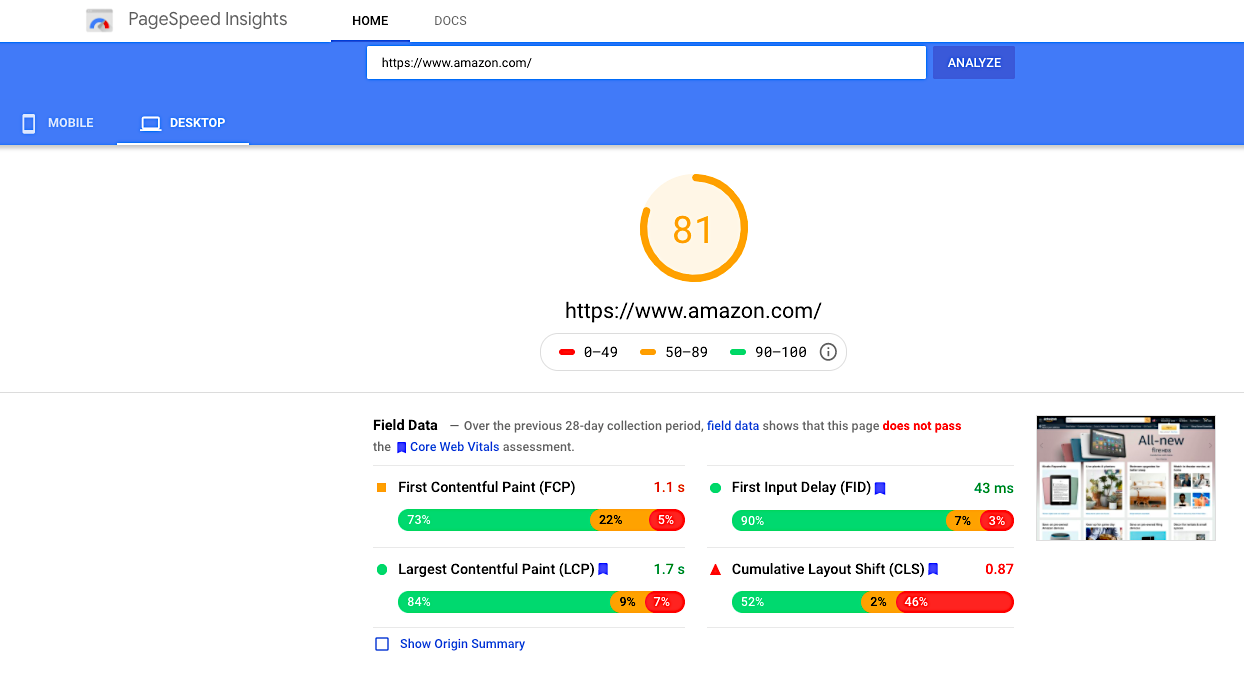 There is, however, another way that you can significantly speed up site loading times, which can have a huge impact on your potential ranking: loading your HTML from Content Delivery Networks (CDNs).
A CDN is a distributed network that uses servers all over the world. Your site and its files can be stored on global servers so that they're geographically closer to users, which speeds up page load times because geography does matter when it comes to online efficiency.
If your business is in Maine, for example, and you're only using a single server in Maine, people in the North East will see your content faster than someone in the South or even in France, Brazil or Russia. If you're using a CDN, however, you store your site on servers in locations all over the world, which means that a customer in Florida could load your site from a server in Georgia, thus increasing their site loading speed significantly.
When your site loading times are significantly faster, you'll see a big uptick in SERPs over time, along with lower bounce rates.
When you're choosing a CDN, make sure that you're choosing one that has faster site loading speeds than what you currently offer and that they can manage large sites and content if needed. There are plenty of high-quality CDNs that are using cloud-based technology. Here are a few to check out if you're interested:
Advanced SEO Tip #3: Link-Worthy Freebies
Link building is essential for SEO to the point where it can be difficult to rank well without a strong link-building profile.
Infographics and high-quality, data-driven blog posts are great for link building – as long as the focus is always on the content itself, and not self-promotion.
Another great tactic is to create link-worthy freebies for product-led growth. The idea here is that you're creating offers and freebies that are worthy of downloading, sharing, talking about and linking to.
Ubersuggest from Neil Patel is a great example: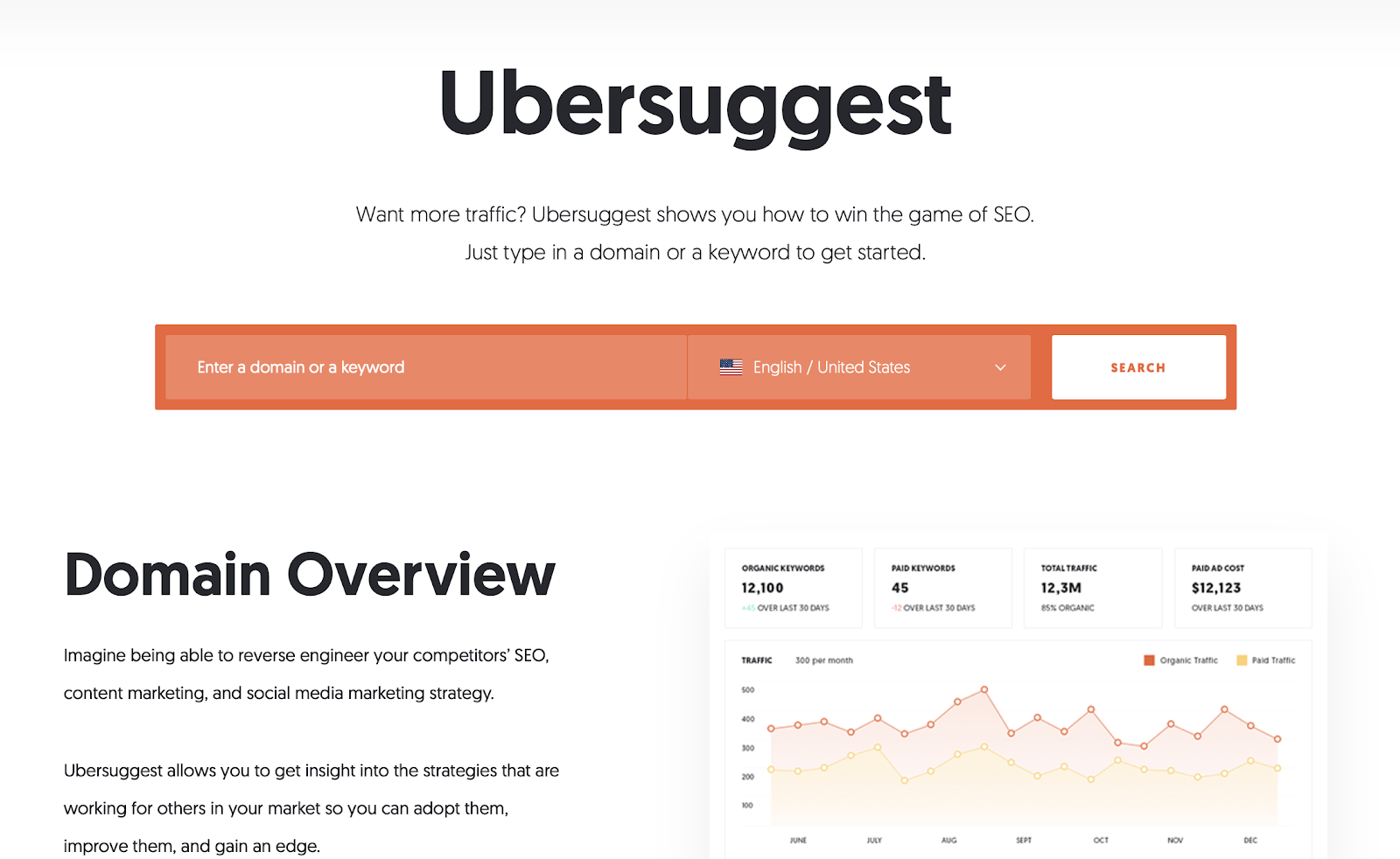 It has a free keyword research tool that can draw users in and encourage them to link to it and recommend it to others. This can be picked up by other blogs and industry resources, too (like it has here!) and be referenced with follow links.
CoSchedule's Headline Analyzer is another great tool, which also works very well as a lead magnet: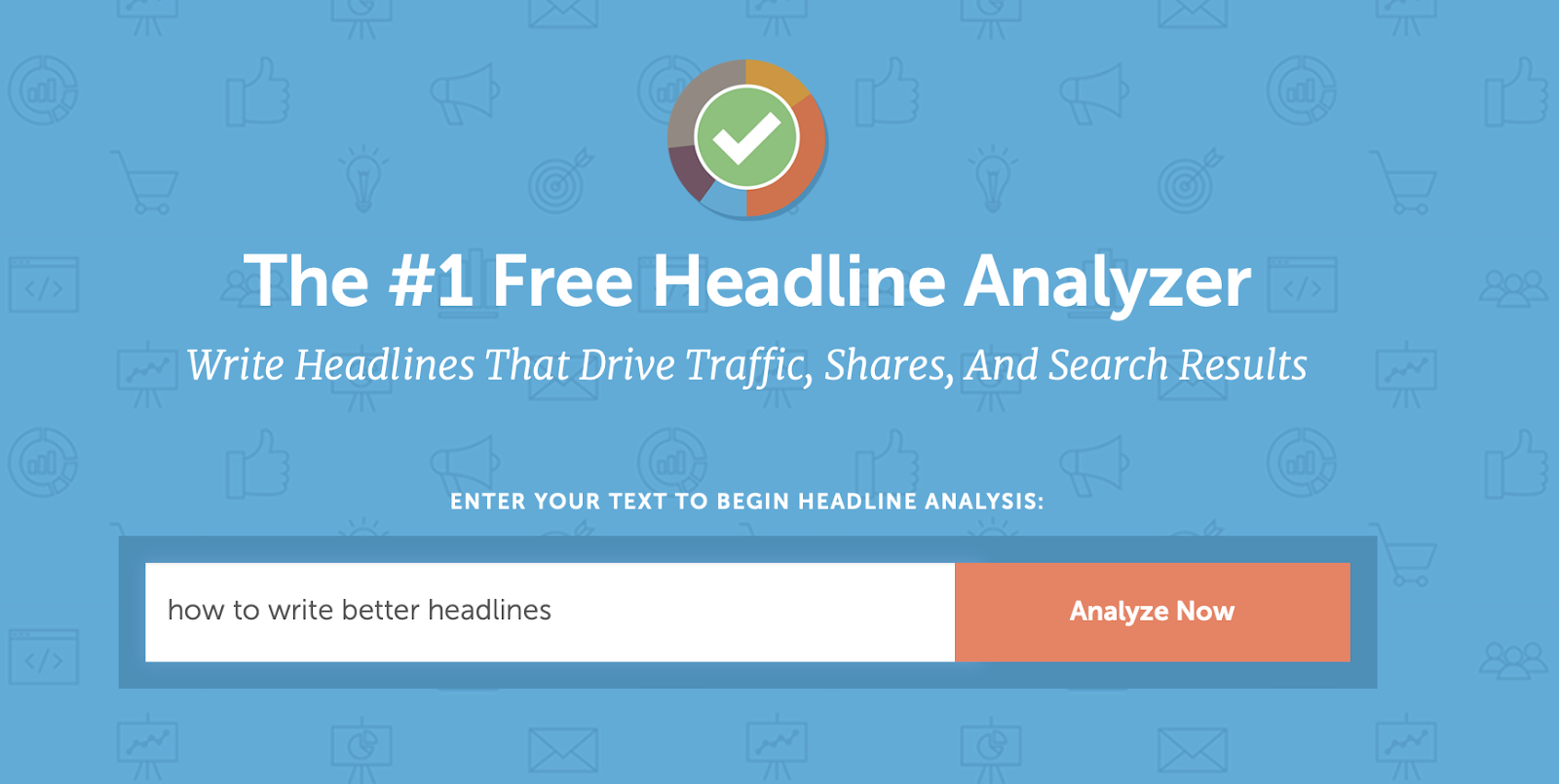 You can see this tool mentioned constantly in blog posts about how to improve your content's headlines, and it gets a ton of backlinks.
There are plenty of options for what you can create here. Think "lead magnet", but make it accessible for download or use without a lead form gateway. This could be a widget, a template or something else that you can keep on your site but give away for free.
Link building is one of the best ways to help your site scale faster and rise in the SERPs, and offering something truly unique and consistently valuable is a strategy that too many brands overlook. This is largely because it takes a significant amount of time to create these tools, widgets and freebies, but the results are often well worth it.
For best results, make sure that you have this tool listed clearly on your site and on its own individual page. You should also promote it heavily and, if possible, reach out to industry peers to let them know what you've created. This will help put your new freebie on other people's radar, getting the link-building momentum started.
And remember, be patient. It takes time for link-building strategies to work and pay off: an average of 10 weeks to see an increase in ranking. So don't get discouraged if you don't see results overnight.
Dive Deeper: The Ultimate Guide to Link Building with Content for SEO
Advanced SEO Tip #4: Focus on Your Brand
Most businesses look at branding and SEO as two distinct entities, and often treat them as such. We've found, however, that focusing on your brand and promoting it properly can actually do wonders for your SEO while simultaneously setting you apart from the competition.
Former Google CEO Eric Schmidt himself has said that "brands are the solution." They're what customers focus on; it's how they sort out good sites from bad sites and make purchasing decisions. This goes for Google, too – they rank brands higher than non-brands.
In Google's eyes (or at least in the algorithm's), distinct, popular brands are great. If people are searching for a specific site on a daily basis, they take that as an indicator of quality and interest. And if they notice that users are regularly searching for your specific brand instead of a generic product (think "Havertys" instead of "furniture") for a several-month period, that can help your ranking. From our understanding, they'll review branded searches for one or two quarters.
This helps Google determine who to prioritize in search results when everything else is equal. If you have two websites like General Motors and BMW, which should get ranked higher? Brand signals can make a huge difference. This is partially why brands like "Nike" will appear before brands like "DSW" in a search for "running shoes":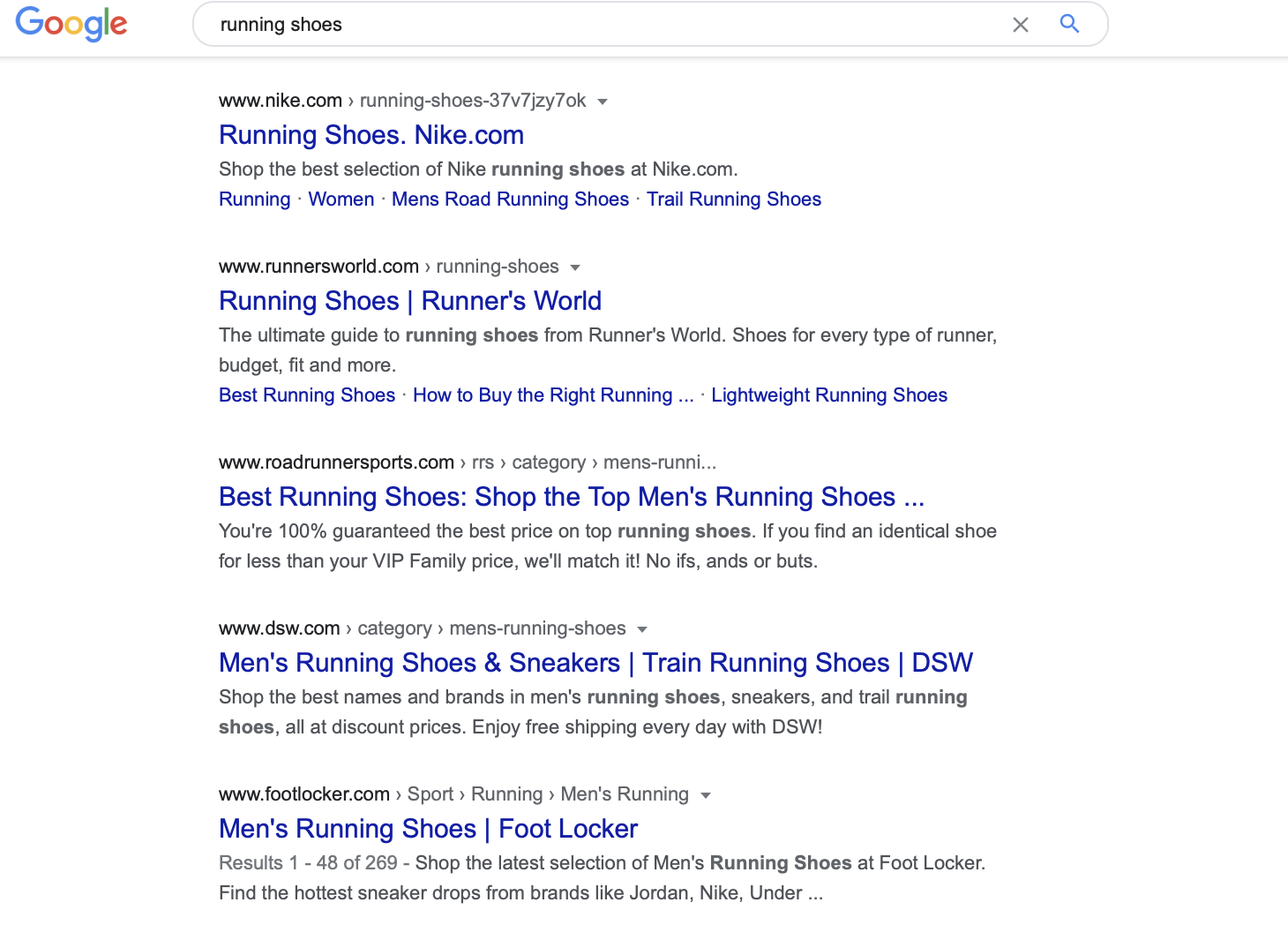 Getting more people to search for your brand on Google, therefore, is an excellent SEO and business strategy.
To do this, focus on the "rule of seven." The idea here is that if you can get your brand, content, ads and product in front of users seven different times, they'll be more likely to seek you out on Google and interact with your brand. You want to do this by carefully setting up engaging funnels for cold audiences but also by consistently re-engaging existing customers.
The easiest way you can do this is doing a combination of: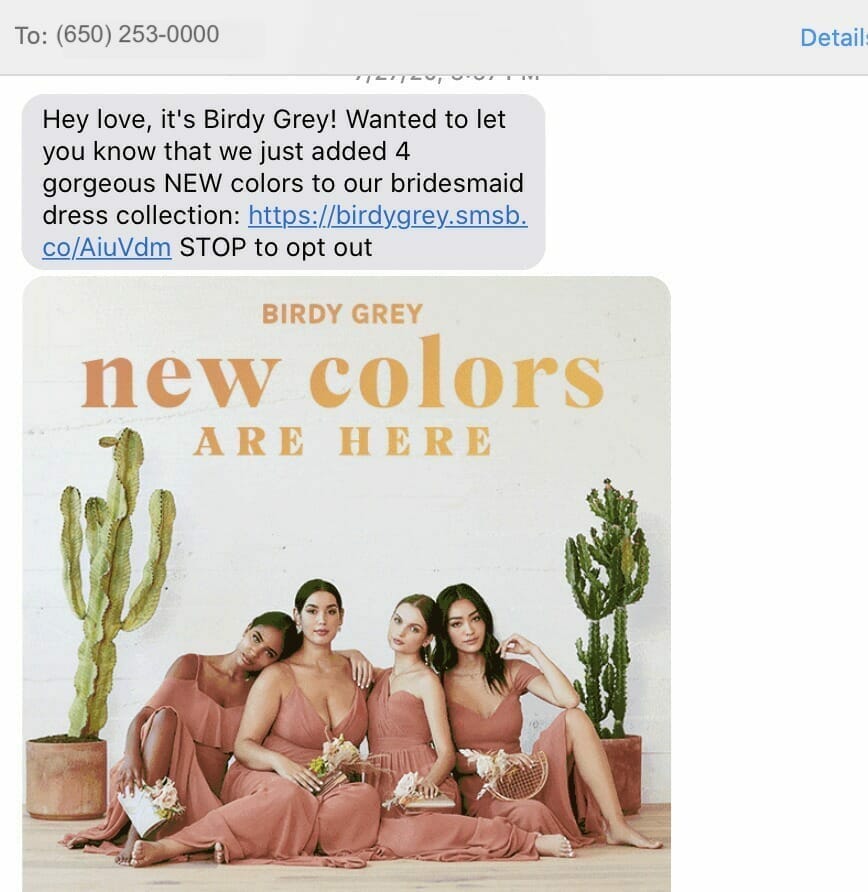 In our experience, consistently sending those three things to your audience every time you release new content is the best way to go about increasing brand interest. Think re-engagement; you want to be at the forefront of people's minds. Over time, that should increase your brand signals, which should boost up your rankings as well.
Dive Deeper: 10-Step Checklist to Digital Branding for SMBs
Advanced SEO Tip #5: Create Power Pages
Brian Dean at Backlinko popularized the term "Power Pages," which refers to pages that are strategically designed for the sole purpose of ranking first in the SERPs. Sometimes, this is the best way to go about maximizing visibility for a few keywords. Instead of trying to bend keywords to fit what you need, you create high-value content and high-converting pages for specific keywords.
A great example of a Power Page is Qualaroo's "conversion rate optimization" page, which you can see here: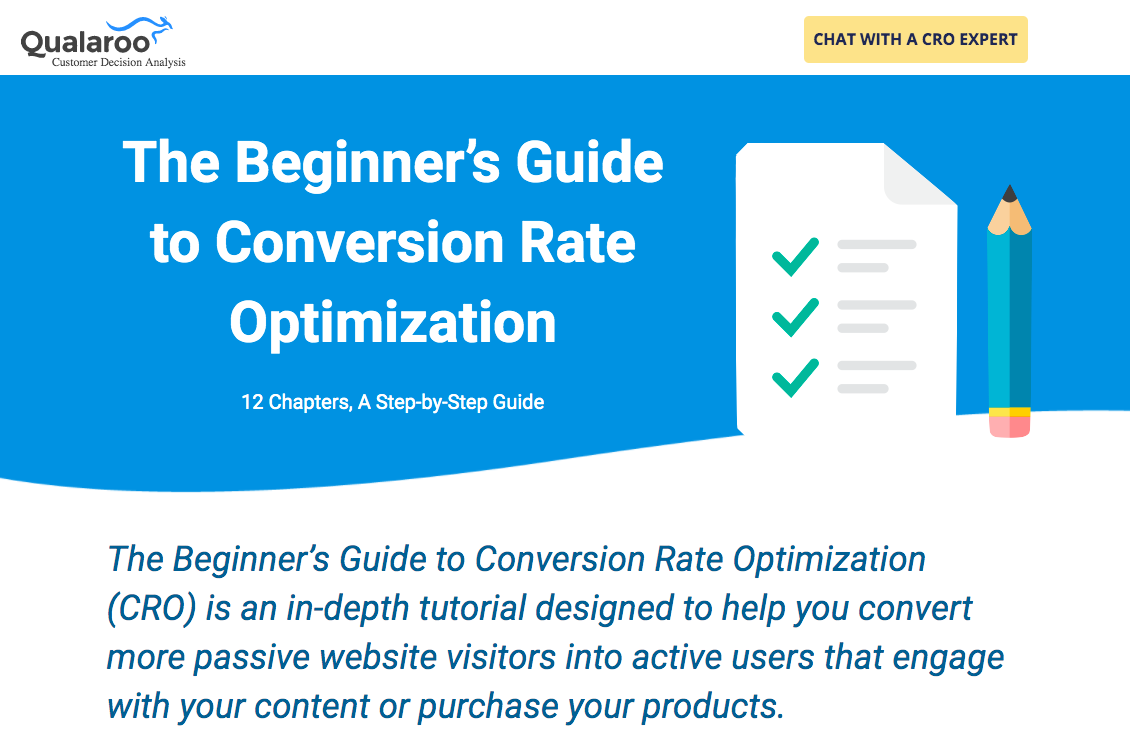 When you land on that page, you see that it has a bunch of different sections (often divided into chapters) on it:

It's a very comprehensive guide and each section/chapter can stand on its own as a well-developed piece of content. Each chapter is built on a strong keyword on its own, so the combined power allows this one individual page to rank for hundreds or even thousands of different keywords. That, in and of itself, is an asset.
If you want to create a particularly impressive Power Page, combine multiple posts together to create one giant mega-post. This can make it even more impactful at increasing search results and traffic.
We did that for our influencer marketing posts and merged them all into one hugely detailed guide called The Ultimate Guide to Growing Your Business with Influencer Marketing. The month before we turned it into a Power Page it had 493 unique sessions, and the month after the update/merge it got 3,467 unique sessions – a 7x increase.
Long-form content is typically a good choice here. Look for high-value long-tail keywords, like "what is a conversion rate" and "landing page optimization." These terms are all related and stand out on their own but work well together, too. You can also leverage FAQ sections in a similar way, with each question and some answers incorporating long-tail keywords.
If you need any ideas for content, use a tool like SEMrush's Keyword Magic Tool. Search for the topics that you want to cover, and consider using the "questions" filter to see what your target audience is asking: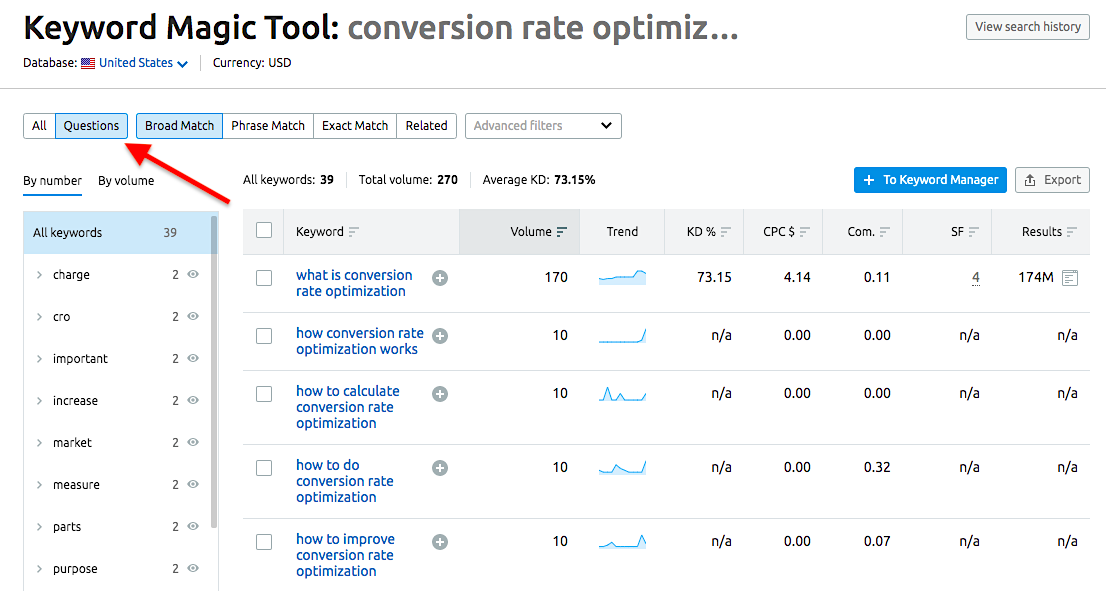 Dive Deeper: How to Rank on Page 1 of Google for Thousands of Keywords
Advanced SEO Tip #6: Combining or Adding Content
Once a business has their blog up and running, we're told to create as much high-quality content as we possibly can. Although expanding your site is typically a good thing, this needs to be done strategically. You want to work smarter, not harder, and with over 4.4 million blog posts published daily, it's important to contribute only the best into the blogosphere.
Instead of writing new content, sometimes repurposing existing content by combining posts or extending one is a good choice. This allows you to improve past content, extending its lifespan and making it even more valuable.
Here are some ways to update your old post:
Fix incorrect or outdated information
Add images/graphs/videos
Update examples
Include current stats and facts
Mention influencers
Add a content upgrade
Write a better CTA
Link to several other posts in your blog
This also prevents you from falling into keyword cannibalization, where you end up trying to rank for the same keywords again and again. This is one of the worst things you can do because you're essentially competing against yourself, which is a lose-lose situation. It may even confuse Google, which hurts your ranking.
Instead, make sure that each post is optimized for a unique keyword. And repurposing content to expand existing posts is a great way to do that. You're increasing the word count, you're updating it (making it more timely in Google's eyes), you're making it a more valuable resource, and you're offering more than the competition. All this helps you with your ranking, and it takes advantage of content that you already have (which may have been slipping in the SERPs anyway).
Before creating any new content, take a look at your existing content and the keywords that you've chosen. If you have a specific topic in mind with a high-value keyword and nothing similar in the past, by all means, go forward and create a new, original post. But if there is a chance for repurposing, opt for that.
Pro tip: Look at your click-through rates when determining how to optimize content moving forward. If you're confident that you're creating strong content but it's just not getting results, go back and see how you can improve it. In many cases, your distribution strategy and SEO optimization need to be improved.
In Google's Search Console, look at pages that are ranking well and have high impression counts but low click-through rates: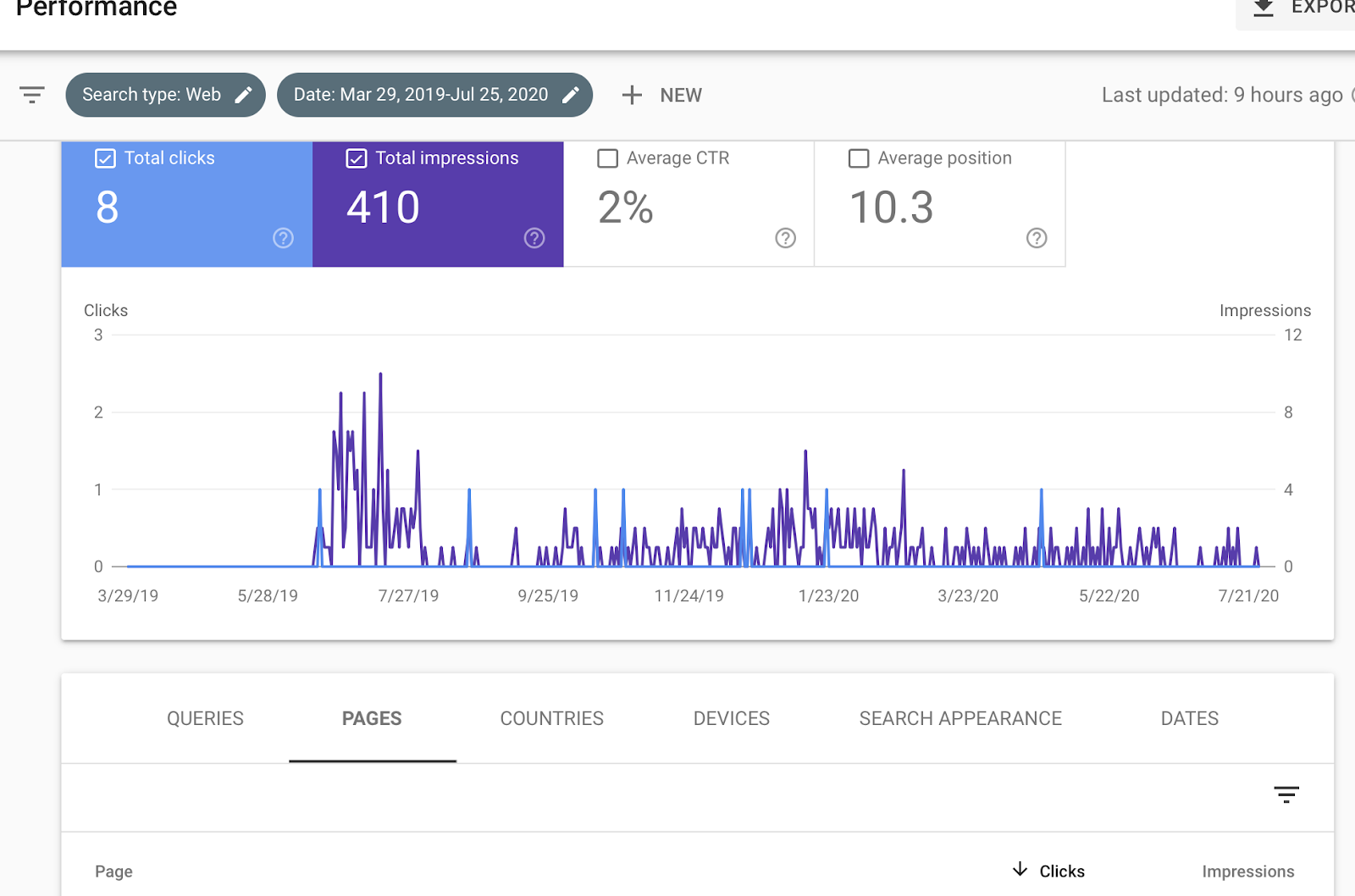 There's a good chance that your title and meta description need to be improved. Check out what else is ranking for that keyword because it's possible that you haven't lined up with the right search intent.
Dive Deeper:
* 30 Ways to Come Up with Great Ideas for Your Blog Posts
* What Is Content Decay and How It Affects Your SEO
* How to Create a High-Performance Content Marketing Strategy in 2023

Advanced SEO Tip #7: Translate and Transcribe Your Content
The best advice I ever heard (which Eric Siu got from a Google employee) was this:
"If you want more search traffic, expand outside of English."
This is an SEO tip that isn't discussed much, which is a shame because it's incredibly effective. It should absolutely be on your to-do list for 2023.
Translation
Translation and transcription can have enormous SEO perks that pay off very quickly. You're expanding your reach to entire new demographics very quickly with translations, which can go a long way in both increasing link building to your site and driving more sales.
The English market, after all, is oversaturated with content. That's not necessarily true for all languages and regions, however – there isn't as much great content or competition in languages like Hindi, Portuguese and Spanish. But there are still engaged audiences wanting this content to read, learn from and link to.
Keep in mind, though, that you should not only transcribe content into a new language, but adjust it. Some regions, after all, may be looking at keywords or content in a different way (not to mention plenty of "lost in translation" words or phrases). Do some research to see how content marketing in each region works.
You'll also want to think about your site architecture so that you can use hreflang. As Google's John Mueller says: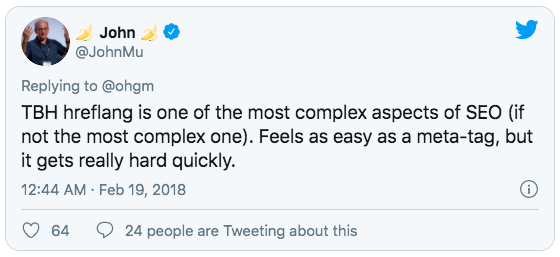 This tells Google that you're creating content for specific locations based on language. You can even create separate content for English speakers in the U.S. and the UK if you choose.

Transcription
With transcriptions, you're able to optimize video and audio content that you've already created to be both accessible to those who are hard of hearing and SEO-friendly.
We aren't at the point that Google can crawl a video to know what it's about, but it can crawl a transcript or an .SRT file (which are search-friendly video captions):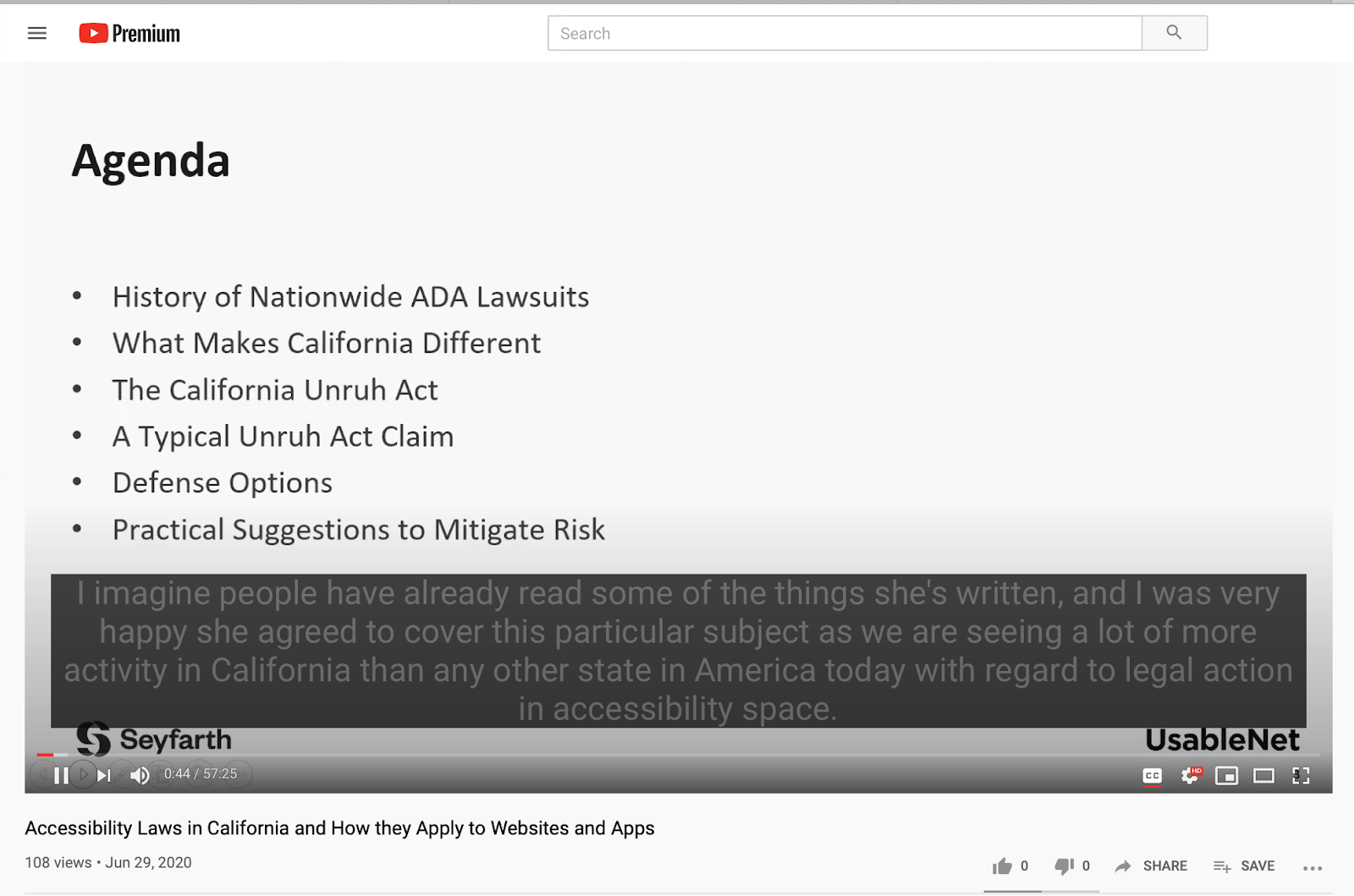 Fortunately, transcriptions are pretty straight forward. You can use automated tools like YouTube to create transcripts and .SRT files. You can manually create them. You can outsource the work to a transcriptionist or transcription company like Rev, which offers affordable, high-quality services.
Place these transcripts underneath your videos. This will help with SEO both on-site and on YouTube, which is just another way to connect with more users. You can hide it behind an expanding window that users can choose to click if they want to read it, but it should still be there: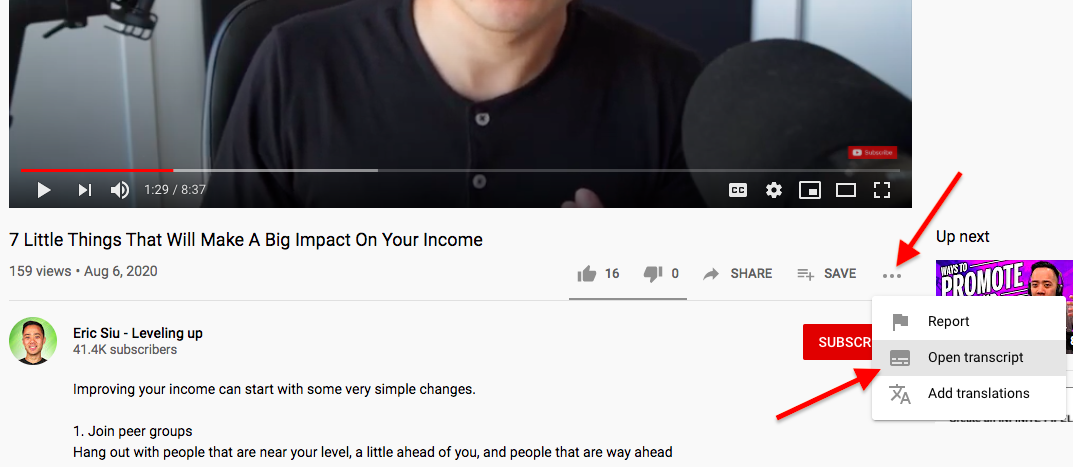 Final Thoughts on SEO Hacks
Truly working on your SEO is a difficult and complex process, and it's often a frustrating one.
We've had so many clients come to us, exhausted after taking every piece of advice they see repeated on blog after blog: Add the alt image tags. Include meta descriptions. Optimize for competitive keywords.
They've done it all, and they're still not ranking competitively.
These seven advanced SEO hacks, however, aren't your standard best practices that everyone else is using, so this is how you get ahead. These tricks will take a little longer to implement, and you'll need to do so consistently, but they'll get you much closer to ranking towards the top of the SERPs.
This post was adapted from Marketing School, a 10-minute daily podcast in which Neil Patel and Eric Siu teach you real-life marketing strategies and tactics from their own experience.