Hostinger may have earned rave reviews for its low-cost web hosting plans, but is that enough to make them a good option if you're serious about the success of your online business?
After all, there's a glut of "cheap" web hosting companies out there that may cost peanuts but ultimately deliver a service that, let's face it, is barely fit for purpose.
Is this company one of them? Or do they strike the perfect balance between affordability and top-notch performance?
In this comprehensive Hostinger review, I put the company's business web hosting plan through its paces to answer all of these questions and more.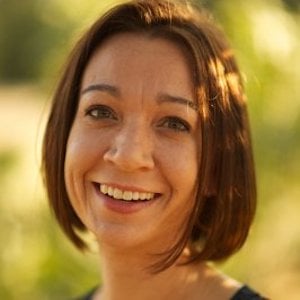 Kim Cooper
Director of Marketing, Amazon Alexa
Single Grain enables us to increase our impact without increasing our headcount
What Is Hostinger?
Hostinger is a web hosting company that provides a range of hosting solutions, including shared hosting, VPS hosting, and cloud hosting.
Ranked highly in our guide to this year's top nine web hosting services, Hostinger is a Lithuanian company that launched in 2011.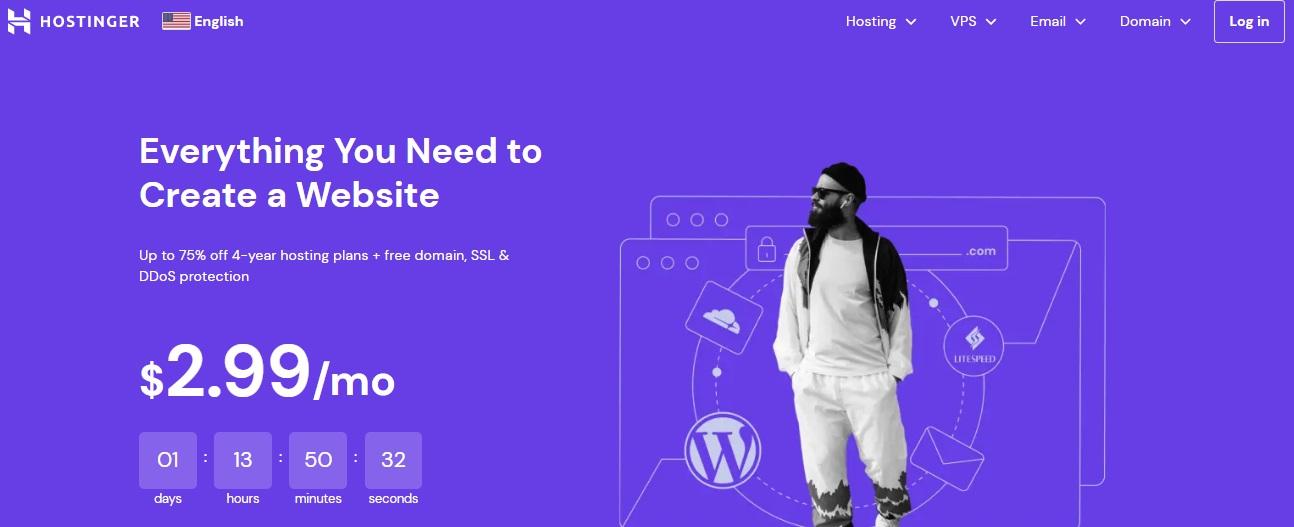 In the years since then, the brand has rapidly expanded its global network of hosting servers to provide fast, reliable, and affordable web hosting to customers across the United States and around the world.
Along with standard shared web hosting, the company also offers a number of other hosting types and website-related services, ultimately serving as a one-stop shop for website owners, including:
Website Builder. Hostinger's website builder combines the beginner-friendly usability of drag-and-drop site builders like Wix with the flexibility and control that comes with owning your own hosting.
WordPress Optimized Hosting. As the name implies, this type of hosting offers hardware and WordPress plugins designed to deliver optimum performance and reliability, along with access to a network of WordPress experts.
VPS (Virtual Private Server) Hosting. VPS hosting is ideal for high-traffic websites or those that have a large number of resources as it limits the amount of downtime your site experiences. They also provide more control than your typical shared hosting plan.
Domain Names. To make the domain registration process even more straightforward (rather than buying a domain name from a third party and connecting it to your website), you can simply buy your domain directly from Hostinger so that it's automatically set up and ready to use. Note that with all but the Single pricing plan, you'll get a free domain name.
Domain-Based Email. If your business is going to present a professional image, you need a domain-based email address (for example, [email protected] or [email protected]).
Hostinger offers two types of email:
Google Workspace Email – Includes an @yourdomain address, Google inbox, and 300 GB of storage.
Titan Email – Includes domain-based email addresses plus tools and templates to help you capitalize on the latest email marketing trends.
Hostinger's Web Hosting Key Features
1) Managed WordPress Hosting
The WordPress ecosystem is constantly evolving, with new updates to the core files, themes and plugins coming out on a regular basis.
Keeping on top of all that can be hard work, which is why most hosting companies will offer a managed WordPress service to do all the work for you.
With most of these companies, however, that service usually comes at a higher price.
But with Hostinger, managed WordPress comes as standard across all hosting plans at no extra cost. WordPress installation is simple: with Auto Installer for beginners or manually for tech-savvy users.
2) Free Website Migrations
Moving your website over from one hosting company to another can often be more work than simply starting a new site from scratch.
That's why I love that Hostinger offers free site migrations, making it easy to transfer your site over to its servers with just a few quick clicks.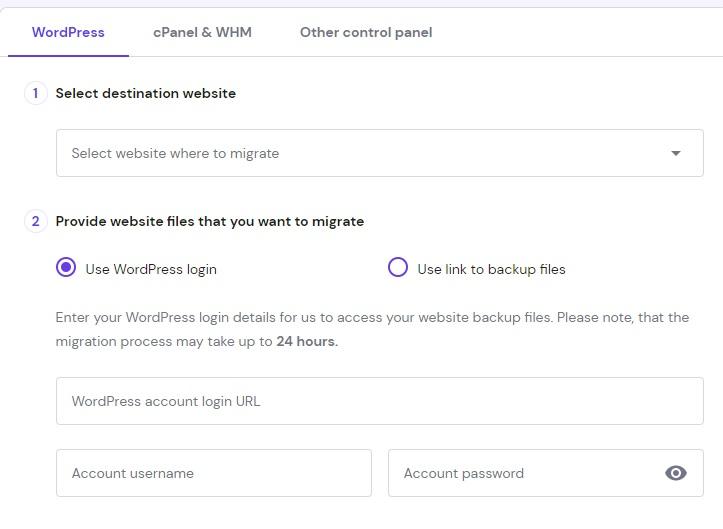 Dive Deeper: Domain Migration Checklist: Agency Process, Expectations & Sample Data
3) Advanced Features
While most Hostinger users will be happy to simply launch a website using all the default settings, more experienced web professionals may want to take greater control of their hosting environment and site setup.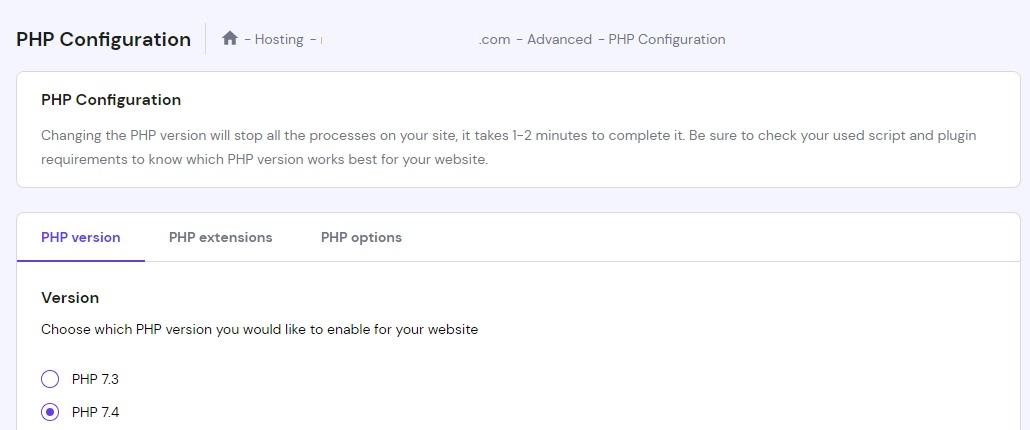 To that end, Hostinger provides all the following advanced features:
DNS zone editor
PHP configuration
CROn jobs
SSH access
PHP info
GIT access
PHP info
phpMyAdmin
Remote MySQL
FTP accounts
4) Backup and Restore Options
There are all kinds of reasons why you should be backing up your website files on a regular basis.

Even if you don't have to reboot your website after a security breach, simple human error could cause any number of issues with your site's performance and usability.
Hostinger offers free manual backup and restore tools for your site files and databases and also looks to be adding a one-click site restore option in the near future.
If you'd rather take the set-it-and-forget-it approach to back up your site, you can upgrade to unlimited automated daily backups from $2.09 per month.
Is Hostinger Secure?
Hostinger offers an impressive suite of security tools that do a great job of keeping your website and its data as safe as possible.
In all the time that I've been running sites on Hostinger, I can honestly say that I've never yet encountered a single problem with malware, data theft, or other cyber attacks.
That's all thanks to the following key security features:
1) Free SSL Certificates
If you're going to prevent poor website security from negatively impacting search rankings, you're going to need an SSL certificate.

Fortunately, Hostinger not only provides free SSLs for the duration of your contract, but even ensures that they're automatically configured when you set up a new site so you don't have to worry about doing it correctly by yourself.
2) Malware Scanner
Sites that are infected with malware (MALicious softWARE) can cause a world of problems for both site visitors and site owners.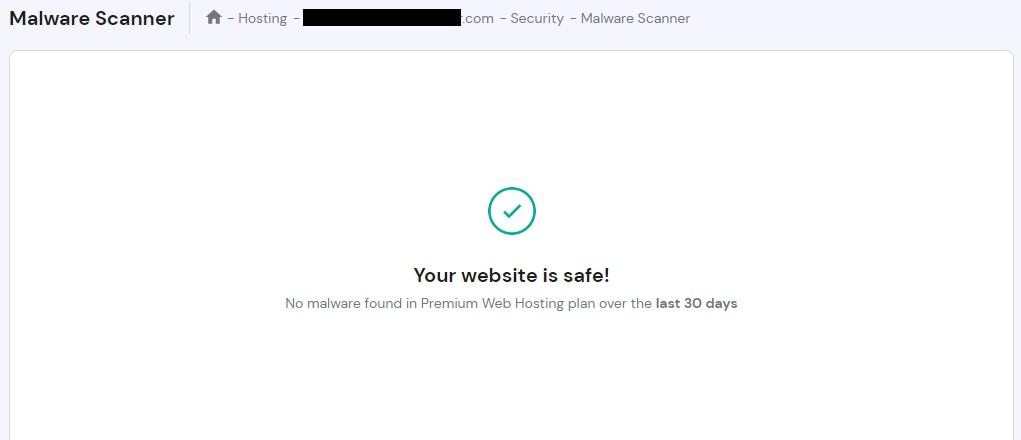 Hostinger's Malware scanner prevents those problems by monitoring your site 24/7/365 to seek out any potential malware threats and eliminate them before they have the chance to affect your site.
3) WordPress Security Notifications
If you're using the aforementioned managed WordPress tools, Hostinger will provide you with dashboard notifications if ever there's a problem.

If one of your plugins is out of date, for example, you'll receive a notification that takes you to a handy dashboard where you can check the security status of all your themes and plugins: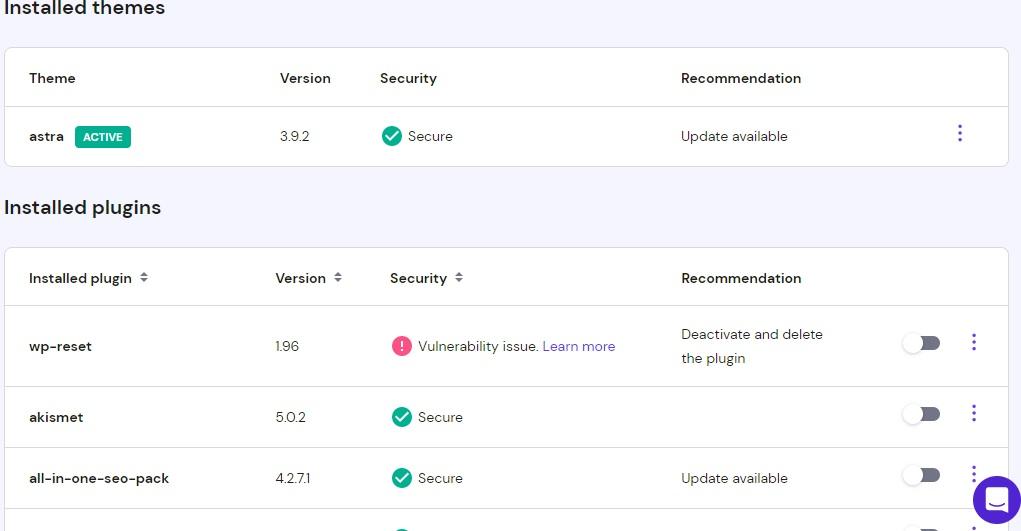 This dashboard also provides recommendations on what to do if there's an issue and features a convenient toggle switch so that you can deactivate problematic plugins without having to log into WordPress.
4) Advanced Security Modules
So far, we've only covered the security features accessible on your dashboard, but under the hood, there's a solid stack of best-in-class technology, such as Suhosin PHP hardening and PHP open_basedir protection, to strengthen your website and its hosting server to the fullest.
Other Hostinger Security Features
Along with all of the above, Hostinger also offers:
Access management to avoid giving out your username and password when others (such as developers or content publishers) need to access your website's backend.
Hotlink protection, which prevents unauthorized users from linking to your images and slowing your site down.
Social media logins and two-factor authentication to protect your site against brute force attacks.
Learn More:
* How Poor Website Security Negatively Impacts SEO Rankings
* 6 Tips for Securing Your Data from Cyber Attacks as a Remote Worker
* How to Keep Your E-commerce Site Secure Against Cyber Threats in 2023

Is Hostinger Fast?
One thing you certainly can't fault Hostinger for is their blazing-fast load time.
Remember, very few visitors are going to hang around for more than a few seconds for your site to load, so it's imperative that everything fires up as quickly as possible.
And with Hostinger, it does.
Since Google first introduced site speed as a page ranking factor, their official word is that two seconds is the "threshold" for acceptable performance for an e-commerce site, though the search giant itself aims for half a second or less.
I ran speed tests on two Hostinger-based websites, one an e-commerce store and the other a blog similar to the one you're reading now.
The image below shows the server response times for the e-commerce store. As you can see, the test returned some amazing speeds, with all but one server loading our site in under a quarter of a second:

This second image shows the server response times for our test blog. Again, we're talking an average of 50-170 milliseconds in practically all locations:

Make no mistake about it, that's ridiculously fast.
Plus, all of their hosting packages support Cloudflare, a Content Delivery Network (CDN) that improves your website's loading speed and protects it from DDoS attacks.
These speeds, plus excellent reliability (Hostinger's uptime guarantee is 99.9% but typically delivers 100%) aren't found on many hosting plans, at least not ones at this price range.
Speaking of price…
Hostinger Pricing: How Much Does Their Web Hosting Cost?
As a leading shared web hosting provider, Hostinger uses advanced technologies from self-healing infrastructure and full SSD servers to unlimited bandwidth. They offer three types of shared plans, and all plans come with Hostinger's control panel, hPanel, and an Auto Installer tool.
Whichever way you look at it, Hostinger offers some of the most affordable prices for web hosting plans right now.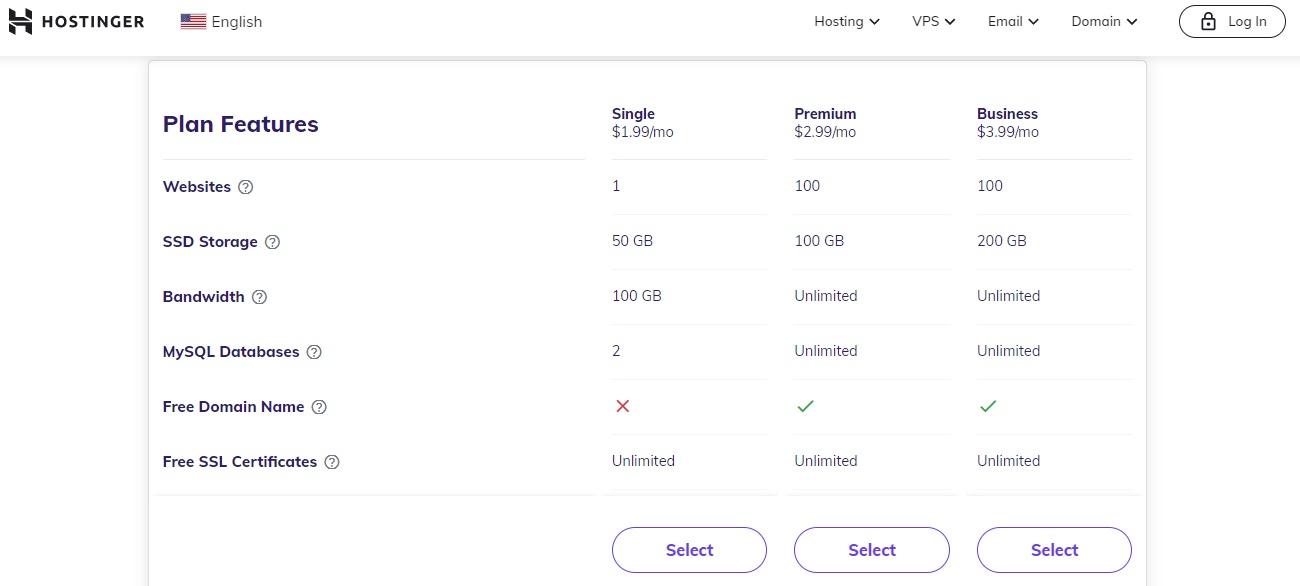 The company's first-term deals (the price you pay when you first sign up) cost less than $5 per month, after which you'll pay only $4-$20 per month depending on which of the following plans you go with:
1) Single Web Hosting
First-term rate: $1.99/month
Regular rate: $3.99/month
Ideal for small businesses and first-time website owners, this plan offers 50 GB of SSD storage to host one website that attracts under 10,000 visitors per month.
The plan also includes:
1 x domain-based email account
100 GB x bandwidth
2 x databases
768 MB x RAM
1 x CPU core
2) Premium Web Hosting
First-term rate: $2.99/month
Regular rate: $6.99/month
Includes everything in the Single plan plus:
Host up to 100 websites
100 GB x SSD storage
25,000 x monthly visitors
Unlimited bandwidth
Unlimited databases
100 x domain-based email addresses
1 GB x RAM
3) Business Web Hosting
First-term rate: $3.99/month
Regular rate: $8.99/month
Just like the Premium plan, the Business plan offers unlimited bandwidth and databases for up to 100 websites, but it also provides additional resources, including:
200 GB x SSD storage
Up to 100,000 monthly visits
1.5 GB x RAM
2 x CPU cores
4) Cloud Startup
First-term rate: $9.99/month
Regular rate: $19.99/month
The best option for high-traffic business sites and e-commerce stores, this plan features all the following:
Host up to 300 websites
200 GB x SSD storage
Up to 200,000 monthly visits
3 GB x RAM
2 x CPU cores
Dedicated IP address
Does Hostinger Offer Free Web Hosting?
Hostinger doesn't offer a free trial of its service, but if you want to get a general feel of what it's like to use their hosting without handing over your bank details, there is a limited – and I do mean limited – free plan available.
This plan limits you to just 300 MB of storage and enough bandwidth for under 300 visitors per month. It doesn't offer many website essentials such as domain names, email, managed WordPress, or even access to support.
As such, while it may be a good option for learning the basics of hosting a website, it's simply not suitable for achieving long-term success with your site.
How Easy Is It to Set Up a Website on Hostinger?
Another impressive quality of Hostinger's hosting plans is that they're easy enough for first-time website owners to use while still offering the kind of advanced capabilities that experienced users expect from their web host.
To show you just how easy it is, we've outlined the steps you need to take to go from the Hostinger homepage to launching your first website in less than five minutes.
1) Create a Hostinger Account
Visit Hostinger.com and click 'Get Started':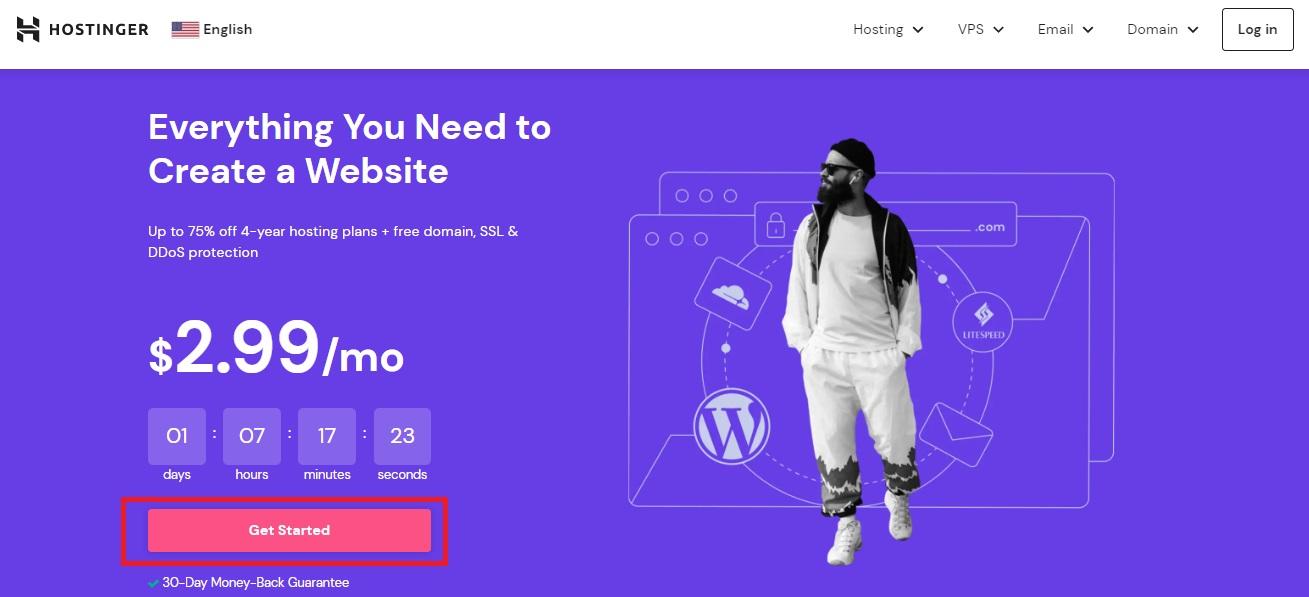 From there, choose your preferred hosting plan and add it to your shopping cart:

You can then create an account using your email address or social media credentials and enter your payment details to purchase your hosting plan: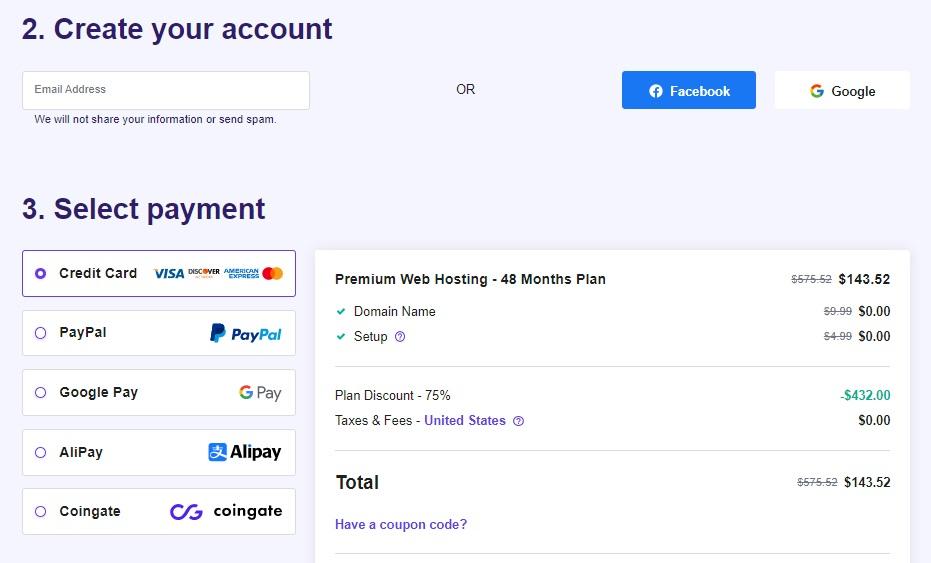 2) Choose Your Website Platform
After paying for your plan, you'll be able to log into your Hostinger dashboard.
Here, you can select 'Auto Installer' from the left-hand menu. This will bring up several popular website platforms including WordPress, WooCommerce, Joomla, and more:

For the rest of this tutorial, we'll focus on starting a WordPress site.
3) Install Your Site
Select WordPress from the options available, and then click 'Next'.
Here, you'll create both a title and the login credentials for your new site: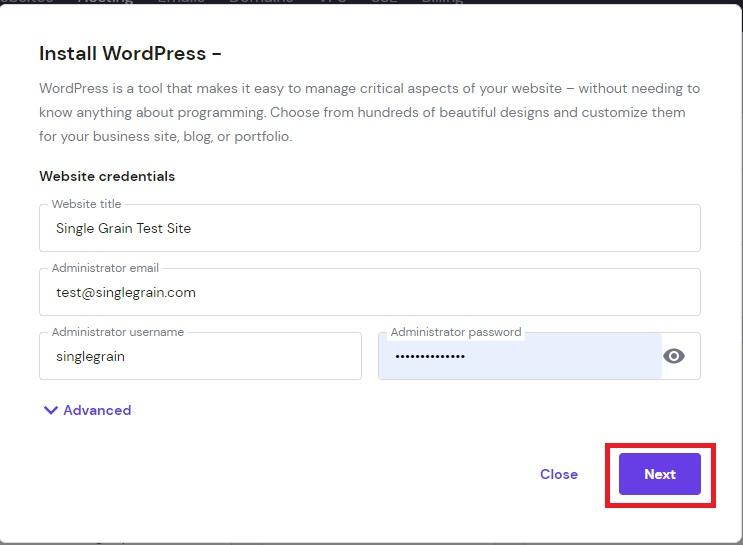 Beneath that, be sure that you select the 'HTTPS' installation path so that your free SSL certificate is active on your new site: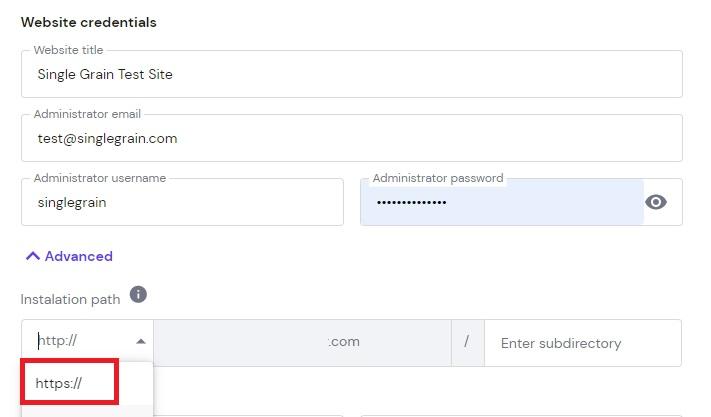 When you're done with all that, click 'Next.'
Finally, you'll be able to choose a WordPress version and a language as well as configure your managed WordPress settings.
All that's left to do after that is to click 'Install' and your website will be ready to use in a matter of moments: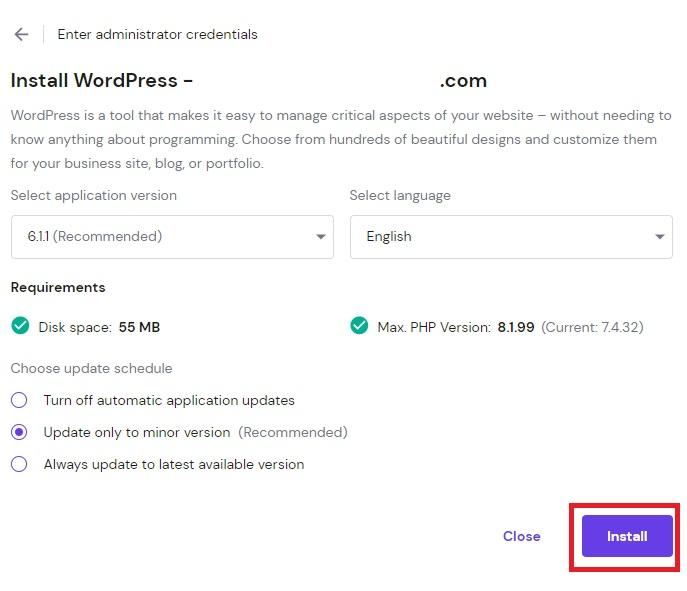 When it's ready, you can start customizing your new site either by clicking the 'Edit website' button from your dashboard or by going to yourdomain.com/wp-admin and entering your login credentials: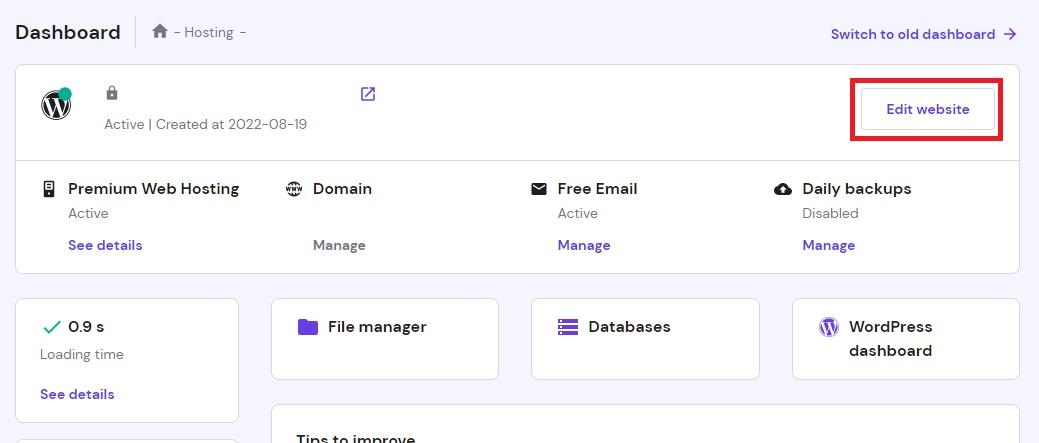 More WordPress Content:
* Essential WordPress SEO Plugins: The Marketer's Toolkit
* Best WordPress SEO Agency: Top 8 Choices for 2023

Is Hostinger Customer Support Any Good?
Hostinger's customer service is a mixed bag of positives and negatives.
The company offers support via email and live chat but sadly doesn't offer telephone support which can be frustrating if that's your preferred way to get the help you need.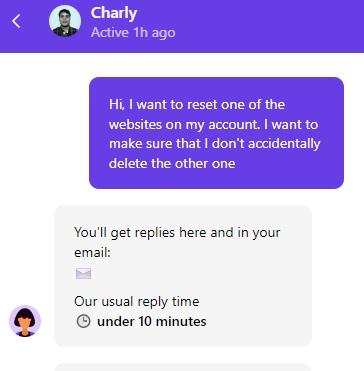 Speaking of frustration, their live chat support can be incredibly slow.
The company sets an average wait time of around 10 minutes just to get connected to a support agent.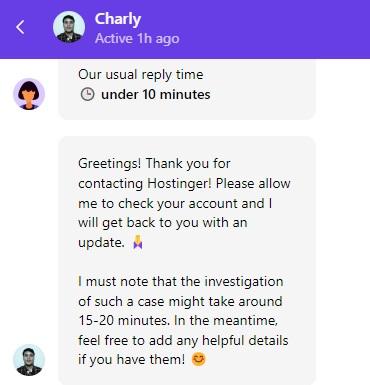 As you'll see in the image above, after I waited that long to access support, I was then told it would take another 15-20 minutes to "investigate."
All told, a relatively simple question took over 30 minutes to answer.
The good news is that when Hostinger's support staff are on the ball, they're really good at what they do. Another time, I contacted support after running into a problem with uploading a file to our root directory.
The support agent ran through some troubleshooting options with me before fixing the problem and even offered suggestions on what to do if I ran into the same problem, all within the space of around 10 minutes.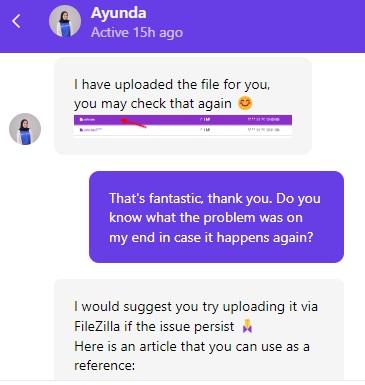 It was an excellent experience and a far cry from waiting 30 minutes for a question to be answered.
To make a long story short, Hostinger's customer support team are very knowledgeable and super helpful, but you get the feeling that they're just so short-staffed that it takes them forever to provide the help you need.
They do have a decent knowledge base, but sometimes you just want to talk to a human being.
Hostinger Web Hosting: Pros and Cons
Pros:
Excellent performance and reliability
Free SSL certificate
Beginner-friendly dashboard and controls
Cons:
No phone support option
The file manager frequently has issues with managing and uploading files
Is Hostinger Worth It? Our Final Thoughts
I started this Hostinger review by asking whether the company's low pricing alone was enough to make them a worthwhile option.
Honestly, it isn't, but the best-in-class security features and the ease with which even first-timers can launch a new website certainly do make it a worthwhile option for anyone serious about growing their business online.
And that's before I even mention those remarkable page load speeds. With Hostinger's VPS, high-traffic websites won't have to worry about inconvenient downtime.
Hostinger's performance is practically unparalleled in the industry and, in my book, that certainly makes it worth giving them a try.
Alternatively, if you're concerned that hosting your site on a shared web host is going to harm your site, you may want to read these five facts about how shared hosting affects SEO before you sign up with Hostinger.
---
FAQs About Hostinger
Does Hostinger have cPanel?
Yes, it does. If you prefer to manage your hosting using cPanel rather than the platform's own dashboard, you can buy cPanel hosting from Hostinger for $2.59 per month.
Is Hostinger faster than GoDaddy?
Although both offer first-class performance, our tests repeatedly showed that Hostinger websites loaded faster than those on GoDaddy.
What are the best alternatives to Hostinger?
Dreamhost, Bluehost, Siteground and HostGator are among the few hosting companies that rival Hostinger in terms of performance, affordability, and ease of use.
Does Hostinger offer a money-back guarantee?
Hostinger does offer a 30-day money-back guarantee for most of their hosting plans, so you can try their services risk-free and get a full refund if you're not satisfied.
---
More of our reviews:
* ConvertKit Review: Is It Worth It in 2023?
* Kicksta Review: A Legit Way to Automate Your Instagram Growth
* Supermetrics Review: Is It Worth It in 2023?
* Moosend Review: Is This the Best Email Marketing Tool for Beginners?
* AWeber Review: Is It Worth It in 2023?
* 9 Best Web Hosting Providers