Best WordPress SEO Agency: Top 8 Choices for 2023
WordPress is a top content management system that powers 35% of the total active websites on the Internet. It is the preferred CMS for freelancers, small business owners, and large enterprises.
And one of the primary reasons for the immense popularity of WordPress is that it is SEO-friendly. In fact, you can quickly scale your organic traffic if you know how to manage WordPress SEO.
This is where WordPress SEO agencies are so helpful: They have the experience and skills to take your website to the next level. But don't just hire any digital marketing agency, because knowing SEO doesn't automatically make them a WordPress SEO expert.
To make it easier for you, we've curated a list of the top 8 WordPress SEO agencies.
---
---
What Is a WordPress SEO Agency?
A WordPress SEO agency is an experienced digital marketing company that specializes in WordPress search engine optimization, including Yoast SEO, Mobile AMP and site speed. Between the themes and the plugins, WP SEO requires someone who is intimately familiar with the platform.
WordPress has SEO-friendly themes, but it also is very codebase-heavy (the collection of source code used to build the system) and uses a lot of plugins that affect page load times and the security of your site.
From conducting site audits to preparing custom SEO marketing plans, WordPress SEO companies can help you rank your site better in the SERPs, which will increase brand visibility, the flow of leads and, ultimately, your revenue.
Benefits of Hiring a WordPress SEO Agency
Here are the top reasons why you should hire a WordPress SEO company to help you better optimize your site:
Knowledge and Expertise in WordPress
Every CMS is different, and attaining mastery takes time and experience. WordPress SEO professionals have spent years managing these sites and themes, and as such, they know the tricks to make the most out of your business website.
For example, setting the default URL structure is crucial to making your URLs SEO-friendly. By default, WordPress blog URLs are not SEO-friendly, so WP SEO experts can help you set a better-optimized permalink structure.
In addition, there are a range of SEO plugins that are exceptional for WordPress SEO. You might not be familiar with them, but these specialized search engine optimization experts can install the best plugins to improve the SEO of your website.
Similarly, tons of different activities need to be carried out to improve the technical structure of your website, such as selecting a faster theme to improve website loading="lazy" speed or setting a single root version of your domain.
Better Reporting
WordPress specialists will send you easy-to-digest reports that show the SEO campaign progress. From selecting the KPIs to preparing custom dashboards, skilled SEO professionals show the value of your optimization investment.
With better reporting, you can quickly determine the products or services that need your attention and the pages generating the maximum conversions. With such crucial data-driven insights, you can make better marketing decisions leading to improved business growth.
Dive Deeper: Top Marketing KPIs that Every B2B Company Needs to Track
Complete Safety
Having an inexperienced person handling the SEO of your website is always risky because they might not be aware of the latest search engine guidelines.
Performing search engine optimization using "black hat" (or negative) SEO tactics or techniques can penalize your website. A penalty from Google means that your website loses all or a significant portion of the organic traffic from the Google SERPs. This can be disastrous for your business.
Working with experienced digital marketing agencies ensures that your website follows all the latest SEO guidelines. This keeps your website safe from any manual penalties, and you continue to acquire more traffic from Google.
Dive Deeper: The Complete White Hat SEO Guide: Google-Validated SEO that Works like Magic!
Up to Date on SEO Trends
The search engine optimization landscape changes very fast. If you don't follow the latest WordPress SEO trends and make changes to your strategy, your competitors will get the chance to defeat you in the organic search results.
Getting help from WordPress SEO services helps you stay on top of the recent SEO trends such as:
Keeping your website updated with the newest trends improves the overall user experience and helps you acquire more organic traffic and leads.
Dive Deeper: 10 SEO Approaches to Bring Traffic to a WordPress Site
Top 8 WordPress SEO Agencies for 2023
Here are our top 8 WordPress SEO agency picks to power your organic rankings: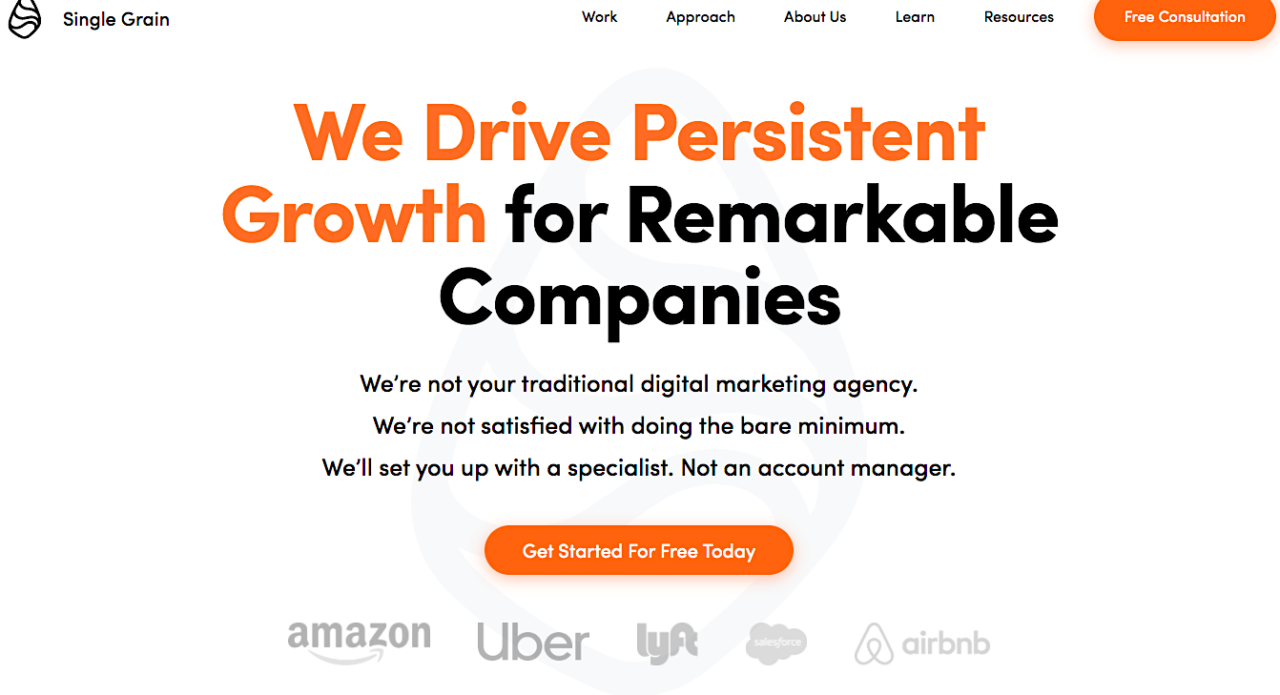 Single Grain is a leading digital marketing agency that offers various online marketing services. In 2013, Eric Siu bought a failing SEO agency for $2 and converted it into this leading digital marketing agency. Single Grain runs on its core values of growth, long-term vision, integrity, accountability, creativity, and tenacity.
They rank #1 on Google for competitive keywords like "marketing trends" and "influencer marketing," and consistently hit the featured snippet for "SEO techniques" and "what is web 3.0".
Instead of an account manager, they always assign dedicated marketing specialists to your project. With immense knowledge and expertise in managing projects across various industries, including Amazon, Airbnb and Uber, Single Grain is a top WordPress SEO company that helps you achieve limitless growth.
Key Services:
High-ROI online marketing campaigns
NFT and cryptocurrency promotion
Customized SEO strategies
Enterprise-SEO for large businesses
Content marketing
Link building
Conversion optimization
Specializes In:
Single Grain has dedicated WordPress SEO specialists to manage your projects with utmost dedication. They will help you identify growth opportunities to boost business growth.
They have a team of paid ads specialists who can assist you in running campaigns on Google, Facebook, Instagram, and other leading social media platforms.
Their experienced content marketing specialists help you create quality content that converts by using tools like Semrush, Ahrefs, and SE Ranking to perform keyword research and site audits.
They will help you create a powerful marketing funnel based on your business goals so that you can track your goals and measure your ROI.
They are creative and bring new ideas to the table. The innovative SEO strategies used help attract new customers to your site.
Single Grain is renowned for its SEO expertise, and their SEO copywriters can convert bland copy into engaging content, leading to maximum conversions and profits.
They help you outperform your competitors and maximize your local marketing efforts to get more than you invest.
Top Clients:
Amazon
Uber
Airbnb
Drift
Semrush
Intuit
Pricing: Custom SEO pricing plans as per your business goals and requirements.
Check out this short video from Single Grain founder Eric Siu on SEO tactics that still work today: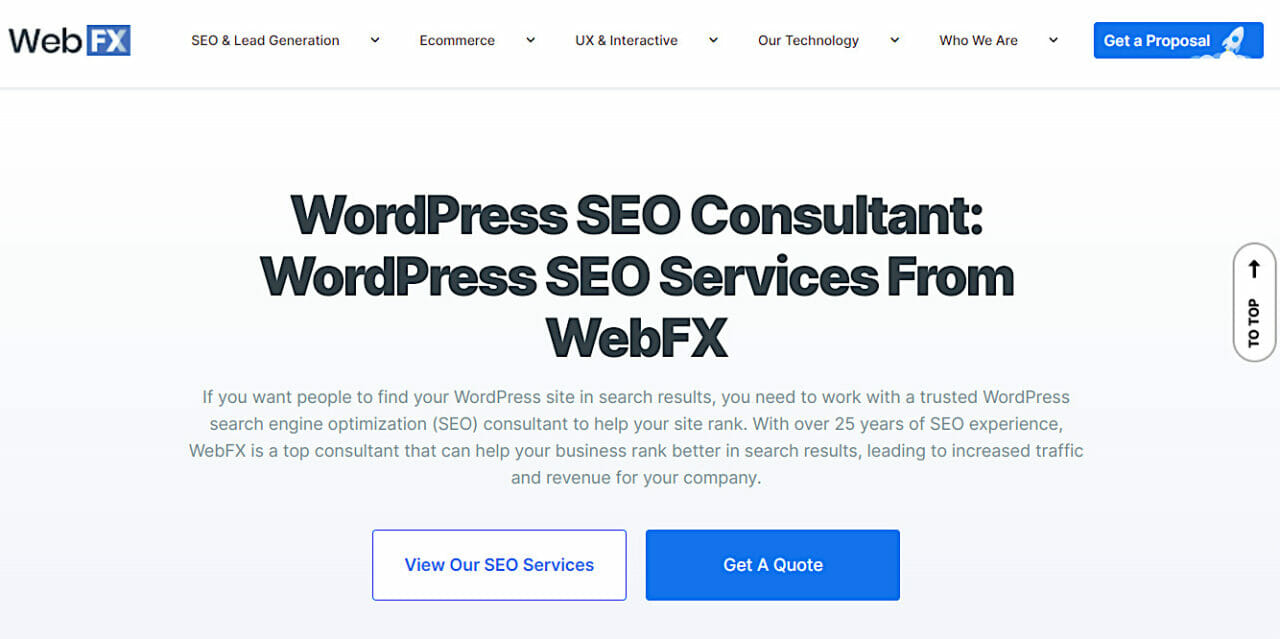 WebFX is a trusted WordPress SEO company, established in 1996 by CEO Bill Craig. They have a team of award-winning designers, developers and marketers that help you take your business to the next level.
With many years of experience working with different industry clients, WebFX has learned what works and what doesn't when it comes to ranking sites over SERP.
WebFX also has been recognized by UpCity National Excellence Award, AVA Digital Award, US Search Awards, Top Enterprise SEO Company, and many more recognitions and awards.
Key Services:
Custom WordPress SEO strategies to meet business goals
In-depth keyword research covering both short- and long-tail keywords
Site speed optimization
Monthly SEO performance reports
Core web vitals optimization
Lead generation
SEO copywriting
Link building
Specializes In:
With more than 25 years of SEO experience, WebFX is well-versed in result-oriented organic search strategies.
They have a team of professional SEO experts who know what type of keywords to target for your website.
Their team of content writers works with SEO experts to create high-quality and SEO-optimized content for different purposes like meta tags, blogs, guest posting articles, and landing pages.
WebFX helps you acquire high-quality backlinks from unique referring domains to gain more ranking on the search results.
WebFX also finds technical errors on your site and provides recommendations to fix those issues.
They use industry-leading tools like Semrush, Ahrefs, and SE Ranking to perform keyword research, site audit, and track keyword rankings.
They offer clients exclusive SEO agency software called MarketingCloudFX, which helps you bring in more leads, traffic and sales.
You get regular reporting of your project's SEO performance compiled from various tools. They provide you with a dedicated account manager to manage your project requirements.
Top Clients:
Subway
Wrangler
Hilton
1&1
Fujifilm
Verizon
Contact Details: [email protected], (888) 601-5359
Pricing: Custom WordPress SEO pricing packages as per your project's goals and requirements.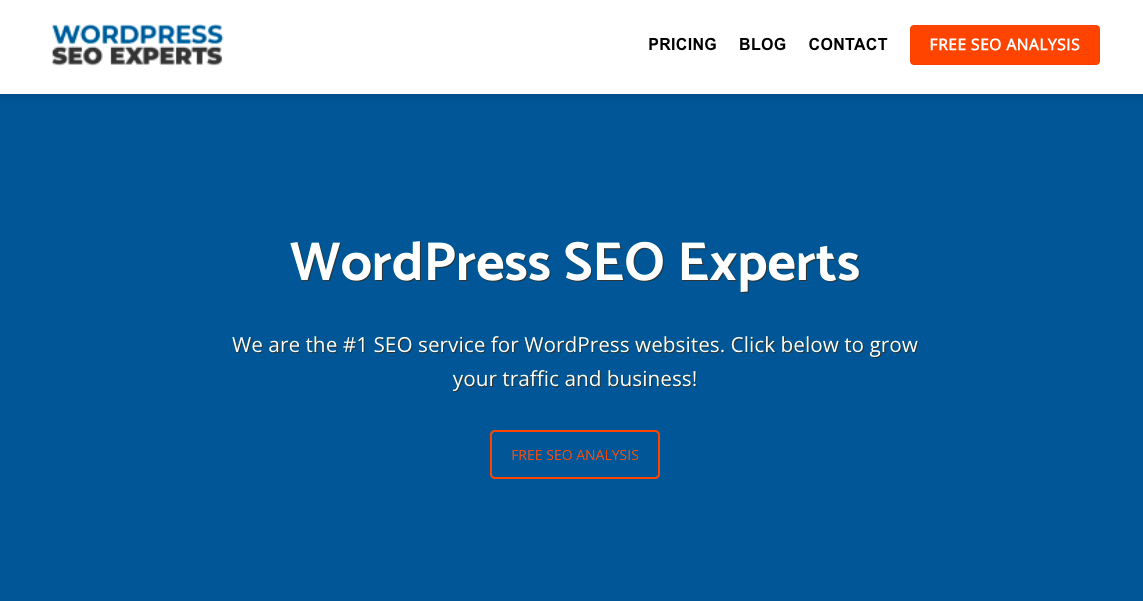 WordPress SEO Experts is a dedicated digital agency focused on WordPress SEO. They are experts in driving more traffic and leads to your business website.
It was established in 2003 with few members, and now they have a team of over 50 SEO experts with more than 50 years of combined work experience. They've helped hundreds of clients in multiple industries grow their organic traffic.
WordPress SEO Experts is also a Google Partner agency and BBB Accredited Business.
Key Services:
On-Page SEO optimization
Backlink building
Keyword research
Citation building
Google Search Console error identification and fixing
High-quality reporting
Specializes In:
They perform detailed competitor analysis to find new opportunities like untapped keywords and backlinks.
They offer one of the finest link-building services that helps you gain more quality links from relevant domains.
To improve your SEO score, they perform site audits that allow you to get a list of multiple technical errors like 404, low text-to-HTML ratio errors, and missing metadata.
Their team helps every client set up essential tools like Google Analytics, Search Console, Tag Manager, and Google Business Profile.
They also have content experts who can create SEO-friendly content or landing pages, blogs, and articles.
You can track your SEO performance by using their detailed reporting on keyword rankings, organic traffic, and several backlinks.
Contact Details: (813) 492-4080
Pricing: Custom SEO pricing plans as per your project's goals and requirements.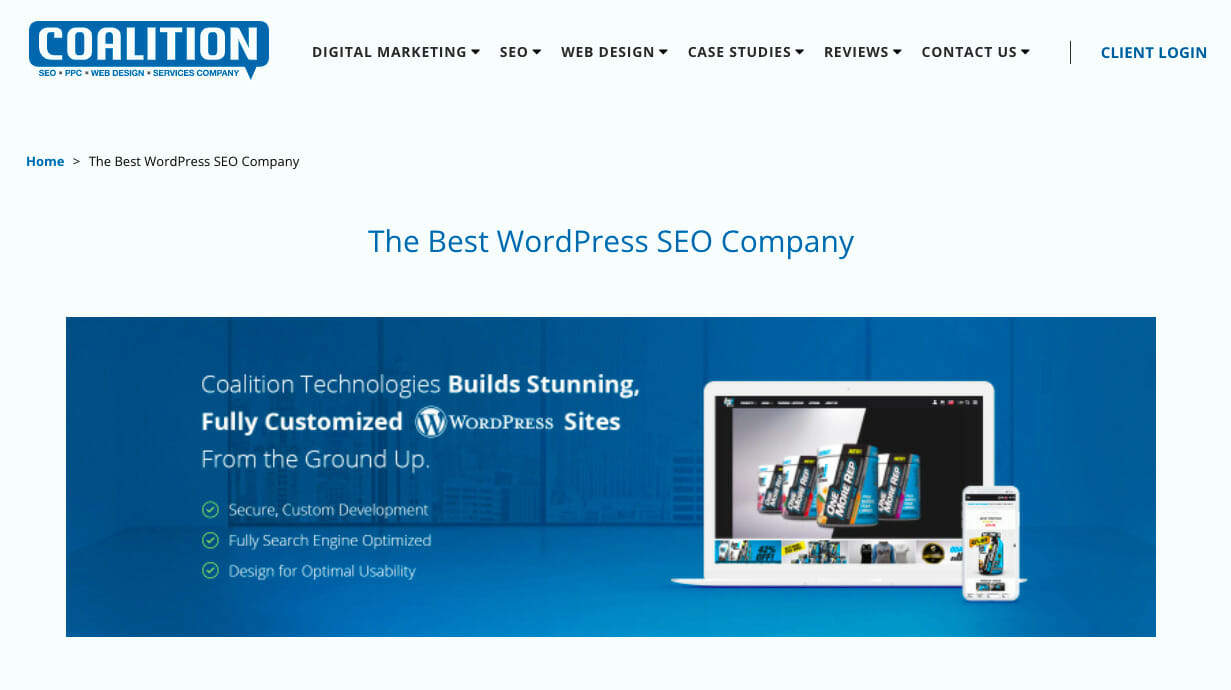 Coalition Technologies was founded in 2009 and since then have helped over 300 clients worldwide generate organic traffic and leads using effective search engine optimization strategies.
Whether you need web design, branding or WordPress SEO marketing services, Coalition Technologies has a team of over 100 skilled professionals to meet your custom business needs.
Key Services:
Technical SEO optimization
Link building
WordPress error identification and fixing
WordPress theme optimization for optimal usability and faster load times
CRO optimization to generate more conversions
Specializes In:
They have a team of experienced WordPress developers to help you identify and fix site errors that can impact SEO.
They offer excellent technical SEO recommendations to improve the user experience of your website, leading to higher rankings and improved conversions.
Their professional link-building experts have experience finding and outreaching niche-relevant websites to acquire quality backlinks.
Their detailed SEO reporting lets you know how your SEO project performs using KPIs like organic traffic, keyword ranking, and technical health score.
They help you optimize your blog posts by adding relevant outbound and internal links. They use WordPress plugins like Yoast SEO to optimize content.
Contact Details: [email protected], (888) 473-6513
Pricing: Custom SEO pricing packages as per your project's goals and requirements.
Dive Deeper: 14 Effective SEO Techniques to Drive Organic Traffic in 2023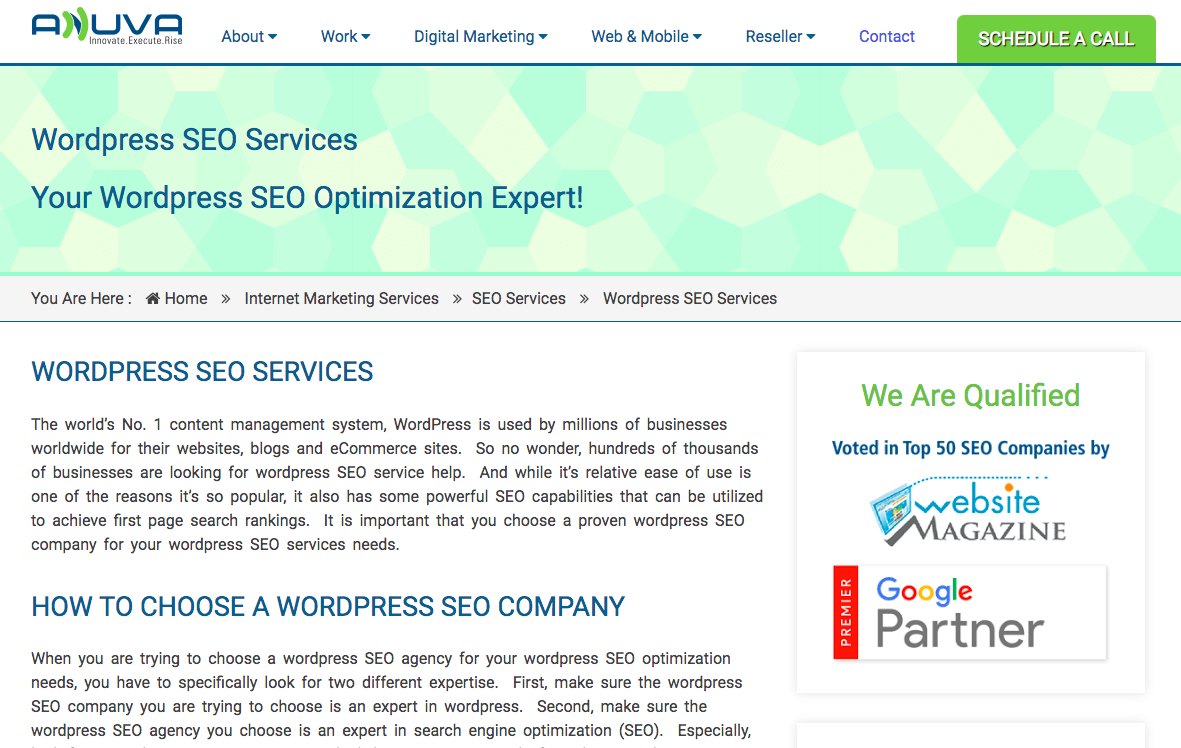 Anuva Technologies is a top-rated WordPress SEO company with a team of professional SEO experts to help you grow your business online. They are also a Google Partner agency and have been helping clients grow online since 2006.
With over a decade of experience ranking WordPress websites, Anuva Technologies knows the art of WordPress SEO to help you achieve faster results.
Key Services:
Local SEO services
Google Maps SEO
Website theme optimization
Content optimization
Link building
Social media promotion
Specializes In:
They have a team of exceptional content writers who create high-quality and optimized content to get the best content marketing ROI.
They pay special attention to WordPress theme optimization to improve user experience and website speed.
Anuva Technologies offers specialized Google Maps SEO to drive more local traffic and conversions for companies seeking local SEO services.
They perform comprehensive technical audits and WordPress permalink optimization.
They have a team of expert link builders to acquire high-quality backlinks to improve your current organic rankings.
Notable Clients:
Thermax
Coreo
Agiloft
Sourcebooks
Food Matters
Tamarind
Contact Details:  [email protected], (916) 273-9549
Pricing: Custom SEO pricing plans as per your project's goals and requirements.
Dive Deeper: 9 Factors that Can Immensely Boost Your Local SEO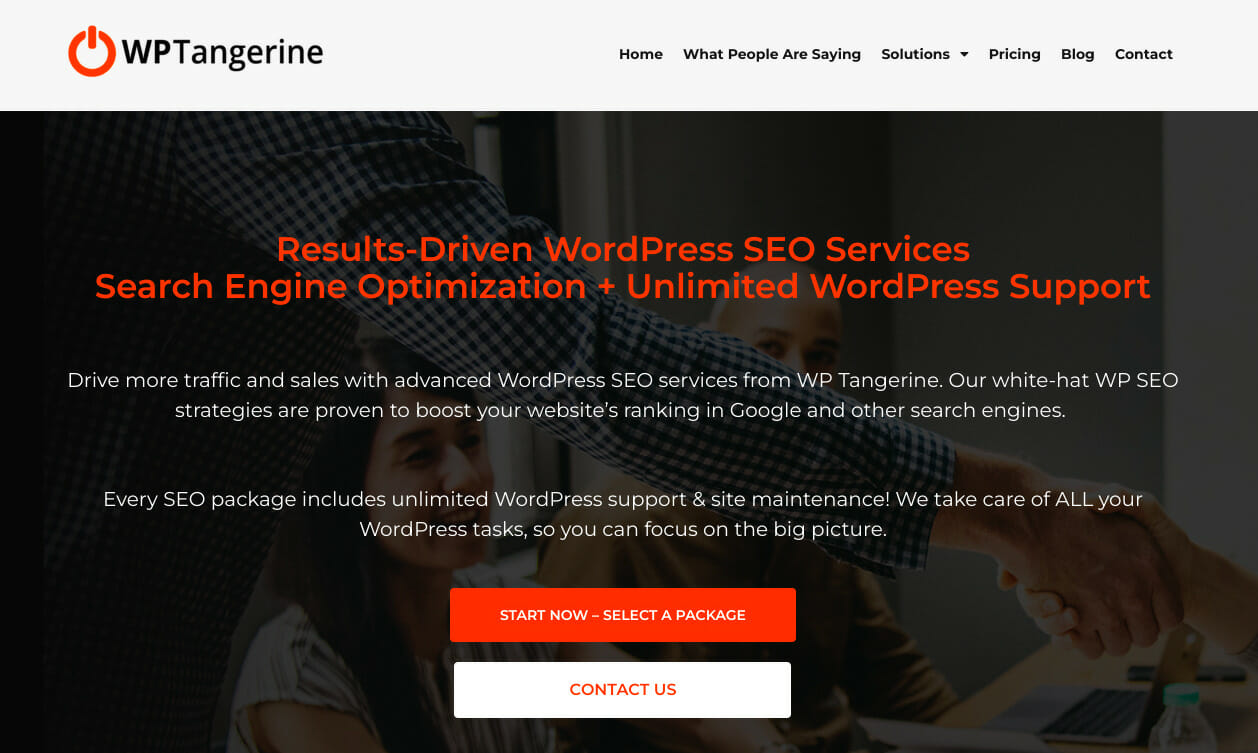 WPTangerine is a results-driven WordPress SEO services provider that offers white-hat SEO strategies to increase your website rankings in Google searches. They have worked on 3,000+ WordPress and WooCommerce sites and have over 50 members on their team.
The differentiating factor that WPTangerine has compared to other WordPress SEO services is that they offer a 30-day money-back guarantee.
Key Services:
Fully managed transparent SEO services
Advanced keyword research
Technical SEO website audit and analysis
WordPress SEO marketing strategy
Link building and social sharing
Content copywriting and optimization
Specializes In:
They have a proven SEO strategy and process to improve your website's organic traffic.
WPTangerine offers comprehensive keyword research based on your target audience persona to offer the best ROI.
Their SEO experts audit all the technical issues of your WordPress site and fix them to help the primary pages rank on the first page of Google.
They have an excellent team of content copywriters who create exceptional content copies to improve the SEO relevance score of your content.
Their link-building team creates links for each client on a custom basis.
They have dedicated SEO managers to assist you at every campaign stage.
Their SEO managers offer transparent and regular reporting to let you know your campaign performance.
Notable Clients:
Tecprotocol
Goboxsfbay
Self Healing Care
Town Kryer LLC
Scott Byron & Co
Contact Details: Contact them via their website.
Pricing:
Starter SEO package is priced at $1197/month and includes the promotion of 100+ keywords
Enterprise SEO package costs $2197 monthly and provides for the promotion of 200+ keywords.
Contact them for the pricing of their white label SEO agency services.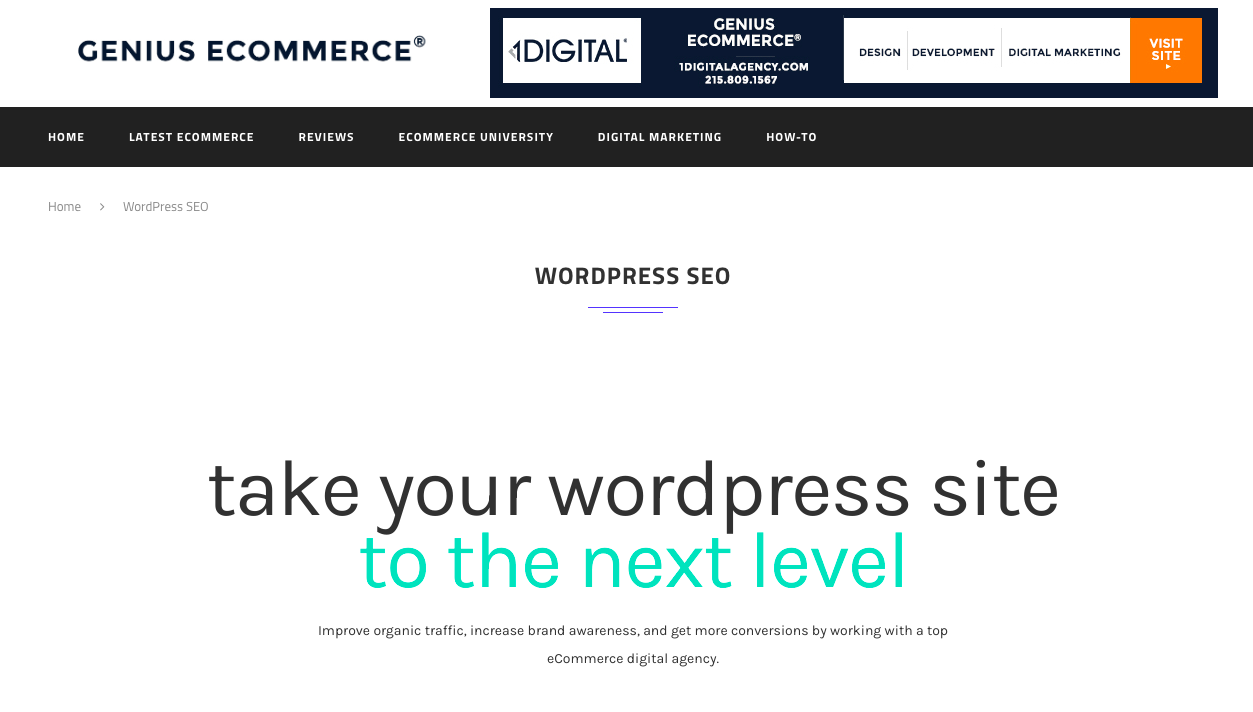 Genius Ecommerce is a specialized WordPress SEO company that focuses on improving brand awareness and conversions.
They have a team of WordPress and digital marketing experts to implement proper data-driven SEO tactics to match custom client needs.
Key Services:
Technical SEO and keyword research
Content optimization and link building
Focus on improving site authority
In-depth SEO analysis
Focus on proven WordPress SEO strategies to improve conversions
Specializes In:
They offer comprehensive SEO analysis to identify and fix WordPress SEO errors.
They have a team of content publishers to publish relevant content and acquire backlinks.
Genius Ecommerce's WordPress specialists will make several on-page changes to your site to hit your goals sooner than expected.
Their genius SEO experts optimize page titles and content and perform frequent blogging to increase organic traffic and sales.
They pay particular focus on analytics and offer additional opportunities to drive more traffic and lead your way.
They offer reliable SEO support and update you on the ongoing Google algorithm changes.
Notable Clients:
Synchrony
Rollie
Hitachi
Sincerely Nuts
Stoneway & Sons
Contact Details: [email protected], (267) 225-1946
Pricing: Custom SEO pricing plans as per your project's goals and requirements.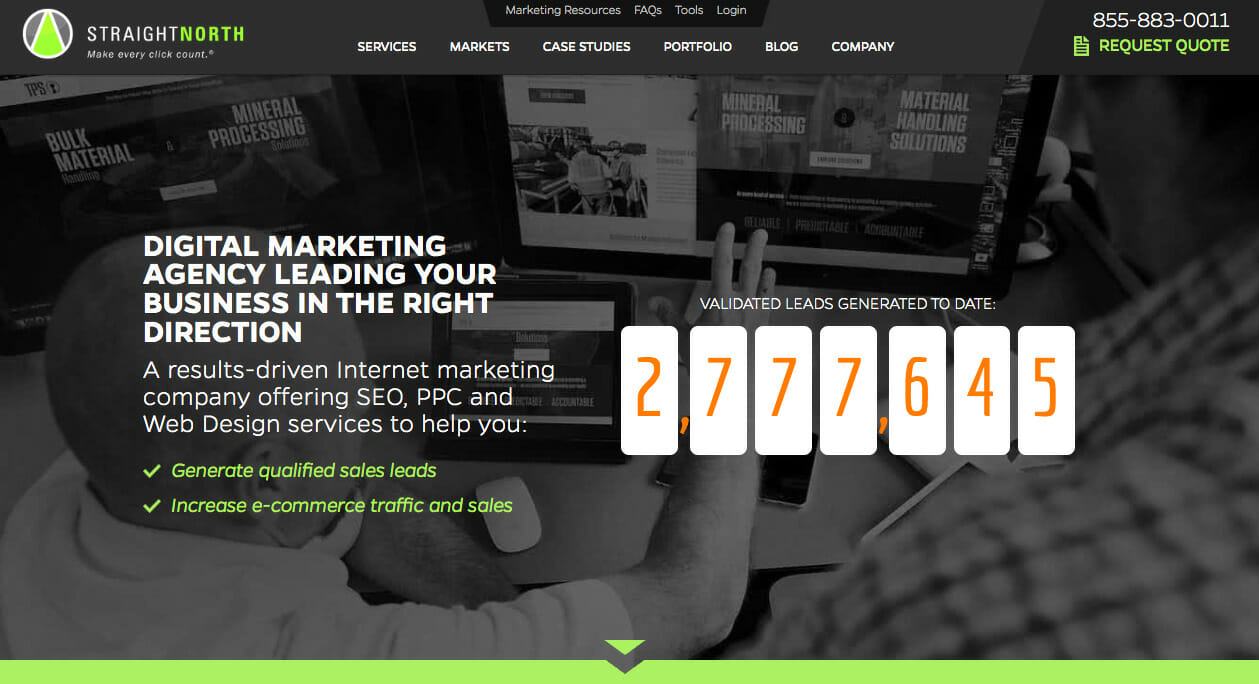 Straight North is a leading results-driven digital agency headquartered in Chicago. The company offers local, national, and enterprise SEO services for small and large organizations.
They follow a transparent approach in what they do and share detailed monthly reports to keep your ROI high.
Key Services:
SEO analysis and audit
SEO consulting
Google penalty recovery
Competitor analysis
Link building
Content marketing and managing publisher relationships
Setting up marketing funnels and implementing a lead validation process
Specializes In:
They have an exceptional content writing team who help you prepare content to rank for relevant keywords to bring in additional search traffic.
Their content team helps to create monthly blog topics based on trending keywords.
Straight North has a team of SEO audit professionals who use over 50 ranking factors to analyze keyword usage, content copy, mobile-friendliness, links, etc.
Their SEO specialists consider all the essential elements of a successful SEO campaign, such as title tag optimization, content optimization, and link profile optimization.
For small businesses, they stretch on using long-tail keywords to acquire traffic from low-competitive keywords.
They offer WordPress SEO optimization services for various industries such as education, health, legal, e-commerce, business services, and others.
Notable Clients:
Toter
ECE Global
Confab
FVE Recycling
Pascal
Time Technology
Contact Details: (855) 883-0011
Pricing: Custom SEO pricing plans as per your project's goals and requirements.
Dive Deeper:
* SEO Keyword Research Made Easy in 2023
* How Zero Search Volume Keywords Can Generate a Ton of Traffic
* 7+ Content Optimization Strategies to Increase Your Rankings

How to Select the Best WordPress SEO Agency
Here are some of the significant factors to keep in mind while selecting a reputable WordPress SEO agency:
Examine Their Industry Experience
The first thing you should look for in an SEO agency is their industry experience. How many years have they been in business? Do they have experience working with clients in your business niche?
Every business is unique, and a company with experience promoting SaaS products might not necessarily have the same experience handling pet businesses. Examining relevant industry experience is vital to understanding whether the SEO agency you're thinking of hiring has the required expertise to manage the customer acquisition funnel of your business.
Check Their Reviews and Testimonials
Reviews and testimonials are the easiest ways to determine the trustworthiness of a digital marketing company.
A trusted WordPress SEO service provider will have plenty of client testimonials and positive customer reviews, which you should be able to easily find on the agency's website.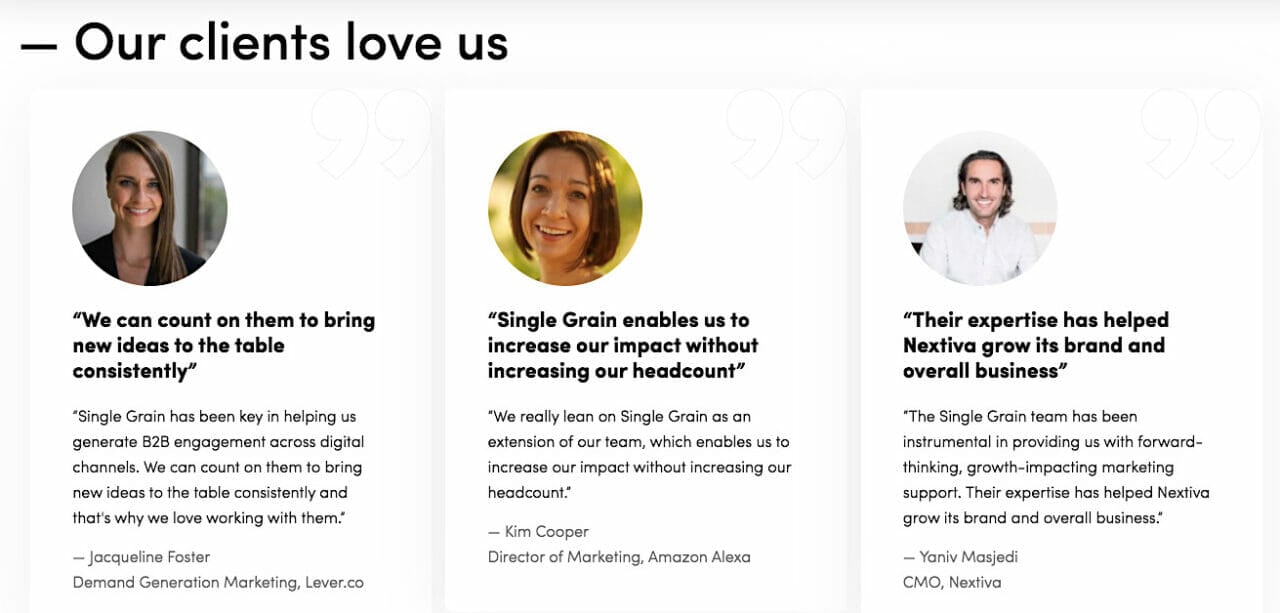 Also, don't forget to scan industry-leading review sites to find out what previous clients are saying about the business. For instance, Google is a great option for finding genuine customer reviews:

A rating above four means the company offers genuine and high-quality SEO services.
Also, make sure you look at the number of reviews because a higher number of reviews indicates that more people have worked with the business in the past.
Look Over Their Case Studies
Case studies offer deep insights related to a particular project that the company handled, including the achievements.
Reading a testimonial can only give you a small idea about the results achieved. If you want more information about the problem faced and the solution implemented to get the results, you should read niche-specific case studies.
Case studies are fun to read because they follow a storytelling approach. Additionally, they usually detail how specific problems were solved (methodology) and provide proof of work. You can see actual screenshots and real-life results.
If there are no case studies on a company website, it is clear that the agency does not have any projects to demonstrate its knowledge and skills. On the contrary, if there are many case studies, it demonstrates that the agency has worked with several clients and has some tangible results. Therefore, you should always look over the case studies before choosing a digital marketing agency.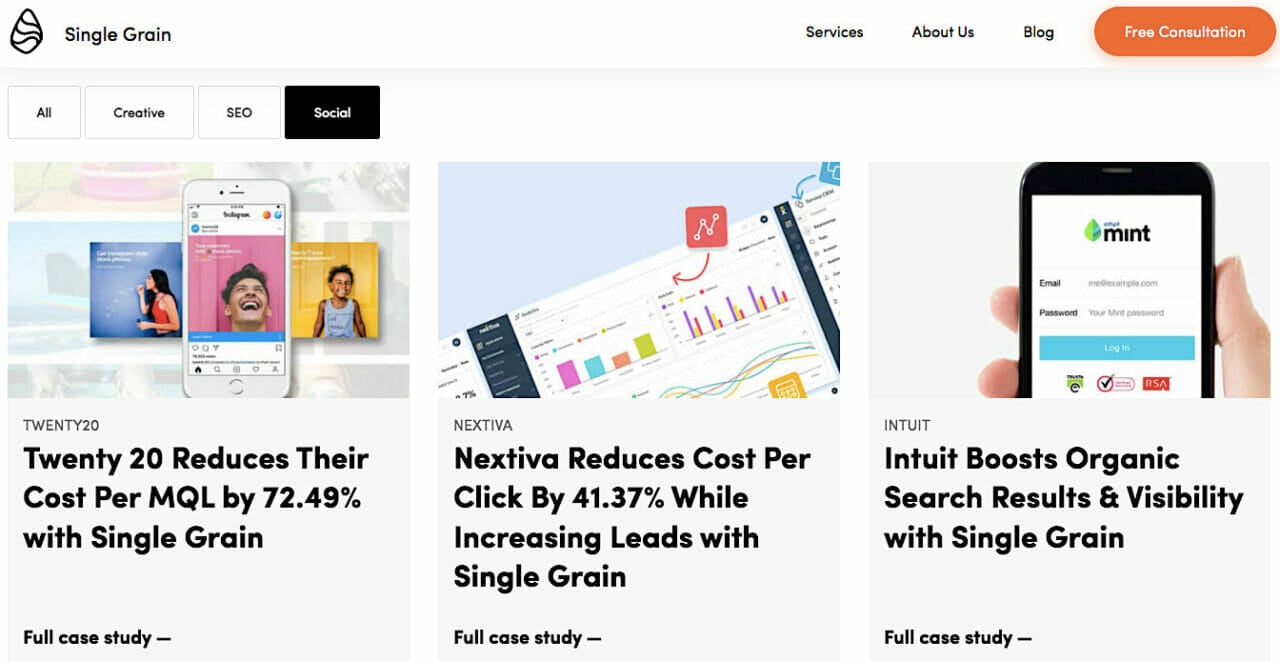 Inquire About the SEO Strategy They'll Use
SEO marketing service providers who use black hat SEO tactics often hesitate to disclose their SEO strategy.
On the other hand, WordPress SEO companies who practice white hat SEO techniques will be glad to share their complete SEO strategy with you.
The SEO strategy that an agency outlines for you should be personalized according to your business goals. Hence, you should always inquire about the SEO techniques they'll use to promote your site organically in the search engine result pages.
If you feel there is something fishy and they are hesitant to share a complete roadmap to SEO success, it is a signal the company is not transparent in its SEO approach.
You should only work with a WordPress SEO company that happily shares their entire SEO strategy with you and are also ready to customize it according to your campaign goals.
Dive Deeper: 9 Quick SEO Tactics That Only Take 10 Minutes to Implement
Remain Cautious About Guarantees
Any SEO service that offers a $99 page one guarantee or a similar offer is a waste of time. You should never fall into the trap of such lucrative offers that are too good to be true. Why not?
No one can guarantee page one rankings on Google and other search engines.
Google updates its search algorithm once or twice a day, so no one can provide a foolproof SEO strategy that is resistant to change. No matter how large your business is, any website can get negatively affected by Google's regular algorithmic updates.
Hence, any SEO company that claims to offer guarantees of stable rankings or faster rankings is opting for black hat SEO tactics that work for the short term but destroy a website's reputation in a long time.
You should always select digital marketing service providers who do not offer any guarantees in rankings but promise good results in the ongoing SEO campaign. SEO always takes time, so you should be prepared to invest for the long term.
Plan a Visit (or a Call) to Their Office
After reading the list of agencies in the previous section, you should have a list of WordPress SEO consultants that have passed all the above tests at this stage.
As a final step, you should plan a visit to your SEO provider's office. Visiting the office will help increase your trust in the agency. You can meet the employees and discuss your campaign goals with the SEO manager. A face-to-face meeting gives you the confidence to say yes.
Dive Deeper: Essential WordPress SEO Plugins: The Marketer's Toolkit
What Can a WordPress SEO Agency Do for You?
Specialized WordPress SEO marketing agencies follow a growth map to improve the organic traffic and conversions. WordPress websites often need to fix several issues and these agencies are skilled in detecting and correcting such problems.
Here are the tactics most commonly used by the best SEO companies:
1) Solve Indexing Issues
Indexing issues can happen if search engine crawlers can't crawl the necessary pages on your site.
Sometimes webmasters set the noindex meta tag active in the Yoast SEO plugin or click the "discourage search engines from indexing this site" checkbox in the WordPress settings. Both can lead to indexing problems resulting in complete loss of organic traffic.
Professional WordPress SEO consultants are experienced and skilled in detecting such issues and many other related problems to keep your website indexed in order to acquire maximum search traffic.
2) Optimize URL Structure
One of the biggest problems of using WordPress as a CMS is that WordPress's URL structure by default for blog pages is non-SEO friendly.
For example, WordPress permanently uses the post id as the default URL structure to refer to the blog post. Hence, these are also known as 'permalinks.' If you do not change these settings and continue to publish blog posts, then the created URLs will have a post id in them which is not SEO-friendly:
Non-SEO-friendly URL: www.singlegrain.com/?p=123
SEO-friendly URL: www.singlegrain.com/wordpress-seo-agency
Even better URL, with category: www.singlegrain.com/seo/wordpress-seo-agency
The best SEO companies are aware of this issue, so they instantly fix the URL structure with a optimized slug to get maximum SEO value.
3) Select the Best WordPress SEO Plugins
WordPress offers you a large selection of SEO plugins to choose from. However, not all plugins are helpful, and some can even damage your website design or increase its loading speed.
The WordPress SEO plugin you choose should depend on your landing page goals. For example, you should use the Yoast SEO plugin to help you optimize your posts:
If you wish to optimize your site's images, you can use the EWWW plugin or the ShortPixel Image Optimizer.
Your digital marketing company will help you select the finest WordPress SEO plugin to keep your site updated, fast, and error-free.
4) Perform Keyword Research
Keywords are the base of your SEO strategy. In order to drive those ideal customers to your website via search, you need to focus on one thing: keywords.
The goal of good keyword research is to discover what your target audience wants (what they're searching for) and then provide it for them. Selecting the best keywords will therefore help your website reach the top search positions easily and faster than without proper keyword research: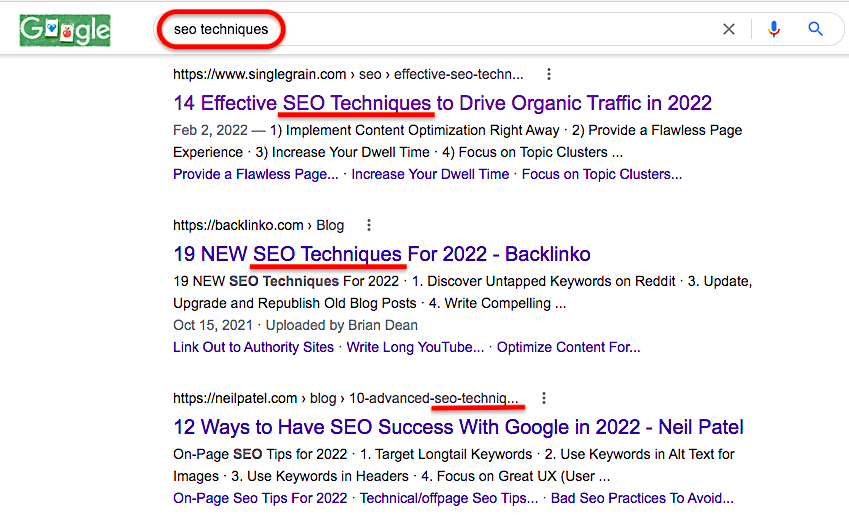 Experienced digital marketing agencies will suggest the best keywords based on your desired business goals and your target buyer persona.
5) Optimize Page Load Speed
Speed is a vital ranking factor. Websites that load faster offer a better user experience, so Google prioritizes them in the search results.
WordPress sites are usually slow because of the selected website theme, the number of unnecessary plugins, and unoptimized images. Hence, proper image optimization is needed to improve performance.
Moreover, the hosting provider also plays a deciding role in faster website speed. For example, providers like Kinsta, Siteground, and InMotion have the highest uptime, which is crucial for faster loading times.
Your WordPress SEO company will analyze all such issues causing your site to load slowly and take the required steps to fix them.
6) Optimize Internal Links
Internal link optimization helps increase the value of the pages on your site.
There are several plugins that your WordPress search engine optimization agency will use to improve site structure and spread the link equity equally to other pages on your site.
Breadcrumbs are often the best way to improve the internal linking structure of your website. However, your current theme might not offer it. In that case, it is challenging to make changes to the theme in order to add a breadcrumb.
Professional WordPress SEO experts can use plugins such as Yoast to enable breadcrumbs on your existing theme to solve this problem.
Dive Deeper: How to Implement Internal Linking for SEO (Step-by-Step)
7) Analyze Google Search Console and Analytics
One of the primary tasks that all digital marketing service providers perform is adding your site to the Google Search Console and Google Analytics. Both are free tools that help you discover any issues in your site and measure organic traffic and goals.
Often, several critical SEO issues get discovered via the Search Console. Hence, you need a digital marketing analytics expert to help you identify and fix such issues.
Moreover, to understand how your SEO campaign performs, you should set event tracking on your landing pages via Google Analytics. Your WordPress analyst will help you set up and track goals to measure ROI from your marketing campaigns.
8) Prepare a Custom Monthly SEO Plan
The best WordPress SEO providers will provide a custom SEO strategy based on your business goals. This will include installing an SEO-friendly theme, setting up a preferred domain, performing on-page changes such as meta tag revisions and plugin selection, and suggesting changes to increase the conversion rate.
A custom plan that is not based on any preexisting template will help cater to your business's exact needs, resulting in maximum returns on investment in the shortest possible time.
9) Send Regular Campaign Progress Reports
Every WordPress SEO consultancy sends regular reports that provide an overview of the changes done on the site and the results achieved.
Your digital marketing provider can send you several different types of reports, depending on your chosen SEO package. Some of the basic SEO reports that your WordPress SEO provider might send are:
Detailed SEO audit report
Competitor analysis report
Link building report
Organic ranking report
Organic traffic and conversion report
How Much Do WordPress SEO Agencies Charge?
WordPress SEO agency pricing depends on your business goals and the time required to achieve them.
For instance, local SEO services will cost you a minimum of $500-$1,000 a month, while national and international SEO services will cost between $2,500 and $5,000 a month, or more.
SEO is a long-term investment, and cheap SEO services are not suitable for the long term. Hence, you should never fall for cheap SEO packages.
Experienced and trusted SEO agencies might cost more, but the services you will get are a great value for the money. They minimize risk and maximize your marketing investments, which lead to exceptional profits.
Ready to Hire a WordPress SEO Agency?
Working with one of the top WordPress SEO agencies helps your website get discovered on Google, which means you can acquire more organic traffic and win more customers.
Selecting the finest digital marketing agency is always tricky, so ensure that you follow the tips suggested in this article before choosing one. To help you out, I have listed only the most trustworthy and best SEO companies here.
Get in touch with a WordPress SEO expert today and take your business to the next level!
Schedule your FREE consultation with Single Grain's WordPress SEO experts to discuss your needs.  👇