If you are a marketer looking for an analytics platform that enables you to quickly and easily measure, analyze and report on performances across all your digital marketing channels, then the Supermetrics software may be the perfect tool for you.
It is an intuitive, easy-to-use platform designed to help marketers get a better view of their performance.
In this Supermetrics review, I'll walk you through using this analytics software, its features, and pros and cons so you can decide if it's the right solution for your business.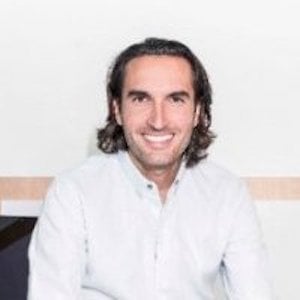 Yaniv Masjedi
CMO, Nextiva
Their expertise has helped Nextiva grow its brand and overall business
What Is Supermetrics?
Supermetrics is a user-friendly analytics platform that helps marketers measure and analyze performance across multiple digital marketing channels:

This is an invaluable marketing tool for businesses that are looking to take control of their digital marketing analytics. The platform offers a powerful suite of features that allow users to quickly analyze campaigns across multiple channels and marketing platforms, identify trends, and make data-driven decisions.
Its intuitive dashboard makes it easy to access important metrics from major networks such as Google Ads, Facebook Ads, YouTube Analytics, and Twitter Ads. Plus, its automation capabilities help speed up time-consuming tasks like data extraction, reporting, and monitoring.
Dive Deeper:
* Best Analytics Agency: Top 8 Choices for 2023 and Beyond
* A Simple Hack to Combine Facebook Ads and Google Ads
* Google Analytics for Content Marketing: How to Track and Improve Your ROI

Supermetrics Pricing
Supermetrics offers a wide variety of pricing solutions. In fact, their pricing is so granular that it's nearly impossible to give you a comprehensive overview in this review!
They've divided their pricing solutions into the following categories:
Spreadsheets – Supermetrics for Google Sheets, Supermetrics for Excel
Data Visualization – Supermetrics for Data Studio
Data Extraction – Supermetrics APIU
Google Analytics – Supermetrics Uploader
Data Warehouses – Supermetrics for BigQuery, Supermetrics for Snowflake, Supermetrics for Azure Synapse, Supermetrics for RedShift, Supermetrics for Azure SQL Database, Supermetrics for Google AlloyDB
Cloud Storage and Data Lakes – Supermetrics for Amazon S3, Supermetrics Google Cloud Storage, Supermetrics for Azure Storage

Prices range from $39 per month billed annually all the way up to custom enterprise solutions requiring you to call for a quote.
There's also a free trial specific to the tool you choose to integrate. In order to access the free trial, you first have to select which software solution you want to use with Supermetrics.
Getting Started with Supermetrics
Getting started with Supermetrics is easy and straightforward.
The first step, of course, is to sign up for an account on Supermetrics.com. Once you've created your account, you can choose which product you'd like to use. You can also navigate through their help center to find more information about their products and how they can benefit you.
Free Trial
If you want to take advantage of the Supermetrics free trial, it's pretty easy.
Just click on the "Start free trial" button and it will guide you through the process. I chose Supermetrics for Google Sheets because that's what I use the most often to track analytics.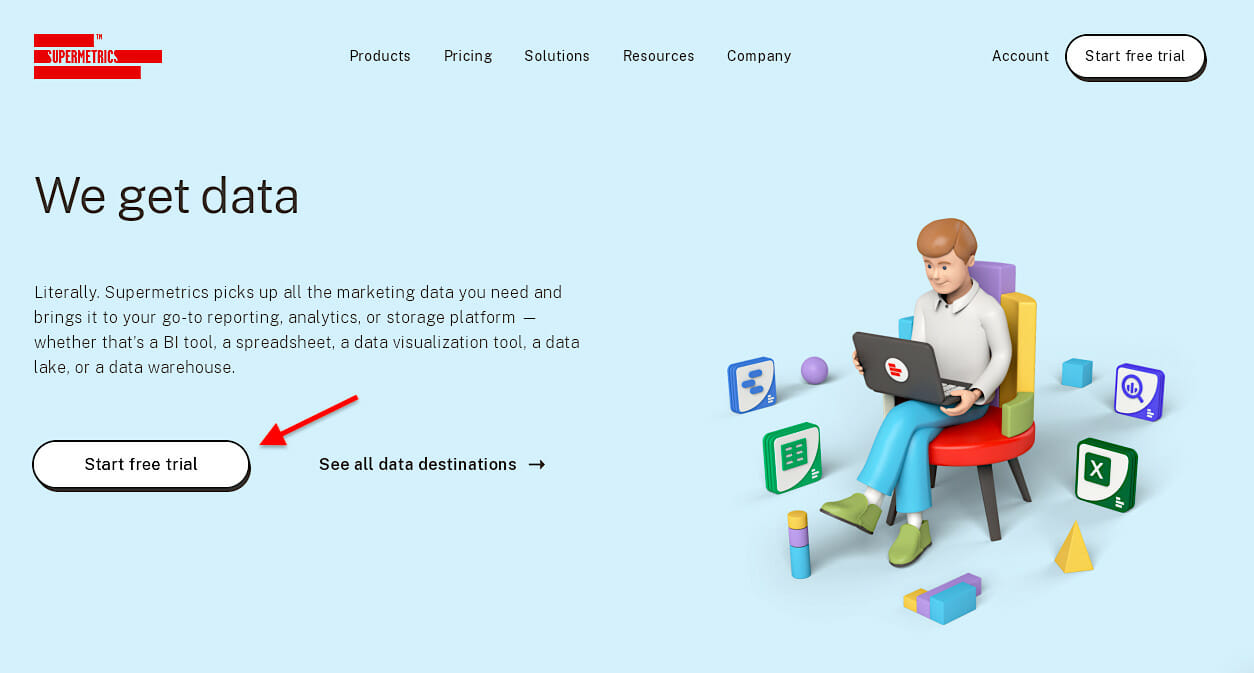 Unfortunately, the free trial is only available for integrations that already have an established pricing structure. For tools that require reaching out for a quote, you cannot start a free trial until you communicate with Supermetrics.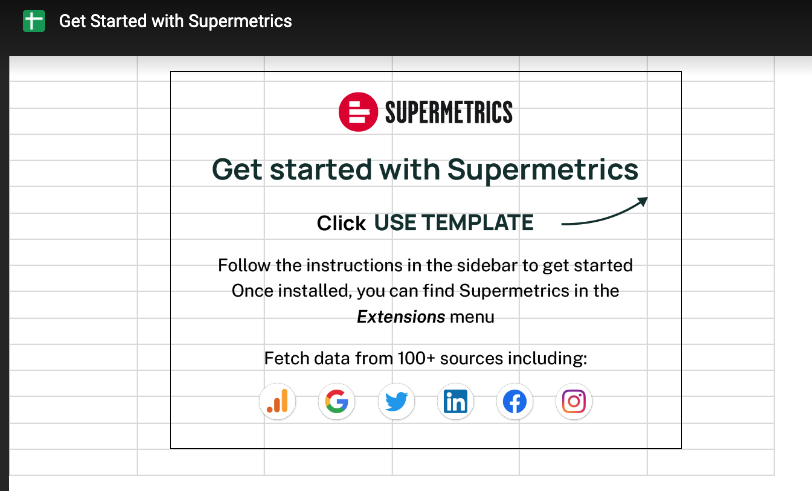 I clicked the "Use Template" button and it automatically populated a Google Sheet with further instructions:

I was able to install Supermetrics as an add-on from the Google Workspace Marketplace and continued setting it up from there.
Related Content: 10 Underrated SEO Reporting Metrics That'll Impress Your Clients in 2023
Features and Integrations
Supermetrics offers a wide variety of features and integrations that can help you analyze your campaigns, extract data, create reports, and monitor performance.
Here's a brief overview of some of their most popular features:
Automated Reporting Tools – lets you automate the creation of custom reports so you don't have to manually compile data.
Data Extraction – makes it easy to extract data from various networks and platforms, including Google Ads, Facebook Ads, YouTube Analytics, Twitter Ads, Bing Ads and more.
Data Visualization – offers powerful data visualization tools to help you quickly identify trends and patterns in your data.
Dashboard – comprehensive dashboard provides easy access to important metrics from the major networks in one place for quick analysis.
Automation – offers powerful automation capabilities to help speed up time-consuming tasks.
Real-Time Monitoring – allows you to monitor live data for who is currently accessing your site in real-time, providing an overview of the effectiveness of your marketing strategies.
Multiple File Formats – supports multiple file formats, including Excel, CSV and Google Sheets, allowing marketers to easily import their data into Supermetrics for analysis.
Using Supermetrics with…
As you can see from the pricing rundown, there are a lot of different tools that you can integrate with Supermetrics. These tools allow you to use your existing processes and systems to better analyze your marketing campaigns.
Here are just a few of the tools that you can use with Supermetrics:
Google Analytics – Link your accounts together and easily extract data from Analytics for more comprehensive reporting.
Google Sheets and Excel – Automatically extract data from various sources and display them in spreadsheets for easier analysis.
Google Data Studio – Create engaging visualizations and dashboards by combining your extracted data with Data Studio's powerful tools.
APIs – Supermetrics also offers an API (application programming interface, which helps you integrate application software) that allows you to securely access data from various sources.
Data Visualization – Use Supermetrics for platforms like Tableau and Data Studio to visualize your data in more meaningful ways.
Now, let's dive into each one a little further….
Supermetrics with Spreadsheets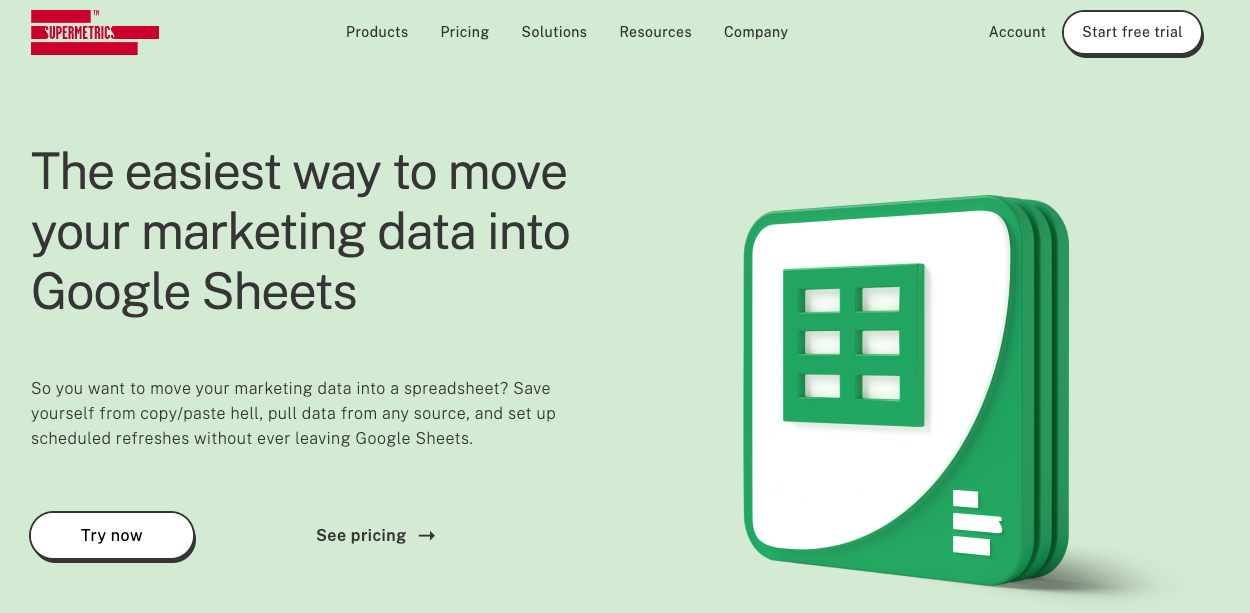 When you use Supermetrics with spreadsheet tools like Excel or Google Sheets, you benefit from a number of features designed to make data analysis easier. For example, Supermetrics for Sheets and Excel has a powerful query builder that helps you quickly create queries to extract marketing data from various sources.
The spreadsheet add-on also offers built-in formulas that allow you to quickly combine multiple data sets or pivot data for more effective reporting. With Supermetrics for spreadsheets, you can also schedule reports to run at specific times and generate insights faster than ever before.
Supermetrics with Data Visualization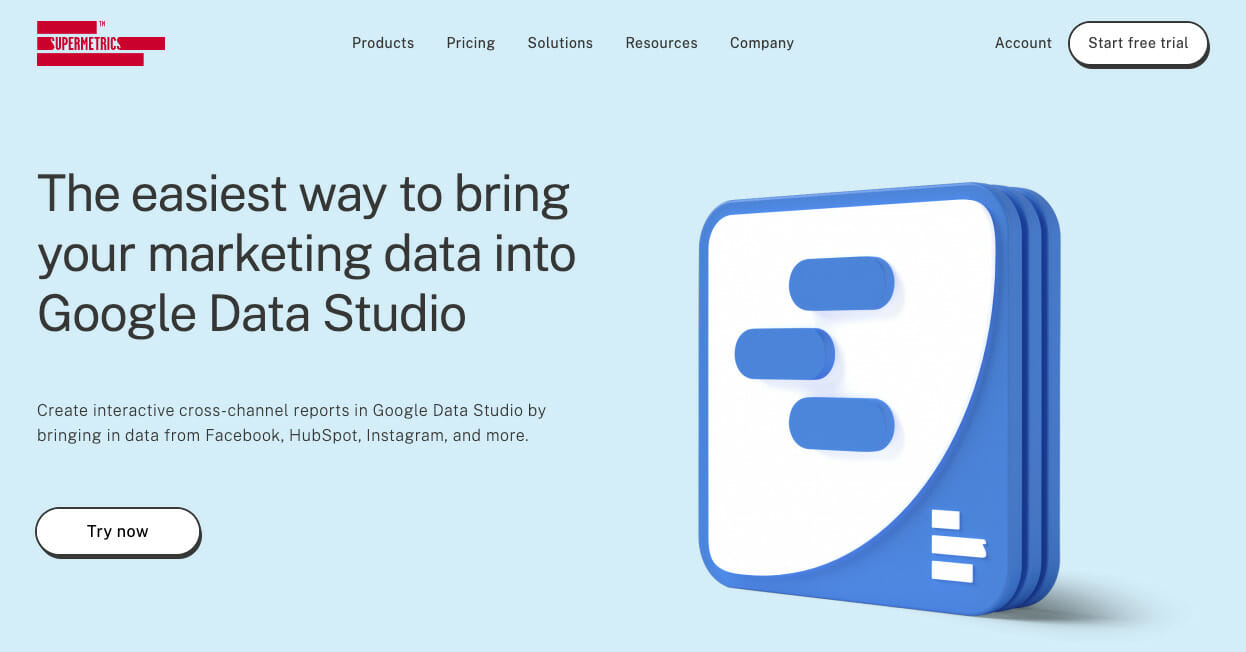 Using Supermetircs with data visualization tools like Data Studio or Tableau allows you to take your marketing reports to the next level.
You can easily create engaging visualizations and dashboards that display important insights in an understandable way. You can also use custom formulas to quickly generate metrics from your data, as well as customize the look and feel of the visuals for more impactful reports.
Related Content: 5 Powerful Ways to Increase Sales by Leveraging Data Effectively
Supermetrics with Data Extraction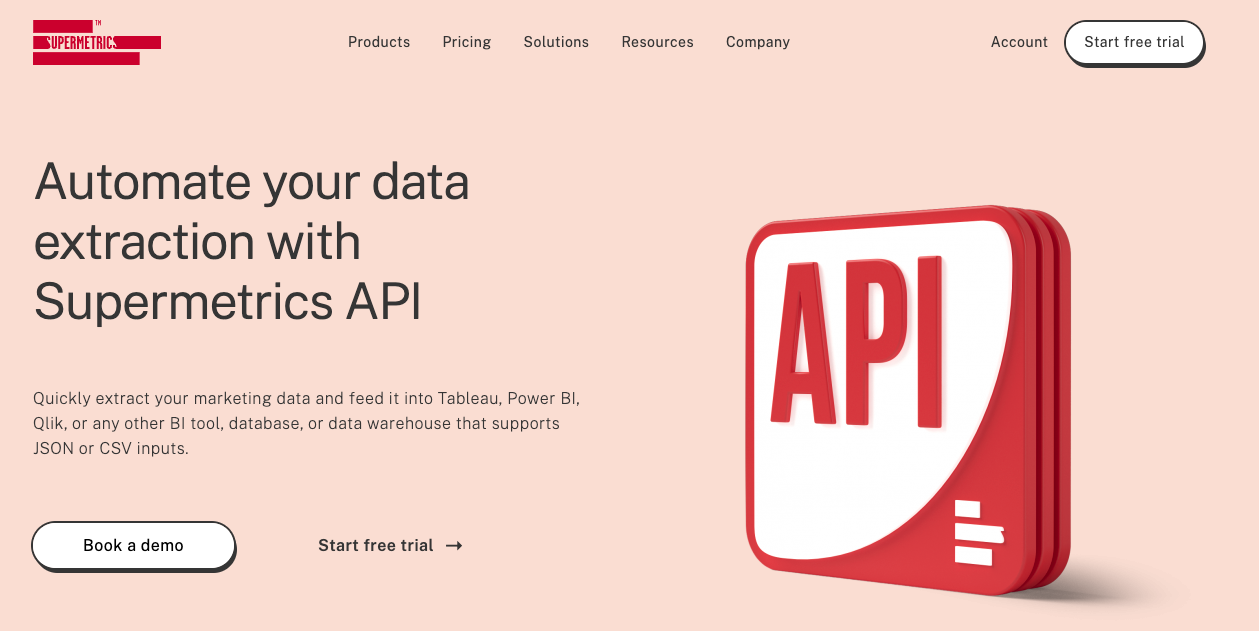 The Supermetrics API is a powerful tool that makes it easy to extract data from multiple sources. With the API, you can securely access data from various networks and platforms, including Google Ads, Facebook Ads, YouTube Analytics, Twitter Ads, Bing Ads and more.
The API also offers advanced features such as rate limiting, pagination and filtering to ensure that your requests are processed quickly and efficiently. With Supermetrics' API, you can easily extract large amounts of data while keeping your requests secure.
Supermetrics with Google Analytics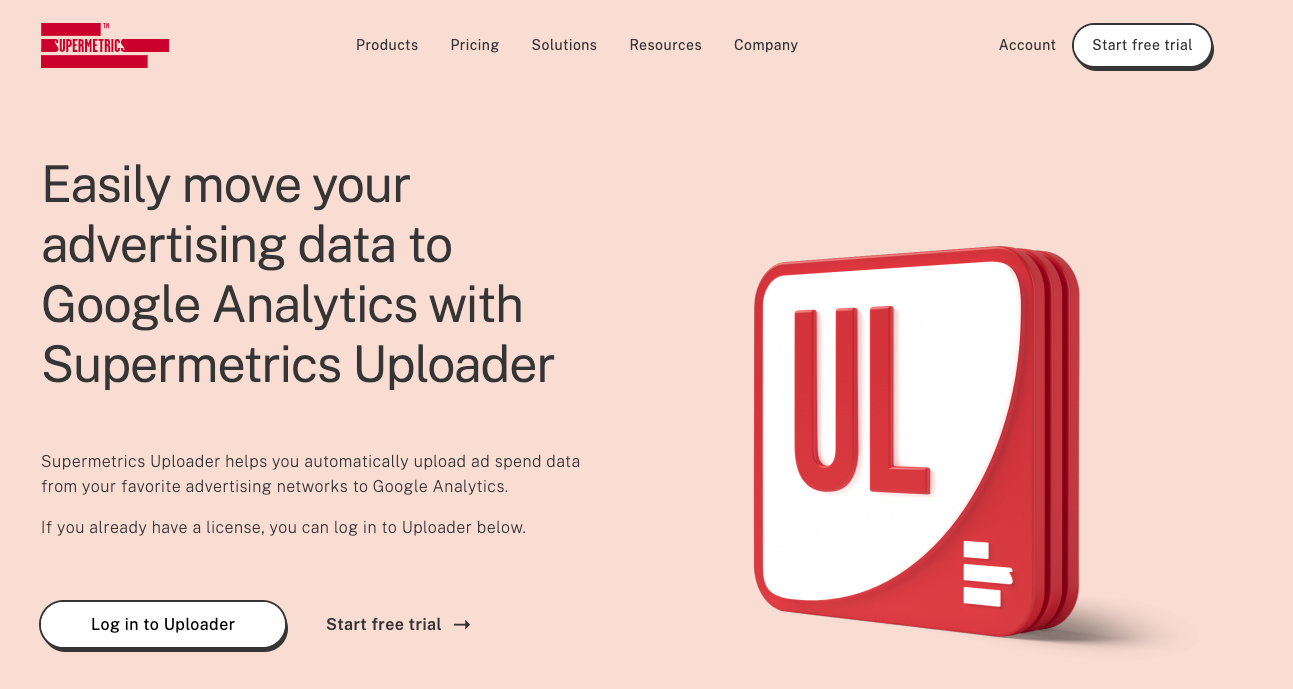 The Supermetrics Uploader for Google Analytics allows you to quickly connect your accounts and retrieve data for more comprehensive analysis. You can easily schedule uploads to run at specific times and customize the fields that are included in the queries for better accuracy.
The Uploader also offers advanced features such as query chaining and filtering capabilities, allowing you to create complex reports faster than ever before. With the Supermetrics Uploader for Google Analytics, you can quickly gain insights into your marketing campaigns and make more informed decisions.
Dive Deeper: 9 Alternatives that Are Just as Good as Google Analytics
Supermetrics with Data Warehouses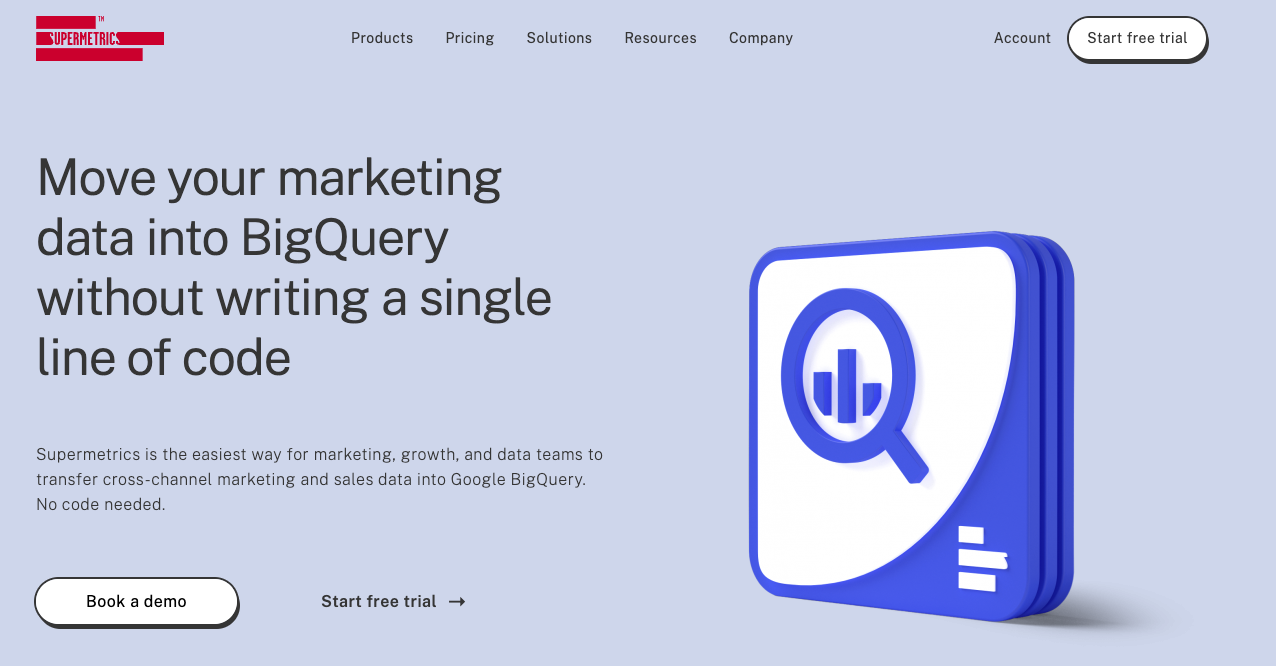 The most comprehensive solution Supermetrics offers is their integration options for data warehouses such as BigQuery, Snowflake, Redshift, Azure, and Google AlloyDB. With these integrations, you can easily move data from any source into a data warehouse for more complex analysis and reporting.
You can also set up scheduled extracts to ensure that your data is updated regularly and automatically. With Supermetrics' data warehouse integrations, you can easily create comprehensive reports with advanced features like filtering, pivoting, and more.
Supermetrics with Cloud Storage and Data Lakes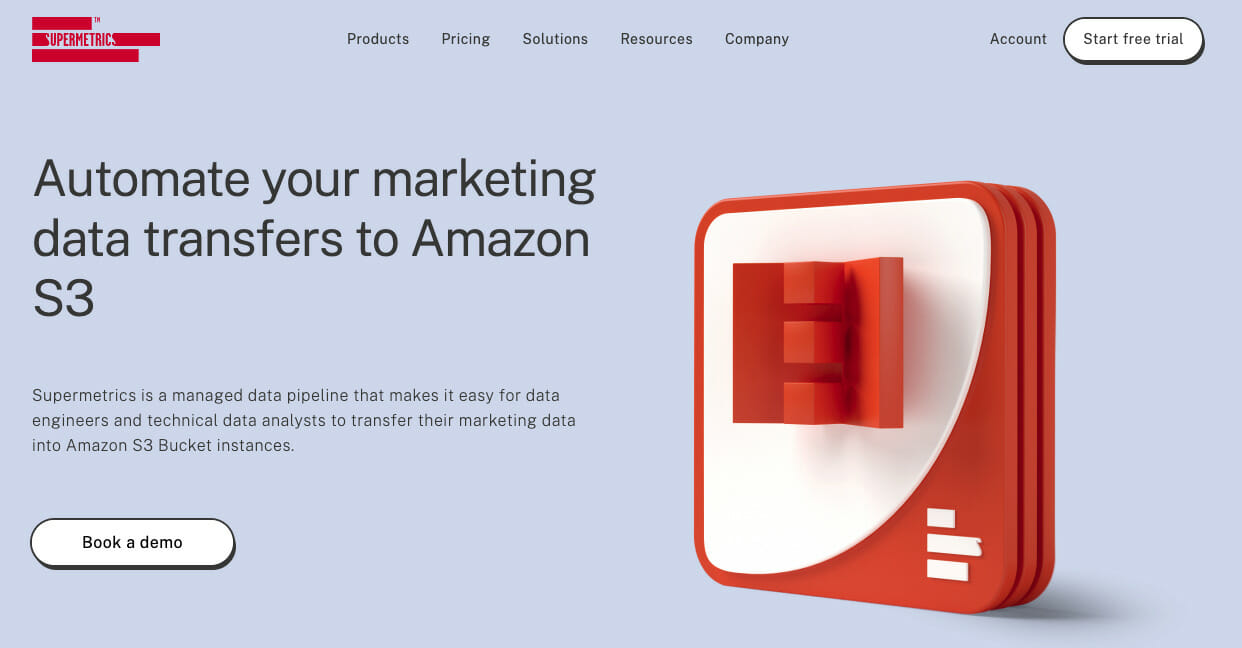 Supermetrics offers solutions for storage options such as Amazon S3, Google Cloud Storage, and Azure Blob Storage. With these integrations, you can easily store any data from any source in a secure cloud environment with AES-256 encryption.
You can also set up scheduled extracts to ensure that your data is always up to date. With Supermetrics' cloud storage and data lake integrations, you can easily store, organize, and analyze your data for more effective reporting.
Related Content: 6 Customer Service Trends You Can't Ignore in 2023
Customer Service
Supermetrics has a great customer support team that is available to answer any questions or concerns you may have. They offer 24/7 support via email, phone, and live chat.

One of my favorite things about the live chat support is that they can help you troubleshoot any issues you may have with the software. This makes it much easier to get up and running faster than if you were trying to figure out things on your own. It's a very comprehensive tool for finding answers, and they typically reply in less than five minutes!
There's an extensive support center with lots of articles and tutorials to help you with the most common difficulties.
And their resource library (found on the top menu) is full of self-help options like customer success stories to lift you up, a template gallery to build your own tools, a blog, a podcast, technical documentation, and webinars. You don't even have to chat, call or email for help most of the time.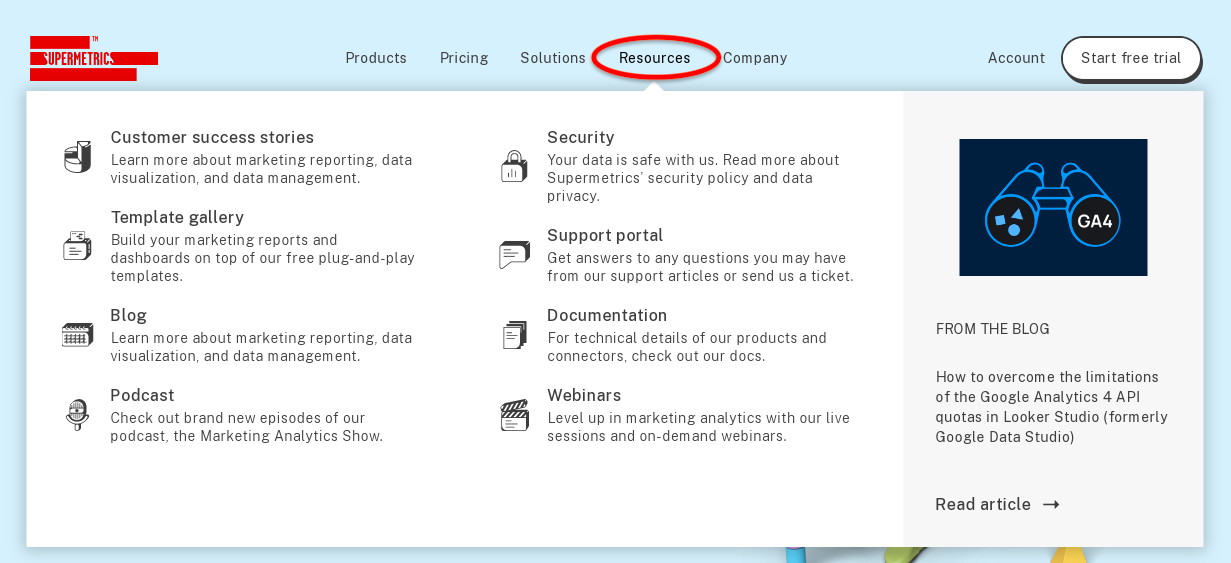 Supermetrics Final Assessment: Pros & Cons
Supermetrics makes it easy to extract, manipulate, and visualize data and web analytics from any source.
Pros:
Great for business of all sizes from small businesses and entrepreneurs to enterprise solutions
Integrates with many popular data sources and platforms
Simple setup and easy to use
Robust automation capabilities for more efficient reporting
Helpful customer service team
Free trial
Cons:
Prices can be a bit on the expensive side for some solutions
Can take some time to get familiar with all of their features and integrations
No free plan
Free trial is only available for select integrations
With its powerful query builder, automated scheduling tools, advanced visualization options and secure integrations with cloud storage and data warehouses, Supermetrics is the perfect tool for anyone looking to gain insight into their data quickly and efficiently.
Overall, Supermetrics is a great choice for businesses of all sizes that are looking to streamline and automate their reporting process.
---
Looking for more review posts? Check out:
* AWeber Review: Is It Worth It in 2023?
* UltraVPN Review: Is This 2022's Best VPN?
* Surfer vs. Clearscope
* Moosend Review: Is This the Best Email Marketing Tool for Beginners?