The last year has been a challenge for many marketers and businesses. As more companies move to digital marketing, having the right technology and tools is essential for success.
ConvertKit is an email marketing platform particularly suited to bloggers, small businesses and entrepreneurs as it can help you build relationships with your customers, automate tasks, create forms, and much more.
But is it worth it in 2023?
To answer this question, I took ConvertKit for a test drive and spent some time looking at the features and benefits.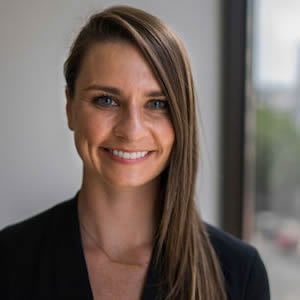 Jacqueline Foster
Demand Generation Marketing, Lever.co
We can count on them to bring new ideas to the table consistently
What Is ConvertKit?
ConvertKit is an email marketing solution that helps businesses automate their marketing processes, capture customer information, and segment customers into different lists.

With an intuitive interface, customizable templates, and powerful automation tools, ConvertKit makes it easy for busy online business owners to create high-converting campaigns with their email lists. The platform offers excellent deliverability with a variety of features, including:
automation capabilities
form builder tools
A/B testing
lead capture forms
webinar services
robust integrations with e-commerce shop software
At the most basic level, ConvertKit's automation capabilities help you streamline your marketing processes. You can set up automated emails, segment customers into lists based on their behavior and preferences, and create rules for segmentation. This makes it easy to create personalized marketing campaigns and find the right customers for your business.
In addition, ConvertKit offers a variety of form builder tools that can help you quickly create opt-in forms/opt-in boxes, and surveys. With these tools, you can capture the information you need from customers and segment them into different lists or categories. Plus, with its A/B testing capabilities, you can quickly test different versions of emails and forms to see which email broadcasts are most effective.
And, finally, ConvertKit's advanced analytics and detailed reports provide users with insights on their campaigns' performance so they can make informed decisions when it comes to optimizing their email marketing strategy.
Related Content:
* 5 Important Landing Page Elements You Should Be A/B Testing
* 11 Email Marketing Trends You Can't Ignore in 2023
* How to Lower Ecommerce PPC Advertising Costs with Email Marketing

Pricing for ConvertKit
One of the best things about ConvertKit's pricing is that it's affordable: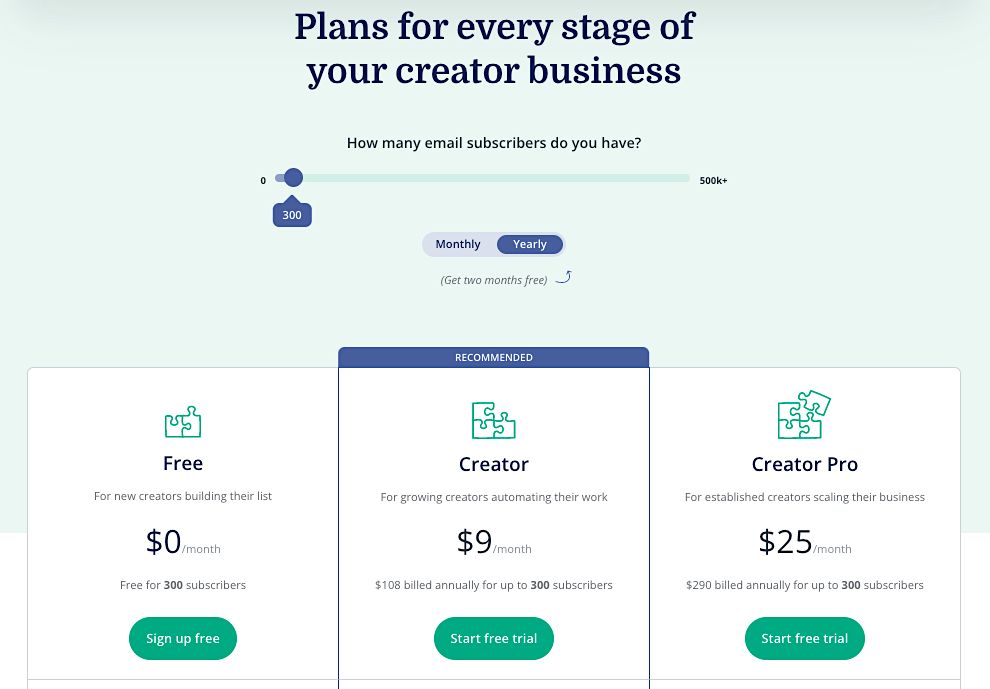 They offer three plans – Free Plan, Creator Plan and Creator Pro Plan – which are for up to 300 subscribers, and they range from free to $25/month, billed yearly.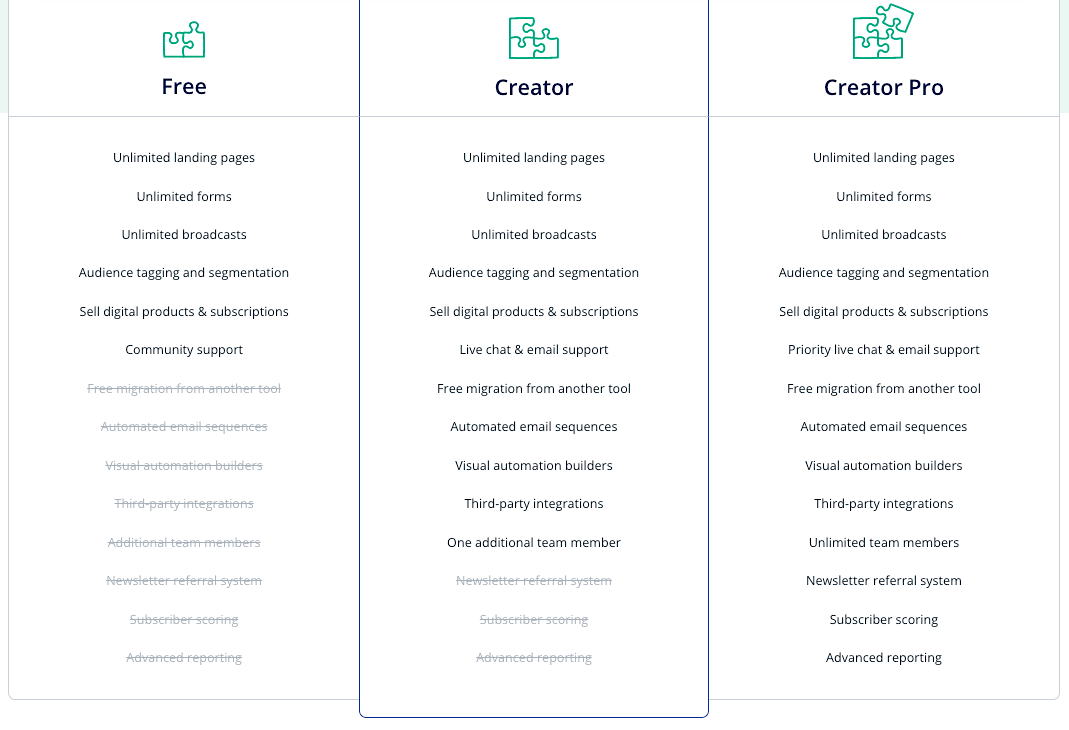 This is great value for the money, especially when compared to other platforms with similar features.
The only downside to this pricing is that it's only for 300 email subscribers, which may be fine for a small or medium business, but doesn't scale well as you grow beyond that, and certainly isn't a great option for enterprise users.
They also offer a 30-day money-back guarantee, so you can try it out risk-free.
More email marketing tool reviews:
* AWeber Review: Is It Worth It in 2023?
* Moosend Review: Is This the Best Email Marketing Tool for Beginners?

Getting Started with ConvertKit
Getting started with ConvertKit is really easy.
Once you're signed up, you can start creating forms and emails, setting up automation rules, segmenting customers into lists, and much more.

There's a free 14-day trial that doesn't require a credit card, which I love. If you're anything like me, you'll sign up for a free trial that requires a credit card – and then forget to cancel it! Then you're billed for something you haven't even decided if you want to use yet.
With ConvertKit, getting started is super easy and there really is no obligation.
Signing Up
Immediately upon signing up right from the home page, they display a welcome video that helps you get your bearings.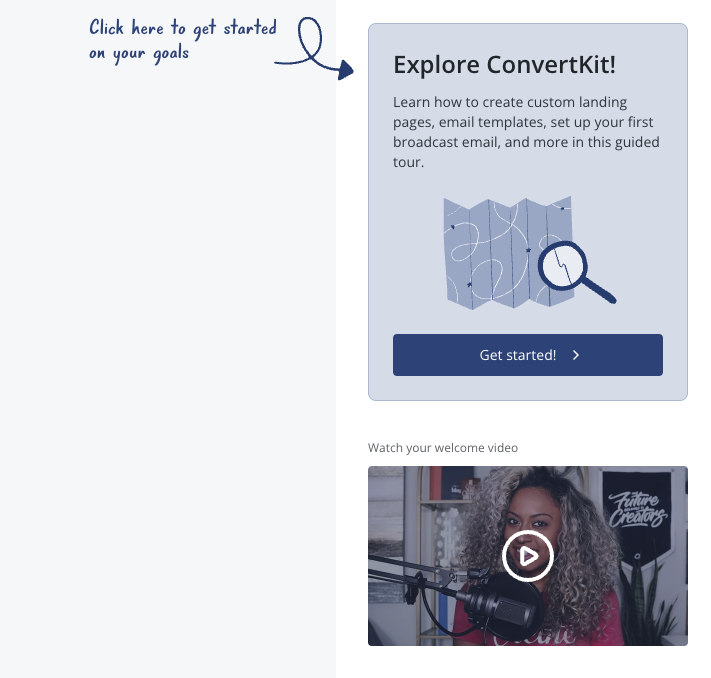 Then they guide you with where to start. It really couldn't have been any easier to create my first forms and emails.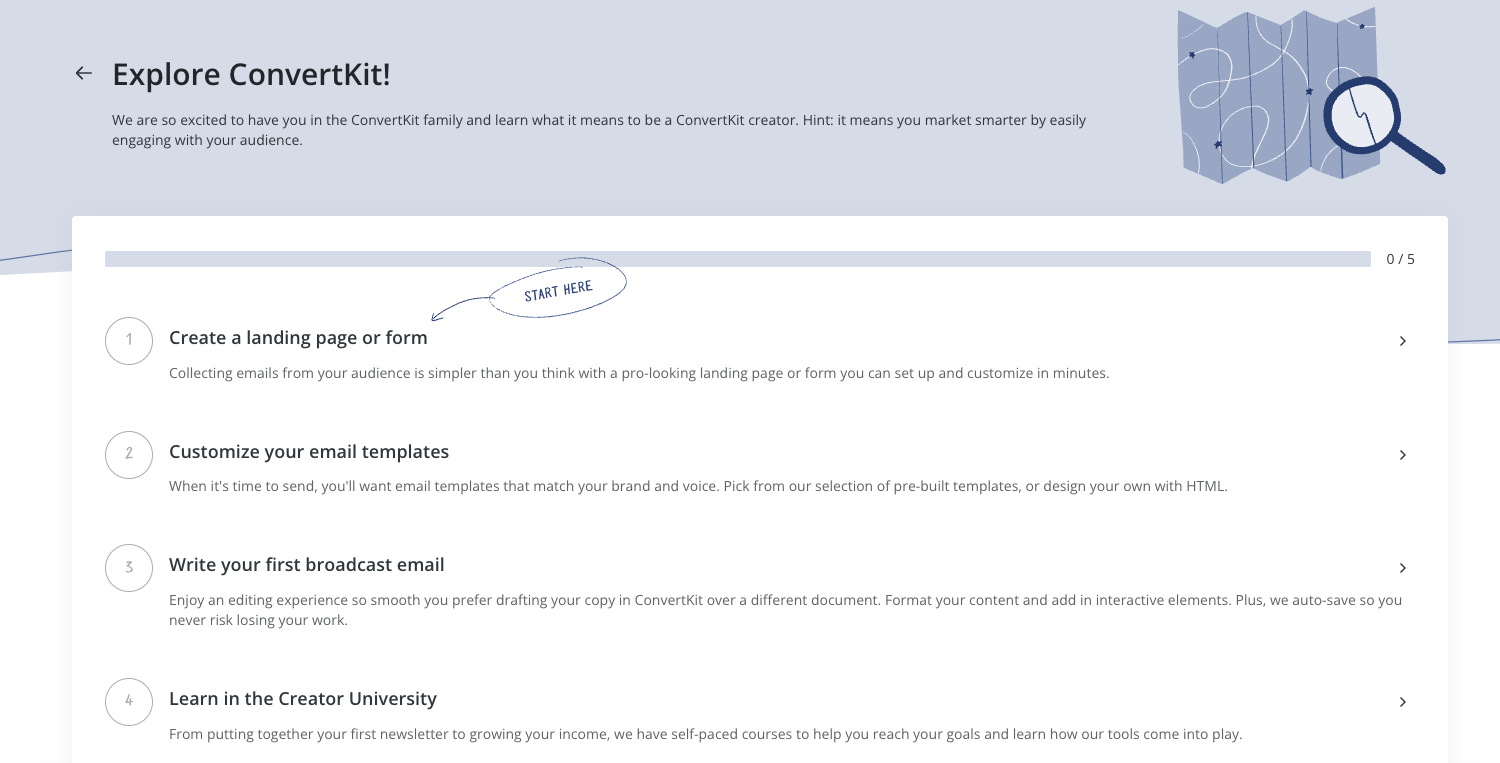 Upon signing up, ConvertKit asks if you're migrating from another tool or just getting started. Depending on your answer, they'll help you find the tools you need and move your existing data over. They'll even suggest integrations that might work for you based on your business demographics.
Insights
After using ConvertKit for a while, I found that I really needed some sort of insights dashboard where I could see how my marketing performance was trending. I wanted an analytics dashboard that displays a variety of metrics, like open rates, click-through rates and conversions, as well as subscriber growth over time. This would have made it really easy for me to see how my campaigns were performing at a glance.
However, insights are only available for those who upgrade to Creator Pro, which meant spending a bit more money that I wanted to.
Although I didn't get detailed insights, I at least had some basic values, like the number of form sign-ups in the past 30 days and the number of marketing emails completed.
ConvertKit Features
ConvertKit has plenty of features you'll want to try out before your free trial is up.
You can grow your audience with landing pages, email sign-up forms, and integrations.
Landing Pages
ConvertKit's landing page builder is great for quickly creating an opt-in page for your website or blog. It only takes minutes to promote your upcoming project and get people on board. The great thing is that you can choose one of their fully customizable landing page templates or create one from scratch.

Email Sign-Up Forms
You can also create forms to capture customer information and segment them into different lists based on their preferences. Once again, they're fully customizable email templates, but you can also create your own and build trust with your loyal audience as well as your new subscribers.
Integrations
ConvertKit also offers a lot of integrations with other platforms and services.
This means you can easily connect your blog or website to ConvertKit, so customers are automatically added to your lists when they sign up. You can also integrate with payment processing platforms, social media channels, and more.
There are literally dozens of these integrations. ConvertKit has done a great job of making sure their tools work with the tools you're already using. The learning curve isn't so bad when you don't have to overhaul your entire process.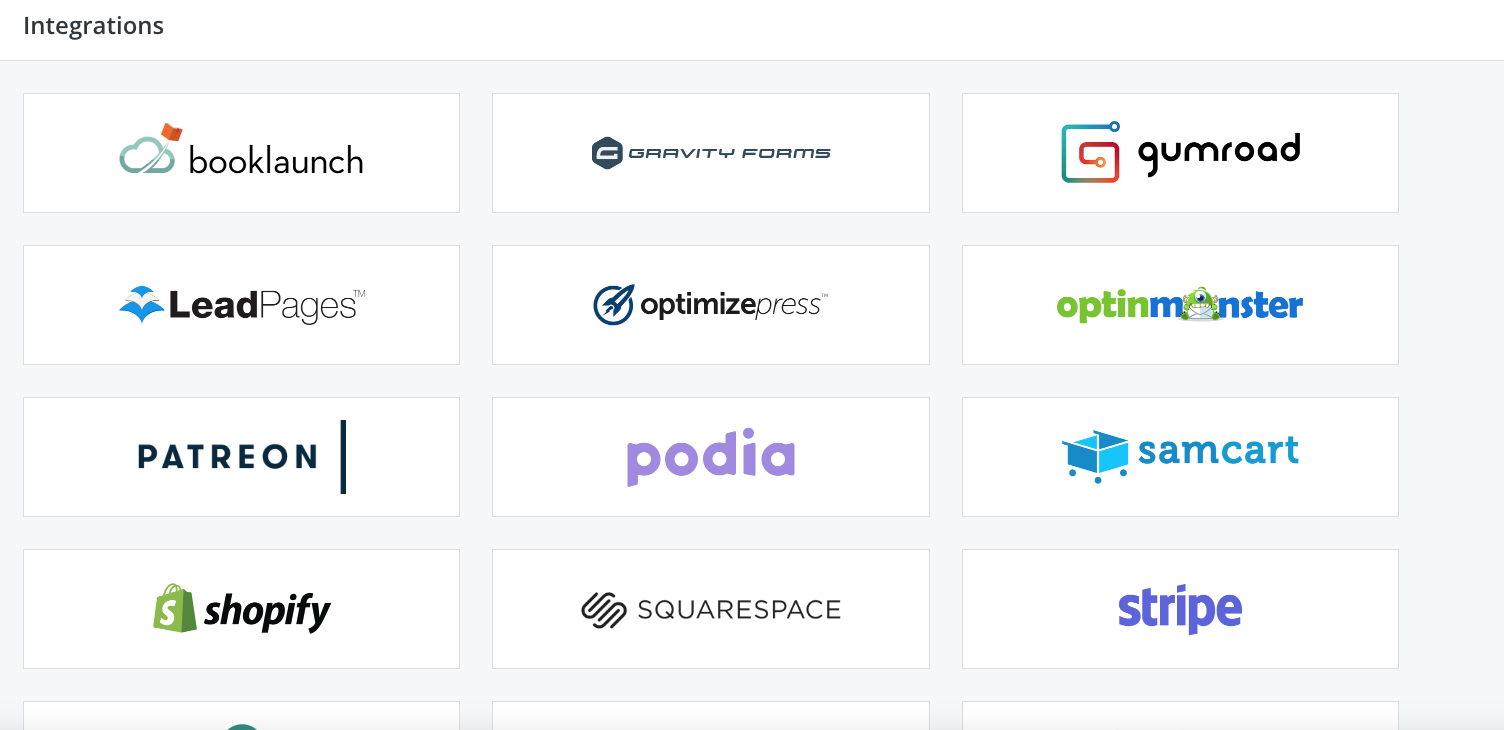 You can also connect with your fans using email marketing, an email designer and automations.
Email Marketing
One of the main features of ConvertKit is its email marketing capabilities.

Here you can create beautiful emails, segment them into different lists, and use automation tools to send the right emails to the right people at the right time. It's all very easy to set up, but also powerful enough for a more advanced user.
Dive Deeper: SaaS Email Marketing: 12 Best Strategies to Follow
Email Designer
This feature allows you to create beautiful emails that are fully customized. You can upload photos, insert links, customize fonts and colors, and much more. The email designer also includes A/B testing capabilities so you can test different versions of your emails to see which one works best.
Automation
ConvertKit makes automated marketing easy. You can set up rules that automatically send emails based on predefined triggers. For example, you can set up an autoresponder rule to send a "Thank You" email sequence when someone signs up for your mailing list.

Dive Deeper: What Is Marketing Automation: Definition, Benefits & Uses
And you can earn a living with commerce tools and Creator Pro.
Commerce Tools
If you're selling products or services online, ConvertKit's commerce tools make it easy to accept payments and deliver digital goods. You can integrate with a payment processor and quickly start selling your products or services.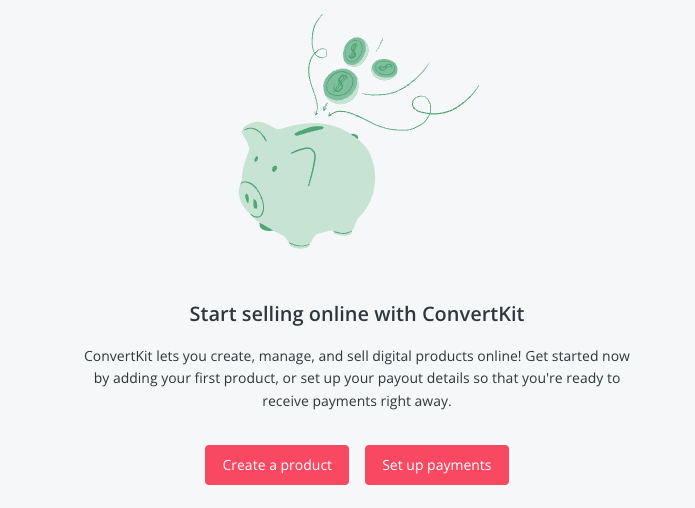 Creator Pro
This is one of the more advanced features of ConvertKit, but it's well worth it if you're a serious content creator who wants to make money online. Creator Pro is an all-in-one suite of tools that allows you to manage subscribers, create digital products, run affiliate programs, and more.
Where Creator Pro really shines is allowing you to treat every subscriber like the individual they are. You can tag your subscribers based on what you know about them. The more you know, the more attention you can provide, pulling them closer to your brand.
It also allows you to fine-tune your insights, reward subscribers for referring their friends, and target specific audiences on social media. It's a robust feature that's worth exploring if you're serious about making money with your blog or website.
Unfortunately, this features isn't available on the free trial or the free plan, so if you really do need some advanced features, you'll have to pay for them.
Customer Support
ConvertKit offers great customer service and technical support. They have an extensive knowledge base, as well as live chats and email support.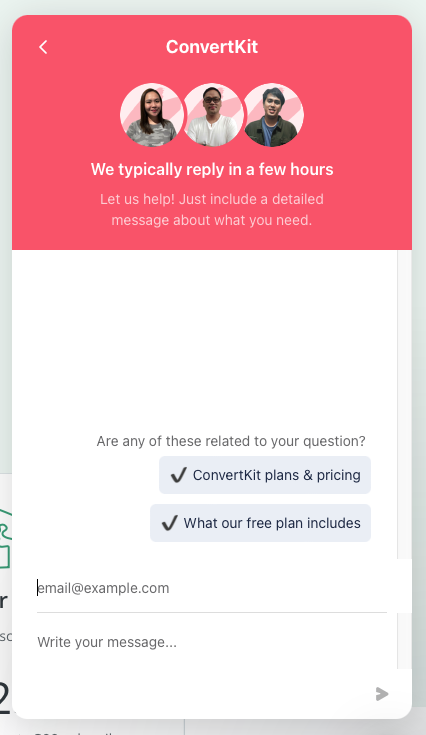 If you have trouble with ConvertKit, I would start with their online resources. You can read blog posts, view video trainings, see stories from other inspiring creators, follow tutorials, or connect with other members of the community.
However, if you still have problems, their 24/7 live chat is the way to go. I absolutely love it when companies offer an easy way to reach out. I don't like email because it's too impersonal, and I hate calling because it takes too long.
But with ConvertKit, you can simply chat with their experts and get answers very quickly. If they're busy, they'll send you a message when they're available so you can jump back into troubleshooting and getting the help you need!
Pros and cons of this email service provider:
Pros:
Easy to use with an intuitive interface
Extensive integration capabilities, making it easier to migrate from other tools
Powerful email marketing features and automations
Creator Pro suite of advanced features
Comprehensive customer service and technical support
Free plans
14-day free trial with no obligation
Cons:
Can be expensive for smaller businesses or those just starting out
Not a great option for large or enterprise businesses
Not all features are available on the free plan
ConvertKit: Final Assessment
Overall, ConvertKit is a user-friendly email marketing platform that offers powerful automation capabilities and form builder tools at a reasonable price.
Similar tools include Mailchimp, ActiveCampaign, GetResponse and Drip, but it's definitely worth considering ConvertKit if you're looking for ways to better manage your marketing efforts and connect with customers this year.
With its free plans and 14-day free trial, you can try out this email marketing service before committing to it. And with its dedication to customer service, you'll always get the help you need if something goes wrong. Good luck!