The Chief Marketing Officer (CMO) is a crucial position for every organization, but hiring a CMO is more challenging than any other C-level position.
Chief Executive Officers (CEOs), the highest-ranking role in a company, tend to struggle to find the right CMO for their business: a person who can lead from the front, has exceptional knowledge of marketing strategies, can recruit the right candidates for the marketing team or other departments, and has the ability to reach goals consistently.
In this article, I will discuss what a CMO is, the different skills needed to become a great CMO, and how you can hire the perfect CMO for your organization.
Let's start!
What Is a CMO?
A chief marketing officer, or CMO, is a member of the C-suite responsible for all marketing activities in the organization. The primary responsibilities of the CMO include market research, PR and brand management, pricing management, product marketing, and marketing communications. A CMO directly reports to the chief executive officer (CEO).
Around 72% of marketers agree that the significance of marketing has increased during the pandemic: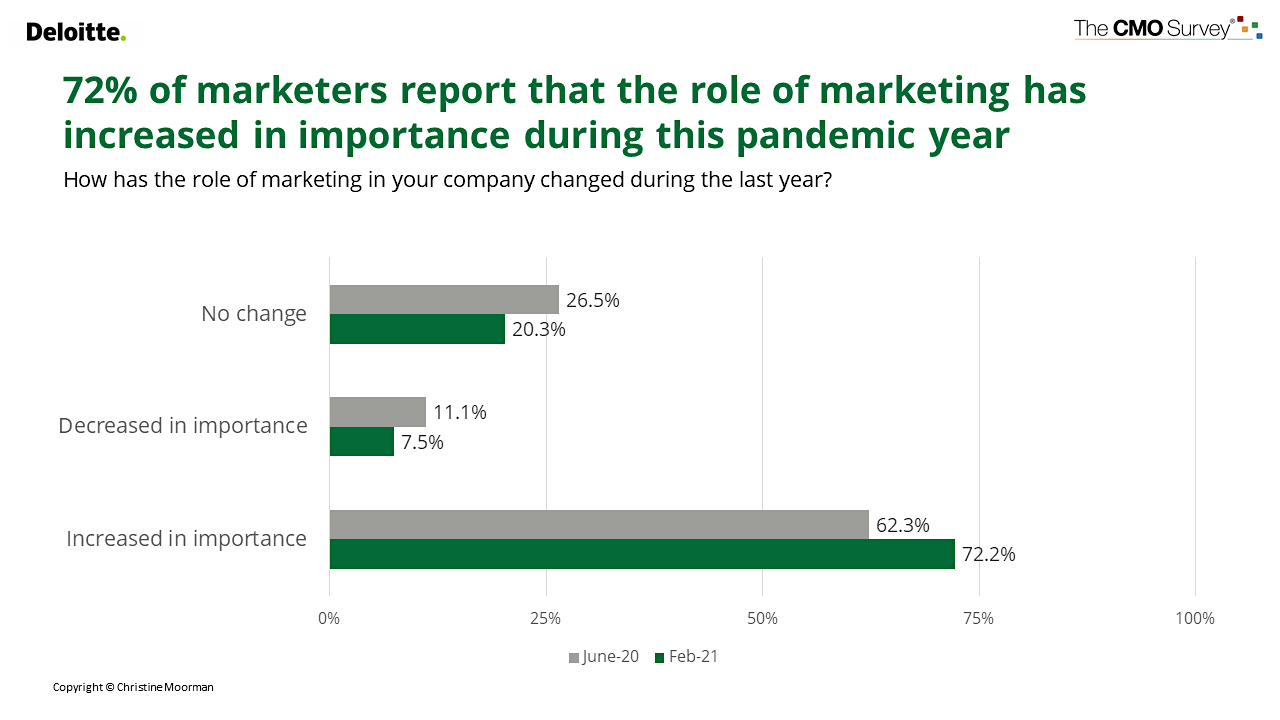 That means that today's CMO needs to be:
a data scientist who loves playing with data
a copywriter who knows how to pick the right words to portray the brand values
an intelligent marketer who can position the company's products or services positively in the minds of customers
and a tech enthusiast who can use a variety of tools to support different campaigns
The CMO of the 21st Century
As per Google:
"The 21st century CMO is expected to be a marketing miracle worker, an alchemist who combines the classic art of branding with the latest advances in data and measurement."
According to Deloitte, the CMO should be well-versed in the following five roles:
Growth Driver – who can drive sustainable and profitable growth YoY.
Customer Champion – who uses data insights to deliver personalized customer experiences throughout the customer journey.
Chief Storyteller – who can craft memorable stories to connect your brand to customers.
Innovation Catalyst – who never hesitates to experiment with new tools and ideas to create breakthrough products and supercharge profits.
Capability Builder – who can prepare exceptional marketing campaigns to beat the competitors.
CMO vs VP of Marketing
The titles of Chief Marketing Officer and Vice President of Marketing may sound like synonyms, but the roles are different:
The CMO is a business leader who belongs to the C-suite, and the VP of Marketing is a marketing expert who reports to the CMO.
The VP of Marketing is responsible for planning and managing all marketing activities to elevate brand or product performance, while the CMO approves the strategies suggested by the VP of Marketing.
The CMO interacts with the board of directors and gets the marketing budget approved. Therefore, the CMO holds a higher position in the company, and several marketing roles — VP of Marketing, Marketing Director, and Marketing Manager — all directly report to the CMO.
Dive Deeper: How to Find and Hire a Director of Marketing for Your Business
Hiring a CMO for Your Organization
To hire the perfect CMO for your company, you should first understand the skills required for the job and then learn how to prepare an effective job description to invite qualified applicants.
We'll look at the skills required first, and then job descriptions.
What Skills Are Required for the Role of CMO?
Market Research
Market research is a crucial element of the overall marketing strategy. It uncovers the market demand, user problems, major product competitors, customer reviews, and it identifies the channels for customer acquisition.
Market research can be of two types, namely qualitative and quantitative research:
Qualitative research involves conducting focus groups and one-on-one interviews. This research is more about people's thoughts and opinions about your brand or product than hard data.
Quantitative research involves conducting surveys and multiple-choice questionnaires. This research method is all about gathering numbers and other hard data. 
The CMO should understand how to conduct effective marketing research to identify gaps in customer expectations. Accurate market research minimizes risks and helps to make critical business decisions.
Product Marketing
Product marketing is the art of selling the product to the customer. The ideal product marketing strategy addresses the customers' needs, uncovers which product features would solve those problems, identifies the best channels through which the product will reach the customers and at what price, and decides the PR required to position the brand in the customers' minds.
Search Engine Optimization (SEO)
SEO remains one of the best forms of marketing investment, and B2B SaaS industries achieve an outstanding ROI of 702% from SEO. However, SEO can be tricky and if executives do not understand this strategy well, they might be hesitant to devote adequate budgets for it or might seek unrealistic results in the initial phases.
Therefore, SEO is a significant skill that every CMO must have. I am not saying they should be SEO experts, but they should have a good understanding of how search engines work, why SEO investment is essential, how to set the right KPIs, and how to track the results.
Dive Deeper:
* SEO Strategy for Startups: How to Win in 2023
* 10 Effective SEO Techniques to Drive Organic Traffic in 2023
* SEO Strategies Based on Your Business' Unique Competitive Advantages

Search Engine Marketing (SEM)
Search engines like Google rule the world of digital advertising. Around 75% of people agree that search engine ads help them find the information they are looking for, and PPC ads are one of the best ways to reach customers at different stages of the buyer's journey.
The CMO should have a strong knowledge of PPC, Ad Quality Score, Keywords, Ad Extensions, and all other metrics related to search engine marketing. They should have experience in handling high budget PPC campaigns and should be able to allocate budgets and adjust campaign ROI by guiding the SEM team.
Some years of relevant experience managing PPC campaigns might be an added advantage, but make sure they are aware of the current trends. If someone handled PPC ads eight years ago, then a complete refresh of knowledge is needed.
Dive Deeper: What Is the Difference Between SEM and SEO?
Content Marketing
Content helps to acquire, nurture and convert customers. Most CMOs and CEOs make the mistake of hiring inexperienced writers just to add blog posts to their site. Moreover, they do not cross-share the content on other channels to expand its reach. As a result, companies lose a chunk of their budget to sloppy content marketing.
The CMO should have a sound knowledge of content promotion. They should be able to forecast the long-term value of content and allocate budgets for them accordingly. They need to be able to bring the content, SEO, PPC and social media teams together to create high-value and engaging content pieces that bring more profits.
Dive Deeper: How to Create a High-Performance Content Marketing Strategy in 2023
Copywriting
Copywriting as a separate skill is an added advantage. Well-written and user-intent-focused content helps to drive more conversions.
The work of the CMO revolves around discussing with the VP of Marketing the type of ad campaigns to run and the channels to target. Whether it's increasing the organic reach or expanding the paid visibility of the business, landing pages play a crucial role in convincing prospects to become customers. Copywriting can improve the performance of SEO and PPC campaigns, resulting in a higher ROI in the same budget. Hence, copywriting skills are critical for the growth of your business.
Affiliate Marketing
Affiliate marketing is the process of finding people who will refer your products or services to their network, and receive a small commission for every sale they make.
Affiliate marketing is another valuable channel for growing your business. Bringing in affiliates for your company is an art because it involves critical thinking and effective networking skills. A business should sell affiliates like its own product. Therefore, an entire product marketing strategy should be planned to get other businesses or people to join your affiliate program. Problem solving, efficient decision making, and data analysis skills are required to acquire, manage and retain business affiliates.
Dive Deeper: 7 Affiliate Marketing Tips from a SaaS Affiliate Manager
Influencer Marketing
Influencers foster brand credibility. They bring an army of loyal followers who then become your brand advocates. In today's cutthroat competition, businesses that do not take advantage of influencer marketing to amplify brand awareness can fail to earn customers' trust.
The CMO should be social media savvy, with good networking skills. Moreover, knowledge of influencer marketing platforms, Google Alerts, and blogger outreach programs are necessary. Additionally, your CMO new-hire should have excellent negotiation skills to guide your marketing efforts in order to acquire influencers at the best price.
Dive Deeper: The Ultimate Guide to Growing Your Business with Influencer Marketing
T-Shaped Marketing Skills
Craig Miller, former Shopify CMO, says:
"If you want to be a great marketer, focus on becoming a T-shaped marketer. Learn a bit of development, a bit of design, a bit of support, etc. Start your own business, if only to gain a better understanding of how all the dots connect together."
Businesses today understand how important it is to hire a marketer who can bring the different marketing channels together to achieve common business goals. Thus, your CMO should be a T-shaped marketer:
"A T-shaped marketer is someone who has broad marketing experience in multiple domains (SEO, copywriting, social media management, PPC ads, SMS marketing, analytics), but specializes in just one or two domains."
Obviously, a person can't have extensive knowledge and experience in all marketing fields. Some may have an exceptional understanding of SEO, while others might have vast experience handling PPC campaigns. Your Chief Marketing Officer should be someone who has expertise in one marketing department but understands the other marketing fields well: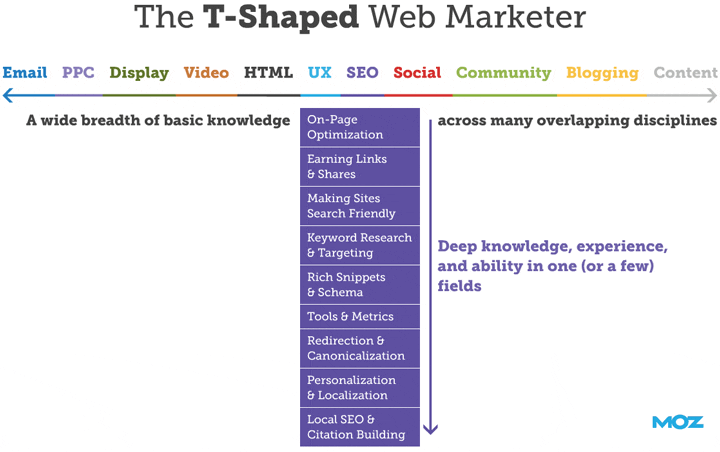 People Skills
People skills are a combination of different skills needed to succeed in the job as a CMO. These are workplace skills that help connect with colleagues and produce productive work.
David Parnell, communication coach and author, says:
"People skills are, in short, the various attributes and competencies that allow one to play well with others."
Here are the top people skills that an ideal CMO candidate should have:
Excellent communication skills
Ability to understand another's viewpoint
Patience
Humble and able to admit when wrong
Able to trust others
Good negotiation skills
Conflict resolution skills
Strong leadership skills
Exceptional management skills
Social skills
Motivational skills
Networking skills
Self-confidence and problem-solving skills
Great sense of humor
Honesty
Effective listening skills
Confident about delegating tasks to others
Good manners
Flexibility
Preparing a Job Description
When writing out a job description for the role of Chief Marketing Officer, you have to be honest with yourself and aware of what exactly you are looking for. If you wish to have a CMO whose responsibility is limited to marketing communications with no authority to make decisions, then don't hire a person who has experience in strategy making. The candidate will feel frustrated and might leave the company within a very short time.
The job responsibilities should match the expectations of the ideal candidate.
Interestingly, CMOs have the worst churn rates, with 57% of CMOs staying at an organization for three years or less, and 22% leaving the company in the first year.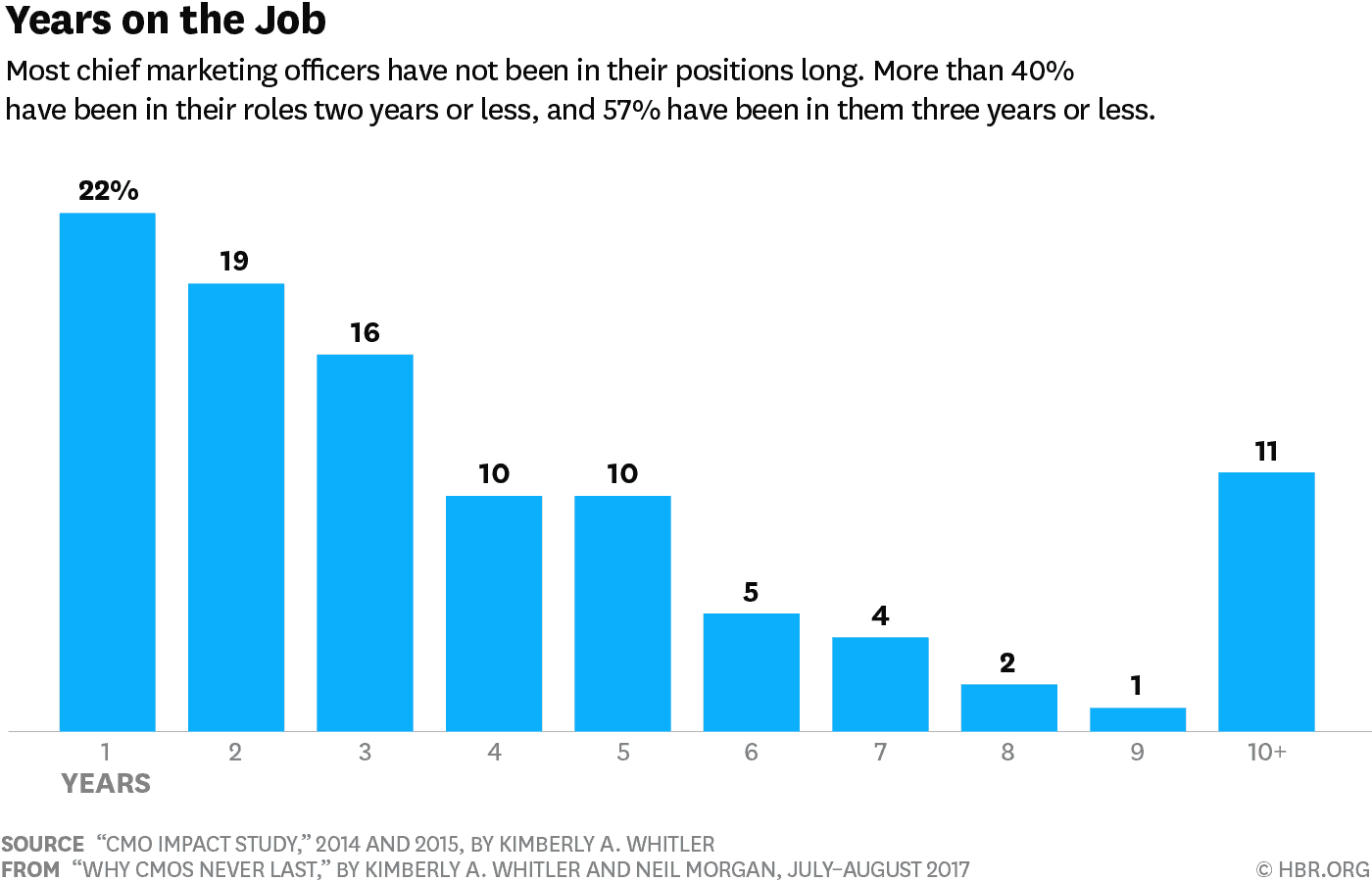 Hence, the job description plays a crucial role in bridging this gap. You have to write down precisely what you are looking for so that candidates applying for the job understand the exact expectations of this role in the company.
Moreover, do not forget to include salary and other perks in your job description because job listings with the salary receive 75% more clicks than those without.
Example CMO Job Description Template
Here is an example CMO job description template that you can customize according to your business needs when looking to hire your next CMO:
Chief Marketing Officer Job Summary Example
We are a new but one of the fastest-growing food delivery platforms globally, looking to expand our marketing reach to online and offline mediums. We are primarily looking for someone who has extensive experience in the e-commerce industry and has knowledge of the food industry. The ideal candidate should oversee the entire marketing strategy of the organization to grow the customer base and improve profits. Excellent salary plus incentives available for the right candidate.
Chief Marketing Officer Responsibilities Example
Set goals and KPIs for different marketing channels such as SEO, PPC, email and social media.
Perform market research to identify competitors' strengths and weaknesses and spot opportunities in the market.
Devise the right pricing strategy for our products to maximize profits.
Build a positive brand reputation in the media.
Manage the SEO and content marketing strategy to grow the business's organic presence.
Plan PPC campaigns, set budgets, and oversee the creation and implementation of different online advertising campaigns to attract more customers.
Build effective customer retention strategies to reduce churn and improve profits.
Negotiate with new vendors, follow up with franchises and affiliates to amplify the growth of the business.
Prepare extensive reports and directly report to the CEO.
Chief Marketing Officer Qualifications and Skills Example
Masters degree in marketing or any equivalent degree.
10+ years of experience in marketing or advertising, with expertise in the food industry a plus.
Excellent communication, networking and leadership skills.
Excellent presentation skills and knowledge of a second or third language is an added advantage.
Familiarity with managing different marketing campaigns.
Experience in managing global marketing projects.
Technology savvy with excellent knowledge of Word, Excel, Powerpoint, and tools such as SEMrush, Slack and Google Ads Manager.
Proven track record of sales performance and results.
Experience in cross-functional team handling to create comprehensive 360-degree marketing campaigns.
Exceptional in generating leads and crafting ROI-focused advertising campaigns.
Experience in managing SEO/PPC/Influencer Marketing/Content Marketing/PR teams to acquire more customers for the organization.
Responsible for all aspects of the marketing department's success.
Chief Marketing Officer Salary and Perks
$180K – $250K (salary negotiable for the right candidate)
Health insurance
Performance bonus
Paid leave
4 weeks' paid vacation per year
Other incentives
Inviting Applications
Once you have the job description ready, it's time to invite applications. Ensure that your company has an excellent social presence, since 75% of candidates research a company's reputation online before applying for a job, and a strong brand reputation helps to reduce the cost per hire by 50%.
Remember, if you do not work on your company's reputation before posting the job description, candidates might search for you and if there are negative reviews or zero brand mentions on popular review sites, then this might discourage potential qualified applicants from applying for the job. Hence, working towards uplifting your business reputation is critical to acquire good candidates.
Once you have a great company reputation by acquiring some good PR and requesting some positive reviews from customers or your employees, then you can post your job description. Here are some of the top channels to invite applications:
Job Boards
Job boards are websites where recruiters can post their jobs, and job seekers can find a job based on their preferred location and designation. Some job boards charge you money to post jobs and feature them at the top for specific keywords.
For instance, if you want your job description to display at the top of the job search results for the query "CMO job" or "Chief Marketing Officer," then you can buy a featured listing. However, several job portals allow you to list your job for free. Paid listings offer more visibility and get you more applications as compared to the free ones.
Some of the top job boards you can use to publish your job description are:
LinkedIn Recruiting Solutions
Around 73% of professionals have found their dream job with the help of a social media site, so you should take advantage of the world's largest professional network, LinkedIn, to find potential prospects for your organization. The platform has advanced search filters to shortlist profiles that match your job description, experience and location.
Once you shortlist qualified candidates, you can use the powerful Inmail (LinkedIn messaging platform) to send personalized messages to them faster and more efficiently. Moreover, you can share the candidate profiles with your hiring managers for further communication. The platform also lets you measure the number of successful recruits within a specific time frame to manage your pipeline efficiently.
Employee Referrals
Employee referrals leverage the power of current staff members to hire qualified candidates for the CMO job. Employees are usually offered monetary rewards and other perks when they refer people who the company goes on to hire. The employee-referred candidates stay with the organization longer because your employees already know the company culture, and they can guide the referrals accordingly.
Over the past decade, around 30% of new hires in organizations have come via employee referrals. They are easy to launch, budget-friendly, and have the lowest churn rates.
Recruitment Agencies
Employment companies help match job requirements with suitable candidates. They usually have a data bank of qualified professionals, such as for the CMO role. If you are in a hurry to hire your new CMO, then hiring a suitable recruitment agency to do this task for you might be a good idea. Keep in mind, though, that recruitment agencies charge a commission for every successful hire.
Your Company Website
And, finally, don't forget to use your own company website to display current job positions: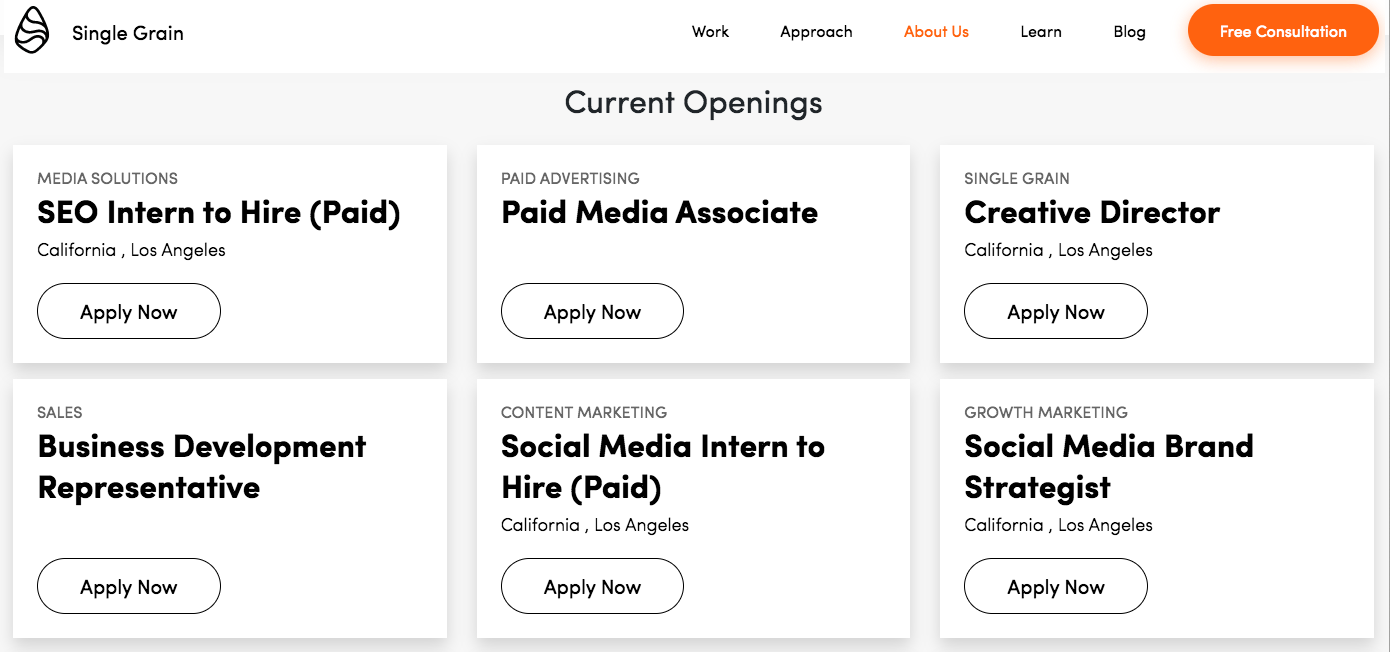 Often, candidates visiting your website look for job opportunities in the career section (often in the "About" menu). Therefore, you can post your job description on this page and start accepting applications. But don't stop there; take advantage of this page to include photos, employee testimonials and videos that show the company culture: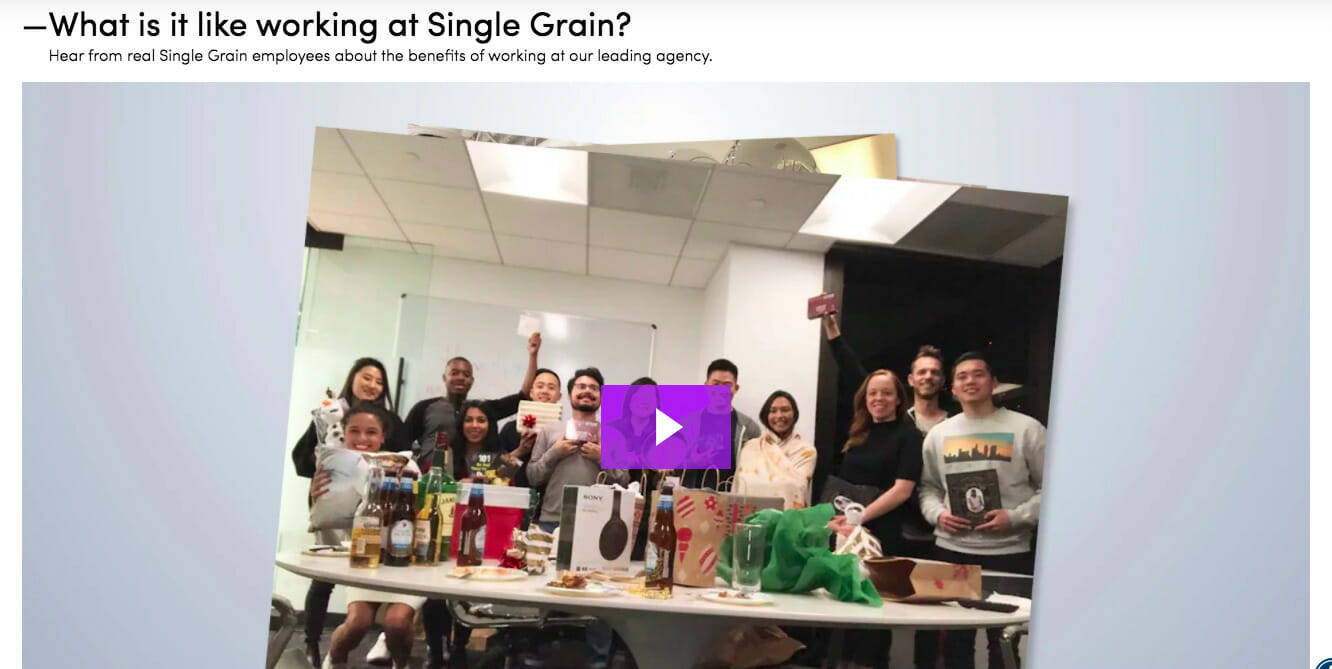 This strategy is budget-friendly and highly effective because, more often than not, people eager to join your organization (often fans of your company or product already) will look on your site to apply for a job. 
Dive Deeper:
* How to Find and Hire a VP of Growth for Your Business
* Forced Hiring: An Amazingly Effective Way To Find The Best Hires
* 7 Questions to Make Sure Your Next Marketing Hire Is a Slam Dunk

Interviewing Candidates for the CMO Profile
The right candidate must be capable of delivering on your marketing spend and improving your brand presence. On the day of the interview, have at least three people conduct the questioning. This will help you to get a well-rounded view of the candidate's skills.
In the words of Renelle Darr, Consultant Coach and Speaker, Insight CC: "Emotionally intelligent leaders make great bosses and create organizations that thrive. A key way to spot an emotionally intelligent leader is by observing the types of questions asked. Is the person truly interested in you? How are the questions asked? Pay attention to the tone and other non-verbal cues."
Hire a leader and not a boss because a boss works towards ensuring that employees follow the organization's rules while a leader motivates others to reach their goals.
CMO Interview Questions
One bad hire can cost your company $15,000. Therefore, always do your due diligence when hiring the right person for the job. Interview questions play a crucial role in judging the skills, experience and personality of the candidate. Here are the top interview questions to consider asking when interviewing people for the Chief Marketing Officer role:
What was your most successful marketing campaign? What was your role, and what was your team's role in it?
What are your biggest challenges as a marketer?
What is the importance of brand management?
What do you love the most as a marketer?
Which blogs do you read, or podcasts do you listen to, to keep up with the latest marketing trends?
Please pitch our company as you would do in a sales meeting.
What would you do differently if you were marketing our company's service or product?
Have you recently learned any marketing tactics that most people don't know? Please share with us.
What are the common KPIs you use in an SEO campaign?
Where do you see yourself in the next five years?
What are some common pitfalls to avoid in a product launch?
How do you forecast the demand for a product?
What are your best methods to build trust between an organization and their customers?
How would you convince the CEO to increase the marketing budget?
How do you set short-term and long-term goals for your marketing campaigns?
Share the strategies you would use to revive the market share of a product?
Suppose we want to enter our product in a new country, how would you plan a go-to marketing strategy for the product?
How can you use artificial intelligence in marketing?
Do you have experience collaborating with influencers? Please share your thoughts.
What are the tools you use to analyze your major competitors?
How will you handle negative reviews about a brand you are promoting? What strategies will you use to manage the online reputation of the brand?
How familiar are you with the Core Web Vitals? Please discuss the strategies you would use to optimize a site for this update.
Explain three performance metrics you use in your marketing campaigns.
How will you decide on a customer segment for the OTT platform?
Are you willing to travel or move to another country for your job?
What do you know about conversational marketing?
Are we doing enough as a brand to expand our customer relationships?
Do you think innovation helps to improve a marketing strategy? Please explain with examples.
How can you forecast organic blog traffic? What are the methods or tools that you would use?
Do you know how the Google auction works? Please explain.
Can you name any three alternative ad networks apart from Google?
How many keywords do you recommend having in an ad group?
How will you plan a content strategy to launch a new product?
What role do you think the company culture plays in elevating a business?
Dive Deeper:
* How to Conduct Effective Interviews to Get the Best Hire
* How to Onboard New Hires

How to Become a Successful CMO
Lisa Zoellner, Chief Strategy and Marketing Officer, Neighborly, says:
"Be intentional about the roles you take on. I believe a broad array of experiences creates a great foundation. Get as much experience as you can within marketing, including brand strategy, digital, social media, public relations, etc. Broaden your experience beyond marketing.
The operational experience from early in my career has helped me have a broader view of the impact of marketing and the importance of execution. Take on roles in different industries. It is amazing how portable and enriching those experiences can be as you grow in your career. "
Maria Winans, CMO of Kyndryl, IBM's new managed infrastructure services spinoff, says, "I've never been afraid of taking risks in my career. My biggest fear is regretting that I didn't take a chance on something."
Here are some great tips to help you become a successful CMO:
Develop the ability to lead others and demonstrate your experience guiding teams. CROss-functional team collaboration is crucial for the job of a CMO.
Before introducing any new product, look at the popularity of the existing products and the scope of using feature marketing to revitalize current products. Many CMOs ignore the power of rebranding and hurriedly introduce new products that need a lot of budget and workforce.
Share your brand story with powerful storytelling. Make sure you understand the brand values. If your business has a legacy selling premium products, do not offer cheap discounts as it will dilute the customers' expectations towards the brand.
Put yourself in the shoes of your customers before planning any strategy. Conducting comprehensive market research and leveraging customer listening tools are essential to uncover customer issues.
Don't lose any opportunity to network and never stop learning. Good CMOs are lifelong learners who are always curious to learn something new.
Excel at communication on every front, whether it's setting timelines for work, explaining a marketing plan, negotiating with vendors, communicating with clients, devising a budget strategy with the CEO, or listening to feedback.
See the big picture by accurately analyzing data or forecasting the demands of the products. You should be able to see the top channels of investment that are likely to generate the highest ROI. Remain confident, and don't hesitate to take bold decisions after taking calculated risks.
Test everything and plan for different scenarios that reflect the rapidly changing consumer needs and behaviors.
Don't follow the herd. Just because your competitors are using a tool, it doesn't mean you should also start using it. Instead, think out of the box and try a lesser-known technology to help the company dominate the market.  
Remain revenue focused. Avoid overthinking about vanity metrics. Every decision of yours should ultimately improve the ROI and profits.
Carrie Palin, CMO of Box, says,
"My team is doubling our commitment on marketing sourced pipeline year over year, without doubling the investment. This is a big North star for us, and the only way we can achieve this is by getting crystal clear, down to a finite level, the performance of everything we do."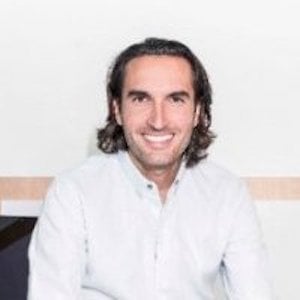 Yaniv Masjedi

CMO, Nextiva

Their expertise has helped Nextiva grow its brand and overall business
Final Thoughts
Tracking marketing campaign success is becoming more sophisticated, with CMOs having access to more data than ever before. Powerful and precise audience targeting, KPI tracking, market research, customer experience analysis, budgeting, and managing effective public relations are vital to elevating your brand growth strategy.
The perfect CMO should be well versed in handling all aspects of marketing. To search for the perfect CMO for your organization, you should know the skills required in your next CMO, the channels used in the hiring, and the job interview process.
I have made it easier for you to follow a strategy to make the CMO hiring process easy. Remember, CMOs hold one of the most important positions in the organization and, thus, your approach to hiring should not go wrong. Use this guide to recruit and hire the best candidate for the CMO job. Good luck!