Lower pricing is a winning strategy to raise sales and this is true for both B2C and B2B companies. Customers always prefer products or services that come at the best price.
As a seller, you definitely want your prices to be lower than your competitors. But how do you do that and still turn a profit?
This guide will explain in detail about competitive pricing, its advantages and how to implement a competitive pricing strategy that is hard to beat.
What Is Competitive Pricing?
When you set the prices of your products or services based on the prices set by your closest competitors, this is known as competitive pricing. It applies when the product is homogenous and the market is highly competitive. Competitive pricing is also known as market-oriented pricing because companies consider the market prices instead of analyzing their own costs.
When the market is competitive, especially for common products like groceries, marketers follow the strategy of competitive pricing where the final prices are based on what the competitors are charging, as shown in the below figure: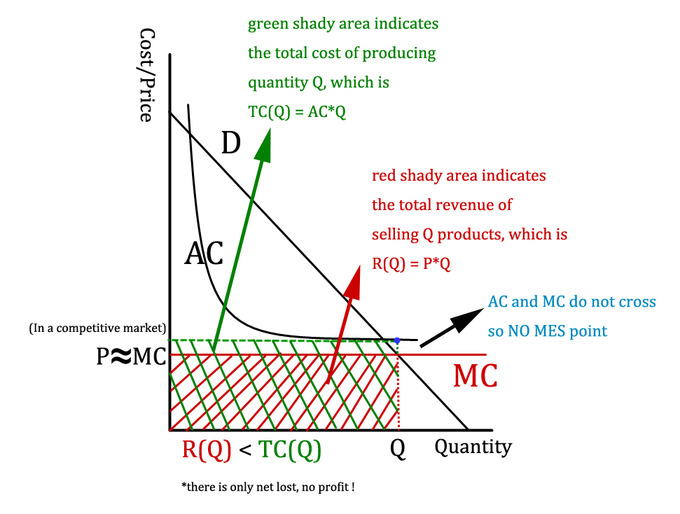 A competitive pricing strategy is adopted by companies to set the prices of their products or services after carefully evaluating the pricing strategy of their competitors.
Moreover, competitive pricing allows companies to identify the best prices without the need to invest in a price-setting strategy. They can easily analyze the price of their competitors and set a price that is closest to the competition, as illustrated in the below figure: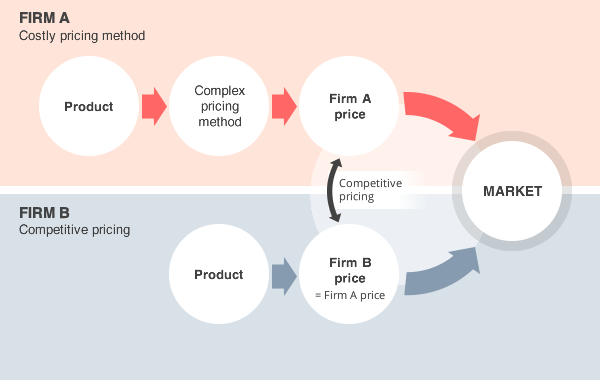 A company adopting a competitive pricing strategy has three options:
Low Price: The prices of the products or services are lower than those offered by the competitors. You can adopt this pricing strategy if you are able to produce products in bulk which lowers the production cost.
High Price: The prices of the products or services are higher than those offered by the competitors. You can adopt this pricing strategy if you offer added features and benefits in the products and services that your competitors are missing.
Matched Price: The prices of the products or services match the prices offered by the competitors. The product features remains more or less the same, but the focus shifts towards the product quality. If you are able to offer a better-quality product at the same price, then customers will automatically choose you.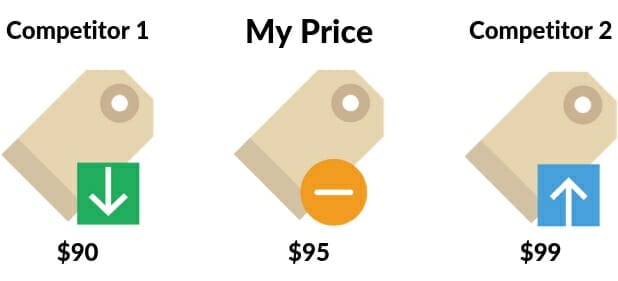 Learn More: 
Examples of Competition-Based Pricing
Here are some examples of a competition-oriented pricing strategy:
Store A sells running shoes at $99 a pair. Their closest competitor, Store B, sells running shoes at $95 a pair in order to win the comparison on price.
Brand A dominates the toothpaste market. Brand B wants to launch a new toothpaste, so it studies the market price and finds out that Brand A sells its toothpaste at $9 per tube. Brand B launches its product at $8.99 in order to give a psychological advantage to its pricing over its main competitor Brand A.
Product C and D are the highest-selling phones in the smartphone market. A new brand with Product E wants to launch a new smartphone. It studies the market and finds that Product C sells at $490 with limited features, Product D sells at $550 with slightly better features than Product C. Manufacturers of Product E plan to launch their smartphone with top-quality features priced at $570. The price is slightly higher than their closest competitor but the features provided are a lot more than offered by Product D.
A classic example of a competitor-based pricing strategy is between Pepsi and Coca Cola. Both brands compete against each other over pricing, quality and features, and their prices remain similar, although Pepsi is slightly cheaper than Coke on average.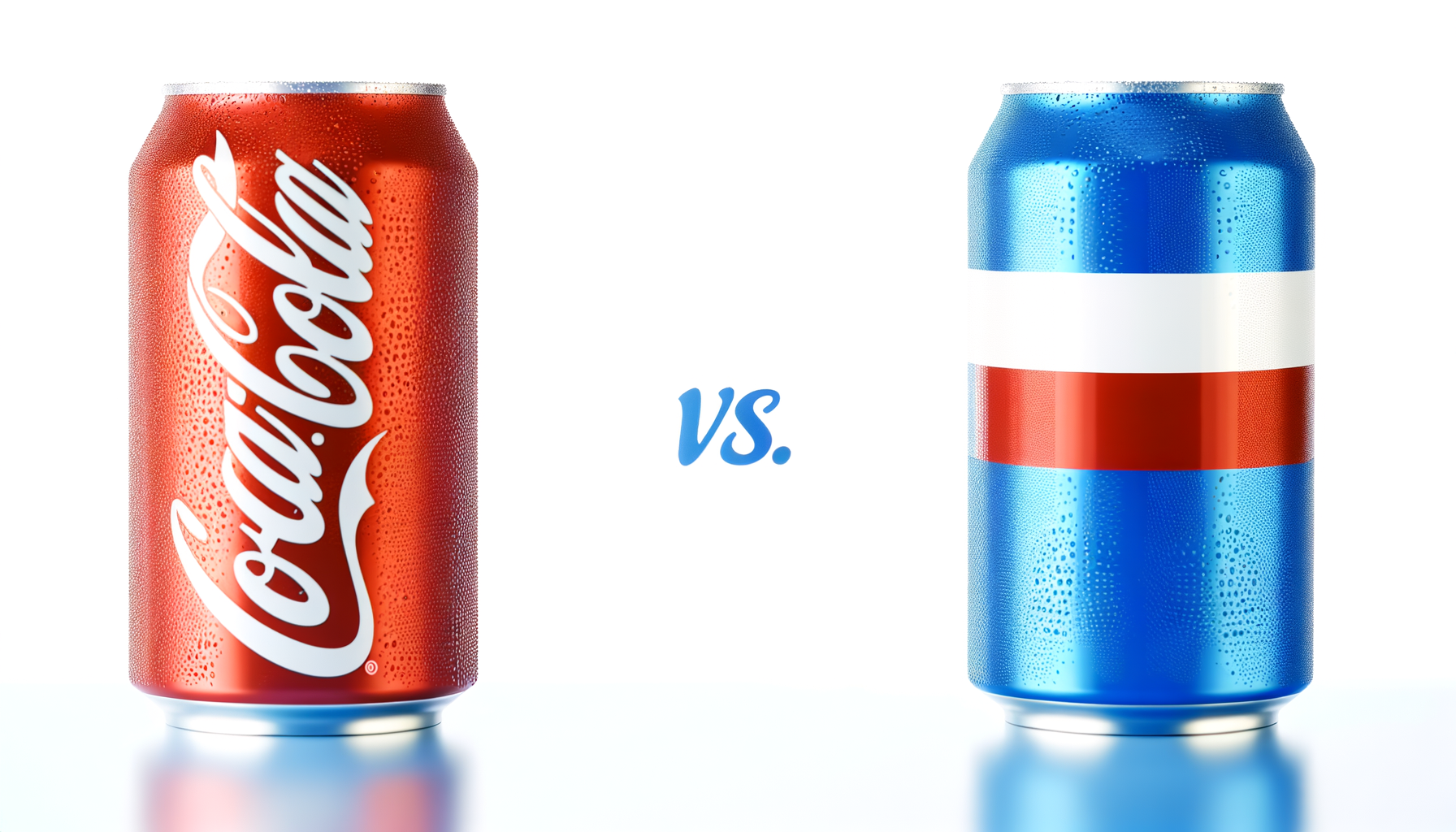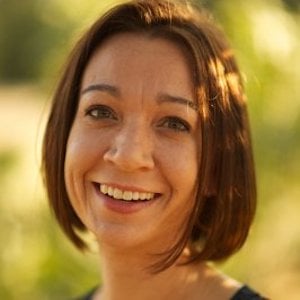 Kim Cooper
Director of Marketing, Amazon Alexa
Single Grain enables us to increase our impact without increasing our headcount
Why You Should Understand the Pricing of Your Competitors
Competition is a rivalry between two or more entities for recognition. As per Collins dictionary:
"Competition is an activity involving two or more firms, in which each firm tries to get people to buy its own goods in preference to the other firms' goods."
Almost every industry has competition and one of the best ways to analyze the progress of your competitors' marketing strategy is by keeping a track of its product prices.
High product prices often indicate that the firm is growing at a steady rate and is reaping profits. Prices on the lower side that keep declining indicates that the firm is struggling to generate revenue. (Please note that this might not be the case in all circumstances, but in most cases, this scenario holds true.)
No matter what you are selling and whether you belong to the B2B or B2C group, tracking the prices of your competitors is absolutely important. In a highly competitive market, customers have plenty of options to choose from, particularly now that most products are available online. Several similarly styled products are available in the price bracket that are closer to each variant, which means that if you keep the prices of your products or services too high, then people can easily dump your brand because a lower-priced alternative is easily available.
Mostly, bigger brands adjust the prices of their products or services and the smaller firms are bound to follow that because smaller companies do not have the budget or resources to carry out a price audit right from the scratch.
An easier way is to keep an eye on the bigger businesses and adjust your prices in accordance with the prices set by top brands. This is the reason why some smaller companies fail to grow and go out of business because they aren't able to match the low prices offered by their bigger counterparts.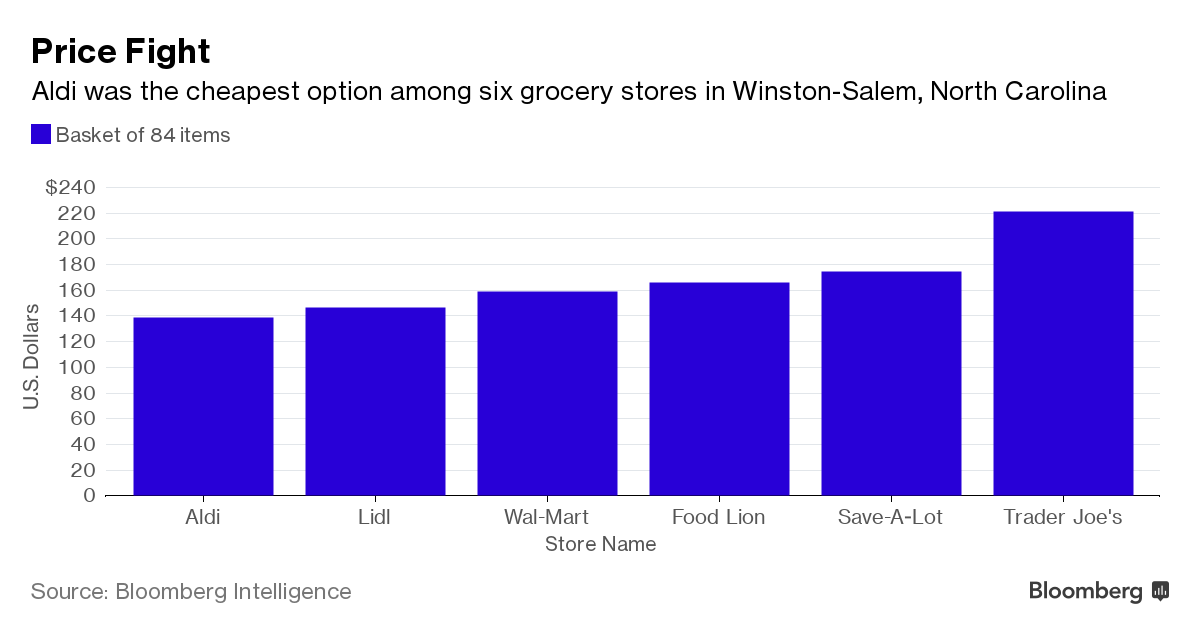 Hence, it is important to carefully analyze the prices offered by your competitors in order to stay in business. Also, you must not blindly adjust the prices of your products just because your competitors do, as that can push you out of business.
First you need to identify the total cost of ownership of the product or service and determine the explicit and implicit costs (explained later in this article). Thereafter, you must match the prices and identify whether it is feasible for you to reduce your prices in order to compete with your competitors. Failing to do so might result in heavy losses that will make your competitors stronger than before.
Learn More: 
What Are the Advantages and Disadvantages of Competitive Pricing?
A competitive pricing strategy is not the only pricing strategy that businesses need to consider. There are other pricing strategies like premium pricing, economy pricing, price skimming, bundle pricing, psychology pricing, etc. The choice of pricing strategy must suit the exact needs of your business.
If you are doing business in a competitive niche then a competitive pricing strategy might be the best option for you. Now, let's have a look at some of the advantages and disadvantages that this type of pricing strategy offers.
Advantages of Competitive Pricing Strategy
A competitive pricing strategy should be used when the product has reached the level of equilibrium, meaning that the product is popular in the market and a lot of companies are manufacturing it. Here are the top advantages of adopting a competitive pricing strategy:
Pricing Strategy Is More Efficient – You can easily combine a competition-based pricing strategy with other pricing strategies and this makes the final prices of the products or services much more efficient.
Stable Customer Base – Competitive pricing lets you have a stable customer base because people often compare the prices of products before they purchase and keeping a price similar to your competitors helps in maintaining a regular flow of customers.
Price Competition Is Avoided – Companies who follow the strategy of competition-based pricing have to keep prices similar to their closest competitors, meaning that they can't charge as much as they want to. A price cap is automatically set on the final selling price and this helps keep the price wars stable.
Disadvantages of Competitive Pricing Strategy
If you are a small business owner looking to compete with bigger brands then you must think twice before implementing the competitive pricing strategy because you can risk losing your entire business. In such cases, choosing a price that is based on the actual manufacturing cost of the product should be adopted. Here are some of the disadvantages of a competitive pricing strategy:
Difficult to Implement for Smaller Businesses – Smaller companies may find it difficult to enforce a competitive pricing strategy because the prices of their competitors keep changing. It becomes difficult to keep track of the prices and by the time the company launches the product in the market, the prices offered by the competitors will have changed. This leads to a massive loss that most small businesses can't afford.
More Prone to Failure – The entire idea of setting the best prices of your products rests on the prices already set by your competitors. This means that if the competition hasn't set their prices correctly, then the chances of failure increases.
Can't Attract the Customers Through Price – If you are adopting a competitive pricing strategy then it becomes difficult to attract customers using price, since the customers won't find the prices attractive enough to make the purchase. Prices offered by you remain closer to your competitors so customers look for additional advantages offered by companies other than price.
How to Do Competitive Pricing Analysis
Follow the below steps in order to perform a comprehensive competitive pricing analysis:
Step 1: Answer Some Vital Questions
First, you must find out the answers to these questions that will help you gather the required data to be used in the steps that will follow.
Who are your top 3 competitors?
What is the geographical area of your competitors?
What are the niches they deal with?
What sort of pricing strategy do they follow?
How many times do they change their prices in a year?
Are the competitors profitable?
What is their profit percentage?
What are their positive and negative attributes?
What are the features of their products and how are they different from yours?
How long have they been in business?
What is their growth rate?
Step 2: Identify the Total Cost of Ownership
Competitive pricing lets you identify the total cost of ownership which is a combination of explicit costs and implicit costs. Hence, in order to start your competitive pricing analysis, you first need to find out the explicit and implicit costs associated with the production.
Explicit costs are easily identified expenditures that can be measured in monetary terms. Set-up costs, advertisements, wages, rent, taxes and service fees are examples of explicit costs.
Implicit costs are expenditures that are difficult to measure directly under monetary terms. Implicit costs are not shown as a separate expense. Costs like rent of the building if the premises are owned by the company or the number of hours that the business owner works for the development and promotion of the products are examples of implicit costs.
You need to figure out the total cost of ownership of the product or service and use it for the computation of the final price. If you are able to identify that the prices offered by your competitors are not close to the ownership costs then you need to reduce your explicit costs to keep it closer to your competitor's price.
Step 3: Compare Competitor Prices and Keep the Data Fresh
The quality of the data plays an important role in this regard. Product and pricing data should be calculated and compared every two hours. This keeps the pricing structure at par with the competitors.
Competitor price tracking software can be a good option to use, especially in the case of e-commerce retailers. The software can automatically fetch the prices of the tracked products from a number of popular websites and generate a smart price for your product.
This smart price is automatically calculated using a sophisticated algorithm that considers the competitors' prices before calculating the smart price. Have a look at the below screenshot from Prisync which is an automatic price tracking software: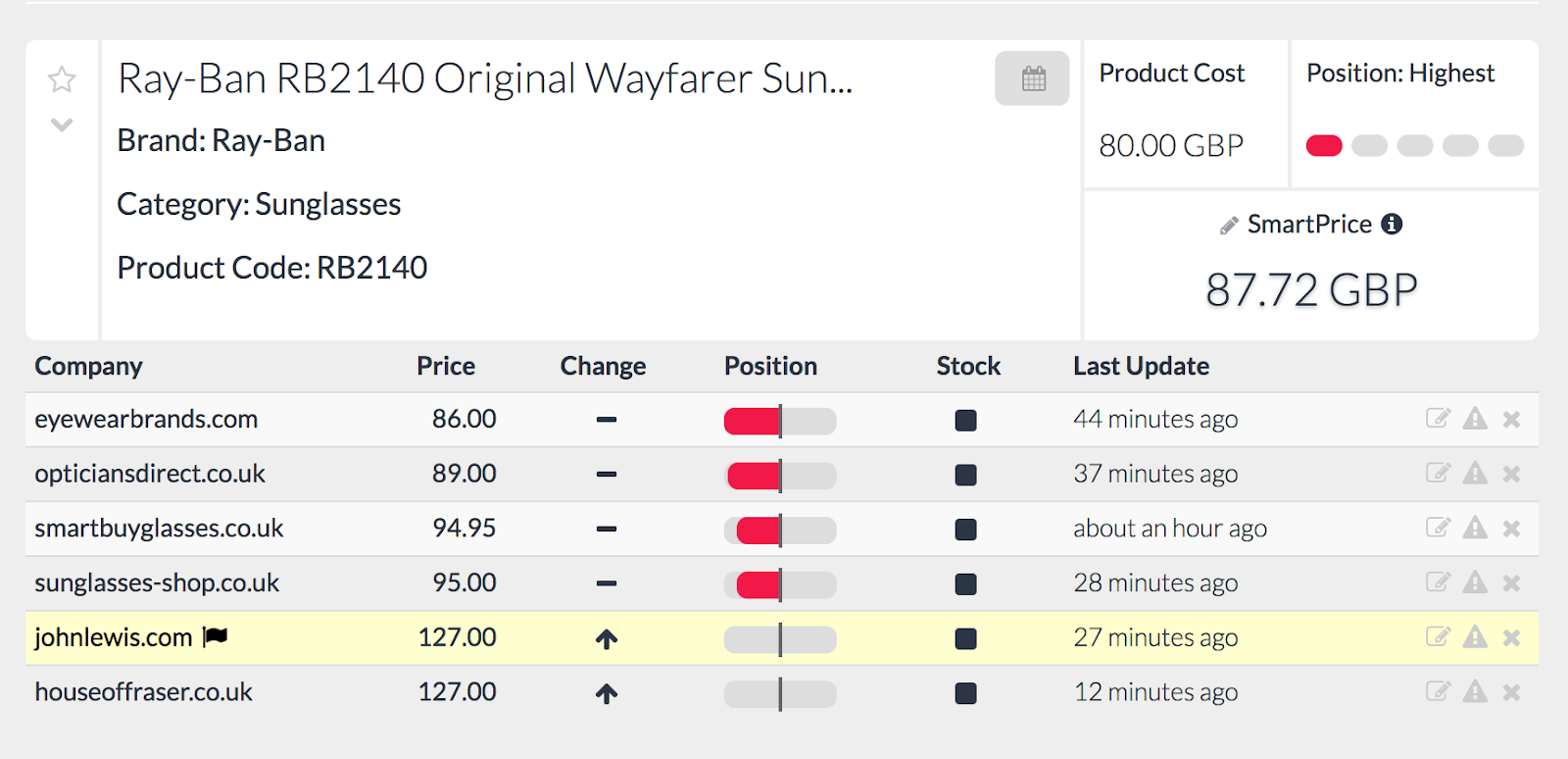 Another tool that you can use for price analysis is Data CROps. This software is used by several retail businesses for price monitoring and price comparison. Here is a screenshot of Data CROps that lists the different manufacturers and the total number of products offered by them for an effective price comparison of your product against the competition.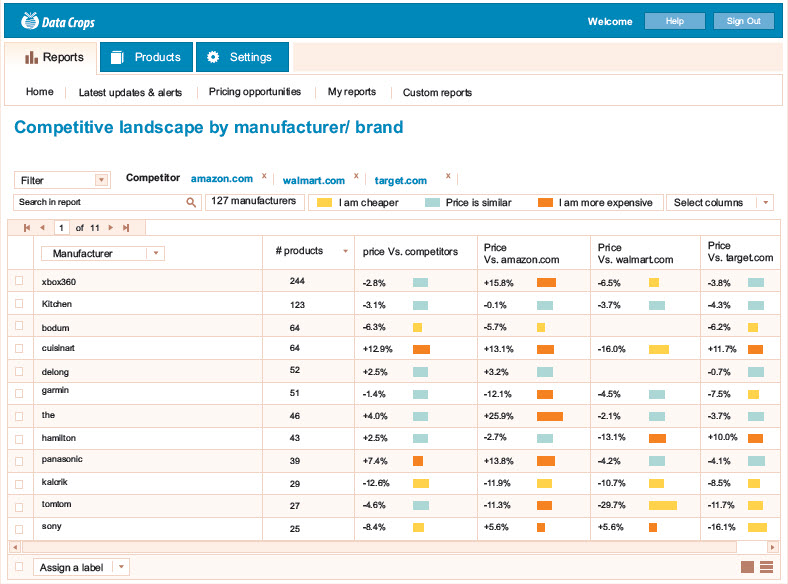 Moreover, a deeper visual analysis lets you easily identify which product prices are higher or lower: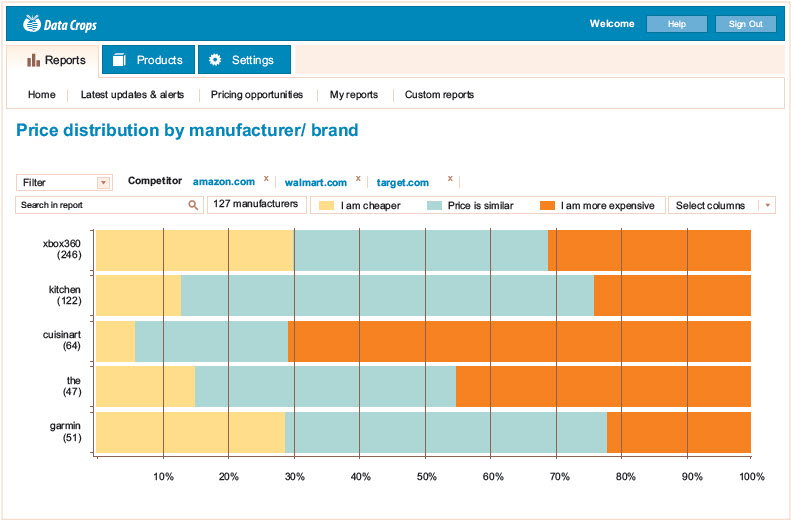 Learn More:
How B2B Businesses Can Identify the Best Prices
What we learned about the competitive pricing strategy and how to perform an analysis to find the best price holds true for both B2B and B2C businesses, but there are a few essentials that B2B businesses need to keep in mind because they are dealing with other businesses. As per a study conducted by TNS intelligence, the following factors come in to play when deciding the optimum pricing structure for B2B companies:
How price sensitive is your brand? Meaning, if your competitors reduce or raise their prices, will you lose or maintain your market share?
How price elastic is your brand? Meaning, there would no impact after a certain percentage increase in the prices of your products. For example, your products become price elastic no matter whether you keep the prices of your product at $500 or $600. Hence, it is profitable to keep the price at $600 (or another higher equivalent) once your product becomes price elastic.
What is the optimum prices of your products or services? Meaning, you need to set the prices depending on the objective you wish to achieve. If you want to raise profits, price should be kept higher, but if the objective is to raise revenue then price can be kept low.
Conclusion
Pricing is an important element of your entire marketing strategy, so you need to choose the best price for your product or service. Keeping the prices closest to your competitors' price minimizes the risks but reduces the profits.
Do not hesitate to raise the prices of your products if you feel that your product is much higher quality than what your competitor is offering. A competitive pricing strategy is one of the best ways to determine the best prices for your products and services. Follow it to your business advantage!
If you need help, contact us for a B2B marketing strategy session.