This is a complete guide to finding and hiring a Director of Marketing for your business.
In this article, you'll learn everything you need to know about:
The role of Director of Marketing
The skills needed for this job
Typical duties of a Marketing Director
How to go about finding the right person for this job
The interview process, including example interview questions
Plus plenty of tips from the other side: how to land a job as a Marketing Director
So if you're in the market to find a new Director of Marketing, this guide is for you!
Why Hire a Director of Marketing for Your Business?
Every business needs to invest in marketing because this helps you maintain long-lasting relationships with your customers. Good marketing helps brands acquire, nurture and retain customers and, thus, increase sales and grow the business.
Digital marketing is the preferred marketing strategy to generate high-quality inbound leads, as evidenced by these stats:
However, marketing does not end here.
Interestingly, traditional media still remains the most trusted medium of advertising: 60% of people trust traditional media compared to social media (29%).
Therefore, companies are adopting an omnichannel marketing strategy that offers a combination of online and offline channels of marketing to reach a larger group of potential customers at different stages of the buyer journey.
Scaling your business online or offline is not easy because there are so many companies competing with each other. Hence, you need a brand marketing strategy to amplify your business presence globally. This is why the role of a marketing director is so crucial for the growth of your brand.
Related Content:
* How to Find and Hire a VP of Growth for Your Business
* Forced Hiring: An Amazingly Effective Way to Find the Best Hires
* Why Didier Elzinga Asks New Hires How He Can Help Them Get Their Next Job [podcast]

What Is a Marketing Director?
There are many different marketing positions in a company, like marketing executive, marketing manager, marketing analyst, digital marketing executive, etc. However, the one position responsible for overseeing all the other marketing job profiles to drive overall business goals is the marketing director.
The Marketing Director (or Director of Marketing) is responsible for implementing the company's overall marketing strategy, such as preparing marketing plans, deciding and planning campaign goals, analyzing the competitors, and setting the marketing budget.
Since it is one of the most important positions in a company, you should carefully recruit the marketing director for your organization.
This article will serve as a guide to help you find and hire a director of marketing for your business. I have made it easy for you to understand the job profile (duties, skills) of a marketing director and have also discussed the channels that you can use for headhunting. 
Difference Between Marketing Manager, Marketing Director and CMO
In a large organization where the company deals with several product lines, there is a different marketing manager for each product. The marketing director's responsibility is to oversee every marketing manager's work to increase the profits from every single product line. Generally, there is only one marketing director in a company, while there can be several marketing managers.
Therefore, a marketing manager reports to 👉 the marketing director.
The CMO's (Chief Marketing Officer) main role is to create the brand's overall marketing vision in order to grow the company and increase revenue. The marketing director then helps implement this vision by overseeing specific projects for the marketing department and, thus, the business.
Therefore, the marketing director reports to 👉 the CMO.
If the company doesn't have a CMO, the marketing director will report to the CEO.
Here is a simple chart that illustrates the hierarchy of these three positions: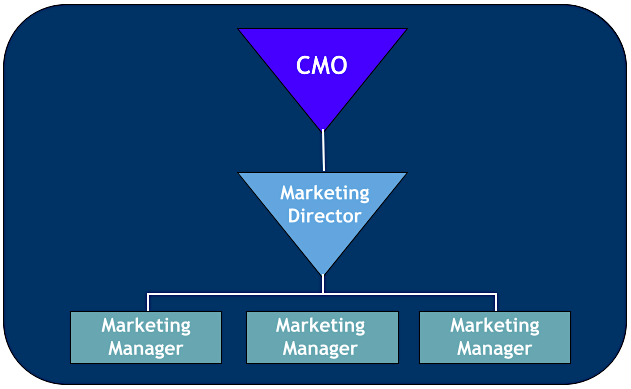 What Skills Do Marketing Directors Need?
A Director of Marketing must develop sales strategies that match customer intentions based on future projections. Creativity, good judgement skills, strategic thinking, technologically savvy and ability for innovative approach are all the qualities that your new marketing director should have.
Here are the top skills that you should look for when hiring a marketing director for your company:
Excellent communication skills for interacting with the team, clients and customers.
UX design skills to ensure that the website, product content, ad copy and other marketing pieces are easy to navigate and use.
SEO skills, since organic search plays a vital role in maintaining a business' reputation and acquiring high-value customers.
SEM skills to improve the ROI of the different digital marketing campaigns.
Content management skills to oversee the optimization and marketing of content on different channels like SEO, PPC, Social Media, Email and Blog.
Team-building skills to motivate the team and increase productivity.
Social media skills to select the platforms for promotion, the time to post content, and to decide on the type of content that will generate the highest engagement.
Analytics skills to work with several marketing tools and analyze the ROI of different digital media campaigns.
Skills development among team members because the team should know how to plan, forecast and build marketing campaigns within budget.
Strong networking skills because the role of a marketing director involves meeting business clients and getting more business to the company.
Effective negotiation skills since the job requires negotiations with vendors and clients.
Creativity and writing skills to generate more leads and conversions from ads.
Duties of a Marketing Director
The marketing director is the primary point of contact for all the marketing team members and is responsible for the overall marketing results of a company. Here are the different duties of a marketing director:
Conduct Market Research and Analysis
Market research is a vital component of business strategy. Audience research, buyer persona creation, SWOT (Strengths, Weaknesses, Opportunities, Threats) analysis, PEST (Political, Economic, Social, Technological) analysis, market segmentation, and risk analysis are some of the tasks the marketing director is responsible for.
Build and Execute Exceptional Marketing Campaigns
A marketing director should promote a new product, increase sales of an existing product, bring in more customers, generate brand awareness, and improve retention rates by creating customer-centric marketing campaigns.
The marketing budget forms a crucial part of different marketing campaigns. Setting up a campaign budget based on the company's business goals is vital to acquire new customers. Regular optimization of ad copy based on campaign analytics is crucial to increase the ROI. Hence, the Director of Marketing should be able to build marketing campaigns from scratch with a focus on ROI.
Related Content: How to Determine a Marketing Budget for Your Brand in 2023
Manage Daily Operational Aspects of the Team
Leading a team of consultants, conducting data review, providing strategic guidance for process improvement, researching and advising on new techniques for increased ROI, managing team conflicts, ensuring that all the marketing tools are up to date, developing strategy presentations for clients, etc., comes under the daily operational responsibilities of a marketing director.
Forecast Business Growth
Knowledge and experience in financial forecasting are necessary to improve the growth rate of the business. A marketing director should be able to look at seasonal trends, pull data from financial reports, and list the marketing expenses, as these are all essential elements of forecasting revenues.  
Related Content: [Growth Study] Slack: The Fastest Business App Growth in History
Proofread Ad Copy and Content
Large businesses often run several marketing campaigns at the same time on different digital channels. The marketing director will proofread all ad copy and sometimes the blog content before they go live. Thoroughly checking the ad content and blog posts helps to fix any issues that might lower the Google Ads quality score or conversions – not to mention that errors or off-brand content in the marketing copy might ruin the reputation of the business.
Monitor the Performance of Marketing Campaigns
The marketing director should have an analytical mind. Regular monitoring of the performance of the different advertising and organic campaigns are necessary to raise sales. Besides, not monitoring the campaign dashboard might waste the marketing budget, which could lead to lower ROI and poor campaign performance.
Related Content: 31 Best Digital Marketing Campaigns You Can Swipe
Distribute Press Releases
Getting adequate media exposure is significant for your business growth. It increases brand visibility, helps in building the business' reputation, aids in link building, and develops your overall brand presence.
Writing and distributing press releases is an art. They need to be short yet newsworthy. Editors of news publications are choosy, so they won't accept your press release unless the story is big within your industry. Adverts are not press releases. Therefore, a marketing director should ideate, prepare and distribute different press releases, even working with a PR agency to reach reputable media houses and journalists.
Organize Events
When an event is being organized, you need to keep the business goals in mind. During these challenging times, organizing online events are a much better alternative than organizing events in person. A marketing director should contact the best speakers, partner with the right sponsors, decide on the budget, and plan the event promotion to generate massive publicity. Organizing events is a regular part of a brand promotion, so prior experience with event handling is necessary.
Participate in Webinars
Similar to events, the Director of Marketing has the responsibility of organizing and participating in webinars. By scheduling a webinar, your business gets the opportunity to connect with many high-value clients for business networking. Similarly, webinar participation helps to improve branding and assists in networking.
Related Content: Using Webinars to Generate More Sales
Boost Marketing Team Productivity
Team productivity is crucial for business success. If your marketing team performs well and achieves all the set targets, sales continue to improve. An underperforming team is a burden on the company because it raises business expenses, leading to a decline in profits and slow business growth.
Conducting training, organizing team meetings, participating in one-on-one sessions, planning fun employee activities, and maintaining a motivational atmosphere in the office is the duty of a marketing director. When employees learn, play and grow simultaneously, they stay happy, and happiness has been proven to increase productivity.
Related Content: 20 AI Tools to Scale Your Marketing and Improve Productivity
Manage the Company Reputation
Corporate reputation management involves taking preventive steps to keep a clean business profile. Your customers should trust your brand. However, most marketing managers ignore preventive business reputation management techniques and instead go for reactive reputation management, which is not a good strategy for long-term business success.
Rather than waiting for your customers to face issues with your product/service or business in general and come to you  – or, more likely, simply post a negative review all around the Internet – you should plan for proactive reputation management. A marketing director ought to adopt preventive business reputation strategies to keep the company in customers' good books.
How to Find Your Next Marketing Director
Hiring a marketing director is challenging. The new director should not only have a bullet-pointed list of appropriate skills, but also love leadership roles and always be ready to mentor colleagues. There are several mediums where you can post your available job and start accepting applications. Here are the best channels to hire a director of marketing for your company:
Use LinkedIn
You can search on LinkedIn with keywords like "growth marketer," "marketing director," "director of marketing," "SaaS marketing director," etc.
Nowadays, every C-suite level executive has a profile on LinkedIn, so you can easily filter out such profiles based on location (unless the job is remote) and keyword. Filtering helps to prepare a list of qualified profiles for outreach.
Related Content: How to Use Dux Soup & LinkedIn to Scale Your Sales and Recruiting Efforts
Leverage the Power of Job Search Platforms
You can post your job on some of the top job search platforms on the Internet because candidates regularly look for jobs on these channels.
Some of the most searched job search platforms are:
Tap into Your Own Network
Asking your networks is a great way to find job candidates. Tell everyone you know – colleagues, family, friends, former coworkers – that you are looking to hire a C-suite candidate for a new position. Don't be shy about spreading the word with everyone, but on the other hand don't be too intrusive either. Your message should go out to people once or twice, not every day.
Share a Post on Your Social Media Accounts
LinkedIn, Facebook and Twitter are the top three social networks where you can share a post that contains your message that you are looking for candidates for the director of marketing profile.
When your social network followers read the post, there's a good chance that they may share it with their own networks or tag people looking for a similar role. They might even repost or retweet your message to increase its visibility.
Keep in mind that when you receive any comments or questions on your post, it is better to take the conversation to your direct message inbox instead of responding in public.
Also, follow the same advice here and do not post your message every day. Aggressive posting or networking can harm your business reputation.
Set Up an Employee Referral Program
If your existing employees find a candidate for you, hiring will probably be smooth and faster because the employee has likely already pre-screened (to a certain extent) the candidate. Likewise, employee referrals tend to stay at the job longer. According to Jobvite, it takes 29 days to hire a referred candidate compared to 39 days via job posting or 55 days via a career site: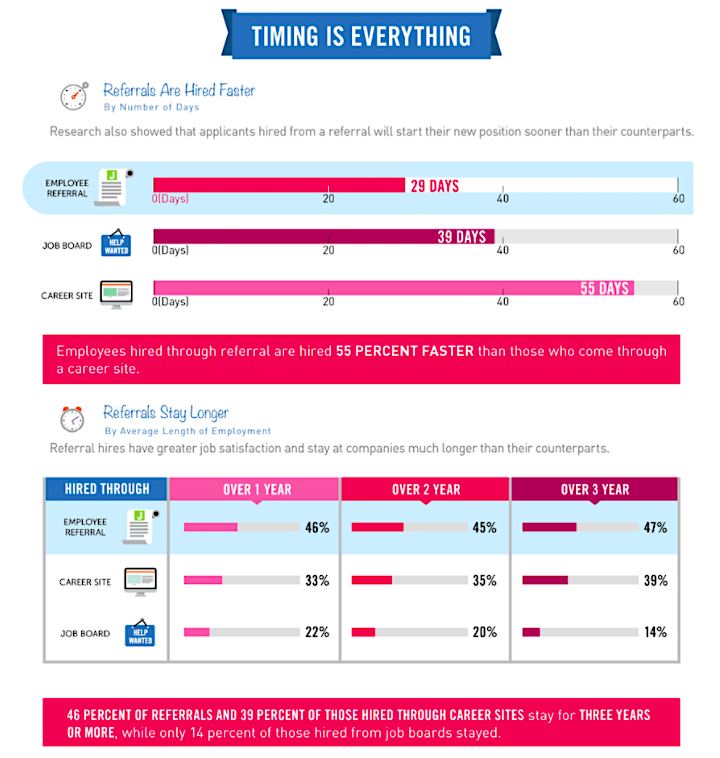 An employee referral program is a method of finding qualified candidates through recommendations from existing employees. The process is quick, easy and budget-friendly.
First, prepare an ideal candidate persona and then define your company culture. Next, use an email marketing tool to send an email containing the referral message to all your employees. Here is an example of a referral email: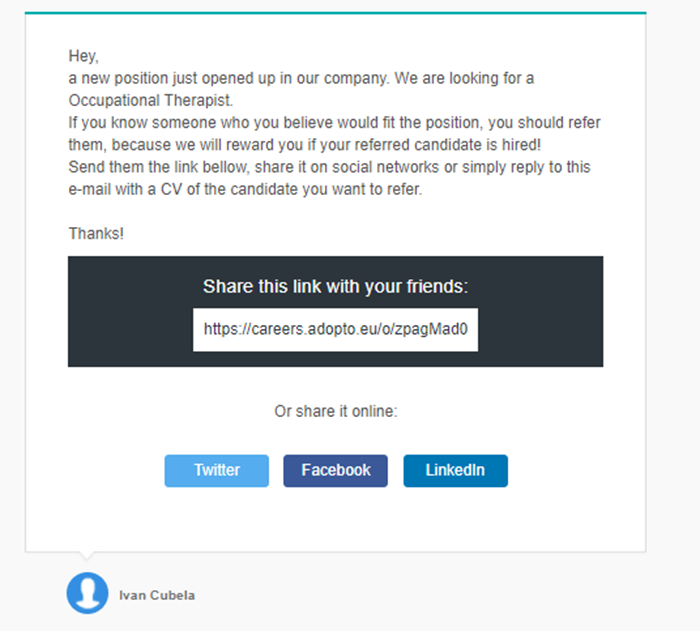 You can offer both monetary or non-monetary incentives for employees who refer successful candidates.
Related Content:
* How to Conduct Effective Interviews to Get the Best Hire
* How to Onboard New Hires
* 7 Questions to Make Sure Your Next Marketing Hire Is a Slam Dunk

The Interview Process as a Recruiter
You might not want to hire too many people in your company who share the same perspective. It's important to have people with different educational backgrounds, experiences and ways of thinking.
Roberta Chinsky Matuson, president of Matuson Consulting and author of the book Evergreen Talent: The Guide to Hiring and Cultivating a Sustainable Workforce, says:
"If you end up with eight Harvard guys in one office, they may be brilliant, but if you are marketing a product to the rest of the country, it might not work."
Your ideal candidate should be able to bring new ideas and contacts to the company, so crafting a relevant job description that clearly defines your needs is of utmost significance.
Follow this basic interview process to find and recruit the perfect marketing director for your company:
Step 1: Post a Job Description
To hire the best candidates for your job, you need to post the best job description.
For the job title, use the most common search words like "Marketing Director" or "Director of Marketing," because these are the words that candidates are using when searching for jobs on online portals or social networks. Do not use confusing terms like "Ninja of Marketing" because they might not invite enough impressions or the right clicks.
For the job description itself, provide a short overview of the job profile that best describes the most significant function. List the responsibilities and the minimum qualification and experience you require for the job. Add a short company description so that the candidates have an idea about the company culture. Share your contact details like email address or an "Apply Here" button to start accepting applications.
Here is an example of a good job description (it's not for a Marketing Director, but you get the point):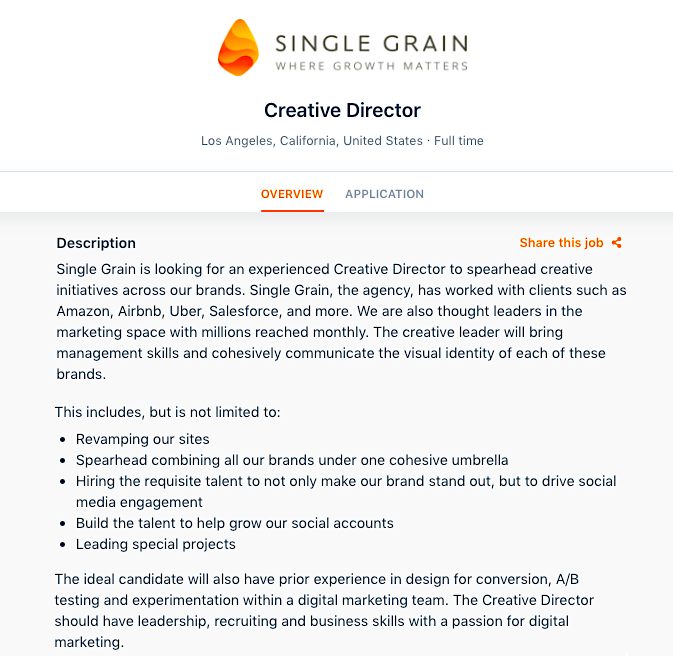 Step 2: Send Emails to Shortlisted Candidates
Once you've received a sufficient number of responses, the next step is emailing the shortlisted candidates. You can send a short questionnaire via email to filter out less deserving candidates. You can also stick a quick qualifier within the description like this:

Those who pass then qualify for the next step.
Step 3: Schedule an Interview
Now you're ready to have a phone or Zoom conversation with qualified candidates before asking them to come for a face-to-face interview. This is the stage where you should test both the theoretical and practical knowledge of the candidate. I have listed some helpful interview questions which you can use for your interview process.
Here are some sample interview questions you can ask your marketing director job candidates (not that you should ask them all!):
What made you you choose marketing as a career?
What are the biggest challenges that you have faced in your career so far?
How will you handle a team member who underperforms consistently?
Which is your favorite CRM, and why?
How do you create a buyer persona?
How many product launches have you handled so far?
What was your last product launch strategy, and what were the results of it?
What was your team size in your previous company?
What are the metrics you think are most crucial for consistent business growth?
What are the steps to take to improve the ROI of PPC campaigns?
We have three core business products related to SaaS. How will you segment them, and what channels are you going to use to promote them?
How do you stay updated with the latest marketing trends?
Which is the current marketing trend? Will it make big in the coming years?
Which are the three most important marketing elements that are crucial for profits?
Which is better – focus groups or surveys?
If a customer left a negative review and people are commenting on it, how will you handle the situation?
Which marketing campaign you ran was the least successful? What were the reasons for it?
The CEO of the company likes a new design for a landing page, but your marketing manager has another design ready for the campaign. How will you decide which page design is the best?
How many people have you hired in your career?
Have you fired anyone? If yes, what were the reasons for it?
What changes do you recommend on the site for the Google Page Experience update?
Which Adwords extensions will you use to promote a SaaS product?
What process do you follow to prepare a buyer persona?
What are our competitors doing better than us?
Have you tried any new marketing tactic recently? Please brief a little about it.
How do you carry out SEO projections?
What are the different email marketing metrics you use to measure the success of email campaigns?
What is the best way to get new affiliates to the company?
What are the three most important things to look for before hiring a candidate?
What are the tools you regularly use to analyze the performance of your social media marketing campaigns?
How can you raise the productivity of your team?
Have you worked on any cross-team projects? Please brief us a little about it.
Why did you leave your previous company?
How can you convince the CEO to increase the budget for your marketing campaign?
How do you measure the performance of your team members?
What matters the most in your career: money or growth?
For more inspiration, check out:
Compensation
According to Steve Browne, writer, speaker and thought leader on Human Resource Management:
"Create a competitive compensation package that reflects your culture, then put the dollars in front of candidates at the start, and you'll likely have to negotiate less."
You should not pay more than the industry standards but not less either. Do a little research to pinpoint a competitive salary for your industry, role and company size.
In addition to the dollar amount you are offering, think about what benefits you can provide, which may compensate for a slightly lower-than-average salary: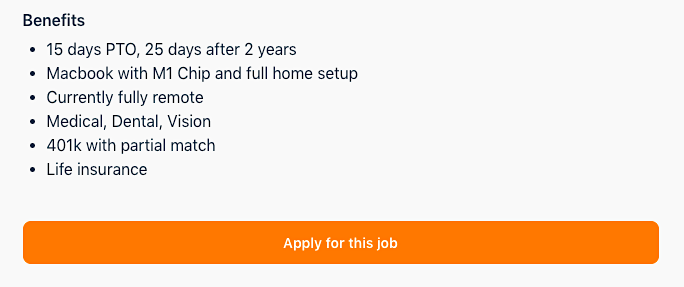 How to Land a Job as a Marketing Director
Now that we've gone through all the steps of recruiting and hiring a Marketing Director, let's take a look at the other side of this process: how to land a job as a Marketing Director.
Getting this level of position can be tough. If you are looking for a Director of Marketing job, then you need to have a great resume that matches the job requirements and experience. Here are some of the best tactics to increase your job success:
Keep Your LinkedIn Profile Updated
Nowadays, recruiters look at people's LinkedIn profiles before selecting a candidate. Therefore, you should keep your LinkedIn profile up to date and specific. If your profile is attractive, well-written and has lots of endorsements, then there is a good chance that recruiters will contact you for a marketing positions.
What makes a good profile?
Clear job title and description. And don't be afraid to make this part stand out with emojis or several roles if they are relevant, like Eric Siu's: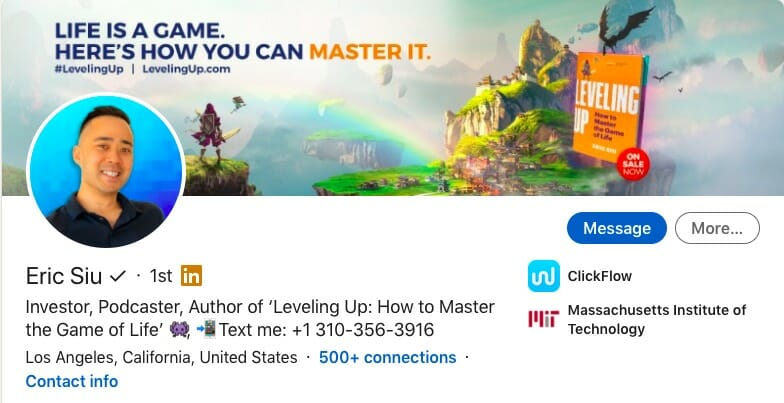 Attractive and relevant banner image. Like the one above, you can add your website, book and/or tagline.
Descriptive "About" section. Here is where you can go into more detail than your job title and employment history allow. Think of this part as the cover letter to your resume.
Job experience. Make sure that you describe not just what you did, but how you did it and what results you saw.
Create a Perfect Resume
Independent of your LinkedIn or other platform profile, you should have a resume that can convince a headhunter that you are capable of the marketing director position. Now, here is the twist, as Bob Myhal, Director of Digital Marketing, CBC Automotive, says:
"Many job seekers don't realize that busy recruiters and employers often utilize automated screening tools to analyze how closely a resume matches the job description. If there is not a strong correlation, then your resume may never actually be seen by a human." 
Your resume should mention your objective or summary, work experience, qualifications, and key achievements. You can also mention any certifications that will help you stand out from other candidates.
Here's an example of a Marketing Director resume that you can customize and use with Enhancv: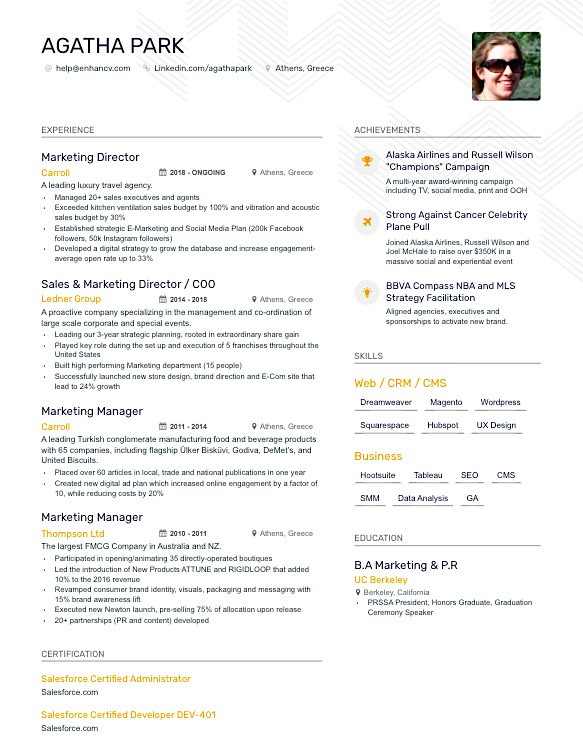 Use the Latest Tools
You should be comfortable using the latest marketing automation tools, particularly as lots of new features are always being added to these tools. Learn about the new features and have hands-on experience because you never know if it will be an advantage in your interview.
Many companies look for candidates who know how to operate a set of popular marketing automation tools like:
Related Content: What Is Marketing Automation: Definition, Benefits & Uses
Don't Be Afraid to Share Your Weakness
There's a good chance that interviewers will use behavioral competency techniques to find out how you dealt with a tough situation in your previous company. The idea is to get a better understanding about your leadership abilities and strategic thinking. You might have to share your weaknesses with your interviews, but don't be afraid to do that. Tell them what you learned from your mistakes and how they made you a better manager.
As Eric Siu, Chairman of digital marketing agency Single Grain and host of two podcasts, Marketing School with Neil Patel and Leveling Up, an entrepreneurial podcast, says:
"Weighing strengths and weaknesses is one of the most important aspects of a hiring decision. Unfortunately, it can also be of the most difficult, as it's tough to get an honest answer from applicants who recognize that their futures hinge on the responses they provide."
Interview Tips to Increase Your Chances of Getting a Marketing Director Job
Here are some interview tips to help you ace your marketing job interview:
Apply for the job as soon as possible.
Thoroughly research the company to which you are applying, as they are likely to ask "What would you do differently with our marketing strategy?" or "What are our competitors doing that we aren't, but should be?"
Know your interviewers and research their areas of expertise, for the same reason as above.
Prepare to give detailed answers to questions that will be asked about your resume.
Have some references ready to make you stand out from other candidates.
Keep all your social profiles updated (and don't post your party pictures on your profiles!).
Use your LinkedIn connections to your advantage.
Stay confident during your interview but avoid sounding overconfident to the point where you come across as not willing to learn.
Use a strong voice, smile often, and avoid using pause words like "um" or "like".
Show your enthusiasm and interest in joining the company.
Thank your interviewers after the interview, as well as in a follow-up/thank you email.
Related Content:
* When Does It Make Sense to Hire Sales Reps for Your Business?
* 5 Things You Should Know Before Hiring a Content Marketing Agency
* Now that You've Hired an SEO Company, What Should You Expect from Them?

How to Stand Out as a Marketing Director  
The job of a marketing director comes with significant responsibilities, so you will need to earn your position, and the real test starts after you are hired. Here are some of the best ways to stand out as a marketing director:
Make your team comfortable working under you: Your team members should never feel restricted coming to you for suggestions or help. You should earn their respect by offering a comfortable and safe working environment.
Never stop learning: The digital landscape is constantly changing. Hence, you should always keep yourself up to date on the latest marketing trends in the industry. That means reading industry books and articles, and taking courses to upgrade your certification or learn new skills. And you should be the first one to share new updates with your team.
Set SMART goals: Never be in a hurry to achieve your goals, especially in a new company. Not that you don't want to improve and grow the business (and impress your boss!), but first you need to understand everything about how the company works. Proper planning and goal setting are required to achieve long-term results, so set specific, measurable, attainable, relevant and time-bound (S.M.A.R.T.) goals.
Get the help of OKRs: OKR stands for "objectives and key results". Google uses this system to track objectives and measure results. You should provide OKRs to your team members to get to know their objectives and how they can measure them. OKRs are evaluated quarterly, and every OKR should be measurable. For example, an OKR for your SEO team member might be: "I will increase organic traffic by 5% by June 2021". Similarly, the UX team can have an OKR to "create an exceptional user experience measured by an increase in net promoter score from 3% to 5% or increase in repeat purchase rate from 2% to 3%."
Adopt simplicity: Offer a clutter-free and straightforward work environment. Whether it's marketing messages or emails, keep them easy to understand as they will help you achieve your goals quickly.
Listen to others but make your own decisions: You should be a good listener and keen learner, but should not constantly switch around your marketing decisions just to please others. Being a marketing director does not mean you shouldn't listen to the ideas offered by your team members; you should listen to them and appreciate their ideas. Just make sure no one unduly influences your decisions. You must take the lead in making your own final decisions. Lead by example, and everyone else will follow.
Related Content: 7 Tips to Hire the Best SEO Freelancer for Your Business
Final Thoughts
The success of your business lies predominantly in the marketing strategies adopted by your company. A marketing director is an important person who oversees the development and implementation of the different marketing strategies and ensures that all projects and tasks are completed on time, within budget and are true to the company.
Follow the advice offered in this article to hire a qualified marketing director for your business. If you are looking for a job as a chief marketing officer, follow the interview tips and job searching advice discussed in this article.
Finding the right candidate for your organization will allow you to scale up your company profits rapidly.