With the growing content clutter online, it's just not easy for content marketers to consistently get leads and conversions for their business. The following data from Smart Insights is a testimony of the vast amount of content that's getting churned out every minute: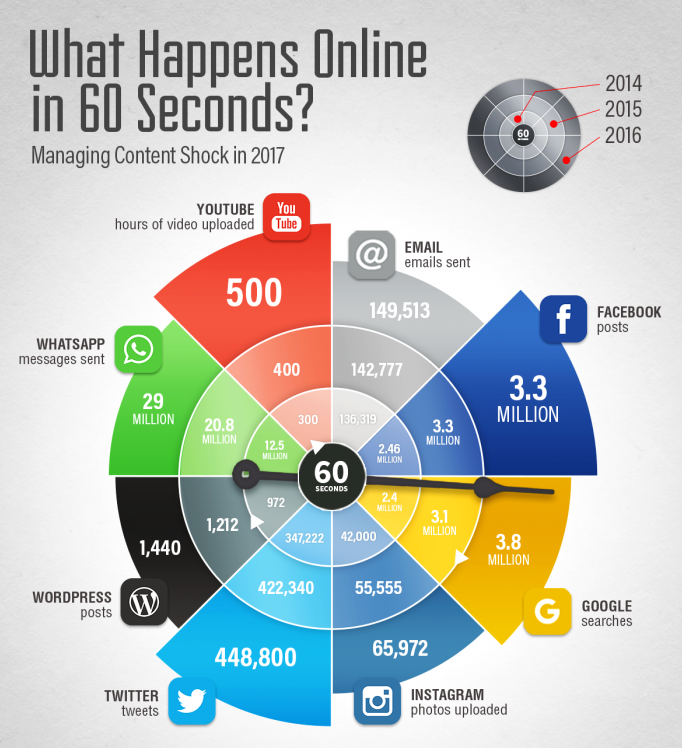 Content marketers and business owners often fail to realize that leads and conversions are not an immediate result of content marketing efforts. I have come across clients who start measuring the rate of conversion from the first blog post they publish!
Content is not a sales pitch, period.
It's a strategy to publish what your audience cares about. It's not even a magic ranking formula that helps you add keywords, stats and images in your content. It's a long-drawn-out and continuous battle of building an audience that prefers your content over everything else. When you're a leader, you have loyal fans and followers who look up to your content.
Now you might say  "Ok, accepted, what next? How on earth are we supposed to build a loyal audience for our business?" It's not as simple as it sounds, but here it is:
Create content to educate and entertain a niche audience.
Solve some of their key problems and build a relationship with them.
Identifying intent is the first step in that direction.
'User intent' simply means the purpose behind an online search query. If you know what users mean when they type a search term, you can provide the most relevant answers.
Click To Tweet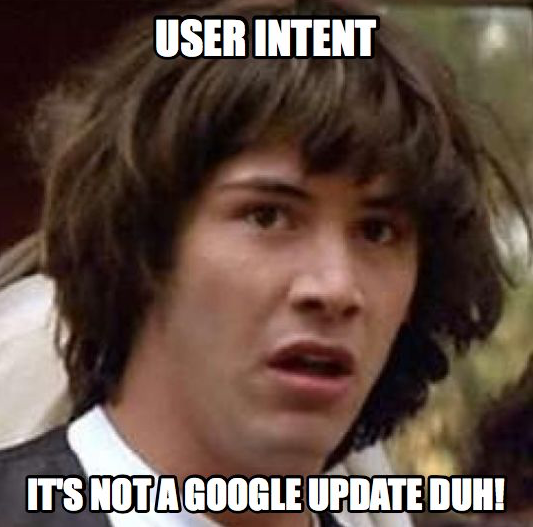 That's exactly what Google looks for when choosing which publisher to rank on the SERPs. It's no secret that quality content is king. You can't create good content without knowing what your audience wants. Let's take a simple search query like:
CRM software for small business
The searcher intent here is to look for the best CRM software for her small business. Many content marketers make the mistake of targeting this keyword phrase with the wrong content piece. You'll find them creating a blog post like CRM trends 2018 while targeting the above keyword. That's a big blunder!
It's obvious that searchers looking for trends are not looking for a tool and those looking for a tool are not looking for trends.
Here is the correct way to find the right topic for the above keyword. Since the user is looking for the best CRM tool for her business, you can create a listicle showcasing the top CRM software available in the market. Something like this:
Top 10 CRM Software for Small Businesses
If your content piece is the best in the niche, it will have a high probability of ranking up higher on search results. Google algorithms have evolved over time. The search engine makes use of advanced machine learning to predict the meaning of search queries and provide more accurate results. Google aims to provide its users with relevant answers and the best user experience.
User intent helps you make content work for your audience and thus get preferred by search engines.
Click To Tweet
Let's now look at the most common intentions behind user queries and understand how you can deliver smarter and user-friendly content.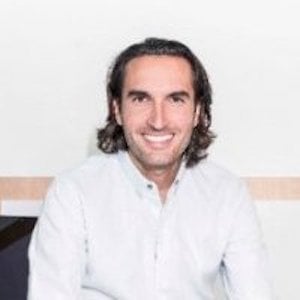 Yaniv Masjedi
CMO, Nextiva
Their expertise has helped Nextiva grow its brand and overall business
Types of User Intent
Informational: When the user is looking to learn about something or solve a problem.
Commercial: The user has a purchase intent which may not be immediate.
Transactional: The user intends to make an immediate purchase.
Before understanding each of these in detail, let's first understand customer lifecycle and its various stages.
Learn More:
What Is Customer Lifecycle?
Each individual in your audience goes through various stages before they turn into loyal customers of your business. This is called customer lifecycle.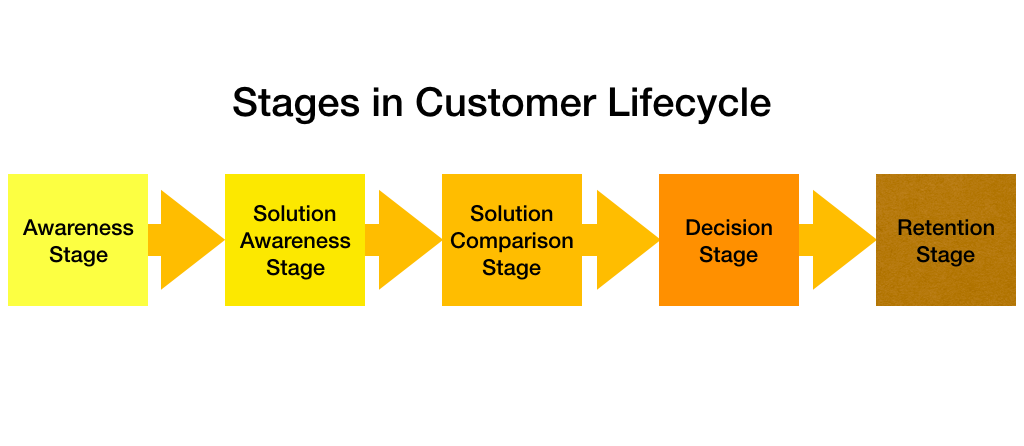 Here are the five key customer lifecycle stages:
Awareness Stage: This is the stage when your target customer does not know about the problem s/he is facing or about your offering (the solution to the problem).
Solution Awareness Stage: Your target knows about the problem s/he is facing and the possible solution to it.
Solution Comparison Stage: The potential customer knows about the various options available in the market. S/he is not ready for immediate purchase and is researching the available options.
Decision Stage: When the user has made a choice about the product or service that would best meet her requirements.
Retention Stage: A user who was once a stranger is now an existing customer.
Let's now understand how you should create content that satisfies user intent within the framework of the customer lifecycle.
1) Awareness Stage
Search intent in this stage is typically informational. Let's suppose we're selling CRM software. A sample keyword in this phase would be something like:
'website lead generation strategies'
The target user is usually a small business owner or a marketer looking to get more leads for her business. She is looking to learn more about lead generation. You could, therefore, create a content piece like:
A Quick Guide to Website Lead Generation Strategies
Here are the top Google search results from the query: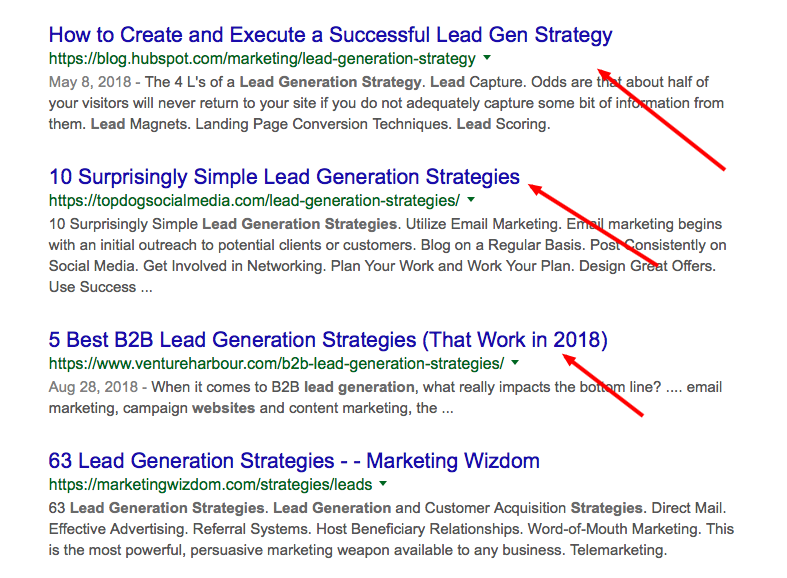 Since at this stage the user has yet to learn about CRM as a solution for her business, she is not looking for stuff that's directly related to CRM.
Learn More:
2) Solution Awareness Stage
This is a phase when you'll find users typing niche keywords. They know the solution to their current business challenge is CRM and they would be looking to gain more knowledge about the subject.
Here's a sample keyword phrase for this stage of the customer journey:
'customer relationship management strategies'
The user intent here again is informational. You need to target the keyword with an educational piece like this:
10 Steps to Create a CRM Strategy for Your Business
Take a look at the actual search results from the keyword: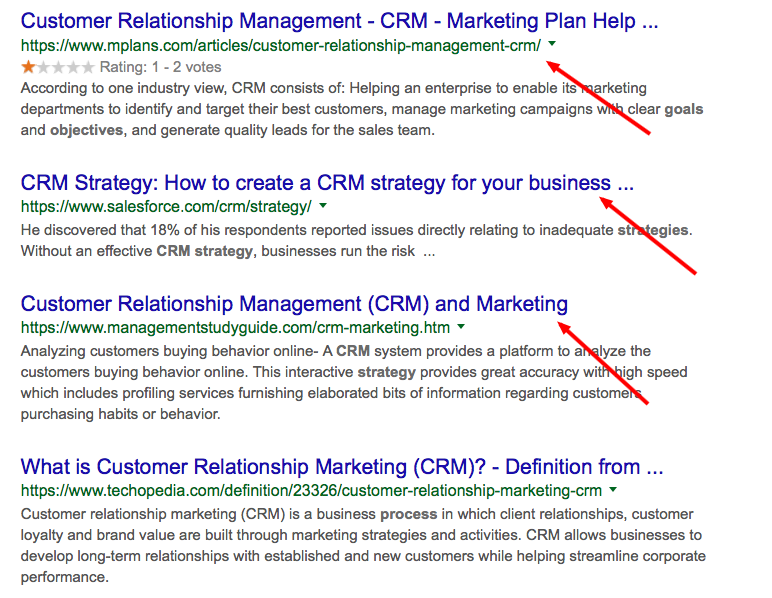 3) Solution Comparison Stage
This is the stage when the customer is comparing different CRM solutions. Let's look at some sample keywords:
'CRM software for small businesses'
'Zoho vs Salesforce'
The user intent over here is commercial. The user is looking to understand the key features of different CRM tools to be able to make a wise choice. You can target such keywords with listicles as well as comparative posts.
Let's look at the top Google search results for both these keywords respectively: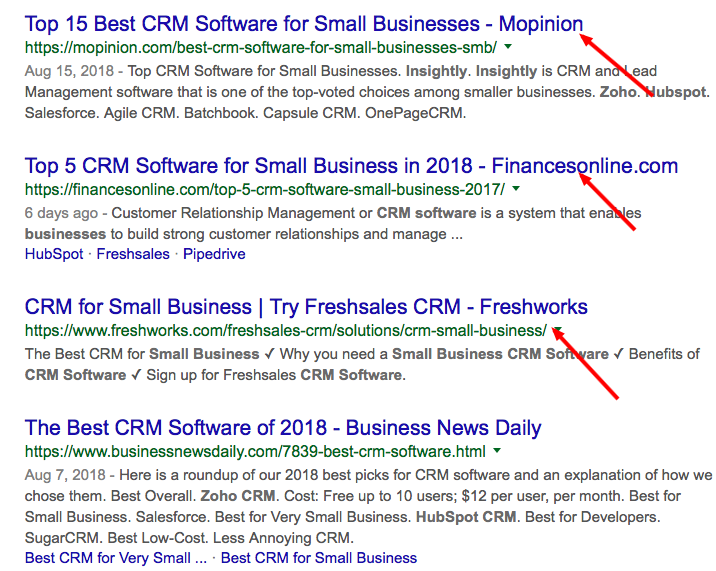 The screenshot above shows that Salesforce has targeted the comparative query with a blog post and achieved the second spot in organic SERPs.
4) Decision Stage
This is the stage when the user has a transactional search intent. S/he would usually type a query like:
'Salesforce pricing' or 'Salesforce crm'
To satisfy the user intent for these keywords, you must have a bunch of well-structured website landing pages catering to the respective queries. It's essential to provide your users with detailed product information and features through these pages.
Here are the top organic search results for the keyword 'Salesforce pricing':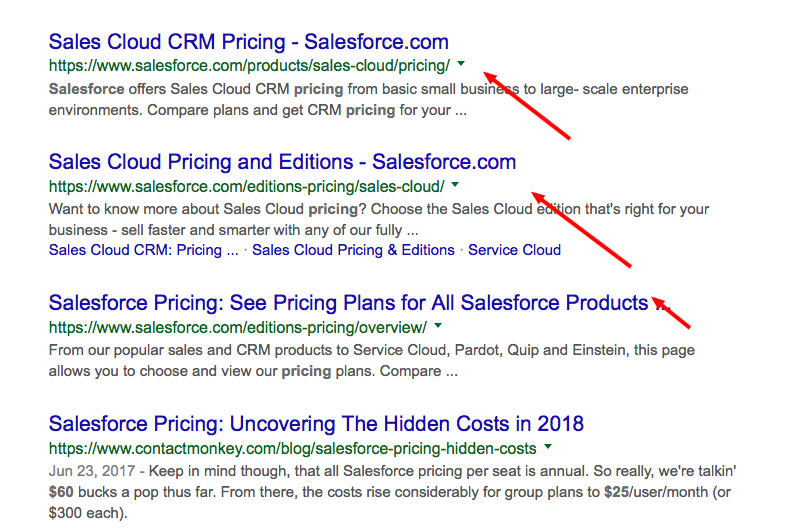 Learn More:
5) Retention Stage
In the retention stage, the customer intent is to gain more understanding of the product they are already using. They're looking for support or user guides while searching about the product online. The search intent here is informational. Let's look at sample queries for this phase:
'salesforce for beginners'
To answer such queries, you'll have to create a knowledge base to educate your existing customers about your product. A content piece like this would surely help:
The Ultimate Guide to Salesforce for Beginners
Now let's look at some of the top search results for this keyword: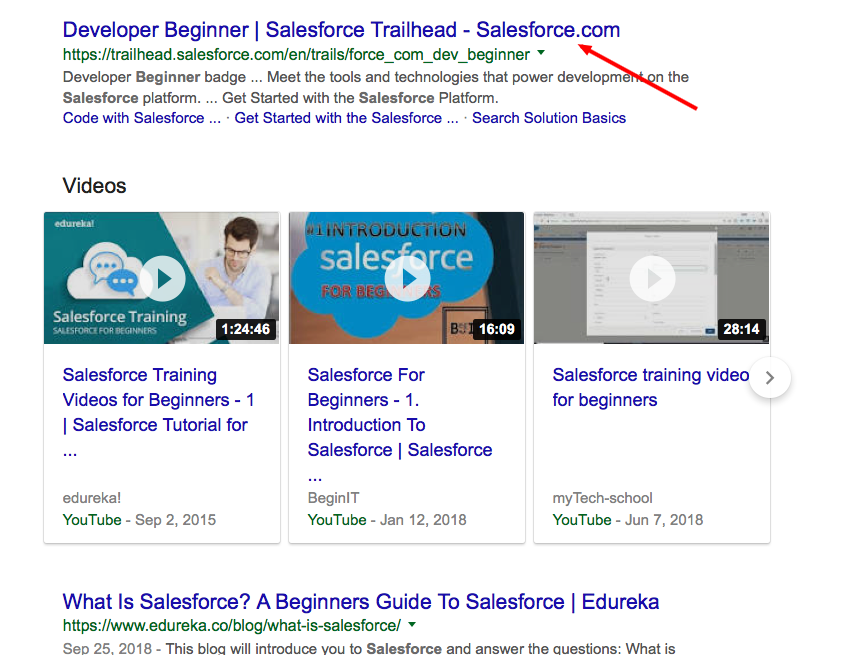 As you can see in the screenshot above, Salesforce has targeted the keyword and created a knowledge-base that's ranking on top of Google search results.
How to Incorporate User Intent in Your Content Plan
You must create a content plan that aligns with your audience's search intent.
Once you have your keyword bucket ready, you should categorize it on the basis of customer lifecycle and user intent. This will help you create the applicable topic bucket. I'm creating a sample content plan using the keywords in the above-mentioned examples: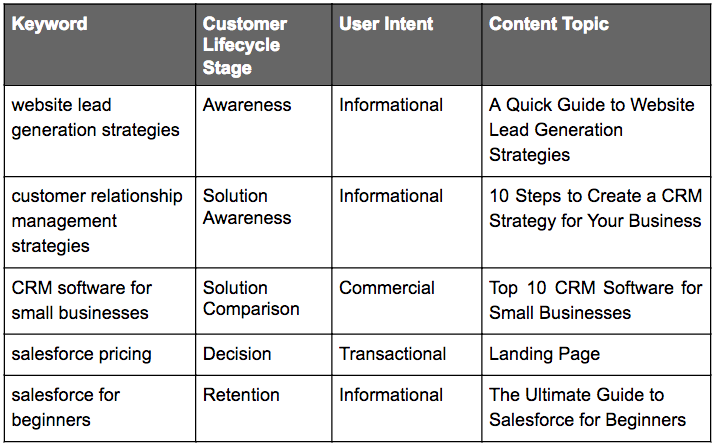 This way you can create a monthly or a quarterly content marketing plan based on user intent and customer lifecycle.
Learn More:
Expert Opinions about User Intent
I spoke to a few experts on what they feel about user intent and how they are applying it to their content marketing strategy. I received some insightful inputs and cases.
Know about Audience Interests
From Grayson Kemper, Senior Writer at The Manifest 
Earlier this year we published an article titled Mobile App USAge Statistics in 2018. This article now ranks on page one for the query 'mobile app statistics 2018', which is a highly trafficked search term.
Essentially we knew that businesses and individuals interested in developing a mobile app, especially those at the top of the funnel, use broad-based search terms like 'mobile app statistics'.
So, in response, we created content that directly addresses that intent. We optimized the content for the key term 'mobile app statistics' and formatted it using SEO best practices (bullet points, short sentences, meta descriptions).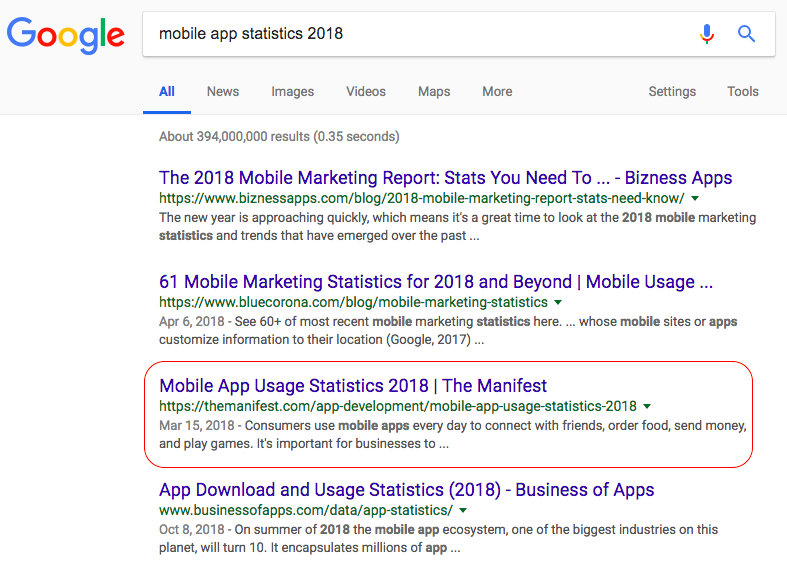 As a result, we were able to achieve first-page ranking within a few months of the piece being published and the page consistently earns unique pageviews month-over-month.
User Intent Helps Improve Time on Site
From Ulysis Cababan, Content Strategist at RapidVisa
Knowing your customer intent is basic to determining the keywords you are targeting. If you optimize for the wrong keywords, you might generate traffic but the rate of abandonment will be high since your visitors would not get the information they are looking for.
User intent, therefore, helps you to reduce bounce rate and improve the average time on site.
Try to Solve a Fundamental Problem
From Avlesh Singh, Co-Founder & CEO at WebEngage
At WebEngage, we use content to solve a fundamental problem for specific audience segments with every piece of content. We try to gauge user intent by looking at popular search terms related to our domain (Marketing Automation).
We use this data along with customer feedback and latent semantic analysis to come up with a bunch of exciting post ideas. We created an in-depth post on the keyword: 'how to avoid spam filters'. This search term is popular among marketing professionals looking to run email campaigns. We provided our audience with a high-quality post and it soon got the top position in SERPs: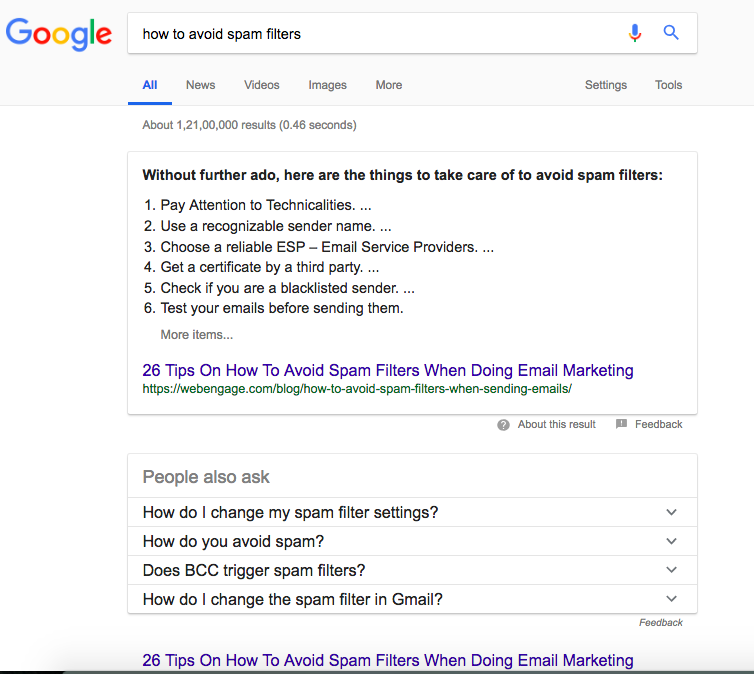 Similarly, we created another informational post around 'marketing automation trends' to get to the top of the search results: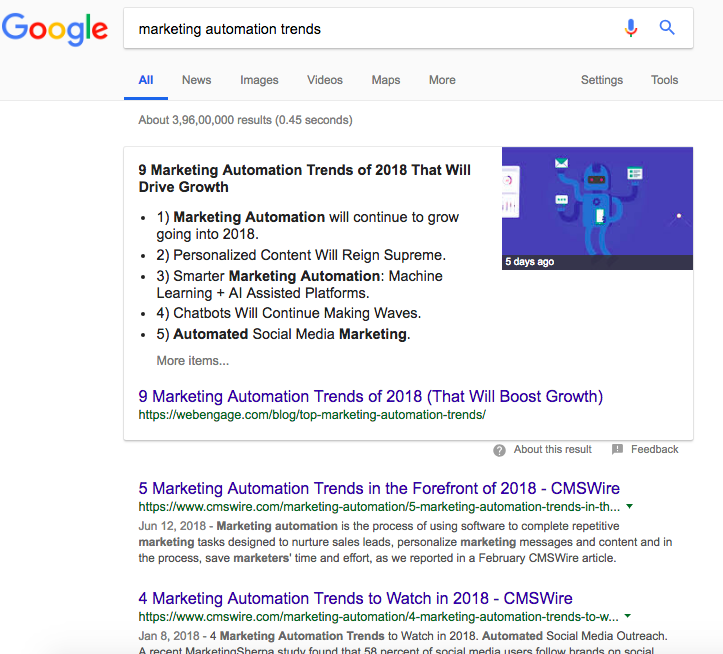 Learn More:
Over to You
User intent is the foundation of a solid content marketing plan. It goes beyond search volume and competition to understand the user psychology and purpose behind each query. At the end of the day, you're creating content for your target audience and not for the search engines. It's an essential step to optimize the overall user experience of your site and your content in order to get better search rankings.