This is a list of best Facebook Ads agencies.
In this listicle, not only have we curated the top five choices for a Facebook Ad agency, but you'll also learn:
So if you're looking for a Facebook Ads agency to help you run successful ad campaigns and grow your business, this post is for you!
The Top 5 Facebook Ads Agencies
Now you know what a Facebook Ads agency can do, and what to look for when searching for the ideal service, let's take a look at some of the top contenders on the market.
Specializes In: Paid media ads (including Facebook and Google), content marketing, marketing funnels
Top Clients: Amazon, Salesforce, Airbnb
Pricing: Custom based on your requirements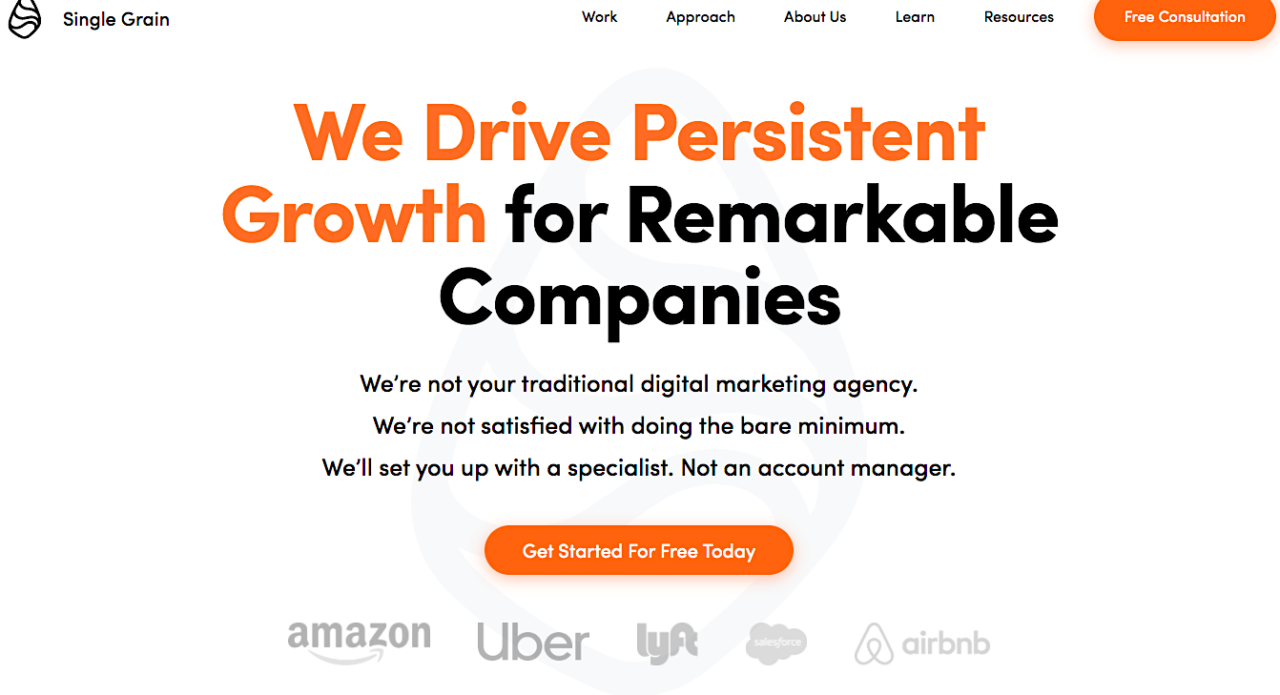 More than just a Facebook Ads agency, Single Grain is a full-service digital marketing agency that runs high ROAS Facebook Ads campaigns that will give you an edge over the competition. Their team of experts are extremely skilled in the paid media advertising landscape, which includes the development of full campaigns for both Facebook and Google.
With a focus on innovation and growth, this agency can use the latest skills and techniques in Facebook ad marketing to bring more attention to your business from all the right customers. (Check out their case study How This E-commerce Store Doubled Its Revenue Using Our Facebook Ads Advice.) With this company, you get a fully customized approach to advertising, which can spread across multiple channels, depending on your needs.
Thanks to a strong commitment to accountability, Single Grain also ensures that all of its customers can see measurable results from their social media efforts. Regular reports and insights will show you exactly how each marketing campaign is driving the right outcomes for your team. In addition, they have many favorable reviews and testimonials on their site, as well as off-site like Google and Clutch.
Single Grain is an all-in-one marketing solution for companies hoping to build their presence in the digital world..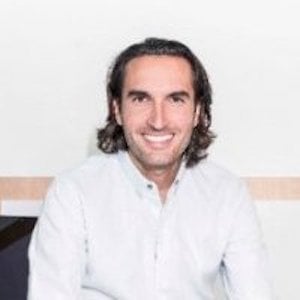 Yaniv Masjedi
CMO, Nextiva
Their expertise has helped Nextiva grow its brand and overall business
2) Hibu
Specializes In: Multi-channel marketing, social media, Facebook Ads
Top Clients: Frande Body Shop, CYA Fire, Harrell Homes
Pricing: Custom based on your requirements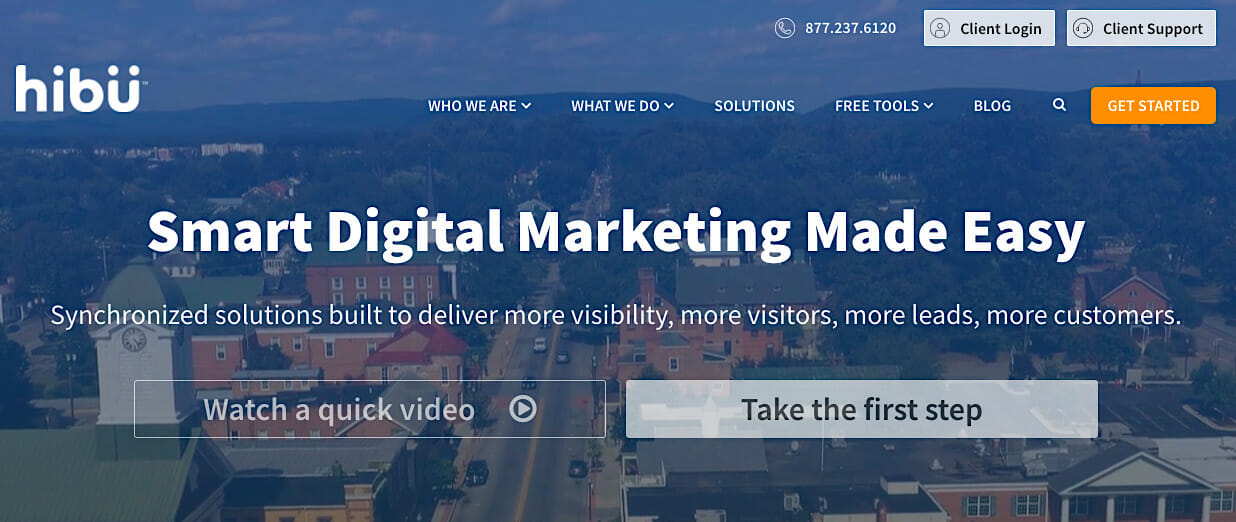 Hibu is an excellent all-in-one digital advertising and Facebook Ads agency. If you're looking for a business capable of helping you with everything from brainstorming your campaigns to setting up your ads, managing your profile, and more, then this is the company for you. They can even help with optimization and reporting.
They offer a flexible pricing strategy to suit a range of different businesses, so you can find something to fit your budget relatively easily. The company also has their own dedicated team of content creators, graphic designers, and other specialists, to build the perfect advertisement assets for your business from scratch.
Hibu has earned a host of positive reviews and testimonials from its customers over the years, and has some excellent statistics to share too, such as a 15% lower cost per lead on average. You can even use the company to help strengthen your presence elsewhere online, too.
3) Lyfe Marketing
Specializes In: Omni-channel digital marketing, social media management, email
Top Clients: Private Label Extensions, Westmar Lofts, Cardinal Group
Pricing: Custom based on your requirements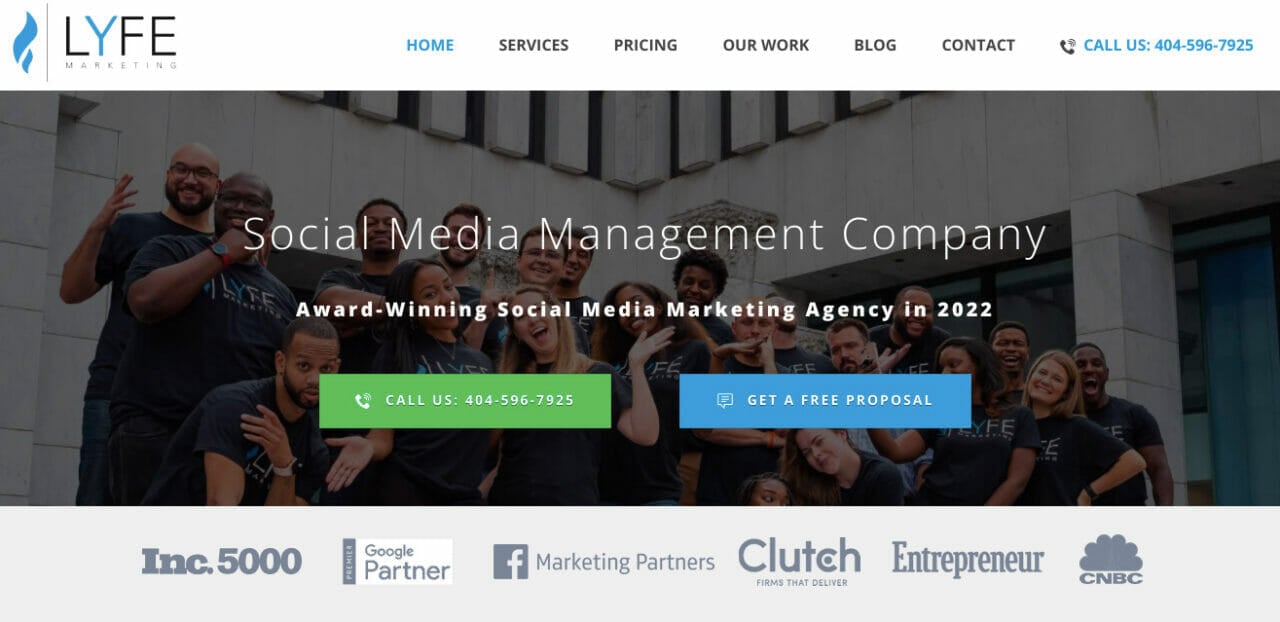 Another award-winning provider of Facebook ads and digital marketing, Lyfe Marketing is a Google and Facebook marketing power, recommended by leaders like CNBC and Entrpreneur.com. This company has worked hand-in-hand with a number of companies from different backgrounds to create multi-channel ad campaigns featuring social media, email, and PPC.
Great for companies with limited budgets, Lyfe Marketing takes an affordable approach to getting your business to stand out online. The dedicated team of committed experts work closely with every business to determine their distinct goals for online advertising and build bespoke campaigns.
The company also offers a range of resources for business leaders looking to learn more about standing out online, including extensive blogs and content.
Learn More: Omnichannel Marketing: Using the Content Sprout Method to Overcome Info Overload
4) NP Digital
Specializes In: Content creation, social media marketing
Top Clients: Facebook, LinkedIn, Adobe
Pricing: Custom based on your requirements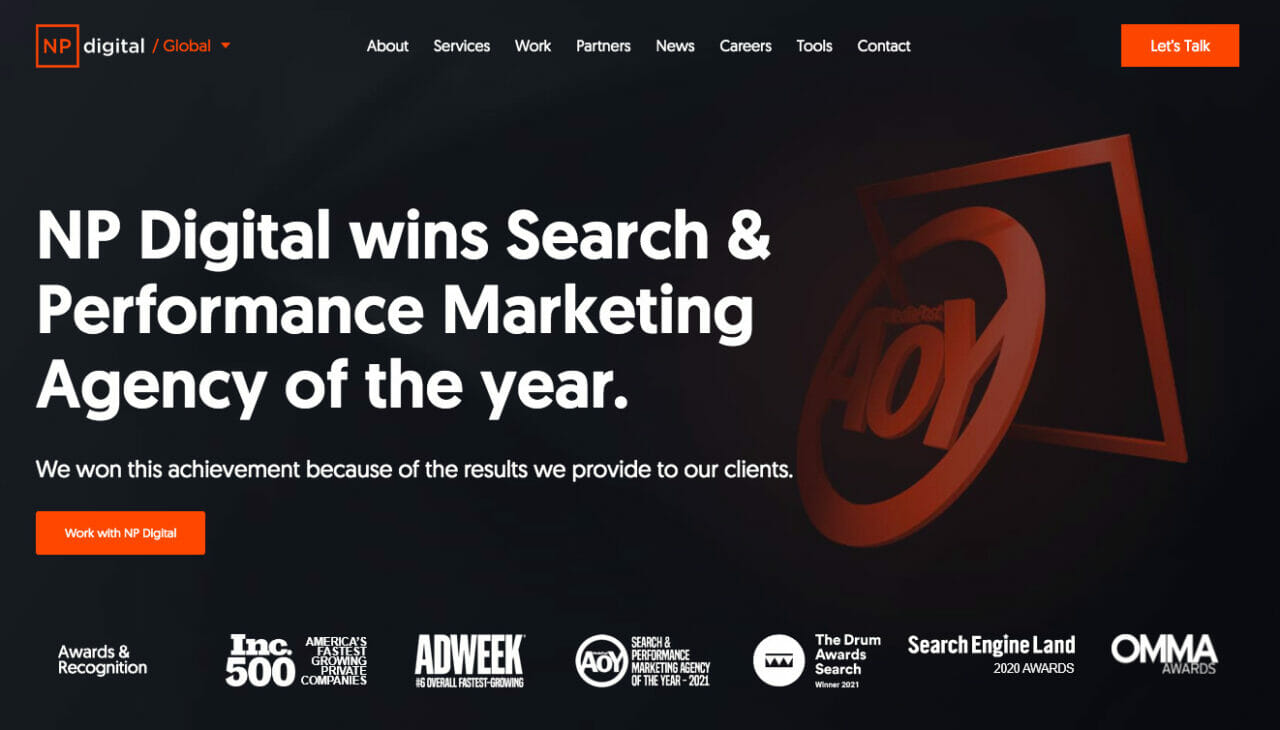 An award-winning ad company, NP Digital, founded by Neil Patel, has earned the attention of countless market leaders for their commitment to helping companies stand out online. Built by one of the best-known names in the digital marketing landscape, the company features a team of top-level marketing managers, ready to build your ad campaigns with you.
NP Digital delivers a range of ad campaigns to suit different marketing objectives without compromising on things like budget. You can get help with everything from brainstorming headlines and copy for your campaigns, to creating the right graphics and designing CTAs. Neil's team will even work on A/B testing on your behalf.
With excellent reviews from a host of leading companies, NP Digital can help business leaders make the most of their presence in any online environment. You can even combine your Facebook Ads campaigns with other paid media and search strategies.
Learn More: What Is A/B SEO Testing?
5) Inbound360
Specializes In: Facebook and Google advertising
Top Clients: Thomson Reuters, Mindful Chef, Gala Bingo
Pricing: Custom based on your requirements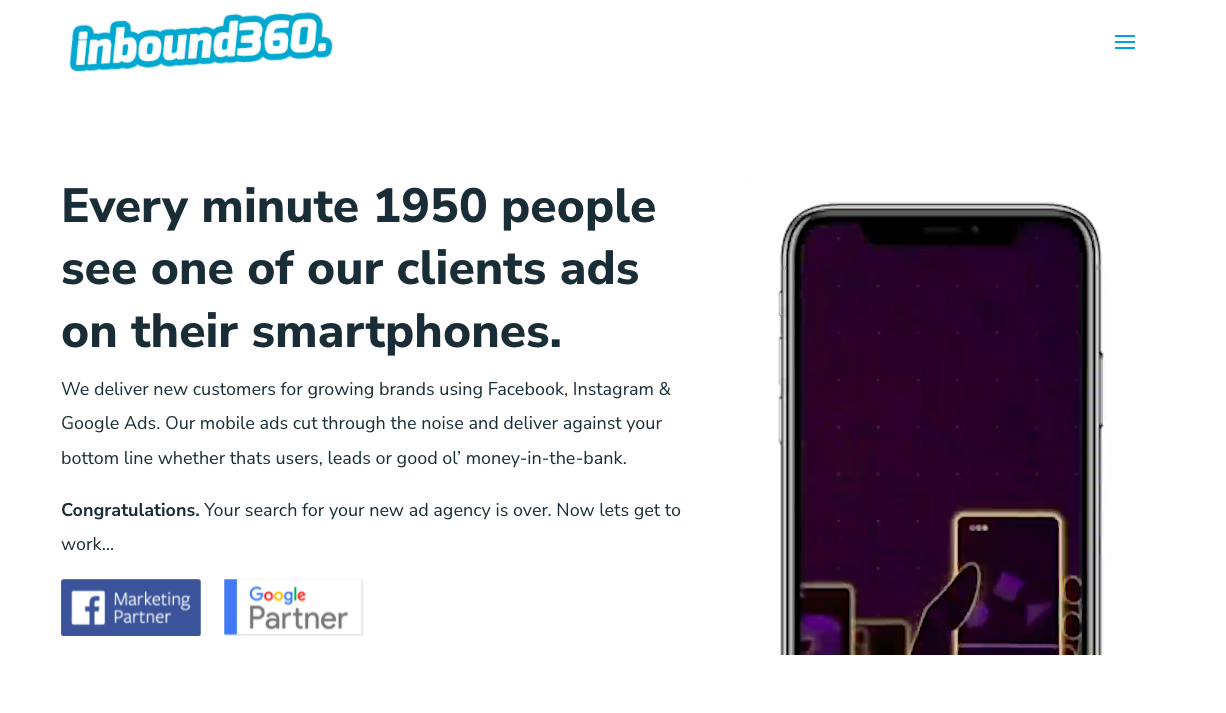 Focused on paid advertising campaigns across Google and Facebook, Inbound360 ensures that more of your ideal customers can be exposed to your brand online. The company is excellent at producing high-quality ads, specifically for the mobile marketing age.
Both a Facebook and Google Ads partner, Inbound360 provides a comprehensive approach to standing out online. You can leverage the company's assistance with building video and display ads for Facebook, as well as comprehensive ad campaigns with user-generated content.
If you want to expand your online marketing efforts, Inbound360 also offers a range of bonus add-on services, like Amazon Shopping ads and Google advertising.
Related Content: How to Improve Your Amazon Ads to Increase Sales
What Is a Facebook Ads Agency?
Though only one of a wide range of social media platforms available to showcase your company, Facebook stands as one of the most valuable tools for business leaders on the market. Currently, 71.3% of people in North America and 35.6% of the total global population are active on Facebook.
That's a lot of potential customers.
Of course, to get the best results from Facebook, it might be a smart idea to hire a Facebook Ads agency, which, with their team of experts, can offer a valuable shortcut to scaling your business and increasing revenue. Marketing on Facebook comes in many flavors. There's organic content marketing, where you use valuable posts to connect with your audience on a deeper level, boosted posts, influencer marketing, and more.
But one of the easiest ways to accelerate your presence on Facebook and earn attention from the right customers immediately is with Facebook Ads.
Facebook Ads are the paid or "PPC" advertisements in your marketing funnel. With these ads, companies can create specific campaigns designed to target a set of customers most likely to purchase their products or services.
Facebook Ads are some of the most lucrative in the PPC landscape, because of Facebook's unique approach to customer targeting. You can use granular targeting to connect with the right customers the first time, rather than wasting money on people who will never convert.
However, Facebook Ads are also a somewhat complicated landscape for beginners. There are dozens of different kinds of ads, from desktop to news feed promotions, and countless specific details you need to perfect to ensure that you generate the right results.
A Facebook advertising agency does all the hard work of creating and managing your ads on your behalf, including:
Help with targeting: Facebook Ad agencies can identify your audience, then use custom audience groups, lookalike audiences, and other segmented campaigns to get your messages to the people most likely to convert, reducing cost-per-acquisition.
Develop ad campaigns: An agency can research your target audience, learn about your market, and help you develop campaigns which form deeper connections with your audience. They can even advise you on which kinds of Facebook ads to use, like video content or promoted posts.
Create content: After helping you decide what kind of Facebook ad campaigns you're going to be using, an agency can help you create the right kind of content. These companies have the software and skills to design everything from graphics to YouTube videos.
Analyze Facebook ads: Your ad agency can measure the performance of your campaigns and use metrics to make important decisions about future campaigns. The best Facebook ad agencies even use real-time reporting to rapidly optimize campaigns as they're underway.
Provide useful insights: Aside from using analytics to better understand and optimize your campaigns, your ad agency can also use them to give you useful insights into your target audience that you might not have necessarily seen. You can use what you learn to develop stronger customer personas.
The Benefits of Hiring a Facebook Ads Agency
Facebook, just like Google, is constantly updating its algorithms and available tools to deliver a better experience to its users. Staying ahead of what makes a Facebook campaign successful can be a full-time job, and something most business owners simply don't have time for.
Hiring a Facebook Ads agency allows you to leverage the skills, expertise and years in the business of an expert committed exclusively to making your Facebook presence a success. This not only saves you crucial time, but can also make your ad campaigns far more effective. Benefits of hiring a Facebook ads agency include:
Expertise in using Facebook Ads: Mastering Facebook Ads has become so complex there are actually countless courses and webinars designed to help you understand the ecosystem. Hiring a Facebook Ads agency ensures that you can leverage the talent and understanding of someone intimately familiar with the technology so you get an edge on the competition.
Improved ROI: While you can always experiment with your Facebook Ads until you get the right results, this is often a time-consuming and expensive process. Your Facebook Ad Agency can help you to avoid the growing pains of making your social media strategies a success so you can generate rapid returns on your investment as quickly as possible, without wasting any of your ad budget.
Better brand perception: A Facebook Ads agency knows how to position your company on Facebook to improve the relationship you have with your target audience. Social media is often a powerful tool in developing brand loyalty, so it pays to have someone on-board who knows how to speak to your audience.
Reduced costs: Usually, it's much less expensive to hire an agency to work with you on your Facebook Ad campaigns than it would be to leverage a full-time professional as part of your team. You can access the support and guidance you need from them, and they will keep your budget in mind. There are even different levels of service available from various companies.
Consistency: Working with a Facebook Ads agency means that you can create a consistent brand image with all of your ads, and ensure that your campaigns go out at the right time. Your agency only has one task to focus on – making you successful on Facebook – which means you're less likely to forget to post something on time.
Specialist skills: Many ads agencies offer access to a range of professionals with different skill sets in the Facebook landscape. This means you can access specific support to help with certain kinds of campaigns. You might get assistance from one professional for a video ad, and help from another part of the team for a promoted post campaign.
Facebook advertising agencies can also consistently monitor your Facebook Ads campaigns on your behalf. This means they can jump into action rapidly if your metrics start to suffer or something goes wrong with a particular advertisement. An ad agency can protect your reputation and stop you from losing too much money on a marketing strategy.
Dive Deeper:
* 12 Facebook Ad Ideas to Grow Your Online Brand
* 5 Facebook Ads Trends You Can't Ignore in 2023
* How to Uncover Your Competitor's Facebook Ad Strategy

How to Choose an Advertising Agency for Facebook
Just like many professional marketing agencies, Facebook advertising agencies come in a range of different shapes and sizes to suit different needs. Some offer basic services, like helping to build your ad campaigns and providing simple reports. Others offer more comprehensive services, including content creation, market research and customer analysis.
Some points to consider when choosing your Facebook Ads agency include:
Range of Services
First, look at the range of services a Facebook Ads agency offers. Can the team only produce basic campaigns based on the content and resources your company creates, or does the agency include a graphics design team and video production experts to create content for you?
Find out whether the company you're considering can help you build custom audiences for Facebook targeting, and how they conduct research to help you find the right prospects. How much experience do they have with creating ad copy, and what kind of bonus services do they offer, like consulting, regular reports, and feedback?
You can usually get an insight into the services offered by your agency on their product page (and if not, don't be afraid to ask):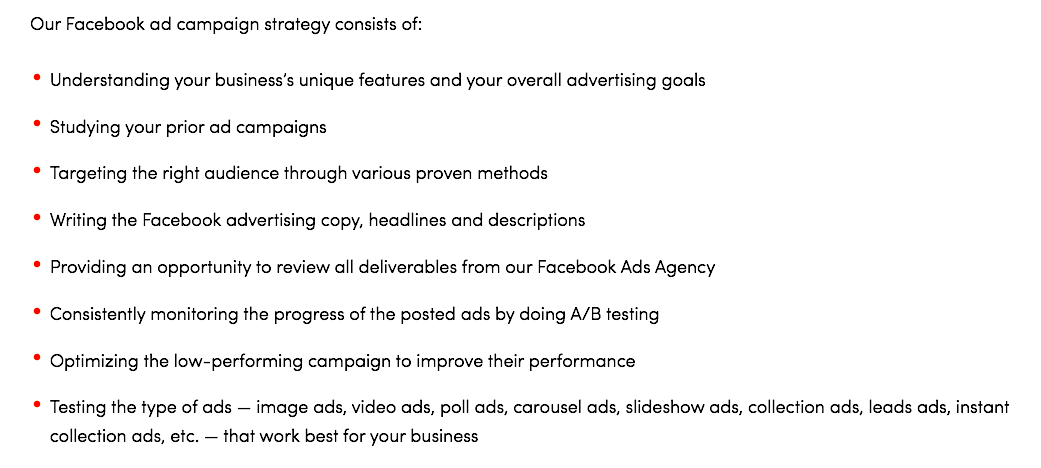 Familiarity with Similar Brands
Although SaaS companies don't necessarily need to work with SaaS experts on their Facebook ad campaigns, it helps to have an agency familiar with your industry. Different sectors appeal to their audience on Facebook in a variety of unique ways.
If your chosen agency is already familiar with your industry, they'll know what kind of marketing campaigns are most likely to work for your business. You can find out what kind of companies an agency has worked with in the past by checking out their list of "previous customers" or visiting the "case studies" page on their website.

Case Studies and Testimonials
Speaking of case studies, it's helpful to collect as much information as possible from other companies who have worked with the same agency in the past. While every Facebook ad agency can claim to be the best at what they do, genuine feedback from other clients will give you a more realistic insight into what it's like to work with that brand.
Watch out for any company with absolutely no feedback or reviews from previous customers. Most businesses will deliberately collect reviews and endorsements from clients they've worked with in the past to improve their credibility.
If your agency doesn't have any reviews, this could indicate they're new to the industry.
Tools and Services They Use
Most Facebook Ads companies will use additional third-party software and solutions alongside things like the Facebook Ads systems to make your campaigns a success. These tools will make it easier for companies to collect important information about your target audience, which of your campaigns drives the most revenue, and so on.
Finding out which tools and services your agency uses will give you an insight into the kind of reports you can expect to get about your campaigns. For instance, some companies will be able to give you accurate insights into exactly how many conversions came from a specific ad campaign, while others will only be able to estimate.
Customer Service
Finally, don't underestimate the importance of good customer service. While skill in creating great Facebook ads is important for any agency, you also need to make sure you can communicate clearly with the company about what you want and expect an excellent level of support in return.
Enlist an agency you can trust to actually listen to your requests and take them into your account with your social media campaigns. You should be able to get some insights into the kind of customer service you can expect by reading previous reviews.
Related Content: What Facebook's "Meta" Rebrand Means for Marketers
How Much Does It Cost to Hire a Facebook Ads Agency?
There really is no one answer to this question. Like many professional services, it depends on what you hire them for (as mentioned in the previous section) and how they charge.
By the hour: A broad range can safely be assumed to be between $50 and $500 per hour.
Retainer fees: This may be paid per project or per month for ongoing services, and can be anywhere from $1,000 to $10,000+.
As you'll see from the list below, most ads agencies require that you discuss your needs with them first so they can customize their services and prices for you.
Ready to Hire the Right Facebook Ads Agency?
As the most popular social media platform on the web today, Facebook is one of the most important tools in any digital marketing strategy. Hiring the right Facebook Ads agency can be an excellent way to get an edge over the competition. When choosing your agency, remember to:
Check for specialist skills: Look for people who know how to create the kind of ad campaigns that are most important to your business goals.
Look for a good reputation: Check case studies and reviews to make sure you're going to get an excellent quality of work.
Ask for measurable results: Make sure you're getting regular reports and analytics to highlight the overall value of your campaigns
If you want to promote your business by partnering with a top Facebook Ads agency, Single Grain can take your brand to the next level. 👇
Or learn more about what we can do for you here 👉  Facebook Ads Agency