Running paid advertising campaigns on social media has become a staple in any digital marketing strategy. But in an ever-changing environment where bids rise and new ad types become available, advertisers struggle to stay up to date with the latest changes.
That's where a paid social media agency comes into play. The teams of experienced media buyers these agencies have allow their clients to fulfill their objectives profitably without the hassle of hiring any new employees.
In this article, you'll learn more about what a paid social media agency can do for your business, how to pick the right one, and our curated list of the top five paid social media agencies.
---
---
Top 5 Paid Social Media Agencies of 2023
Here is our curated list of the top five paid social agencies!
Top Clients

: Amazon, Crunchbase, Airbnb

Platforms Covered

: Facebook, LinkedIn, TikTok

Pricing

: Projects start at $10,000+
Single Grain is a full-stack digital marketing agency with over 12 years providing social media advertising services to both B2B and B2C companies in industries like crypto, SaaS, and e-commerce. As a Google Premier Partner, you can trust our paid media experts to custom build a social ads strategy for your specific goals.
We assign paid media specialists to each customer, ensuring the highest level of service (this isn't too common in the industry, for whatever reason 🤷‍♂️). Our team of industry veterans excels throughout the entire creative process, from production to outreach. We pride ourselves on having managed profitable and scalable advertising campaigns for clients like Nextiva and Twenty20 on channels like Facebook, TikTok, and Pinterest.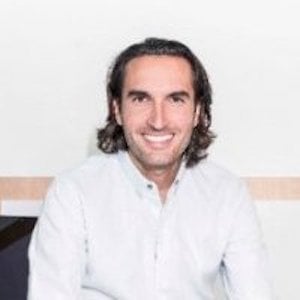 Yaniv Masjedi
CMO, Nextiva
Their expertise has helped Nextiva grow its brand and overall business
To learn more about the difference between organic social vs paid social, check out this video from Single Grain founder Eric Siu:
2) Firebelly
Top Clients

: Sony, Netflix, Cisco

Platforms Covered

: Facebook, TikTok, Pinterest

Pricing

: Projects start at $2,000
Firebelly is an award-winning social media agency with a mission to make brands more likable. The firm specializes in both organic and paid campaigns on every major social platform. Some of the services they provide include:
Social media audits

Social media ads

Content production (includes video, photography, and web design)
The company states that every client gets assigned a social media manager with over five years of professional experience. Their extensive advertising services allow them to fulfill everything their clients need in order to reach more people on social media.
3) Harvest Growth
Top Clients

: Nabisco, TruthFinder, CreditNinja

Platforms Covered

: Facebook, Instagram, YouTube

Pricing

: Projects start at $5,000
Harvest Growth is a social media agency with over $2 billion in revenue generated from its campaigns since its launch in 2006. The company defines itself as a "one-stop-shop for video production and social media." 
Some of the services they provide include full-service infomercial TV campaigns, video production and SEM campaigns on channels like YouTube, Facebook, and Instagram.
With only six employees, the company states that they have been responsible for over 350 product launches, 150 national TV campaigns, and more than 500 social media marketing campaigns.
Dive Deeper: What Is the Difference Between SEM and SEO?
4) Socialistics
Top Clients

: Microsoft, ABI Insurance Company, Everhome Realty

Platforms Covered

: Facebook, Instagram

Pricing

: Projects start at $3,000
Socialistics is a social media marketing agency that is passionate about storytelling and community building. The company works with clients in the B2B and B2C spaces by building funnels that broadcast meaningful stories and build long-lasting relationships.
Whether your company needs organic campaigns or runs social media ads, Socialistics can help you with:
Strategy consulting

Ad copywriting

Graphic creation

Community management

Social listening

A/B testing

Influencer marketing outreach and management
Dive Deeper: What's the Right Content for Each Stage of the Marketing Funnel?
5) Spin Brands
Top Clients

: Moët & Chandon, ASUS, Merrell

Platforms Covered

: Facebook, YouTube, TikTok

Pricing

: Projects start at $1,000
Spin Brands is a social media agency that specializes in connecting brands to the modern consumer. They define themselves as an agency that "combines big ideas with perfect execution."
The firm executes cutting-edge social ads strategies to build brand relationships with the aim of achieving the greatest performance. As a Meta Business Partner, Spin Brands has 24/7 access to advanced tools, training and best practices that allows its clients to stay ahead of the curve.
They combine a world-class team of creative strategies with highly competent marketers to create social advertising campaigns that boost ROI, increase engagement and further advance a brand's online presence.
Dive Deeper: 8 Social Media Success Stories to Inspire You
What Does a Paid Social Media Agency Do?
A paid social media agency is a marketing firm that specializes in strategizing and executing advertising campaigns on multiple social media platforms.
Some of the tasks these agencies are responsible for include:
Defining a robust audience persona

Organizing scalable campaign structures

Defining bids

Writing ads

Setting up conversion tracking
All these tasks are complex and time-consuming for most companies, which is why it makes sense to hire a paid social media advertising firm. They can handle these tasks for every social platform, such as:
Facebook

Instagram

Twitter

LinkedIn

Pinterest

TikTok

Snapchat

YouTube
Why You Should Hire a Paid Social Media Agency
Now that you what a paid social agency does, let's dive deeper into why you should consider hiring one to help you out.
Stay Up to Date with the Latest Changes and Trends
Social networks are always changing, adding new features, ad types and regulations, not to mention algorithm tweaks. Keeping updated with these changes requires a lot of time and experience. If that's not your primary job, it can be overwhelming to keep an eye on new trends, changes and tools.
What's more, the social networks communicate directly with an exclusive group of advertisers (usually the top agencies) before they launch some of the aforementioned changes to the public (i.e., the smallest advertisers).
Thanks to these special relationships, the top paid social media marketing agencies can test and try out these features, which allows them to stay ahead of the pack. By hiring one of these agencies, your company will outperform its competitors.
Dive Deeper: 7 Dead Simple Social Media Marketing Tactics That Still Work Today
Diversify Your Advertising
Advertisers should avoid putting all their eggs in one basket. Because "traditional" social advertising platforms like Facebook regularly increase their bidding costs or ad policies, it's always a good idea to try new platforms before they become overly costly or regulated.
Social advertising agencies can help your business diversify your ad budget by testing new rising platforms — one such case is TikTok, which has become the greatest alternative to Instagram and YouTube.
Dive Deeper: TikTok Marketing: How to Get Started with Ads on This Platform
Scale Your Campaigns Effortlessly
Setting up a paid social ad campaign can be a challenge, but with the right processes, it can be done more easily. On the other hand, scaling a campaign while keeping the profits intact is a complicated matter. Many times a highly profitable campaign goes into the red after increasing the budget or bids. In other cases, the target audiences are too small to scale.
A social media advertising company knows how to find these issues before they get out of hand. As a consequence, you will scale your campaigns effortlessly. All you will have to do is increase the budget, and they will take care of the rest.
How to Choose the Best Paid Social Media Agency
The easy part is understanding all the benefits you'll get by hiring a paid social media firm. The hard part is how to choose not only the best agency for your particular goals, but a reputable one that can get the job done. Here's what to look for.
Skilled in Content Production
Optimizing for bids and writing ads is great and all, but a crucial part of successful social media marketing campaigns is the content. Without great content, you won't stand out and engage your audience.
The top paid social media agencies excel at content production. Whether they shoot videos, create pixel-perfect graphics, or work with influencers, these firms can produce persuasive creative ads for any company.
Dive Deeper: Best Lead Generation Tactics for Content, Email & Social Media Marketing
Certified by the Major Social Media Platforms
All the major social platforms give certifications to their top advertisers and media buyers. These courses allow companies to stay up-to-date with the latest changes and learn the best practices that all professionals should follow.
Here's a shortlist of certifications the top social networks offer: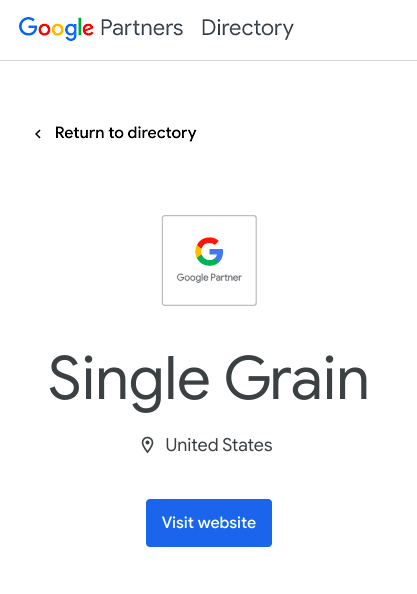 Check whether your chosen agency is a partner in any social network and the certifications their employees have in order to make sure you hire the right one.
Extensive Case Studies
Case studies showcase the capacity an agency has to deliver the desired results for its clients. More importantly, it shows whom they work with, how they analyze the challenges their clients have, and how they strategize the proper solutions.
Before you decide to work with a paid social media agency, ask for case studies from companies in your space. Pay special attention to their age and relevancy. A company that succeeded in doing Facebook Ads eight years ago doesn't mean they still know how to deliver results in 2023.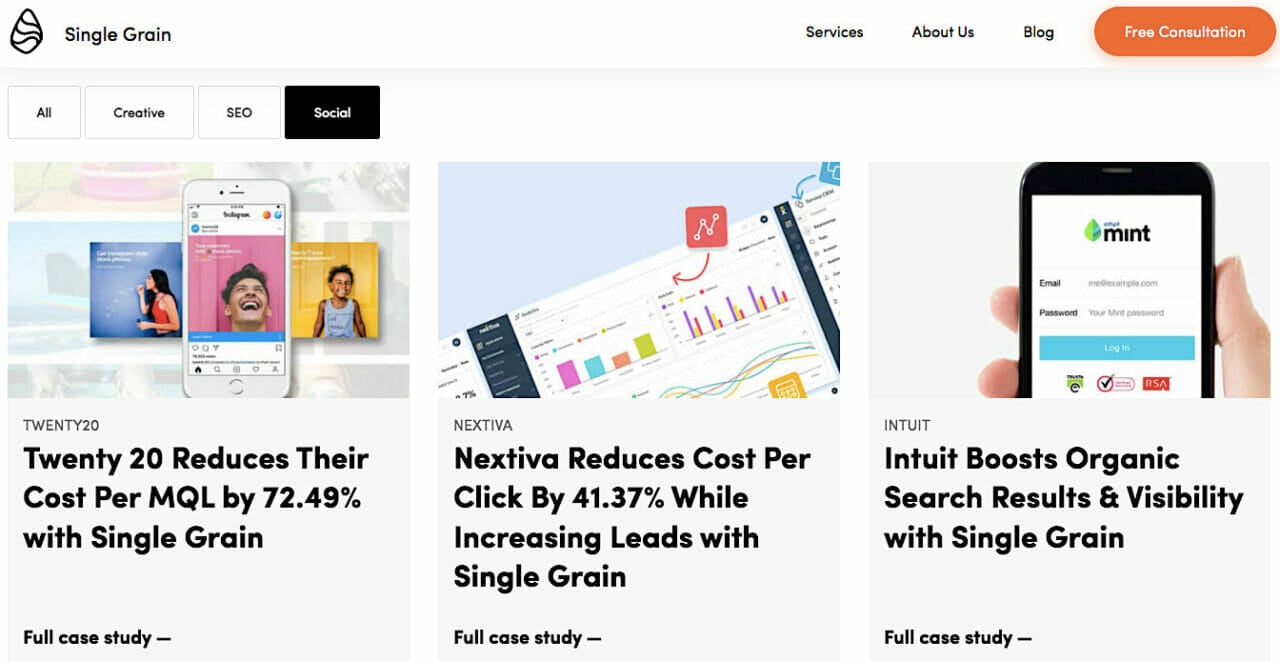 Similarly, you want to work with an agency seasoned in your industry. The more they know how to communicate with your audience, the easier it will be to craft content and fulfill your campaign's results.
Dive Deeper: How This E-commerce Store Doubled Its Revenue Using Our Facebook Ads Advice
How Much Do Paid Social Media Agencies Charge?
Paid social media agencies charge clients using the following three methods:
Flat fees

: Under this structure, an agency charges a flat fee that covers their entire services. The benefit of this option is that you know clearly what you will spend per month. This method is ideal when your spending is small (under $10,000 or so).

Project-based

: In this case, you pay based on a set of deliverables and objectives. For example, you may pay $1,000 to set up one campaign and another $1,000 to generate a certain number of sales.

Ad spending-based

: The most common type of pricing structure allows the agency to get a commission on top of the advertising budget. This fee is usually around 10-15% of the overall spending. The benefit is that it aligns the agency with your company's incentives, which leads to better results.
Dive Deeper: Paid Content Promotion: A Comparison Of The Different Platforms
Ready to Hire the Best Paid Social Media Agency?
Social advertising is one of the preferred channels brands use, thanks to its scalable, profitable and loyalty inducing effects. Hiring a paid social media agency makes the most sense if your business:
Runs paid ads campaigns in at least two social media channels

Your team can't handle the work of running campaigns on different channels

You are trying to scale campaigns but can't seem to do it

You have seen success in one channel and want to replicate the success in new channels

Your campaigns are dwindling and you don't know why
An agency with the right social media advertising skills will uncover the problems your campaigns have and take the day-to-day management out of your fatigued team. With their help, social media will become one of your most profitable digital marketing channels to date.
Schedule your FREE consultation with Single Grain's paid social media experts to discuss your needs.  👇