Updated October 2023.
Facebook ads are a crucial platform for businesses to reach their target market and advertise their products and services. In the fashion industry, Facebook clothing ads have become essential for fashion brands looking to produce more sales, promote their latest styles and establish brand identity.
In this article, we'll go over thirteen reasons why Facebook clothing ads are practically mandatory for your fashion business. We'll offer tips on how to get your audience to stop scrolling and check out what your fashion brand has to offer.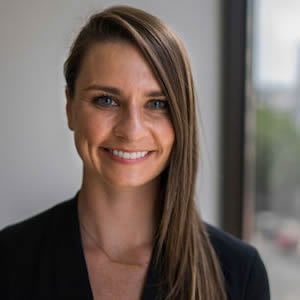 Jacqueline Foster
Demand Generation Marketing, Lever.co
We can count on them to bring new ideas to the table consistently
Top Facebook Ads Tips and Tactics for Fashion Brands
High-Quality Visuals: Use high-resolution images and pay attention to minimum recommended image size requirements.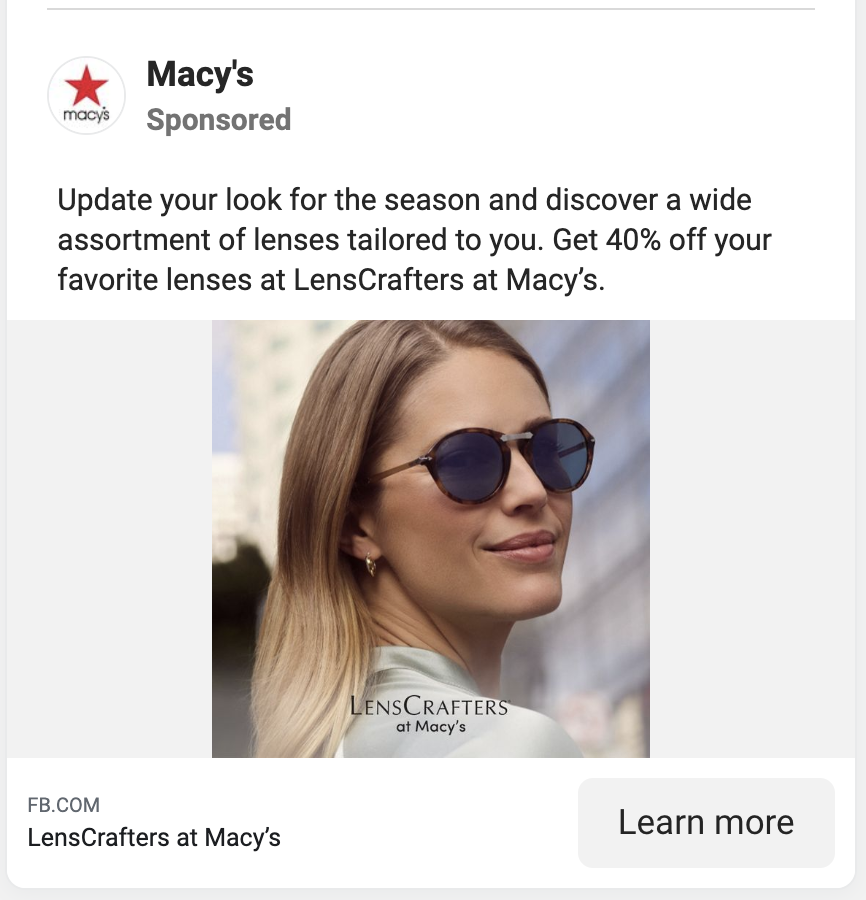 Carousel Ads: Can include up to 10 images in an ad, and each image can have its own URL.
Retargeting Campaigns: Retarget leads who've already visited your website or app. Include enticing content and a CTA to make your leads want to revisit your website and purchase a clothing item.
Lookalike Audiences: A Facebook ad feature that takes audience characteristics, such as interests and user behavior, and shows your ad to users with similar qualities. Tailor your ads to this audience while taking other demographics into consideration, such as gender and age.
Dynamic Ads: Can promote multiple products without needing to create different ads. Meta Advantage+ uses machine learning to scale your ads. Create an effective ad template that can work with your entire catalog.
Video Ads: Facebook ads allow multiple video types, such as in-stream, slideshow, and Stories ads. You can upload a specific video ad to Facebook or boost an existing video: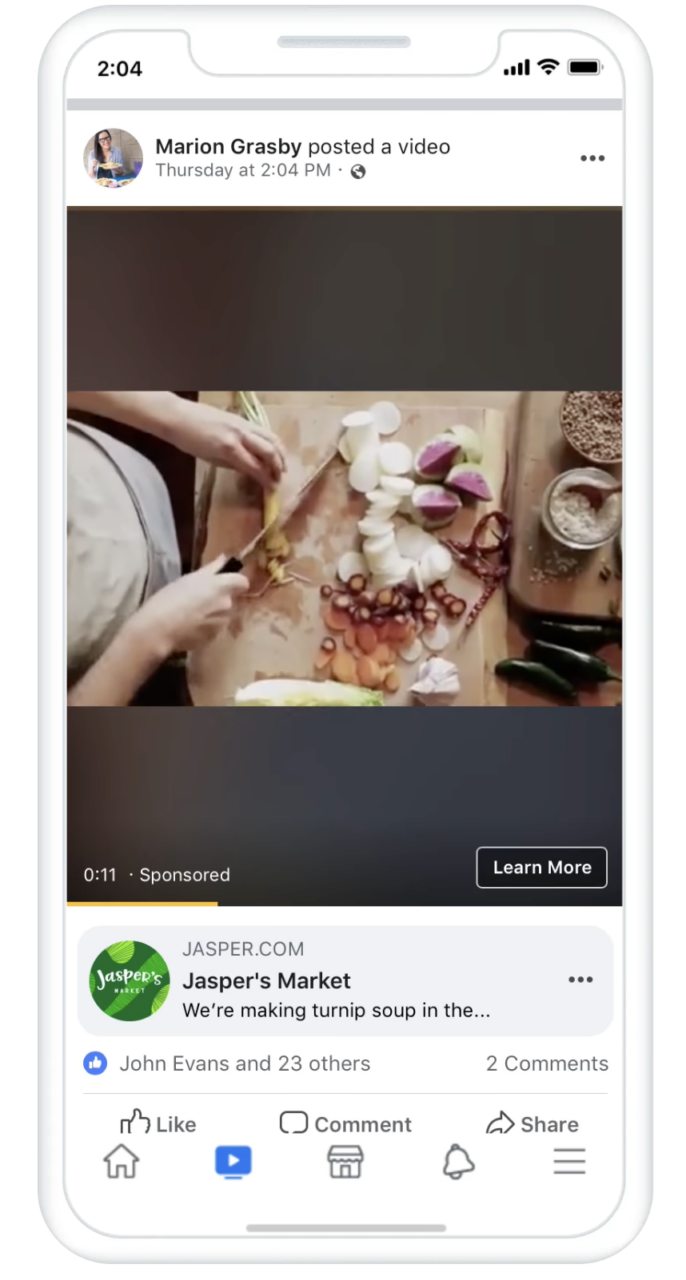 Seasonal Campaigns: Perfect for ad campaigns that target specific events, such as Cyber Monday. Create ads that spread awareness for your seasonal shopping event and any deals you run.
Interactive Ads: Facebook has the Playable Ad format, which is an interactive type of advertising video. Quality is integral when making a Playable Ad since users will be more willing to participate.
Detailed Targeting: A setting that lets you refine the audience members that Facebook will target. You can scale your audience by interests, demographics and behaviors.
Offer Exclusives: The best Facebook fashion ads promote special deals and sales. It's best to create a unique discount code for these ads and include a firm call-to-action (CTA).
13 Reasons Why Facebook Clothing Ads Are a Must-Have for Fashion Brands
Social media platforms are deeply interwoven into consumers' lives. Facebook, in particular, has grown to be one of the most popular social media platforms worldwide, boasting over 3 billion monthly active users – and growing.
Let's check out 13 reasons why it makes sense for your fashion brand to launch a clothing ad campaign for multiple products on Facebook.
Brand Awareness
Facebook fashion ads are an effective way for clothing companies to build their brand identity and establish themselves in the market.
By consistently using their brand's visual elements and tone of voice across their Facebook Ads and Page, businesses can create a strong brand identity and make themselves recognizable to their target audience with clothing advertised on Facebook: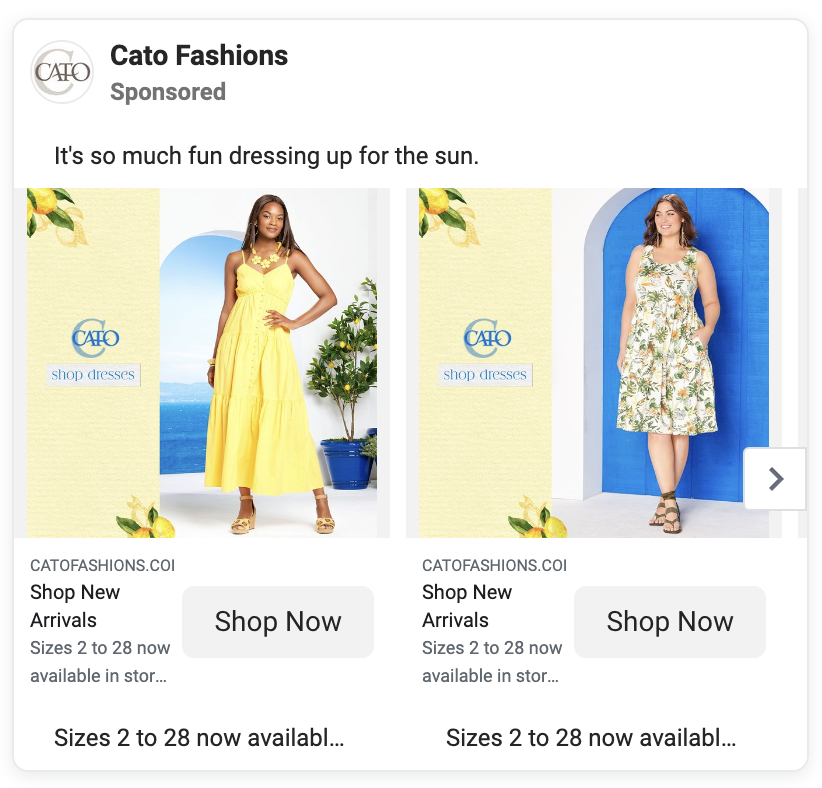 Moreover, by engaging with their audience through their Facebook Page and clothing ads, businesses can establish a connection with their customers and build brand loyalty.
Dive Deeper: The Complete Guide to Brand Building (Must-Read for Digital Marketers)
The Power of Visual Advertising
Visual representation is everything when creating the best fashion Facebook ads – especially with apparel. Clothing ads on Facebook allow businesses to showcase their products through different ad creative types, such as high-quality images and videos. This makes it easier to grab the target market's attention in new campaigns.
Using visually appealing ad creative can spark an emotional connection with your audience, leading to increased brand recognition and customer loyalty: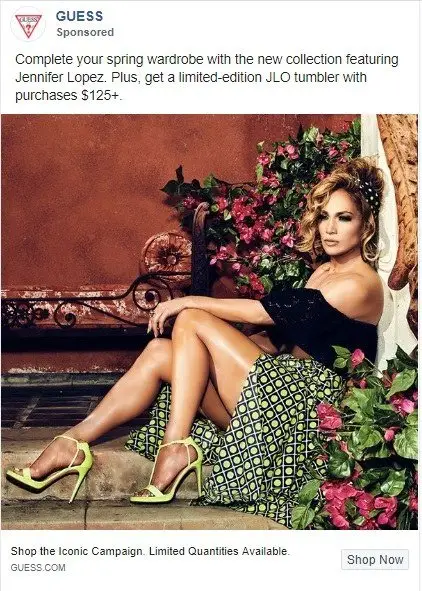 Moreover, Facebook offers various ad formats, most of which lend themselves greatly to clothing businesses. This new technology allows fashion brands to experiment with different types of visual content and find the format that works best for their brand and drives the best engagement.
Some examples include:
Image ads: Use photo advertisements for a crisp and clean way to showcase compelling visuals of your clothing line. Represent your brand's identity and operations through superior-quality imagery.
Video ads: Share your narrative through visuals, sound, and movement. Video ads come in varying lengths and styles, from short, feed-based advertisements you watch while on the move to longer videos that nurture the viewer with a story.
Collection ads: Collection ads enable users to explore, browse, and purchase what you offer. People can click on an advertisement to learn more about a specific product, all within a fast-loading experience.
Story ads: Customize stories for an immersive and comprehensive experience, allowing individuals to delve into your content. These will often take the form of user-generated influencer content, which we'll touch on later.
Messenger ads: Messenger ads facilitate interactions between customers and your business. Establish a personal relationship with new or existing customers and add interactive or automatic features.
Carousel ads: With carousel ads, you can exhibit up to ten pictures or videos in a single carousel ad, each with its unique link. Highlight different clothing variations or narrate your brand's story that develops through each card.
Slideshow ads: Slideshow ads consist of sound, movement, and text, similar to videos. These lightweight clips can help you present your fashion collection beautifully.
Wide Reach and Precise Targeting Capabilities
No matter the sub-category of the clothing industry that you're in, your brand will likely have a place serving ads on social media. Whether in fast fashion, retail, or haute couture, Facebook clothing ads have diverse utility to hyper target different audiences. This makes it an ideal platform for fashion brands to expand their customer base.
Facebook's ad targeting capabilities also allow businesses to narrow down and expand their audience based on factors such as:
Demographic: Their age, gender, marital status, income, lifestyle details and employment
Interest: Their search patterns, ad and post interactions, and page likes
Behavior: Their purchasing patterns and posting frequency
Location: Their geographical whereabouts
Lookalike Audience: User accounts that resemble your current audience members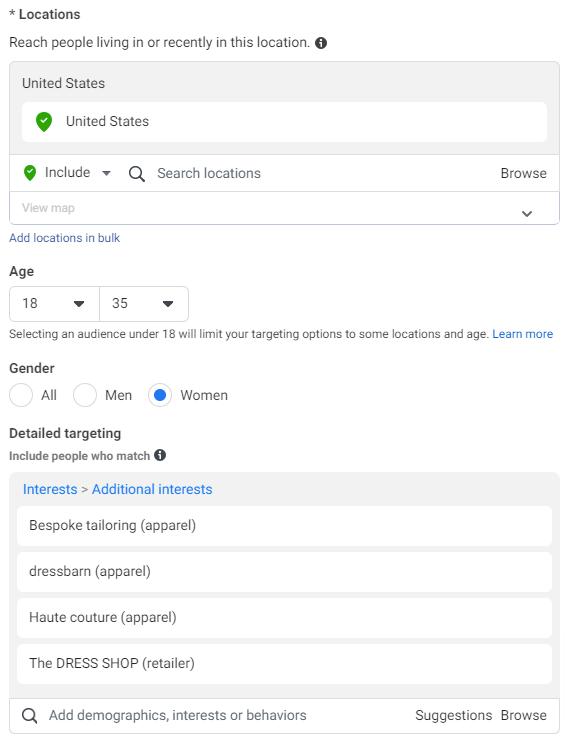 Clothing brands must be able to present their ads to the right recipients. This targeting capability means businesses can tailor their ads to reach their ideal customer, resulting in higher conversion rates and a better ROI.
This contradicts other paid media, like Google Ads or Microsoft Ads, which rely on search intent. Clothing is trickier with those platforms because of the nuance behind keyword match types and the specificity required to present relevant clothing ads to shoppers: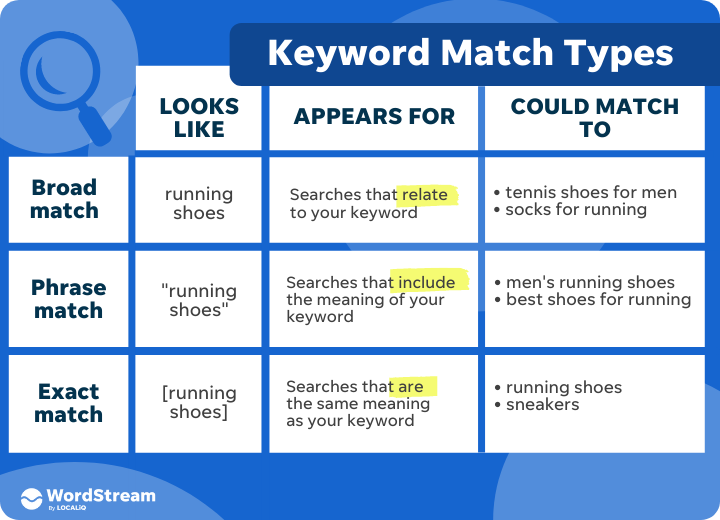 Another thing about interest targeting on a Facebook ad is that you can thoroughly inform your interest targeting strategy by seeking related interests that people are into other than the obvious ones.
If you sell durable workwear, you can use tools like Interest Explorer to find similar interests that are related to the relevant interests you can think of: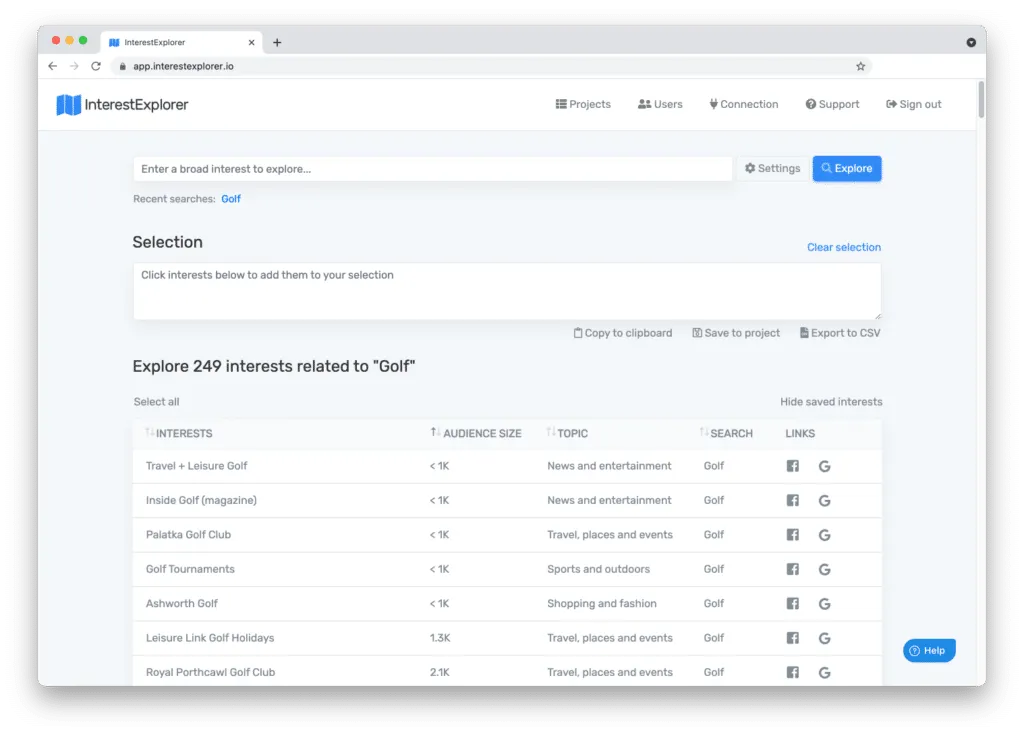 Cost-Effective ROAS
Advertising can be costly for businesses, especially small- and medium-sized apparel companies. However, Facebook currently offers some of the most affordable CPCs of any paid media platform, coming in at around $0.66 per click as of this writing: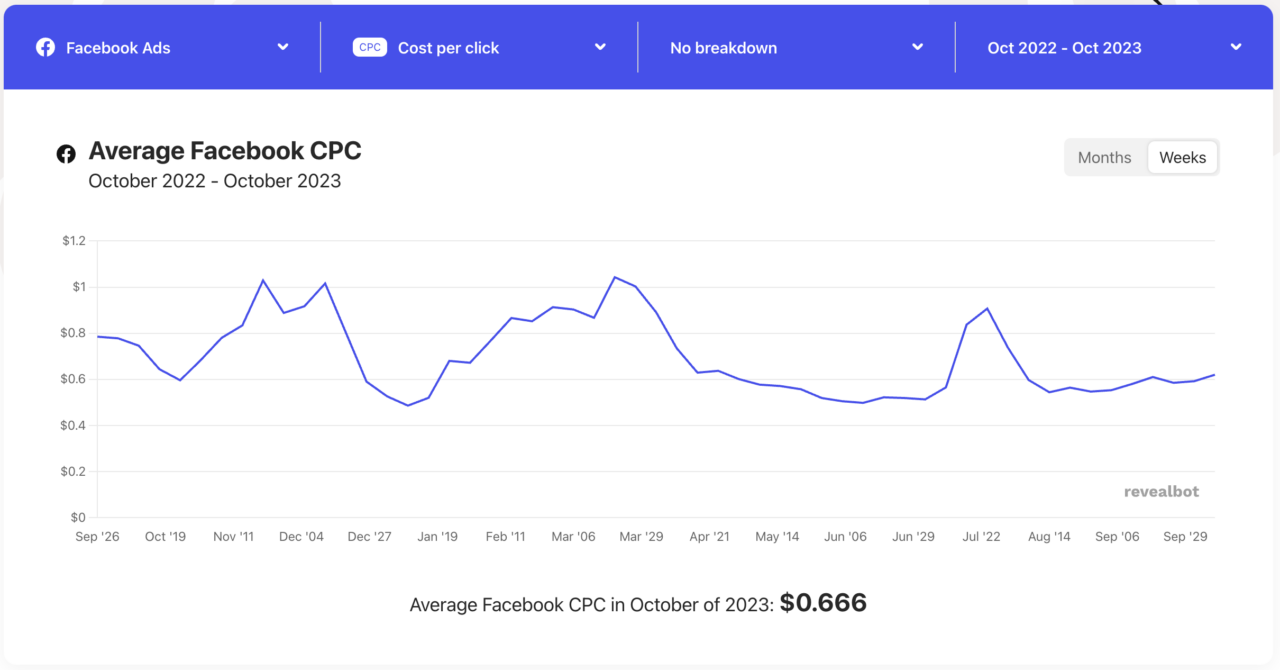 This allows businesses of all sizes with different ranges of budgets to advertise on Facebook and spend within their means.
Facebook hands the reigns to businesses to set their own budget for advertising and only pay for the clicks or impressions their ads receive – an important detail when measuring revenue attributed to Facebook Ads.
This means that brands can control their Facebook ad spend and get more bang for their buck. Compared to traditional advertising methods such as print or television ads, Facebook Ads offer a much more cost-effective way to reach your target audience.
Dive Deeper: Facebook Ads E-commerce Case Studies that Increased ROAS
Tracking and Analytics Are Simple
One of the most significant advantages of running clothing Facebook ads is the ability to track and analyze their performance. Facebook's advertising platform provides businesses with real-time metrics on their ad performance, such as impressions, clicks and conversions: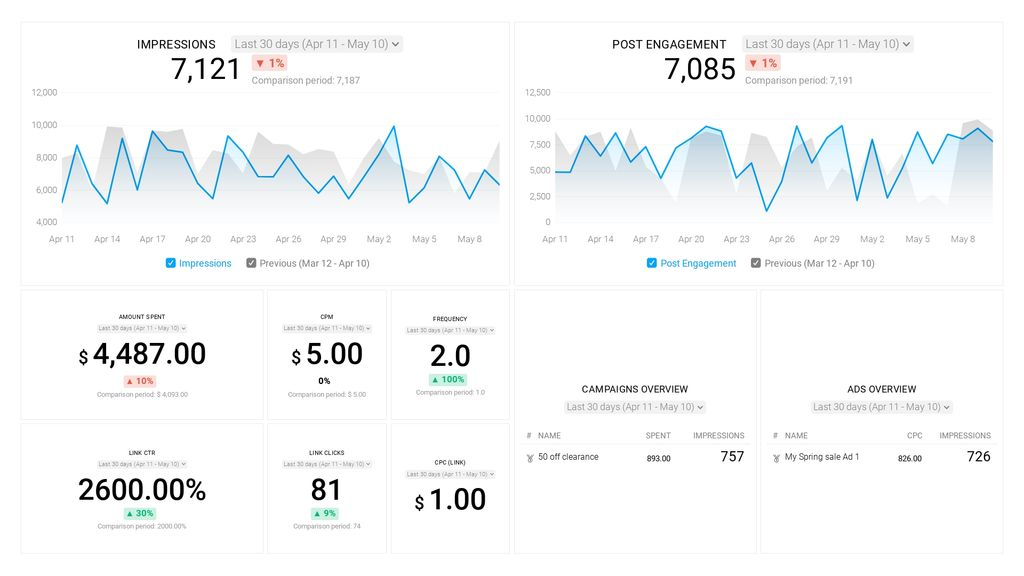 These metrics allow businesses to measure the success of their Facebook Ad campaigns and adjust their strategy accordingly for better results. Apparel businesses can identify areas for improvement, fine-tune their targeting, and optimize their ad spend for better ROI.
Nearly every mechanism of Facebook Ads can be optimized, which makes it attractively flexible for the fast differences from one clothing brand to another:
Don't like how much one particular demographic is seeing your ad? You can exclude them.
Noticing that 30-year-olds are responding to your ads better than younger audiences? You can tailor ads to suit the older crowd accordingly.
It's very much a plug-and-play ad system in that sense.
Dive Deeper: 10 Ways to Measure Social Media Engagement (Plus 7 Tools to Track It!)
A/B Testing and Optimization
Facebook has a convenient in-platform feature that allows advertisers to run measured A/B tests on their ads, enabling them to compare the performance of different Facebook Ad sets and optimize their campaigns for better results. This testing and optimization process allows businesses to tweak their advertising strategy and improve the effectiveness of their ads: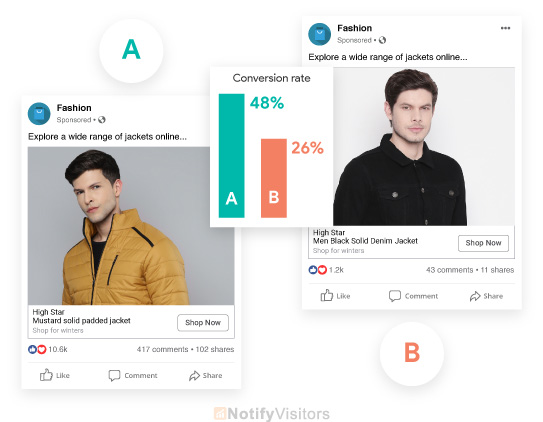 This is hugely useful for apparel brands since it encourages split testing of different Facebook Ad creatives to determine which attractive image content and ad copy resonate with your audience.
Narrowing down the ads to which ones perform best will inform the direction of future campaigns and improve reception much sooner.
Dive Deeper: 8 Facebook Ad Copywriting Tricks to Maximize Conversions
Mobile-Friendly Advertising
You must ensure your fashion Facebook ads are mobile-friendly. With over 98% of Facebook users accessing the platform via mobile devices, selling products on Facebook mobile ads is ideal for fashion brands.
Mobile-friendly advertising makes it easy for businesses to connect with their audience at any time and from anywhere, which is great for constantly reminding people about your unique selling proposition and ad copy: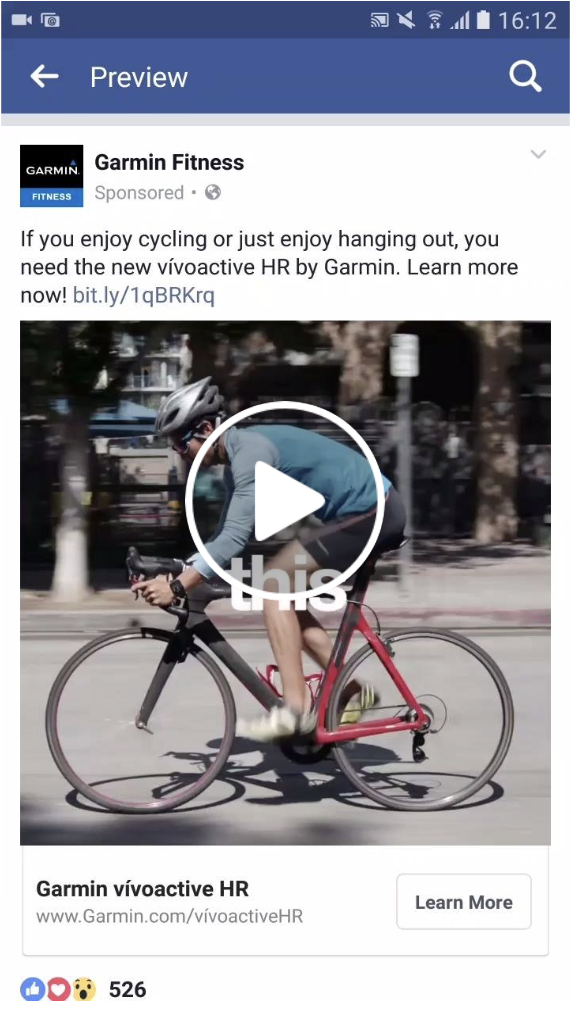 Dive Deeper: 11 Brands That Are Doing Mobile Advertising Right
Best Platform for Retargeting
Facebook's ad retargeting options let businesses target users who have previously engaged with their brand, whether it's by visiting their website or interacting with their Facebook page.
Retargeting is an effective way to reach out to prospects who have already shown an interest in your brand, making it easier to convert them into paying customers: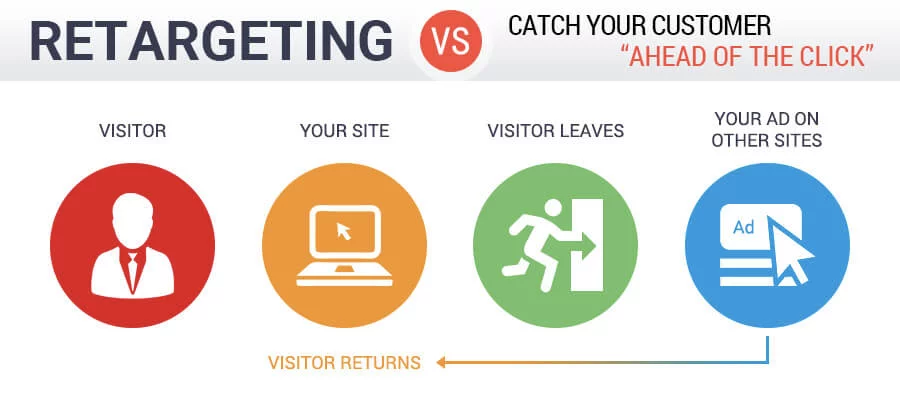 With proper data collection via Facebook's tracking Pixel, Facebook can be the perfect stage to deliver retargeting ads, following up on users' awareness of your brand from internal (Facebook) and external sources (other sites).
By retargeting these users with relevant ads, businesses can remind them of their brand, increase their brand exposure, and encourage them to purchase.
Dive Deeper: How to Easily Set Up a High-Conversion Facebook Retargeting Campaign
Easy to Create Facebook Ads
Creating and managing fashion Facebook ads is a straightforward process. Facebook provides businesses with a user-friendly interface to create ads quickly: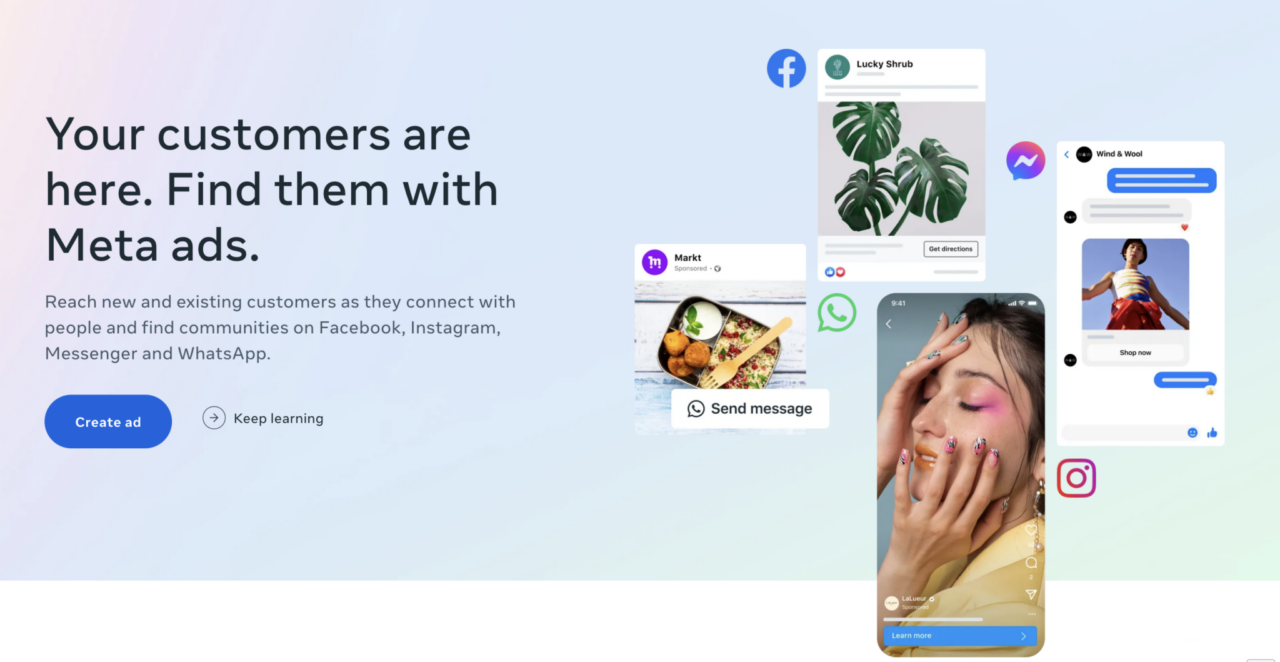 The platform also offers various tools and resources to help businesses optimize their advertising campaigns, such as the Facebook Pixel, which allows businesses to track user behavior on their website and use that data to optimize their advertising. This makes Facebook Ads a very agile solution to a constantly revolving selection of clothing.
Moreover, Facebook arms advertisers with access to analytics and insights, allowing them to track the performance of their ads and make informed decisions about their marketing strategy: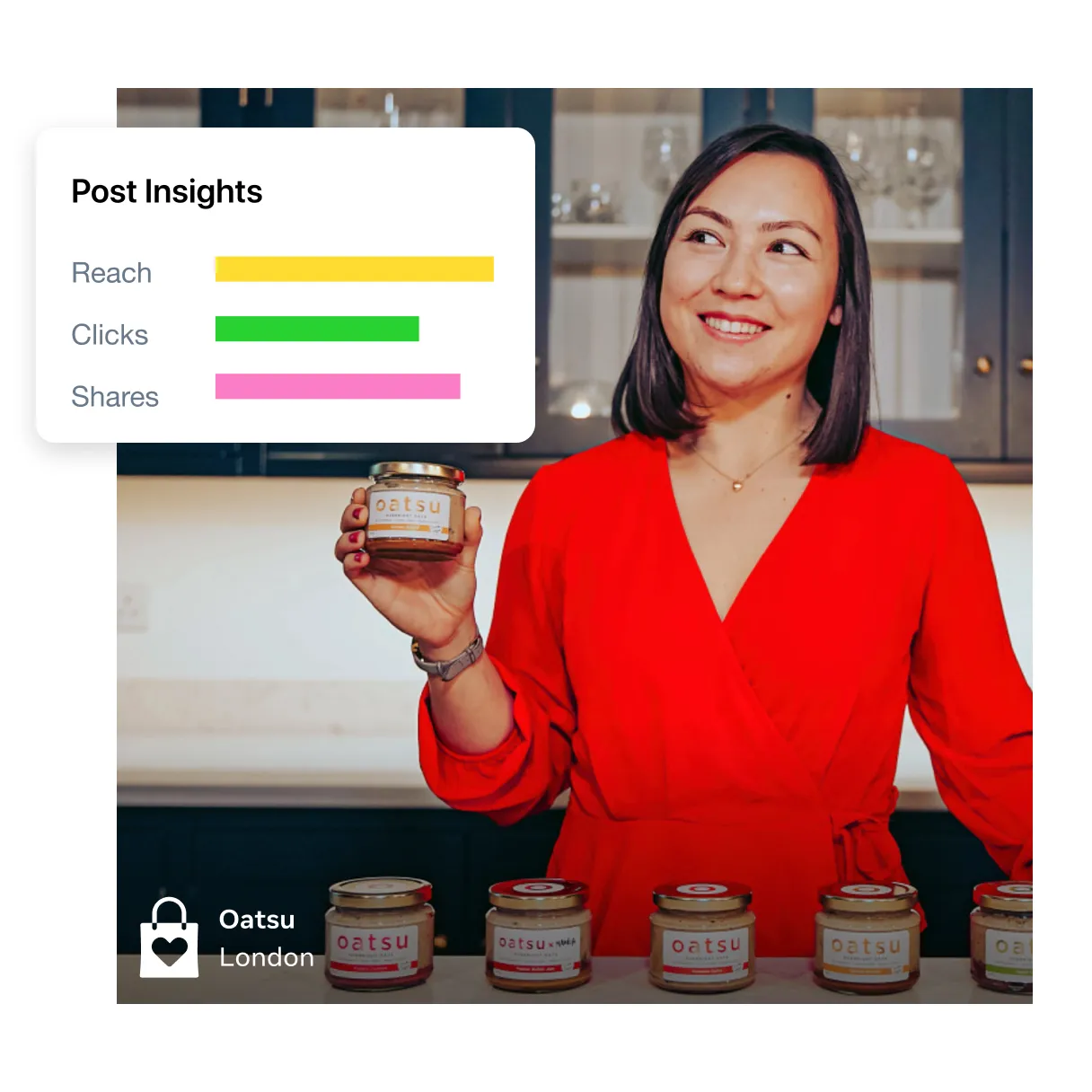 Dive Deeper: 22 Strategic Benefits of Facebook Ads and Their Applications
Multi-Stage Environment for the Purchase Journey
Fashion Facebook ads serve a variety of purposes for an online store, including:
Demand Generation: The brand creates demand for its product by convincing new customers they must have it.
Demand Capture: Targets customers who already know the brand and have a high purchase intent.
In-Market Demand Capture: The brand targets an audience who wants to buy something, such as a party dress or fashion accessories, but is not brand-loyal.
It's fitting (no pun intended!) for apparel brands to appear on social media for the purpose of connecting to people in various stages of the customer journey.
This approach is the most cost-effective way to acquire new customers if Facebook Ads are the only marketing investment. However, other brands and their agencies, specifically "legacy" brands, tend to focus on demand generation and demand capture due to their established awareness, celebrity ambassadors, physical stores, and other marketing activities.
It's important to note that small businesses and bootstrapped fashion brands cannot rely on mega-brands for advice. Agencies specializing in mega-brands may be ineffective for smaller businesses, and investing in them could be a waste of money spent.
For bootstrapped brands and those dependent on digital marketing, in-market demand capture should be the primary focus of your Facebook ad campaign.
If a brand cannot capture in-market demand profitably, then Facebook Ads may not be a viable growth channel.
Leveraging Social Proof for Trust
Remember that Facebook advertising is a social platform and an ideal place for clothing brands to showcase social evidence that their product lines are desirable and purchase-worthy.
Share customer testimonials and reviews on your Facebook Page as an ad to establish credibility and encourage potential customers to convert: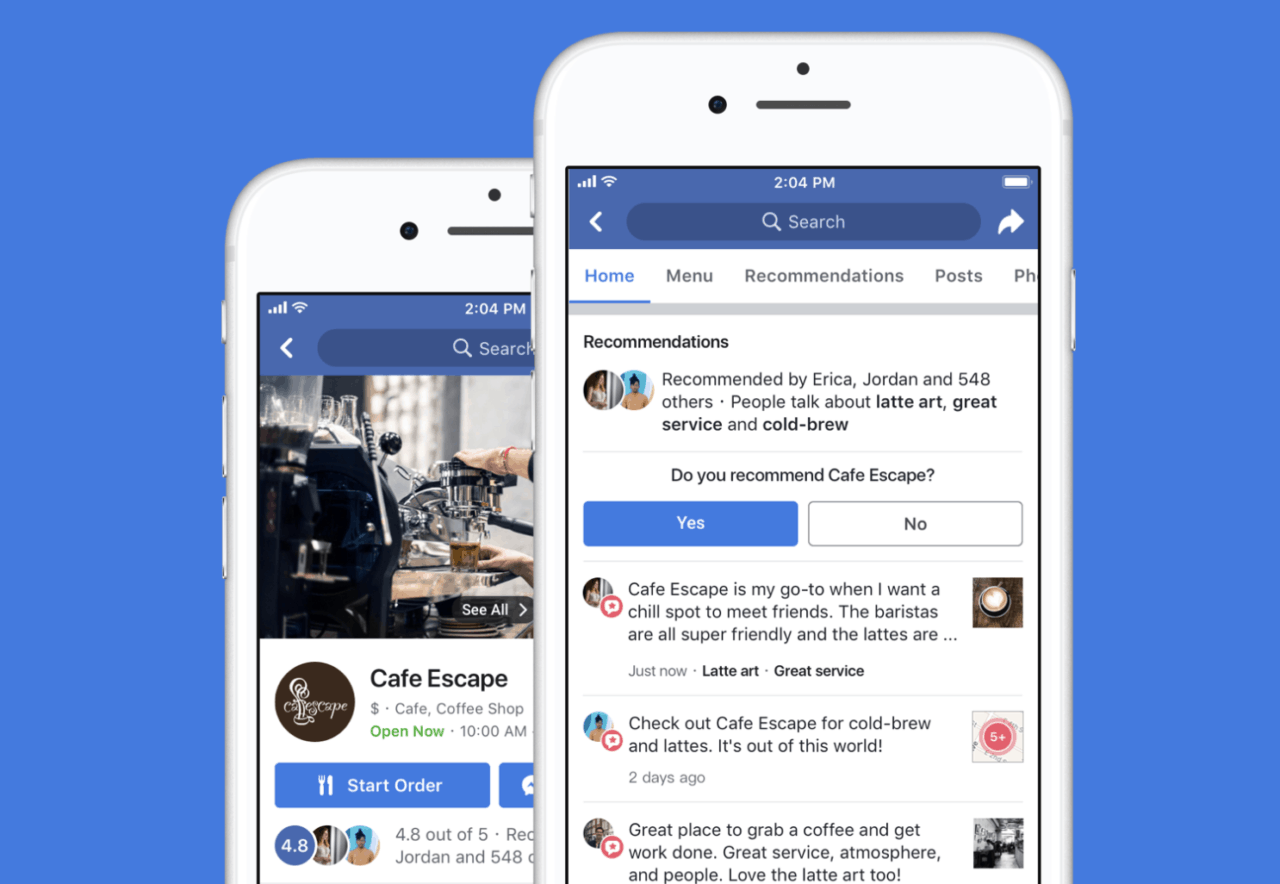 Amplifying Reach with User-Generated Content
Encouraging user-generated content is a powerful method for brands to establish credibility and build authority with their fashion ads: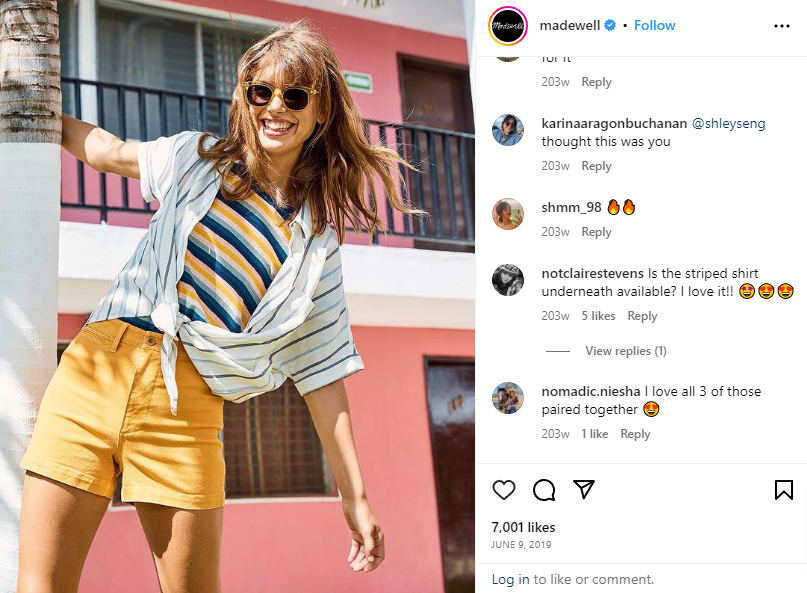 UGC refers to any original content created by a brand's customers, fans, or brand partners, such as product images, text-based reviews by fashion bloggers, haul videos, try-on video ads, or customers wearing your products that are shared on social media or other channels.
In other words, it's basically like a modern form of word-of-mouth marketing, and it's part of what can help brands differentiate themselves from their competitors and grab the attention of potential customers.
Prospects are often very motivated by the experiences and thoughts shared by repeat customers. Therefore, incorporating UGC into your apparel ads can be an easy way to create a trustworthy image and establish authority in a highly competitive market.
Dive Deeper: 8 Ways to Encourage More User-Generated Content (UGC)
Collaborating with Influencers for Wider Exposure
Influencers can fall under the category of producing UGC but can also be more closely tied to the advertising brand in a more robust and organized Facebook Ad campaign.
Your brand may have an idea of who might be a good fit to represent your brand, but if you're trying to discover who that might be for the first time, you'll want to do a little research first.
Rand Fishkin's SparkToro is a brilliant tool that helps advertisers detect:
Which social accounts their audience follows
What hashtags they're using
Frequently used phrases and buzzwords that appear in their comments and bios
Which websites they visit
Which podcasts they listen to
Which YouTube channels they subscribe to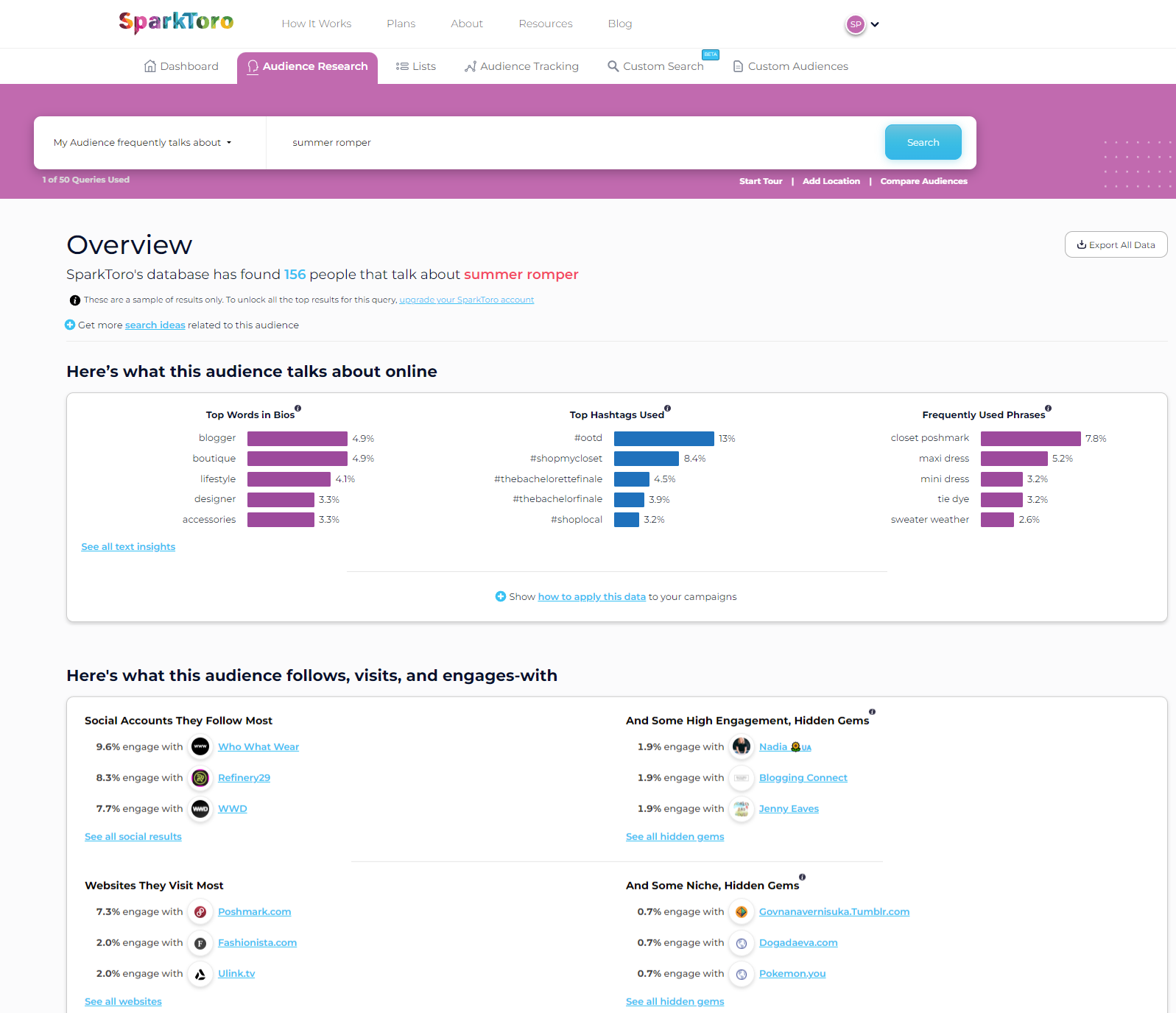 It can make a huge difference in helping you decide which internet personalities and content creators are the best options to pair with when devising ads for your brand. You'll want to ensure their behaviors, lifestyle, and conduct are congruent with your brand values when you decide who is eligible to attach your company's name to their content.
You may also like: How to Create Winning Snapchat Clothing Ads
Last Thoughts on Why You Should Invest in Facebook Ads for Clothing
Facebook ads for fashion brands are a must when looking to drive sales and establish their brand identity.
With their extensive reach, targeting capabilities, cost-effective pricing, and visual appeal, Facebook ads for clothing brands effectively to reach out to their target audience and advertise their value proposition.
Be dedicated to maintaining a consistent visual representation of your brand, keeping a unified tone and message. Pair with internet personalities that believe in your business, and foster a community that shares the passion for your apparel like you do.
If you're ready to get that edge over the competition with high ROAS Facebook Ads, Single Grain's Facebook Ads experts can help.👇
Facebook Clothing Ads FAQs
If you were unable to find the answer you've been looking for, do not hesitate to get in touch and ask us directly.