7 Tips to Improve Your Social Media Videos in 2023
A lot has also changed in the video marketing landscape. The COVID-19 pandemic forced most brands to turn to video content, notably on Facebook and Instagram:
Up to 15% of all Facebook content is solely video, and that number keeps rising every day.
On Instagram, brevity seems to be the answer as posts with 19 words or fewer bring the most engagement on the platform.
Trends show that video content, which was already expected to increase before the pandemic hit, will continue to rise steadily. Yes, budgets are strained, but smart brands will find a way to squeeze video marketing into their budgets. It's better to join them than get left behind and leave thousands of dollars on the table.
Dive Deeper: The Impact of Social Media on Business in 2023
7 Ways to Improve Your Social Media Videos in 2023
In this article, we will discuss seven ways to improve your social media videos.
1) Cross-Promote Your Videos on TikTok
When TikTok burst onto the scene in 2018, most brands thought it was a fad for tech-crazy Gen Z, so they ignored the platform. But 689 million users and 2 billion downloads later, businesses are taking notice, although some are still jittery about going all in on the channel.
Take advantage of this hot platform and cross-promote your videos across TikTok. (And while you are at it, get a head start and rope in the TikTok wannabes like Triller and Instagram Reels!)
TikTok is perfect for video cross-promotion because it's:
Short and sweet: Since videos are only 60 seconds or fewer, it doesn't take a lot of time to give the medium a try. A minute is just enough to intrigue your audience.
Fun: TikTok is an entertainment platform where people like to dance and have fun. Join in the fun with humorous content that still meets your business goals.
High engagement rate:

According to the Influencer Marketing Hub,

TikTok has the

highest social media engagement rates

per post in contrast to Instagram and Twitter: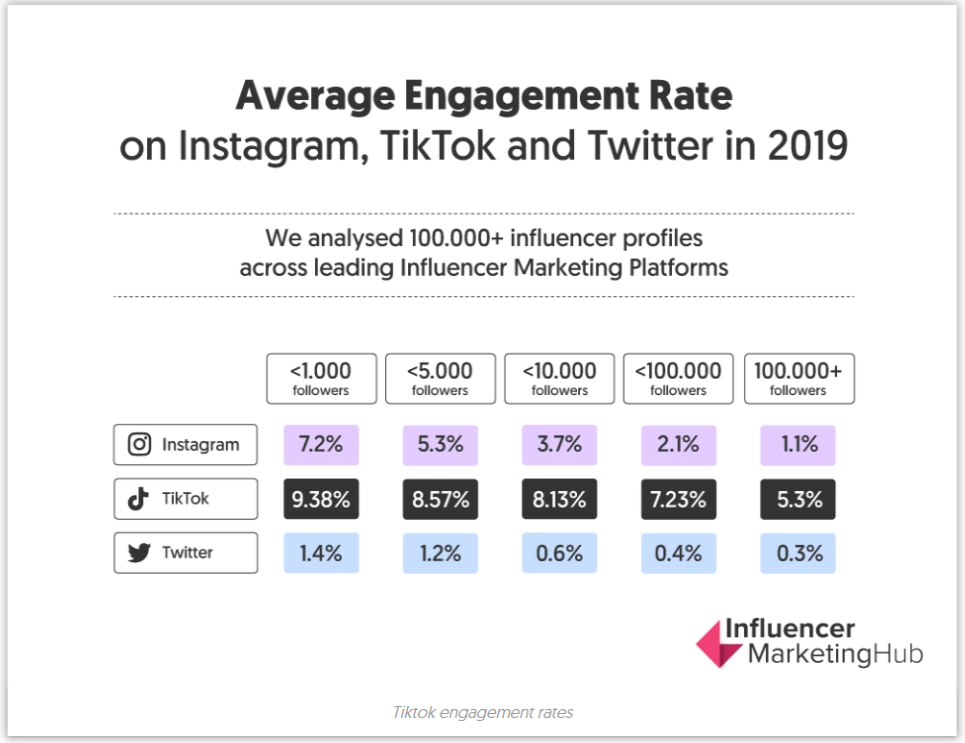 To get maximum value from the platform, invest in the right tools to embellish your videos. Beatleap helps you quickly create professional-looking brand videos using your own footage that sync to the music of your choice, with the option to add transition and glitch effects.
People spend close to an hour on TikTok per day, so the platform is definitely worth a shot.
Dive Deeper: TikTok Marketing: How to Get Started with Ads on This Platform
2) Host Full-Featured Virtual Conferences on Next-Gen Platforms
If you aren't taking advantage of the power of online events this year, you are missing a massive growth opportunity.
No, I'm not just talking about webinars. Most brands hastily turned to them because of the COVID-19 work restrictions, but because of the sudden influx of webinars, they're now overdone. Recent studies show that 53% of people feel that there are too many webinars being conducted nowadays: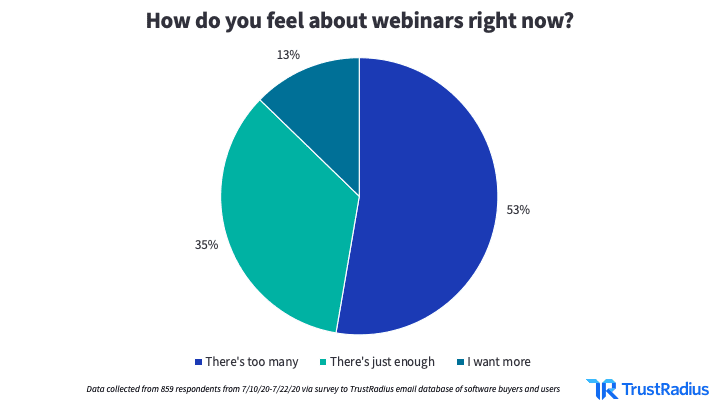 Given this negative sentiment towards the once-trusted, highly engaging webinars, what's a marketer to do? Go a few notches higher.
Host full-blown virtual conferences instead of just webinars. No, virtual conferences aren't new, but if you host them on next-gen platforms, you take them to a new level since they feel similar to attending an actual, in-person conference.
Through using next-gen online events platforms like Hopin, your virtual conferences can provide richer experiences for attendees by including:
Side sessions: Run mini-sessions alongside the main one — let attendees assemble around online round tables and engage with each other.
One-on-one networking: Pair people up so they have deep one-on-one conversations via video as they would during an in-person event.
Booths: Design a cyberspace booth using prerecorded or live videos to showcase your (or participants') products or services in your exhibition hall.
Sounds like a live face-to-face event, doesn't it? That's the power of next-gen online event platforms. Since this is an emerging trend, becoming an early adopter can help you surge ahead of your competitors.
3) Make Your Videos Shoppable
It's 2021, so move over humdrum static videos and welcome captivating shoppable videos! All indications show that shoppable videos will reign supreme on social channels from now on.
Shoppable videos are interactive videos that enable users to buy straight from the content itself. People don't have to go through the hassle of clicking through to a website or an online store to complete a purchase. They can start and finish the whole transaction on social media.
Besides buying, viewers can also click, drag or scroll on the video for a deeply immersive experience. Making a shoppable video isn't difficult. You just have to find the right tool to edit your video to insert a call-to-action button.
Here's a great example of how a shoppable video can look in practice:
Using shoppable video makes sense because it allows you to:
Engage viewers better: Interactive videos are more captivating than fixed ones. The reason is simple: when people become active participants, not passive onlookers, engagement increases.
Merge content with commerce: Usually, content primes people for the sale that may take place elsewhere. Not so with shoppable videos. Users can consume delightful content and shop in one place.
Dovetail into mobile e-commerce: Shoppable videos fit perfectly into the rise of mobile devices as an e-commerce tool. Mobile purchases will reach $3.56 trillion in 2023 as people become more comfortable shopping via mobile devices.
There are many video promotional tools to help you fine-tune and promote your shoppable videos more effectively.
Dive Deeper:
* What Is Live Stream Shopping?
* 42 Digital Marketing Trends You Can't Ignore in 2023
* The Power of Social Shopping on Instagram (and How to Sell More in 2023)

4) Collaborate with Creators Who Wield Nano-Influence 
Micro-influencers are so 2020!
What comes to mind when you hear the term influencer marketing? Most likely it's a celebrity with millions of social media followers. Let's be honest, with famous personalities charging up to $1 million per post, how many brands can afford them? Besides, some of them aren't a good fit, anyway. A better opportunity lies elsewhere.
Micro-influencers aren't the answer as many believe. A recent report by Talking Influence revealed nano-influencers, who are a rung lower than micro-influencers, were the most sought-after influencers in the past 12 months, with 76% of marketers having worked with one during the period.
In case you are wondering, nano-influencers are content creators with 1K-5K followers. Here's why collaborating with nano-influencers is a smart move:
Niche voices: Unlike mega-influencers who ride on fluffy fame, nano-influencers are truly respected niche leaders. Their followers hold their voices and expertise in high regard.
Higher engagement: Because they are subject matter experts, their audience is more likely to act on their recommendations and suggestions. Higher engagement levels mean higher returns on your investment. Data shows the macro-influencer engagement rate hovers at a mere 1.1% while that of nano-influencers can go as high as 7.2%.
Affordable: Nano-influencers charge pocket-friendly prices. Research conducted by eMarketer revealed that nano-influencers charge only $114 per video post on Instagram and $315 per YouTube video. The low-price/high-engagement combination means that you get the best value for your money. Although you have to partner with several influencers to see tangible results, it's still way cheaper than hiring celebrities or macro-influencers.
As you can see in the example below, MAC Cosmetics often works with Patty Bailes, who has under 7,000 followers on Instagram: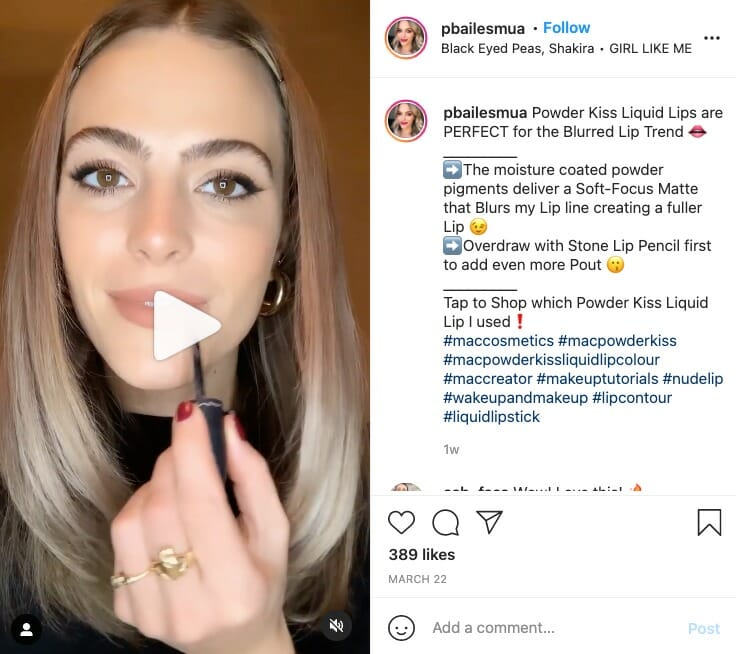 Of all the social channels used by influencers, Instagram is the hottest right now. Studies show a massive 92% of influencers prefer Instagram to the rest of the social media platforms. Partner with nano-influencers there, and position yourself for future growth. (Here's some information on how to get the most out of working with influencers.)
Dive Deeper:
* 9 Influencer Marketing Trends You Can't Ignore in 2023
* 84 Influencer Marketing Statistics for 2023 [Infographic]
* The Ultimate Guide to Growing Your Business with Influencer Marketing

5) Use Facebook Collabs Manager to Promote Creators' Posts
Want to collaborate with an influencer to promote your brand? To put your influencer marketing budget to good use and promote the content, use the new Facebook Brand Collabs Manager feature: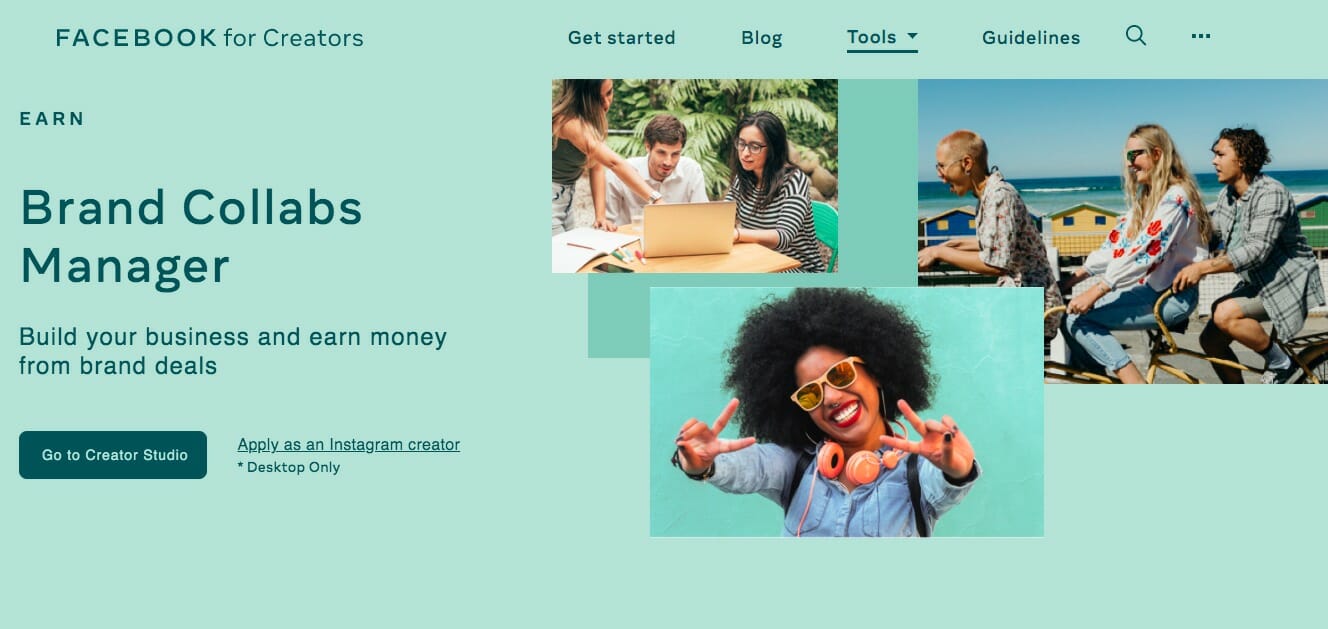 Introduced in 2018, this handy feature allows you to:
Spell out the audience you want to reach.
Link up with influencers whose audience resembles yours.
Create a personalized content creator list of favorite content influencers you've worked with before or those you'd like to partner with.
Draw up detailed project briefs so influencers can apply to collaborate with you.
A key feature of the influencer discovery platform is that you can search for influencers to work with. No, not a blind search but a smart guided search based on your preferred requirements, including these four crucial factors:
Followers: You can choose the follower threshold you want your proposed content creator to meet. After all, you want to increase your brand's reach, right? This metric also shows you the number of followers lost or gained by the creator.
Creator Engagement Rate: A huge number of followers disinterested in the creator's posts isn't helpful. You want an influencer with a high engagement rate. People who react, click, comment, or share the creator's posts or videos.
Views per video: This is the average number of the creator's live or on-demand videos watched for a minimum of three seconds.
Audience insights: details about the creator's audience including gender, age, top countries, top cities, top languages, or top regions.
Here's an example: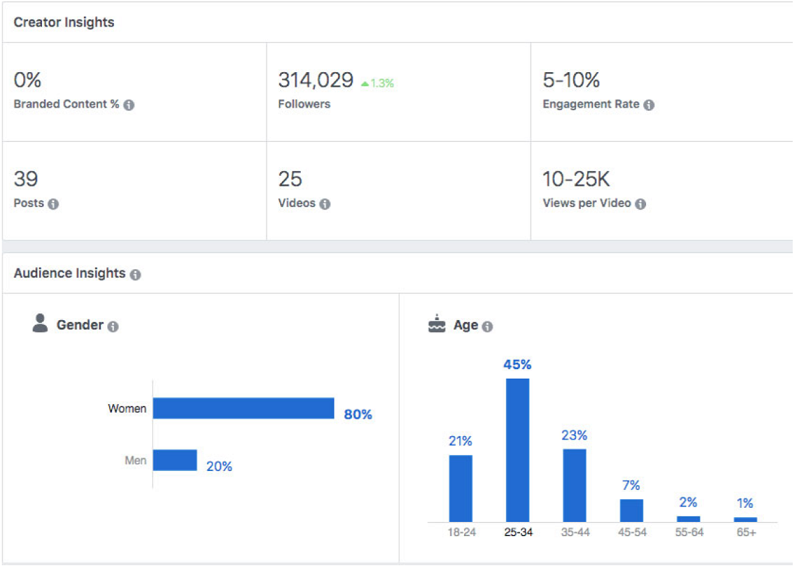 Then, once you create a successful Facebook ad that receives a lot of engagement, you want to transfer that social proof onto a new Facebook ad, so your branded content and ads gain traction.
6) Record and Repurpose Mastermind Calls with Internal Subject Matter Experts
Mastermind groups are a popular strategy that business owners and entrepreneurs use to learn from each other's expertise for mutual benefit and peer-to-peer inspiration. However, the excellent groups are costly.
But you can leverage the power of masterminds without paying a dime. How? By having mastermind sessions with internal subject matter experts. These are specialists already on your payroll so you don't have to pay extra to tap into their reservoir of knowledge and share it with your audience.
Record mastermind calls and conversations with your internal subject matter experts and use Zoom add-on apps or any video editing tool to edit, transcribe and repurpose them for your audience:
With a collaboration tool like Clipwise you can:
Collaborate with team members
Auto-send vital video clips to Slack (with explanations)
Enhance Zoom recordings with CRM and calendar data
Pick short, fascinating moments from your calls to share on your social channels. To choose relevant mastermind topics that will resonate with your audience and maximize engagement, target hot topics that your audience is already talking about.
Dive Deeper: Why Joining Multiple Mastermind Groups Will 10X Your Business
7) Create Video Clips to Promote Your Podcasts and Other Multimedia Content
There's no doubt that podcasting has gone mainstream. More and more companies have launched podcast channels to promote their products and services, and people have become comfortable with the medium. 
Stats from Podcast Insights show that the popularity of podcasts is on an upward trajectory: 75% of Americans say they understand the term "podcasting," a 5% increase from last year.
So you've got a podcast hosting provider, an expensive microphone, and a sweet setup. But what use is a podcast channel with no listeners? That's where social media comes in because you can use it to boost your listener numbers.
You can make riveting video clips from podcast episodes to market your brand. To start, focus on podcast episodes that have struck the right chords with your listeners. Such content is likely to take off on another platform because it's already proven to be of interest. Dig into your analytics to unearth those popular gems.
Also, go over the episode you want to promote and identify the memorable moments and build your social promotion clips around them:
To turn your podcast audio clip into an animated promotional video, use a tool like Wavve. Such software allows you to:
Include pre-designed and easily customizable animations
Share videos on all social platforms that accept video
Resize your posts automatically to fit the preferred dimensions of any social platform, e.g. horizontal posts for YouTube and LinkedIn, square posts for Instagram and Facebook, or vertical posts for Instagram Stories and Snapchat
Auto-transcribe your audio to make inserting captions into your videos a cakewalk
Conclusion
Make no mistake about it — social media videos are on the rise. They are not a craze that'll soon disappear and be replaced by another flashy but temporary marketing tactic. To stay ahead of the curve, add social media videos into your marketing mix if you haven't done so yet. If you already have, work on optimizing and scaling them. The results may surprise you.