If I told you that you can advertise on TV with a budget of $500, you might not believe me. You would say that it's not possible because TV ads start at $20,000 at least. Well, that's not the case with Hulu.
Hulu advertising costs are roughly the equivalent budget you use for your social media or Google Ads campaign. And it's on a big TV screen! You can start your ad campaigns with the minimum campaign budget and pour in more money once you are happy with the investment.
In this article, I will cover the basics of Hulu advertising 101 to help you understand how Hulu ads work and how you can create and run ads using the Hulu Ads Manager.
Let's begin!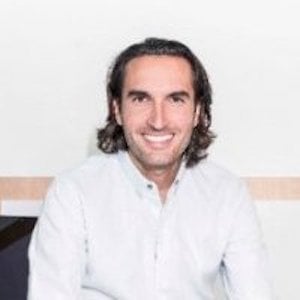 Yaniv Masjedi

CMO, Nextiva

Their expertise has helped Nextiva grow its brand and overall business
What Is Hulu?
Hulu is an American video streaming platform owned by the Walt Disney Company. It offers both live and on-demand TV and movies. Launched in 2008, Hulu is the only service that offers access to every major U.S. broadcast network.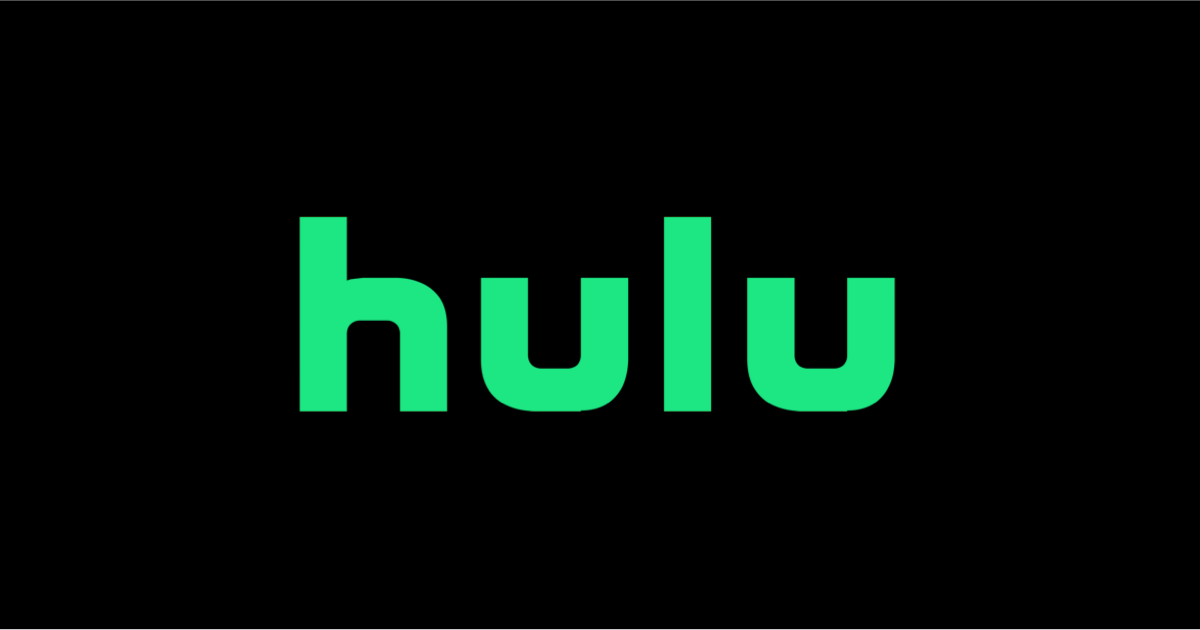 Hulu offers viewers the choice to watch videos with or without advertising. The ad-supported plan costs $5.99 a month, while the non-ad-supported plan costs $11.99 a month.
Hulu subscribers also have the option to download selected movies and shows, while live TV subscribers can get access to additional features like Cloud DVR.
Hulu User Base
As of March 31, 2021, Hulu had an outstanding paying subscriber base of 41.6 million and around 100 million total viewers: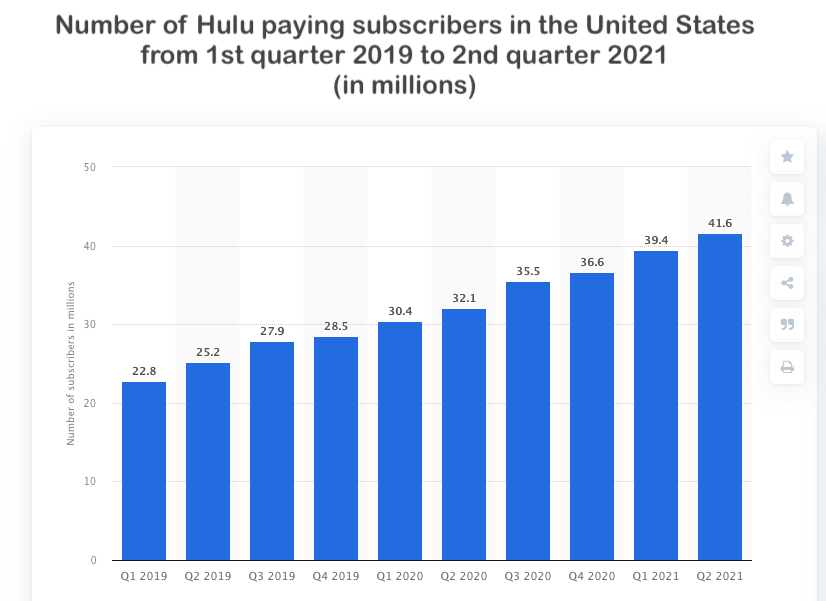 The user base of Hulu is expected to reach over 115 million by 2024.
Although Hulu offers ad-free plans, 70% of users are on the cheaper ad-supported plan – which means this is a great opportunity for businesses to reach an enormous base of TV streaming audiences.
What Is a Streaming TV Advertisement?
Streaming TV ads are new for advertisers. The most popular streaming TV platforms are Netflix, Hulu, Sling, Crackle, Tubi and Xumo. These platforms are known as Over The Top (OTT) streaming platforms, which means they run on connected TVs (CTVs) such as smart TVs and gaming consoles, as well as on devices like desktops, laptops or mobile phones.
Therefore, streaming TV advertising lets you reach viewers on all sorts of different devices, whether viewers are at home or on the move. It is a powerful mode of advertisement that you can use to target audiences based on interests and behaviors.
Streaming TV ads are better than linear TV ads because the latter is based on Television Rating Points (TRP) which is not enough data to specifically target users. Streaming TV lets you target users of a particular demographic or in a specific location. There was a 330% growth in programmatic OTT/CTV advertising (i.e. streaming TV ads) in 2019, which has continued to grow sharply.
What Is Generation Stream?
You've already heard about Generation X, Y and Z. But have you heard about Generation Stream?
Generation Stream is a new group of people not categorized by age, race or gender, but rather connected by streaming.
According to Hulu, Generation Stream is a group of people who are "young, affluent, driven, always connected, content curators, and early adopters. Generation Stream is more trendsetting: they are more likely to be open-minded, pop-culture influenced, and politically engaged."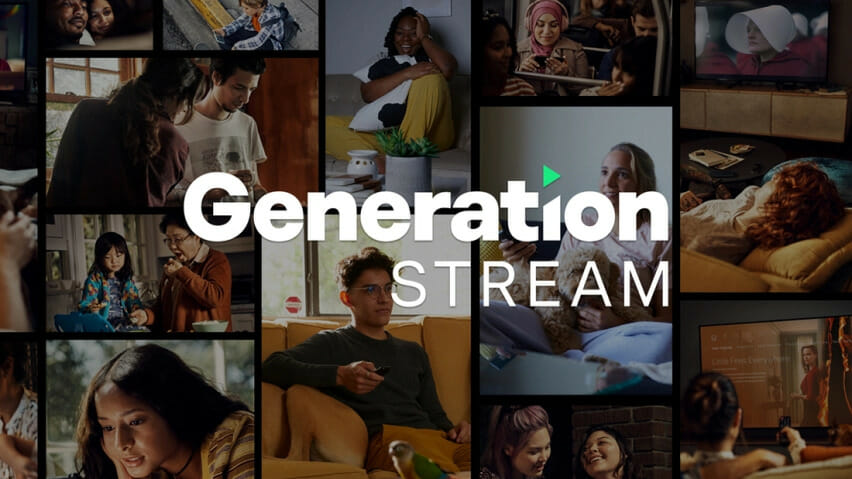 Here's another interesting stat that will make you realize the power of streaming TV advertising: A Hulu survey found that "91% of Generation Stream would give up their music streaming service, their social media, their favorite food, favorite fashion item, and favorite brand before they gave up their video streaming service. In fact, the only thing other than video streaming, they aren't willing to give up is their hair."
Now that you have a better idea what streaming TV ads are and the benefits of Hulu as a streaming TV ad platform, let's discuss the different ad options that Hulu offers.
Related Content:
* Spotify Ads 101: How to Run Successful Audio and Video Ads
* How to Launch a TikTok Ads Campaign for E-commerce
* How to Scale Your E-commerce Traffic Acquisition with Native Advertising

Types of Ads That You Can Run on Hulu
Hulu offers different types of ad choices to target viewers in a relevant manner. You can pick an ad option depending on your campaign needs and budget.
Here are the top ad choices available on Hulu:
1) Standard Video Ads
Standard video ads appear as a commercial break during the streaming of any of Hulu's full episodes. Such ads can also appear as a pre-roll for clips hosted on distribution partners of Hulu or as companion banners.
Here is an example of a standard video ad: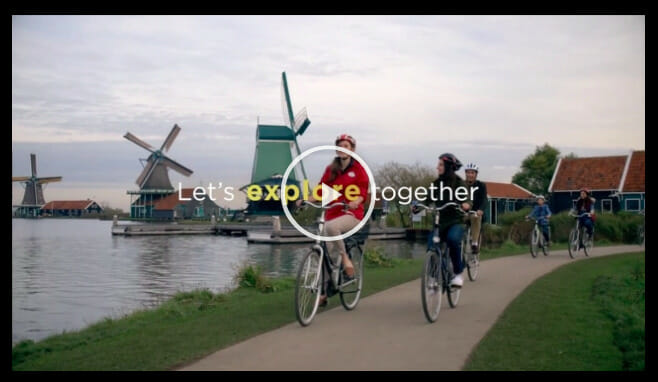 2) Branded Slate Ads
Ads that are shown before the show begins are included under branded slate ads. There are two types of branded slate ads: 
Branded slate offers a 7-second clip of your brand logo that says "the following program is brought to you with limited commercial interruption by <advertiser name>".
Premium branded slate lets you add a 5-second video clip of your ad along with the standard custom title card used in the branded slate.
Here is an example of a branded slate ad: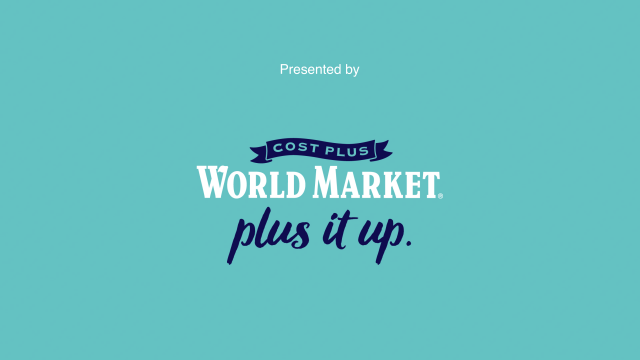 3) Branded Entertainment Selector Ads
Branded Entertainment Selector (BES) helps viewers select the length of the commercials they are interested in watching. For instance, users can choose between long-form commercials and short commercials.
Here is an example of a BES ad from Adidas: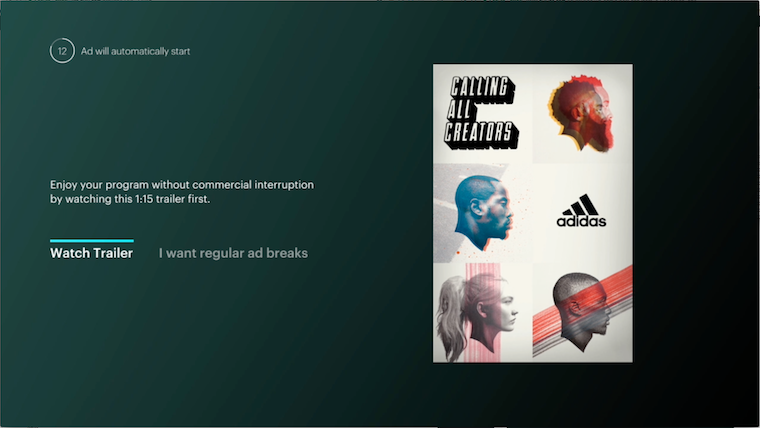 4) Ad Selector
Ad selector lets the advertiser offer users 2-3 options. The user can select any one of the options and, based on the selection, video advertising plays during the entire show.
For instance, if an automobile advertiser offers the user a choice between a truck, SUV or Coupe, and the user chooses SUV, then, SUV-related ads are shown during the show.
Here is an example of Ad selector from Hyundai Genesis: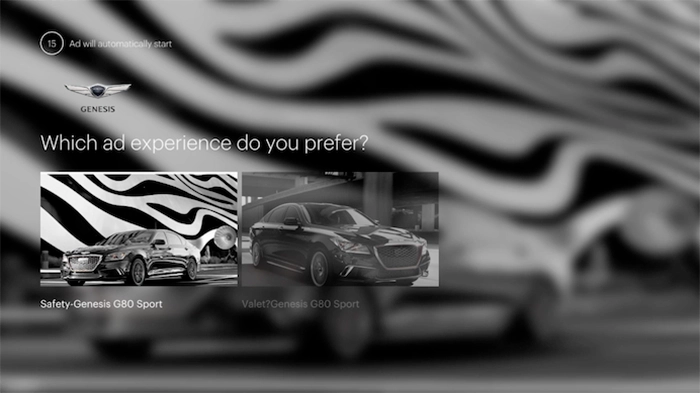 Therefore, under this ad choice, users can select ads based on their area of interest, giving advertisers the maximum chance of providing relevant branding.
5) Binge Ads
Binge ads let advertisers deliver contextually relevant messages to the audience during a viewer's binge session. These ads help businesses to engage with audiences in a non-disruptive way.
Binge ads are for viewers who have watched three or more shows of the same series. Brands like Kellogg's and Maker's Mark are already using Binge Ads to reach viewers.
Here is an example of a Binge ad from Kellogg's cheez-It: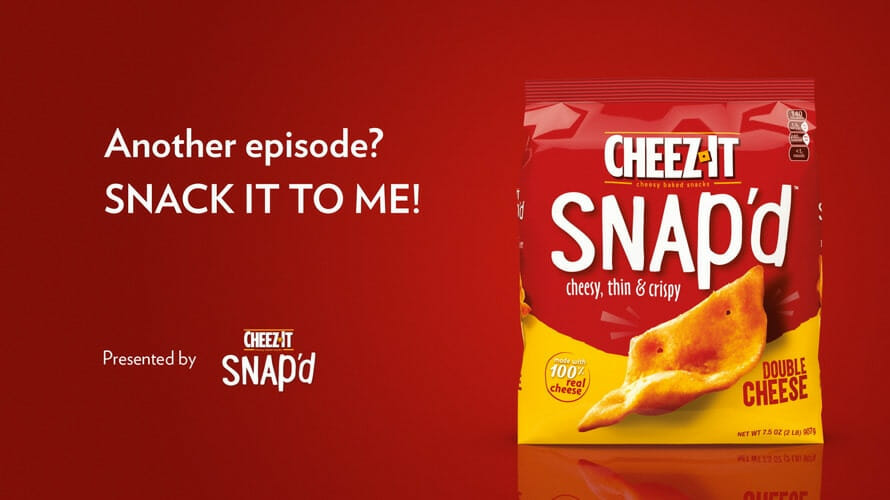 6) Cover Story Brand Placement Ads
The cover story brand placement is for premium clients who have a large advertising budget (over $100,000). In cover story brand placement, the advertiser gets the opportunity to integrate their branding with Hulu's homepage.
Here is an example of a Cover Story Brand Placement ad: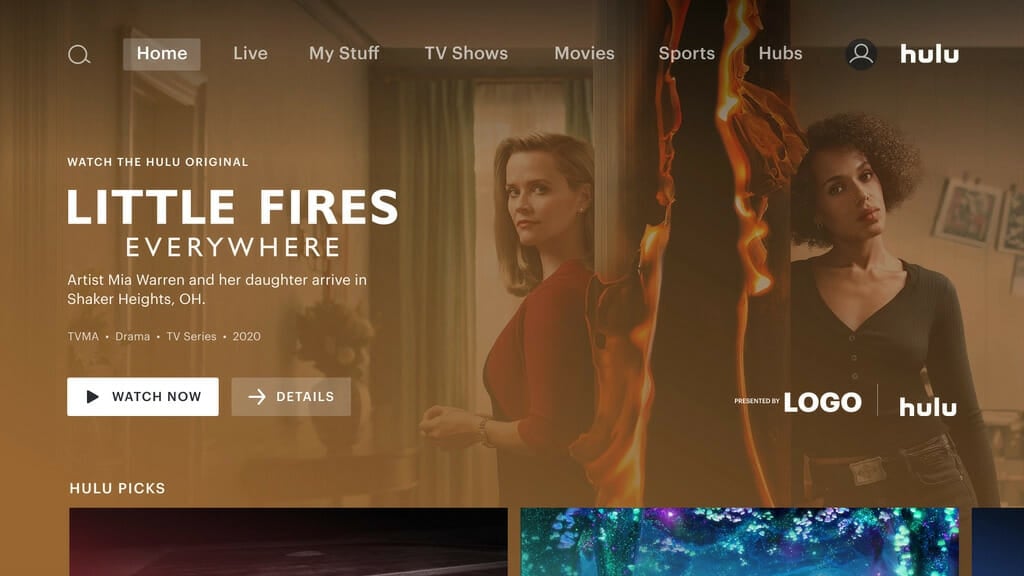 7) GatewayGo Ads
The different forms of Hulu ads that we have discussed until now are all branding oriented. But GatewayGo is an action-oriented ad placement option where the brands get a chance to shift conversion goals from streaming TV to mobile devices.
These ads leverage technologies such as QR codes and push notifications to inspire audiences to take immediate actions.
Here is an example of a GatewayGo ad from Smile Direct Club: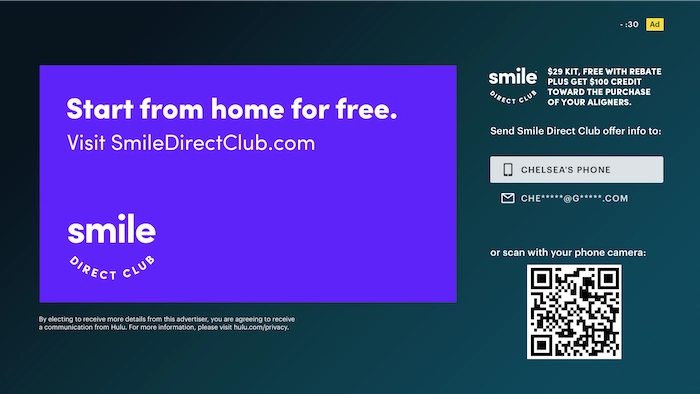 8) Interactive Living Room Ads
Selected advertisers get the opportunity to display their products via interactive living room ads. These are full-screen ads that inform viewers about the brand's latest products and services.
Here is an example of an interactive living room ad from Coco Cay: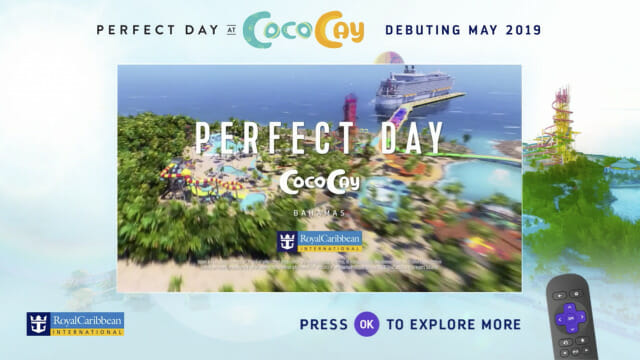 Note: You need to contact your Hulu sales representative to get started with interactive living room ads.
9) Pause Ads
Pause ads are displayed when the viewer presses pause when watching the content. It offers a non-intrusive user-initiated ad experience. The ad gets displayed at the bottom right side of the screen and allows advertisers to own a positive viewer experience.
Here is an example of a Pause ad in action: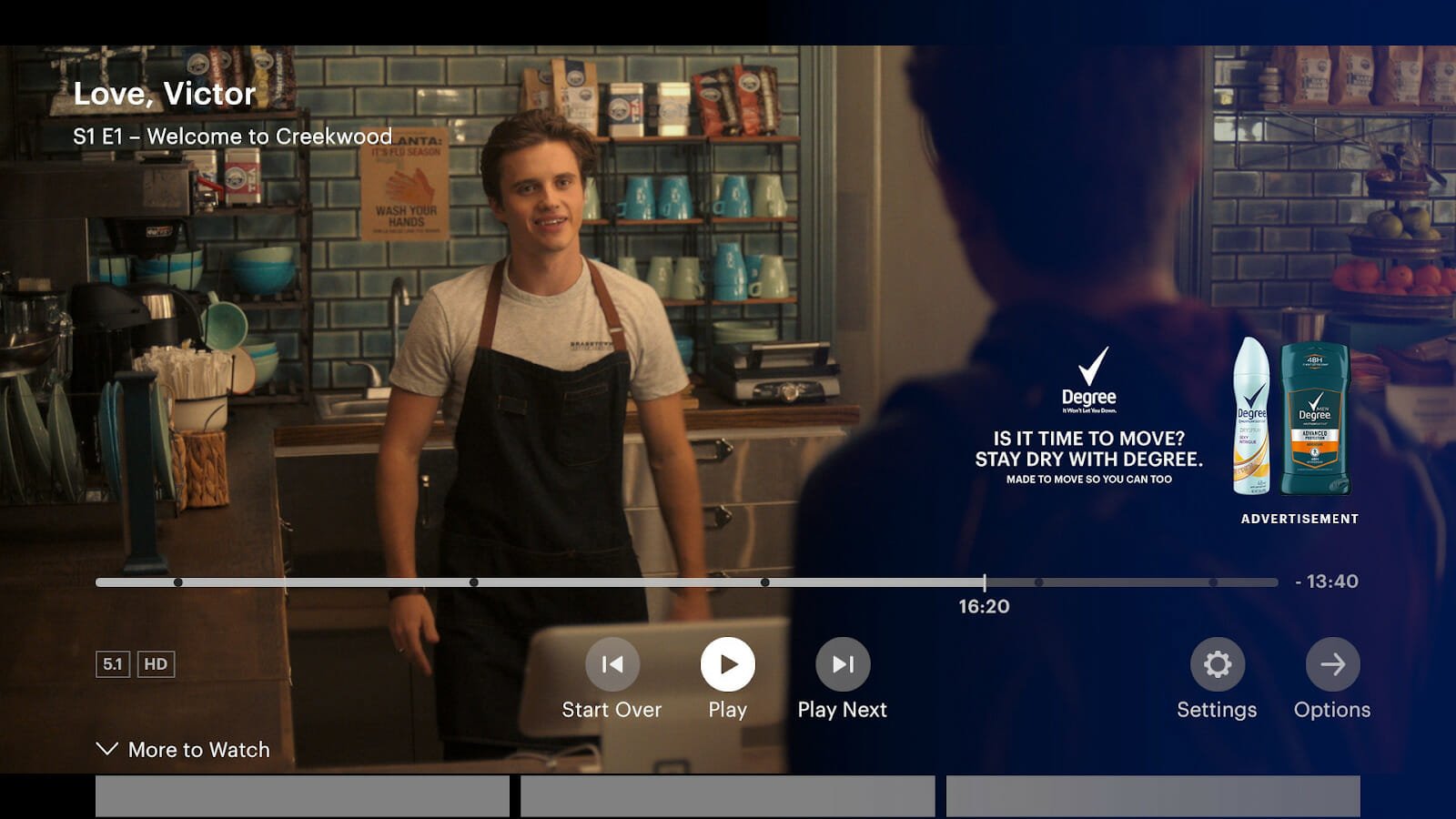 10) Promoted Content Marquee Ads
Promoted content marquee ads are for entertainment businesses who are looking to promote their new series premiere. These ads mimic the look of the Hulu UI design of full-length feature films or episodes.
Here is an example of a promoted content marquee ad for the show "Grown-ish":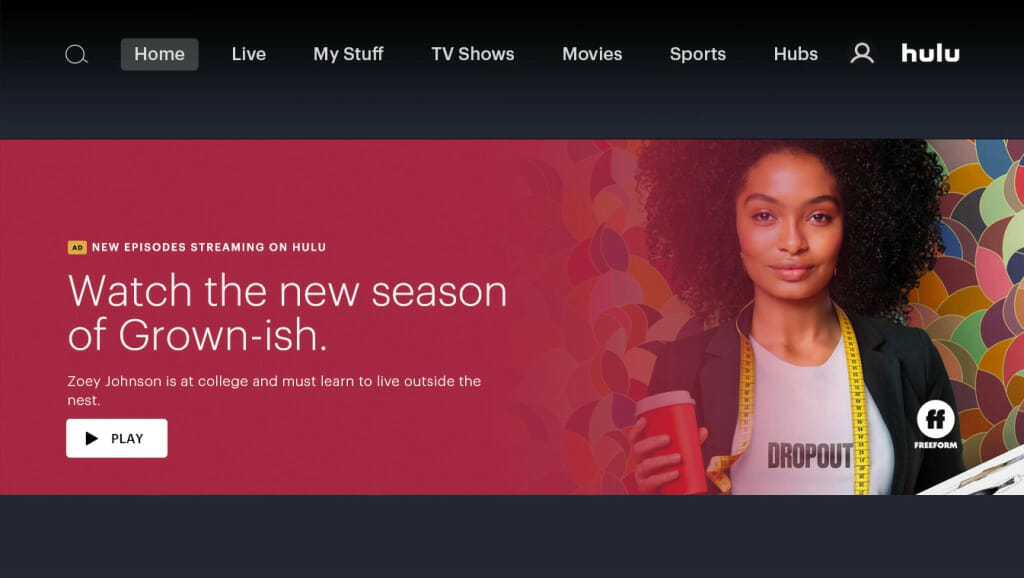 11) Sponsored Collection Brand Placement Ads
Sponsored collection brand placement lets advertisers display their logo adjacent to a collection of shows in Hulu's UI across devices. The creative requirement consists of only a primary logo of the business and, hence, these ads are easier to run.
Here is an example of a sponsored collection brand placement ad: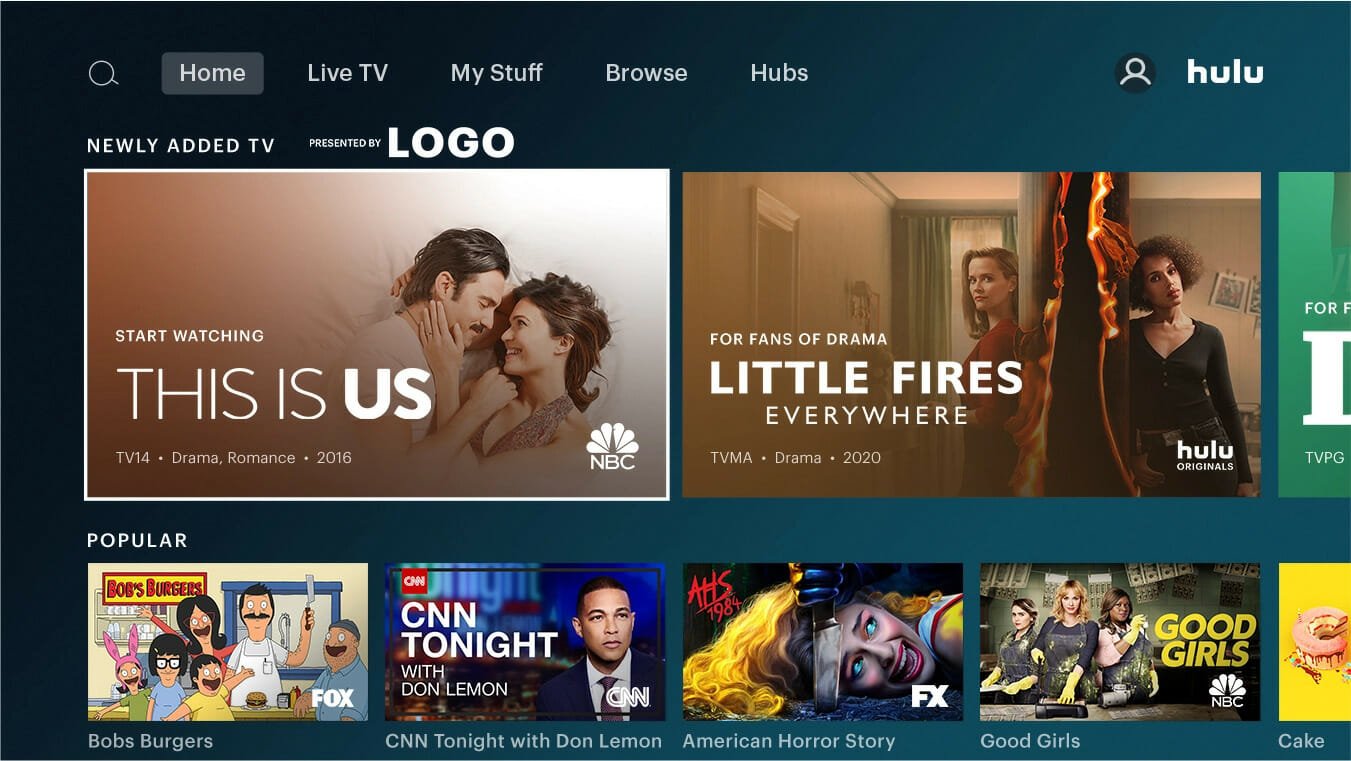 How to Run Hulu Ads
Before you start your ad campaign on Hulu, you have to understand your ad objectives and the type of ad category you wish to select for your campaign. You should have your video production team ready to go.
Here are the steps to follow to run your Hulu ads campaign:
Step 1: Select Your Ad Options
The first step is selecting your ad option. The types of ad formats that we discussed in the previous section fall under three major categories:
A) Action with Broad Appeal or National Local Ad Campaigns
These campaigns let you reach audiences specific to a location or a combination of locations.
With the National Local Ad campaign, you can target audiences by interests, behaviors, demographics and locations. You can also create custom audiences as you do in your Facebook ads campaign.
If you are looking to reach prospects in a particular location, you can enter the zip code of the place you wish to run your ads.
When Should You Choose a National Local Ads Campaign?
You have a minimum advertising budget of $30,000 or higher.
You are looking to reach people within a specific zip code.
You have a video production team, or you can afford to hire a result-oriented video production company to create your video ads according to the technical specifications.
B) Premium Programmatic Advanced TV Campaigns
These campaigns leverage data to reach audiences based on behavior. For instance, you can reach custom lookalike audiences using your CRM data and data from Hulu's premium inventory.
Premium Programmatic campaigns combine data and marketing automation power to drive the best results for your ads. With this option, you can leverage data from Hulu's network for audience CRM matching, create lookalike audiences, or segment audiences based on their behaviors.
The word "premium" indicates an invite-only auction where you can buy premium inventory from Hulu, select your target audience, determine your bid and optimize your campaigns in real-time.
When Should You Choose Premium Programmatic Advanced Ads Campaign?
You have a minimum advertising budget of $30,000 – $100,000 or more.
You are looking to use the premium Hulu inventory to understand buyer behavior.
You are looking to expand your brand reach on several locations.
You have a team of video creation and editing experts, or you have the budget to collaborate with a high-end video production company.
Related Content:
* Best Advertising Agency: Top 10 Choices for 2023
* Best Programmatic Advertising Agency: Top 6 Choices for 2023

C) Self-Service Solution Using The Hulu Ad Manager
Hulu Ads Manager is a self-service advertising platform feature that allows you to reach thousands of potential customers for a minimum of $500. This recently launched ad option is a boon for small to medium businesses. The self-service ad option has given small businesses looking to leverage streaming TV advertising the power to reach viewers on the large screen.
Note: This product is still in Beta, so you have to fill out a form with your business details to get started.
In the words of Matt Koontz, Director of Product Management, Hulu:
"While we enjoy collaborating with the top 200 brands in the US, we also want to accommodate smaller companies with more modest budgets. So, we built a simple ad buying toolset that lets us substantially lower the budget required to get started advertising on our platform."
When Should You Choose a Self-Service Ads Manager?
You have a minimum advertising budget of $500.
You are looking to try the streaming TV ads platform to understand the buying behavior of Generation Stream.
You have a modest budget for preparing short videos for your ads.
You should carefully decide your ad category based on your business needs.
Step 2: Contact Hulu Representatives
Once you have chosen the ad format of your choice, the next step is contacting the Hulu representatives. A Hulu ads manager assists every ad campaign.
For options 1 and 2 in the step above, you need to fill out a form asking for your campaign budget.
For option 3, you need to fill out the RSVP for Hulu Ad Manager form that asks for details like your name, business name, business phone, business address, who you will buy ads for, and other information: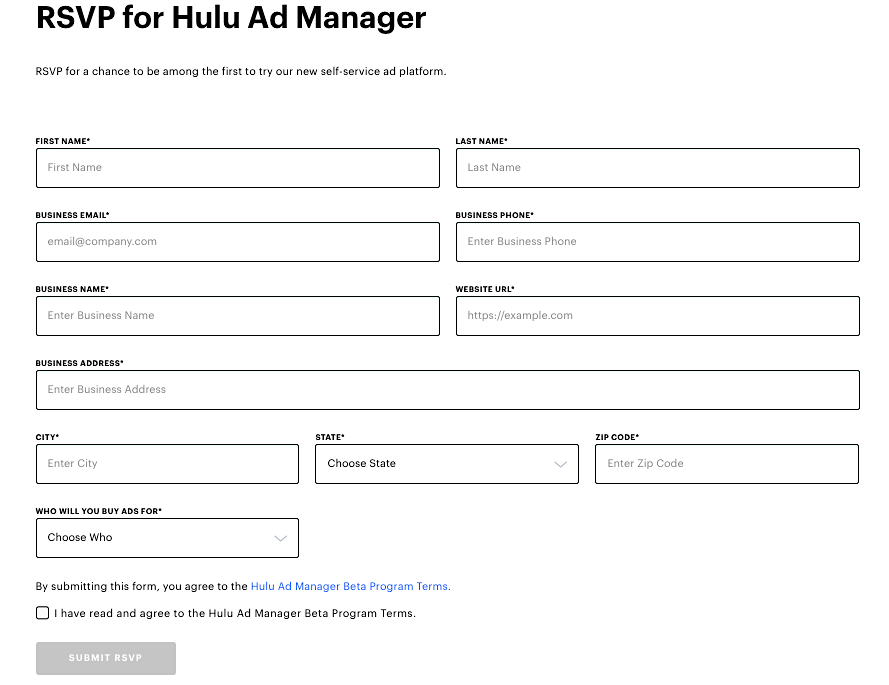 Irrespective of the type of campaign you choose to run, you need to contact the Hulu advertising team to get started.
Related Content: 7 Killer Digital Advertising Trends Every Marketer Should Know in 2023
Step 3: Prepare Your Ad
After you have decided on your ad options and have consulted your Hulu ad manager, you will have to upload your ad video. You should create an extraordinary creative that has real staying power.
Here are some tips for preparing great videos for advertising on Hulu:
Every video should have a specific goal. Focus your videos on a single message, product feature or punchline.
Put yourself in the customer's shoes to determine if your ad is the right fit for your audience.
Hook your viewers in the first 3-5 seconds of your ad. The earlier, the better, because 63% of top-performing campaigns have their first branding moment within the first second of the ad.
Don't ignore your brand values, and keep the tone right.
Use your logo in your ad to improve your branding.
Get all your graphics and video right — double check before uploading them because the Hulu creative team will reject anything less than perfect.
Ensure that you have a clear call to action (CTA) for at least three seconds.
Leverage the power of storytelling that is unique to your brand. Show your brand's unique personality.
Make sure your ad is specifically designed for your target audience.
If you are making a 15-second video, make it humorous because funny videos leave a lasting impression in viewers' minds, and they are more likely to remember your brand.
For 30-second ads, you have ample time to share your brand story. Pick the right moment to present the call to action and make sure you have enough content to play for the full half-minute.
Forget Powerpoint presentations and don't use rough animations or still imagery. Your video should be high-quality, right from the start.
Use a voice-over to communicate information about your brand.
Use text that is easy to read; it should remain on the screen long enough to be read comfortably by viewers. 
People who represent your brand in the video will be remembered for a long time (think: Flo from Progressive Insurance), so choose them carefully.
Get your script right. When you create it, keep in mind your ad goals like awareness, consideration or conversion.
Use product images throughout the ad campaign because those that do are in the top-performing campaigns on Hulu. For example, great visuals of families cooking with various spices drove strong recall for a seasoning company's campaign.
Use animation to convey your message to your audience effectively. If you have a high video production budget, then you might go for 3D animations because the results can be epic.
When adding music to your video, make sure there aren't any usage restrictions on your selected track.
Sound, lighting, camera movement and editing

 –

every element is crucial for video ad success. Make sure you work with the right video production team to create memorable ads.
Related Content:
* How to Craft a High Converting Explainer Video
* How to Research Your Audience Before Producing an Explainer Video
* 7 Examples of Storytelling Content You Can Use in Your Marketing Campaigns

How to Start Advertising Using the Hulu Ads Manager
Once your business account is activated, you can start uploading video ads using the Hulu Ads Manager. As soon as it is approved, get ready to reach thousands of potential customers.
Take the time to create professional video ads because only high-quality audio and video ads are approved. These ads are typically 7, 15 or 30 seconds long.
Select the dates you would like your ads to run and add your payment information. Please note that Hulu doesn't offer payment via debit cards. Only credit card payments are accepted.
The Hulu Ads platform brings the power of digital to OTT: You can select the audiences and locations you want to target. Hulu lets you reach specific audiences depending on your buyer persona, and they offer insights into customer viewing patterns and demographics. Moreover, you can customize your ads for granular audience segments (such as age, gender and interests).
Hulu Ad Approval Process
Hulu must approve every ad before it runs on the OTT platform. Ads should comply with their technical specification and ad policies. 
Technical Specifications for Video Ads
Your ads will run on large screens, so you should make sure they look perfect. Here are the current tech specifications for Hulu ads:
All ads should be in HD and must have stereo sound.
The preferred dimensions are 1920×1080.
The duration of the ad should be between 15-30 seconds.
The file extension should be in .mov or .mp4.
The bit depth should be 18 or 16 bits.
The minimum bit rate should be 15000 kb/s.
Also, Hulu does not approve ads that use the Hulu logo in any form, so make sure your ads do not use it.
Hulu Advertising Policies
These advertising policies affect ads run via the Ad Manager tool. Hulu does not accept advertisements that contain:
Politics or electoral branding
Sexually explicit content
Offensive, harassing, fraudulent or misleading information
Criminal activities or violence
Malware or other harmful codes
Obscene language
Elements that violate copyright laws or government requirements
Illegal gambling, illegal substances like e-cigarettes or misleading information
Information that promotes Hulu's competitors
You should make sure that your ads comply with these advertising policies and industry guidelines.
Hulu Ad Submission Checklist
Before you upload your ads, go over this checklist, as it will help your ads get approved by the Hulu ad approval team:
✔️ Ad meets all tech specifications for video ad commercials.
✔️ All ads comply with the Hulu advertising policies.
✔️ Ad clearly represents product being advertised.
✔️ Text, colors, logos in your ads seen and understood easily.
✔️ Video and audio quality is high and graphics well integrated.
✔️ Ads don't require any buttons to be clicked.
✔️ Ads hook viewers and offer impressive viewing experience.
✔️ Ads have clear call to action message.
✔️ Ads start and end with your brand logo or name.
✔️ Story and characters in your ad are unique to your brand.
✔️ All graphics, text and other elements are within the 4:3 Safe Title Area (the red-dotted rectangle below); otherwise it may not be seen by the viewer: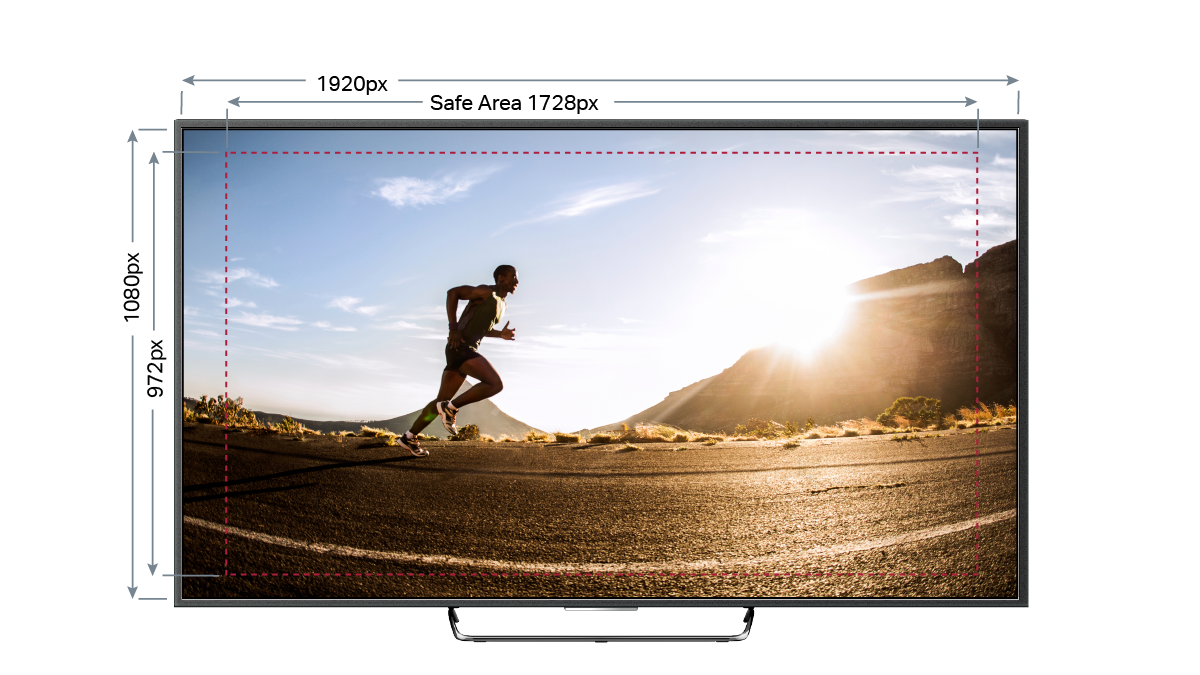 Ad Approval Time
If your ad complies with the technical specifications and advertising policies, it will get approved within three business days for self-service ads or around a week for other ads.
The Hulu team might mark the advertisement as "approved," "rejected" or "needs modification," so when you submit an ad for approval, it is your responsibility to check the ad status every day. To avoid delays, it is recommended to submit your ad for approval at least 1-2 weeks before the campaign start date. This way, you can ensure that your ad team has ample time to modify the ad and have it approved if it needs any modifications.
Make sure you have approved ads in your Ad Manager dashboard before the campaign start date. Failure to do so will reduce impressions, since Hulu will not adjust the campaign end date if your ads run after the scheduled campaign start date.
Why You Should Start Advertising on Streaming TV
Some of the popular streaming TV services include Hulu, Netflix, Amazon Prime and YouTube TV. Streaming TV is a popular (without being oversaturated yet) channel of advertising where you can reach your business's target audience.
Here are some of the top reasons your brand should start advertising on streaming TV services like Hulu:
Related Content:
* Does Podcast Advertising Actually Work?
* Paid Content Promotion: A Comparison of the Different Platforms
* Spotify Ads 101: How to Run Successful Audio and Video Ads

Advantages of Hulu Advertising Platform
Hulu ads are super effective with higher purchase intent and stronger ad recall.
Moreover, Hulu claims that it might take up to 20+ ad exposures on other platforms to outperform the purchase intent delta achieved in just one exposure of Hulu ad: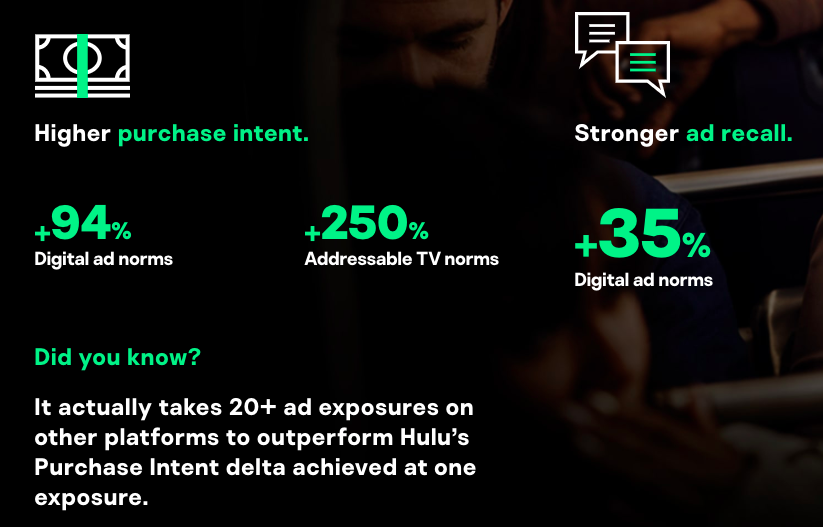 Popular brands like Carvana, Walmart, Adidas, Windows, Marvel and NBC are already investing in Hulu ads.
Here are the top advantages of advertising on Hulu:
Hulu offers extensive targeting capabilities. You can target audiences by location, interest and program genre. You can even target people in a particular zip cod, which makes makes geo-targeting super successful.Hulu offers 92 million ad-supported viewers whose median age is around 33 years. Therefore, you get the opportunity to target a user group that has the buying capacity.
A 30-second video ad helps generate a 61% increase in "top of mind" awareness.
In the last two years, Hulu has experienced a 62% increase in time spent streaming ad-supported content.
Ads are non-skippable, so you can be assured that your target audience sees your ads. Hulu lets you target people by purchase behavior, interests and life events such as "recently married." If you are selling baby products, for instance, then imagine how much easier it would be for you to reach an enormous audience interested in buying your product right now.
Video ads on a large screen leave a significant impact on the audience's minds and make people believe in your brand.
With Hulu, you always get more for your investment because people believe that TV ads are by reputable and more prominent brands. When they see your small business ad on TV, they have that impression that you are a trusted business. Therefore, you can enjoy the power of TV ads on the budget of social media ads.
You can interact with Hulu ad managers who can answer all your questions to get your ad up and running successfully.
The number of impressions you get is enormous as compared to Google Ads and Facebook Ads.
Over 80% of Hulu subscribers recommend brands to friends

–

and 2/3 say that actually like advertisements: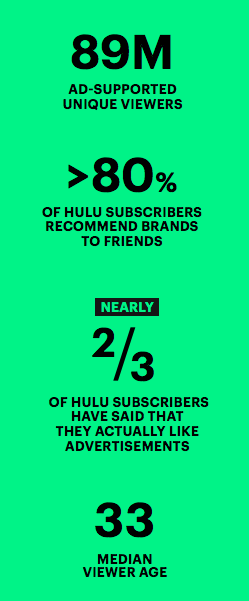 Learn More:
* 17 Best Paid Media Tools for Marketers
* Geotargeting: How to Find the Right Customers for Your Brand
* The Ultimate Guide to Developing Buyer Personas (with Templates!)

Hulu Advertising Strategy
Print advertisements are losing their charm while streaming TV ads are growing in popularity. You should set aside a certain percentage of your marketing budget for OTT advertising platforms such as Hulu.
Like any other digital marketing strategy, there are specific tips that you need to follow to run your ads successfully on the Hulu advertising platform.
Here are some of the best tips to follow for a kickass Hulu advertising strategy:
Prepare a buyer persona to better understand the profile of your audiences, such as their likes and dislikes.
Survey your existing user base and find out which movies and shows they like to watch on digital video platforms. You can use your social media platforms to engage with your customers and extract this information.
Carefully select the shows that your target audience is most likely to view.
Create professional and unique content that will attract your prospects according to the selected ad format.
Ensure that you follow all the Hulu ad specs to get your ad approved.
Keep at least two weeks of buffer time before your ad's running schedule, since every ad needs to be approved by the Hulu team. Some ads might take up to 12 days to get approvals, while some might get approved within a few hours.
Depending on your budget, you can hire influencers for a quick video shoot for your brand advertisement. Advice from an influencer will work like a charm and help to amplify your branding and conversion efforts.
Have an excellent pre-production and post-production team to cater to every need of the video production and approval process.
Select the type of ad depending on your advertising budget. For instance, if you have a higher budget, you can choose interactive ads, and if you have a modest budget, you can select self-service ads.
Choose the type of ad depending on your business goals. For instance, if your goal is to improve branding, you can choose standard video ads, pause ads, binge ads, etc. If your goal is to convert viewers, then you can select the GatewayGo ads format.
Analyze the performance of your ads. Experiment with different ad formats and compare their performance.
You may also like:
* Best Paid Media Agency: Top 5 Choices for 2023
* Native Advertising for SaaS: A Perfect Alternative to Facebook Ads
* 22 Alternative Ad Networks for Best PPC Conversions in 2023

Final Thoughts on Hulu Advertising
Hulu is a great platform to reach a broad spectrum of prospects. No other TV streaming platform lets you start your advertising campaign for $500!
Therefore, it makes sense for every small and medium business to try Hulu at least once. For companies with larger advertising budgets, Hulu offers a variety of ad formats and ad targeting options. Hulu representatives work with you to make your ad look professional.
Leverage the power of Hulu advertising to reach your target audience well within your budget.  
If you need help, Single Grain's Hulu Ads experts can deliver emotionally engaging, data-driven and ROI-focused premium ad experiences for you. Just click the orange button! 👇
---
Hulu Advertising FAQs
Are Hulu commercials targeted?
Yes, Hulu commercials are targeted. Hulu offers a variety of targeting options to advertisers, allowing them to reach specific audiences based on factors such as demographics, interests, viewing history, location, device, and more. By leveraging these targeting options, advertisers can create highly personalized and relevant ad campaigns that resonate with their audience. Their Ad Selector feature (which allows you to choose 2-3 ads that interest you) also give viewers control over their viewing experience.
What is the Hulu ads cost?
You can start your ad campaign on Hulu for as little as $500. There are no hidden fees like subscription, setup or installation fees, and you will be billed only after your ads go live.