The power of paid media extends far beyond the scope of organic reach.
As opposed to organic media, such as SEO, content marketing and social media posts (but not sponsored posts), or earned media, such as publicity, reviews and word of mouth, paid media refers to any content placed outside of your own real estate that you pay for, like PPC ads, display ads and search ads.
With the right paid platforms, your brand gets the opportunity to be seen by a larger and broader audience who would otherwise be out of your reach.
When you're spending money to make money, naturally you want to see a healthy ROI. A suitable set of paid tools not only puts a limit on your spending, but saves you time by making the process of targeting users more granular and effective.
Different companies rely on different tools to analyze their media spending, but you should preferably pick one or two of the best (depending what your tasks are).
So what are the best paid media tools? Here are the top 17 tools available on the market.
SEMrush is one of the best paid media tools, and the recent addition of new features makes this tool even more lucrative.
For instance, the Audience Targeting report can be used by PPC managers and brand strategists to refine their ads strategy for a targeted audience. Plus, all this is complemented by the fact that SEMrush has one of the biggest keyword databases in the world.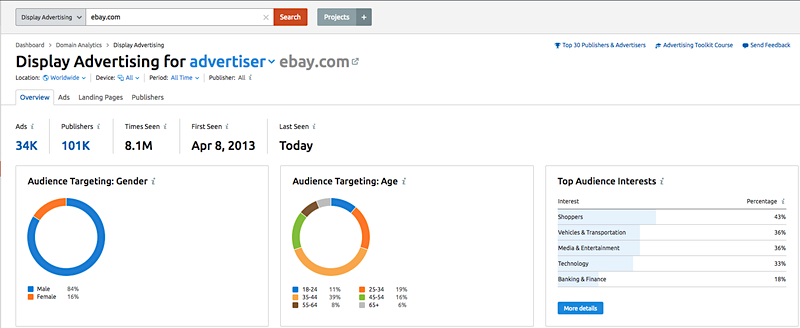 Top Features of SEMrush:
View PPC reports like "Shared % unique keywords", "Keyword ideas", "Search ad suggestions", and "Display ad recommendations" for your website with a single click: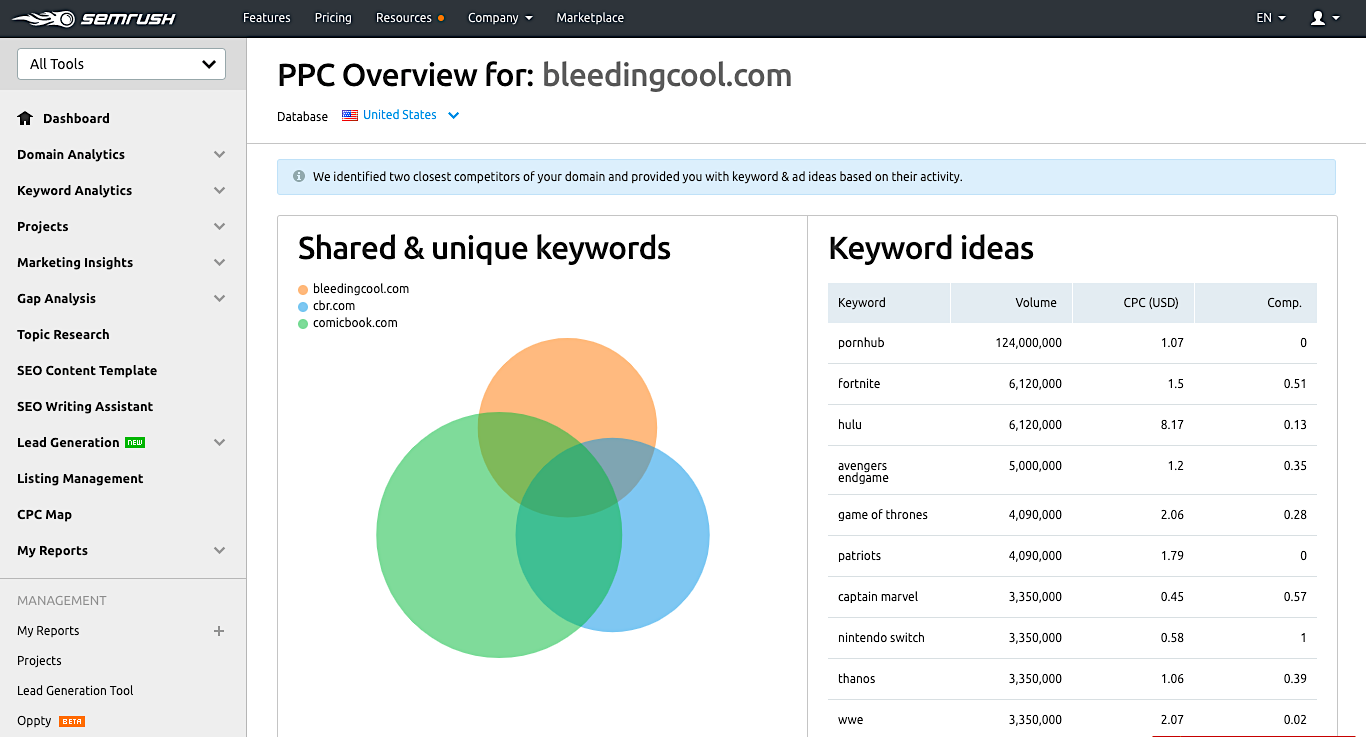 Find relevant details like time, location and device of the ads posted by your competitors through competitive analysis, and use the data to add extra value to your current ad strategy to avoid budget drain in display campaigns.
Find countries or regions that are more profitable in terms of advertising costs with the CPC map and modify your ad campaigns accordingly to benchmark your numbers, plan your marketing campaigns and estimate ROI.
See ads displayed for certain keywords in Google.
Use the Ad Builder feature to create profitable ads after researching how your competitors and other advertisers promote services and products in the same niches.
How Much Does SEMrush Cost?
SEMrush provides three standard monthly plans:
Pro plan at $99.95
Guru plan at $199.95
Business package at $399.95
A custom Enterprise Solution is also available.
What Users Love the Most about SEMrush:
Users love how they can personalize PPC campaigns in SEMrush to keep up with competitors online by ensuring that their ads reach the right people and their messages are aligned with the interests of the audience.
SEMrush provides better audience segmentation based on data such as user interests and demographics so marketers can deliver customized messages to audiences.
Lets you promote your content effectively and gain more earned media by mapping your competitor's position online with SEMrush Advertising Research.
You can easily discover the difference between your and your competitors' ad strategies.
Related Content:
Advertisers with large accounts having numerous ad campaigns with groups often wish to optimize and manage their accounts, but worry about wasting too much time. After all, most businesses have to work with limited resources and time. This is where Google Ads Editor comes into play.
This free-to-use tool helps drive the efficiency and performance of ad campaigns. Thanks to Google's continuous support and promotion, Google Ads Editor has become popular among beginners and professional advertisers alike, helping them manage multiple Google Ads accounts even without an Internet connection.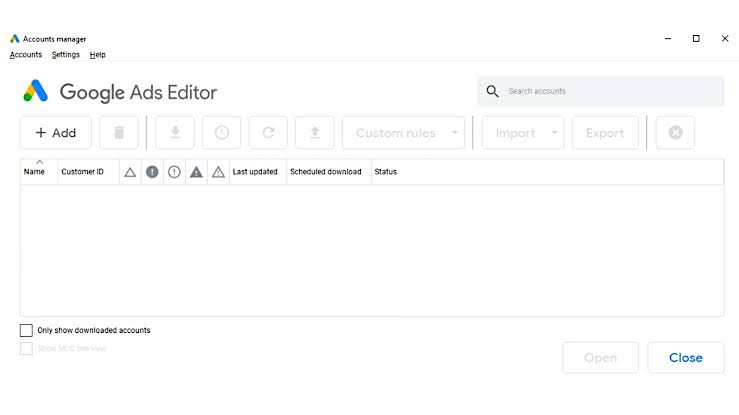 Top Features of Google Ads Editor:
Make changes quickly and easily to your Google Ads campaign on-the-go without Internet connectivity.
Use CSV files to import extensive changes to your Google Ads account and export campaigns as HTML or DLL files.
Apply large-scale changes to your Ads account without wasting time by adapting existing keywords to target specific locations.
Use the Find Duplicate Keywords feature to scan your account for duplicate keywords and eliminate them so they do not affect your campaign performance.
How Much Does Google Ads Editor Cost?
Google Ads Editor is a free-to-use, downloadable application. As long as you have a working Google account, you are all set.
What Users Love the Most about Google Ads Editor:
The "Recommended Budget" column that lets users properly allocate budgets so they don't miss out on opportunities or impressions.
Users also love full-cross account management that allows them to work on all accounts from a single window.
WordStream Advisor is geared towards helping you launch paid media campaigns that offer high click-through, engagement and conversion rates.
Whether you are running social ads or paid search or both, this tool helps you optimize your campaigns so you receive the leads, visits, calls and sales to improve your ROI.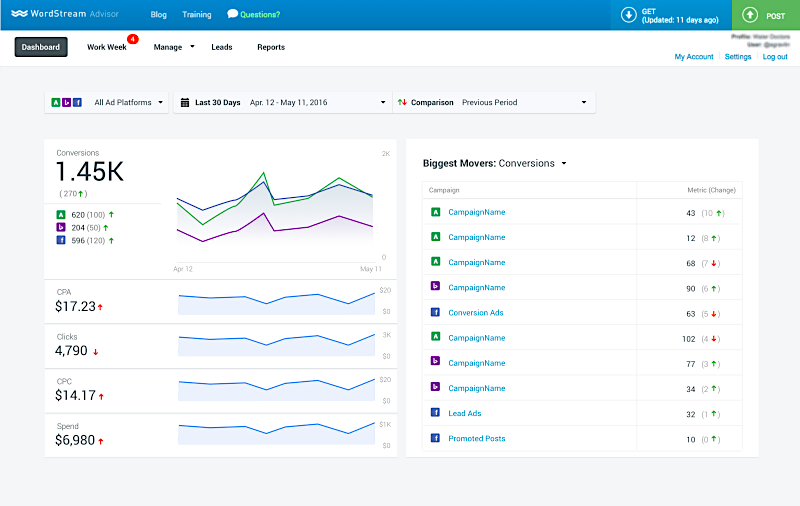 Top Features of WordStream Advisor:
WordStream Advisor lets you evaluate Google Ads account performance and receive personalized, intelligent recommendations such as improving ad extensions based on users' individual account data.
New Google Ads remarketing features in WordStream Advisor let users stay connected with their target audience beyond email.
Get access to tools for social advertising and implement effective, streamlined campaigns on Facebook with minimal effort, thanks to prescriptive workflows and suggestions that align your business goals with other advertising campaigns online.
How Much Does WordStream Advisor Cost?
If your budget is up to $2,500 per month:
a 3-month plan costs $299 per month
a 12-month plan costs $264 per month
If  your budget ranges from $2,500 to $5,000 per month:
a 3-month plan costs $429 per month
a 12-month plan costs $374 per month
If your budget ranges from $5,000 to $10,000 per month
a 3-month plan costs $529 per month
a 12-month plan costs $464 per month
If your budget ranges between $10,000 and $25,000 per month:
a 3-month plan costs $789 per month
a 12-month plan costs $694 per month
Special plans are available for budgets above $25,000 a month.
What Users Love the Most about WordStream Advisor:
Analyzes performance and implements recommendations to strategize paid search changes in accounts.
Users love how the tool drives phone calls via paid search by tracking calls back to the ads that triggered them in the first place.
Receive recommendations to save costs and achieve better resources through expansive training resources and a dedicated Customer Success Team.
WordStream Google Ads Performance Grader uses your personal details and Google Ads account information to analyze and grade your Google Ads performance. You receive a free report as well as a final grade about your Google Ads performance, based on parameters like:
Wasted spend
Quality scores
Text ads
PPC best practices
CTR, long-tail keywords
Impression shares
Account activity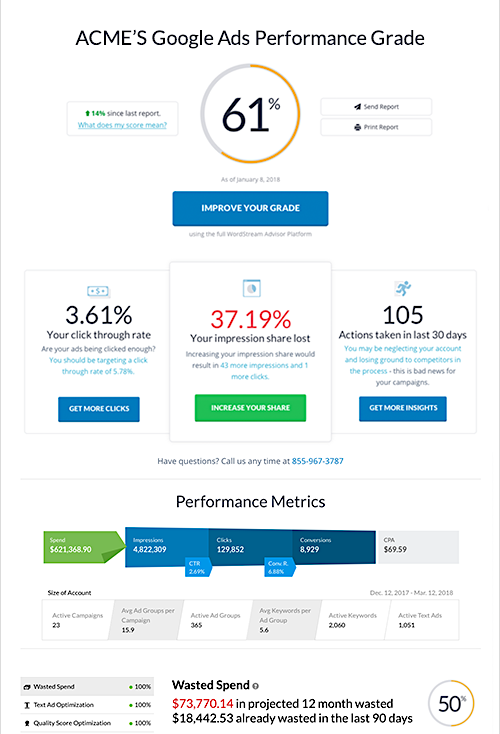 Top Features of WordStream Google Ads Performance Grader:
Increases your impression share so that you get greater exposure and multiply your lead generation results.
Keeps your CTR high enough by testing various text ads so you do not lose any ground to competing advertisers.
Maintains performance by keeping your account active for longer.
How Much Does WordStream Google Ads Performance Grader Cost?
The WordStream Google Ads Performance Grader tool is completely free to use.
What Users Love the Most about WordStream Google Ads Performance Grader:
Users love how efficient this tool is when it comes to providing insightful analysis that is almost as comprehensive as audits from professional consultants or agencies.
Prevents wastage of hundreds, even thousands, of dollars each month on unnecessary ad keywords that do not convert.
Increases your Quality Score, thereby impacting your ROI, improving your rankings and reducing your expenses.
SpyFu is a competitive intelligence and keyword research tool that digital marketers can use to enhance their online search performance. SpyFu helps identify profitable search terms in your competitors' organic and paid search campaigns for competitive analysis.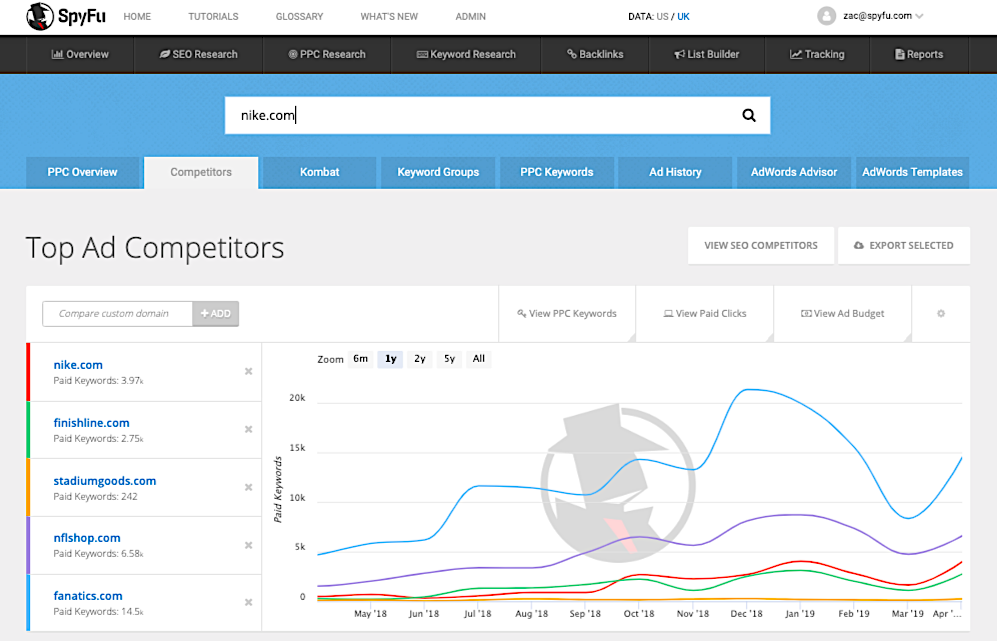 Top Features of SpyFu:
Use SpyFu's PPC Research or PPC Keywords features to filter out branded searches, export them to Google Ads, and gain insights from multiple keywords simultaneously.
Easily discover your top competitors with this tool.
Use the content analyzer feature to understand social media benchmarks, such as average engagement, best performing days of the week, and suitable content.
How Much Does SpyFu Cost?
The Basic Monthly Plan costs $39
The Annual plan is $33 per month.
The Professional plan costs $39 for the first month and $78 a month thereafter. You have to pay $58 per month for the Annual version.
The Team plan costs $299 monthly and $199 per month for the Annual version.
What Users Love the Most about SpyFu:
Users appreciate having the ability to search for any domain of their choice along with every space they show up in Google. You can check every keyword, organic rank and ad variations for the past 13 years.
Smart recommendations help users drive clicks to Google Ads to increase site traffic.
The tool lets you see the high-priority keywords that your site is missing and prepare ad copy that wins after repeated testing.
Check out this 8-minute video How to Create Ads that Convert More Sales:
This is a sophisticated business analytics software that draws all your performance indicators and metrics into a unified, accessible location. This business reporting platform works with different analytics engines and tools and is ideal for gathering data and insights for devising and implementing social media, web analytics and online marketing.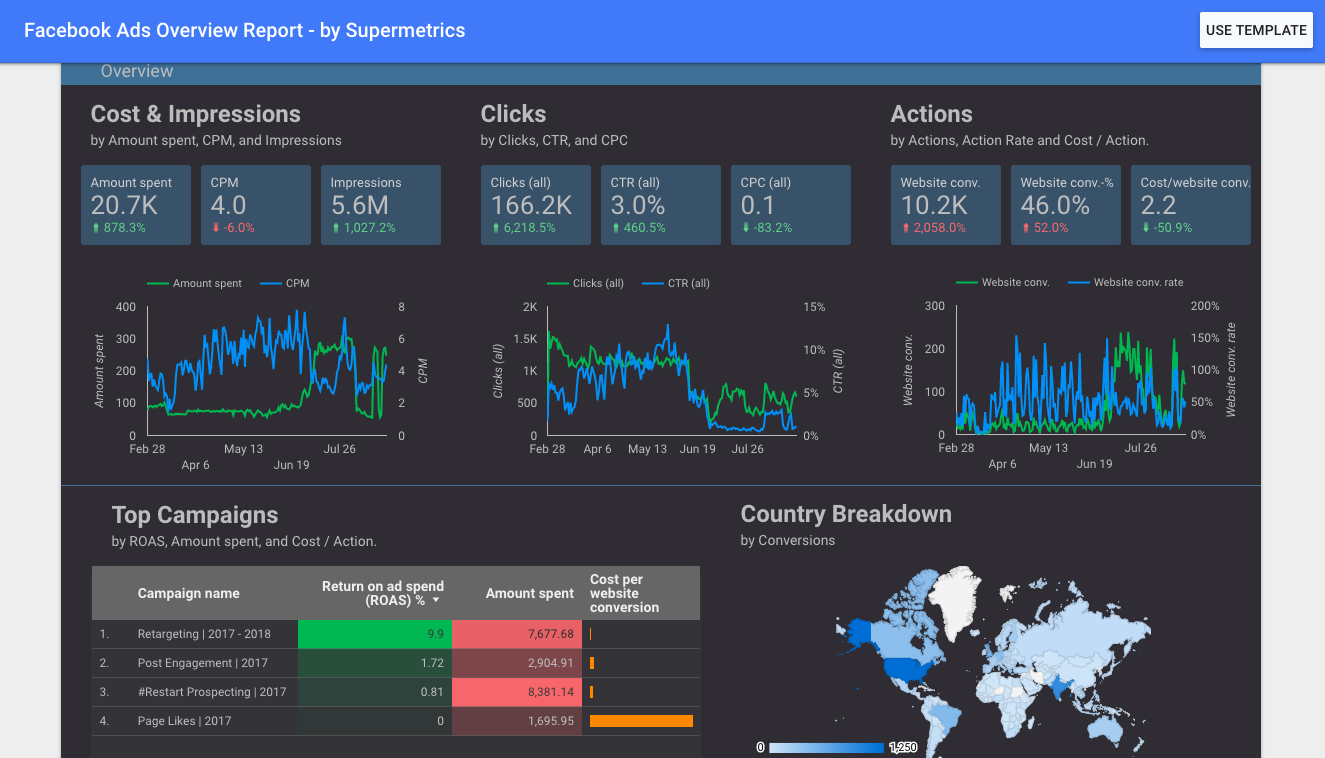 Top Features of Supermetrics:
Supermetrics for Google Drive lets you run queries, refresh your data quickly, and share dashboards and reports with other team members.
Connect and fetch data from common sources like Facebook Ads, Google Ads, LinkedIn Ads, along with other niche sources, such as AdRoll.
Supermetrics pulls social media metrics from Twitter, Facebook, LinkedIn, Instagram, Reddit and others for you to create your own personalized social media reporting, including engagement and follower growth statistics.
How Much Does Supermetrics Cost?
Supermetrics for Google Sheets starts at $99 per month
The Data Studio version begins at $39 per month
The Excel version starts at $99 per month
Supermetrics for BigQuery costs a minimum of $190 per month
The Data Grabber is $19 per month
Supermetrics Functions starts at $29.99 per month
Supermetrics Uploader starts at $39 per month
What Users Love the Most about Supermetrics:
Supermetrics supports different connectors like Twitter Ads, Facebook Ads, Google ads with personalized dashboards to build client-facing monthly reports easily that contain all the necessary metrics. The reports are visually pleasing and easily understood.
Create demand for your services or products via search to reach potential consumers who are likely to express interest in what you sell.
Supermetrics pulls together different pieces of data to create a single report that shows how your website performance affects your ROI and pinpoints areas for improvements so you can make strategic decisions.
Related Content: How to Produce Paid Facebook Video Ads for Mobile Like a Pro
Marketers can use this analytics and call tracking solution for campaign attribution and conversion reporting from inbound phone calls.
This unique AI-powered tool provides real-time call analytics that allow marketers to make informed decisions based on specific data gathered from these phone conversations. This makes it easy to drive up your ROI by increasing conversion rates, revenue-generating calls, running highly effective campaigns and personalizing the customer journey.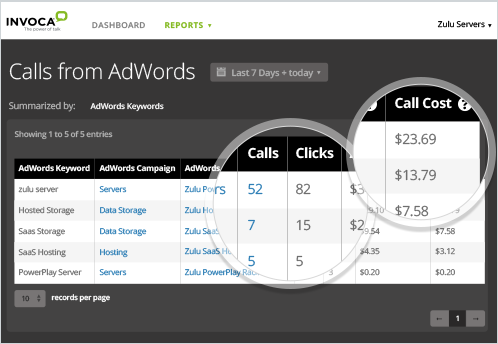 Top Features of Invoca:
Use call-centric solutions like analytics and call tracking software to improve PPC and display ads.
Combine Invoca with your Google Ads campaign to view call details of individual phone calls as well as campaign details, UTM source, and the keyword that triggered the call so you can modify your paid media strategy accordingly.
Gather information from calls to optimize your preferred analytics platform.
Optimizes paid search campaigns in Google Ads.
How Much Does Invoca Cost?
Invoca offers a demo version to users. If you find it useful for your business, you can contact Invoca for detailed pricing information.
What Users Love the Most about Invoca:
Users appreciate being able to integrate the tool with Google apps, social media platforms, Salesforce Sales Cloud, Adobe Experience Cloud, and Salesforce Marketing Cloud.
The system is easy to use and lets users quickly analyze small and large datasets to improve call tracking KPIs.
Leadpages is perfect for small businesses and marketers who want to meaningfully engage with visitors on third-party channels like social media websites.
This tool directs your traffic to dedicated landing pages where the target audience can learn more, purchase and convert accordingly. Use Leadpages to more effectively use your landing pages in your marketing and paid media campaigns, keeping in mind what you're offering, to whom, and where the audience comes from.
As if that's not all, Leadpages helps you promote your landing pages on channels other than Facebook. Instead of following the trend and chasing the next top-trending platform, this tool helps you focus on social media websites that have the biggest and the most engaged following.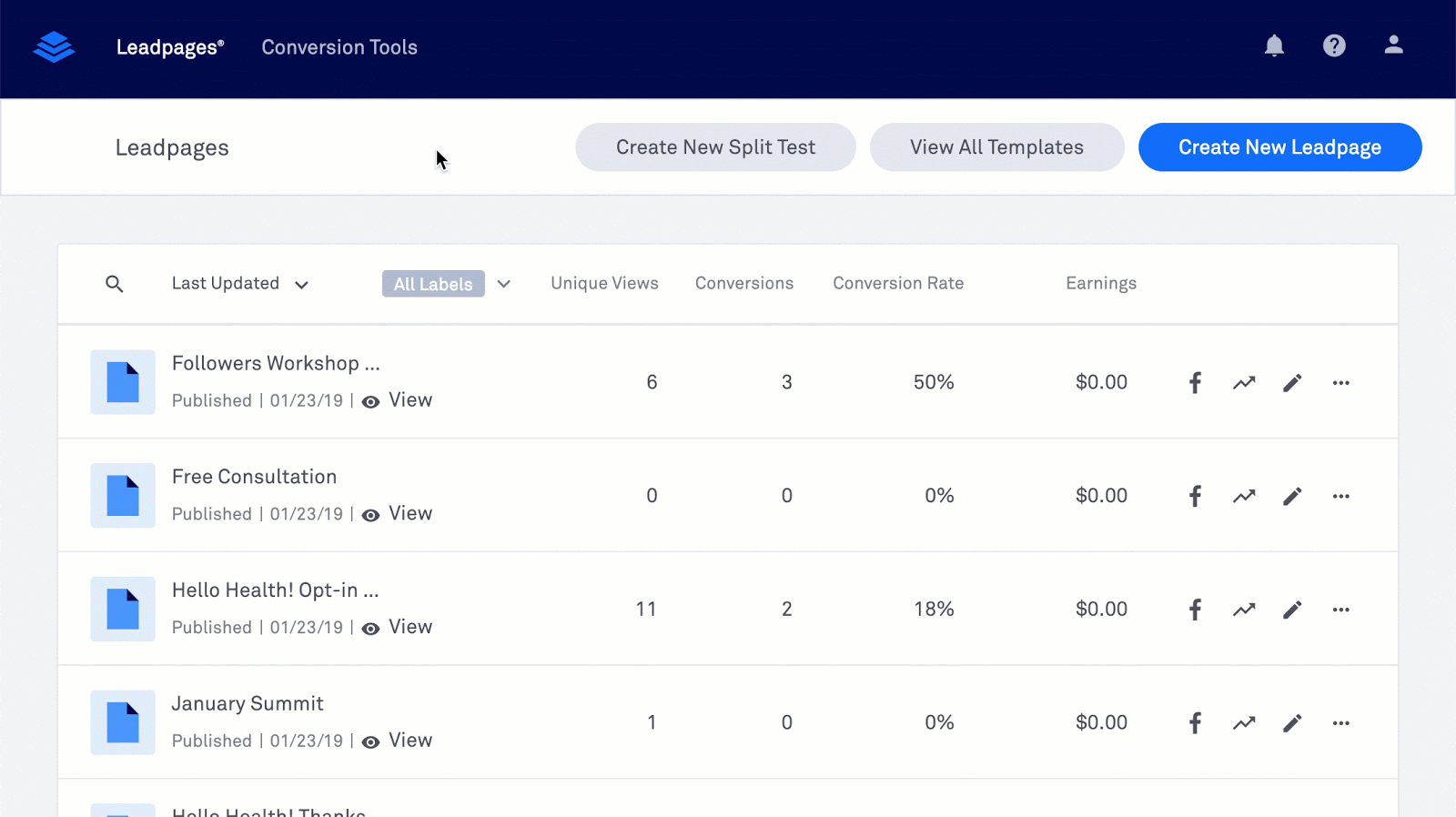 Top Features of Leadpages:
Agile and flexible, Leadpages landing pages can easily be integrated with paid ads for a high return on ad spend.
Visitors can now share pages easily on their preferred social media sites, including LinkedIn, Facebook and Twitter, increasing visibility and driving more traffic.
Add or customize your page's Open graph tags so you get better control over how the content gets displayed on your targeted platforms.
How Much Does Leadpages Cost?
The Standard plan costs $37 per month
The Pro plan costs $79 per month
The Advanced plan costs $321 per month
What Users Love the Most about Leadpages:
Lets you capture leads quickly by integrating with Facebook, Twitter, LinkedIn and other platforms.
Users appreciate how they can acquire 5x more qualified Facebook Ad leads as well as optimized landing pages.
Digital advertising on social media gets easier by integrating Leadpages with Google Ads and Facebook Ads for increased traffic when specific PPC landing pages for targeted keywords are added.
Related Content: LeadPages CEO Clay Collins Talks About How To Ramp Up Your Conversion Rates (Up To 75%!) [Podcast]
This all-in-one platform is primarily meant for SEO but can easily handle all your paid media needs. Easily research PPC keywords with the tool and take advantage of the search questions option. Also optimize your site for Google Ads with the AdWords Keyword tool so you can stay ahead of the competition.

Top Features of Serpstat:
Instead of keyword density or exact-match, Serpstat uses semantic analysis against your competitors' content to increase the relevance of your page in Google's eyes and convert the data into actionable insights for your social media and PPC teams.
Check the PPC Research section to gain insights into your paid competition, gather their paid ads and keywords, recognize gaps in your own PPC campaigns, and uncover growth opportunities.
How Much Does Serpstat Cost?
Serpstat offers a free plan that has limited functionality along with various paid subscriptions:
The Lite plan costs $69 per month
The Standard plan costs $149 per month
The Advanced plan costs $299 per month
The Enterprise plan costs $499 per month
What Users Love the Most about Serpstat:
Serpstat has its keyword clustering tool for sorting keywords by topic, but what makes this unique is how it analyzes meaningful connections between different keywords and splits them into intelligent hierarchies.
Serpstat provides data based on keyword information and geographic region, offering information on more than 180 million domains.
Identify the best-performing keywords of your competitors and imitate their success to reap rewards.
Acquisio is solid campaign management software that helps you optimize your digital advertising campaigns. Thanks to this tool, you can manage and report various marketing initiatives through a single, streamlined dashboard.
Digital marketers, local resellers and direct advertisers will find customer acquisition easier with this powerful solution that combines sophisticated ad platforms with data science tools for optimizing and automating the online customer acquisition processes.
The fully stocked ad management software comes with campaign management, branded report, chat support, social ad optimization, and bid and budget optimization.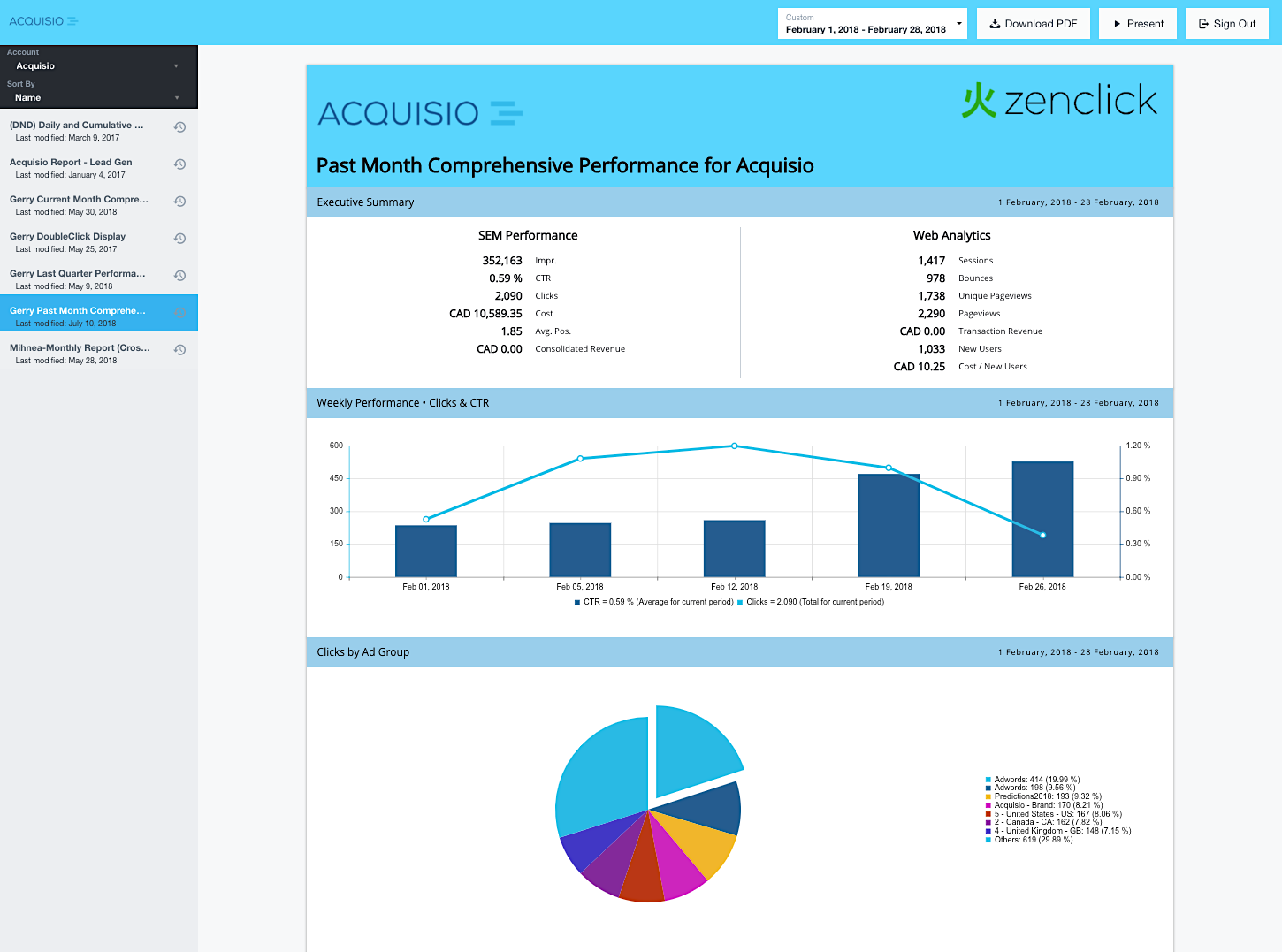 Top Features of Acquisio:
PPC advertisers can use updated Google Ads benchmarks on Acquisio to determine whether or not their PPC performance is good relative to other industry competitors.
Harnesses the power of machine learning to reduce CPA and CPC, and improve key PPC metrics, like CVR and CTR.
Fast-track the success of your paid media advertising efforts on Instagram, Facebook and other platforms with integrated A/B testing, advanced analytics and campaign improvement tips.
Manage your budget through customer targeting and social media monitoring.
How Much Does Acquisio Cost?
The Starter Plan supports 5 accounts and costs $199 per month
The Standard Plan supports 25 accounts and costs $899 per month
The Professional Plan supports 50 accounts and costs $1,899 per month
What Users Love the Most about Acquisio:
Users love how they can optimize campaigns easily with 24×7 bid and budget management without any historical data thanks to machine learning.
Acquisio Turing is an AI-powered cross-channel PPC management technology that supports bid and budget management, local lead estimation and budget distribution for optimizing spend and increasing conversions or clicks.
Users find it easier to hit monthly budgets across search and display channels with Acquisio generating more conversions and improving chances of SEM success drastically.
Crazy Egg is an online tool that uses eye-tracking tools like Heat Maps, Overlay, Scroll Maps and Confetti in order to understand customers' interests on any given website and thus increase conversions.
Crazy Egg can track a whopping 1,111 visitors for every dollar spent on it.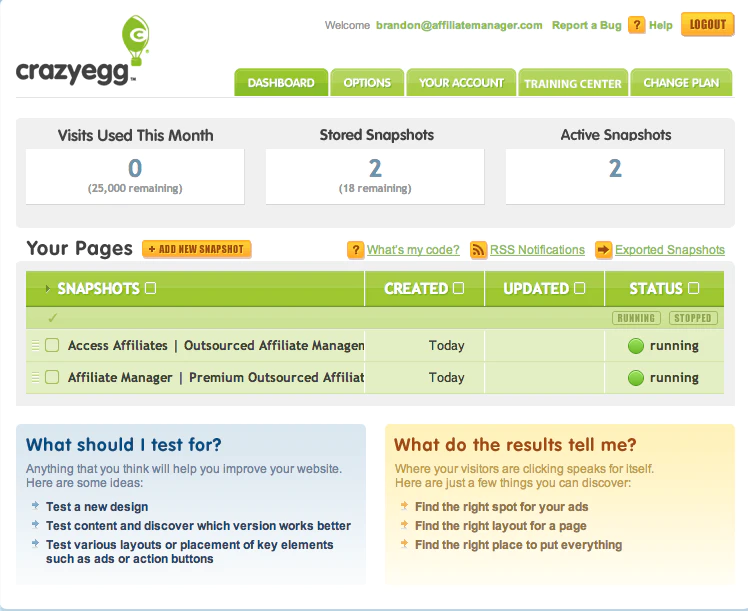 Top Features of Crazy Egg:
Heat map: Reveals where users have clicked on a page, how far they have scrolled down the page, and even show results of eye-tracking tests.
Scroll map: Shows how far down the page people scrolled and reveals where visitors abandon the page.
Overlay: The overlay report shows the number of clicks made on each element of a webpage.
Confetti: With confetti, you can distinguish all the clicks on a site segmented by referral sources, search terms and more.
What Is the Price of Crazy Egg?
Crazy Egg starts at $9 per month and comes with a free 30-day trial for all plans.
What Users Love the Most about Crazy Egg:
The Facebook Ads application integrated with Crazy Egg allows businesses to amplify their posts for reach, engagement, click-throughs and impression based on their needs.
Users love how Crazy Egg's functionalities integrate with various third-party websites, serving as alternatives to Google Analytics to measure the success of your site.
Related Content:
Ahrefs is a well-known name when it comes to competitor research and SEO, and has the largest backlink index. But it also doubles as an efficient paid media tool.
For users running a PPC campaign, they can use Ahrefs to improve their ROI and get the maximum value out of their ad investment. This tool shows the top landing pages bid on by the competition so you clearly understand which pages are converting well for them.
Ahrefs offers a considerable amount of data for PPC agencies, allowing users to view the keywords that others are bidding on along with CPC rates, search volume and ads. Spy on competitor ads to see the ad keywords they're targeting.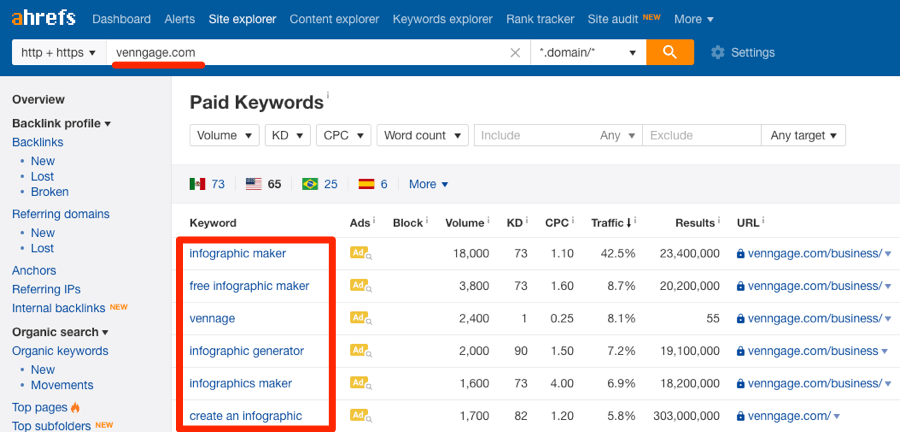 Top Features of Ahrefs:
Get information on social media shares with the integrated content tool from Ahrefs that boasts a large database and make your content better than the competition's.
Comprehensive view of competitor PPC and social media content strategies lets you to find gaps and improve your own strategies.
Filter results by social channels to understand which types of content and which topics perform better on specific social media channels.
How Much Does Ahrefs Cost?
Ahrefs has 4 pricing plans with a 20% annual discount if paid upfront:
The Lite plan costs $99 per month
The Standard plan costs $179 per month
The Advanced plan costs $399 per month
The Agency plan costs $999 per month
What Users Love the Most about Ahrefs:
It has one of the largest crawlers after Google and one of the largest keyword databases.
Ahrefs lets you see the exact keywords your competitors are bidding on and also see the percentage of traffic they are generating.
With competitor keyword tracking, you can track whenever new keywords or ads are added by your competitors.
It offers excellent chat support.
Sizmek is an independent buy-side advertising platform for advertisers and agencies concentrated on doing digital advertising campaigns.
The open ad management stack of Sizmek delivers the most creative and effective multi-screen digital campaigns across the globe, powered by an unrivaled data engine.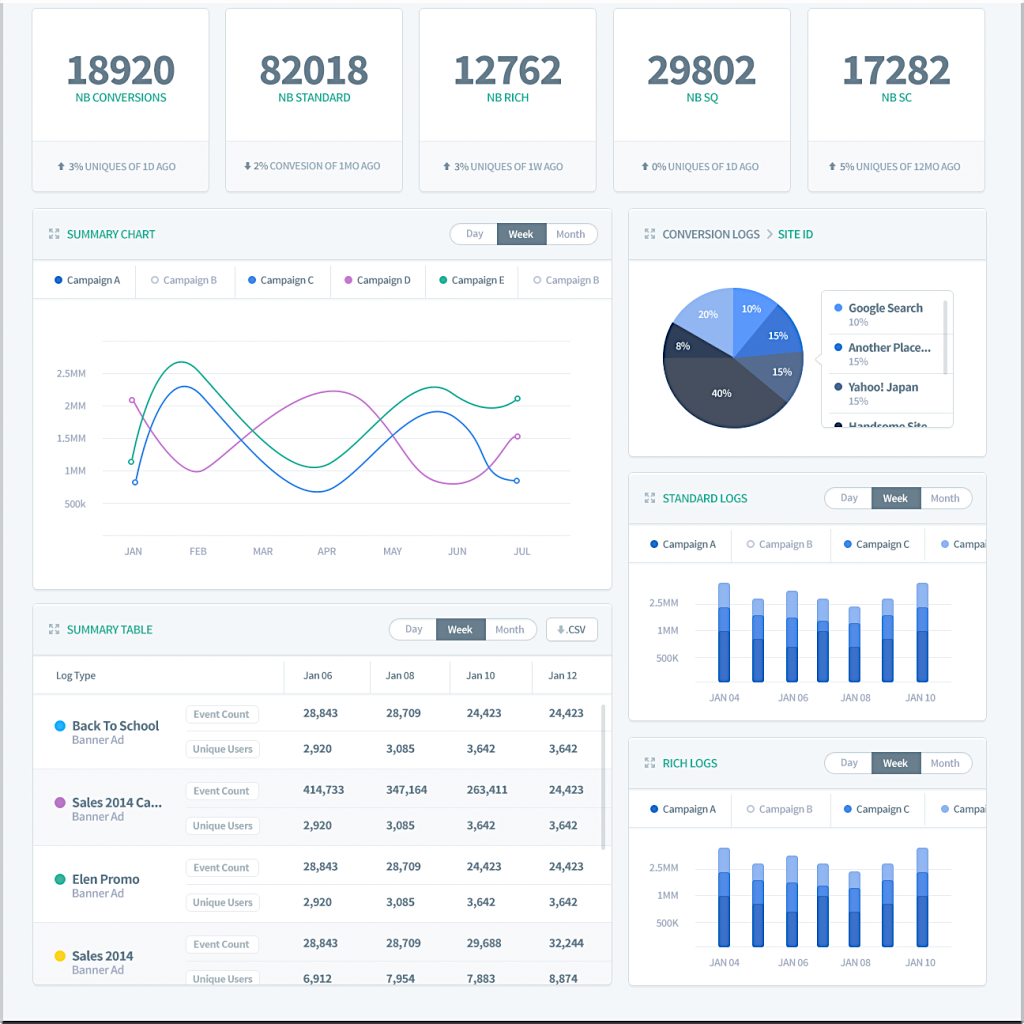 Top Features of Sizmek:
Supports the building of media plans easily: creates advertisements, activates data, manages assets, evaluates results, and much more.
Sizmek has a functionality that imports users' data into the platform for meaningful targeting and segmentation.
The Dynamic Creative feature allows users to create numerous versions while fetching data from all campaign components in a centralized location.
It optimizes creation automatically against the KPIs that are set in place, so you can use the tools for end-to-end ad attribution and serving.
It offers in-depth analytics on every ad campaign with unique IDs to track the performance of ads.
You have the power to control your advertising data without over relying on Google.
How Much Does Sizmek Cost?
Sizmek is a quote-based system; both SMB and enterprise pricing depend on the number of users. Contact the company for a quote.
What Users Love the Most about Sizmek:
Suitable for small businesses, medium businesses and large enterprises.
Very easy to use and gives excellent value for the money.
Supports uploading multiple ads in bulk.
It has a great customer service-dedicated account team to support questions.
It provides very granular reporting.
What makes SE Ranking a standout from other paid media tools on this list are its powerful social media management capabilities.
This tool provides scheduled publishing, extensive reporting, and helpful ranking data to show you what's working for your business and what needs your attention to attract valuable traffic to your website.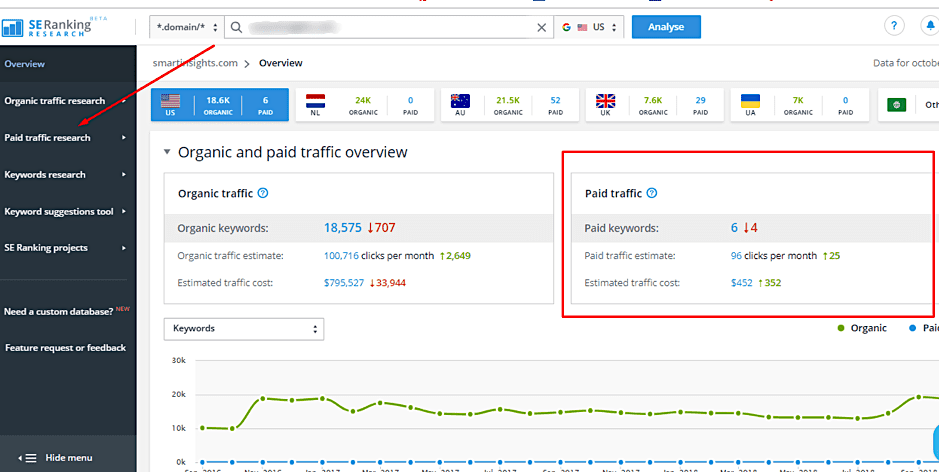 Top Features of SEranking:
You can find a full list of paid media competitors simply by entering keywords.
You can identify the historical advertisers for a particular search query.
View the best time to publish social media posts to better interact with your target audience.
You can easily find keywords with similar meanings and discover the most popular ads of your competitors.
Check detailed information about user activity, bookmarks, retweets and demographic data.
How Much Does SE Ranking Cost?
SE Ranking offers different payment plans, priced according to the frequency of ranking checks and tenure of subscription:
A free-trial option
An optimum plan for $18.60 per month
A plus plan for $42.50 per month
An enterprise plan for $90 per month
What Users Love the Most about SE Ranking:
SE Ranking lets users look beyond organic rankings and into paid Google rankings by tracking not just their keywords but the competition's as well.
Use the On-Page Checker to optimize your web pages for a certain keyword based on the recommendations.
Related Content: 
As the volume of your advertising and digital data increases, you struggle to handle all your Google Ads and Google Analytics data. The problem worsens when you have to share simplified, streamlined reports with company leaders. Google has developed the Google Data Studio for this very reason.
This data visualization and reporting tool gathers data from up to twelve separate sources, including Google Analytics, and collates them into easily shareable, easily modifiable, and easily understandable reports.
The platform also includes graphs, maps, charts and widgets for improved data visualization.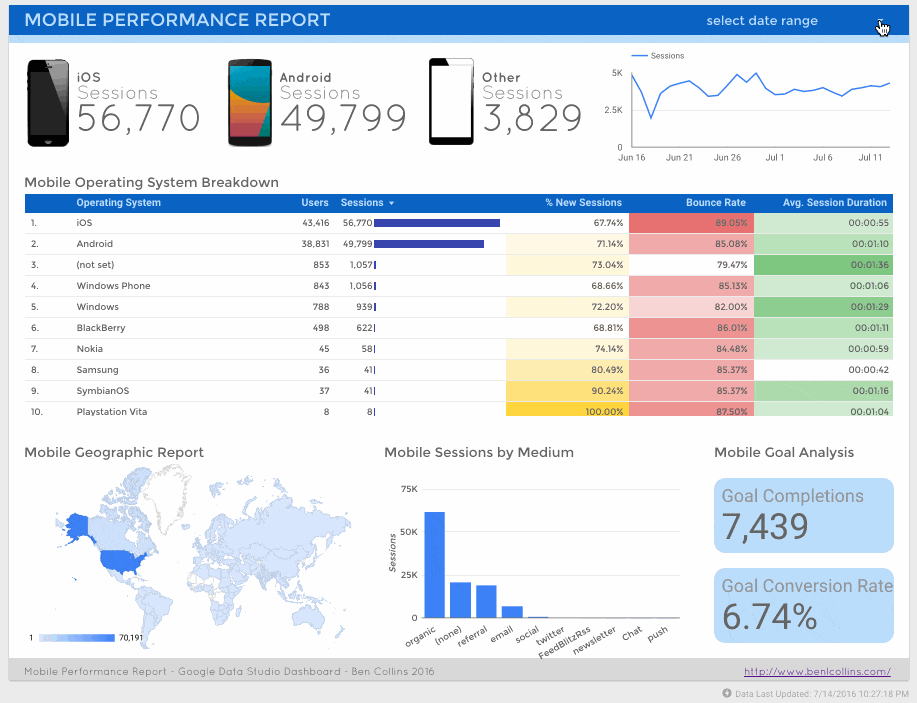 Top Features of Google Data Studio:
Save money and time by creating, sharing and reading reports quickly and efficiently.
Help your team and business make quicker decisions and get improved results thanks to Data Studio's versatility and usability.
How Much Does Google Data Studio Cost?
It is available for free.
What Users Love the Most about Google Data Studio:
Everything from colors to font sizes to adding images is customizable.
Extreme Data source flexibility; can use Excel files, Google Sheets, CSVs and more.
Easy-to-use interface. With basic familiarity with Microsoft Excel, it's easy to master.
The reports produced are interactive and easily shareable.
Optmyzr is PPC marketing software and was named one of the best paid media tools in the U.S. Search Awards 2018. It gathers raw Google Ads and Bing Ads information into extensive visualizations, so account managers can follow highlights and trends and direct their optimization strategies.
The tool is suitable for both beginners and PPC experts. You can automatically build campaigns from your inventory and use machine learning to instantly optimize your campaigns.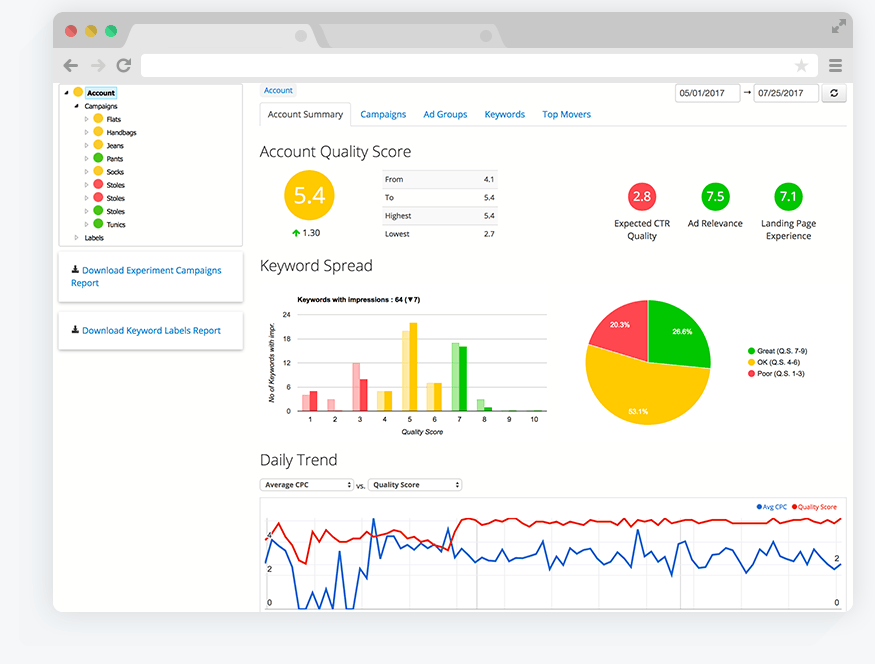 Top Features of Optmyzr:
One-click optimization helps improve PPC account performance in minutes.
Automates data analytics so paid media marketers do not need to go through multiple spreadsheets looking for key data points.
Automated bids and budgets help meet goals for traffic, ROAS, CPA and conversions.
Complete control over the bidding process so you get the best value for your money.
How Much Does Optmyzr Cost?
Optmyzr offers a free trial and four payment plans, including quote-based enterprise pricing for larger businesses and corporations:
The Lite plan costs $116 per month
The Regular plan costs $224 per month
The Pro plan costs $449 per month
The Enterprise plan is quote-based
What Users Love the Most about Optmyzr:
Optmyzr supports one-click optimization that automates data analytics without having to go through spreadsheets looking for main data points.
Thanks to the Enhanced Scripts feature that provides marketing automation, Optmyzr can optimize bidding for mobile ads on a daily or even hourly basis.
Optmyzr has flexible spending settings that help you keep to your budget by pausing ads, ad groups, campaigns or keywords when a specific spending threshold is achieved.
Every marketer understands how crucial timely operations are to the success of their paid media campaigns.
This is where Microsoft Advertising Editor comes into play, saving both time and money and improving the performance of your search marketing campaigns in the process.
Editor is available for download and you get a clean, intuitive desktop application that streamlines your entire PPC campaign management, both offline and online.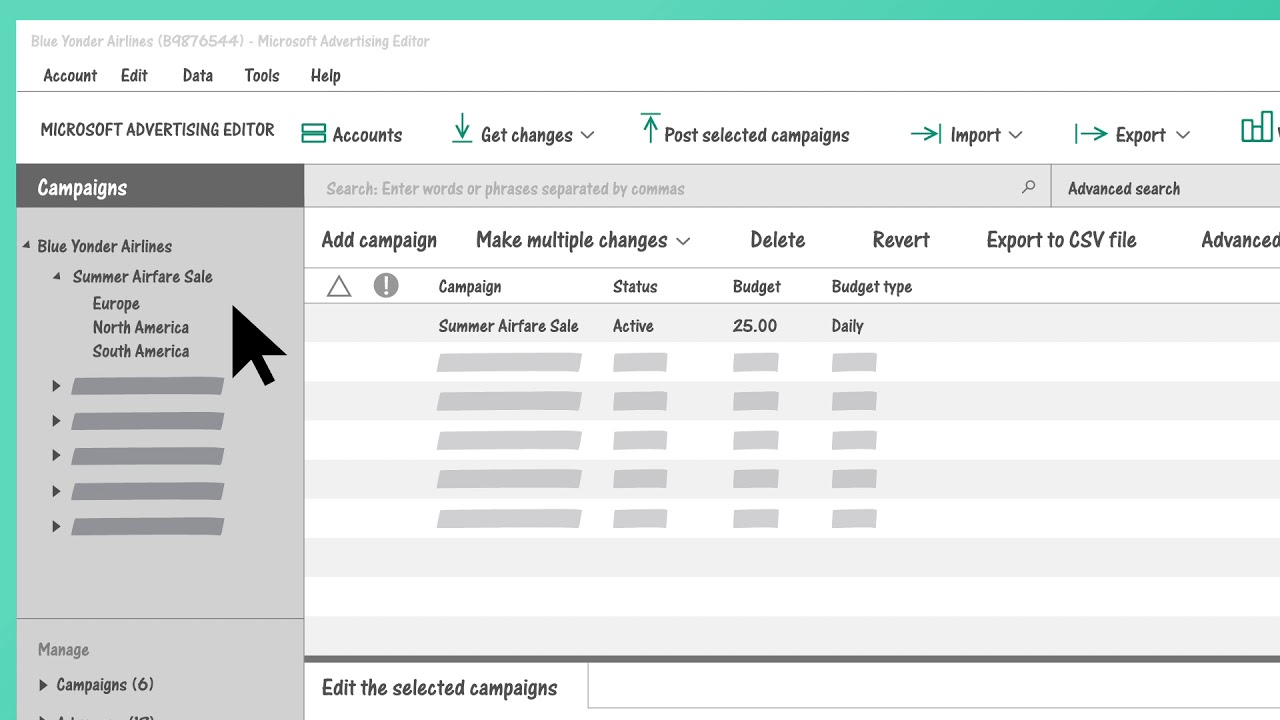 Top Features of Microsoft Advertising Editor:
Microsoft Advertising helps your business reach out to more high-quality customers and improve your ROAS with PPC campaigns.
Enjoy lower CPC and CPA than other similar Google Ads campaigns.
Examine and adjust your keywords and keyword bids with Microsoft Advertising.
Run reports and refine ads and keywords to continually improve your paid search ad performance, improve conversions and cut costs.
How Much Does Microsoft Advertising Editor Cost?
You can download this tool online free of cost.
What Users Love the Most about Microsoft Advertising Editor:
Users love how the new Microsoft Advertising tool lets them compare the performance between two campaign variants to optimize CPA and curb excess spend.
Target relevant consumers on social media with profile targeting that zeroes in on the correct audience.
Drive PPC with the action extensions feature that adds a CTA button beside ads in the search results and links to your preferred landing page.
Concluding Remarks
Whether you're a beginner or a PPC expert, every digital marketing campaign requires the use of paid media tools. All the tools mentioned above have been designed to help businesses optimize and manage their spending in order to improve their bottom line in the long run. Each of the tools has its own share of advantages, so you should consider factors like pricing and specific features to make an informed decision before choosing.