Few e-commerce marketers can deny the power of Facebook Ads for delivering traffic and sales. Simultaneously, not many can deny that its traffic has become painfully expensive over the last two years.
In this context, e-commerce marketers have no choice but to find new acquisition channels. For some, TikTok has been the answer to their prayers.
In a year and a half, TikTok went from simply being one of the hottest new apps to becoming one of the most interesting advertising channels with new ad formats for promoting product collections and discounts, and includes a Shopify integration.
With 689 million monthly active users, TikTok has even surpassed:
Snapchat (498 million)
Pinterest (442 million)
Reddit (430 million)
Twitter (353 million) 
…as one of the world's top social networks.
Some may ignore TikTok as an app for teens, but that's hardly the truth anymore. In the U.S., only 47.4% of its users are under the age of 29, and 51.8% of them make over $75,000 per year.
If you are still struggling to make a profit with Facebook's rising costs, you should give TikTok a try. To get you started, we put this guide together, where you will learn everything you need to know to create a TikTok ads campaign.
Related Content:
* 7 Social Media Marketing Trends You Can't Ignore in 2023
* Social Media Marketing for Business Owners: How to Get Started in 2023
* How to Boost Your Social Media Marketing Efforts with Content Marketing Tools

How to Create a TikTok Ads Campaign
Step #1: Sign Up for a Business Account
The first requisite to create a TikTok ads campaign is to open a business account. Here's how to do it:
In your profile, click on the ellipsis button at the top right of your screen: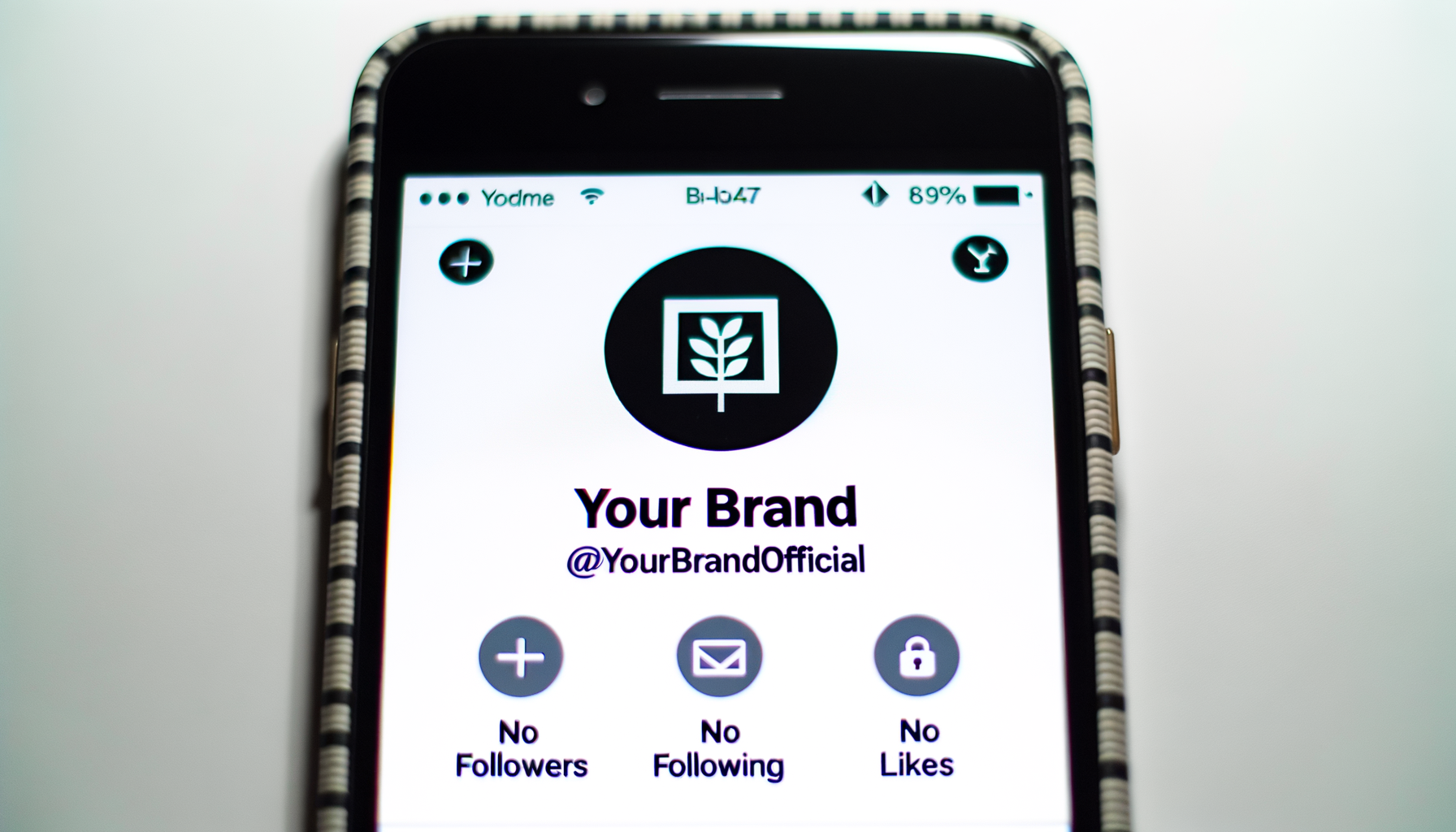 Click on "Manage account":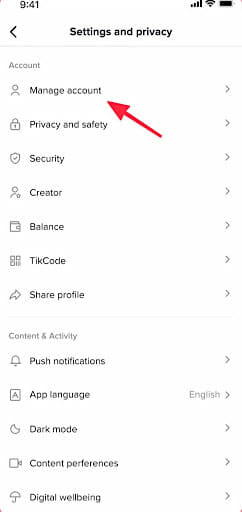 Select "Switch to Pro Account":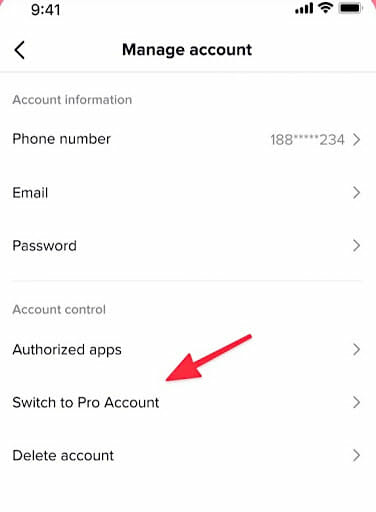 Select the "Business" account type: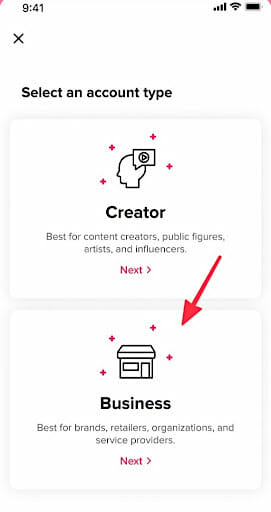 Choose the category that best fits your business: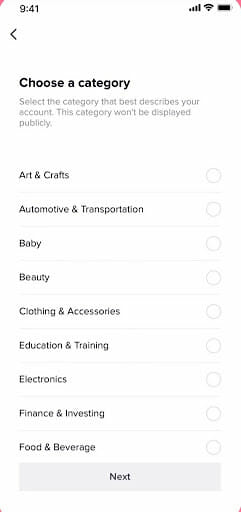 Step #2: Sign Up for an Ads Manager Account
The business account will give you more in-depth information on your account, but it won't let you create and run ads campaigns. To do so, you need to register for a TikTok Ads Manager Account. Here's a short video that explains how to do it:
If your account doesn't get approved, it may have been due to:
You typed the wrong website address
Your website doesn't explain what you want to promote
TikTok doesn't allow to promote your product (check their advertising policy for more information)
Step #3: Prepare Your Account
Once TikTok approves your ads manager account, you will be able to access your dashboard. Here you will see all your campaign's performances, overall spending, trends, and more.
Besides your dashboard homepage, you can access the following pages in the top navigation bar:
Campaign: See how each campaign is performing and find more information about them.
Assets: Store and manage your events data, creatives, audiences, and catalog.
Reporting: If you want custom reports, here's where you get them.
Insights: Receive suggestions about your campaigns' and ads' performance.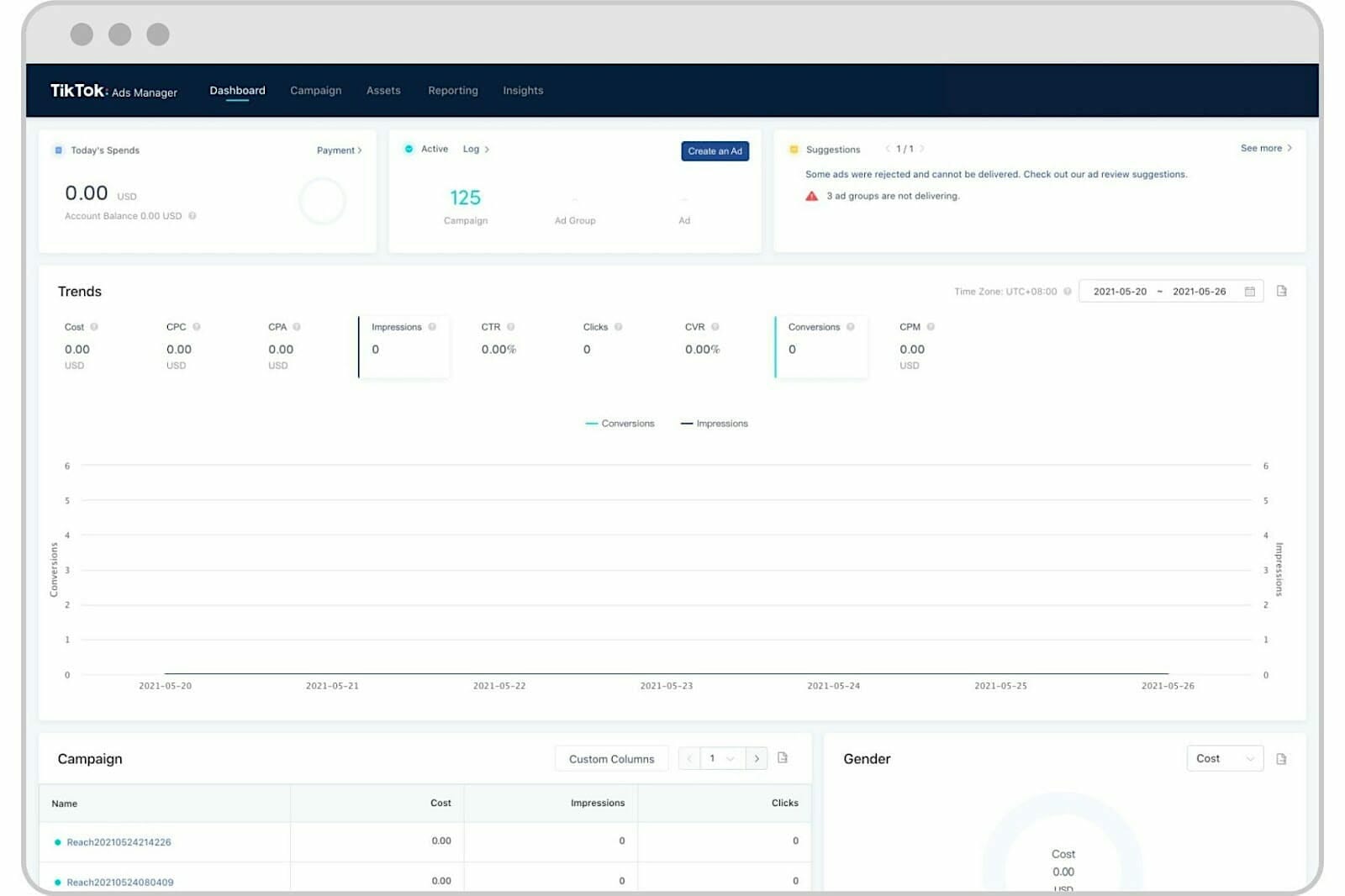 After you have familiarized yourself with your ads manager and before we get to creating your first TikTok ads campaign, you need to set up your pixel, assign your account ID and, if needed, set up your audiences.
You can create a pixel manually or through either one of TikTok's partners: Google Tag Manager and Shopify.
If you want to install it manually, this video will take you through the process step by step:
Then, click on Assets > Add Account. Enter your account ID so that TikTok associates your ads manager account with your business account: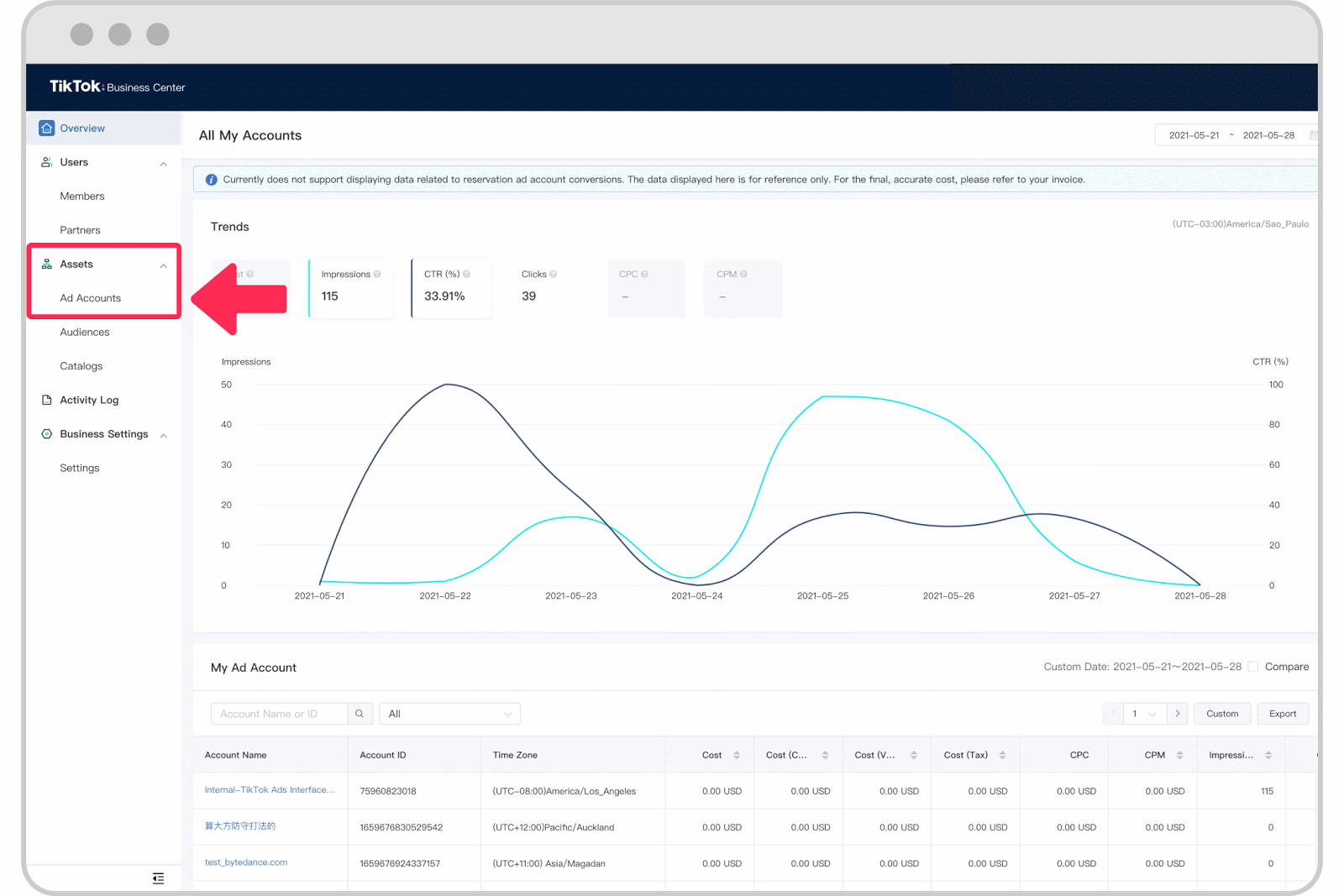 You can also create a custom audience, a lookalike audience or both.
A custom audience lets you create an audience of visitors who have engaged with your business in any shape or form, such as past customers. TikTok allows you to create a custom audience from:
Customer Files: You can take a list of emails from past customers and upload it. TikTok will match their email addresses and target your ads to them.
Engagement: Target users who have engaged with your ads. Here's the list of events, such as "Click" or "6-Second Video View," that qualify for engagement.
App Activity: Target users who have completed certain events in your app. Here's the list of events, such as "Install" or "Add to Wishlist," that qualify for app activity.
Website Traffic: Target users who have visited and/or completed an event on your website. Here's the list of events, such as "Add to Cart" or "Form Submission," that you can build this custom audience from.
Lead Generation: Target users who have engaged with your lead ads. You can create a lead generation audience from form views — i.e. when a user views a form — or form submissions.
A lookalike audience, on the other hand, can help you find an audience that shares certain commonalities with an existing custom audience. According to TikTok, they create a lookalike audience after analyzing user attributes such as:
demographics
location
operating system
interests, etc.
…from the custom audience you created. They then find additional users and groups with the same attributes.
Note: A minimum audience size of 1,000 is required to target a custom audience or a lookalike audience in an ad group.
Once you've taken care of everything so far, you can get started creating your ads campaign.
Related Content:
* How to Target Effectively on LinkedIn
* The Ultimate Guide to Developing Buyer Personas (with Templates!)

Step #4: Create Your Campaign
TikTok Ads Manager structures ads into three parts: campaigns, ad groups and ads. In this section, we'll show you how to create a campaign.
To start, click on "Campaign" and then "Create":

In the following screen, you will have to choose your campaign objectives to determine the bidding method TikTok's algorithm will optimize your budget for. 
You can select the following objectives:
Reach: The system will deliver your ads to get the lowest CPM and the highest number of impressions.
Traffic: You will get the lowest CPC, ideal for driving traffic to your landing pages, product pages and blog posts.
App Installs: It will optimize your CPM while targeting users most likely to complete an app install (called "oCPM").
Video Views: The system will deliver your video to get as many views as possible.
Conversions: The same as the app installs objective, except that it optimizes for events such as adding to cart or checkout.
All objectives fall under three categories: awareness, consideration and conversion:

As an e-commerce marketer, start with the traffic objective. Since TikTok's pixel requires some amount of data to optimize a conversion for, create a conversion campaign only after your pixel has registered a few dozen conversion events from your store.
Then set up the campaign budget that will apply to your ad groups. The minimum budget is $50, and you can set it to "Daily" or "Lifetime":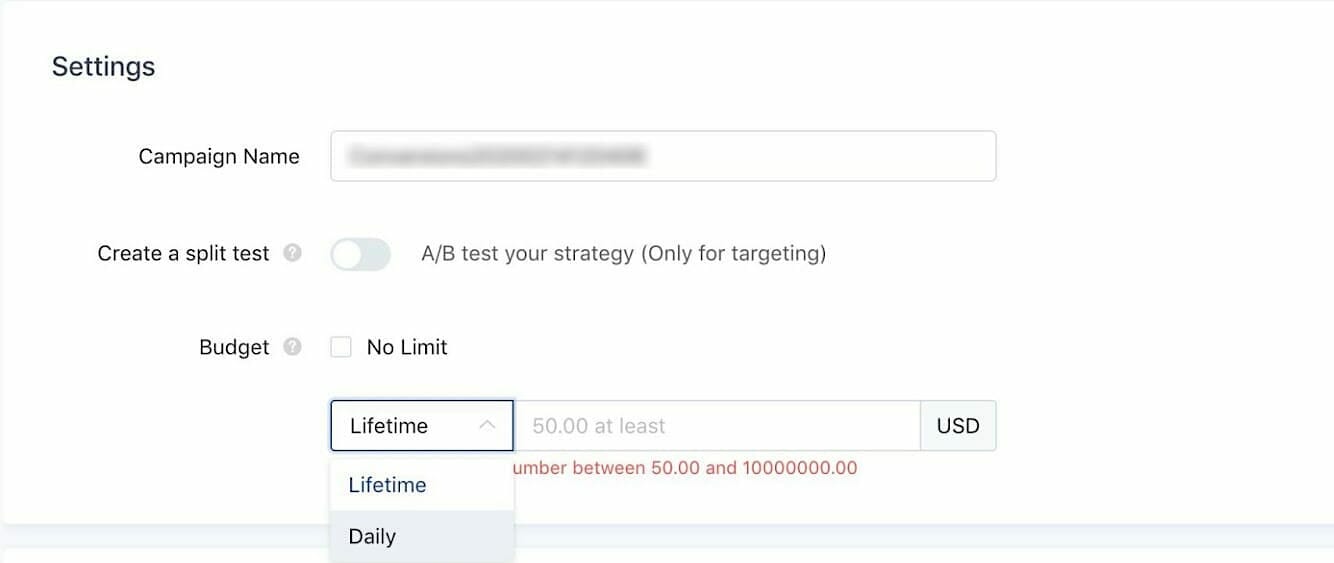 Alternatively, you can skip the budget altogether and let it run freely, but keep in mind that you will end up spending a lot of money fast.
Step #5: Create Your Ad Groups
When you create an ad group, the first step is to define a placement — that is, where your ads will appear: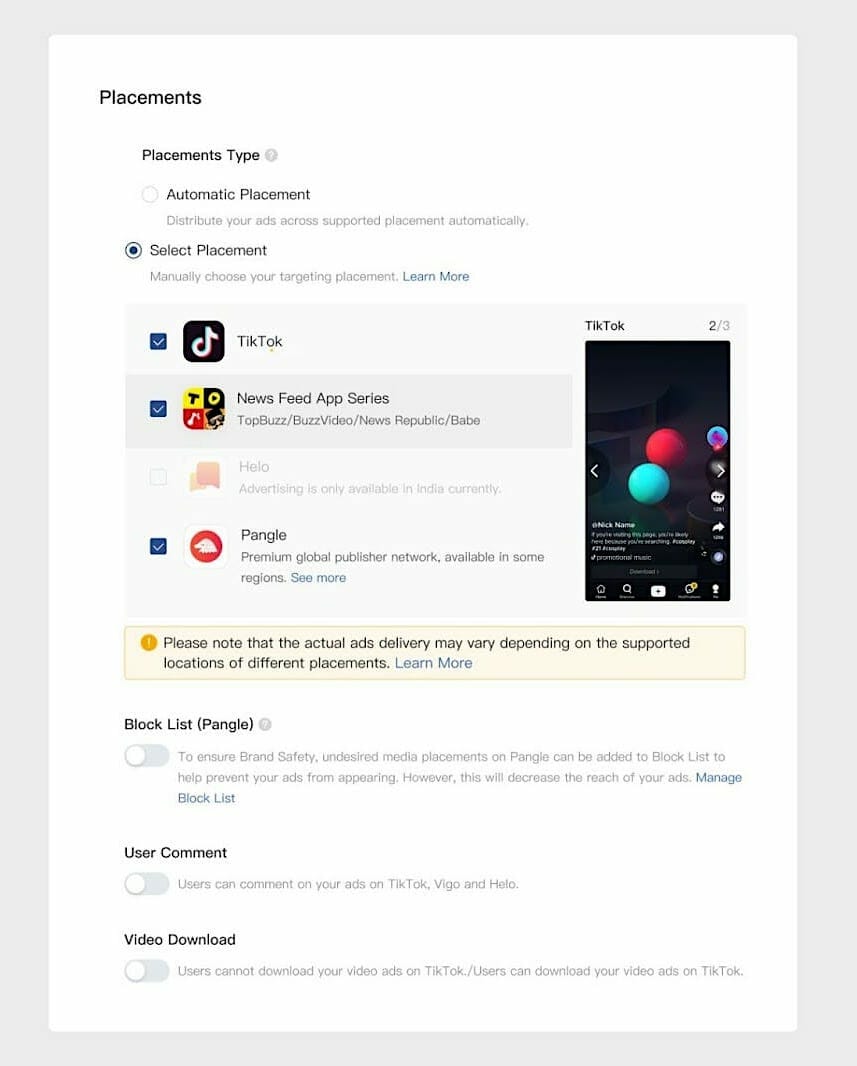 You can choose:
Automatic placement: Deliver your ads across all placements available.
Select placement: Manually select the specific placements:

In-feed ads on the "For You" page
News feed apps, which vary by region
Pangle, which is a premium global publisher network TikTok owns
Note: TikTok recommends selecting "Automatic Placements." Eventually, you can start cutting some of the least profitable placements.
The platform gives you the option to enable "Automated Creative Optimization," which allows you to automatically generate combinations of your creative assets and deliver only the high-performing combinations:

Next, set your target audience. You can select a mix of demographic, device, age, gender, interests, operating system, and carrier targeting options. Here's a breakdown of all the options available.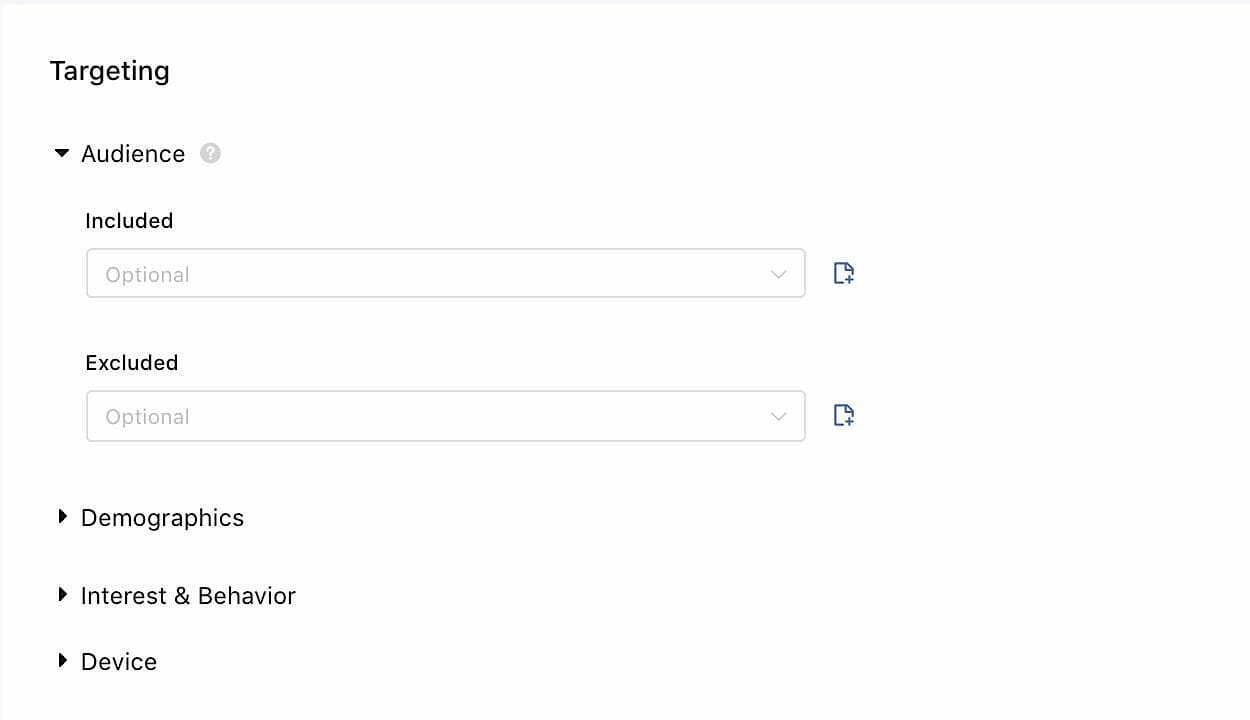 Then, set the budget for each ad group if you don't want your campaign to distribute your budget evenly across each ad group. The same rules for campaigns apply for ad groups, with a minimum daily and lifetime budget of $20.
You also have the option to select your budget schedule, which can be continuous or on selected days and times (also known as "dayparting").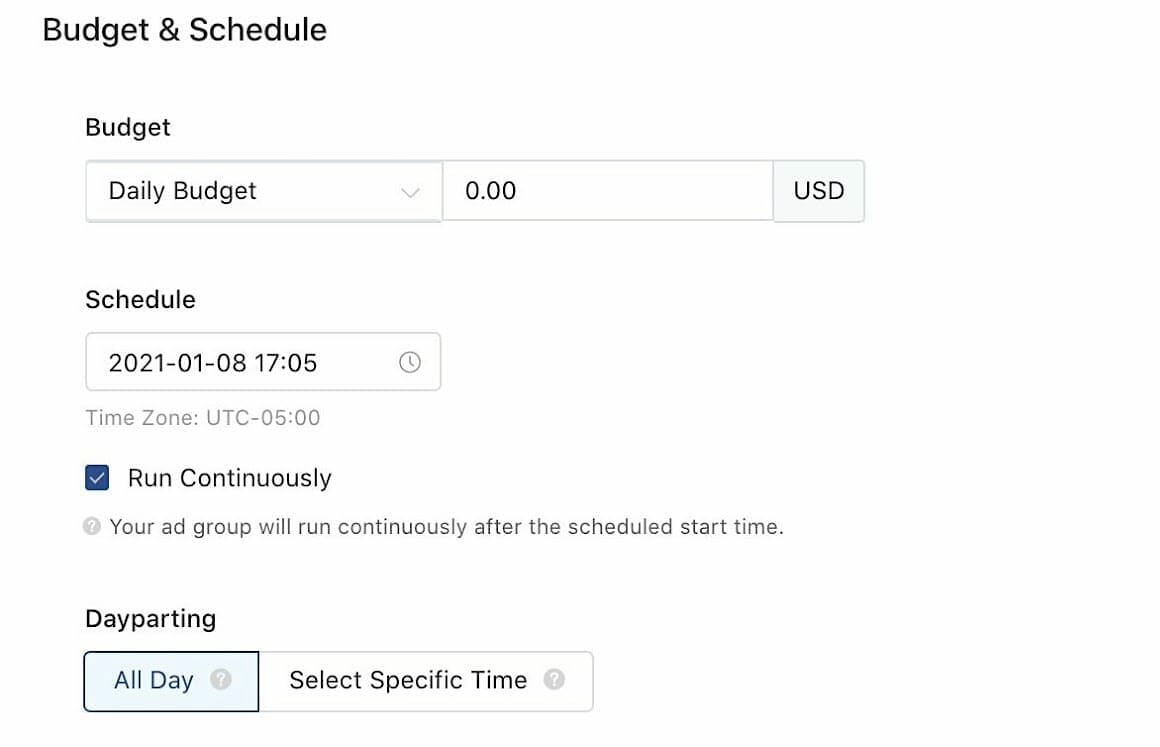 Finally, you can set your optimization goals and bidding methods:
Optimization Goal: Although TikTok sets some goals by default, you can select "Conversion," "Click" or "Reach."
Bid Strategy: By default, you get "Standard Bid," where the system controls your cost per result more strictly to keep the average cost per result within your bid throughout the delivery process.
Bidding: Define how much you are willing to pay for your optimization goal based on your chosen metric — CPM, CPC, CPV or CPA.
Delivery Type: You can choose "Standard" (your ad budget will be spent evenly) or "Accelerate" (your ad budget will be spent as quickly as possible):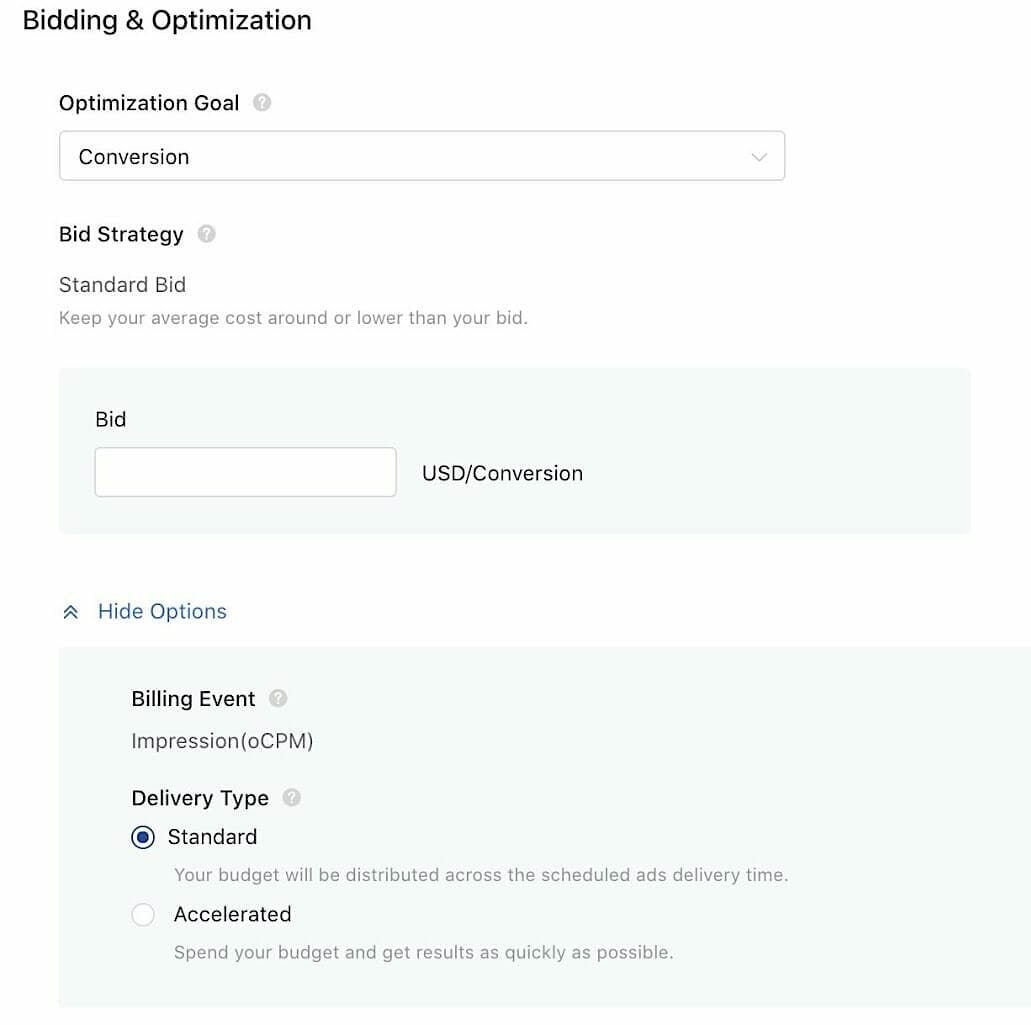 Note: After creating the ad group, you can't change the Start Date, Optimization Goal or Conversion Event.
Related Content:
* How to Create an Attention-Grabbing Instagram Stories Ad
* 9 Tools for Creating Effective Facebook Video Ads that Convert
* 9 Tips for Creating Instagram Video Ads that Actually Generate Sales

Step #6: Create Your Ads
The final step in our process is to create your ads. We'll start by selecting an ad format. TikTok currently offers several different types of ad formats.
In-Feed Ads
These ads will show up in the user's feed, also known as the "For You" page. In-feed video ads can last between nine to 15 seconds long. Since most of the other ad formats are quite expensive, this is likely the one you will use for your ad campaign.
Example: San Saru, a Spanish jewelry company, used TikTok's latest Shopify integration to run an in-feed ads campaign and generate sales. The campaign yielded a 346% increase in sales and delivered a ROAS (return on ad spend) of 175%.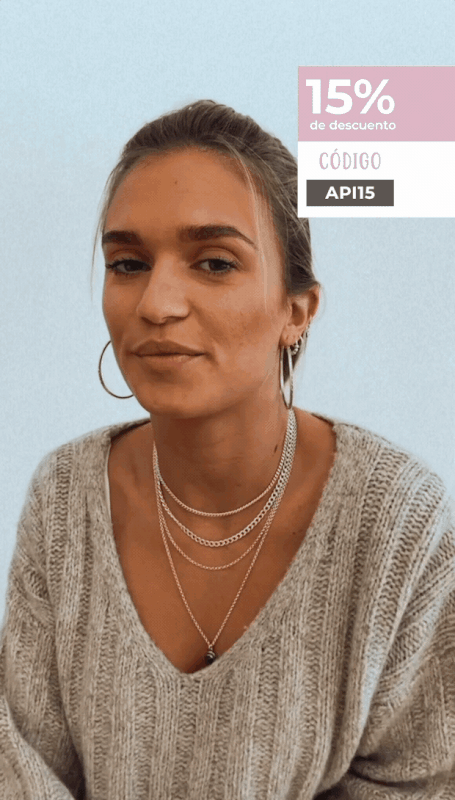 Branded Takeover
With this ad format,  your ad will take over the screen for a few seconds when the user opens the app. Only one advertiser can take over a category each day, and the minimum spend is $53,000 per day, which buys 8.9 million impressions.
Example: Vans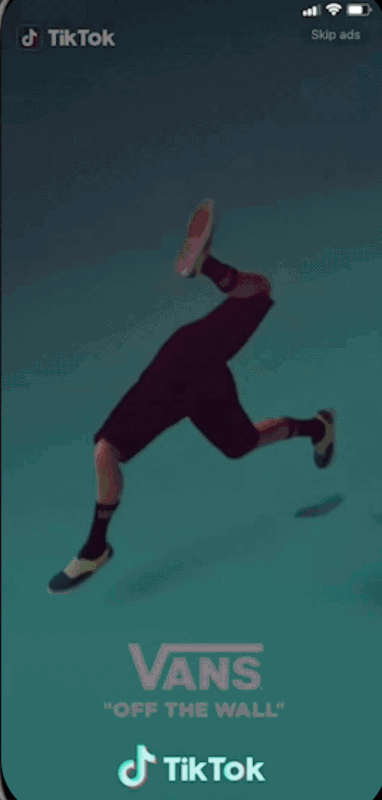 TopView
These ads are similar to Brand Takeovers, except that TopView Ads appear five seconds after the user opens the app. These videos can last up to 60 seconds, are full-screen with sound and auto-play, and include links to internal or external pages. They cost $65,000 per day, which will get you 7.4 million impressions.
Example: Oppo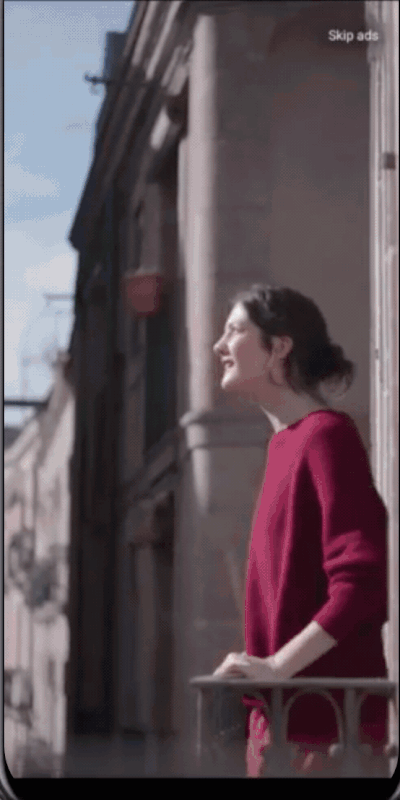 Branded Hashtag Challenge
When users interact with a branded hashtag in the Discovery, they are redirected to a landing page that describes the challenge and shows the most popular videos from it. This ad format costs up to $150,000.
Example: Ebay launched a Branded Hashtag Challenge called #LaceEmUp that invited their followers to lace up in their favorite sneakers and show off their unique dance moves. The company partnered with eight influencers to start the challenge. 
Over half a million people joined the challenge, increasing Ebay's positive user sentiment, got over a billion views, and a 5.2% increase in the engagement levels.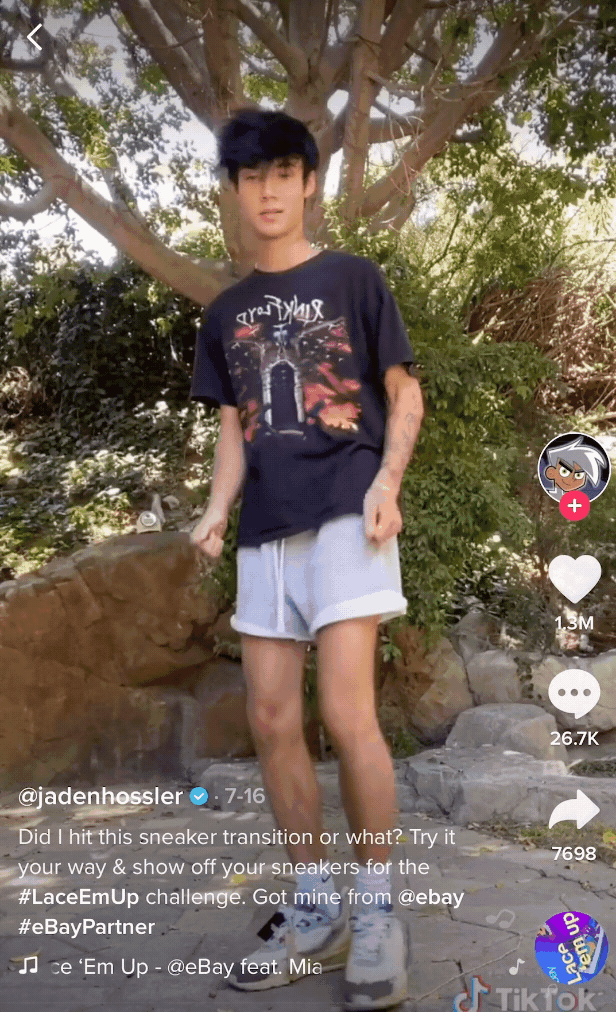 Branded Effects
This final ad format allows you to create custom AR filters, stickers, lenses, and branded shareable stickers. The format costs $45,000 for 30 days.
Example: Cosmetics brand Garnier started a Branded Hashtag Challenge called #FructisHairFoodChallenge to promote the launch of a range of vegan hair care products called "Hair Food." To foster higher engagement rates, Garnier added a 2D Branded Effect featuring a Hair Food shampoo bottle on the screen. Users could use the Branded Effect as a transition, showing their hair before and after the use of their new product line.
The Garnier campaign highlighted users' love for Hair Food products, getting more than 250 million video views in the first month and 109,000+ videos created by over 48,000 TikTok users, 2,320 of which used the 2D branded effect. Garnier received an +18% increase in awareness, +27.5% ad recall, and even produced a measurable uplift in product purchases, proving the effectiveness of the campaign.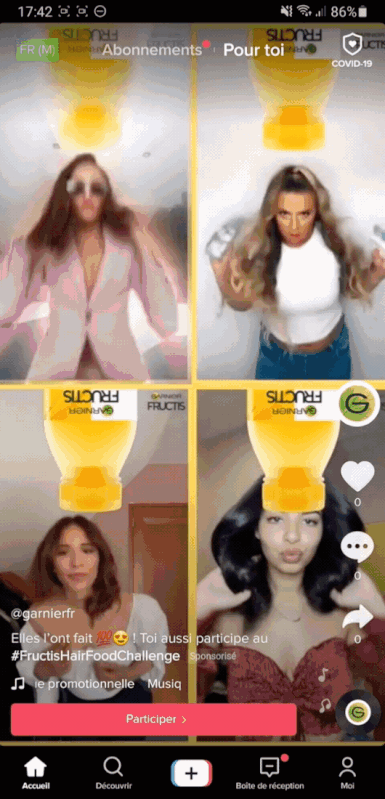 Once you have defined your ad format, enter the video you will use as an ad. TikTok recommends the following specifications for videos:
Aspect ratio:9:16, 1:1, 16:9
Resolution: Greater than 540px x 960px, 640px x 640px, 960px x 540px
Length: 5-60 seconds, although 9-15 seconds is recommended
File Type: .mp4, .mov, .mpeg, .3gp, or .avi
Name Length: Between 2-20 characters or an app name that is 4-40 characters
File Size: Under 500 megabytes
Description Length: Between 12-100 characters
Then, choose a thumbnail, and enter your text, CTA and URL:
You can also add a tracking pixel from third-party tools such as DoubleClick and Adform (here is a list of all the third-party options available).
After you've created your ads, click the "Submit" button to finish. You are now ready to launch your campaign and start driving more visitors and conversions to your e-commerce store.
Related Content: TikTok Marketing: How to Get Started with Ads on This Platform
5 TikTok Ads Best Practices for E-commerce
Before wrapping up, here are some tips to help you run a successful TikTok ads campaign for your e-commerce business:
Use the Creators Marketplace: If you are interested in running an influencer marketing campaign, TikTok has built the Creator Marketplace to help brands find popular influencers to partner with and promote their products.
Stay on top of trends: TikTok is a fast-moving platform that requires staying on top of the latest trends. Make sure to spend some time looking at the most popular videos and trends to inspire new content.
Connect your Shopify store: Add TikTok's app to your Shopify store. You can implement the pixel, manage your business account, and create new posts without leaving your Shopify dashboard.
Integrate your TikTok content strategically: TikTok is a channel perfect for the top and the middle of the funnel. However, your organic content should be focused on the TOFU and your ads on the MOFU. Middle-of-the-funnel content has a higher intent, so promoting this content will likely drive more conversions than the top-of-the-funnel content. For example, you can create a custom audience for your product pages' visitors and retarget them on TikTok.
Tell a story: TikTok users don't want you to explain your product's benefits and quality; they want a story that engages them. When promoting your products, go beyond the selling and get into your brand's purpose, go behind the scenes, get customers to explain why they like your products, how they make them feel, and how they helped them.
Last Thoughts on TikTok Ads
Regardless of how well you are doing on Facebook and other ad networks, you should always think of diversifying your traffic acquisition sources. TikTok won't stop being a social media powerhouse in the near future, so it's best you give it a try before everybody else does. Follow this guide, and you will be successfully advertising on TikTok in no time!