11 Brands That Are Doing Mobile Advertising Right
Since mobile devices now play a key role in the overall growth of marketing spend worldwide, mobile advertising has become a primary mode of digital advertising. It is both cost effective and conversion oriented.
According to Statista, 4x as many people are spending time online on a mobile device compared to desktop: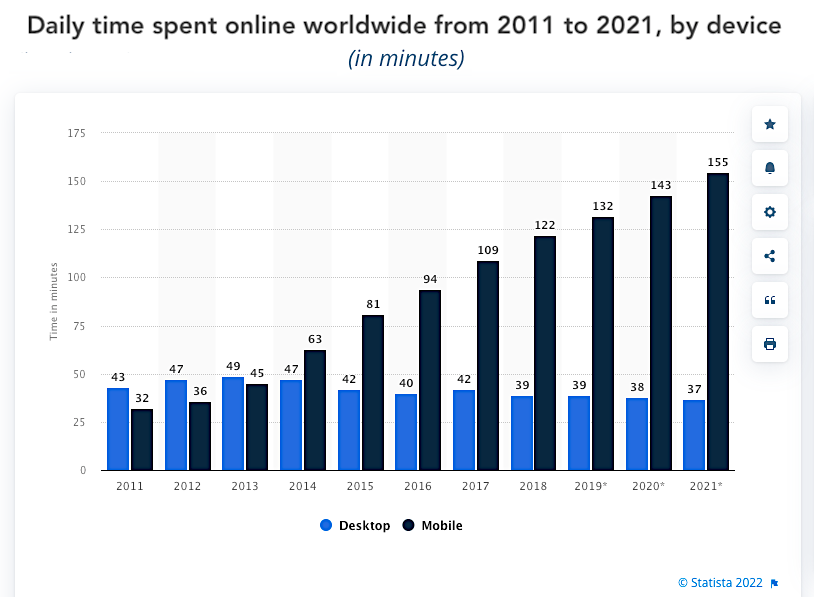 In this listicle post, we will cover 11 brands who are seeing tremendous success with mobile ads.
But first, a quick word on gamified mobile ads….
Dive Deeper: The Ultimate Guide to Mobile Advertising
Gamifying Mobile Ads
Gamified ads are advertisements that people can interact with as though they were playing a game. For example, if you're advertising a new app that you produced, you could run gamified ads so that users can interact with, or "play," your app as they would if they had downloaded it.
Because about two-thirds of Americans play video games and 62% install games on their phones, gamifying mobile ads are a great way to advertise to this audience: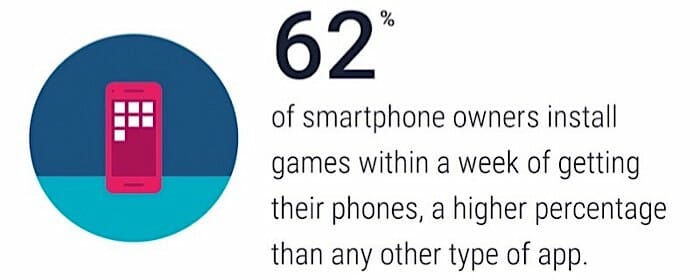 With the Millennial generation having grown up on games, gamified mobile advertising is more entertaining and create a better ad experience for users. Consider these facts:
There are more than 2.5 billion video gamers worldwide
72.3% of mobile users in the U.S. are mobile phone gamers
54% of mobile gamers said they'd rather watch video ads if this leads to in-game rewards
23% of U.S. gamers who own smartphones or tablets said they have an average of 3-5 paid games on their devices
In a study, gamified ads had engagement rates nearly 6% higher than non-gaming ads, and saw a 28.8% click-through rate (compared to just 3.9% for standard ads)
Now that you understand the importance and reach of mobile advertising, here are some of the brands that have excelled in this area. Read on to get inspired, learn from them and implement their ideas to make your mobile ads even better!
11 Companies That Are Doing Mobile Advertising Right
Pond's 
Pond's, a brand that sells beauty and health care products, partnered with InMobi to create the "world's first face detecting augmented reality rich media mobile ad."
This interactive ad allowed people to experience a unique and relevant brand experience in an effort to buy the brand's new Acne 10-in-1 Solution:
In a market that is oversaturated with similar face products, they knew they had to stand out somehow, so they decided to target prospects where they were already spending their time: staring at their smartphones. Using several filters, Pond's made their ad personalized and relevant, and by using the front-facing cameras in everyone's smartphones, they made their ad truly interactive — no downloading anything or visiting another site.
When users looked at their phones, the camera would track the various features of their face and automatically detect the acne-prone areas of their skin — as the user moved their face through augmented reality.
The results of this campaign included 39,000 users interacting with the ad and an average engagement of 29 seconds.
Related Content: Best Programmatic Advertising Agency: Top 6 Choices for 2023
Netflix
Netflix, the world's leading entertainment service provider with over 151 million paid subscriptions worldwide, won the Drum Mobile Award for the category "most innovative use of mobile."  The company captured the attention of viewers by creating a super realistic advertising experience that was both haunting and adventurous.
In the campaign, Netflix mimicked the fear that people experienced after watching an episode of the popular techno-paranoia drama Black Mirror. The mobile screen of the viewers resembled a broken piece of glass as though they were living in the show.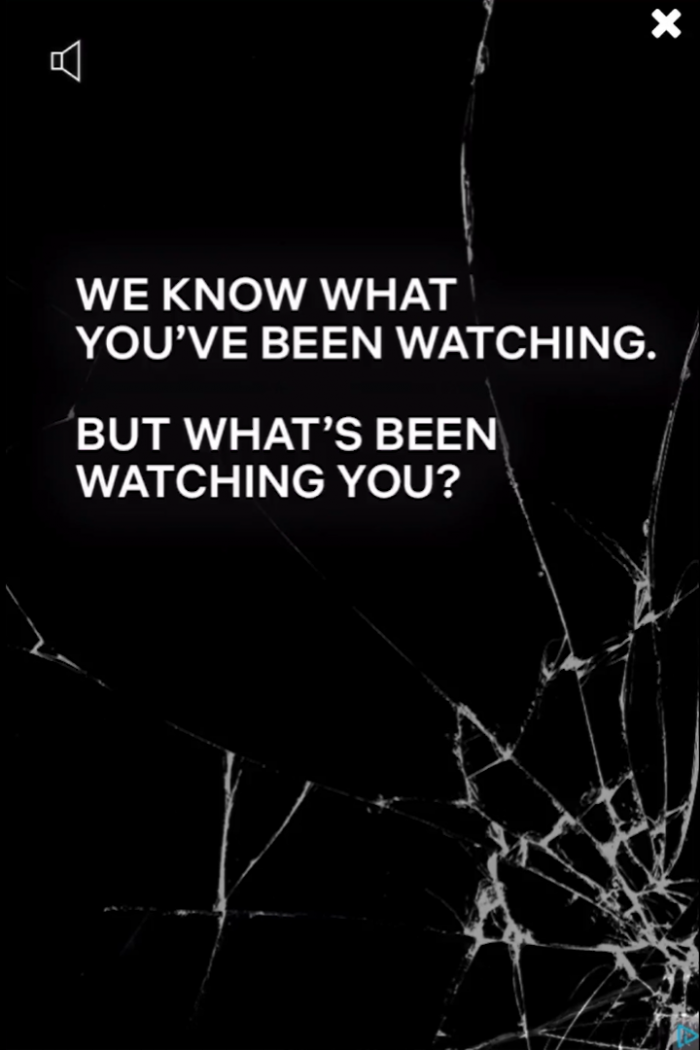 The ad was an instant hit and Netflix was able to capture the attention of both new and previous Black Mirror viewers.
Dive Deeper:
* Marketer's Guide to Mobile App Advertising
* 12 Quick Fixes to Make Your Mobile Traffic Convert
* Is Netflix a SaaS? 25 Examples of SaaS Companies That Are Rocking It

Ruffles
Ruffles is the world-renowned potato chip brand that has been marketed by Frito-Lay since 1961. Recently, its sales started to decline sharply in Brazil and this is when they thought of leveraging the power of mobile to reach audiences.
Ruffles wanted to resonate with teenagers in Brazil between the ages 12 and 18, so they created a mobile-only augmented reality game named AmiGO: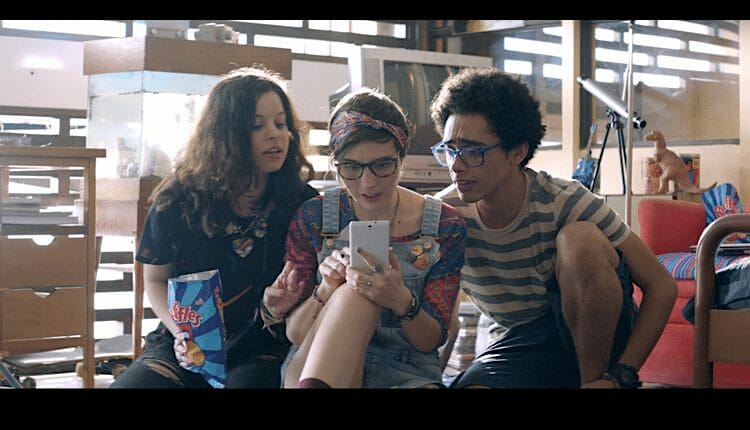 To play the game, "a user activated the camera on their phone and put in headphones. Their friends could see what the phone's camera saw, while the user saw what the game showed them. Thanks to the game's augmented reality, friends would see Ruffles chips around the user, and they could send voice commands to guide the user to grab the chips. The user had to follow their friends' directions since only they could see the Ruffles. The more chips the user grabbed, the more points for everyone. The points went into a weekly ranking, and top scorers were announced on the brand's social media accounts."
The campaign, called "Everybody In The Same Package," was implemented in three stages:
Hype: High-impact media such as Facebook videos designed to receive broad coverage by partnering with influencers
Maturity: Peak engagement to spark and encourage conversations about the game
Decline: As interest waned, content created by influencers was promoted on social media accounts to encourage consumers to play
Ruffles created mobile ads that targeted teens on various social networks in order to promote the game. The success of the campaign included:
More than 26,000 downloads

during the two-month campaign

The Facebook Live session that was created with soap opera actors and featured Ruffles content received more than 2M views for AmiGO

Increased sales by 43%
Users engaged with the app for an average of six minutes every day
AmiGO was among the 10 most talked about campaigns on Twitter that month
Dive Deeper:
* 8 Tips for Successful Mobile Video Advertising
* How to Target Your Mobile Users with Push Notifications
* How to Produce Paid Facebook Video Ads for Mobile Like a Pro

Starbucks
Whether you're a coffee aficionado or not, there's no denying that Starbucks has always led the way when it comes to keeping up with the times and giving their customer base what it wants.
Although they launched their mobile app years ago, it now has more users than Apple's or Google's mobile apps and has the most regularly used loyalty rewards app than any other restaurant chain.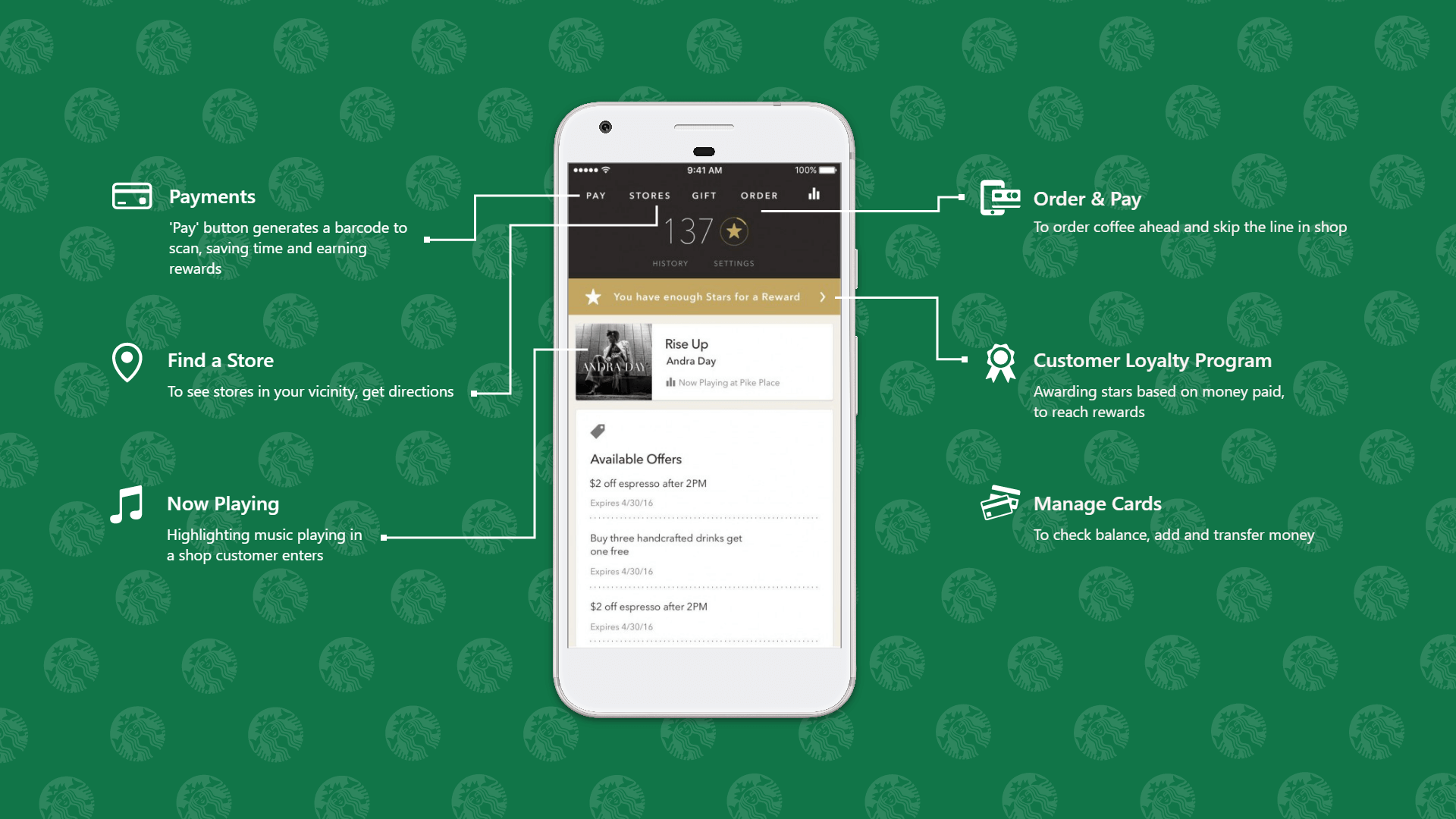 To ensure success in today's digital age, their mobile app offers:
Special offers/free stuff. Offering incentives like birthday gifts, loyalty discounts and complimentary beverages increased engagement among its customers.
Loyalty program. People love free stuff, and if they know they can receive a free drink or food item after they've purchased a certain number, they're more inclined to buy more stuff. This accounts for 39% of U.S. sales.
Notifications. Customers can fill out surveys on their phone (and earn more rewards stars) and get notifications when a special is going on.
Mobile ordering/paying. Avoid the lines, order ahead and pay on your phone. What's not to like? Because Starbucks is so busy during the morning rush before work, this feature is particularly successful. This accounts for 12% of its transactions in the U.S.
Personalization. As we know, when you personalize something, it increases customer engagement. More recently, they added in-store music playlist to the app, which means that customers can check out which song is playing while they're visiting any store. They can also access the playlist through Spotify after leaving the store.
As per Retail TouchPoints, it's clear that Starbucks will "continue its dominance over other mobile payments platforms through 2022."
Nissan
Nissan, the Japanese multinational automobile manufacturer, leveraged the power of the mobile touch screen in a brilliant manner to generate engagement for its compact SUV ad (note, this is just the regular video ad):
The Evil Snowmen ad had a video featuring Nissan's Rogue SUV that fought a gang of snowmen. The ad had various hotspots that users could tap on their mobile screen in order to learn about the features of the car. The tablet ad also had five hot spots, with content highlighting statistics on winter weather and snow safety.
Juice Mobile ran this 60-second video ad on its network, which saw a 78% completion rate and a 93% engagement rate.
Dive Deeper:
* 4 Essential Steps to Create a Go-To-Market Plan For Your Mobile App
* Top 10 Mobile Optimization Best Practices For E-commerce Sites
* 15 Thought-Provoking Statistics about Mobile Commerce [Infographic]

Snickers
Snickers is a chocolate bar from Mars, Incorporated that partnered with Spotify to create an ad that targeted users when they listened to songs out of their usual genre on the music streaming service.
The goal of the Snickers "You're Not You When You're Hungry" campaign was to make their chocolate bar the obvious choice during consumers' "hungry moments."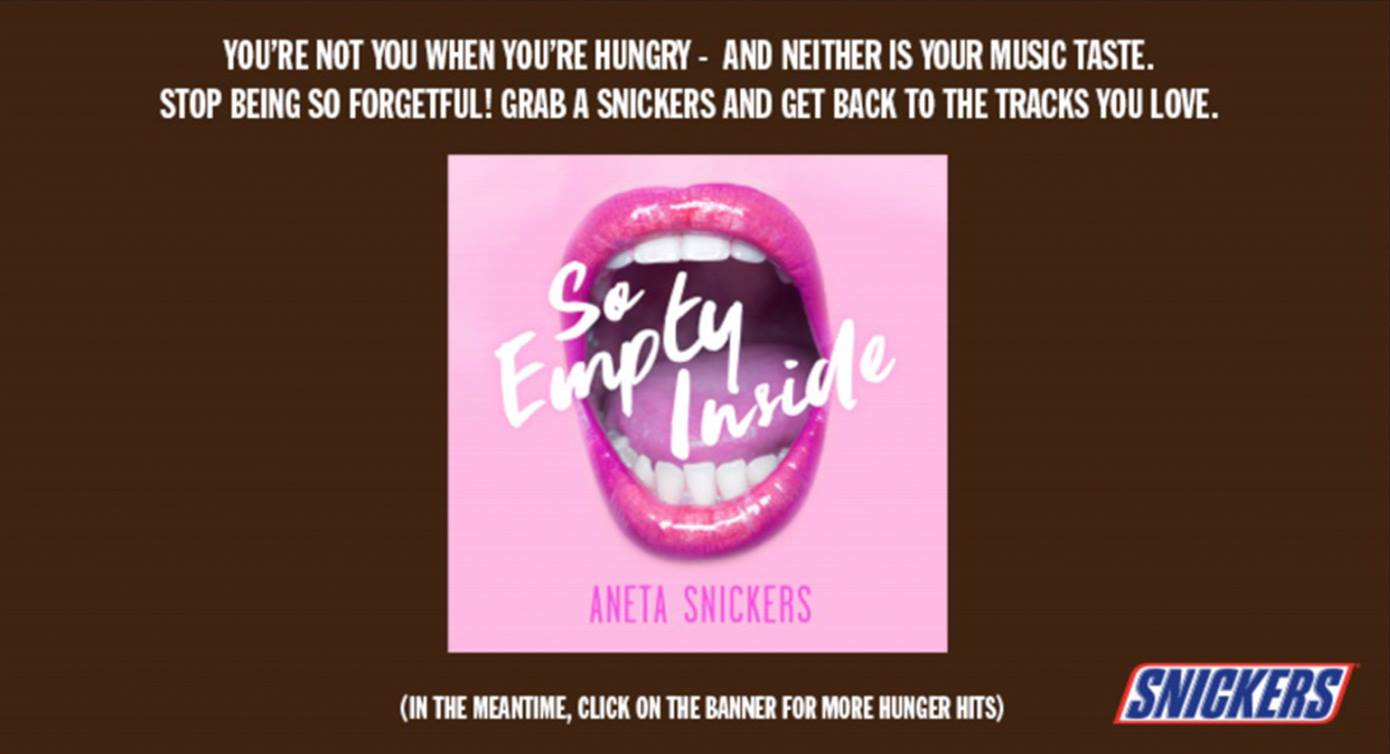 Key performance indicators for the campaign included:
Increase year-on-year sales
Interaction with the Hunger Hits playlist
Reach
Impressions
Social engagement with the campaign
Using Spotify's streaming data, Snickers was able to pinpoint users who were not listening to their normal genre of music and then in that micro-moment deliver their audio ad. The idea was impressive and it caught users by surprise, who were then driven to Snickers branded playlist named "The Hunger List".
Most Spotify customers listen to music on their mobile devices and "mobile listening is a 100 percent logged-in experience, which generates the streaming intelligence required to make campaigns like "Hunger Spotter" possible."
The campaign was able to generate 78,861 total clicks, 1,710,564 unique reach and 6,805,995 overall impressions.
Related Content: 22 Alternative Ad Networks for Best PPC Conversions in 2023
GAP
To connect with Millennials, American clothing and accessories retailer GAP created an ad on Instagram that showcased a decade long archive of the world's top logos: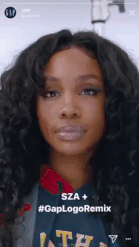 GAP showcased its new collection and enabled viewers to become a part of the logo remix launch with an energetic full-screen carousel ad in Instagram Stories with short-form, vertical videos that are idea for mobile viewing.
The 19-day ad campaign was an instant hit that saw a 73% higher click-through rate than in its past Instagram ads and a 4-point rise in message association.
Doctor Who
Doctor Who is a British science-fiction TV show that's been on the BBC since 1963. In order to promote a new season of the show, mobile advertising agency Mobext used Doctor Who as a "sidekick" to content on a set whitelist of high-profile websites.
The ad showcased the doctor persuading readers to expand the ad, which then displayed a "flip cube" format displaying all the show's characters.

The campaign was an instant hit, generating 45,000 engagements at a rate of 2.5% and a 4% expansion rate. It also won an award at the Effective Mobile Marketing Awards (EMMA) for Most Effective Rich Media Campaign.
Headspace
Headspace is an English-American online healthcare company that specializes in meditation and users can download the app and learn to meditate as well as be mindful. More than 40 million people suffer from stress in the U.S. alone, and research shows that regular meditation helps keep stress levels down.
Headspace targeted Instagram users who may be suffering from anxiety with this colorful ad: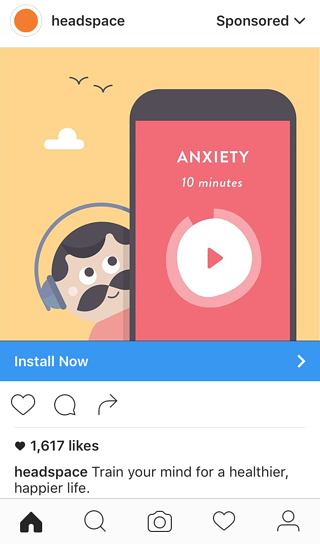 The ad uses fun cartoon-style storytelling to encourage users to try their app and reduce their anxiety levels in as little as 10 minutes. It's eye-catching, the design is simple, and the message is ultra clear, and anyone who lives with anxiety is sure to stop and watch the ad.
Dive Deeper:
* 14 Ways to Kickstart Your Mobile Email Marketing Campaign
* 7 Killer Digital Advertising Trends Every Marketer Should Know in 2023
* 13 Best Super Bowl Ads of all Time: What Your Business Can Learn from Them

Sony Pictures
Sony Pictures produced an animated film called Peter Rabbit, which was directed by Will Gluck.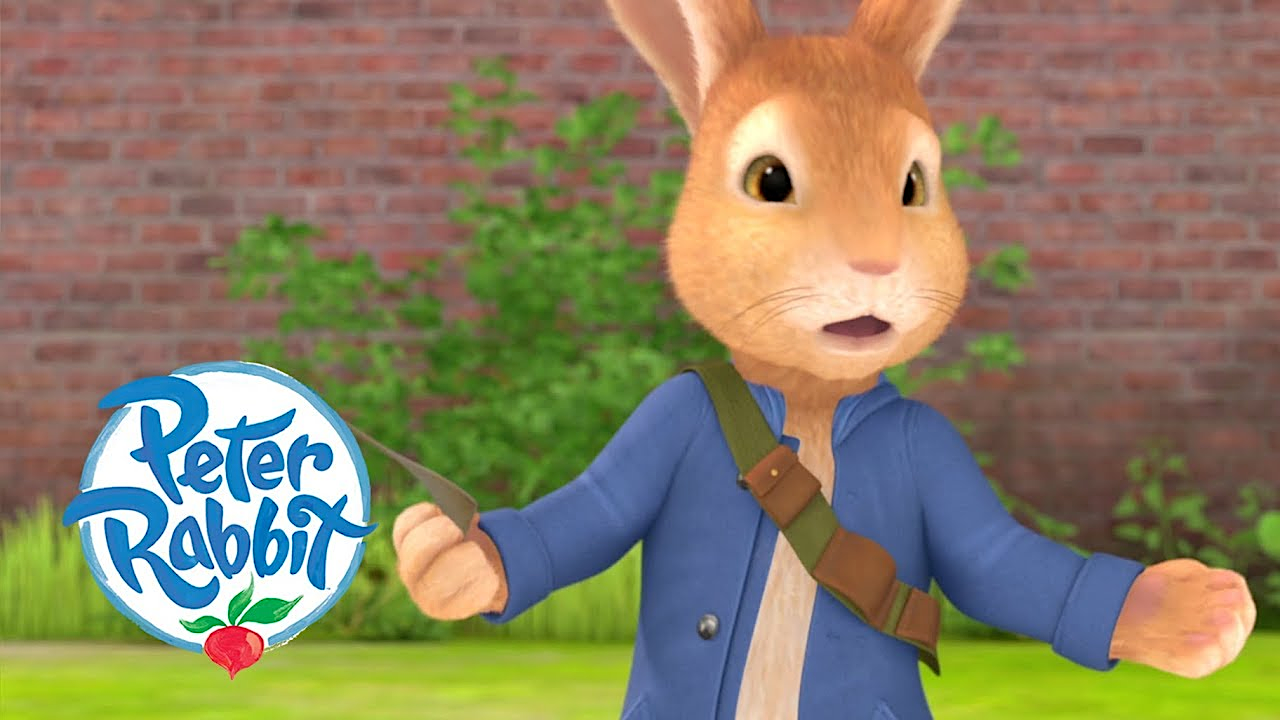 Sony Pictures wanted to build brand awareness for its new movie so they created a mobile ad campaign. The main objectives of the campaign were to measure Engagement Rate (ER), Average Time Spent (Seconds), and Video Completion Rate (VCR).
In order to reach its target audience, Sony created a custom, mobile-only video trailer and ran it across iOS, Android and mobile tablets. At the end of the trailer, viewers were invited to play a video game and click on character hotspots to learn more about the characters in the movie:
The game took users into a garden environment where they were required to slice the vegetables being thrown at them (so they could feed Peter Rabbit) while avoiding blackberries by tilting their mobile device. Sony's ads were displayed within custom gaming apps that had content similar to Peter Rabbit. 
According to the case study, the results gained were amazing:
The average time spent on Peter Rabbit was 14.59 seconds (almost triple the benchmarks of similar gamified units)
91.37% average completion rate across iOS, Android and tablet
55.81% of users replayed the veggie chop mini-game
The Instant-Play HD Video delivered an added value of 317,455 video completes for the campaign
Related Content: Geotargeting: How to Find the Right Customers for Your Brand
Samsung
When Samsung wanted to promote its Galaxy S6 smartphone, they worked with InMobi to create interactive ads that created a "personalized 'real-time battery identification' mobile ad unit," which allowed people to experience what the company was talking about with a relevant demo on their smartphone:
Knowing how important battery life is to most people, they created an expandable interstitial ad to demonstrate this phone's "super fast charging capability" by reaching out to existing customers with the objective of getting them to upgrade to the S6 as well as non-Samsung users.
With "moment marketing, Samsung captured users' at the moment when they most needed this charging capability," and their CTA button that said "Experience" gave users a personalized ad and relevant demo on the new S6 phone: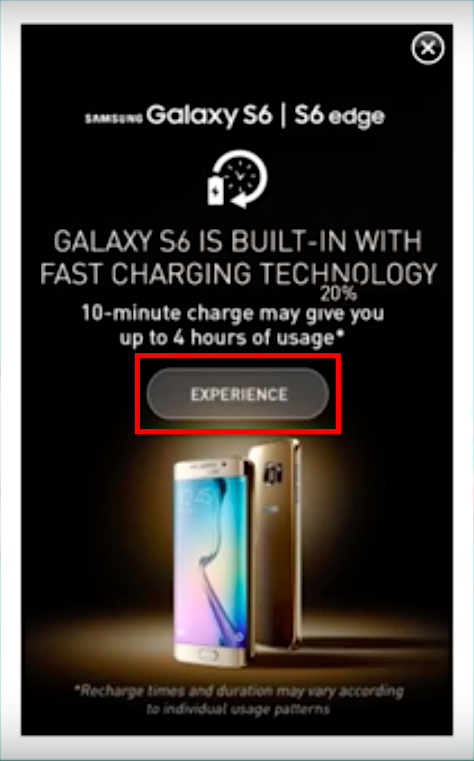 This campaign resulted in 1.6% of users tapping on the "Tap to find more" button, 1.1% of users clicking on the "Experience" CTA and an average of 20 seconds spent on the interstitial ad.
Last Word on Mobile Advertising
Mobile advertising is the best option to get the word out about your brand.
There are numerous ad formats, including native ads, in-app ads, app store ads, text ads and banner advertisements, for mobile devices that easily and effectively allow you to reach your current and potential customers like never before.
The ad spend on mobile (and the subsequent conversion rates) is way higher than any other digital advertising platform, so if you want to reach a wider range of demographics, from Boomers and Gen Xers to Millennials and Gen Z audiences, then mobile should be your preferred platform for advertising.
This listicle showcases some of the best mobile advertising campaigns delivered by some of the best brands around the world. Let these ideas for different types of mobile ads inspire your own mobile advertising strategy and take your business to the next level!
Hopefully you got enough inspiration to launch your own mobile advertising campaign, but if you just want an expert digital marketing agency to do it for you, click the orange button! 👇
Mobile Advertising FAQs
Are mobile banner ads effective?
Banner ads — also known as display ads — are one of the most common types of mobile advertising. They are popular in digital marketing because they are very effective at driving more clicks and conversions.
What is an example of mobile advertising?
There are many ways to display ads on mobile, including Facebook Ads, Snapchat Ads, Instagram Ads, YouTube video ads, in-game ads, SMS ads, and push notifications from smartphone apps.
Facebook ads are a classic example of what good mobile app advertising looks like: Users are able to scroll through their news feed and see ads that are specific to their interests without feeling like they've been interrupted.
Another example of mobile advertising are push notifications, such as those you receive from Amazon. These are used to give customers shipping updates with personalized messages and user attributes, such as name, location and purchase history.
Which mobile advertising platform is best?
There are a number of excellent mobile ad platforms, including:
Google Ads

Facebook Ads (aka Meta Ads)

Instagram Ads

Twitter Ads

Bing Ads

YouTube video ads

Apple Search Ads

AdColony

Airpush

Mobile in-app ads
What is a mobile advertising strategy?
A mobile advertising strategy is simply a digital marketing strategy aimed at mobile device (smartphones, tablets) audiences. Some differences from desktop ads include the ability to leverage push notifications and location-based advertising.
What's the difference between text and push notifications?
Text messages are sent via SMS ad campaigns to a user's mobile device in the same way you receive text messages from your friends and family (who hopefully aren't marketing themselves to you!).
Push notifications are short, one-way messages (or notifications) that pop up on users' smartphones via an app they've downloaded.
How effective is mobile advertising?
According to Agility, mobile advertising is the most effective form of advertising on the internet, with a response rate of 2.72-11%. 
SMS mobile marketing sees some of the most impressive engagement rates, compared to other channels, with open and read rates at about 98%. No one can resist opening a text message!