I'm sure you'll agree: Getting prospects to notice your content is one heck of a task.
Between the sheer amount of content published each day and our dwindling attention spans, it's no easy task to grab and hold your target audience's attention. 
As a result, you spend countless hours tweeting about it with with fingers crossed, hoping that someone will notice your awesome content, share it with their social network, and make it go viral.
Or you could try an easier way to ensure that your content reaches the right audience:
Paid content promotion.
A lot of advertising platforms allow you to promote your content to a highly specific audience, attract qualified traffic and leads, and grow your customer base. The downside? You have to pay for it, of course. Luckily, many of them aren't expensive, especially if you consider the ROI they can generate.
If you've been afraid to start promoting content with paid ads or even wondered how they work, you've come to the right place.
In this post, I'll give you an overview of the 7 most popular paid content promotion platforms.
The 7 Most Popular Paid Content Promotion Platforms
1) Facebook Advertising
According to Social Media Examiner, Facebook is the most popular paid content promotion platform among marketers: 84% of B2B marketers use it to regularly drive traffic to their content. (Hardly surprising, right?)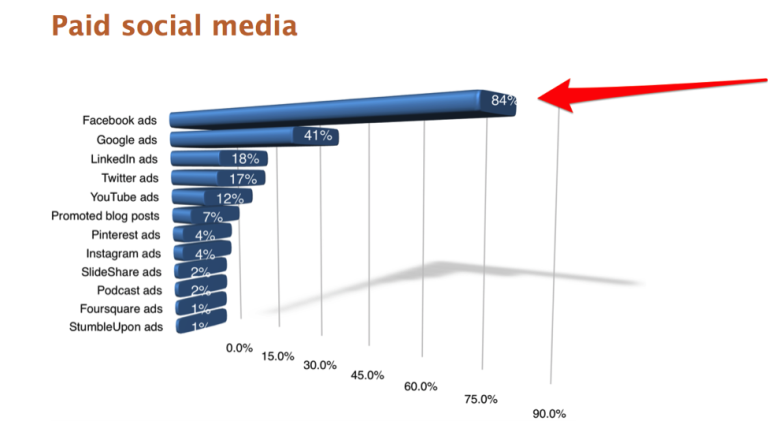 And according to AdWeek, we spend around 28% of our time online on social networking:
Statista reports that consuming content is one of the primary activities on Facebook: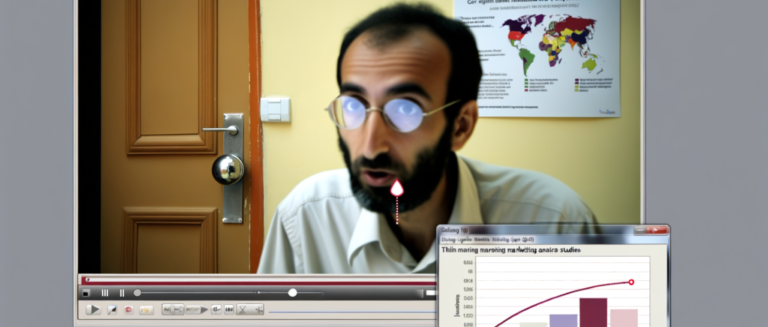 Facebook also attracts both B2C and B2B audience, making it a viable promotion channel for practically any business.
So regardless of whether you target customers or brands, you have a big chance of attracting them to your content.
Facebook offers many opportunities to promote content via its Advertising Platform, and Page Post Link ads can help you drive more traffic to your content. These ads typically show in the Newsfeed (also on mobile) and clicking on this ad takes a user directly to a website.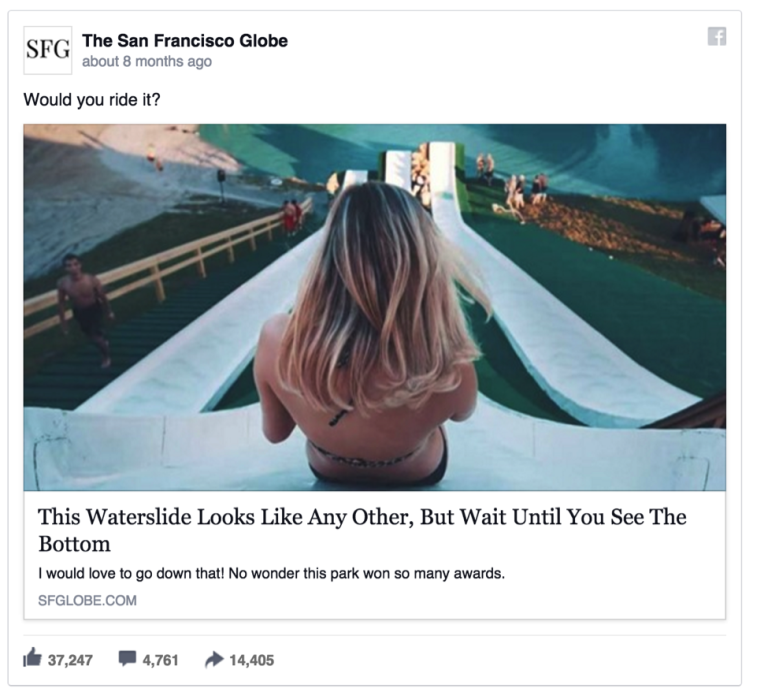 Page Post Link ads include a big image which makes it perfect to help catch your ADHD-prone audience's attention. What's more, Facebook allows you to A/B test all elements of the ad to come up with the most converting creative.
Targeting
When setting up your ad, you can target users by:
Demographics:

 i.e. their location, age, gender, and language

Interests

: specific interests important to them (Facebook determines interests by the Pages a person likes, their connections, and their behavior on the social network)

Behavior

: you can also select people based on what they do on the social network: their purchase behavior, intent, usage, etc.

Connections

: you can advertise to people who are (or aren't) connected with your Pages or apps
You can also display your ad to current customers or subscribers by including them in a Custom Audience based on e-mails, phone numbers or Facebook user IDs.
Lastly, you can also use Lookalike Audiences to target people similar to your clients, leads or fans.
Cost
Facebook Advertising is a bidding platform, meaning that you can specify how much you're willing to pay for a campaign.
On Facebook, you can bid on Cost Per Click, Impressions, Cost Per Action/Conversion and Cost Per Like, and the final price is affected by:
     

The audience you're targeting

     

Quality of your ad

     Time of

 year you want to run your campaign
Next Steps:
Learn More: Facebook Lead Ads: Everything You Need to Know to Increase Mobile Conversions
2) Google Ads
I know, it makes no sense at all, does it?
Google Ads is an ideal platform to attract new customers or leads, but not to promote content, right? And yet…
The aforementioned Social Media Examiner report states that 41% of social marketers use Google Ads to promote content regularly, making it the second most popular paid content promotion strategy.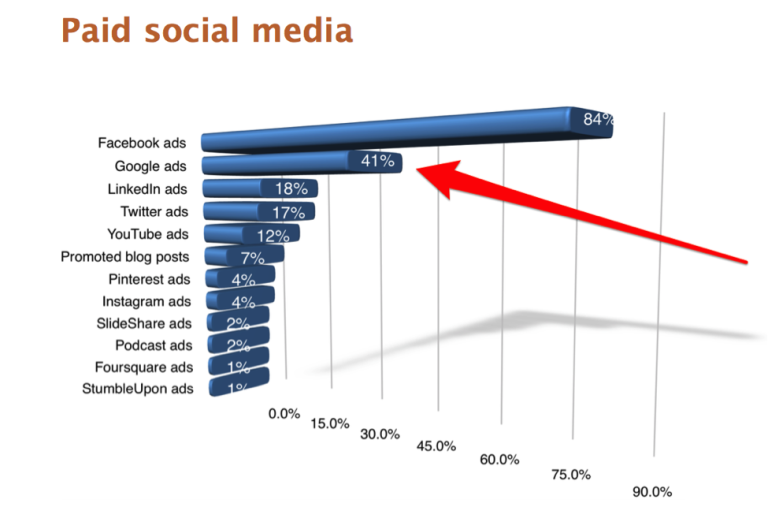 And according to the latest Content Marketing Institute B2B Content Marketing Benchmarks report, search engine marketing is the most popular paid content strategy among marketers.
Of the survey participants, 66% admitted to using the Google's advertising platform to promote their content.
What's more, 55% consider AdWords the most effective paid promotion strategy.
How is that possible?
You see, Google Ads is a versatile yet extremely simple platform to use. Creating an ad takes no more than a couple of minutes, and Google starts displaying it to anyone looking for keywords that you specified practically right away.
Also, the Ads platform offers extensive research tools which allows you to really make sure that your content reaches the right audience at the right time.
And finally, data you collect in Ads lets you improve your audience targeting and create much better content in the future.
Targeting
Google Ads targets keywords that people actually use to search for information. So when you choose words or phrases that are relevant to your content, your ads appear to those people.
On top of that, you can also target users by location, language, and device they're using. Also, by using remarketing, you can target people who have visited your site before.

Cost
Google Ads is an auction-based system in which you specify how much you're willing to pay for each click on your ad for a specific keyword.
Next Steps:
Dive Deeper: A Simple Hack to Combine Facebook Ads and Google Ads
3) LinkedIn
Social Media Examiner reports that LinkedIn is the 3rd most popular paid content promotion strategy among marketers, with 18% of them effectively using it to distribute content.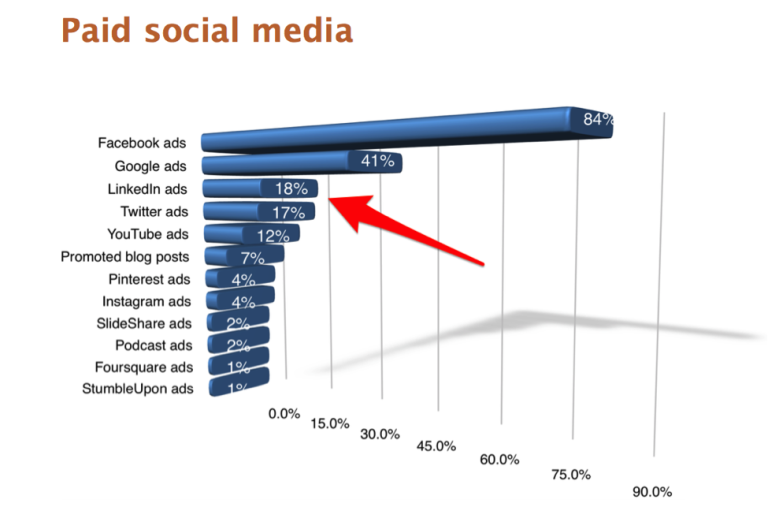 And InsideView states that LinkedIn delivers more leads to B2B companies than any other social networking site or a company's blog.
LinkedIn Offers 3 Options to Promote Your Content
1) Sponsored Updates – a native advertising model in which you display content as a sponsored update in a person's news feed.  

2) Text and Image Ads – allows you to place ads in prominent places across LinkedIn's website.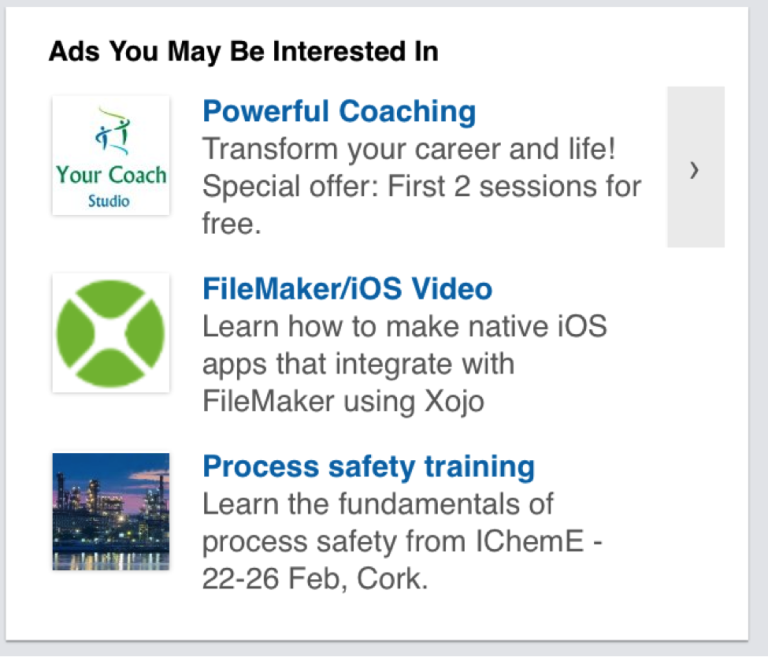 3) Sponsored InMail – lets you use LinkedIn InMail to message targeted audience segments about your content.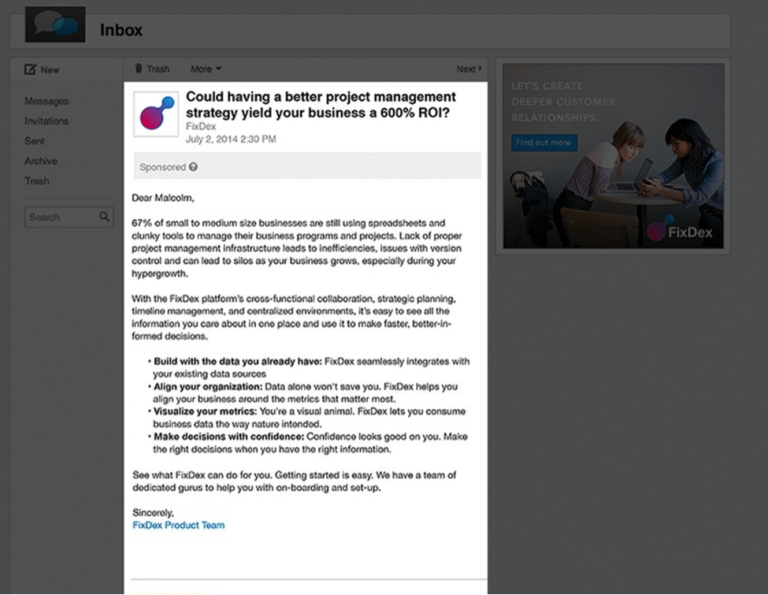 Targeting
The power of LinkedIn ads lies in their ability to target people not just by their demographics (age, gender, location, etc.), but also by such factors as a job title, employer, industry, company name, company size, skills, LinkedIn Groups they're members of, and even interests.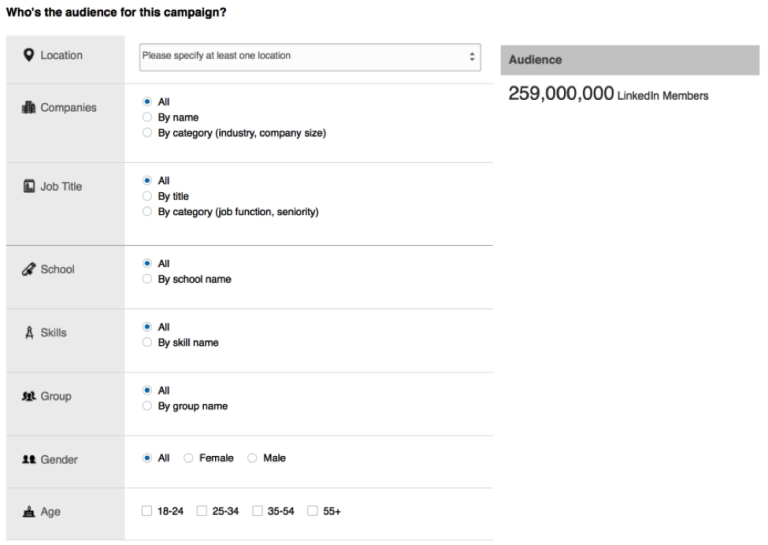 LinkedIn recommends a minimum audience size of about 300,000 for sponsored content. For text ads, they recommend between 60,000 to 400,000. For sponsored InMail, they recommend an audience size of under 100,000.
Here are all the different targeting options you've got with LinkedIn:
Location.

Location is based on the location entered by LinkedIn members on their profile, or their IP address. 
Company name.

Company name refers to the company that's listed on a member's profile. If this is unclear for any particular member, LinkedIn will automatically infer which company the member is a part of based on their internal data.
Company industry.

Members also have the option to enter the industry in which they work on their profile.



Company size.

Using this filter, you can target startups, mid-sized companies, or big corporations.
Job title.

LinkedIn members enter industry-standard job titles on their profile, so you can use this filter to specifically target decision-makers with your ad.



Job seniority.

LinkedIn also categorizes members with different levels of seniority, like entry-level, associate-level, VP-level, etc.
Skills.

LinkedIn members can also include skills specific to their industry on their profile. You can incorporate this into your targeting as well by using skills that are specific to the decision-makers you want to target.
Schools and degrees.

You can also filter your audience by the college they went to and the degrees they hold.
Fields of study.

This is gathered from data that members enter on their profiles.



Groups.

If you know of a particular group that has members specific to your niche on LinkedIn, you can target them through your ads.
Gender.

LinkedIn infers members' genders through their first name.
Age.

LinkedIn infers members' ages based on their graduation year.
Cost
LinkedIn offers two basic pricing models:
     

CPC –

 you pay for each click on your ad

     

CPM –

 you bid on how much you're willing to pay for 1,000 ad impressions
Next Steps:
Dive Deeper: The Ultimate Guide to Creating a LinkedIn Ads Campaign
4) Twitter
I agree: You rarely think of Twitter as a paid content promotion platform.
After all, you already use it to promote your content for free (by sharing every article you write on this platform), and you probably use software like CoSchedule or Buffer to tweet about archived content.
You might even reach out to influencers to help you spread the word on your posts.
But I bet you never considered paying to promote your content on Twitter.
Consider this:
Twitter Ads offers an option to publish Promoted Tweets that are nothing but ads disguised as tweets that appear in a person's timeline. In most cases, the only difference between normal and promoted tweets is a little "Promoted" label in the bottom left corner.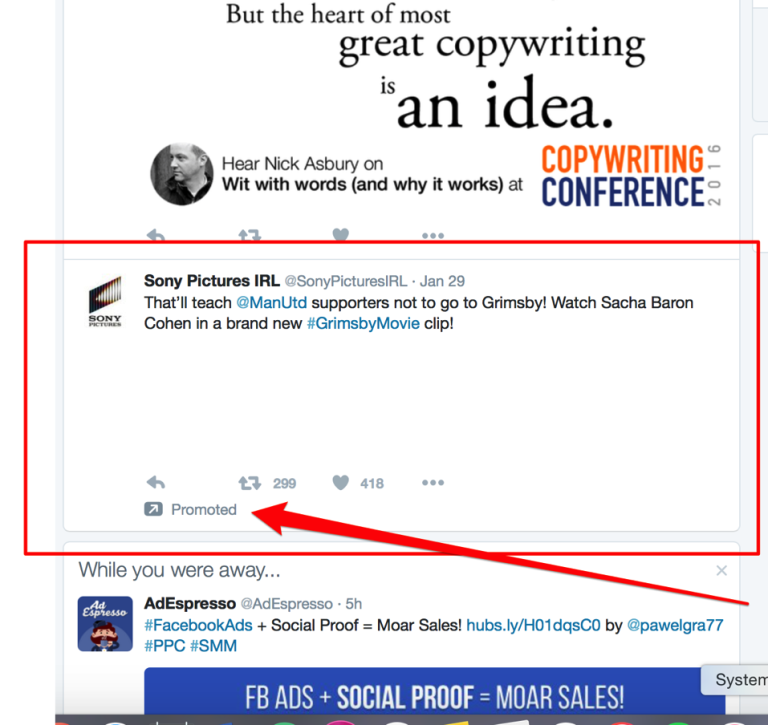 Targeting
Twitter offers advanced targeting options to ensure that your content reaches a highly-qualified audience.
For example: on Twitter, you can target users based on their interests, accounts they follow or keywords and user behavior.
Cost
Like most platforms I discuss in this post, Twitter Ads is an auction based system.
However, unlike AdWords, for instance, on Twitter you're not bidding on keywords but rather specific actions that you want the person to complete.
You can choose from such actions as clicks, acquire new followers, engagement, app installs, leads or video views.
Next Steps:
     

To get started with Twitter Ads, click here.

     F

ollow the advice in

this guide

by Sprout Social.
Learn More: Do Twitter Ads Really Work? (And How to Get The Most Out of Them!)
5) Outbrain
I bet this happens to you all the time: You discover an interesting article, and just when you get to the end of it, you notice a link to another one.
And then another one.
And another one….
And before you know it, you've spent an hour consuming countless pieces of content.
The next platform I'm discussing here makes it possible to promote content by targeting this very behavior.
Outbrain is a service that allows you to target that very behavior and promote your post on other pieces of content in order to attract readers from other websites.
The platform displays a widget with a list of recommended articles below every post on the sites that use it. Here's a screenshot showing the widget in an article in the Time Magazine: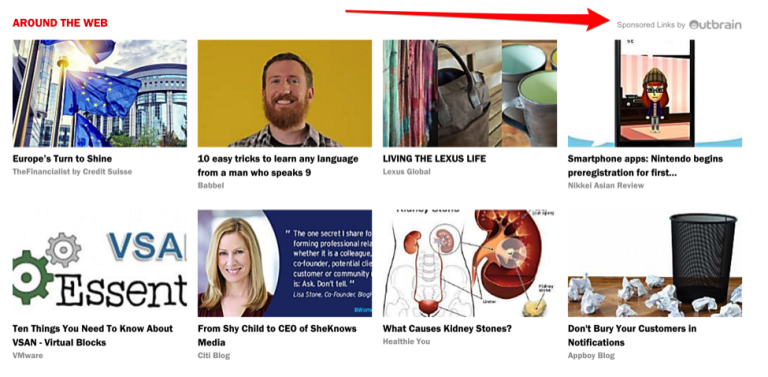 Cost
Just like the other paid content promotion platforms, Outbrain works on a Cost Per Click basis, meaning that you pay only for the visitors who go to the page that you're promoting.
Next Steps:
Note: Outbrain is just one of many content discovery networks. Other, similar platforms include:
Dive Deeper: 6 Holiday PPC Strategies You Need to Use to Convert More Customers
6) Reddit Ads
Fact: Reddit is the front page of the web.
Just last month alone, the site received 231,625,384 unique visitors (subject to change, as you can see), viewing 8,194,956,819 pages and casting 29,170,122 votes.
Impressive, huh?
What's more, the site offers incredible opportunities to promote your content.
Reddit is made up of "subreddits", which are categories that users create to discuss related topics. You can submit content directly to a relevant subreddit or use Reddit Ads to ensure that a specific audience will notice it.
Targeting
Reddit allows you to target users by their interests, specific subreddit they subscribe to, location, or display your ad to all of Reddit, without any particular targeting.

Cost
Reddit charges for impressions (CPM), which means that you pay a flat fee for every 1,000 ad impressions.
Here are the rates as per Reddit's FAQ page:
     

Interest Group Targeting: Starts at $1.50 CPM

     

Subreddit Targeting: Starts at $1.50 CPM

     

Country Targeting: Starts at $1.50 CPM

     

U.S. City Targeting: Starts at $5.00 CPM
Next Steps:
Dive Deeper: Marketer's Guide to Advertising on Reddit
7) BuySellAds
I agree: It probably wouldn't make sense to use banner ads to promote every piece of content.
But if you've published a report, long-form guide, e-book or other lead magnet, banners might be a way to attract a new audience to them.
BuySellAds is a platform that connects publishers with publishers and allows them to buy and place banner ads on the sites.
On BuySellAds, you can purchase banner ad space, publish sponsored content, and buy individual ad spaces on thousands of sites.

Targeting
BuySellAds organizes publishers by categories and topics, so you can find websites with the audience you're trying to reach:

Along with the basic information about the site, BSA also displays the most recent audience stats like monthly impressions and Twitter following:

Information about ad placements and types is available on the site along with prices: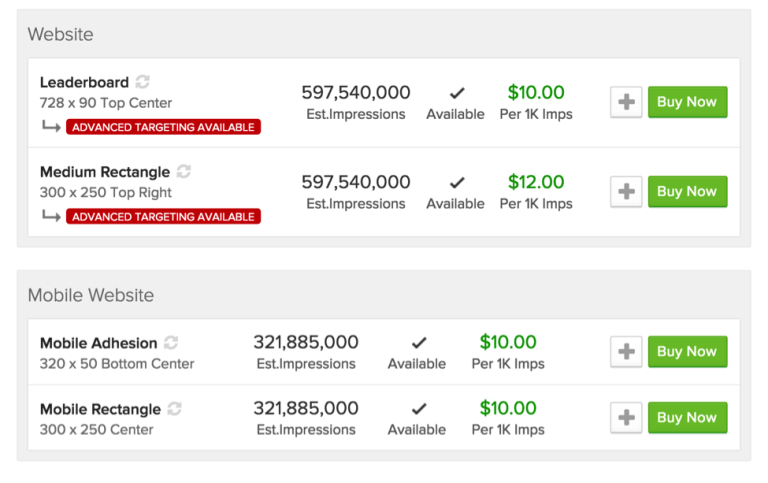 Cost
Price per ad placement is determined by each site and can range from as little as $10 and as much as hundreds of dollars, depending on the site's popularity and audience engagement.
Dive Deeper: How to Create Compelling Text Ads on Google (with Examples)
8) YouTube
As attention spans grow shorter and shorter, more and more marketers are focusing on publishing video content to engage with their audience.
So naturally, YouTube is the number one channel that marketers are planning to add to their efforts.
Video marketing has a lot of benefits over written content. For one, it allows you to connect with your audience on a much more emotional level. Video lets your audience see your body language. It lets them feel the "vibe" you give off, and the subtleties of your communication that don't always show through in a written blog post. It makes you seem more human.
Because YouTube helps you build a deeper relationship with your audience, it also helps you position yourself as an authority in your niche – which leads to more long-term sales.
There are a few different types of ads YouTube offers to advertisers.
1) Skippable Video Ads
Skippable video ads appear on specific videos and users can "skip" them after five seconds. These ads can be inserted before, during or after the actual video. According to Google, these ads are compatible with all devices – including desktop, mobile, TV, and game consoles.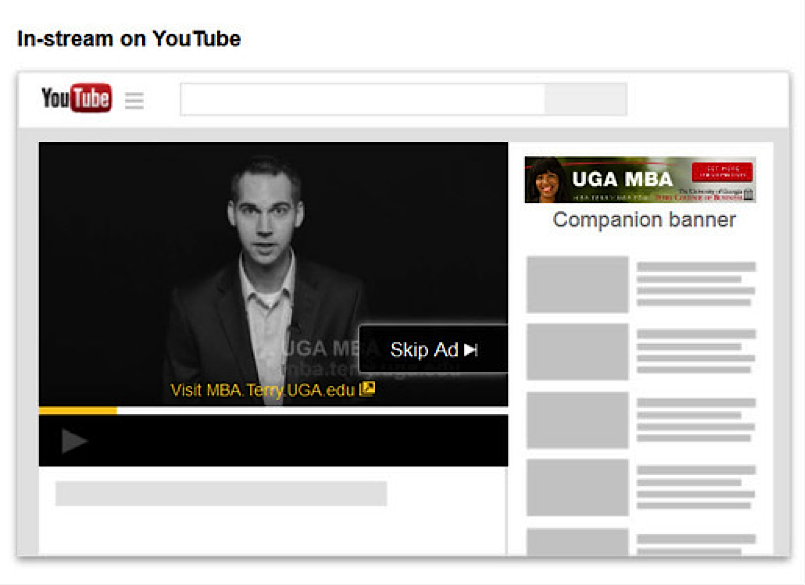 Source: Lungfish Communications
2) Non-skippable Ads
If your video ad is 30 seconds or less, you can create a non-skippable ad that users have to watch before they can go on to the video that they chose. Like skippable video ads, these ads can appear before, during or after the feature video on both desktop and mobile devices.
3) Display Ads
Display ads are images that appear in YouTube on the top of the "related videos" list.
4) Overlay Ads
Overlay ads appear near the bottom of the feature video as it's playing. Viewers have the option to close this if they want.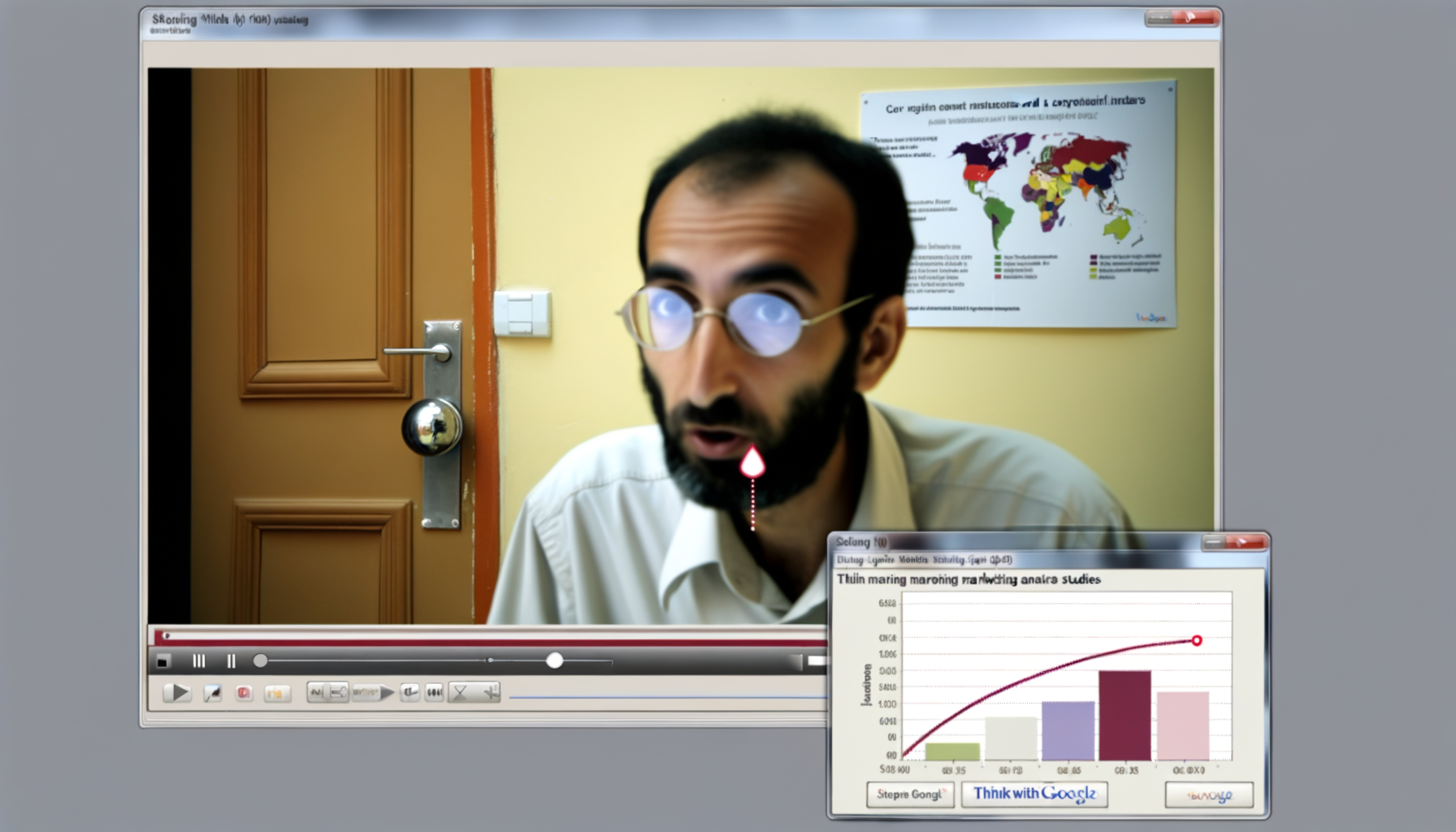 Source: YouTube Creator Academy
Learn More: The Complete Guide to YouTube SEO
Targeting
The most important part of running any ad is the targeting because if you're targeting the wrong people, then it doesn't matter how great your marketing is.
On YouTube, you've got a lot of targeting options to make sure that you reach the right type of customers. For example, you can target by age, gender, location, interests, and more. By targeting interests, you can reach viewers of videos in categories like movies, music, travel, art, etc.
That way, you can be sure that you're targeting people who will actually engage with your ad.
Cost
YouTube allows advertisers to set a daily budget so that you only pay what you want without having to deal with any unexpected costs.
On top of that, YouTube only charges you when someone actually engages with your ad. For example, if you decide to deploy a skippable video ad, you don't pay anything when a viewer skips your ad.
You can use YouTube's quick interactive tool to get a gauge on what your ad budget will buy you. For example, if you decide to spend $40 per day, you'll get 800 views.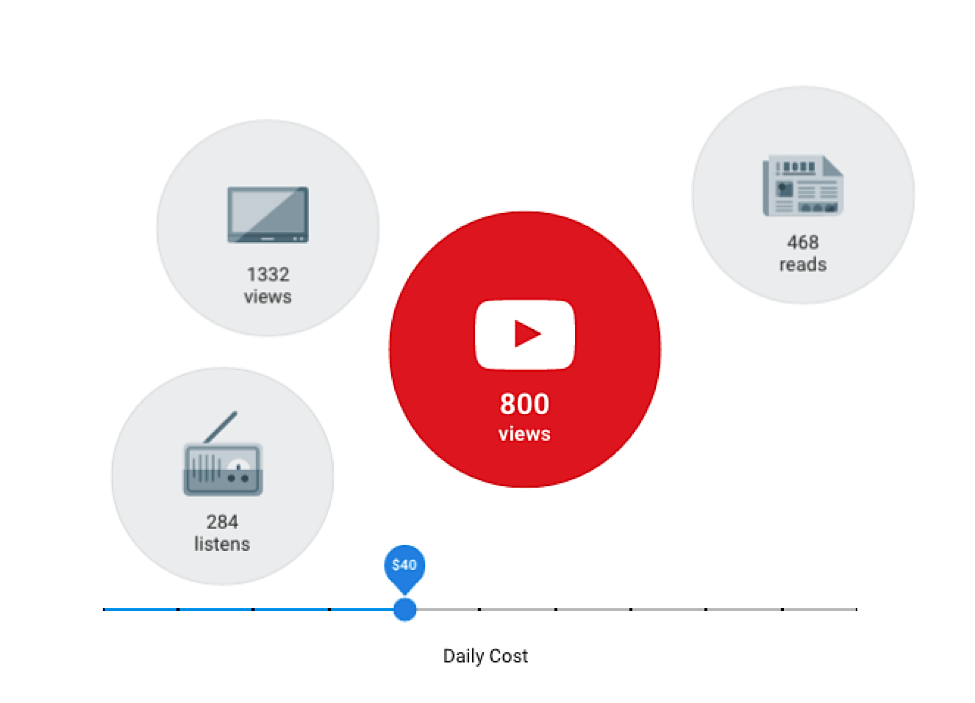 Source: YouTube
Final Word
With so much new content published every day, getting your target audience to notice your content is one heck of a task. One way to achieve this goal is to always promote it via owned and earned media.
Or you could use paid ads to attract more targeted visitors to your site.
Now that you understand what the different paid content promotion platforms are and the pros and cons of each one, you'll have a much easier time getting potential prospects to notice your content!