Hiring a video production company is a lot of work.
But not as much work as producing a professional-quality explainer video, product demo video, customer testimonial video or any other type of video for your brand's needs.
So you spend time researching a bunch of different companies, read tons of reviews and references, examine some of their work, and finally interview the top choices. Finally, you find an agency that is the best fit for your budget, deadlines and goals.
But one thing you may not be fully confident about is: What exactly can you reasonably expect from them? You don't want your expectations to be too high or too low.
To make sure you get off on the right foot with the video production company you've hired and are familiar with the realistic things they can and should do for you, read on!
Onboarding
While you and your new video production team are getting to know each other, here are some guidelines of how the kickoff process should flow.
Be Transparent with Your Needs
Honest, straightforward communication is imperative from day one of the project launch, as well as throughout the working relationship.
Remember, the people tasked with making you a great video product can't read your mind, so be forthcoming about your wants, needs, goals and expectations. Provide as much information, including preferences and guidelines, to your video production company as you can to help them help you.
Some key info you should give your production team:
Do you have any styles of video you love or hate? Share examples of the types videos that you're looking to make as well as actual examples of videos that captivate you (or have the opposite effect) .
Do you have any particular brand rules or guidelines that the agency must follow?
Do you have communication preferences? Email, text, impromptu or scheduled phone calls, or regular in-person meetings? Certain days or times that work better for meetings and check-ins?
Also, let your team know if there are any special particulars that might affect your interactions, such as unusual hours, availability restrictions, deadlines, etc. Make sure to let the agency know how you prefer to work so that they can do their best to accommodate you.
Dive Deeper: 10 Inspiring Examples of Promotional Campaign Videos for Startups
Understand the Agency and Staff
You'll want to be sure that your team's project liaisons have a clear understanding of who the agency's main contacts are for the different departments — accounts, creative, strategy and design. This should be pretty straightforward, but sometimes it can get overlooked in the kickoff.
Key people you'll probably be working with:
Account Manager: This is the normally your main point of contact and the person you will be interacting with the most.
Creative Director: Leading all things creative is the Creative Director. This person will be working with all the other team members, vendors, etc.
Strategist: S/he will make sure the different videos, distributions and media are all working together.
Media Planner/Buyer: This person identifies the best media platforms to advertise with and negotiates the buying and deals.
Art Director: S/he defines the visual style of the video and campaign, creates the overall design and then directs others to develop the artwork or layouts.
Writer: Whether it's voice over (VO) or a script featuring actors, the writer will be in charge of all copywriting and copy editing.
Producer: Leading the planning and coordination of everything from hiring actors, renting locations and planning out the shoot schedule is the Producer.
Director: Will lead the video's story execution and structure and direct the talent
Director of Photography: The DP is in charge of everything camera- and lighting-related.
Editor: This person handles everything post-production, including editing, graphics, animations and special effects.
Sound Designer: S/he will polish everything concerning your video's audio, including music, mixing, VOs and sound effects.
Colorist: One of the last people to touch a project, the Colorist ensures that each shot matches and looks coordinated with the overall video.
You'll also want to have a clear understanding of your agency's process and checkpoints, as well as the general timeline they're working with.
Although you may have a certain deadline you need to reach, it's up to the agency to come back with a clear timeline of deliverables, reviews and creative milestones that all add up to your final deadline.
Take note of how much time your team will have for reviews and revisions and make sure everyone on your side is made aware of the schedule so as to not delay the production team. Schedule regular review times when needed to keep the video project moving forward as planned.
Understand the Contract and Fees
You need to clearly understand the give-and-take terms of your agreement with the production agency, including any possible fees or penalties mentioned during project discussions and present in your agency contracts.
We can't state this enough: Read through the contract language carefully to ensure that you are fully aware of your rights and responsibilities as a client, and that you don't incur any unplanned costs due to changes or revisions throughout your video-making process.
Most standard video production contracts should include explicitly worded terms for the following elements:
Project summary
Terms and conditions
Ownership rights
Scheduling parameters and changes in specifications
Schedule/deadlines
Rush fees (if applicable)
Security/confidentiality
Production company warranties
Client warranties
Revisions and edits
Delivery
Payment
Get On-boarded into Their Project Management System
Many agencies will use a project management system such as Wrike, Basecamp or Asana (pictured below) to keep things organized and make certain that your project stays on task.
Add your primary project team members to that system so everyone who is involved has the ability to check in on all the moving parts of your video in real time.
Dive Deeper:
* How to Research Your Audience Before Producing an Explainer Video
* The Types of Videos to Use at Each Stage of the Marketing Funnel
* How to Make a Video That People Will Watch Til the End

Video Project Flow
Each agency will be different in terms of how they work and what exact steps they use to produce deliverables for their clients.
In general, they should be implementing a highly structured process that includes the following points when creating a video for your company:
Concept Development 
The concept development is the initial stage where the agency takes time to get to know you. Lean on the production company for creative and strategy advice, but make a point to stay very involved in this phase.
Your creative team will do a deep dive into your brand, reviewing and analyzing current and former marketing strategies.
The agency should also perform a competitive analysis to check in on what your competitors are doing in terms of marketing and video marketing.
During development, the project overview is created or refined and should include a campaign strategy for where and how the video will be used.
You'll need to provide a good amount of materials and information upfront to help the agency do its job well. Once the concept is decided on, there is no going back.
Dive Deeper: Why Competitive Analysis Is the Key to Early Success
Mood Board
The mood board is a visual representation to assist the production team in laying out the creative vision, like this mood board for locations: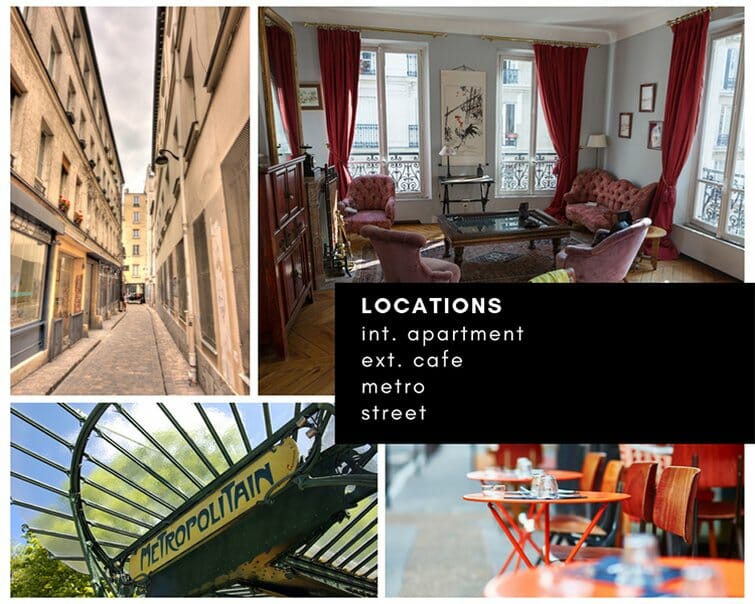 Your mood board should encompass everything visual such as:
cinematography
film style
overall color palette
lighting
characters/actors
location plans
music
graphics
visual effects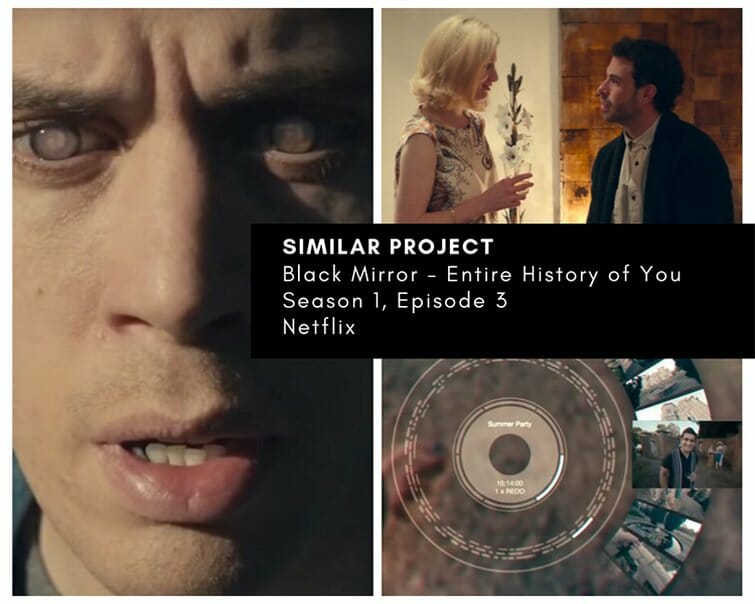 The production company should lead this step, but will look to your team to provide any rules or requirements such as brand guidelines, fonts, logos, etc. During the mood board review, elements can be changed to help shape the video's final look and feel.
Script
The script includes the copy or messaging that will be heard by the audience in the form of a voice over narration or actor/character lines.
Normally, the script is done in two phases: outlines (for strategy) and writing by a professional copywriter. The writer will take the lead on crafting the messaging, but your team will need to thoroughly review and approve every word because once the script is locked in, revisions or updates will cost you.
Pictured is an example of an AV Script template that you can download: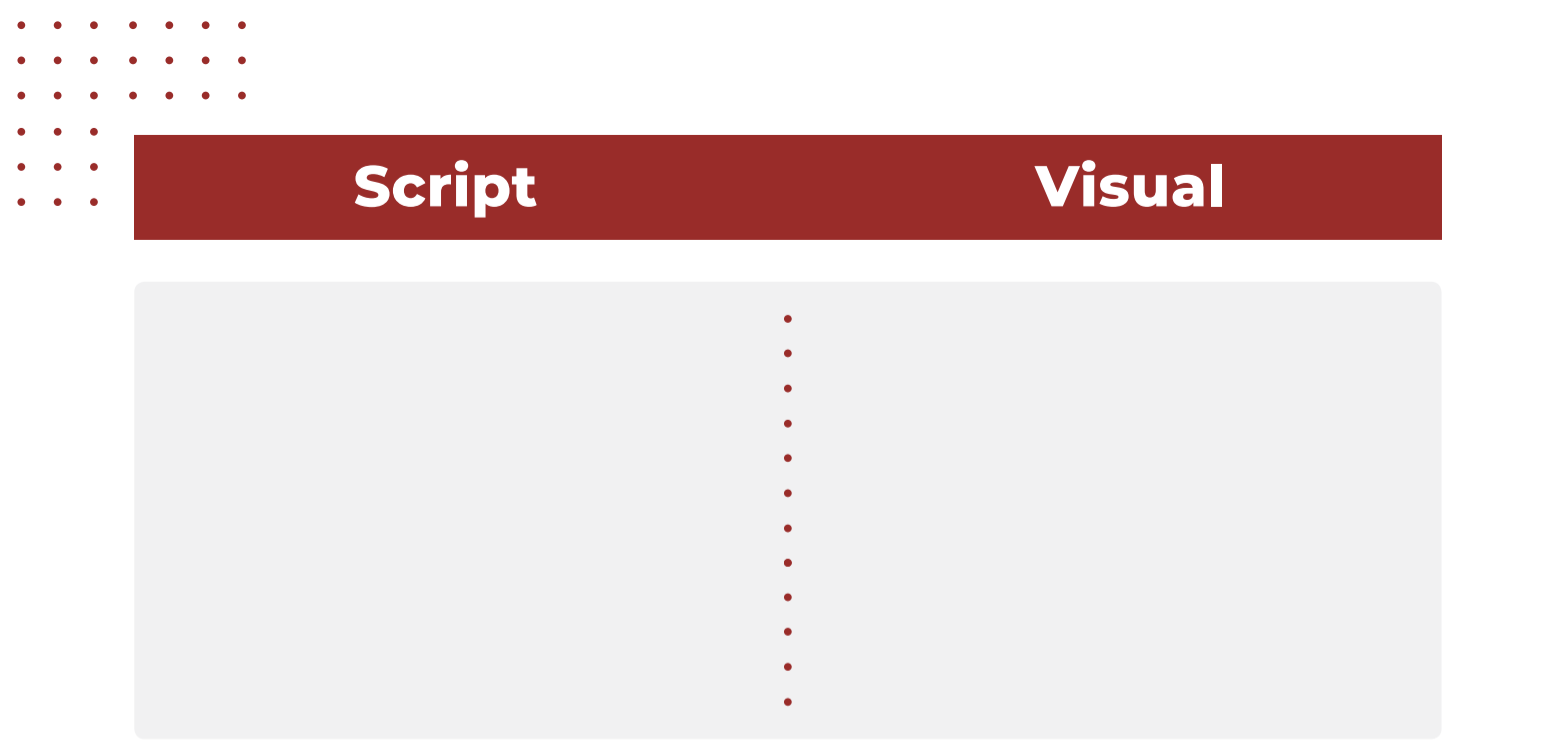 Casting Actors
Casting your video's voice over talent and/or actors is handled by the video production agency, although your team will have final approval of the professionals who are ultimately hired.
Casting can be done remotely by using video auditions or in person at a casting studio. The mood board should provide descriptions of the ideal candidates in the form of physical characteristics, style and personality to ensure that the right talent is found.
Dive Deeper:
* 20 Pre-Production Tips to Create Successful Video Content in 2023
* The Video Structure that Big Agencies Use to Create Successful Videos
* Top 5 Reasons Why Your Videos Are Not Performing Well

Finding Locations
Location scouting is primarily handled by the agency. The production team will do most of the legwork of finding the ideal shoot locations (or a studio), renting the space and securing permits and insurance.
An experienced agency will know a variety of local locations and may even work with a location services professional to find out-of-town shooting locales or more specialized buildings or environments.
Most locations will need to be reviewed and approved by your team, and you should definitely visit the location yourself to make sure it looks and feels exactly like what you envisioned.
Here's a great video about location scouting:
Buying Props and Wardrobe
Unless the props or wardrobe are a major element of the story or theme of the video, normally these tasks will be left to the director and producer to figure out. Often, it is possible to rent props and wardrobe instead of buying new items to help the budget.
Dive Deeper: 17 Engaging Video Content Types that People Love to Watch
Storyboard
The storyboard is essentially a sketched (or sometimes photography-based) representation of your video's story that is much more in-depth than the mood board.
It can also help answer production questions like:
Where does the light come from?
What does the location need to have for the production to work?
What tools will each shot require in order for them to look and feel the way the script intended?
Once the storyboard artist sketches the scenes, your team will need to sign off on the plan. The storyboard is more than just ideas and should include exact visuals planned for the shoot, so make sure to be thorough in your feedback and approval.
A finished storyboard might look something like this: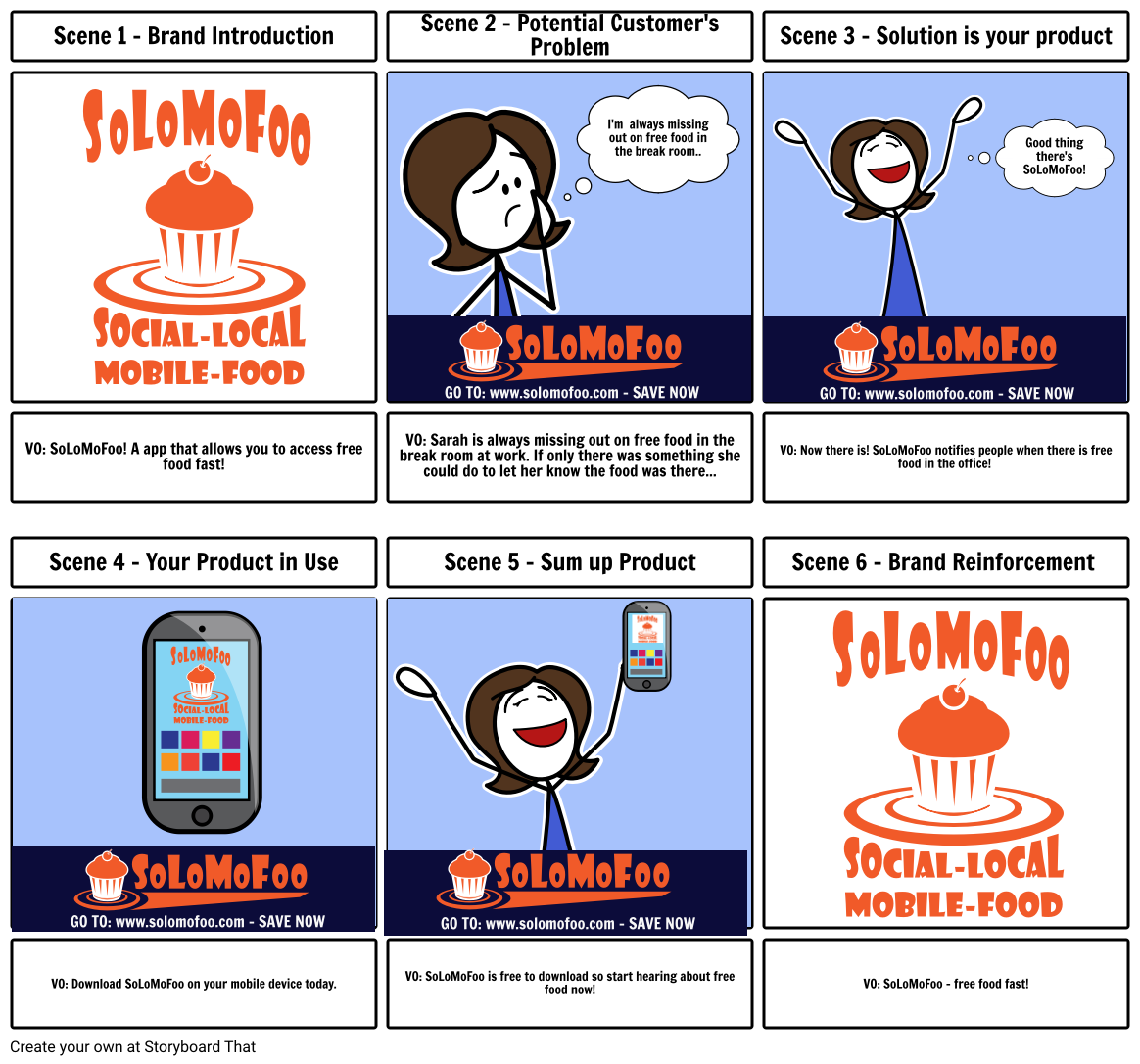 Here is an example of a storyboard template that you can download: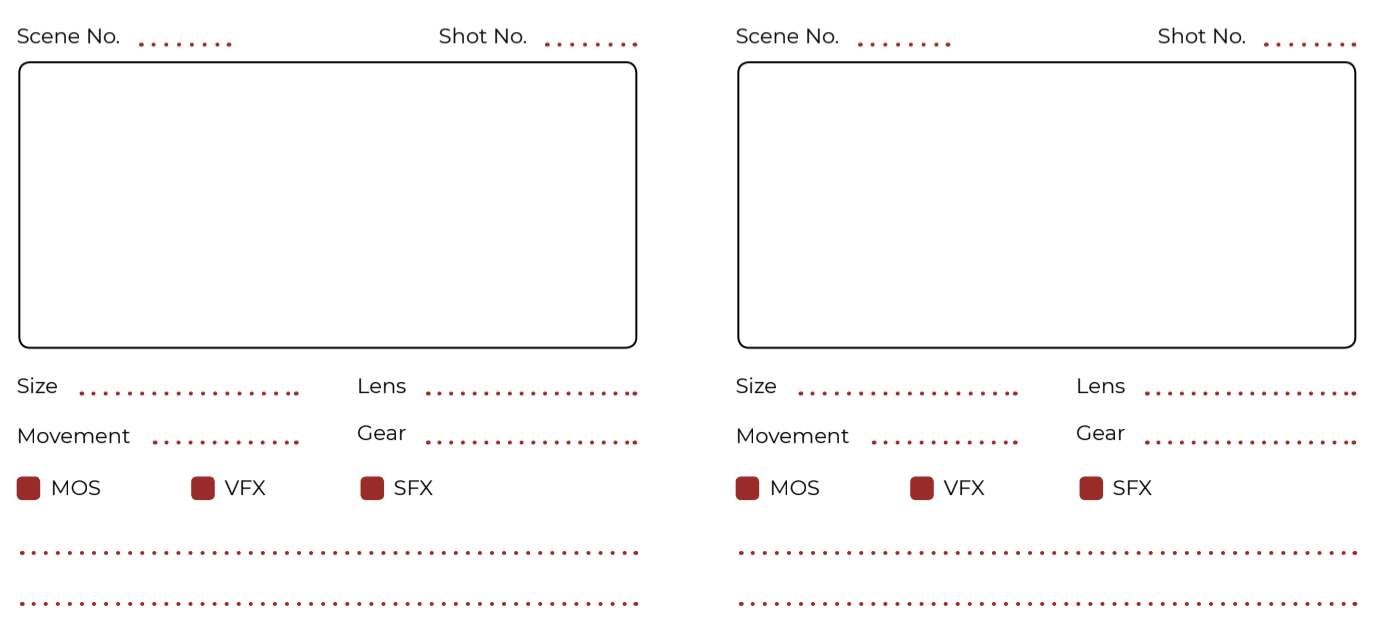 Shot List and Production
Production day (or days) are when the action happens and everything comes together to tell your story on video.
The agency should have all hands on deck to make sure the shoot goes as planned. While you don't necessarily have to be on set for the actual shoot, clients are usually welcome and encouraged to attend.
Having a shot list will ensure that the production team remains clear, organized and on schedule so there is no wasted time. Where a storyboard is the breakdown of the scenes in a video, a shot list is the breakdown of the exact shots in each scene and usually include:
Scene number
Shot number
Location
Shot description
Framing
Action/dialogue
Actors involved
Props needed
Extra notes
The video production company will take care of the shot list, but in case you decide to make your own video next time, here is an example of a shot list template that you can download:

Editing
Although the client is most often not in the editing room with the editor, you will need to be available for reviews of the different video versions and give feedback.
Make sure to discuss (and include in the contract) how many rounds of revisions the agency provides before getting started, and be honest and thorough with your feedback, since extra editing time can get expensive.
Final Step
The final step in the video production process is where your video receives all the finishing touches and is approved by your team. Since each video is unique and each delivery platform may require a specific file type and settings, the technical details will be worked out ahead of time to ensure that your video is delivered successfully and on deadline.
Dive Deeper:
* Overlooked SEO: Optimizing Images and Video For Search
* The Ultimate Guide to Video Marketing
* A YouTube Video Marketing Guide to Increase Prospects in Your Funnel

The Importance of Collaboration
One last thought on hiring a video agency. Any real-deal professional video production company will have a solid process that integrates built-in steps, with each major milestone requiring client approval.
You hired a production company because you trust them and you want them to lead you, but at the same time you need to make sure that your team is included in the process and collaboration is strong. Don't be shy about giving your opinions early and often; after all, you are the client!
Ideally, you should be seeing some document, schedule or footage at each step before the production company approves and moves on to the next step. If you wait until the end to ask for insights as to how the project is coming along, it may be too late to make changes or you will likely incur extra costs. Don't allow your production company to jump ahead without consulting or reviewing with your team first.
Video Production Company Red Flags
While you'd like to think that every video production company would conduct itself with high ethical standards and do what you hired them to do, the reality is that there are agencies out there that will overpromise and underdeliver.
Even the most professional-looking production companies can fall short once you get rolling on a project, so here are a few potential red flags to watch out for:
Multiple email accounts: Look out for companies that don't have a unified URL for their emails or use generic Gmail accounts (a sure sign of freelancers).
Lack of online reviews: Just like restaurants and other businesses, video companies should have a number of online reviews. If reviews are sparse, it may indicate they are either very new or hiding something.
No onboarding process: Any professional video agency should have an official process of familiarizing their new client with their services. A lack of this indicates, at the very least, that they're not very organized.
Pre-production meeting: If they don't outline their entire production process before starting, be suspicious.
Contract benefits them: If their contract is full of fees and penalties, not only does this benefit them more than the client, but it also might give them an incentive to help you incur fees to add to their total cost.
Lack of communication: Once you've started working with a company, they should be in contact at least 1-2 times per week to make sure the project stays on track.
Responsibility hand-offs: Some teams will try to push decision-making responsibilities off on the client. Watch out for phrases like "We don't agree but will do it your way."
Ignoring your input: Some creatives are not good at taking criticism, so make sure your vision is being executed (not just that of the creative, director or production company).
Don't hesitate to speak up or even consult with your attorney if an agency you hired is not respecting your project's agreed-upon terms.
Good luck with your next video and remember — collaboration is key!