Best Paid Media Agency: Top 5 Choices for 2023
Do you run ad campaigns in multiple networks like Facebook and Google but wonder how you can scale them faster?  Do you want to try new channels, but you can't figure out how to get started? Then it might be time to start working with a paid media agency.
A paid media agency can provide all the necessary skills and experience to help you reduce your team's workload, boost your profit margins and grow your business. 
With thousands of companies ready to take your money, you need to know how to find the right one for your needs. Fortunately, that's what this article is all about. Not only will you learn what the best paid media agencies are, but you'll learn how to qualify the right one.
Let's get started!
---
Top 5 Paid Media Agencies
Now that we have covered the steps you need to take to find the right agency for your needs, here is our list of the best five paid media agencies.
Specializes In

: Google Ads, Facebook Ads, LinkedIn Ads

Top Clients

: Amazon, Salesforce, TurboTax

Pricing

: Custom-based on a monthly retainer, usually a percentage of advertising spend or a small management fee.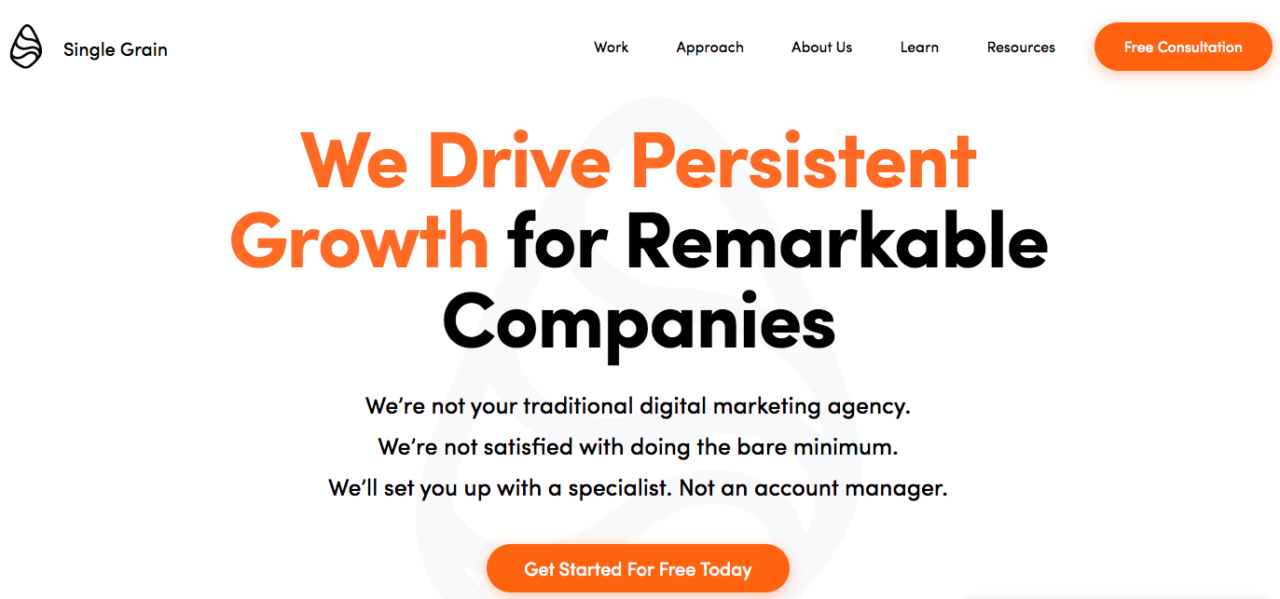 Are you surprised to see us here? Well, you shouldn't because Single Grain is a full-stack digital marketing agency that specializes in strategizing and executing all aspects of paid media management, including:
Deep industry analysis to find gaps in your competitors' strategies

Robust audience persona creation

Thorough keyword discovery

Ad creation and optimization

ROI measurements and campaign optimization

Regular campaign progress reporting

Advanced campaign consulting, such as geo-targeting and day-parting
Our team is made up of more than two dozen paid media experts who are capable of managing ad campaigns in all sorts of different networks and social platforms such as:
Google ads (including Shopping)

Bing ads

Facebook ads

Instagram ads

Twitter ads

Amazon ads

Hulu ads

LinkedIn ads

YouTube ads
Our team achieves massive results for our clients by taking a two-pronged approach:
First, our experienced paid ads team creates a custom PPC strategy for your company. 

Then we identify powerful new revenue streams for your site to expand into, optimize your target keywords and bids for the best results, and drive more traffic to your website through real-time campaign testing. 
We go the extra mile by managing direct media buys, using several real-time buying platforms, setting up retargeting campaigns, and much more.
Dive Deeper: 38 Digital Marketing Trends You Can't Ignore in 2023
2) PBJ Marketing
Specializes In

: Google Ads, Bing Ads

Top Clients

: Bayer, Volkswagen, Zappos

Pricing

: $10,000 minimum project size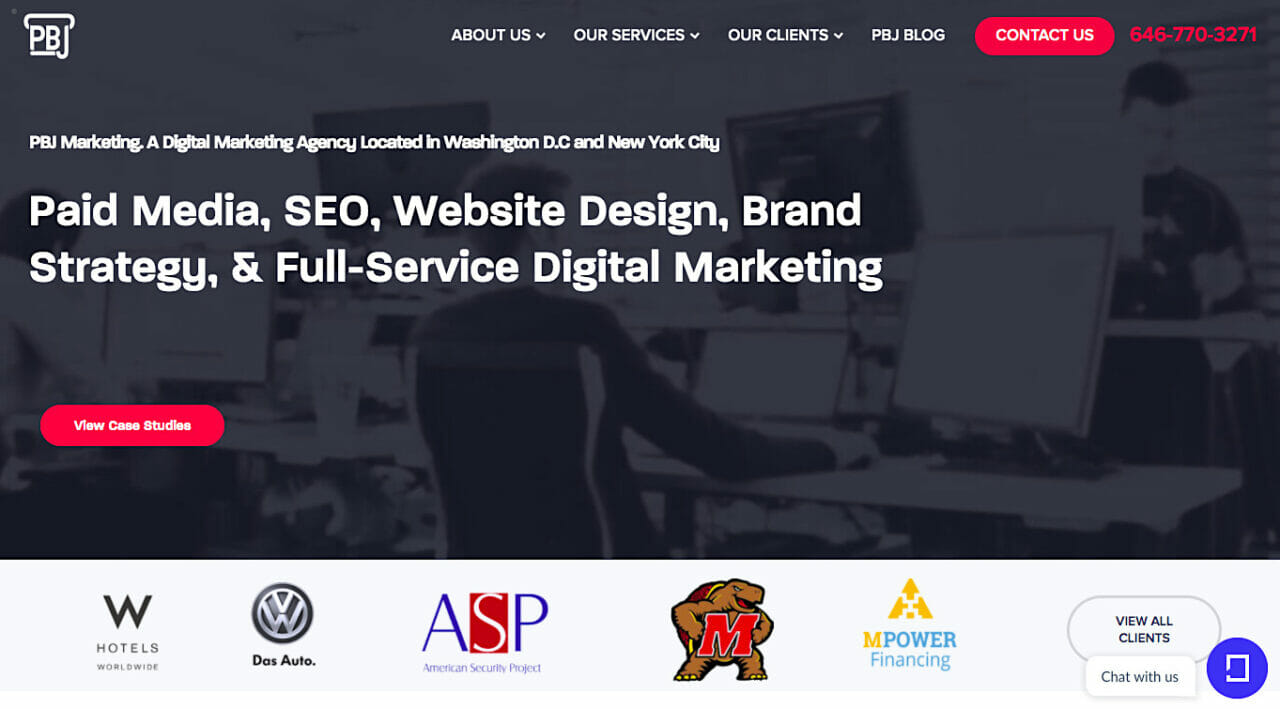 PBJ Marketing takes an analytics-based approach to run campaigns that deliver relevant brand experiences. They claim to use a "results-proven mix of cross-channel marketing, audience-centric creative, and data-backed strategies focused on engagement."
The company has over 15 years' of experience designing, testing, retesting, and monitoring hundreds of paid ads campaigns for brands in all industries worldwide.
Unlike other agencies on this list, PBJ Marketing assigns one paid media strategist to a handful of clients so that they can focus entirely on every aspect of their business. Since overworked account managers are a sad reality for many agencies, PBJ Marketing's approach represents great news for its clients. 
The agency works mostly with mid-sized and enterprise-level companies with over $10 million in revenue. As a Google Premier Partner and a Microsoft Advertising Partner, they are highly experienced in Google Ads and Bing Ads.
3) JumpFly
Specializes In

: Google Ads, Bing Ads, Amazon Ads

Top Clients

: 1-800-Got-Junk?, Harvard Business Services, Jura

Pricing

: $5,000 minimum project size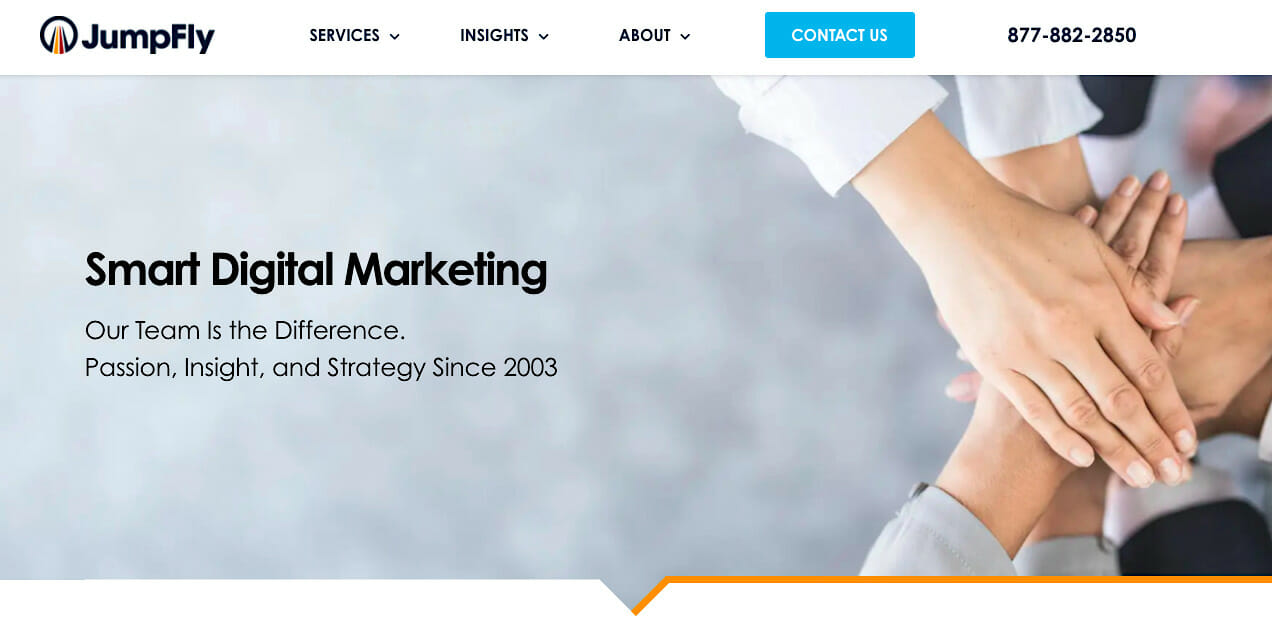 JumpFly is an agency that delivers paid search and paid social media services to small- and medium-sized businesses. With 34 Google-certified specialists, they claim to have created over 100,000 ads and managed $5+ million since its founding 18 years ago.
The company offers a proprietary technology capable of running an initial account audit, dynamic reporting, predictive ad iterations, and call tracking.
JumpFly is a Premier Google Partner, Facebook Marketing Partner, Microsoft Select Partner Agency, and Snapchat Certified. They also have an A+ rating from the BBB.
4) 120/80
Specializes In

: Google Ads, Bing Ads, LinkedIn Ads

Top Clients

: Northwestern University, AION, SellerChamp

Pricing

: Ad-spend based; no minimum spend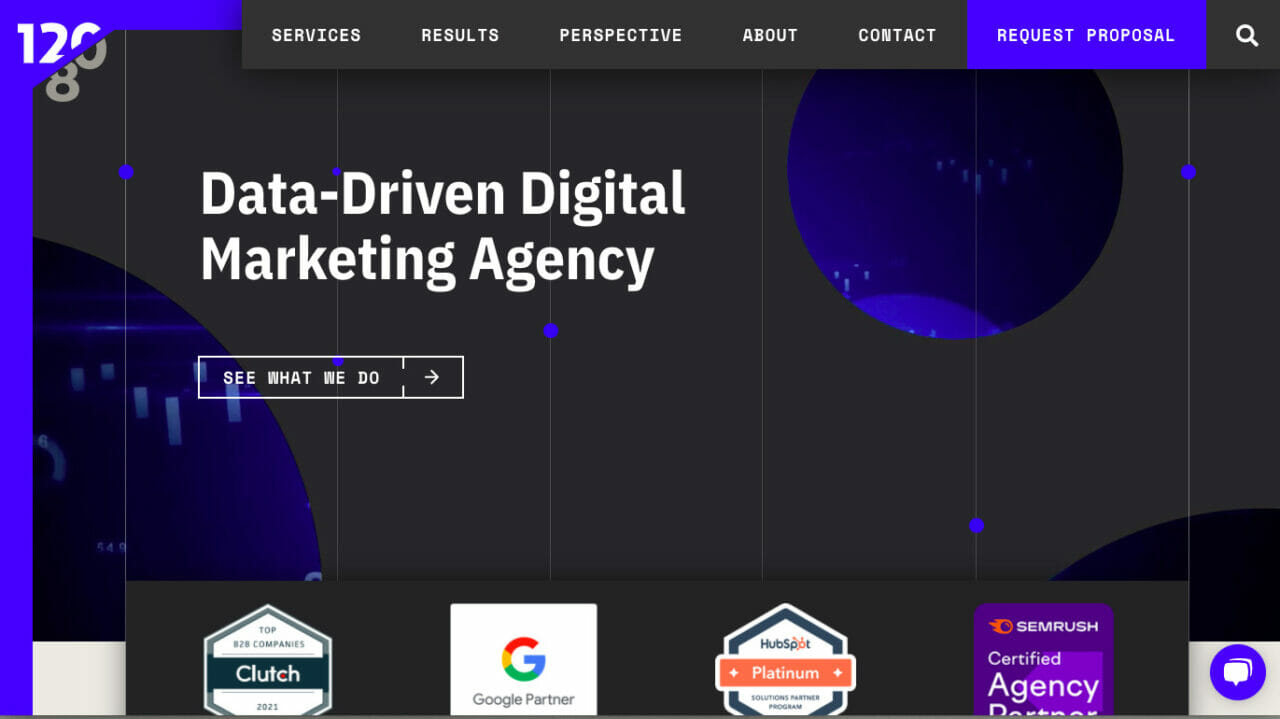 120/80 (pronounced "120 over 80") is a full-service digital marketing agency that offers paid media services for companies in the B2B space. Starting as a performance marketing agency that worked for other agencies, they have become an award-winning company working with brands of all sizes and across industries as diverse as professional services, e-commerce, and SaaS.
They specialize in lead generation and e-commerce marketing, and also optimize their client's pages using the CRO methodology. They use a diverse set of paid digital channels, including Google, YouTube, Microsoft, LinkedIn, and Quora. The company is a Google Partner.
Dive Deeper: How to Improve E-Commerce Landing Pages with Paid Ads Data
5) SCUBE Marketing
Specializes In

: Google Ads, Facebook Ads, Pinterest Ads

Top Clients

: Western Pacific, Chicago Brick Oven, Lupine Pet

Pricing

: $1,000 minimum project size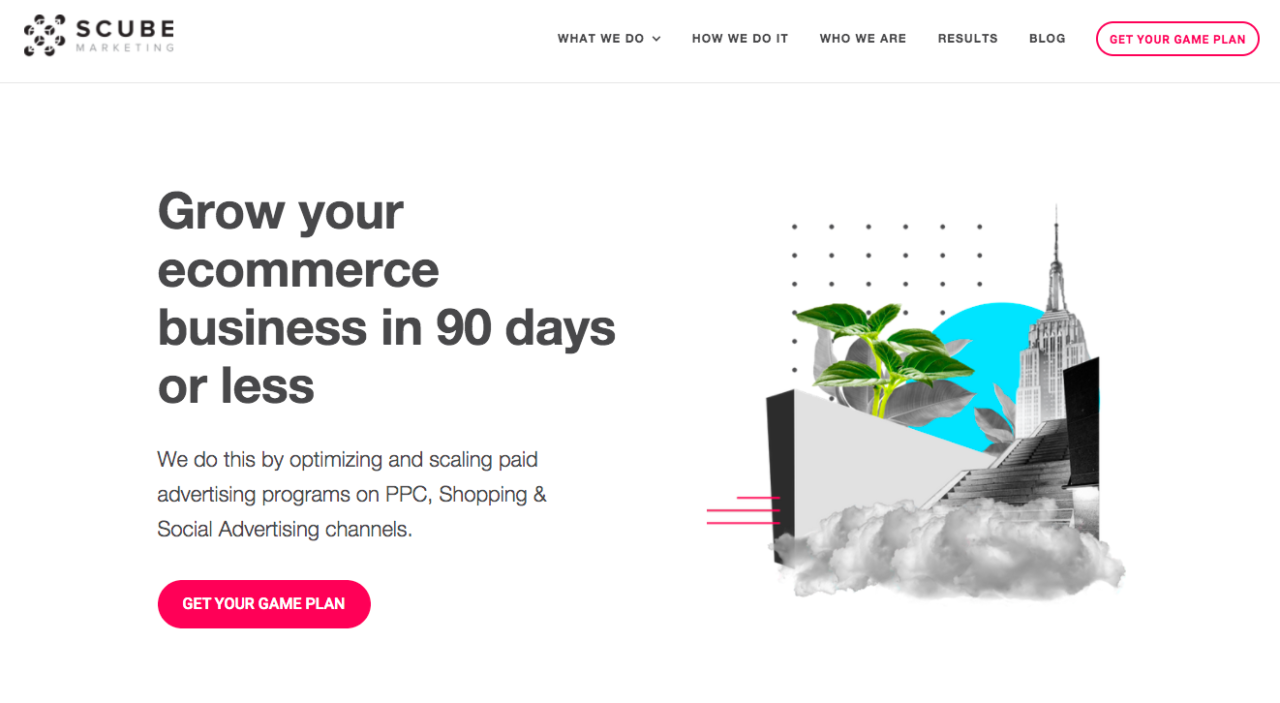 SCUBE Marketing is a Chicago-based agency that works mostly with e-commerce and lead generation SMBs in both the B2C and B2B spaces.
They specialize in Google Ads and Google Shopping, Facebook and Instagram ads, Pinterest ads, and remarketing and display campaigns. They are a Google Partner and an accredited Bing Ads agency.
What Is a Paid Media Agency?
A paid media agency, aka PPC agency, is a marketing company responsible for executing online advertising and media buying strategies in different ad networks (also known as "platforms" or "channels") for their clients.
Unlike network-specific agencies, paid media agencies can achieve cross-channel success by managing multiple media advertising channels simultaneously, such as:
Facebook

Instagram

Google

YouTube

Bing

LinkedIn

Pinterest
And, unlike ad agencies that manage the creative aspect of an online advertising strategy, a paid media agency takes care of what's known as "media buying."
Media buying is the process of identifying and purchasing ad space on ad networks where new customers reside.
A paid media agency can not only buy ads for you, but they can tell you where to buy from, how much inventory to buy, and what price to pay for each click or conversion.
Related Content: SaaS Lead Generation: How We Improved Axure's Lead Quality Overnight
What Is an Example of Paid Media?
There are three types of media promotion channels for any given marketing campaign, of which paid media is one. No matter which channel you use, however, the goal remains the same: greater brand visibility and lead generation.
Paid Media:

This is media (ads) that you pay for, as the name implies.

Examples of paid media include online (

Google Ads, social media ads) and offline (TV commercials, print ads, billboards).

Owned Media:

This is media that a company owns and manages itself.

Examples of owned media include company websites, blog posts, and organic posts (i.e. not promoted or boosted) on social media.

Earned Media:

This is essentially word-of-mouth marketing.

Examples of earned media include reviews, user-generated content, shared posts on social media, and news articles.
Dive Deeper: How to Lower Ecommerce PPC Advertising Costs with Email Marketing
Benefits of Working with a Paid Media Agency
There are several advantages to working with a paid media agency as opposed to driving a marketing campaign completely in-house.
Breadth of Skills and Expertise
As stated before, a paid media agency can manage several different advertising channels simultaneously. Not only can they manage paid media campaigns on search engines such as Google and Bing, but they can also do it on social platforms such as Facebook and LinkedIn.
These agencies can leverage their media experts to handle campaigns in almost any channel that you desire — some can even do direct media buys (when an advertiser buys inventory from one site directly) or use alternative ad networks (such as Taboola).
Thanks to their breadth of skills and expertise, companies get a consistent paid media plan across the purchase funnel. For example, an agency might use Google Ads to target potential clients at the top of the funnel, engage your prospects on Instagram, and retarget your leads on LinkedIn.
What's more, their teams of media professionals can manage all the steps required to run a successful paid campaign, such as:
Performing a landing page audit

Writing the ad copy

Optimizing bids

Testing new goals

Set up call tracking

Using APIs for process efficiency and analysis
Fewer Headaches
Finding a paid media buyer who can handle multiple advertising channels is quite hard. But even when you find one, the costs of managing one may not be worth your while since you need to have a considerable budget to justify those costs.
With a paid media agency, you can reduce all these headaches by having them do the work for you without much input from your end. You will be required to set the direction of the agency's work — e.g., define your brand's target audience, set budgets, manage the correct tracking, and so on — but it will be less time-consuming than having a full-time employee.
Higher ROI
Undoubtedly, a paid media agency can cost money (more on that later). But even if you have a finite marketing budget, with the right agency you will generate more sales and increase your profit margin. Therefore, the agency's results will pay for their services many times over.
Looking for more agency recommendations?
* Best Digital Marketing Agency: Top 8 Choices for 2023
* 5 Best B2B SaaS Marketing Agencies in 2023
* Best Cryptocurrency Marketing Agency: Top 5 Choices for 2023
How to Hire a Paid Media Agency
Now that you know why a paid media agency will serve your interests, we need to get into the nitty-gritty of finding and hiring the right one for your business.
Look at Their Industry Experience
It goes without saying that to hire a great agency, regardless of its field of expertise, you need one with experience. They must have done what you are trying to do many times in the past, and they must show it with case studies.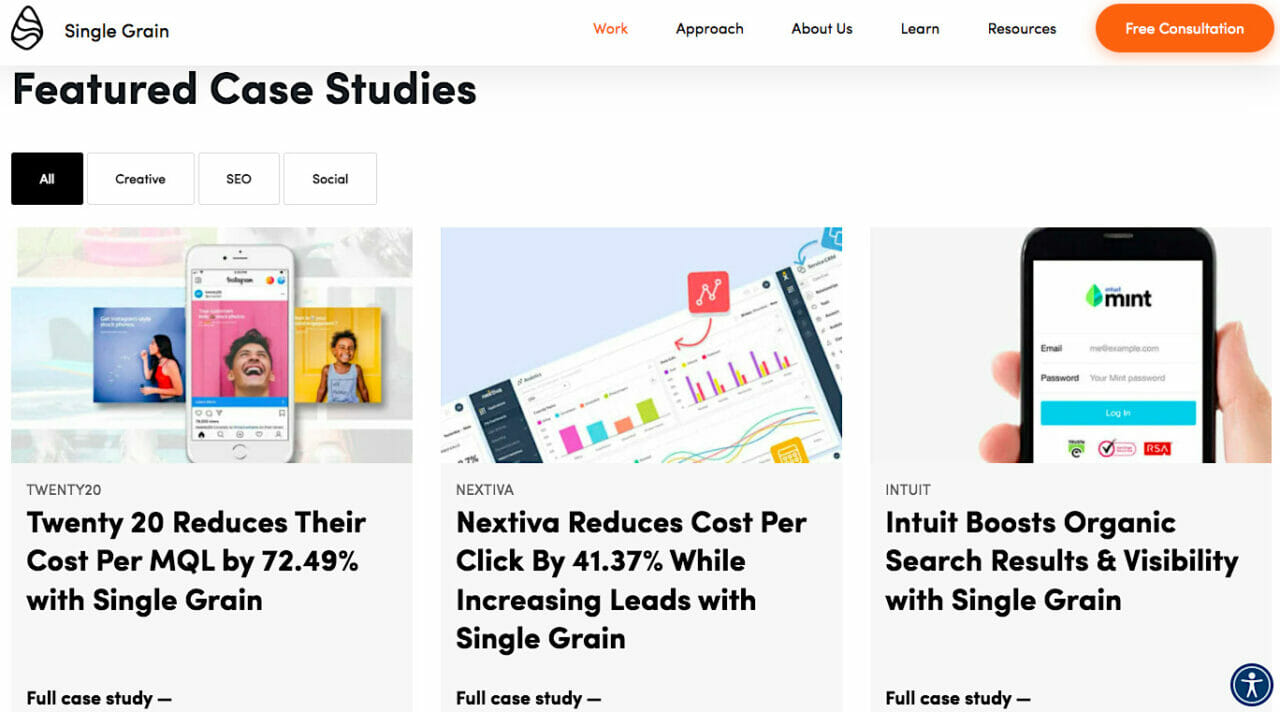 Most importantly, you want to hire a company experienced in your specific industry and channel. 
Let's say your business offers a marketing tool and uses a SaaS business model. Your monthly ad budget is $30,000, and you focus on Instagram stories ads, YouTube ads, and Amazon ads.
No matter how great an agency may look, you want to hire an agency that has worked with similar companies like yours, and they must have handled those three channels. If you can't find any company, then you can broaden your filters slightly — just enough so you can find a company that fits your criteria.
Besides this crucial point, research their case studies thoroughly and take notes. By the time you decide to talk with a sales representative, you will need those notes to ask smart questions.
Furthermore, read online reviews. Nowadays, it's easy to see through a company's marketing copy and evaluate whether their branding meets reality. A bit of healthy skepticism is never bad.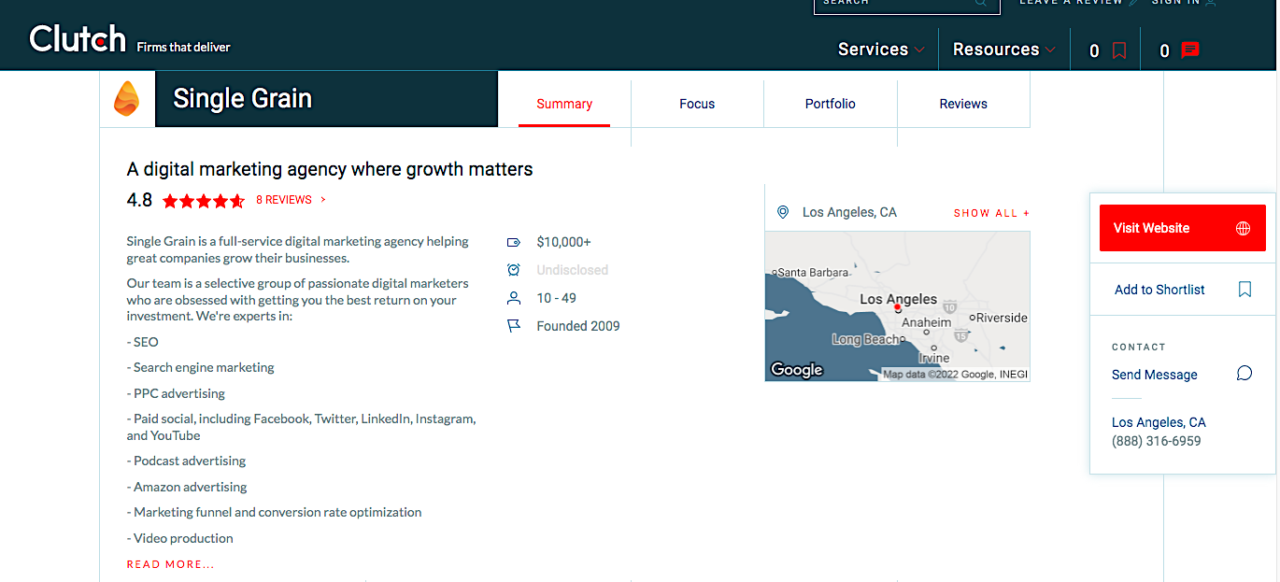 Related Content: How to Write a Case Study that Converts Prospective Buyers into Customers
Review Their Process
Experience and results are great, but to leverage the former to acquire the latter requires processes. The organized steps that a company takes speak a lot about the way they approach online advertising.
Although most agencies use unique processes — their "secret sauce," as some may say — you still want to get an idea of what they are. Some questions that may help you uncover an agency's process are:
How many people work on an account?

What's the first thing they see before taking over your ad accounts? For example, do they audit your account first, or do they jump right into execution?

How do they decide on an ad network?

What's their bidding strategy?

How do they come up with ad creatives?

How do they track the campaign's results?

Do they use proprietary software?
Jump on a Call
Last but not least, you need to talk personally with whichever agency you think best fits your needs. 
During the call, ask all the questions you have. Since you will be investing money in their work, you must feel 100% confident in the agency's capacity to provide the desired results. Likewise, take notes of any questions the agency asks you.
Also, pay attention to everything that happens from the moment you first contact them until after the call is done. How do they message you? How quickly do they respond to your questions? How professional and attentive are they? Small as these facts may seem, they can speak louder than any claims.
Dive Deeper: E-commerce Advertising Strategy: How We Doubled PPC Sales for ThinSlim Foods (with a 3X+ ROAS)
What Does a Paid Media Agency Charge?
Most paid media agencies offer a mix of performance-based fees with ad spend-based fees:
In the performance-based case, the agency charges you based on the results of a predetermined benchmark, such as a percentage of every sale you generate.
In the ad spend-based case, they charge you a surcharge based on a percentage of your ad spend, usually 10-15%.
In either case, you will need to do some basic math to get a ballpark of your costs. For example, if you spend $20,000 a month on ads, you may have to pay the agency $2,000. Alternatively, if you generate 200 conversions a month and each is worth $50, you will have to pay at least $1,000 per month.
On some rare occasions, you may also pay a fixed amount every month, regardless of your spending or results. However, this isn't very common, as paid advertising is usually tied to the results it provides.
Are You Ready to Hire Your Paid Media Agency?
With everything we've discussed in this article, you should feel prepared to hire an agency. Remember to look at their expertise, especially in your niche, the processes they follow, and the professionalism they present.
Also, look at the ad networks they manage and how responsive they are to adapting your paid media strategy to each different channel. You need to promote your business wherever your audience is, so versatility is crucial for every paid media agency.
Finally, keep the communication channels open between the agency and your company to guarantee that anyone who's involved in running your current campaigns can discuss any potential issues or solutions to implement.
Schedule your FREE consultation with Single Grain's paid media experts to discuss your needs.  👇
Or learn more about what we can do for you here 👉   Paid Media Agency