Updated July 2023.
Finding the time to write and manage a successful SaaS blog can be challenging for a business leader. That's why so many companies wind up hiring a SaaS content marketing agency.
For SaaS businesses, content is particularly valuable, because it plays a vital role in forming the relationships you need with your target audience to ensure long-term subscriptions and repeat sales.
To make it easier for you, we've curated a list of the top 6 SaaS content marketing agencies. Read on to see which is best for you.
---
---
What Is a SaaS Content Marketing Agency?
A SaaS content marketing agency is a company committed to helping you accelerate the results from your content marketing efforts online. These professionals do everything a standard content marketing agency does, but with a distinct focus on earning more recurring revenue for software-as-a-service brands.
Content marketing is one of the most valuable tools in any company's digital arsenal: 97% of survey respondents last year said they believed content marketing was an important part of their overall advertising strategy.
SaaS content agencies are unique because they have an in-depth knowledge of the SaaS space, which they can use to build more effective content campaigns for your brand. Specializing in high-ROI marketing strategies, SaaS agencies usually focus on the following areas:
Product Content Strategy: These agencies specialize in creating content strategies that are tailored to the unique needs of SaaS businesses. This strategy involves figuring out what kind of content is best for you to create, from blog posts and social media campaigns, to email marketing strategies, videos and podcasts. It may also include things like competitor analysis and gathering audience insights.
Content Promotion: In addition to creating content for your brand, a SaaS marketing agency can also help ensure that your content gets the attention it deserves by promoting your content on numerous marketing channels. This may include influencer marketing, growth marketing, inbound marketing, social media marketing, lead generation, email marketing, video marketing, paid advertising, and more.
SEO and Content Optimization: Given the digital nature of SaaS products, SEO is a critical component of these marketing strategies. These agencies specialize in optimizing content to rank high in search engine results, helping to increase visibility and attract more potential customers.
Customer Success Content: Customer success is a key aspect of SaaS businesses, and these agencies specialize in creating content aimed at helping customers get the most out of the product. This can include tutorials, guides, FAQs, and other forms of educational content, which can help with customer acquisition cost.
Thought Leadership and Industry Expertise: SaaS marketing agencies specialize in helping SaaS companies establish themselves as thought leaders in their industry. This involves creating high-quality, authoritative content on industry trends, insights, and innovations.
Case Studies and Testimonials: Case studies and testimonials are powerful tools for demonstrating the value of a SaaS product. These agencies specialize in creating compelling case studies and testimonials that showcase the benefits of the product and the success that other customers have achieved.
Measurement: A major part of any good content marketing strategy is measuring the results of your campaigns. Your agency should be able to give you a deep insight via data analysis in conjunction with specific KPIs into exactly which of your content strategies are delivering the best results. They'll also use the information they collect about your content strategies to update and optimize your campaigns.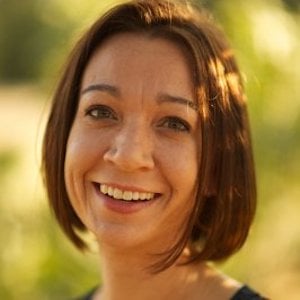 Kim Cooper
Director of Marketing, Amazon Alexa
Single Grain enables us to increase our impact without increasing our headcount
The Importance and Benefits of Hiring a SaaS Content Marketing Agency
A SaaS marketing agency is essentially a team of experts committed to ensuring that your brand stands out in the digital landscape. Content is a crucial tool for any business aiming to generate attention and drive sales online. Without it, making a significant impact on your target audience can be challenging.
SaaS content agencies can create a diverse range of content on your behalf, from YouTube videos to Facebook advertising campaigns, all while optimizing for the best possible ROI. They are adept at inbound marketing, product marketing, social media marketing, and implementing marketing automation to fuel your business growth.
By partnering with a content marketing agency, you gain a dedicated specialist capable of enhancing your brand image and attracting new customers, allowing you to focus on other aspects of running your business. Here are some of the key benefits of working with a SaaS content agency:
Expert Input: These agencies can identify opportunities for you to grow your business through the strategic production and promotion of content. They'll help you find the right channels for developing your SaaS company and ensure that your messaging resonates with your target audience. Their in-depth knowledge of the software space is invaluable in fostering meaningful relationships with your audience.
Cost Reductions: While the initial cost of hiring a content marketing agency may seem high, it can lead to significant time savings for your internal team, which they can then devote to other strategies for increasing sales and boosting business performance. Plus, because SaaS agencies know what works for software brands, you'll spend less time experimenting with strategies and more time generating results.
Consistent Content Production: One of the most challenging aspects of successful content marketing is consistently generating high-quality content ideas. With a SaaS agency, you'll be able to consistently produce a wide range of engaging and eye-catching content, across multiple channels and mediums. You'll even gain access to skills and tools for creating content that may not be available in-house, such as graphic design and video production.
Stay on Top of Trends: Content marketers in the SaaS industry are experts at staying ahead of the curve. They'll ensure you're aware of any SaaS trends that might affect your business and help you stay compliant with various regulations and algorithms when producing content. SaaS content marketing agencies can even help to ensure that you don't get penalized by Google in your SEO strategies.
Inbound Marketing Expertise: SaaS content marketing agencies are well-versed in inbound marketing strategies. They can create valuable content designed to attract potential customers, convert them into leads, and nurture them into becoming paying users. This approach can significantly enhance your lead generation and customer acquisition efforts.
Marketing Automation Implementation: These agencies can help you set up and optimize marketing automation systems, which can streamline your marketing efforts and increase efficiency. This includes email marketing automation, customer relationship management (CRM) systems, and personalized user journey mapping to nurture leads and improve customer retention.
Social Media Marketing Prowess: SaaS content marketing agencies have expertise in leveraging social media platforms to increase brand awareness, generate leads, and engage with the audience. This includes creating and sharing relevant content, managing online communities, and running targeted social media ad campaigns.
Dive Deeper:
* How to Create a Killer SaaS Content Marketing Strategy
* 30 Actionable Content Marketing Tips for Digital Marketers
* SaaS Marketing Strategy: 12 Killer Ideas to Grow Your Company

How to Choose a SaaS Content Marketing Agency
Content is king in the digital world, and every business needs to produce at least some high-quality content if they want any chance of standing out. As a result, there are thousands of digital marketing agencies offering their services to SaaS brands.
Understanding Your Business Needs and Goals
Choosing the right SaaS marketing agency begins with a clear understanding of your business needs and goals. This understanding forms the foundation of your marketing strategy and helps you identify the digital marketing services that will be most beneficial for your business.
Firstly, you need to define your business goals.
Are you looking to increase brand awareness, improve lead generation, boost conversions or achieve sustainable growth?
Your specific business goals will guide your choice of a marketing agency.
For instance, if your primary goal is lead generation, you'll want to partner with an agency that excels in creating marketing qualified leads.
Next, consider your specific needs in terms of marketing services.
The world of SaaS marketing is broad, encompassing everything from SEO and content marketing to paid advertising and social media management. Identify the areas where you need the most help. If you're struggling to rank on search engines, for example, you'll want to look for an agency that offers SEO services. If you're looking to get the most out of your ad spend, an agency with expertise in paid advertising would be a good fit.
It's also important to consider your target audience and how they interact with your business. Different agencies may have different areas of expertise, so you'll want to choose one that understands your audience and knows how to reach them effectively.
Finally, consider your budget.
While it's true that you often get what you pay for in terms of quality, you also want to ensure that the agency's services align with your budget. A good SaaS marketing agency will be transparent about their pricing and able to work with you to develop a strategy that fits your financial constraints while still driving results.
Once you understand your business needs and goals, you are ready to choose a SaaS marketing agency that will provide the right digital marketing services to drive your business towards sustainable growth.
There are a few important characteristics you can look for, such as:
Evaluating Industry Expertise and Experience
One of the most crucial aspects to consider when selecting a content marketing agency is their in-depth knowledge and experience within your industry.
If you're a SaaS business, for instance, you should be looking for B2B SaaS marketing agencies that have a comprehensive understanding of the SaaS landscape, your competitors, and the specific audience you aim to engage.
As a growth marketing agency, they should have a proven track record of helping businesses scale effectively. They should be able to demonstrate their expertise in key areas such as sales enablement and running successful paid acquisition campaigns. These skills are vital in driving customer acquisition and revenue growth for SaaS businesses.
To ensure a high level of industry expertise, it's advisable to request case studies, testimonials, and reviews from other SaaS companies the agency has partnered with. This social proof can provide valuable insights into the agency's capabilities and the quality of service you can expect.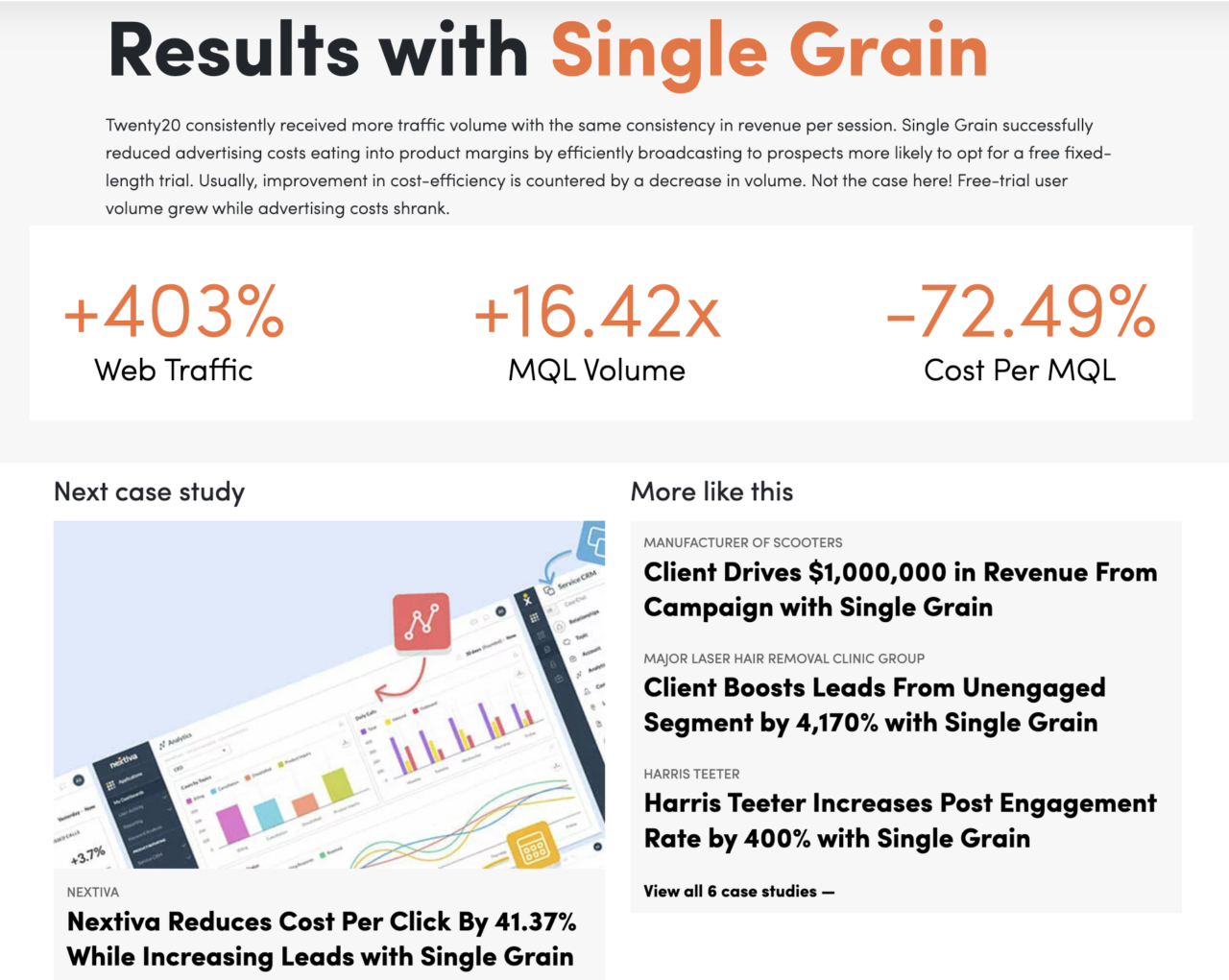 Additionally, consider whether the agency has any industry certifications or partnerships that further demonstrate their expertise. For example, being a Facebook Marketing Partner indicates that the agency has advanced capabilities for managing Facebook advertising campaigns, which could be a significant advantage for your business.
Dive Deeper: SaaS Lead Generation: How We Improved Axure's Lead Quality Overnight
Assessing Content Production and Strategy Skills
After establishing that your potential agency has a robust understanding of your industry, the next step is to assess their content production and strategy skills:
The team should be proficient in emulating the tone and voice of your brand, thereby helping to build a consistent personality for your company across all marketing channels.
The agency should have a diverse team of experts, including writers, graphic designers, video creators, and web developers.
These professionals should have a deep understanding of your brand guidelines and be willing to collaborate with you to create content that aligns with your business objectives.
For instance, if your strategy involves social media marketing, the agency should be capable of creating engaging and shareable content tailored for different social media platforms. If your site needs an overhaul, their website development team should be able to deliver a site that's not only visually appealing but also optimized for conversions.
The agency should demonstrate their content production skills by writing SaaS content for their own blog:

Moreover, the agency should have expertise in lead generation. They should be able to create a variety of content that attracts potential customers, engages them, and ultimately converts them into leads. This could involve creating high-quality blog posts, e-books, webinars, or other types of content that provide value to your audience and encourage them to take action.
Before you start your search, make sure you have a clear idea of the kind of content you want to create. This will allow you to look for agencies with specialist skills in areas like podcasting or webinar production, if necessary.
Importance of Excellent Reporting and Analytics Skills
An exceptional SaaS content agency should not only deliver results but also provide tangible evidence of their work's impact. They should be able to establish clear goals in alignment with your business objectives, helping you understand which Key Performance Indicators (KPIs) and metrics to track for assessing the success of your campaigns: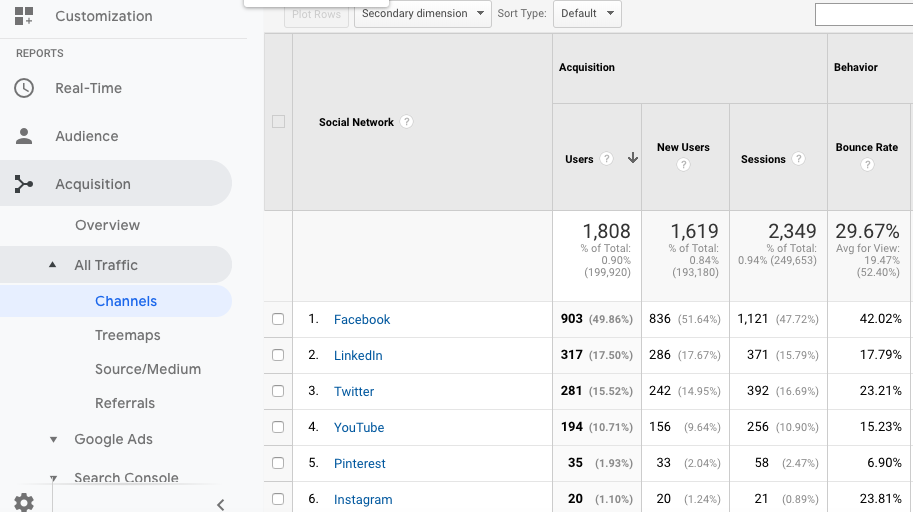 Any proficient content marketing agency should possess robust reporting and analytics skills. They should be able to leverage advanced tools to generate comprehensive visual reports and insights that illustrate their achievements. These reports should provide a clear picture of your campaign's performance, from traffic growth and lead generation to conversion rates and sales.
For instance, a competent agency should be able to show you the increase in your website traffic over time, attributable to their content strategies. They should also be able to demonstrate how their content choices have directly influenced your sales. This level of reporting is crucial for understanding the return on your investment and making informed decisions about future marketing strategies.
Moreover, the agency should be proactive in analyzing the data and using it to continuously optimize your content marketing strategy. They should be able to identify trends, pinpoint areas for improvement, and make data-driven recommendations to enhance your campaign's effectiveness.
In essence, excellent reporting and analytics skills are not just about tracking performance but also about using insights to drive continuous improvement and deliver sustainable growth for your business.
Learn More: How to Create a Killer SaaS Content Marketing Strategy
🚩 Red Flags to Watch Out for When Choosing a SaaS Content Marketing Agency 🚩
Most content marketing companies will deliver a highly reliable inbound marketing service, but there are definitely some more problematic companies out there. When searching for your content marketing company, make sure you watch out for:
Ethical issues: Your agency should have a stance against important issues like inaccurate or misleading content, plagiarism, or creating socially inappropriate content, as well as pay-for-play content and various other ethnically murky problems.
Project management issues: You'll need an agency that can help keep track of your content strategy in a transparent and easy-to-understand way. Watch out for any companies who fail to keep you involved in the content creation process.
SEO issues: While content marketing doesn't always include SEO, your agency should have at least a basic knowledge of how to write effectively for both people and search engines.
Lack of transparency: A reputable SaaS marketing agency should be transparent about their processes, pricing and performance metrics. If an agency is not willing to share these details or if their explanations are vague or confusing, it could be a red flag.
No customized strategy: Every business is unique, and your content marketing strategy should be tailored to your specific goals, target audience, and industry. An agency that doesn't take the time to understand your business and develop a customized strategy may not be able to deliver the results you're looking for.
Poor communication: Effective communication is essential for a successful partnership with a marketing agency. If an agency is slow to respond to your inquiries, doesn't provide regular updates, or fails to communicate in a clear and understandable way, it could indicate potential problems down the line. You want to work with an agency that values your input, keeps you informed, and is easy to communicate with.
Learn More: Vertical SaaS: The Future of SaaS Is in Niche Industries
The Top 6 SaaS Content Marketing Agencies
Successful content marketing is a lot of work. That's why around 84% of marketers end up outsourcing their content creation. The issue for most companies is figuring out how to separate the reliable content agencies from the rest.
Here are some of the top SaaS content marketing agencies to consider hiring.
Specializes In: SaaS marketing, content marketing, high-ROI SEO campaigns
Top Clients: Amazon, Uber, Nextiva
Pricing: Custom based on your requirements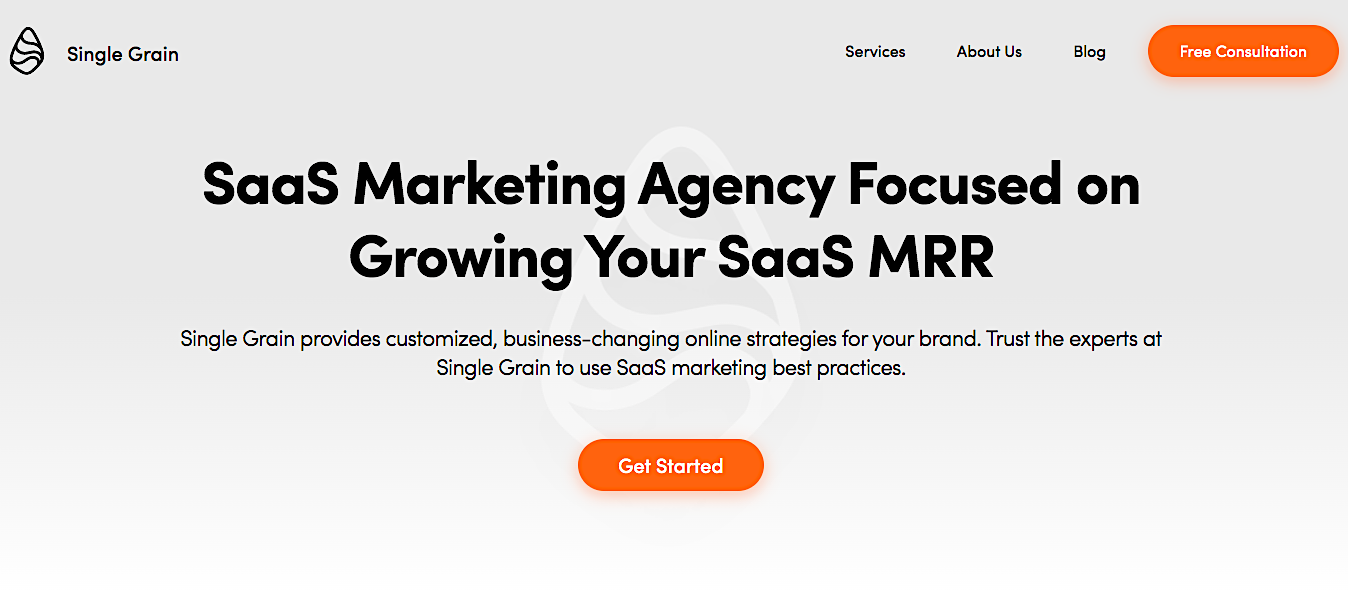 A full-service digital marketing agency offering everything from social media expertise to content marketing excellence, Single Grain is an excellent partner for SaaS companies. The brand's in-depth knowledge of the software landscape makes them a fantastic choice for brands hoping to generate awareness.
With Single Grain, you'll always get a personalized marketing service, tailor-made to suit your needs. The team will sit down with your business and gather as much information as possible about your target audience and content goals before assigning a specialist to start working on your content with you.
The agency's content marketing services include everything from LinkedIn and Facebook marketing to conversion rate optimization services, SEO, PPC, CRO and content production. Essentially, whatever kind of content you might need to make an impact online, Single Grain will ensure that you have it. You only have to scroll through their own blog to see the type of quality content they're capable of producing. What's more, with regular reports and analytics, you'll be able to guarantee your efforts are making an impact.
If you want a custom-built approach to content marketing designed by SaaS experts with years of experience in your industry, Single Grain is a great choice.
Check out this short content marketing video from Single Grain founder Eric Siu and Marketing School co-host Neil Patel:
Specializes In: B2B SaaS marketing, digital campaigns
Top Clients: Clearwave, MediaPro, Clariti
Pricing: Custom based on your requirements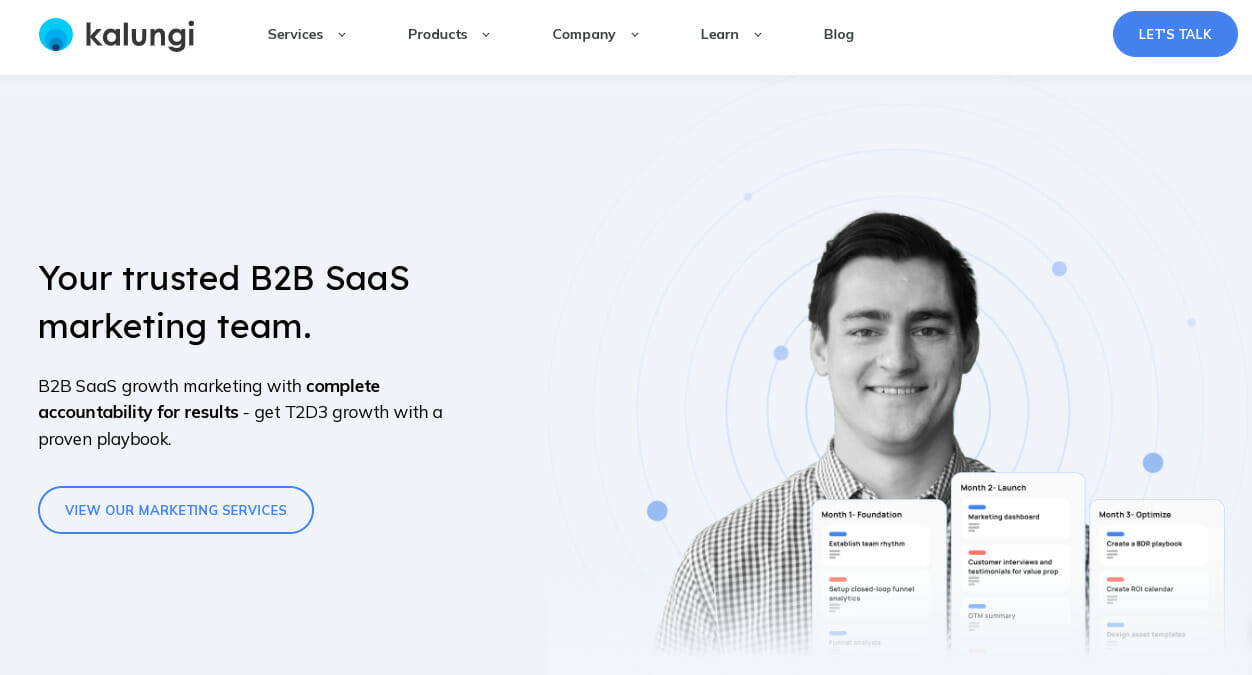 Another full-service SEO marketing company that offers extensive content marketing strategies for SaaS brands, Kalungi is a fantastic choice for online advertising. The company has years of experience in the software space, which its team will leverage for every client when building customized marketing campaigns from scratch.
Kalungi's marketing services include everything from marketing automation and branding to infrastructure creation, design, video production and content writing. They'll even help you to hire and onboard a permanent marketing team if you need to.
A strong approach to excellent customer service is part of what makes Kalungi such a compelling choice for companies interested in content marketing services. The brand also has tons of customer testimonials and case studies from other SaaS brands, so you know you're working with a business that has plenty of experience in your industry.
A wide range of services and a customizable approach to marketing which suits businesses of all sizes helps Kalungi to stand out in a cluttered market.
Specializes In: SaaS search marketing, content marketing
Top Clients: Bitly, Jotform, Totango
Pricing: Custom based on your requirements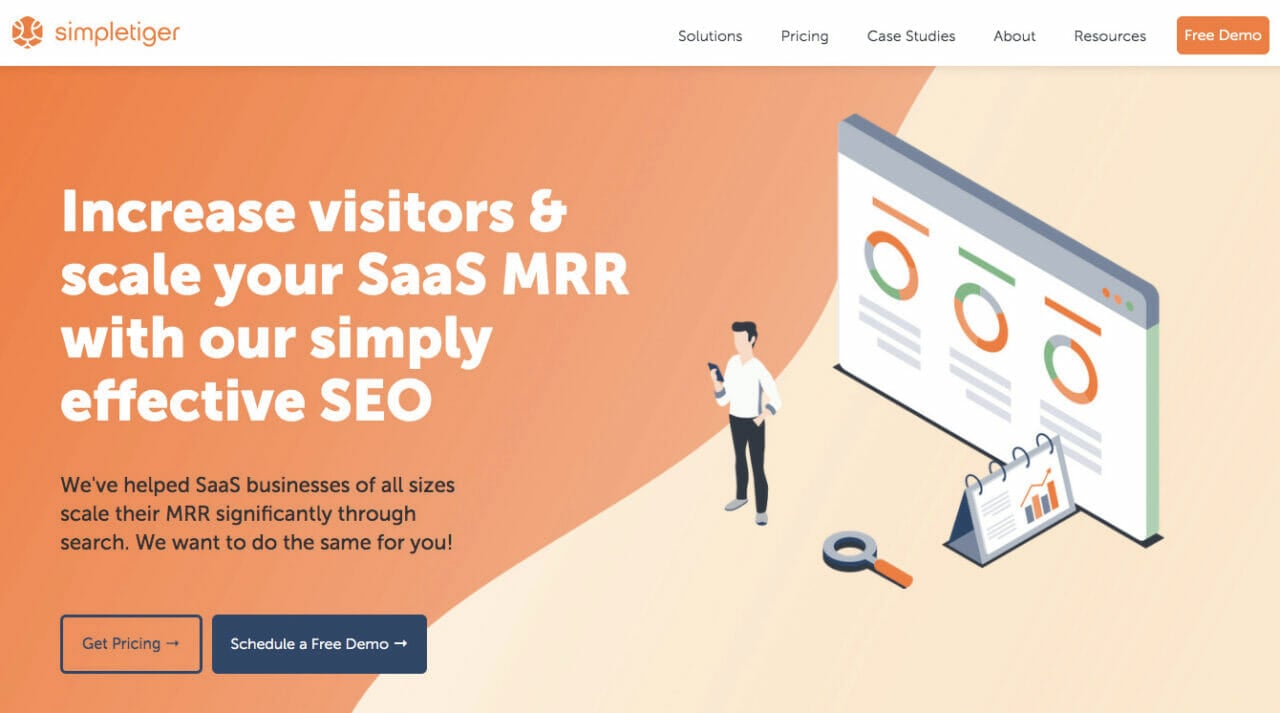 Committed to helping SaaS companies scale at speed, Simple Tiger is an SEO agency that delivers a comprehensive approach to content marketing which includes extensive SEO support. The company will evaluate your business carefully before coming up with a comprehensive strategy for how to get your brand found online.
Aside from content marketing, Simple Tiger can also help with extensive keyword research to help power both your organic and paid online campaigns. The brand also has experience with technical optimization for your website and can fix any issues you might have with UX which might be driving your customers away.
Integrating with your team and offering consistent feedback and support every step of the way, this agency takes a powerful and transparent approach to helping SaaS companies grow. They offer a range of services to build on the impact of your content, too, like link-building strategies to help you strengthen your authority online.
Simple Tiger keeps their customers up to date with strategy calls and work with their customers to ensure that they capture their voice and tone perfectly with every campaign.
Learn More: SEO Keyword Research Made Easy in 2023
Specializes In: Content marketing, SEO, brand awareness
Top Clients: Clearbit, Zendesk, GoDaddy
Pricing: Custom based on your requirements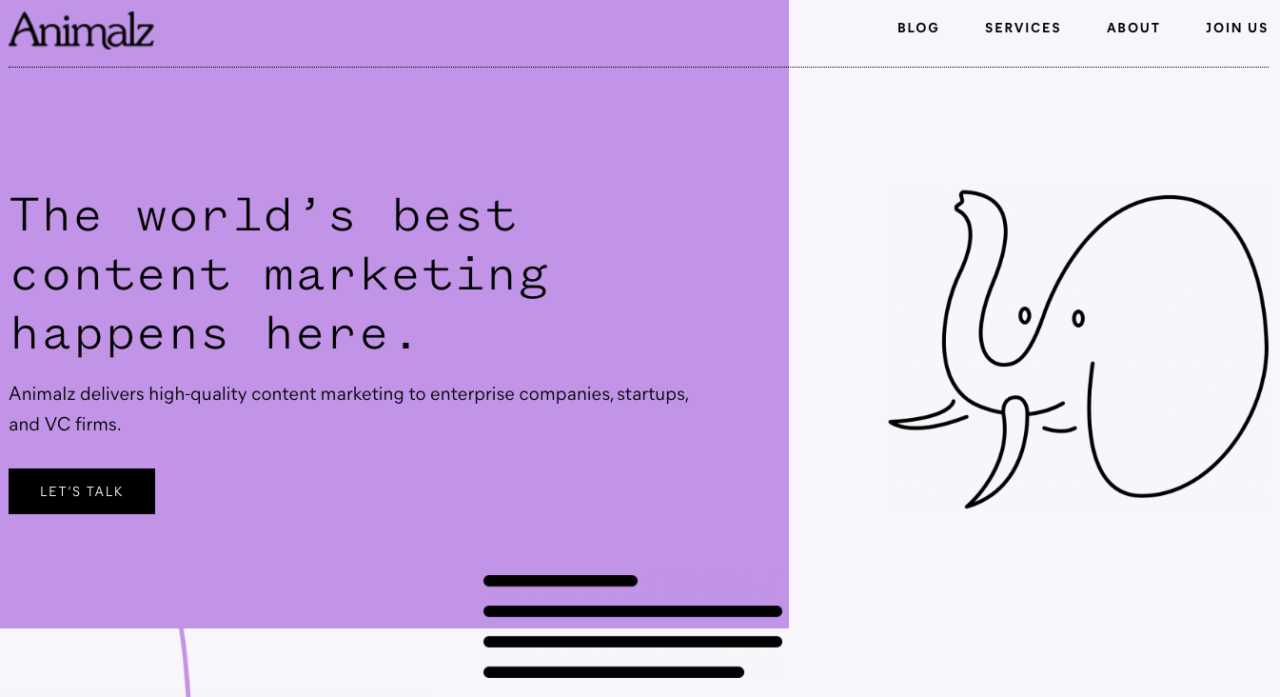 With a client list boasting some of the biggest names in the technology world, Animalz has quite a reputation as one of the best SaaS content marketing agencies around. The company has extensive experience working with start-ups, technology companies, and software brands alike, including big names like Intercom and Google.
Animalz takes a highly customized approach to working with each client, building custom packages of services based on what you need most for your business. The brand can help with blog posts, thought leadership, conference presentations, keyword research and more. Animalz also offers support with content auditing and site structure management so you can make a better technical impact on the search engines.
To help expand the impact of your brand even further, Animalz will work with you on landing pages, white papers, video scripts and case studies, all built to convert your ideal audience. What's more, they can help with link-building strategies and social media campaigns, too.
If you need an all-in-one package for content marketing which includes virtually every kind of content you can think of, Animalz has you covered.
Learn More: We Refreshed 15 Posts on 3 SaaS Blogs – And Increased Organic Traffic on All
Specializes In: Search marketing, content marketing
Top Clients: Zapier, Monday.com, Freshworks
Pricing: Custom based on your requirements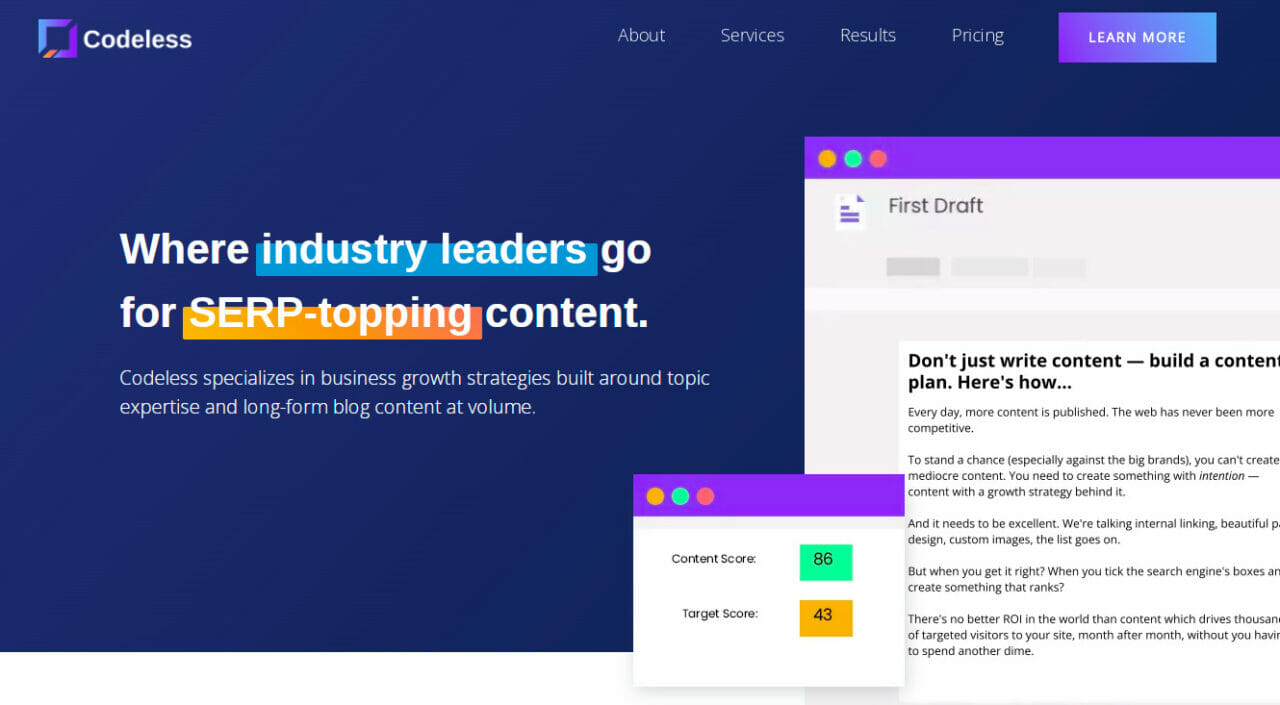 Codeless boasts a fantastic background working with some of the top SaaS brands in the world to create engaging content. The company specializes in building comprehensive growth strategies, with a focus on things like long-from blog content and white papers.
With Codeless, SaaS companies can expect to build a comprehensive, custom workflow from scratch, designed to suit their specific content and publication needs. They'll start by strategizing your ideal content marketing plan before the team goes off to conduct keyword research on your behalf, identify potential topics, and produce amazing content.
The comprehensive strategy includes complete content outlines, plagiarism and editing checks, on-page search optimization and CMS uploading and formatting services. Plus, they can also help out with things like backlinking and public relations.
The fantastic, personalized service offered by this company makes them a top choice for any SaaS brand that can't afford to compromise on content excellence.
Learn More: The Anatomy of an Effective SaaS Lead Generation Strategy
Specializes In: Content writing for B2B SaaS
Top Clients: ClickUp, Okta, WalkMe
Pricing: Custom based on your requirements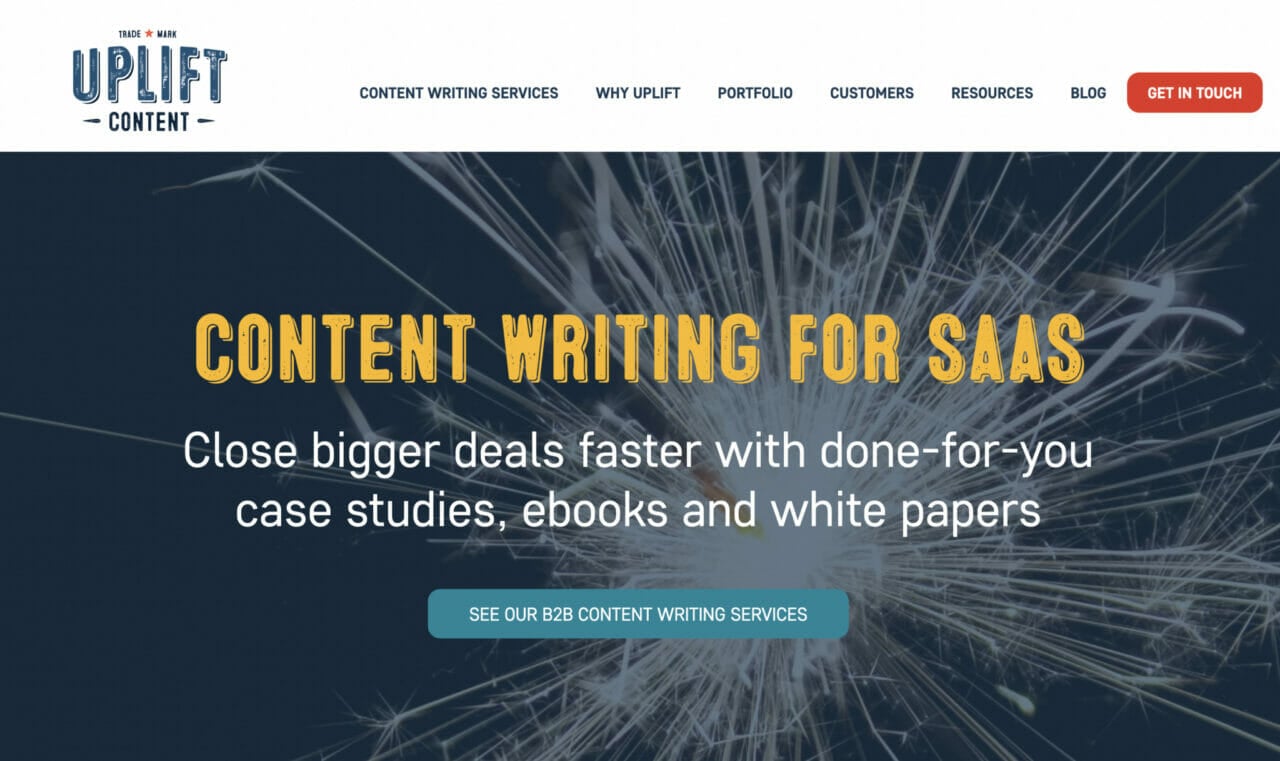 As a B2B SaaS content agency, Uplift Content is a great choice if you need to scale your content production. The agency has a track record of success writing blog posts, e-books and case studies for high-growth B2B SaaS companies in the U.S., Canada and around the world.
Uplift works with customer marketers and content marketers who are determined to succeed in the competitive landscape of B2B SaaS. The agency writes content for its customers that grows brand awareness, generates leads and produces growth within accounts.
Their team of experienced and specialized B2B SaaS writers and editors is able to tease out key messages from many sources and put them together into one cohesive story from start to finish. And the best part? They can extend the reach of your existing team in a consistent and scalable way by fitting seamlessly into your workflow to deliver big-picture thinking and engaging content.
If you want your content to help close bigger deals faster, Uplift Content is the agency for you.
Dive Deeper: Best SaaS Marketing Agency: Top 5 Choices for 2023
Ready to Hire the Right SaaS Content Marketing Agency?
As mentioned above, there are thousands of content marketing companies in the world today capable of offering support to market your SaaS product to a wider audience. However, only a handful will stand out as the best SaaS content marketing agency for you.
Make sure you double-check the reputation of any company you're thinking of working with before you get started, and ensure that they have strong policies in place to protect against issues with search engine optimization and plagiarism. It's always helpful to check out some content samples, too, if your agency has them (and they should).
If you're ready to level up your SaaS business, Single Grain's SaaS marketing experts can help!👇