6 Tips for Scaling Up Content Production without Sacrificing Quality
Whether you're head of content marketing in a larger company, part of a lean distributed team, a solo entrepreneur or somewhere in between, scaling up is essential to brand building.
According to a Content Marketing Institute survey, 64% of content marketers said their greatest educational need is understanding how to create a scalable content strategy: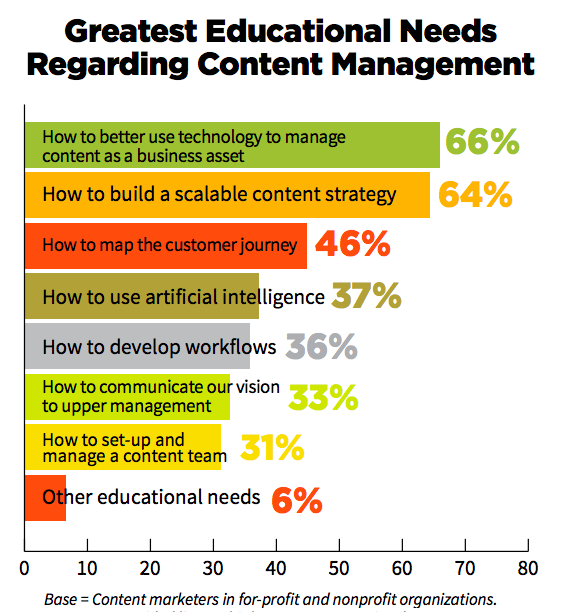 These content marketing tips are intended to fill that gap.
With limited knowledge on successful scalability, many marketers make the mistake of equating scaling content with simply expanding the volume of production — without regard to quality.
In fact, high-quality writing is more important than ever. With each refresh of its algorithms, Google is constantly updating its search algorithms to prioritize quality — and it's only improving. In this age of content oversaturation, readers are savvier about what they consume and from whom.
When quantity becomes the central focus, marketers encounter pitfalls like:
Lack of authentic, on-topic, on-brand messaging
Diminishing ROI as shares, comments and interactions decrease
Lagging, overly optimistic KPIs that are no longer calibrated to production
Overworked teams can't keep up with the increased workload
There's no way around it: scaling content while maintaining high standards is challenging. Indeed, many content creators continuously defer expanding content due to a lack of resources, time and energy.
Content is the soul of any business. When it comes to creating high-quality content, there are no shortcuts or quick fixes. Scaling for quality requires strategic planning and execution, especially if your budget is fixed.
Click To Tweet
The good news is that by re-calibrating your team and content marketing strategy, leveraging key advantages, and optimizing your processes, you can produce more exceptional content more efficiently than you thought possible.
Here are six content marketing tips to help you scale up without neglecting high-caliber writing:
1) Re-Calibrate Your Team: Outsource Content, Invest in Editors
Expanding content means expanding your bandwidth first. Whether you're re-calibrating your existing team or assembling from scratch, you'll need a team in place to handle the increased workload. To accelerate production, save time and reduce costs, consider outsourcing content writing.
Half of B2B marketers outsource marketing activities, according to CMI's 2020 report, and 84% outsource content creation specifically: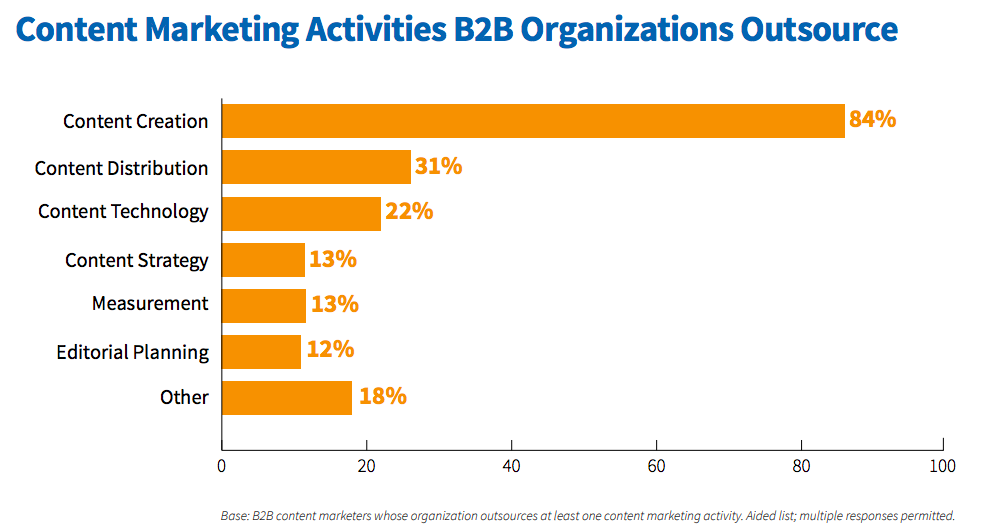 Simultaneously, you should maintain an internal editor or content manager who knows and represents your brand's distinct voice, understands brand-building techniques, and can make it a leading authority in the space. They're the gatekeeper for outsourced content, ensuring that it meets the brand's high standards.
The key to any successful model is a balanced editor-to-writer ratio. Here are three models that work:
Internal Brand Editors, Outsourced SME Copywriters
Consider contracting out content projects to Subject-Matter Expert (SME) copywriters. Think of independent contractors as an extension of your team, the constellations orbiting your core players. Develop lasting relationships with top-quality copywriters and they'll become one of your most valuable assets.
This frees up the time of your editor to ideate, develop promotional opportunities and think big on behalf of your brand.
Limited budget? Even a single copywriter can double your output. Another cost-effective content marketing tip is to invite guest bloggers to share their knowledge, build their reputation and gain backlinks, which is a win-win for both parties.
Placing a submission portal around your website like we do at Single Grain as well as a "write for us" page on your menu is an easy and effective way to invite qualified writers, marketers and entrepreneurs to share their knowledge with your brand: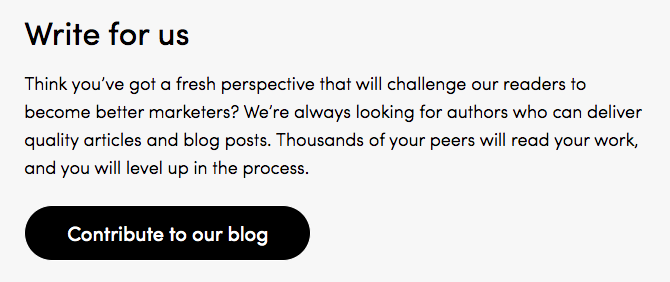 Internal SME Editor, Outsourced Content Marketing Agency
If you've already hired an intra-organization SME editor but they're often time constrained to write promotional content, consider partnering with a content agency.
Where they may lack the knowledge of a particular niche industry, agency writers excel in crafting strategic marketing articles. Your SME editor can propose pitches and agency authors will compose pieces to be reviewed and approved before publication.
Seek an agency that specializes in content creation (not just distribution), publishes in your vertical and has its own in-house writers (versus contracting out). These are signs of a high-caliber agency that is dedicated to quality copy, invests in talented writers and pays them well (because you do get what you pay for).
Internal Editor, Insourced from SME Leadership
For teams with many moving parts, outsource from within. Insourcing draws on the expertise of contributing team members from various departments of the company. It's a powerful solution because who knows your brand, processes and unique perspective better than your own team?
Taking this process in-house not only gives the content authenticity by revealing what goes on behind the curtain, it also establishes members as authoritative experts in the field. Think beyond sales and pull back the curtain on your marketing, SEO or advertising divisions.
Not everyone's a writer, but if their ideas are strong, your internal editor can work with the articles to make them publishable. there are other ways to glean valuable information. Record informal talks for a podcast, interview leadership and facilitate cross-organizational communication at every opportunity.
Dive Deeper: Outsourcing: The Passive Path to Growing Your Business
2) Know Your Audience: Rebuild Strategic Themes and Segment Audiences
As your audience grows, their needs change — and so does your strategy. This is where marketing segmentation comes into play.
To continuously provide value to your readership, take the time to (re-)segment your audience, re-establish key strategic themes and build your upscaled content reservoir around these. Create a profile or buyer persona for each prospect group and identify their content triggers. What are their needs? What frustrates them? What inspires them?
Work with your sales and customer service teams to document common questions, comments and concerns of prospects and existing clients or users. Analyze these interactions to understand user intent and identify the common patterns that emerge.
Use these buyer personas to build content reservoirs. These are pools designed for each kind of potential or existing customer and are especially useful for user-generated content. Breaking down your audience into personas not only helps you build content around these consumer types and conduct side-by-side comparisons, it is also essential in understanding how to reach them: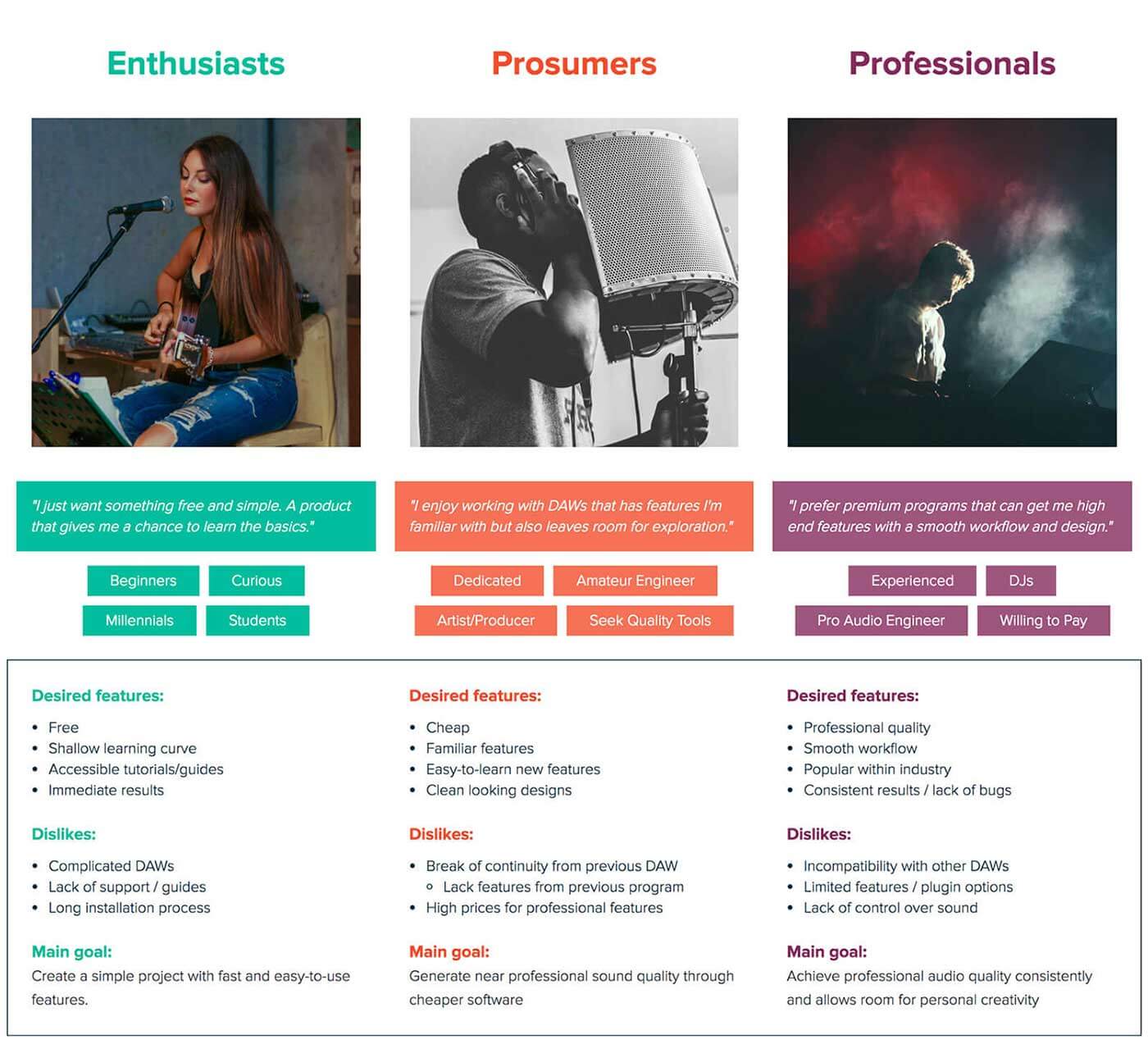 According to a 2017 MailChimp study, recipients are 75 percent more likely to click on emails from segmented campaigns than non-segmented campaigns.
In sum, segmenting readers around strategic themes and content triggers is a research investment that pays off. Highly targeted content is high-quality content.
Dive Deeper:
3) Create Your Own Customized, Templated Content
Leveraging templates to advance content isn't just practical, economical or time-saving — it's good business sense.
If the idea of using templates gives you pause, remember that it's predominantly glaring, cookie-cutter usage that we tend to notice (and disparage). In reality, high-quality templated content is simply good branding: it provides readers with a distinct, identifying format.
Design your brand's personalized blueprint. Formats like How-Tos, Listicles, Case Studies and Roundups form the majority of content writing. They dominate the field because they provide value, but to break through the noise, you must develop your own version:
Get specific with titles to increase predictability for readers and boost keyword usage in titles. Titles like "How X Did Y [With/Without] Z" or "How to Use X for Y" are compelling for numerous iterations, recognizable and highly clickable.
Keep it simple with "3 Ways to Improve X" to recommend a methodology or "The Best X for Y," for product or service reviews. Straightforward concept definitions like "What Is X?" or "X Defined" are also powerful.
Challenge expectations and catch readers' attention with "Why You [Should/Shouldn't] Use X to Y." This format is used

by Inc. in the memorable

Why You Shouldn't Let Your Employees Set Their Own Goals

, and

Forbes

and

Time

also use this method to great effect: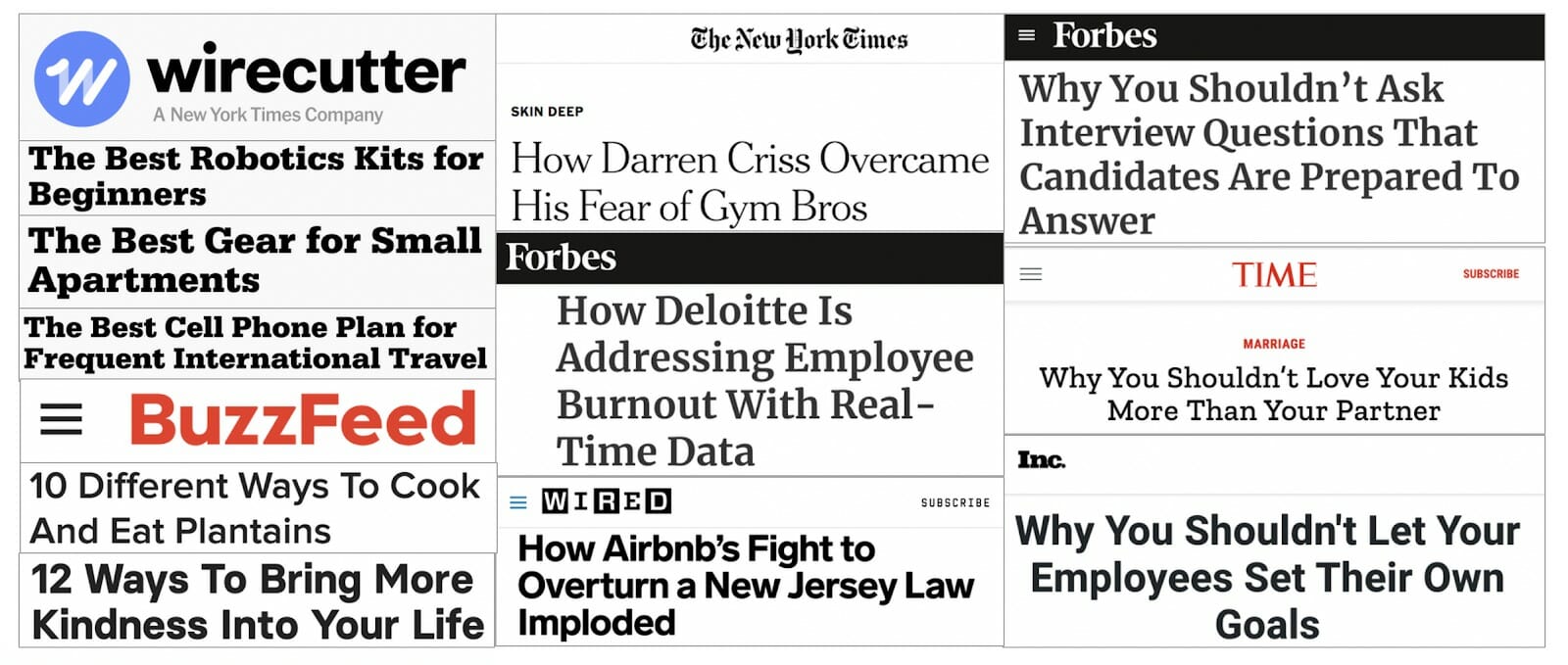 This enhances scalability in multiple ways. For new hires, contractors and seasoned writers alike, templated content provides a well-defined blueprint for composition, style and tone. By optimizing production and time efficiency, it also maximizes budget.
Dive Deeper: 9 Proven E-mail Templates to Add to Your Conversion Funnel
4) Repurpose Your Most Successful Existing Content
Your most trafficked, most engaging content is successful for a reason: To get more ROI out of your best content re-package ideas for a different channel, platform or media format.
The 2019 Content Management & Strategy Survey found that 72% of organizations fail to consistently repurpose their content without "a lot of manual labor," of which 27% rarely or never do.
Many marketing organizations repurpose and reuse content — also called the omnichannel method — but not many have a systematic process to ensure that content recycling is efficiently optimized. If you're strategic and purposeful about conducting an in-depth content audit of your top-notch pieces, you'll find that several thematic blog posts are viable for transformation into a podcast or webinar series.
Here are a few ideas for repurposing:
Amplify your best work by zeroing in on a granular subject or zooming out for a big-picture overview. Divvy up a long, analytical article or listicle and focus narrowly on smaller soundbites. Combine a collection of thematically or topically consistent content for a broader take.
Turn a podcast into an article, video or infographic — or vice versa. Create a photo for an Instagram post with a catchy quote from your blog or podcast. Post a 60-second video to Instagram Stories with a swipe-up link to the blog post. Use sound bites from your video or blog for the text for a Facebook post. Click here for more ideas like this. And check out this detailed (and visual!) article on How to Make an Infographic.
Treat your content as a living body of work, continuously updating older posts so they remain relevant and valuable to readers. Perhaps there are newer datasets to replace last year's or a new tech development has added nuance to an older debate.
Revamp distribution methods by spotlighting your top articles in a weekly or monthly newsletter, re-sharing evergreen content to different social media channels.
Beyond scalability and time efficiency, there are many advantages to repurposing content. It maximizes SEO as several pieces of content centered around a given topic provides added opportunities to target preferred keywords and generate backlinks from external sites.
It also extends your reach to new, more diverse audiences: multi-channel marketing means you can deliver the right message to the right segment.
Dive Deeper:
5) Ideate with User-Generated Content, Influencer Marketing & Crowdsourcing
To provide customers, clients and prospects with the most value, use your most direct line of feedback and communication for content ideation: harvest ideas from the users themselves.
Crowdsourced, user-generated content (UGC) saves time, revenue and provides all-important authenticity and builds goodwill with audiences. As influencer marketing continues to grow, there are an abundance of creators to choose from and collaborate with.
Authentic content is high-quality content. According to Stackla, 90% of consumers say that authenticity is important in selecting brands they like and support; they're also 2.4x more likely to say user-generated content is authentic compared to brand-created content: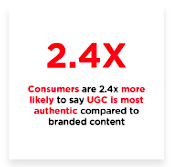 Read product reviews and social media comments. Work with your sales team to identify repeated customer service questions and regularly scan the Q&A box (and if you don't have one yet, implement one!).
Develop UGC around newly re-segmented audience personas. In other words, to effectively crowdsource, know your crowd(s). Systematically address the needs, pain points and requests of each group.
Create in-depth FAQ content, repurpose comments as testimonials or quotes, and propose collaborations with your highest engaging participants who may also be creators.
Numerous marketing studies, like this one from Salesforce, demonstrate the advantages:
Visitors to websites with user-generated content (UGC) galleries spend 90% more time on the site
Social campaigns that incorporate UGC see a 50% lift in engagement
UGC drives a 73% increase in email click-through rates
UGC increases conversions by 10% when included in the online purchase path
Not getting enough engagement or feedback? Leverage the firsthand, immediate discourse facilitated by social media platforms. Invite influencers and creators to participate with questions, live Q&A sessions, surveys and contests — and let them know the top answers and suggestions will be featured.
When it comes to crowdsourcing content, promotion isn't just bound up with content creation — it's a comprehensive feedback loop. Respond to your commenters regularly, reward loyalty and create a bond.
Dive Deeper:
6) Don't Forget to Scale Content Promotion
Increased content often means a shorter promotion lifespan, but this diminishes the returns of content production.
Your production-to-promotion is not 1:1. If you're only publishing monthly, your marketing calendar would outline weekly outreach to extend its life cycle. Yet, when upscaling to publishing daily, some content creators make the mistake of promoting each piece daily. Then they're swiftly onto the next piece.
According to CopyPress:
"The biggest pitfall we see when clients scale content isn't quantity over quality production, but quantity over quality promotion." 
Instead, leverage the compound effect. Over its lifetime, a single compounding blog post creates as much traffic as six decaying posts:
Get the most ROI for each piece by increasing its lifespan with targeted, scaled promotion:
Redefine your metrics and key performance indicators (KPIs) to serve as benchmarks in new production objectives. Leverage predictive analytics to help you define these. What are your quantifiable engagement goals for number of shares, links and comments? For clicks, organic traffic and other metrics of success?
Revamp distribution strategy and experiment with new marketing methods. For instance, explore paid promotion by boosting targeted Facebook posts or create a drip-email campaign to cultivate content longevity. Conduct split-tests or A/B tests for different engagement styles.
Track performance for weekly and monthly trends, quarterly progress and even daily anomalies. Measure your success with Google Analytics. Review at regular intervals to assess if you are maximizing your content investment.
Continue to adjust and recalibrate based on your findings. Tweak the promotion lifecycle for each piece and distribution method until you meet your new KPIs and projections.
Dive Deeper:
Final Thoughts
Managing one's existing content production process, consistent ideation of new content and measuring success is difficult. Scaling it all, plus retaining high standards, is a challenge.
Leverage these six content marketing tips to prioritize high-quality writing when scaling up. An abundance of content is key in maximizing ROI — but high-caliber content is what drives readers.
These tips and strategies prove that it is more than possible to scale up by leveraging key efficiencies and optimizing the right methodology for your organization. After all, content is the soul of your business. By investing in quality brand building, readers understand that you are investing in your company and in them.