There are many benefits to be gained by analyzing content marketing statistics for SaaS businesses who take their growth seriously.
Diving into the latest data reveals a wealth of insights into current content marketing trends that can be invaluable for identifying the gaps in your content strategy you may need to fill.
On the more optimistic side, a look at SaaS content marketing statistics may also reveal areas where you're already ahead of the game, giving you a golden opportunity to double down in an effort to keep your edge over the competition.
Without further ado then, here are the 37 most essential content marketing statistics that every SaaS business should know about.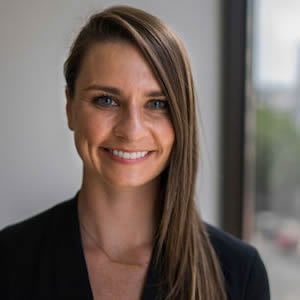 Jacqueline Foster
Demand Generation Marketing, Lever.co
We can count on them to bring new ideas to the table consistently
37 Content Marketing Statistics for SaaS Brands
General SaaS Content Marketing Statistics
Takeaway:
These marketing statistics reveal some interesting insights into the current state of the SaaS industry and its use of effective content marketing.
Over 50% of SaaS platforms already make content an integral part of their online strategy, while 78% of CMOs insist that it's importance to the growth of the industry is only going to grow in years to come.
What we can take away from this is:
If you're not already investing in content marketing, now is the time to seriously rethink your strategy.
Not that throwing up any old blog article or social media post is going to cut it. The message here is simple: If you're going to succeed, you need high-quality content produced by skilled creators that prioritizes user value over everything else.
With that in mind, it's perhaps no wonder a significant number of SaaS brands are outsourcing their content  creation needs to specialist freelancers and agencies rather than over-burdening their existing marketing teams.
Audience Behaviors
Takeaway:
Here, we see more evidence for the need to create quality content. Given the seemingly infinite number of ways users could spend their time, the fact that they spend a fifth of it consuming content shows us that it is genuinely a good way to engage your audience.
Quality content is especially key when you consider how much time SaaS buyers spend researching a potential platform.
By creating clear, easy-to-follow and engaging content that promotes the benefits and solutions offered by your SaaS product, you can actively influence that research process, ultimately steering undecided customers towards your sign-up page.
What's more, the fact that just under a third of paying customers cancel their subscription within 90 days raises an interesting question for any SaaS company: How can we better utilize content strategies to keep audiences engaged, provide greater value, and convince them to stick around?
Spending and ROI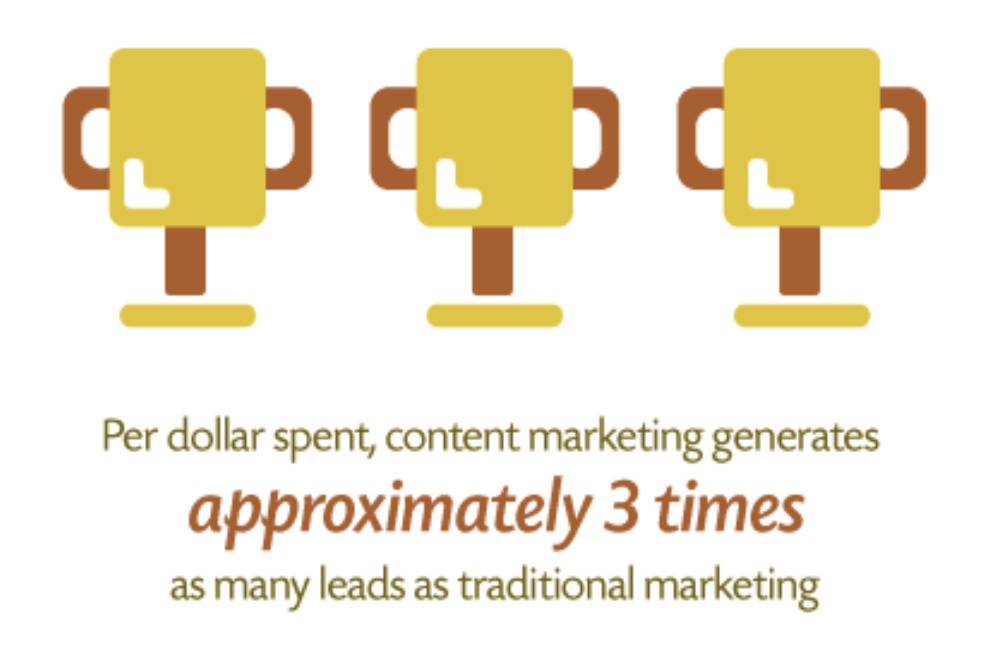 Takeaway:
These SaaS marketing statistics only reinforce what we said earlier about the importance of investing in quality content creation. This method clearly works, not only producing better results than traditional marketing channels, but costing far less money to do so.
If you were looking to maximize your marketing strategy to make it more effective and cost-efficient (and, let's face it, you should be), then pivoting away from channels that don't produce results and investing more in content strategies should be a no-brainer.
Blogging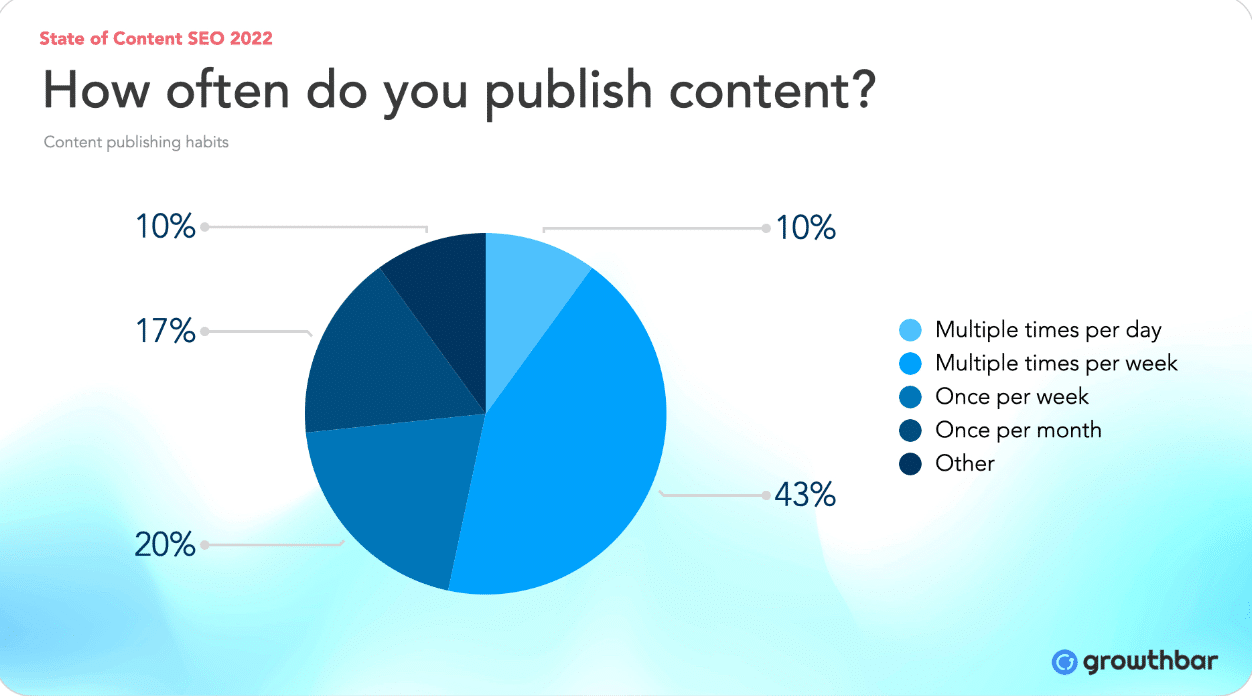 Takeaway:
Even in an age when content marketers have more methods for connecting and engaging with their audience than ever before, good old-fashioned blogging clearly remains pivotal to increasing sales and lead generation.
Although listicles and How To's remain popular, it's no surprise that almost half of SaaS companies find case studies to be the most effective type of post. If you read our guide to creating conversion-optimized case studies, you'll know that they can be incredibly useful in helping potential clients visualize their problem being solved by your platform.
Video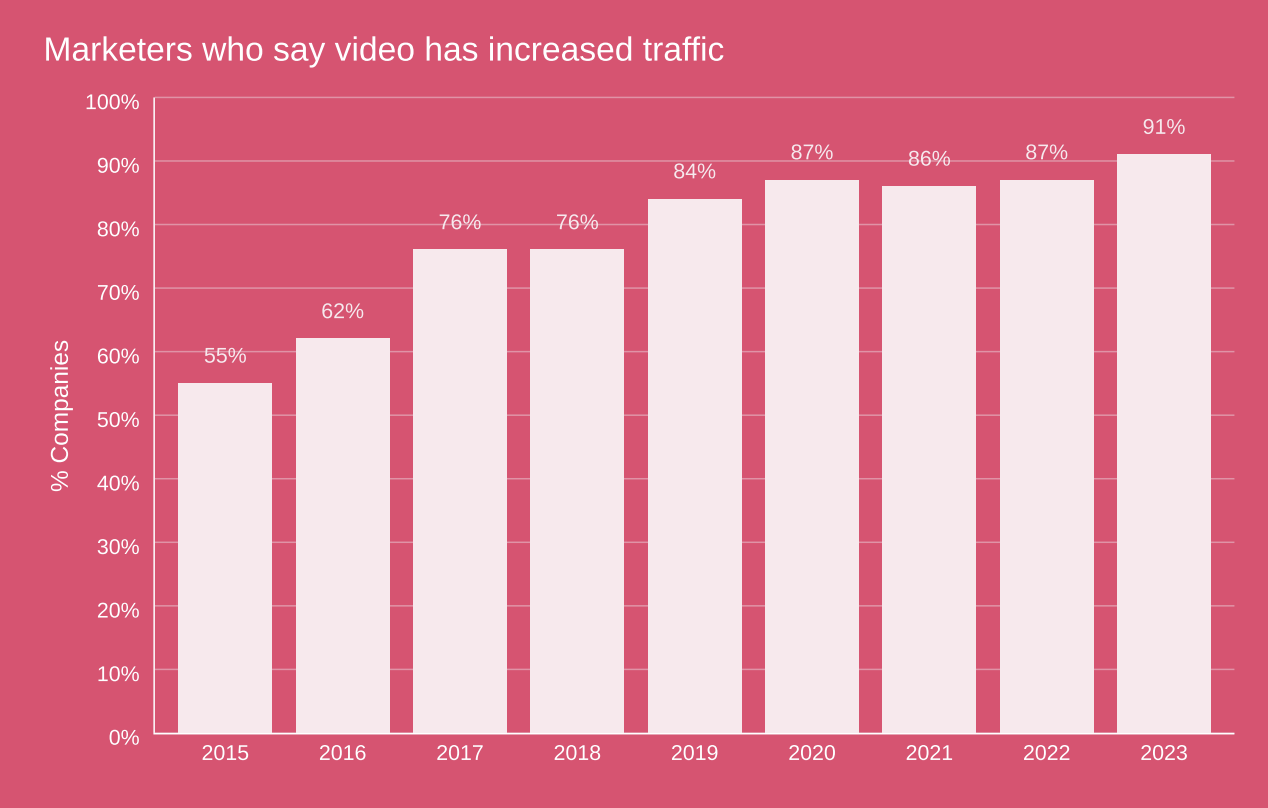 Takeaway:
Of all the SaaS content marketing statistics we've looked at today, these five facts are the least surprising of all.
Use of video as a marketing channel is at an all-time high, its usage among businesses growing 30% in the last five years.
This increasing adoption only goes to show what a powerful tool video can be for connecting with audiences in a way that you just can't through other channels.
These statistics also make it very clear what type of content most companies focus on to produce strong results.
Educational content such as webinars and screen-recorded how-to videos provide tremendous value to audiences, helping them to solve problems and learn how SaaS apps can help them complete personal or professional tasks more efficiently.
Infographics and Visual Content

Takeaway:
SaaS marketing statistics like these prove why we're so adamant that infographics still work in 2023.
Not only do they produce high levels of engagement, but infographics and other visual content can really make a big difference to the way people use your content to solve their problems.
It's easy to see how this can benefit your SaaS company.
Since users tend to do better at completing tasks when the directions have illustrations, adding those illustrations to your How-to based content puts you in a better position to help your target audience.
The more you help them, the more positively your brand is received, and the more positive your reputation, the more likely you are to generate leads.
Social Media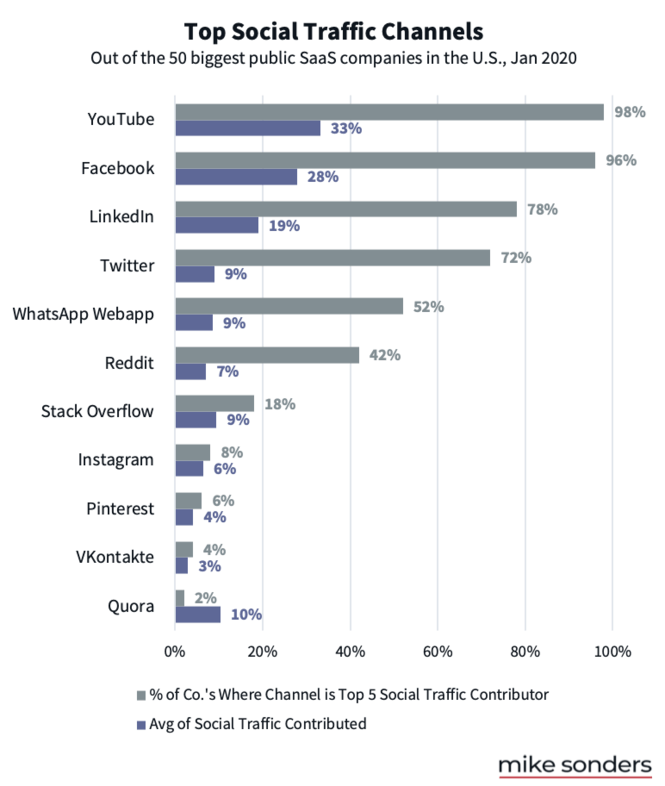 Takeaway:
The fact that YouTube drives more traffic to SaaS companies than any other social media platform further confirms why video should be a vital part of your overall content marketing strategy.
Not that other platforms should be ignored. The likes of Facebook and LinkedIn are still important platforms, the latter playing a particularly crucial role for SaaS businesses who focus on creating content for the B2B crowd.
At time of writing, there's a lot going on in the world of social, with Meta generating a huge buzz around the launch of their new Threads app and Twitter seemingly in the throes of an identity crisis.
Although it's perhaps too early to tell how this may influence emerging social media trends over the next  year, both brands clearly need to be considered in your content marketing efforts, while LinkedIn remains vital for attracting business clients.
Content Promotion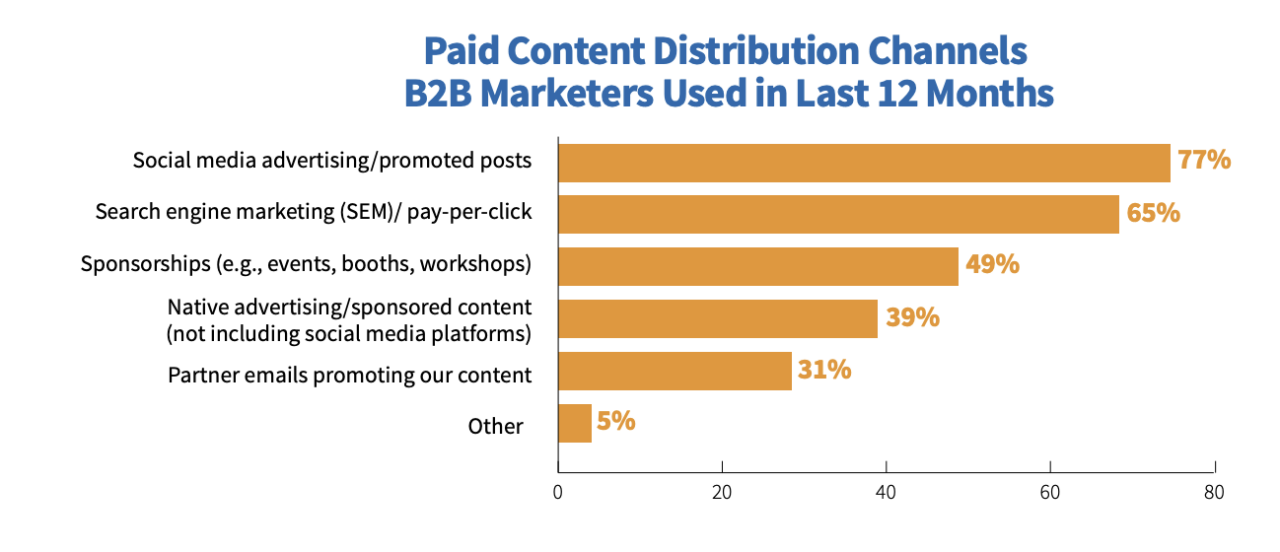 Takeaway:
Although most SaaS companies use content marketing as a means of driving organic traffic, there's certainly something to be said for using paid ads to attract high-value clients by driving users to your conversion-optimized content.
Here, we see another reason why social media is a useful component of any good content marketing strategy, producing more click-throughs and leads than even the most effective PPC strategies.
Challenges and Obstacles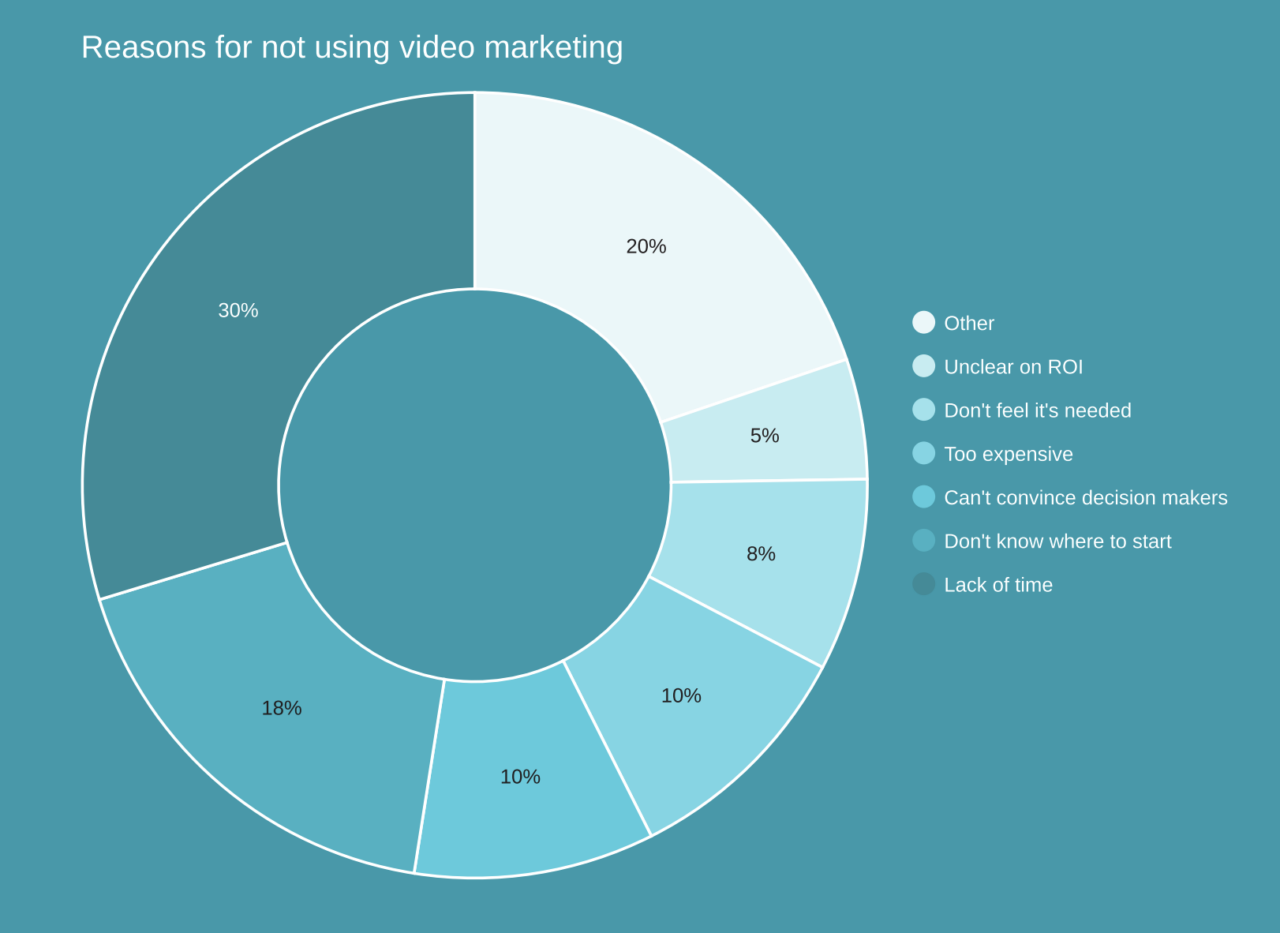 Takeaway:
Content may be integral to your marketing strategy, but as we see here, it's not without its obstacles.
A lack of time continues to be the biggest challenge faced by most SaaS companies, though a lack of content marketing skills, knowledge, and resources also appears to be holding many brands back.
This is no doubt why more companies are turning to freelancers and top content marketing agencies to create content for them, giving them all the benefits of this incredibly effective approach with none of the drawbacks of having to do it all in-house.
Summing Up SAAS Content Marketing Statistics
If there's one thing that becomes immediately clear after reading these content marketing statistics for SaaS companies, it's that the industry as a whole is embracing content like never before.
While traditional approaches like blogging and social media remain pivotal, video is undoubtedly entering its zenith, with fewer than 10% of businesses not making use of video-based content to market their business.
For the software industry in particular, this means that we can expect to see more brands investing heavily in webinars, webcasts, tutorials and other valuable forms of video to both attract and keep customers, all with the ultimate goal of boosting annual recurring revenue.
If you're ready to grow your SaaS MRR, Single Grain's

SaaS content marketing experts

 can help!👇