The road to converting a prospect into a paying customer is a winding one. In the world of B2B, the customer journey can be overly intricate and frustrating to navigate.
In this post, we'll cover:
who the B2B customer is (as opposed to the B2C customer)
what a customer journey map is
the four types of customer journey maps
types of data to collect for your customer journey map, including data based on stages
how to create your own customer journey map 
The B2B "Customer"
As they move along their customer journey, prospects can hit a couple of roadblocks:
There could be numerous stakeholders during a single company's purchase. Unlike B2C, the "customer" in B2B is a group of people representing the company. So you have multiple persons and their varying opinions that need to agree and align on buying your product or service. And that's just the tip of the iceberg.
Throughout their B2B buyer journey, an average prospect interacts with a minimum of six channels, making it difficult to track the origination of the sale and how to automate that success.
On top of that, the average sales cycle may last up to four months. So it's imperative to track this metric to know the actual length of your B2B buyer journey and what drives your success.
According to McKinsey's research, these three daunting factors are the reason why nearly 65% of your customers won't convert.
So, what do you do? The only way to ensure that every channel, activity or marketing campaign is performing as intended is to create a customer journey map that reflects reality and attributes value to each touchpoint.
However, there are a lot more reasons why your business needs a B2B customer journey map. But before we dive into that, let's understand what a customer journey is first.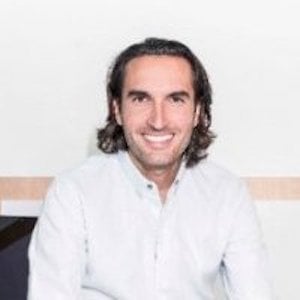 Yaniv Masjedi

CMO, Nextiva

Their expertise has helped Nextiva grow its brand and overall business
What Is a Customer Journey Map?
A customer journey map (CJM) is a concept map of customer interactions with a company. It is a tool to investigate, analyze, and lay the foundations to continuously improve customer experiences.
Without an established customer journey map, your organization will soon drown in the sea of data and incomprehensible noise. Creating a customer journey map helps you tell the story of your customers' experiences with your brand across all touch points.
This process also allows B2B business leaders to gain insights into common customer pain points, which will allow them to optimize and personalize sales process steps. Journey mapping creates a panoramic picture of how a customer interacts during the customer lifecycle journey and the roles and responsibilities of the various teams in charge of fulfilling that experience.
Creating a customer journey map will also bring an organization together and develop a shared sense of ownership between teams because everyone in the company will know what is required to deliver the experiences that customers expect. Doing so will help you nurture a customer-centric culture.
Related Content: 3 Ways to Personalize the Customer Journey Experience
4 Types of Customer Journey Maps
Depending on the business needs and the extent to which business processes are incorporated into the concept map, B2B customer journey maps may vary.
Typically, there are four types of journey maps. While they look similar on the surface, each has a different focus and business purpose.
1) Current State Customer Journey Map
This is the most commonly used B2B customer journey map that offers a strategic overview of the four main stages of a B2B customer: awareness, decision making, service delivery and feedback, and relationship strengthening.
The current state customer journey map is the best for continuously improving the overall customer experience: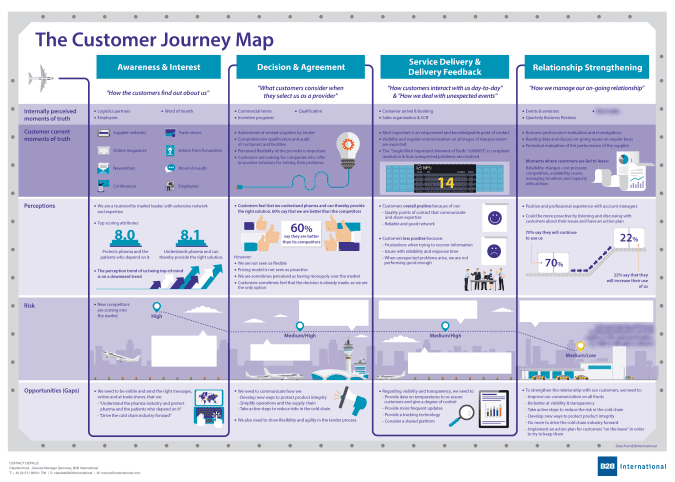 2) Future State Customer Journey Map
While current state maps demonstrate the customer journey as it exists today, future state maps center around what the customer journey should be like in the future, in addition to experiences and reactions.
This is a strategic process that requires a lot of planning and mind mapping on your end, so it's good to use mind mapping software to make it more efficient and effective. Mapping your ideas and creating detailed flow charts will prove valuable when brainstorming and putting your data to use.
Although data is undoubtedly a vital input, future state journey maps also suggest a fair amount of creative thinking and interpretation: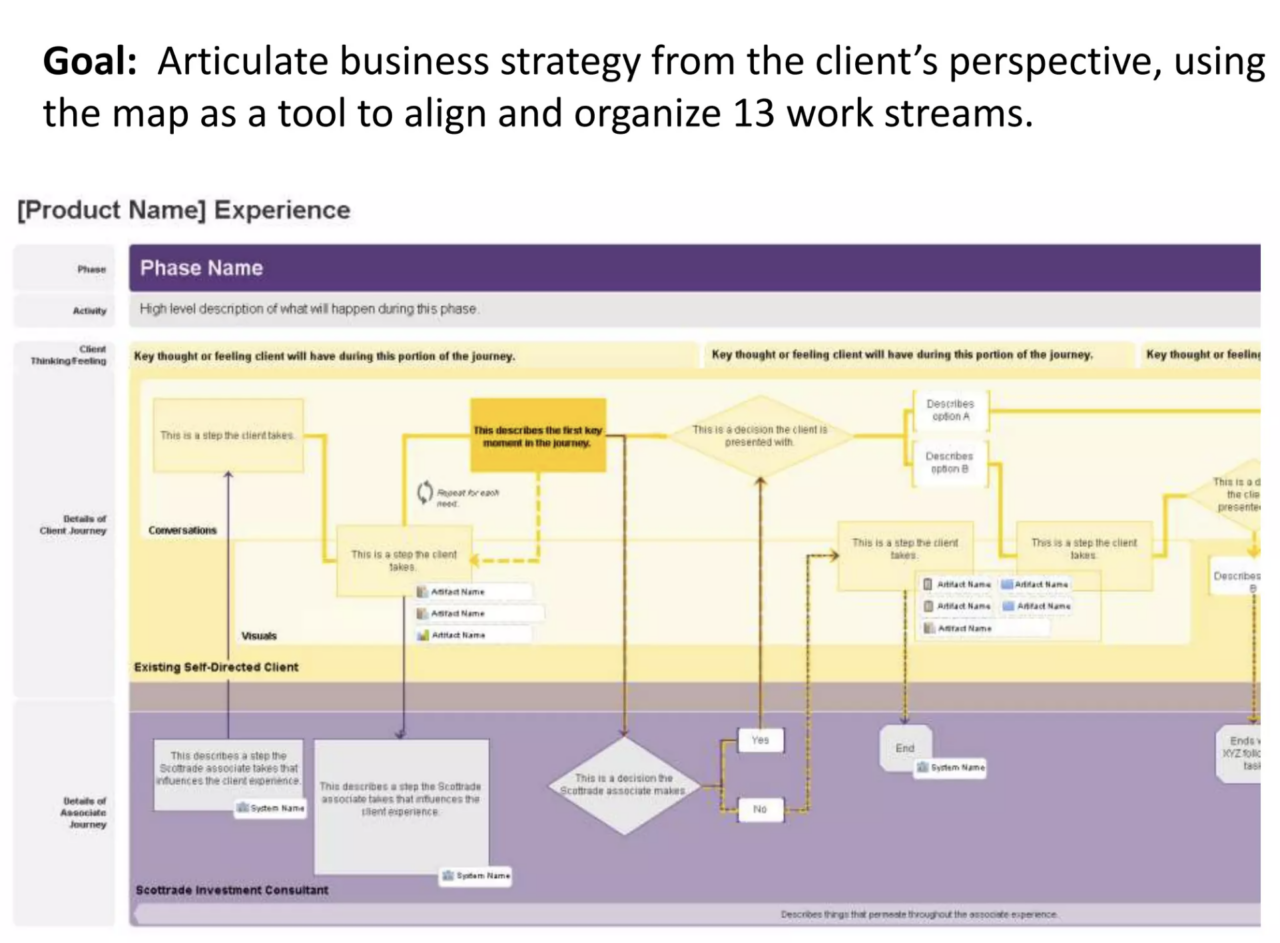 Future state journey mapping is a valuable approach when your objective is to explore possible customer expectations and create new experiences.
Developing a future customer journey map helps teams align around a common goal. It visualizes what actions, thoughts, and emotions your customers will experience in future interactions with your company.
Based on their current experience, you'll have a clear picture of where your business fits in. These maps are best suited for illustrating your vision and setting clear, strategic goals.
3) Day-in-the-Life Customer Journey Map
A day-in-the-life map visualizes your customer's daily routine, such as their interactions with family, commuting, meetings, afternoon coffee, and so on. And it doesn't matter whether or not these activities are business-related.
However, these events should be organized chronologically. The day-in-the-life map below is relatively straightforward. It highlights the feelings, thoughts, and actions of a frequent business traveler over 12 hours: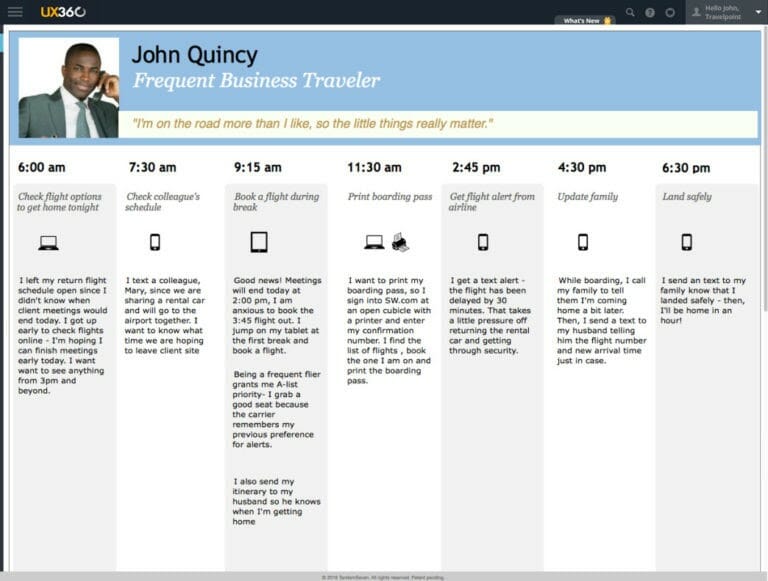 This type of customer journey map is excellent for shedding light on what a customer experiences throughout their day. You can use this customer journey map to identify moments in a customer's day when your product or service will be most valuable.
4) Service Blueprint Customer Journey Map
A service blueprint can complement a classic CJM. If a customer journey map focuses on the customer's needs, thoughts, and actions, a service blueprint considers the organization's perspective and its employees.
The map below displays a typical service blueprint: It's chronological and hierarchical and is divided into four layers — the customer journey, frontstage employee actions, backstage actions, and supporting processes: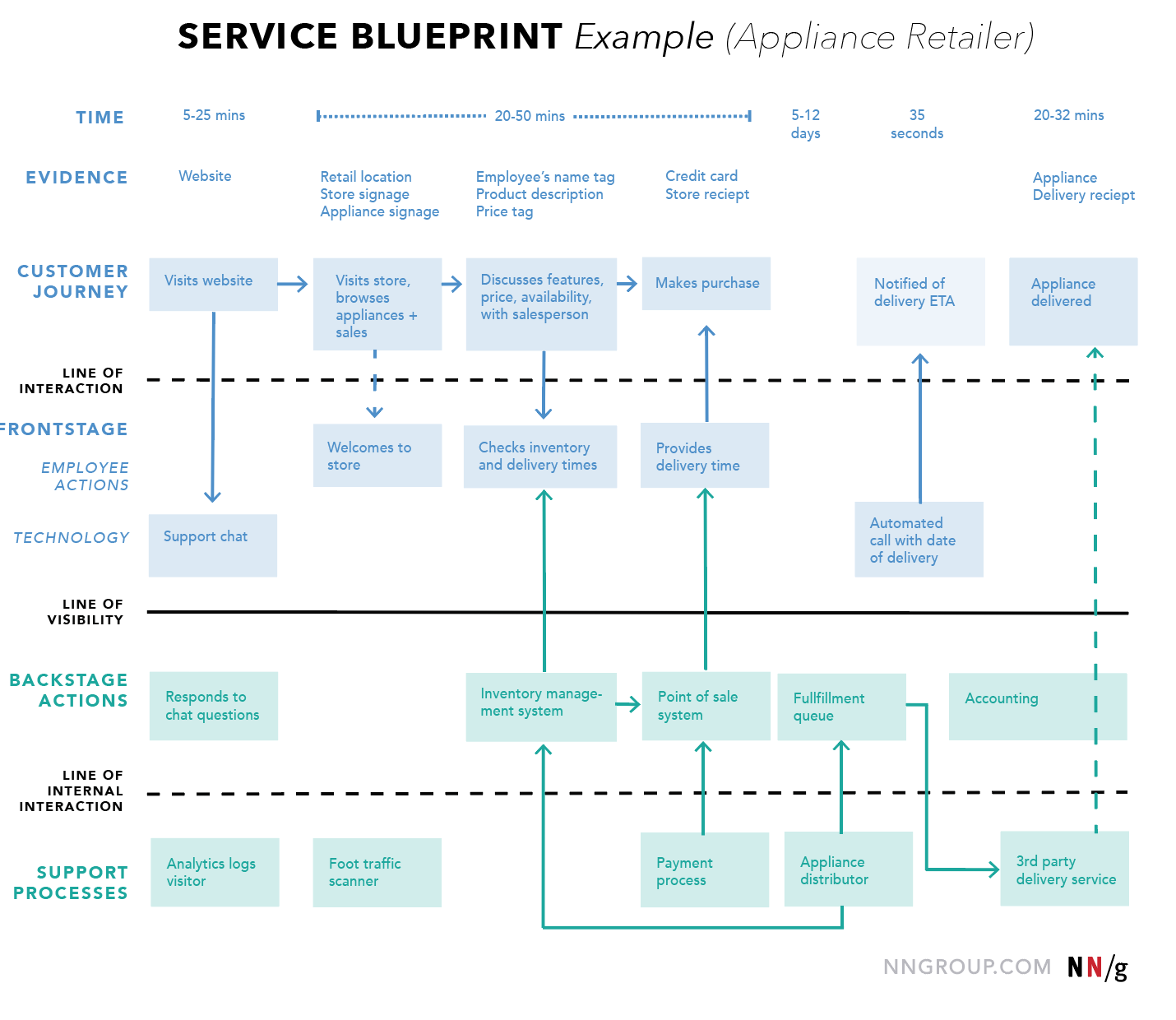 Ultimately, service blueprinting helps visualize everything that needs to happen behind the scenes for the customer journey to occur.  
Creating a blueprint can provide a lifeline when making organizational or procedural changes. It can also find solutions to specific roadblocks in the customer journey.
Collecting Data for Your Customer Journey Map
Pictures without data are just that. But data brings them to life.
Sometimes, data can become convoluted and complex, particularly in B2B markets where tendering, technical product and service requirements often define journeys. To help alleviate this pain, a HubSpot integration, for example, is a great way to channel your customer data into a downloadable and shareable file.
Among other challenges that a CRM platform solves is understanding your customer activity and behavior. Is there a specific touchpoint that everyone seems to pass through before moving on in the customer journey? Analyzing which part of your online marketing campaign or a piece of content has resonated the most with your prospects or clients is integral to your e-commerce metrics.
Your journey mapping will influence your journey analytics across the business. For instance, it will determine what you ask, who you ask, when you ask, and why you ask in your overall customer success program.
Customer journey analytics helps you make informed business decisions because it bases your journey maps on hard evidence rather than a hypothesis. Billions of individual interactions can be captured over time through a myriad of sources like websites, CRM programs, data servers, call center logs, and even IoT devices.
Yet, despite the diversity of data you can harvest, here are two types of data that B2B companies can use to create a customer journey map.
Qualitative Data
Qualitative data covers how your customers think and feel at certain parts of the customer journey and what they're trying to accomplish — for example, asking your clients questions like, "How satisfied were you? How likely are you to buy again?" Connect with your account managers or customer success champions to get a better understanding of the problems your customers are trying to solve.
Quantitative Data
Alternatively, aside from looking at intent, look at your customers' actions. This is where you dive into behavioral data — the percentage of your prospects that convert to buyers once they've interacted with a touchpoint. Map creation doesn't have to be overwhelming because you can draw from the experience and material that already exist in your organization to start your planning and begin driving the profit.
Related Content: Buyer's Journey 101: What Your Email Data Says About Your Customers
Customer Journey Map Data Based on Stages
Breaking down the customer journey by stages, aligning each step with a goal, and reorganizing your touchpoints accordingly are crucial steps towards maximizing your efforts. After all, you should put your customers center stage and offer such a product or service that helps solve their problems.
The Consideration Phase
During this phase, consumers compare and consider different brands based on their reputation, online presence, and other factors. This is how a consumer begins their journey.
Top of Funnel Content Performance. Conduct keyword research for the top of funnel search terms. To see some of the common questions people ask, use a free tool like Answer the Public or an advanced one such as Semrush. You can then use those questions and search intent to create relevant content for your consideration phase.
Additionally, make sure you take advantage of content heatmaps and event tracking to understand exactly how your prospects are browsing around your website.
Direct Website Traffic. Measuring direct traffic answers how many people are looking for your brand intentionally. In your website analytics tool, compare your direct traffic number to other traffic sources.

As you comb through relevant data for the consideration phase, assess what your prospects are thinking, feeling, doing, and the touchpoints they experience.
The Evaluation Phase
By this point, your prospects know about the top players in the industry and have completed the initial round of eliminations. Look closely at questions, concerns, or hesitations that customers have about your brand.
Reviews. Gather reviews from Google, Capterra, G2 CROwd, and other review sites. Group them based on both positive and negative feedback, or according to the customer journey stage they fall under.
Polls on Product Pages. Ask your prospects if they'd like to access any further information or if they have enough to answer their basic questions. From here, analyze the responses to improve your content, especially regarding benefits your competitors offer.
The Decision-Making Phase
This phase is defined by closing the deal. The prospect has completed their research, has talked to sales or consulted a trusted source, and is now ready to decide.
However, your team shouldn't assume the situation is irreversible. You can lose a customer at this stage, too.
Feedback and Surveys. Whether sent through an email or asked directly over the phone, reach out to your newly onboarded users and find out where they first heard about your company or why they chose your product.
According to the Harvard Business Review, "When it comes to service, companies create loyal customers primarily by helping them solve their problems quickly and easily."
The Post-Purchase Phase (Relationship Strengthening)
This phase is rather critical because it's time to influence a customer's experience positively so that they circle back to the consideration or closure stage.
In this stage, the customer expects the brand to deliver on the promise made about the product or service. They're also highly likely to reach out to customer service or an account manager regularly.
In the post-purchase phase, it's essential to look for data that shows brand loyalty, or lack thereof.
Net Promoter Score. Net Promoter Score (NPS) measures how likely your customers are to recommend your brand, demonstrating their customer loyalty on a scale from 1 to 10:
NPS is then calculated by taking the percentage of promoters — those who answered 9 or 10 — and subtracting the percentage of detractors (answers 6 or lower).
Repeat Purchase Rate. To track if a customer has made any repeat purchase or if there's an upsell/cross-sell opportunity, set up proper customer and web analytics. For e-commerce, you should look at repeat purchase rate, which is calculated by dividing the total number of customers who have purchased more than once by the total number of customers.
For SaaS and other service companies, look at renewal and upsell rates. To calculate your renewal rate, divide the number of customers who paid their invoices by the total number of customers invoiced, then multiply by 100 to convert that number to a percentage.
Content Engagement. Review your customer newsletter engagement, time spent on page for returning visitors to your blog, internal website traffic, and exit rate. These metrics demonstrate how your existing customers and visitors engage with your content and where you might be losing them.
How to Create a B2B Customer Journey Map
No two B2B customer journeys are alike. Various factors, such as your sales process steps and customer success efforts, will affect the outcome of your journey.
It's crucial to organize your journey map in defined stages so you can get a complete overview of what's happening. Your customer journey may have more or fewer stages depending on your customer expectations and the nature of your business.
Using a B2B CJM template such as this one could be helpful to get started: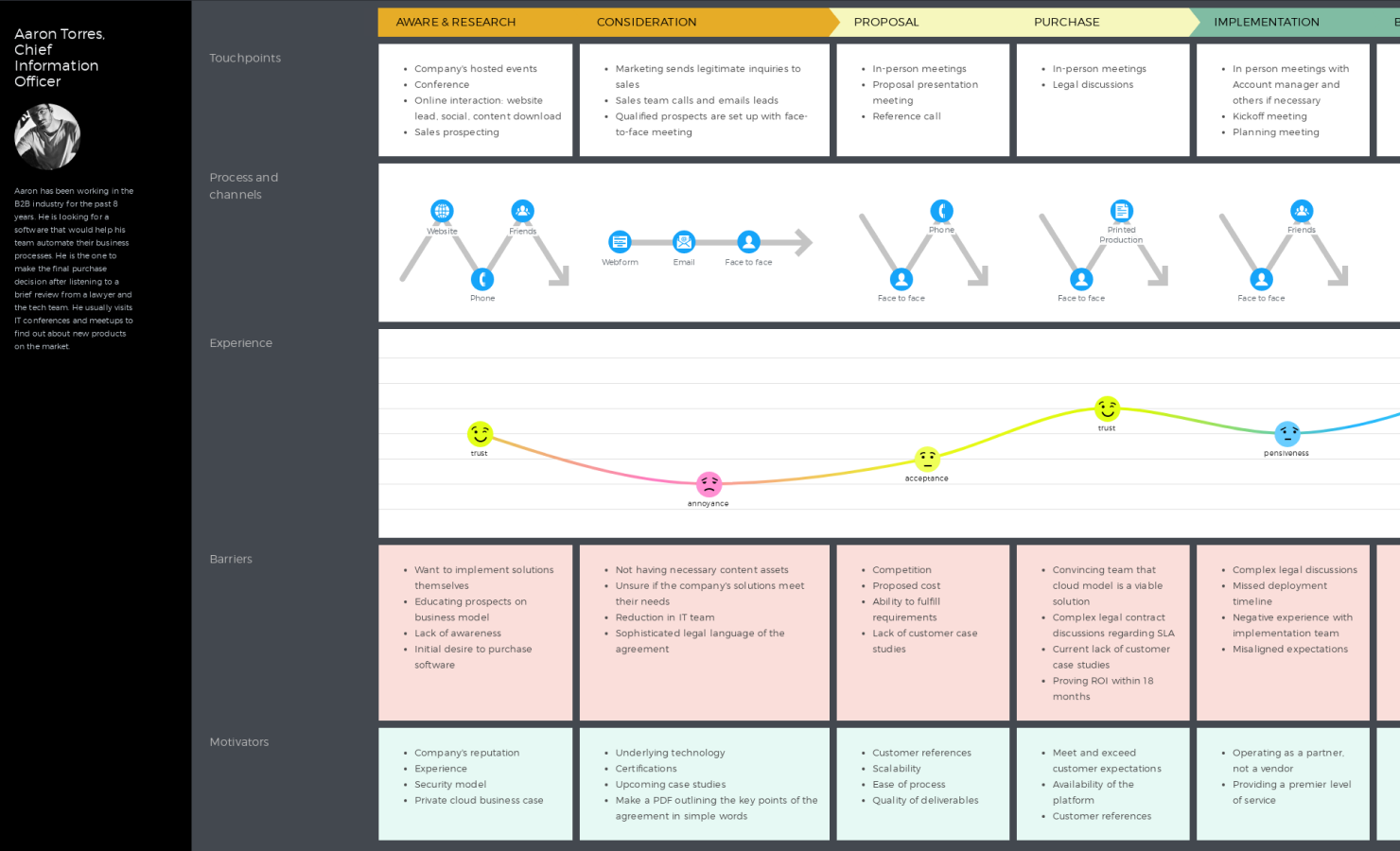 Define Clear Objectives
Before creating your customer journey map, ask yourself what goals this map is destined to accomplish? What is it about? What experience is it based on?
The goal of your customer journey map for your company is to give you a comprehensive oversight of the journey and steps your customers take in order to achieve one of their goals. These can be to make a purchase, sign up for a newsletter, join a loyalty program, and many more. Ultimately, your goal is to use this journey map to create a better customer experience, shorten the sales cycle, and help them achieve their goals faster.
Knowing these answers, you might want to invest in creating a buyer persona. Having a distinct persona helps remind you to direct every phase of your customer journey map towards them.
Related Content: 4 Steps to Discover Your Ideal Buyer Persona for B2B Marketers
Develop Your Personas and Understand Their Goals
Next, conduct your research. The best way to receive valuable customer feedback is through surveys and user testing. It's worth mentioning that only actual customers or prospects can provide you with accurate information. Based on what you procure from your customer feedback, populate that into your newly created user profiles.
Specify the Touch Points
Touch points are the areas on your website where your customers interact with your business. Based on your research, specify all the touch points your customers and prospects are currently using, along with the ones you think they should be using.
Keep in mind that these touch points include your website, social media and email, but also your affiliates. Make sure you're monitoring the performance of all affiliates with affiliate-tracking software that allows you to maximize conversions on other sites and social accounts.
These are all critical steps in developing your customer journey map. Doing so illuminates the path your customers have taken to get where they are now. If they use fewer touch points than anticipated, does this mean they are not finding what they need right away and leaving your site early? If they are using more than anticipated, does this mean your website is intricate and requires multiple actions to get to the intended result?
However, your website isn't the only platform to look at. Consider monitoring your social channels, paid ads, email marketing campaigns, and review sites.
Engage Stakeholders
Involving stakeholders in your customer journey map development can help raise awareness of the project so that people — whether that's your senior leadership, technical specialists, creative project managers, or front-line employees — get on board with participating. 
However, even though stakeholders are integral to the research, you shouldn't rely solely on their interviews to create a customer journey map. They understand the domain and perspective on the present situation. They can also advise what roles to add to the user research.
It's best to create your customer journey map in a workshop setting with all necessary stakeholders to get a unified perspective of what people believe is the case.
Socialize the Map
In most organizations, seeing a comprehensive current customer journey map across organizational silos is eye-opening. Once ready, distribute your journey map to your teams or print it out and put it in shared spaces. Invite people to provide their feedback to make sure it's a living, breathing document — which brings us to the final step.
Make Changes and Improvements
Once you've interpreted your data, make the appropriate changes to your website and other touch points. It can include updating your call-to-action or writing longer on-page product copy to emphasize the unique benefits.
These changes should trigger some immediate improvements as they mirror customers' pain points. Instead of blindly making changes and hoping that they will improve customer experiences, you can feel confident that they will.
Your map should be a constant work-in-progress. Reviewing it monthly or quarterly will help you locate gaps and opportunities for further streamlining your customer journey. Take advantage of your data analytics along with customer feedback to check for any roadblocks.
The process of creating a practical customer journey map is extensive but valuable. To streamline work and improve team collaboration, most businesses opt for online tools with shared access, such as Google Workspace. If you're working with large quantities of data, using Excel integration with Google Sheets will allow you to automate the process and consolidate several Google sheets into one Excel sheet.
Related Content: Data-Driven Marketing: Your Key to Digital Success
Conclusion
Creating a customer journey map is a "step back" exercise that allows designing truly innovative experiences. It's highly valuable to engage team members across all departments of your company with its clients and their experience of your brand.
Ultimately, a customer journey map helps you identify your company's capabilities and uncover what changes need to be made that will allow you to deliver an ideal customer journey, impact revenue, and stand out from the crowd.
Your customers are the greatest advocates of a brand: they tell stories and make recommendations. They have the power to spread enthusiasm and have to be recognized as a core element of long-term strategic growth.
Hopefully you learned how to create a B2B customer journey map! But if you just want an expert B2B agency to do it for you, click here.