Best Content Marketing Agency: Top 8 Choices for 2023
Content marketing remains the top activity for digital marketers:
91% of marketers use content marketing to reach their audience.
Content marketing costs 62% less than traditional marketing and generates up to 3X more leads.
70% of survey respondents said that SEO is better than PPC for generating sales.
55% of marketers say blog content creation is their top inbound marketing priority.
Businesses leverage content marketing because it helps them grow their audience base, improve search traffic, increase conversions, and establish their brand as the leader in their target niche. But creating a regular and lucrative content strategy takes time and effort, so businesses hire expert content marketing agencies to do this for them.
This guide lists the top content marketing agencies and provides additional information to help you understand what such an agency does and how to choose the right one for your needs.
---
---
Top 8 Content Marketing Companies
Now that you know what to look for in a content marketing agency, here is a carefully curated list of the best content marketing companies and their specializations.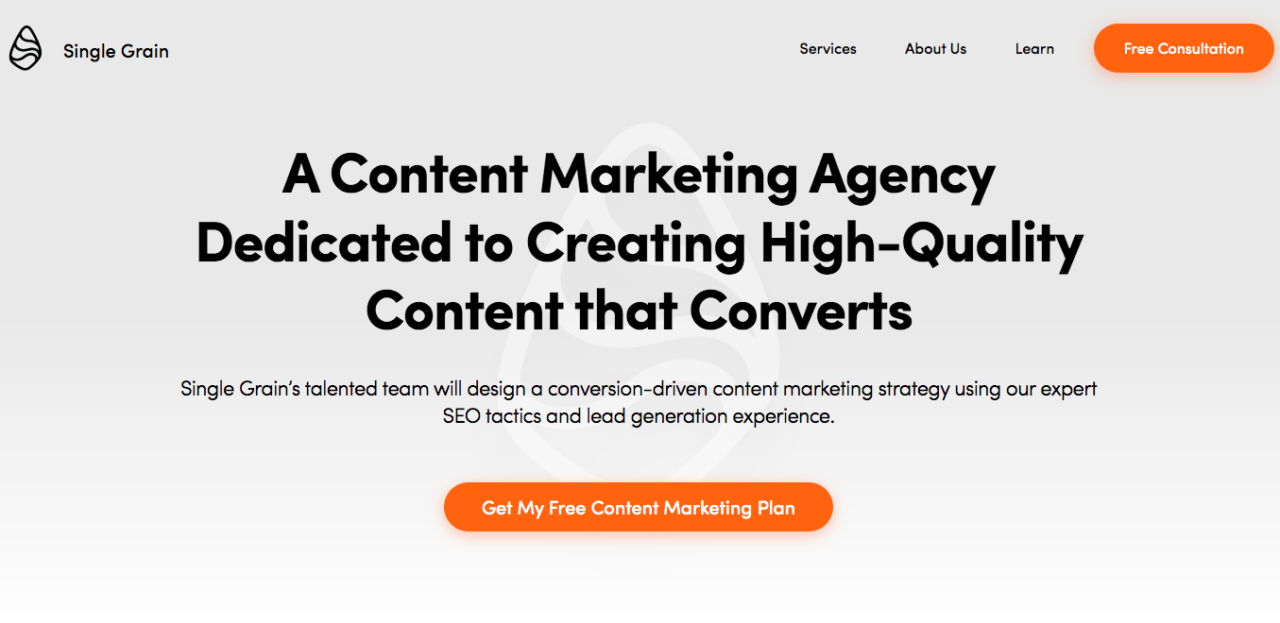 Single Grain started out as an SEO agency and a decade later have grown into a leading 7-figure full-service digital marketing agency. Their creative and talented online marketing team can help your company build conversion-driven content marketing strategies with the help of their search engine optimization tactics and lead generation experience.
They can help you develop content that will channel your lead into the company marketing funnel.
Single Grain specializes in:
Single Grain has a team of content marketing experts who design and execute agile content marketing campaigns, enabling your business to grow.
They offer personalized content marketing solutions based on your business goals that drive real results.
The team develops fully optimized, conversion-driven content marketing strategies using expert SEO techniques and lead generation experience.
With teams of experts in other digital strategies, such as paid media, PPC, conversion optimization, e-commerce marketing, demand generation, blockchain & ICO marketing, NFT marketing, and enterprise SEO, they are fully equipped to offer any business the best ROI for their buck when it comes to high-converting content.
They work carefully with your business to craft copy that engages, converts, and tells your brand's story and expands brand awareness.
They are specialized in understanding and testing how different messages, copy, and web design graphics can yield specific results for your business.
Top clients:
Amazon
Airbnb
CrunchBase
Uber
Salesforce
Intuit
Pricing: They offer custom pricing based on your business needs.
Check out Single Grain founder Eric Siu's short video Nifty Content Marketing Strategies to Get More Traffic (with Less Work!):
2) NP Digital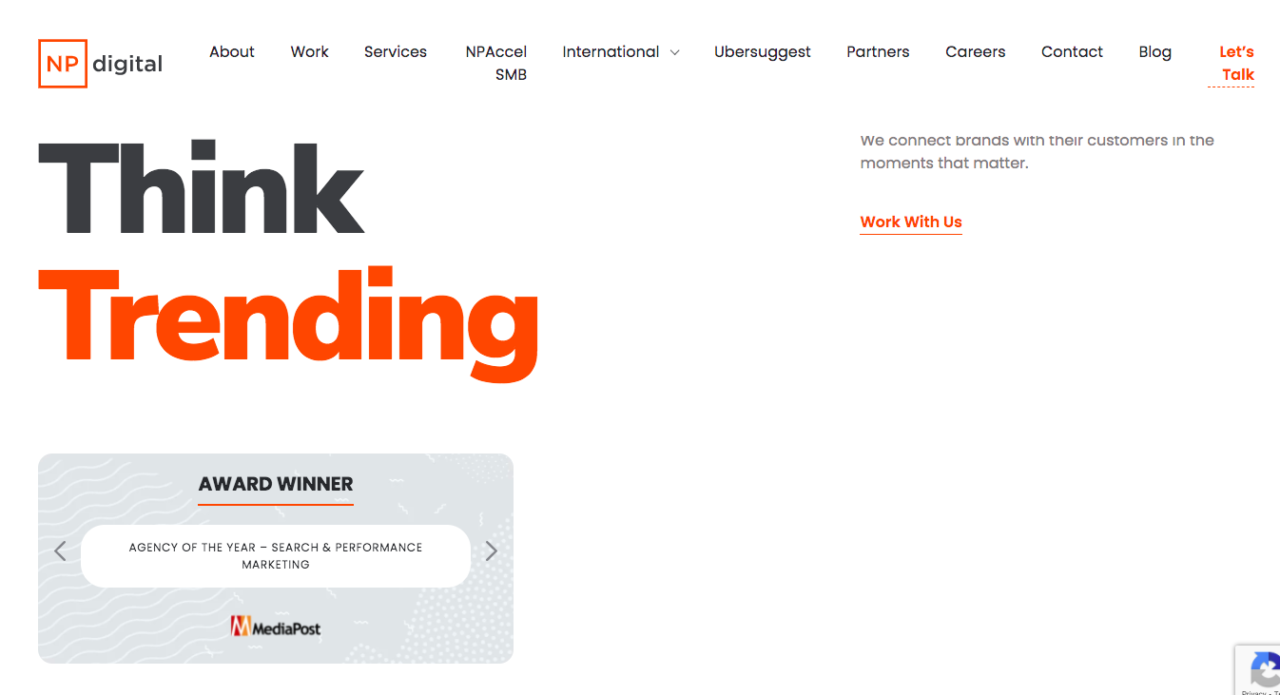 NP Digital is a performance marketing agency founded by Neil Patel that aims to deliver the right content by matching your digital marketing requirements.
One of the main focus areas of NP Digital is to deliver the right content in the proper context on a comprehensive scale by utilizing its ability to pivot as fast as the digital marketplace.
This company ranks at number six in Adweek's fastest-growing agencies list for 2021.
NP Digital specializes in:
Provides engaging content to its client that piques the interest of their audience.
NP Digital offers a service to promote the content where your audience is present online.
They use insights and data to create content for the future. They first understand your audience and develop personas to adjust the tone of voice in their content.
They pick suitable topics based on search volume, buyer intent, difficulty relative to investment, and brand alignment.  
NP Digital also enables you to determine the amount of content you need to create to establish your brand.
They help you figure out how you can utilize your existing site content to better your presence and growth. They decide which existing content should be retired, reformatted, redirected, and repurposed.  
Top clients include:
Facebook
NBC
eBay
Google
Intuit
Pricing: They offer custom pricing based on your business needs.
3) Growth Machine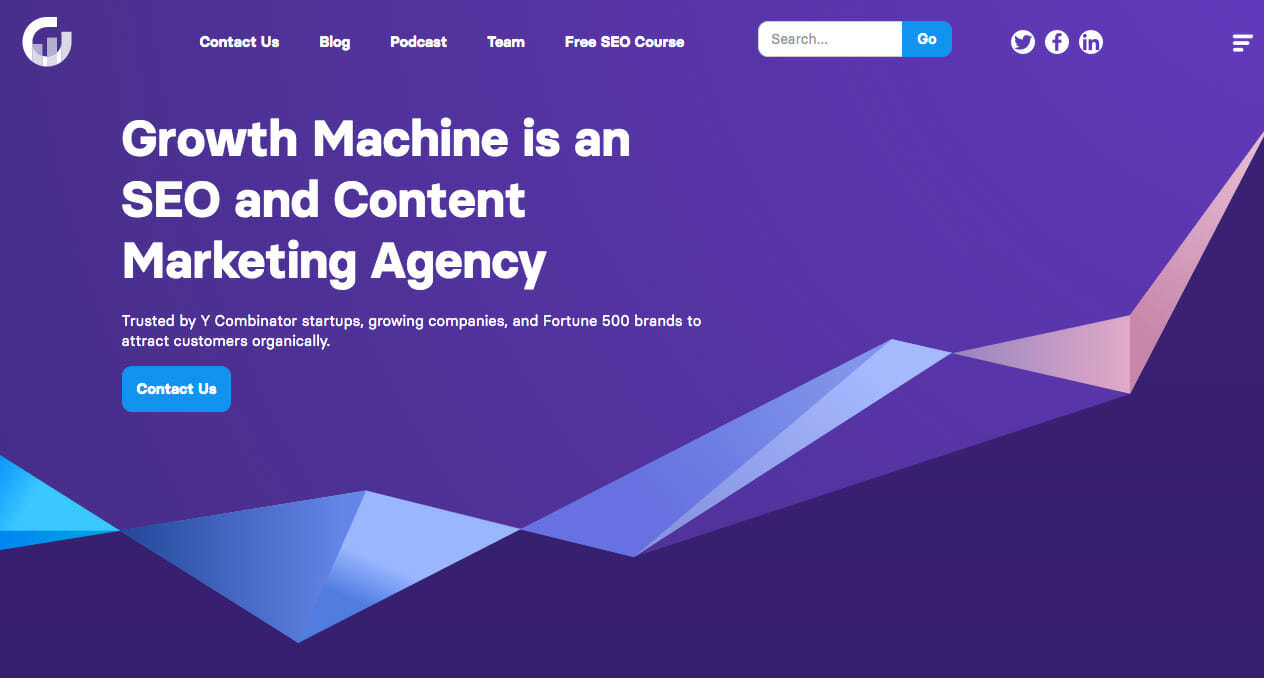 Growth Machine is an SEO and content marketing agency that is trusted by growing companies as well as Fortune 500 brands.
When Ridester hired Growth Machine, their organic visitors per week stood at 48,000+, but after a year of working with Growth Machine, their number grew to 282,000+.
Growth Machine specializes in:
Planning with an organic search-focused marketing strategy to help clients grow their blogs to 100,000+ monthly visitors within a year or even more to double the website's existing traffic.
The company has a team of 7,000+ writers responsible for delivering their expertise best matched for the kind of content your site requires, leading to overall traffic conversion.
Growth Machine is best at optimizing the content before it reaches your customer. Once the article is prepared, it goes through a thorough process of SEO audit to deliver quality content that draws the right customer to your website.
They also help you beat your competitors by building targeted backlinks to your website to get the best out of your content.
Top clients:
Adobe
Yummly
Intuit
Brex
Tovala
Pricing: The average cost for the services of Growth Machine is $8,000-$10,000. However, it depends on the size of your business and requirements.
4) Grow and Convert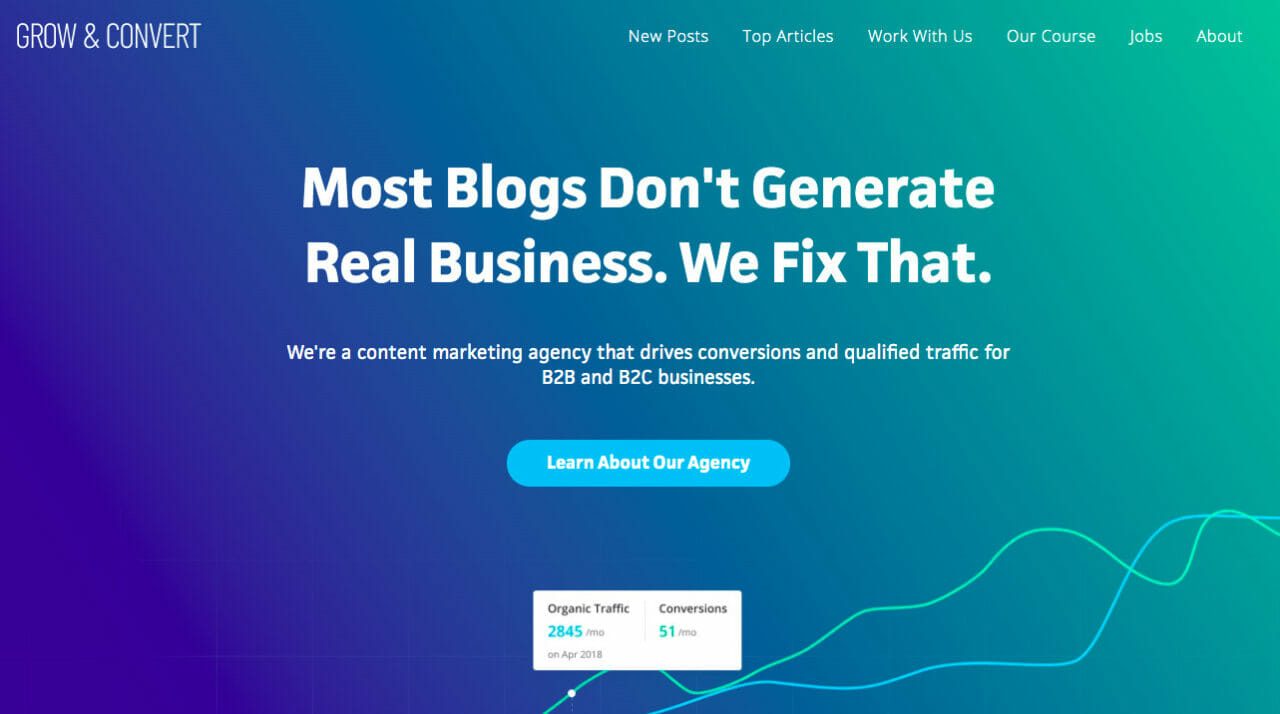 Grow and Convert is a content marketing agency run by two curious founders, Benji Hyam and Devesh Khanal. They look after the end-to-end content requirements of your company to deliver high-quality content for increased traffic and conversions.
Grow and Convert specializes in:
Extensively researches content ideas for attracting the right customers. They help you to gain qualified traffic instead of un-targeted traffic.
Prepares high-quality content based on your campaign goals.
Customized and in-depth content promotion. They generate traffic through paid advertising and SEO.
Authority link building for higher rankings to boost overall domain authority faster in Google.
Customized strategy for converting blog traffic into conversions. 
Top clients include:
Patreon
Leadfeeder
Crazy Egg
Pricing: Grow and Convert offers two pricing plans:
Standard service that includes customer research, content strategy, three articles per month, promotion, link building, and reporting. It costs $10,000 per month.
The second plan includes an optional link-building service that costs you an additional $5,000 per month.
5) Omniscient Digital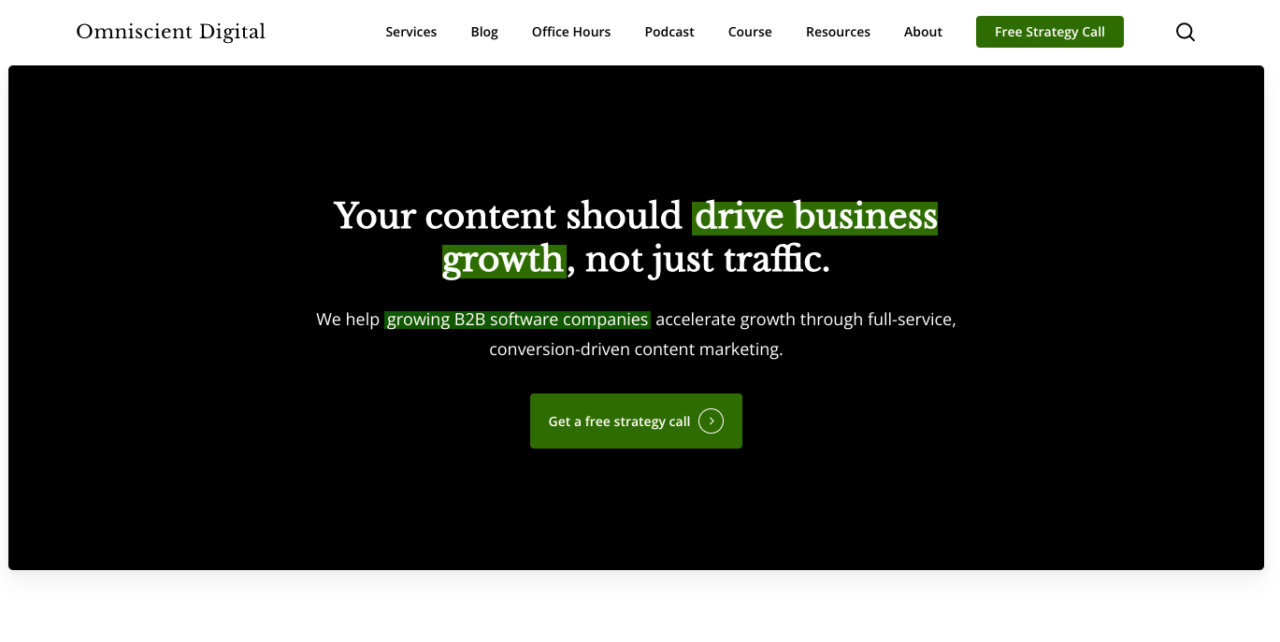 Omniscient Digital has worked with some renowned companies, and they help growing B2B software companies accelerate growth through full-service, conversion rate-driven content marketing.
The company works on fair values, such as believing in content marketing as a business function and delivering exclusive content that cannot be copied easily.
Omniscient Digital specializes in:
Their team of experts audits your existing website, analyzes competitors, and gets familiar with your industry. They then help you find relevant keyword opportunities for your business to grow your traffic.
They offer a content roadmap report, also known as CORE. It is based on the content barbell strategy, which helps you quickly grow organic traffic and convert visitors.
Omniscient Digital also offer a fully managed content production service, which includes preparing an outline for a ready-to-publish article, making your work easy.
They also focus on building white hat backlinks on websites with a domain rating of 50 or higher. This helps make your content rank faster.​
Top clients:
Lokalise
Blissfully
Wordable
Appsumo
Pricing: They offer custom pricing based on your business needs.
6) Chosen Data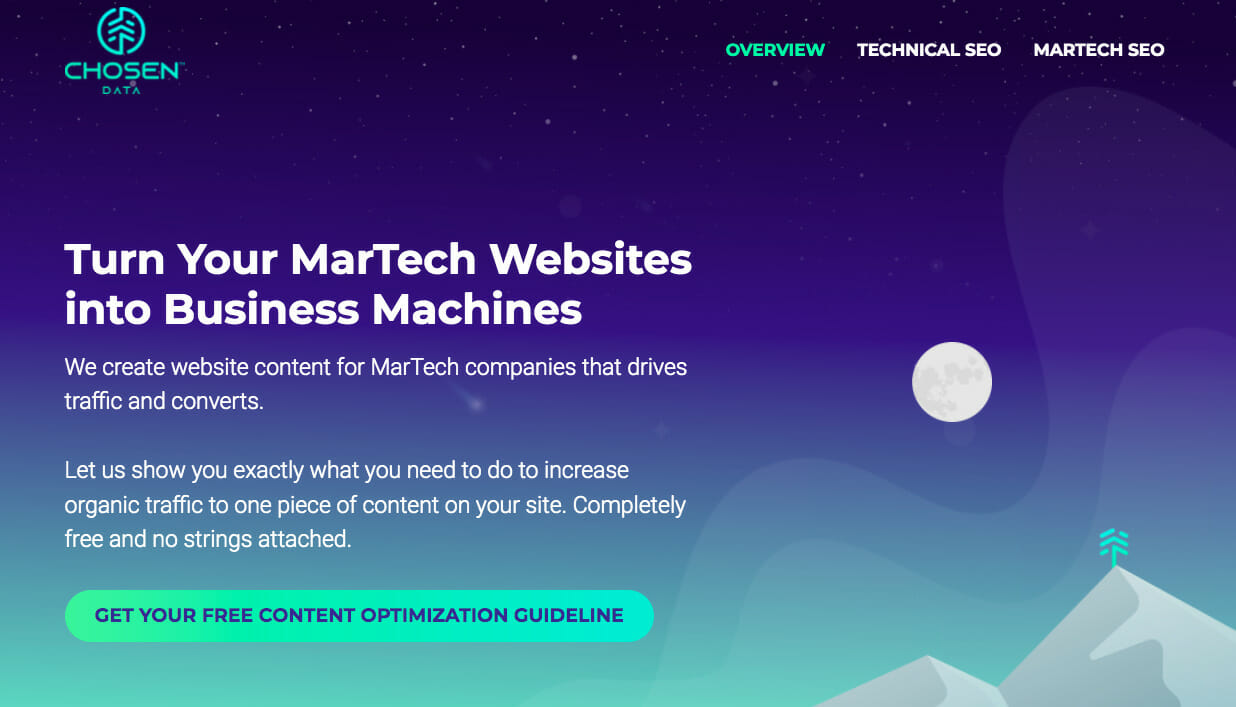 Chosen Data is a content marketing agency that mainly provides services to the health, finance, tech, and marketing industries. They usually get hired by directors of marketing departments or marketing agencies.
Chosen Data specializes in:
Chosen Data produces high-quality and original content to educate your audience and drive them closer to the sales funnel.
They also provide visuals and video content creation services to make your business stand out from the crowd.
Top clients:
Bango
Colvita Creative
The Longhairs
Straight Line Landscape
Cover Three
Pricing: They offer custom pricing based on your business needs.
7) WP Suites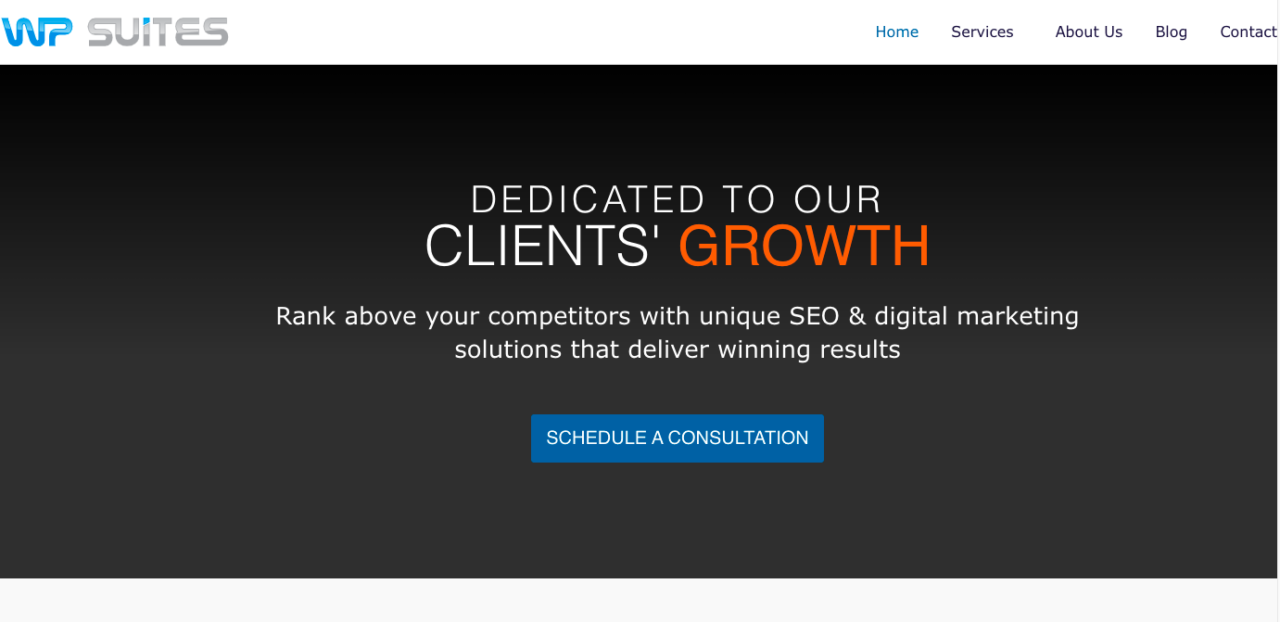 WP Suites is a company with more than 16 years of experience and over 350 clients. They are on a mission to change the view of people regarding SEO and digital marketing.
WP Suites specializes in:
They have contributed to the development of 100+ brands by helping them generate exceptional website traffic, customer connections, and overall ranking.
They are dedicated to the growth of the brands they work with.
WP Suites helps you rank above your competitors with unique SEO and digital marketing solutions that deliver winning results.
WP Suites helps you understand how content marketing can work for you.
Top clients include:
Mike Staff Productions
Amprion Inc
loPriore Insurance Agency
Pricing: They offer custom pricing based on your content marketing needs.
8) Ardent Growth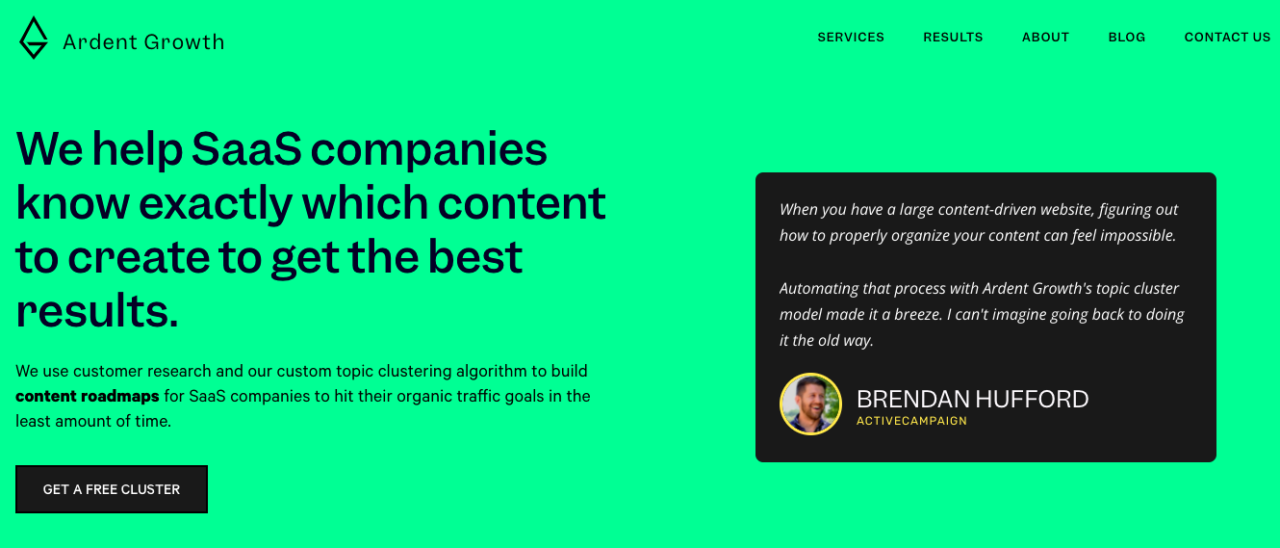 Ardent Growth helps build content marketing strategies to produce high-level content for B2B brands. They leverage data, machine learning, and creativity to deliver high-quality content to B2B SaaS companies who want a clear path to ROI with financial modeling.
Ardent Growth specializes in:
Research: Topic clustering, content audit, content gaps, and content optimization
Creation: Content planning, financial modeling, content briefs, evergreen blog articles, and thought leadership.
Promotion: Outreach training, outreach strategy Tableau, podcast outreach, and social copy.
SERP-driven clusters: These are built using live SERP data from Google and grouped by topic and subtopic, making it easier to plan content.
Revenue potential: They calculate revenue potential by topic clusters to help you determine whether a given cluster is worth going after or not.
Search intent: They help you determine the search intent for each keyword to quickly determine the type of content you need to reach your marketing goals.
Personalized priority score: They provide a personalized priority score to make it easier to get quick wins by taking your current topical authority into account and balancing it with potential value.
Top clients include:
True Legacy Homes
Omni Biotic
Akasa
Priddy Chimney Sweeps
Pricing: They offer custom pricing based on your business needs.
What Is a Content Marketing Agency?
A content marketing agency is a specialized firm that creates content as per the digital marketing needs of your business and, often, helps publish and promote it, too.
These digital marketing agencies take responsibility for managing the entire content marketing process of your business, which includes creating a content marketing strategy, content ideation, creating day-to-day content, content distribution, and reporting on the results of each content marketing initiative.
Content marketing companies generally have a multi-faceted skilled team, including:
Content writers
Content editors
Content strategists
Project managers
Marketers
Graphic designers
Videographers
Programmers
With these experts on hand, the agency easily provides and shares content on behalf of your business. Content marketing firms can help you create a variety of content, such as:
Blog articles
Case studies and white papers
E-books
Website content
Email marketing campaigns
Landing pages
Product descriptions
Infographics
Image and video production
A content marketing firm also uses the latest SEO techniques and understands the required LSI and long-tail keywords needed to create high-quality content that can quickly rank on search engines and increase conversion rates.
Dive Deeper:
* 10 Effective SEO Techniques to Drive Organic Traffic in 2023
* Why You Should Use Long-Tail Keywords in Your SEO Campaign
* How to Create a High-Performance Content Marketing Strategy in 2023

How to Choose a Content Marketing Agency
Some factors that you must consider when selecting a good content marketing agency are:
Experience
Researching the credentials and studying the experience of a content marketing company enables you to make an informed decision. The first step is to check their website to see what kind of experience they have.
Look for any testimonials:

And case studies: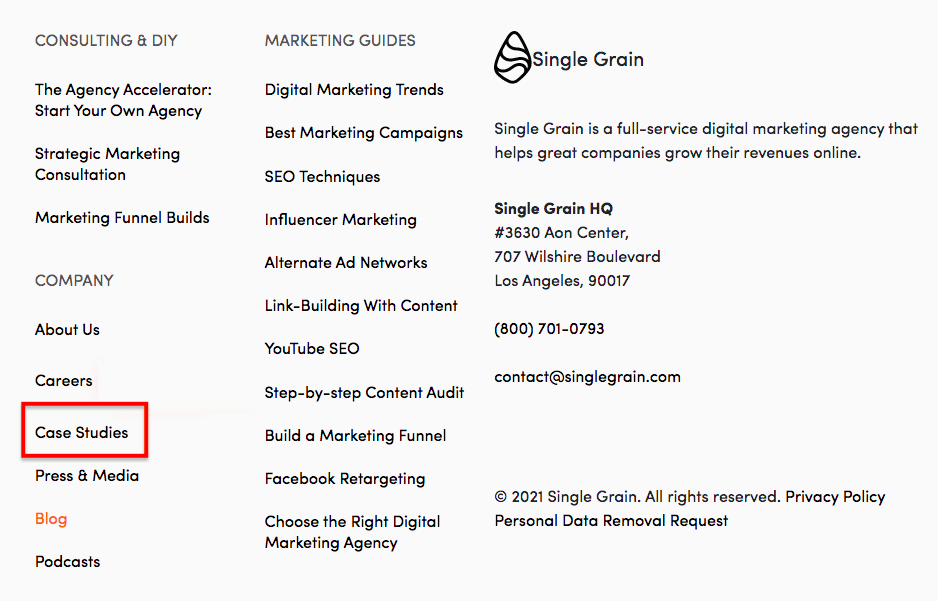 A good content marketing agency should have sufficient experience (and possibly some award-winning campaigns) in your industry, and the agency should have a legacy of accomplishment. Often, they will display a list of brand logos of the companies they have helped: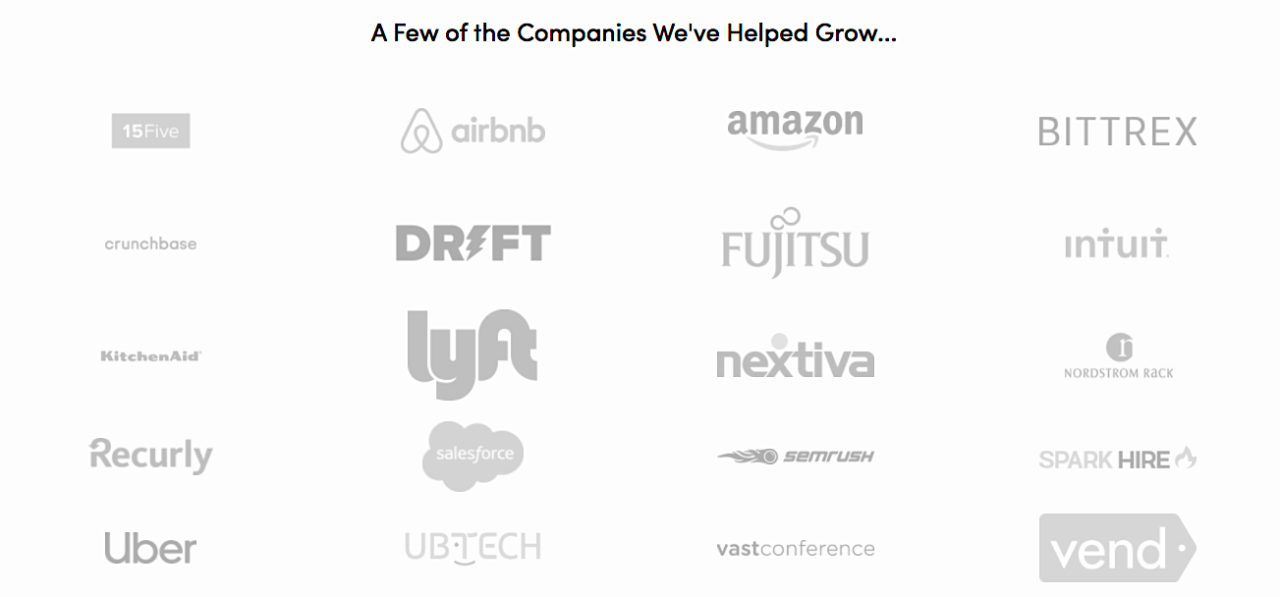 You can also ask for content samples and ad campaign samples to better understand their work.
Expertise
Every agency has expertise in a particular niche: Some may have teams dedicated to formulating SEO-based campaigns, while others may be good at product launches. Either way, you must gauge the potential of a content marketing agency based on its specialty.
How do you assess that? Check their "About" page and services section to see their niche areas:

And a good content marketing agency always has a blog section that regularly publishes content in its niche: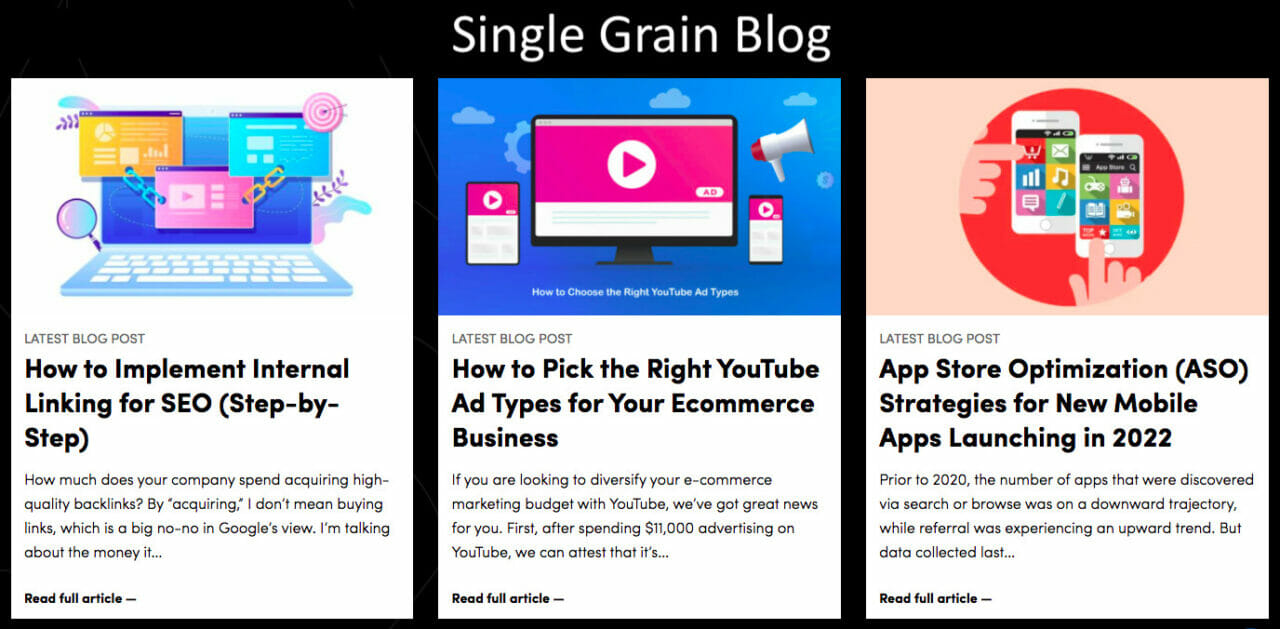 Analyze their blog posts to get an understanding of the quality they are capable of producing. 
Reputation
Collaborating with a content marketing agency with a good reputation in the market is lucrative, as it can assure quality service and optimum results if they work on your projects.
To verify the reputation of a content marketing firm, check online reviews like Google: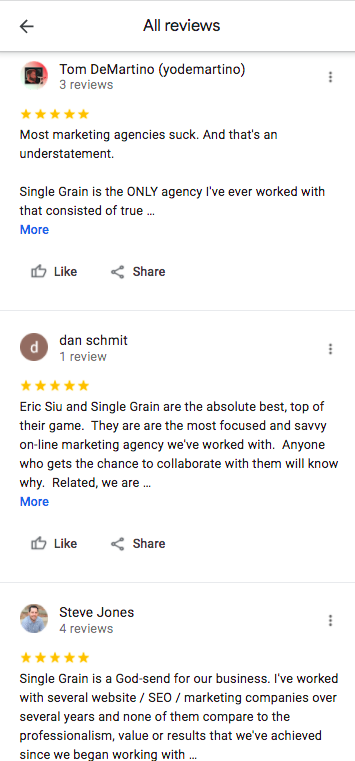 Or on review sites: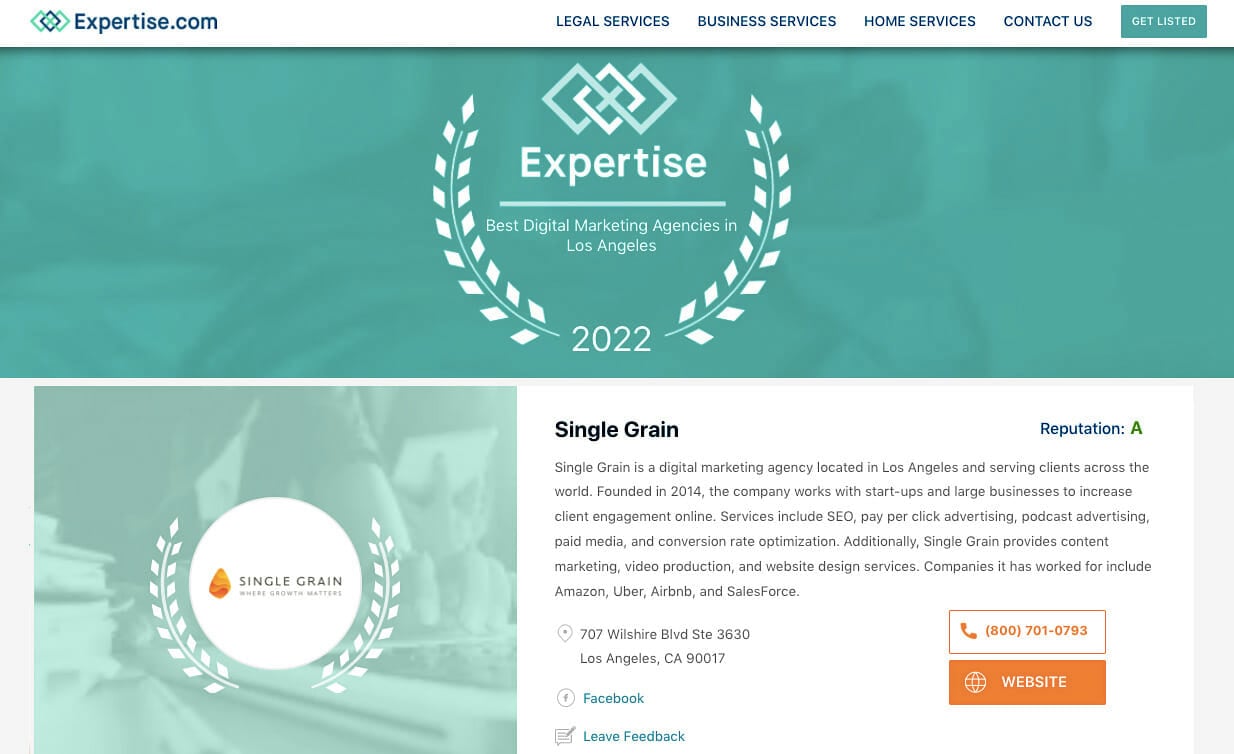 A good content agency also has a good reputation with journalists, publishers, and influencers.
Approach
Initial consultation and meetings with the content marketing agency are crucial.
Before hiring an agency, organize a meeting with the prospective content marketing agency for an in-depth discussion on your content requirements.
Here are things that you need to discuss with them:
Give them an idea about your business, goals and objectives.
Inform them about the KPIs and key metrics that you want to grow.
Understand the tools and techniques they use to build content and grow companies (and whether they focus on small businesses and startups or large enterprises).
Ask for a sample blog post or the content marketing strategy they would use for you.
Discuss their pricing plans, contracts, turnaround time, and anything else you need to know.
Benefits of Hiring a Content Marketing Agency
Some advantages of hiring a content marketing agency are:
1) Subject Matter Experts
Content agencies have content experts who are well versed in all aspects of copywriting techniques for SEO-friendly content. Being subject matter experts, they are up-to-date with the content marketing trends and best practices to help you produce valuable blog posts and other content. They deploy the latest SEO strategies to generate maximum return on your content writing and marketing investment.
Subject matter experts perform data mining and extensive research to come up with compelling topics that are relevant to your business. They also focus on using the right channels to publish and promote your content.
For example, if you have a tech business, you can partner with an agency with relevant experience in creating tech-related content. They will monitor trends and topics in the tech industry to offer you excellent content that is accurate and up to date.
2) Save Time and Money
Hiring a full-time employee for content creation is expensive and has limitations concerning the volume of content and the breadth of topics that can be created consistently.
Since content marketing agencies have a team of content specialists, you can pick a niche writer according to your specific business requirements without the need to hire a full-time employee. You'll get multiple topic specialists working simultaneously to help you create content based on your digital campaign needs.
Hence, working with a content marketing firm allows you to publish regular content without compromising on the quality while you and your team concentrate on your core business, thereby saving time and money.
3) Budget Friendly
You save money by just paying for as-needed services when you hire a content marketing agency, not for infrastructure, legalities, office space, or software. You also cut recurring costs, such as salary and benefits to the full-time employees.
In addition, the amount of money you pay to an agency is based on either price per word or per content copy, depending on your industry niche and content firm policies. This means that, in comparison to the cost of an in-house operation, hiring a content marketing company is less costly over time.
4) Fresh Perspective and Streamlined Content
Hiring a content marketing firm helps you get a different perspective on your content strategy. It also enables you to generate new and fresh blog posts, from interactive content and UGC to explainer videos and detailed guides, on topics relevant to your niche.
Moreover, content agencies streamline your content by using the right keywords, ensuring the recommended readability score, and maintaining optimal word content with an excellent content score: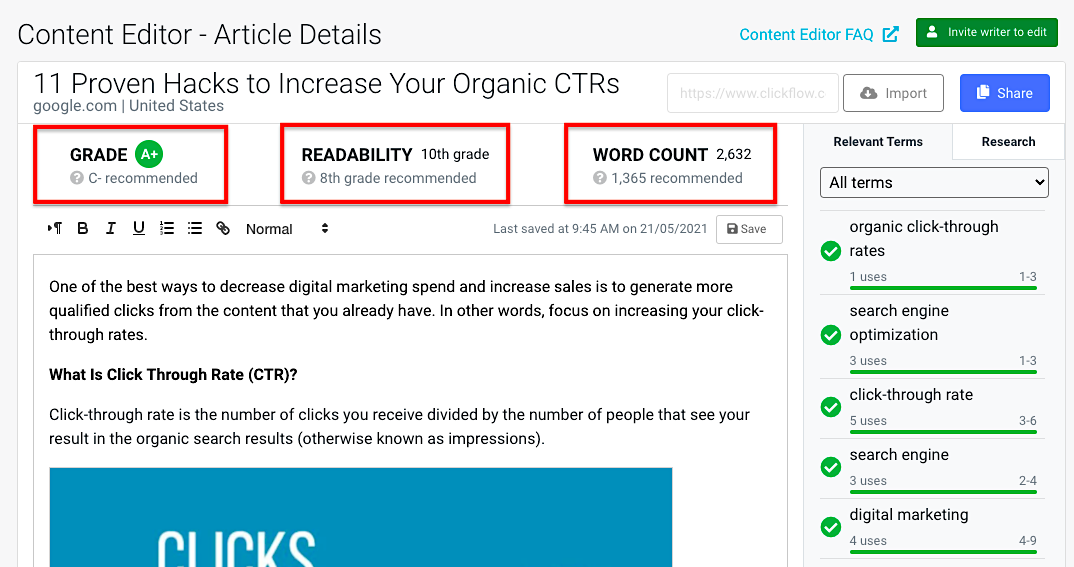 Analyzing and optimizing your content for all these vital metrics helps your content climb the SERPs for more traffic and conversions quickly.
Dive Deeper:
* How to Create a High-Performance Content Marketing Strategy in 2023
* 48 Content Marketing Tools to Make Your Life Easier
* 30 Actionable Content Marketing Tips for Digital Marketers

What Do Content Marketing Agencies Charge?
The rates for content marketing services depend on several factors, such as the duration of the content campaign, type of campaign run, marketing approach, communication channels used, and much more.
The cost range at a content marketing agency varies greatly, and it depends on many factors, like the amount of content (you can often get a discount for higher output), whether you hire them on a monthly retainer or what specific services you hire them for.
Average rates for content development are:
Per hour (general): $100-$300
Per word (writing only): $0.05-$0.50
Monthly retainer: $1,000-$25,000+
Content development: $500-$3,000/month
Content optimization: $75-$200/hour
Content promotion: $75-$150/hour
As you can see, the cost of content marketing can range quite a bit, from $500-$25,000+ per month.
Related Content:
* How to Determine a Marketing Budget for Your Brand in 2023
* Content Strategy on a Budget: How to Grow Your Online Presence on a Shoestring

What Does a Content Marketing Agency Do?
One of the most important aspects of content marketing is the creation of compelling, engaging, high-quality content.
Content marketing agencies work beyond traditional methods and tactics to get potential customers and drive more traffic to your website via articles, blogs, case studies, or other content pieces. Some will also help update your website design for a better user experience (or at least recommend a good design agency).
Here are the top tasks for which you can hire a content marketing agency:
1) Prepare Outstanding Text Content
A content marketing agency is responsible for creating captivating content as per your business requirement.
The content marketing team drafts articles and blogs that are unique, plagiarism-free, and grammatically correct to enhance your business's online presence. The types of written content can include:
Blogs
Landing pages
Social media posts
White papers
E-books
Case studies
They prepare high-quality content by performing the following activities:
Keyword research to evaluate the effectiveness of your content.
Trend analysis to identify the best topics in your industry.
Content creation to prepare engaging and original articles.
Content optimizing to ensure that your blog post has the best possible chance to rank well in the SERPs.
Content repurposing to share your content across different platforms for extra visibility and traffic.
Thus, a content marketing agency not only helps you create content, but also takes care of its promotion.
2) Produce Engaging Video Content
Videos are highly shareable content and easier to consume. In fact, videos get 1,200% more shares on social media.
Content marketing firms can help you create video content and integrate it into your marketing strategy based on your business requirements. They can help you create different forms of video content, such as:
Educational videos
How-to videos
Product demonstrations
Testimonials
Video ads
Event videos
Video emails
Company culture videos
FAQ videos
Thank you videos
3) Create Action-Oriented Gated Content
Users get access to gated content when they fill out a form by providing their email addresses. Gated content can be in the form of an e-book, case studies report, how-to's, or white papers.
The idea is to offer something valuable for which your audience is willing to give their email address.
Creating impactful and well-researched gated content is one of the specialties of a content marketing agency. They write strategic case studies, e-books, and white papers that are accurate and up-to-date.
While creating gated content, their primary focus is on:
Creative writing and storytelling skills to prepare high-quality content.
Researching current trends.
Looking for ways to condense text into an infographic.
Planning the distribution of gated content.
Finding ways to repurpose the content across other platforms.
Being copywriting experts, the content marketing team has an impeccable command of the language and a fantastic choice of words to take your business to new heights.
4) Write Compelling Social Media Marketing Copy
The power of social media platforms is humongous. There is a golden opportunity for brands and businesses to interact and establish rapport with their audience through platforms such as Facebook, Instagram, Twitter, Pinterest, LinkedIn, Snapchat and TikTok.
A content marketing agency can help you design an effective social media marketing plan to increase the online visibility of your business.
They will help you identify your target audience's platforms and prepare custom content for your target channels accordingly. They also enable you to produce and schedule content when your audience is active.
Summary: What to Look for in a Content Marketing Agency
Now that you understand what content marketing agencies do, how they work, what they charge, and the advantages of hiring them, you're better equipped to choose the most qualified content marketing company that best fits your business needs.
Follow the tips discussed in this content marketing agency selection guide to find the next content marketing agency for your company that delivers outstanding results that you can measure and replicate.
To sum up, here are the key points that you should consider before selecting a content marketing company:
Check whether they have updated and quality content on their website.
Evaluate their work results with previous clients.
Always ask for a sample post (or whatever you are hiring them for) to evaluate the kind of content they deliver.
Communicate your audience type and see if they are capable of understanding your customer base.
Look for versatility in their work by looking at the range of services they offer, because it's best to work with an all-in-one agency.
Analyze the experts they have on their teams and their experiences.
Search agencies that contribute their expertise to leading industry publications relevant to your niche.
Ask for a list of their past and present clients you can talk to.
Choose an agency that is transparent and trustworthy around its pricing model.
If you're looking for a full-service content marketing agency to help with your content marketing needs, Single Grain can help you! Click the orange button below 👇