There are plenty of benefits of LinkedIn Ads. Among the myriad of advertising platforms available, LinkedIn has earned its title as a powerful tool for connecting with professionals and decision-makers in various industries.
With its unique targeting capabilities, a robust selection of ad formats, and impressive conversion rates, advertising on this professional-focused platform offers a wealth of opportunities for businesses to achieve their digital marketing objectives.
In this article, we will explore the key benefits of LinkedIn advertising, including its ability to:
Reach specific workforce and leadership segments
Leverage diverse targeting formats
Drive stronger B2B conversion rates than any other ad platforms
Enable advertisers with flexible budget manipulation
Synergize with a company's LinkedIn Page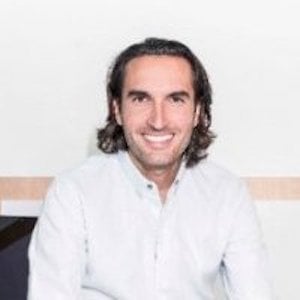 Yaniv Masjedi
CMO, Nextiva
Their expertise has helped Nextiva grow its brand and overall business
What Is LinkedIn Ads' Forte?
If you're on LinkedIn as a user, chances are you've received targeted ads and messages that attempt to resonate with you based on your background, the pages you follow and the posts you interact with.
But that alone isn't enough to distinguish the platform as a powerful lead generation tool. It's the nature of its self-regulating environment of professionalism that makes it an applicable ad space for B2B connections.
While it might appear strange on other online advertising platforms like Facebook, Twitter or Instagram to land an ad in someone's mailbox, LinkedIn fully embraces business-to-business advertising. It is a safe space for professionals (including advertisers) to "cold-message" people, extending an offer.
Furthermore, the intentional nature of LinkedIn audiences and their high propensity to convert makes LinkedIn Ads a highly effective advertising platform for networking professionals, building business relationships, and helping advertisers solicit their brand to their ideal audience.
Dive Deeper: LinkedIn Ads for Enterprise B2B SaaS: The Only Guide You'll Need
Targeting Specific Workforce Segments for a Professional Audience
One of the primary advantages of LinkedIn marketing is its ability to target specific segments of the workforce, allowing businesses to reach a more professional audience. Unlike other social media advertising platforms, its user base predominantly consists of professionals, decision-makers, and industry experts.

This unique positioning enables businesses to tailor their ad campaigns to reach the right people in the right professional context. Whether a company is looking to target CEOs, HR professionals, or marketing executives, LinkedIn Ads provides the tools to refine the target audience based on factors such as:
Job titles
Industry
Company size
Page interests
Education
Presence within a specific vertical
Dive Deeper: How to Target Effectively on LinkedIn
Robust Selection of Ad Formats
LinkedIn Ads offers a diverse selection of advertising formats, letting businesses deliver their messages in the most impactful way that suits their situation and offer:

Some of the primary ad types offered to advertisers currently include:
Sponsored Content
This format allows businesses to promote their content directly within the LinkedIn feed, making it seamless for users to engage with the brand. Sponsored posts appear natively and are integrated into the user's browsing experience, increasing the chances of capturing their attention.
Sponsored content can appear in several forms, such as:
Single image ads: These ads appear natively within the feeds and sidebars, creating a cohesive and homogenized page interface for users.
Carousel ads: Rotating images can illustrate a brand's story and send a sequential message in succession.
Video ads: Harness and deliver with one of the most important ad mediums in today's world of short-form video consumption.
Event ads: Event ads emphasize a calendar event and drive ad viewers to engage with an upcoming event (this is alarmingly great at driving attendance for online webinars and virtual seminars on LinkedIn).
Document ads: These ads are great at sharing white papers and long-form content to build awareness and share information over extended periods. They can be particularly great at sharing industry reports and statistics and collecting users' emails in the process.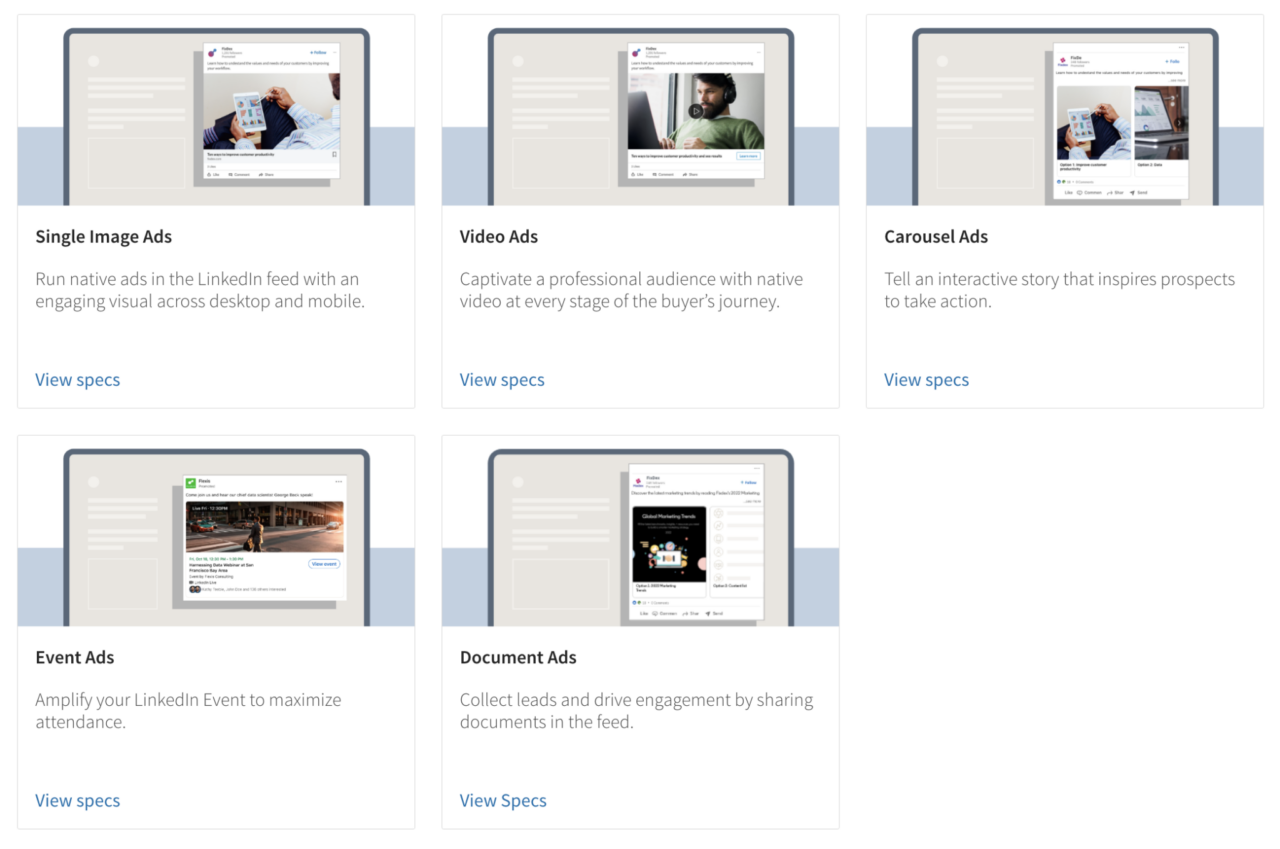 Direct Sponsored Messaging
With ad messaging, like LinkedIn's InMail, businesses can deliver personalized messages directly to the inbox of their professional target audience. This format enables one-on-one communication and facilitates direct engagement with potential leads or customers.
The main two modes of messaging ads are:
Conversation Ads: Conversation ads are a customizable ad format that invites users with an offer directly through their LinkedIn messages.
Message Ads: Message ads take on a more direct and personal approach from conversation ads, initially presenting as less formulaic and more organic. They also allow the advertiser to pick up into a chat room if the ad recipient responds to the message.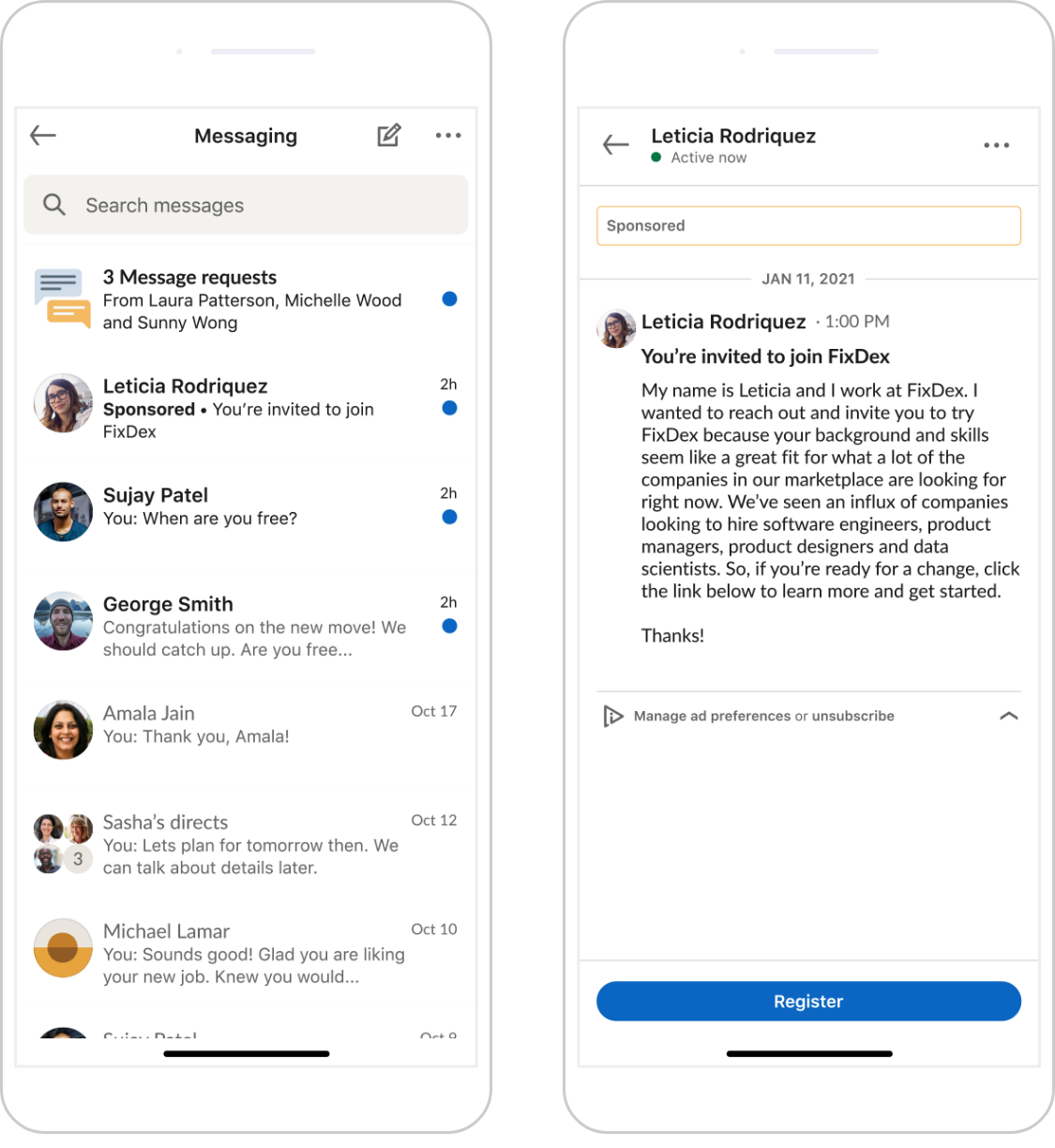 Each of these specific ad formats is great in the sense that they are highly focused, and the expectations on both sides of the conversation are generally well-adjusted.
What we mean by that is that with LinkedIn messaging, conversations are usually very practical, i.e., they have an intended purpose behind them. Sure, it's still a social platform with a chat room, but it's a much more focused application of a chat room than, say, Facebook Messenger.
Most other advertising platforms don't host a more relevant messaging space for B2B interactions than LinkedIn does, which is why sponsored messages are not something to ignore!
Text and Dynamic Ads
LinkedIn's Text and Dynamic Ads provide businesses with visually appealing ad formats, including compelling images, headlines and call-to-action buttons. These ads are displayed across various positions on the platform, ensuring maximum visibility.
There are a few different ad formats for text and dynamic ads, namely:
Text ads: These ads, as you might surmise, are primarily text-based, often appearing in the sidebar and header of users' feeds.
Spotlight ads: Spotlight ads appear as modal popups in users' feeds that attempt to connect your audience to your offer.
Follower ads: Follower ads are similar to spotlight ads, but they primarily strive to convince the ad recipient to follow your page, making it a productive way of growing your page followers.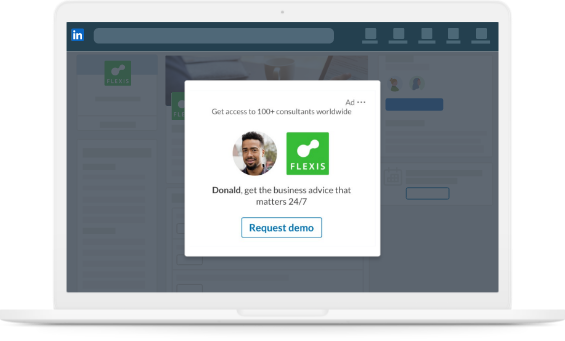 Dive Deeper: How to Create Compelling Text Ads on Google (with Examples)
Lead Generation Forms
LinkedIn's Lead Gen Forms simplify the process of capturing leads by presenting pre-filled forms with a user's LinkedIn profile information. This streamlined approach reduces friction and improves conversion rates, making it easier for businesses to collect valuable customer data.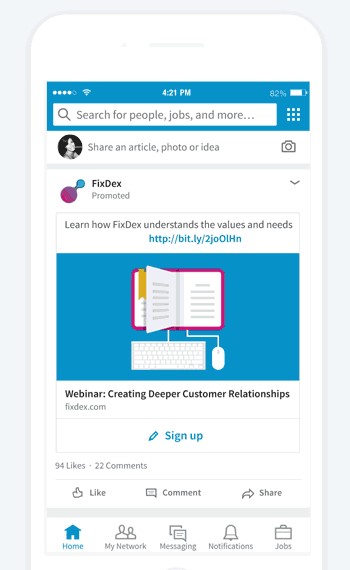 Stronger Conversion Rates on LinkedIn
LinkedIn Ads boast nearly double the average conversion rates for most industries using Google Ads:
LinkedIn Ads have an average conversion rate of 6.1% for turning users into leads.
High conversion rates can be attributed to the purposeful intent of its users and their business-related mindset while using the platform. Emphasis on professionalism and career-related content creates a conducive environment for businesses to generate quality leads and drive meaningful conversions.
The flip side of higher conversion rates is that the competition is usually higher since the platform harbors a more deliberate crowd of users. Usually, you can expect costs per click (CPC) ranging between $3 and $6 for text ads and anywhere from $6 to $8 for dynamic ads.
This makes ads on LinkedIn roughly double the cost of clicks on Google, which range from $2 to $4 on average.
Dive Deeper: 7 LinkedIn Growth Hacks That You Might Not Know
Smooth and Freeing Budget Manipulation
Budget manipulation is a crucial aspect of any advertising campaign, and LinkedIn Ads allows businesses to optimize their ad spend based on performance. Among the platform's benefits is the ability to change the ad budget depending on the campaign's performance.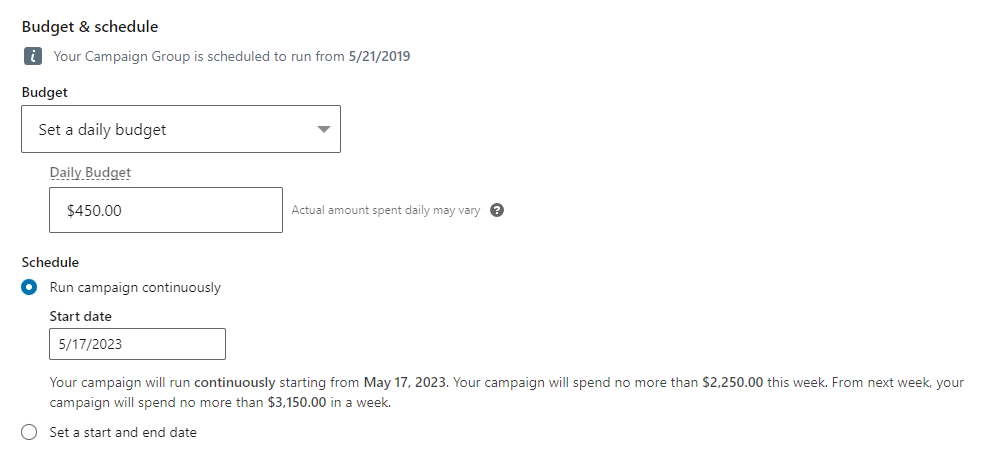 Businesses can adjust their budgets in real-time, allowing them to allocate more resources to ad campaigns yielding favorable results and redirect funds from underperforming campaigns. This flexibility ensures that businesses can maximize their return on investment (ROI) and efficiently achieve their digital marketing goals.
LinkedIn Ads Work Together with Your Brand's Company Page
For one thing, LinkedIn advertising requires your company to have a company page to advertise on their platform, so it's in your best interest to create a content-rich page that is fully fleshed out and engaging with your followers.
It's a whole other topic in and of itself, but maintaining a vibrant company page is just as important as running well-crafted and aptly targeted ads. Users who want to engage with your brand will find your website through your ads, but they're also likely to want to follow your company account on LinkedIn, so you want to make sure it is properly arranged in a way that presents your brand proudly.
Ads can drive traffic and engagement to a company's LinkedIn Page. At the same time, the page provides a platform for businesses to showcase their brand, share valuable content, and build a professional community.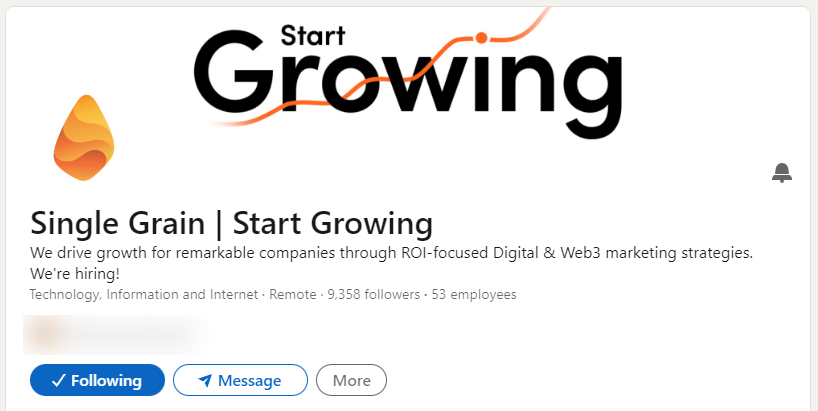 Aligning the messaging and branding between LinkedIn Ads and your LinkedIn Page can help your business create a cohesive and immersive experience for your target audience.
Ads also offer the option to retarget the most qualified prospects who have previously interacted with your company's page or website. More to that point, the advertising platform also features a tracking pixel similar to that of Facebook's pixel or Google's tracking tag for ad-derived user sessions.
This information can be tracked beyond just native interactions on the platform, as you can use LinkedIn's retargeting functionality to build audiences and deliver ads to users who visit your site from a variety of different sources.
This powerful retargeting feature enables businesses to stay top of mind and re-engage with potential customers who have shown a genuine interest in their products or services. By serving targeted ads to these highly engaged individuals, businesses can increase their chances of conversion and drive more meaningful actions.
Dive Deeper: Retargeting 101: Why It's Essential for Any Marketing Funnel
Audience Members on LinkedIn Are Much More Intentional
One of the standout advantages of advertising on LinkedIn is the intentional nature of its audience.
Its members are active professionals who visit the platform with a specific purpose in mind — to network, seek career opportunities, and stay informed about industry trends. This mindset translates into a highly engaged audience that is more receptive to relevant business messages and more likely to take action.
On LinkedIn, 4 out of every 5 members are involved in driving business decisions within their organizations.
What does this mean?
By advertising on LinkedIn, businesses can target individuals with decision-making power and influence within their respective industries. This level of audience specificity and intentionality creates a fertile ground for businesses to connect with key decision-makers and generate quality leads: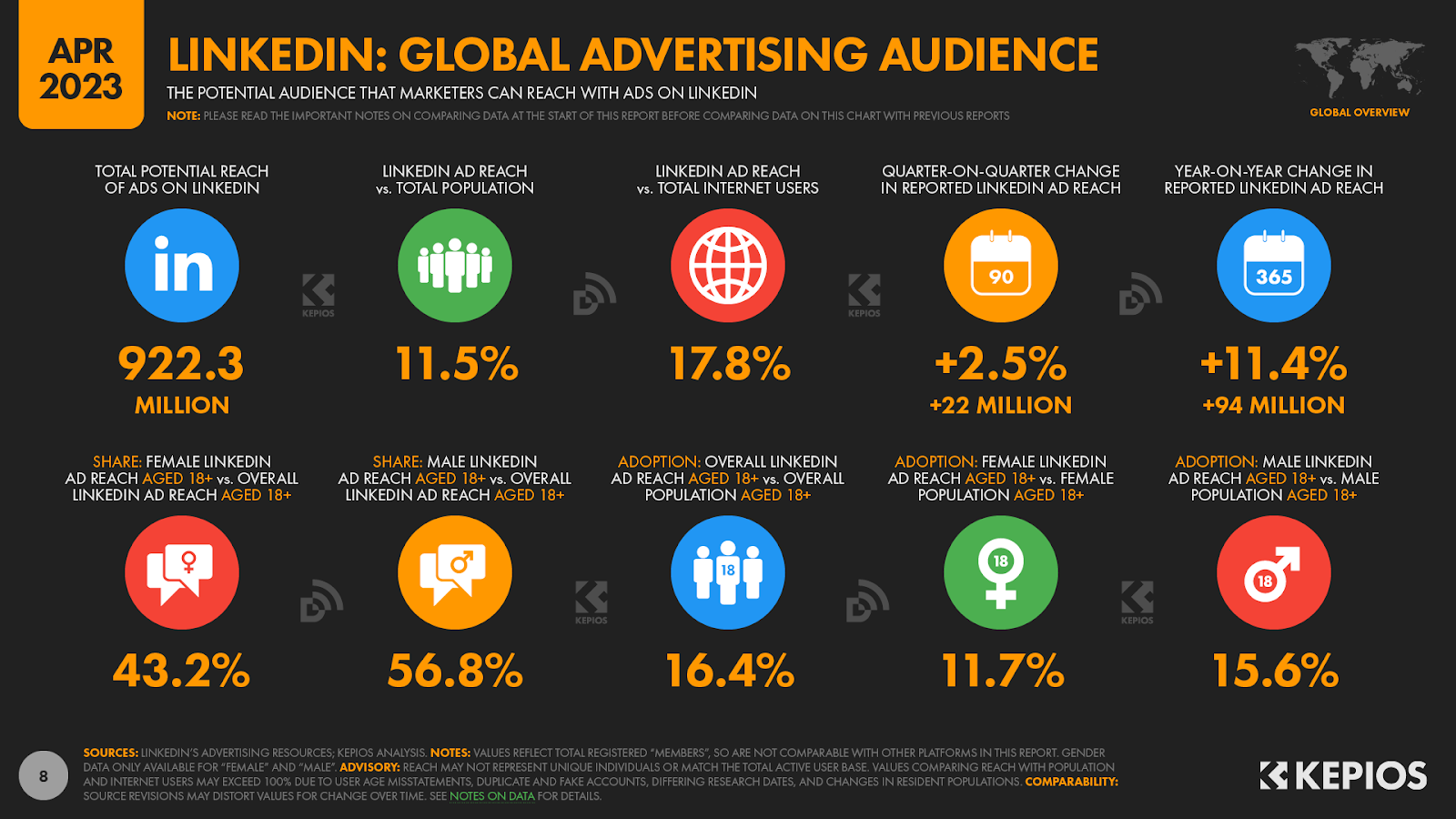 Put a different way, audiences on LinkedIn typically have 2X the buying power of the average web audience, especially on other social media platforms. When you consider for a moment that sites like Facebook, Twitter, Instagram, TikTok and Snapchat are generally oriented around interaction and engagement for casual things, they are less so platforms to foster professional news and discussion (although that doesn't mean they can't).
Additionally, offers on LinkedIn yield an average conversion rate of 10-15%, meaning that people here are roughly 2-3X more likely to convert than on other digital platforms such as Google Ads, which averages conversion rates around 3.75%. 
This highlights the immense potential for businesses to reach a highly influential audience with both the financial means and the willingness to make purchasing decisions.
Benefits of LinkedIn Ads: Summing It Up
LinkedIn Ads offers a range of advantages for businesses seeking to reach a professional audience, drive conversions, and optimize their advertising budget. The platform's unique targeting capabilities, diverse ad formats, and impressive conversion rates make it an invaluable tool for businesses across industries.
It's worth exploring LinkedIn as an avenue for B2B marketing, not only as a brand awareness generator but also for leads and sales.
If there's one solitary thing to take away from this piece, it's that this platform is worth what you put into it. Sure, it may be among the most expensive social platforms to run ads on, but the value you can derive from those digital marketing dollars is definitely present.
In other words, you get what you pay for.
If your business is in the B2B sector, give ads on LinkedIn a shot. You may discover a whole new outlet for lead generation that you never knew existed. Just be ready to test your options and iterate continuously so you can find the optimum utility of its advertising ability.
If you're ready to grow your B2B brand, Single Grain's paid social ads experts can take your LinkedIn Ads to the next level. 👇