Ready to begin advertising on LinkedIn? I know the technical details required to run ads on LinkedIn can be a bit overwhelming for a beginner.
That's why I have created this LinkedIn advertising guide to help business owners and marketers like you create high-ROI LinkedIn ads.
Let's begin!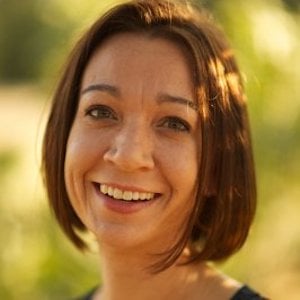 Kim Cooper
Director of Marketing, Amazon Alexa
Single Grain enables us to increase our impact without increasing our headcount
What Are LinkedIn Ads?
LinkedIn Ads is a social media advertising platform where you can target the existing audiences in LinkedIn via a number of ad formats like Sponsored Posts and Lead Gen Ads.
Using LinkedIn Ads is a great way to reach a professional audience, target your ads with laser precision, and get more clicks and conversions for your money. They also offer advanced targeting options, high click-through rates, and the ability to build brand awareness and trust.
LinkedIn displays your sponsored ad based on the audience's behavior, demographics, patterns and preferences. Advertisements on LinkedIn are displayed in a native ad format in the user's feed.
Here is an example of a LinkedIn Lead Gen Form Ad from G2: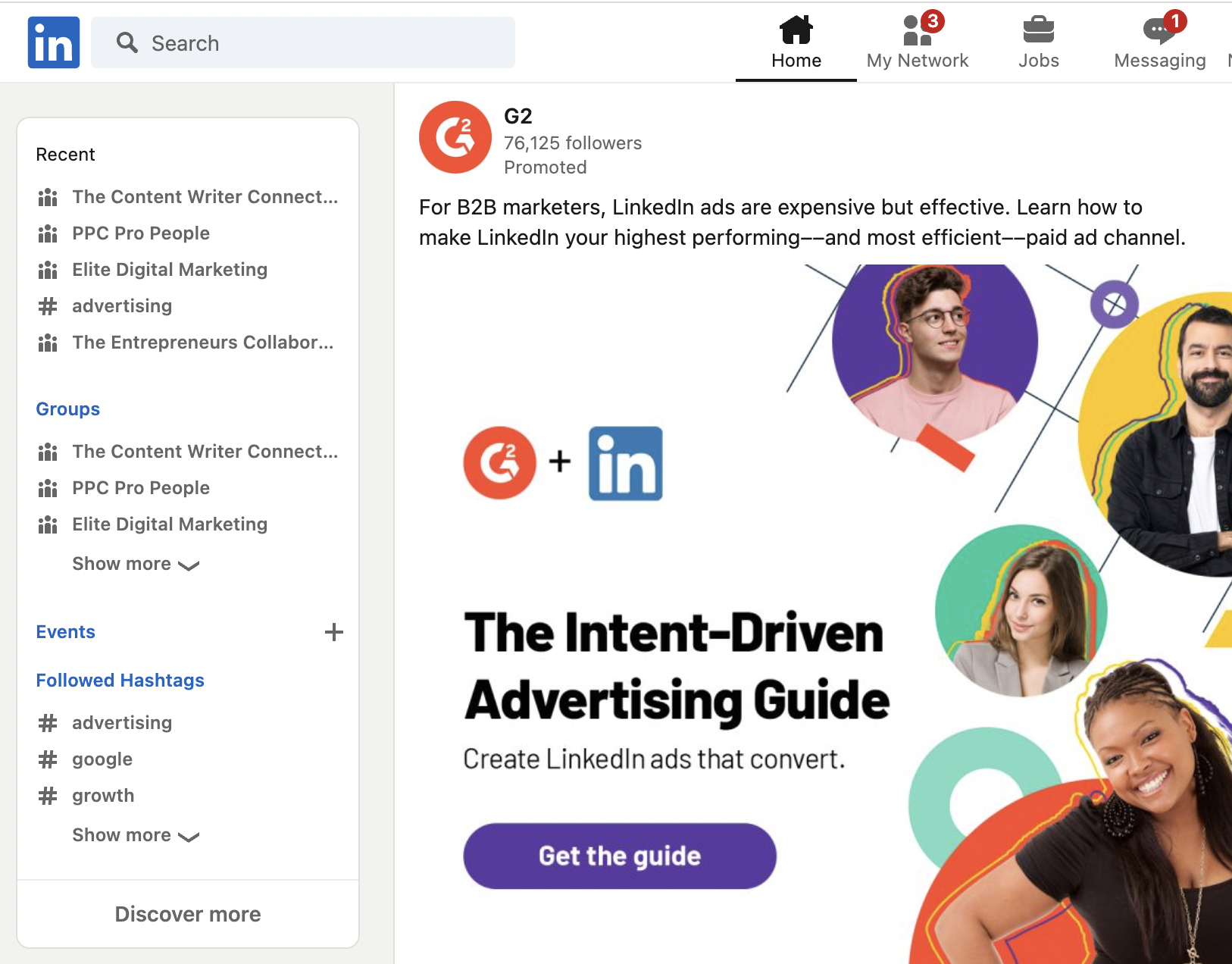 What Are the Types of LinkedIn Ads?
Here are the various categories of LinkedIn Ads:
Carousel Ads
Carousel Ads lets you display a swipeable series of images. You can use this ad format for engaging brand storytelling. This ad format supports 10 images in a single ad.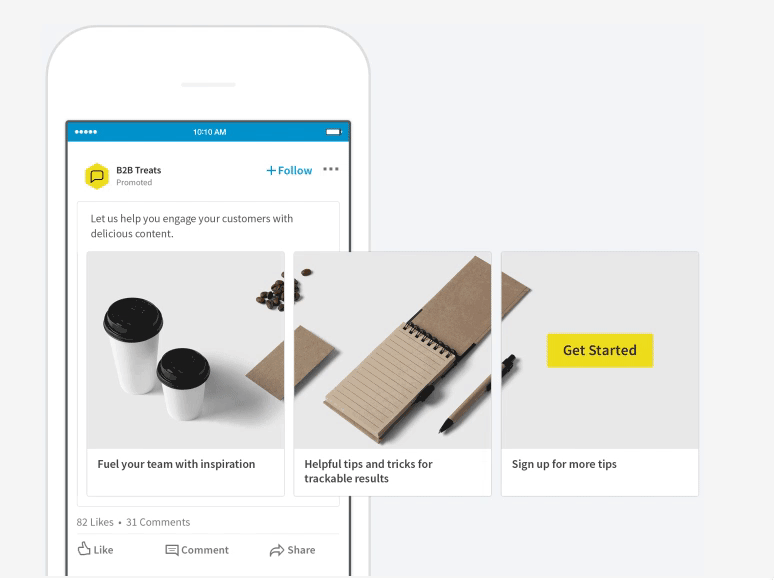 Text Ads
LinkedIn Text Ads are self-service ad formats that you can quickly create to launch your campaign. They don't require additional ad creatives like images or video and help to drive high-quality leads to your business.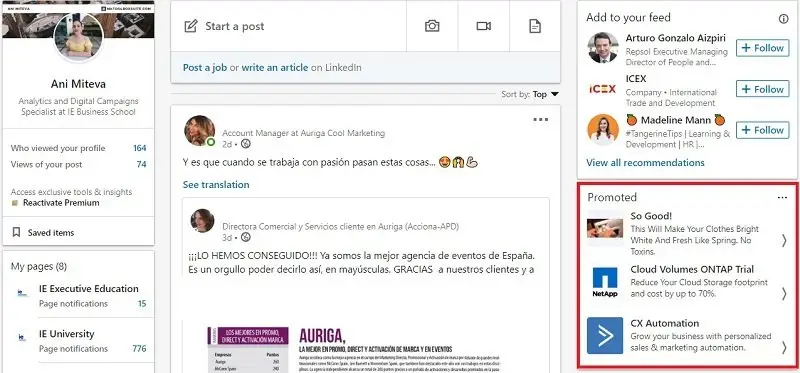 Conversation Ads
Conversation Ads help you reach people directly over LinkedIn. In this ad format, you can reach professionals in real-time with brand messaging containing multiple CTAs.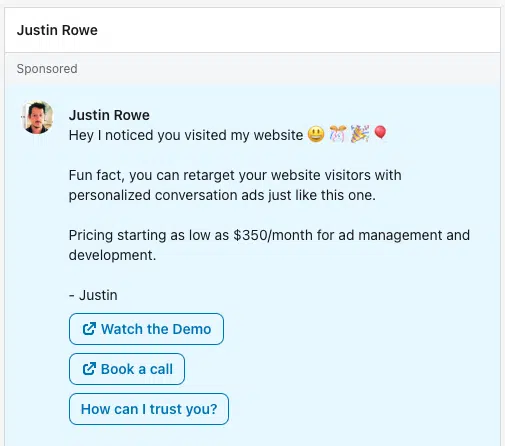 Event Ads
Event Ads on LinkedIn involve sending out invites or promoting an event to prospective customers and target audiences for lead generation. This Sponsored Content ad format is displayed in a member's LinkedIn feed.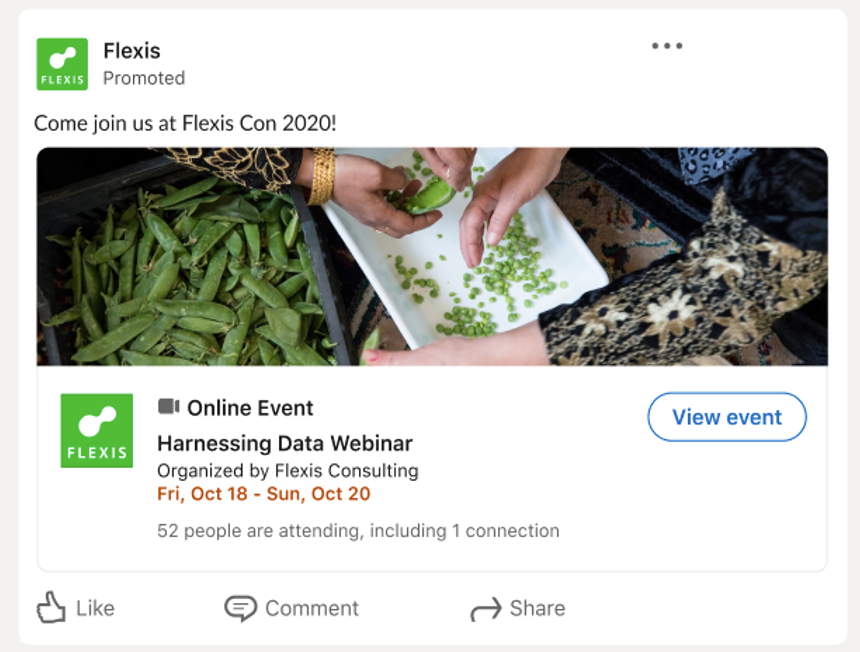 Follower Ads
Follower Ads on LinkedIn appear between the scrolling of the potential audience to persuade them to subscribe and follow your profile.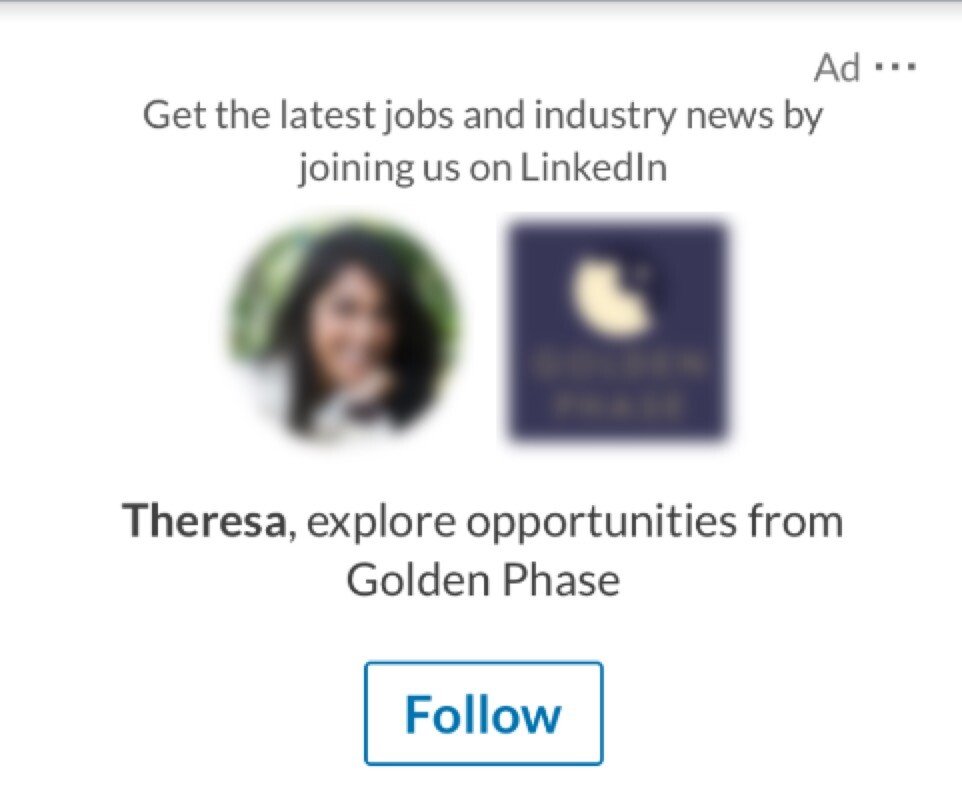 Lead Gen Forms
Lead Gen Forms is a type of LinkedIn Ad to collect quality leads. Under Lead Gen Form Ads,  members click the CTA button in your ad to engage with your Sponsored Content. These can be downloading an ebook or signing up for a webinar.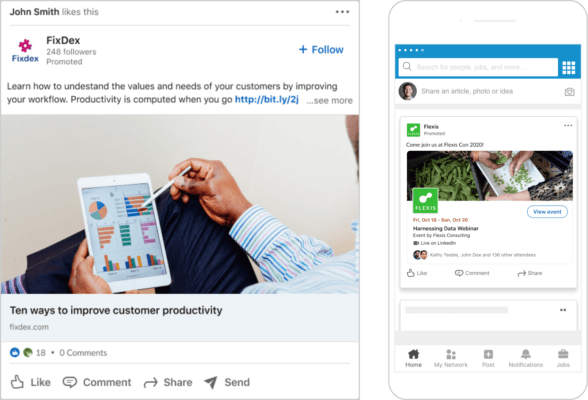 Message Ads
Message Ads are a form of LinkedIn campaign that delivers campaigns to the inbox of prospective audiences with a clear call-to-action button. The primary difference between a Conversation Ad and a Message Ad is that the former can contain multiple CTAs, while the latter contains just one CTA.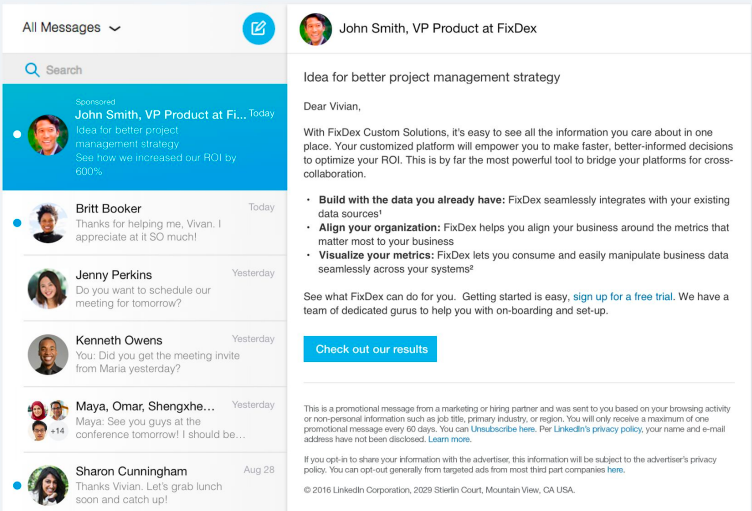 Single Image Ads
As the name suggests, Single Image Ads are a type of Sponsored Content ad format that features a prominent image that appears in the LinkedIn feed of professionals.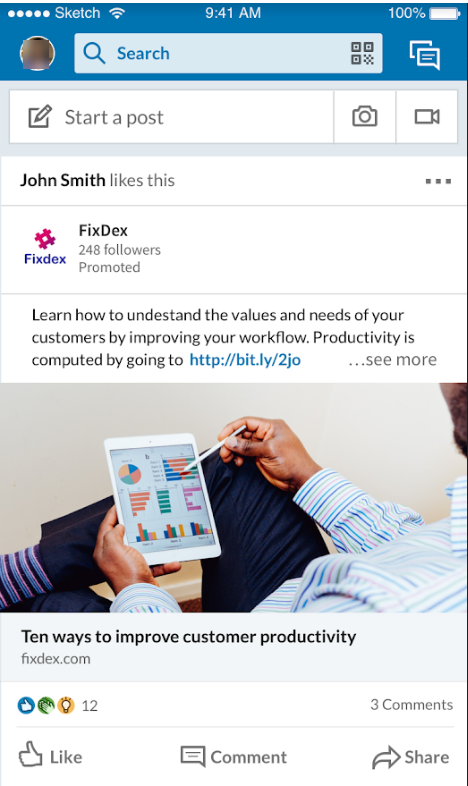 Single Job Ads
Single Job Ads are displayed as promotional job offers in the feed of prospective job seekers and LinkedIn members to drive quality job applications.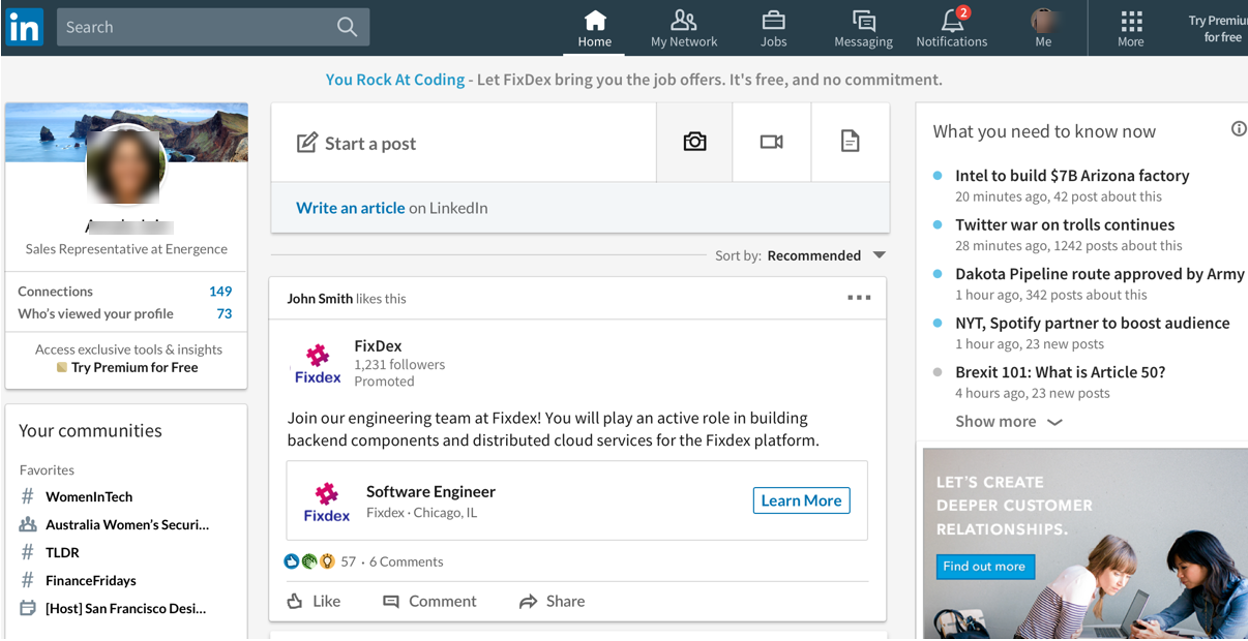 Spotlight Ads
Spotlight Ads are dynamic and personalized ad campaigns that you can use to persuade other members to click on your website link and increase its traffic.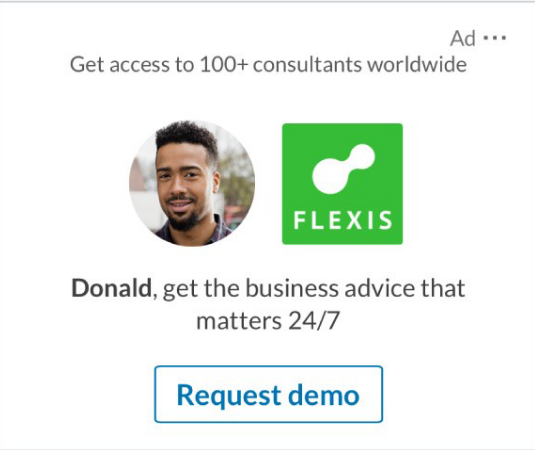 Video Ads
Video Ads are a type of Sponsored Content ad format that displays engaging videos in the LinkedIn feed of your prospects.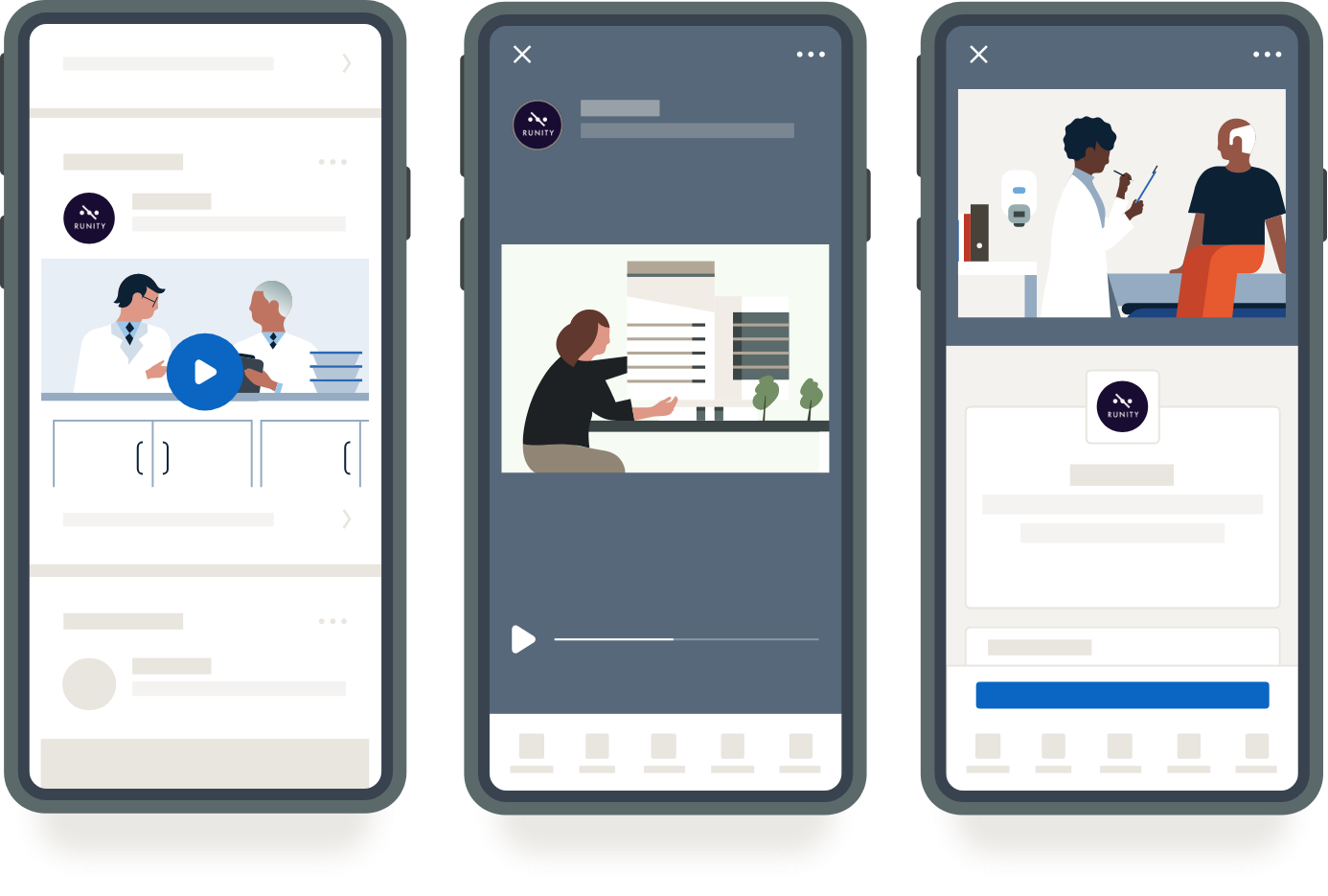 You may also like:
* 7 Key Benefits of Using Responsive Display Ads
* 10 Benefits of Google Ads to Skyrocket Your Business Growth
* Google Ads Strategies That Will Increase Conversions and Improve Your ROI

Step-by-Step LinkedIn Ad Campaign Guide
If you need LinkedIn advertising help, don't worry, we've got you covered! This is your step-by-step guide, with images, to launching successful ad campaigns on LinkedIn.
Step 1: Start by Creating Your LinkedIn Ads Account
Log in to your LinkedIn account from which you will be managing and displaying your paid campaigns:

Next, click on For Business and select the Advertise button: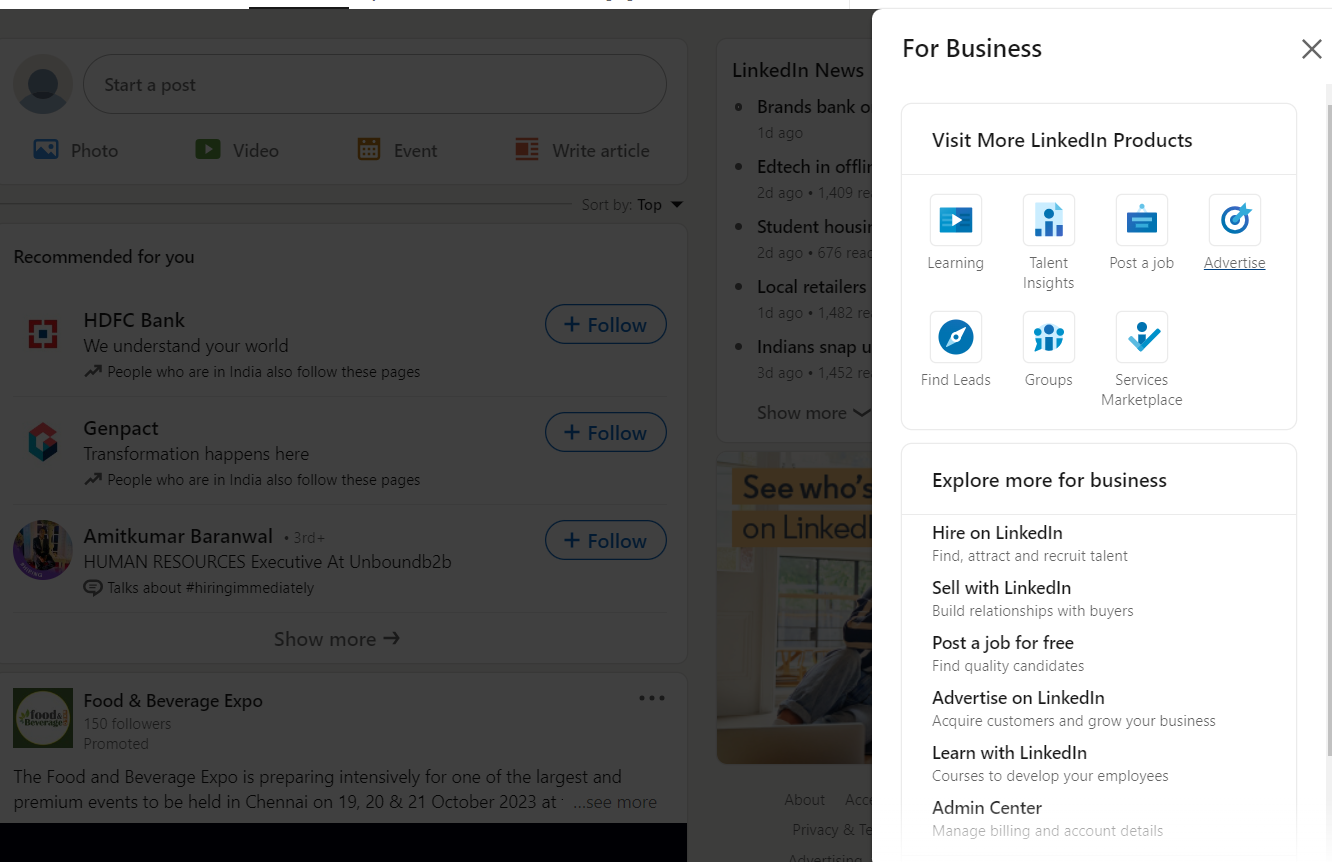 Now you need to set up your LinkedIn campaign manager account by entering your brand name and website link. Select the currency you want for billing and click on the Agree and Create Account button: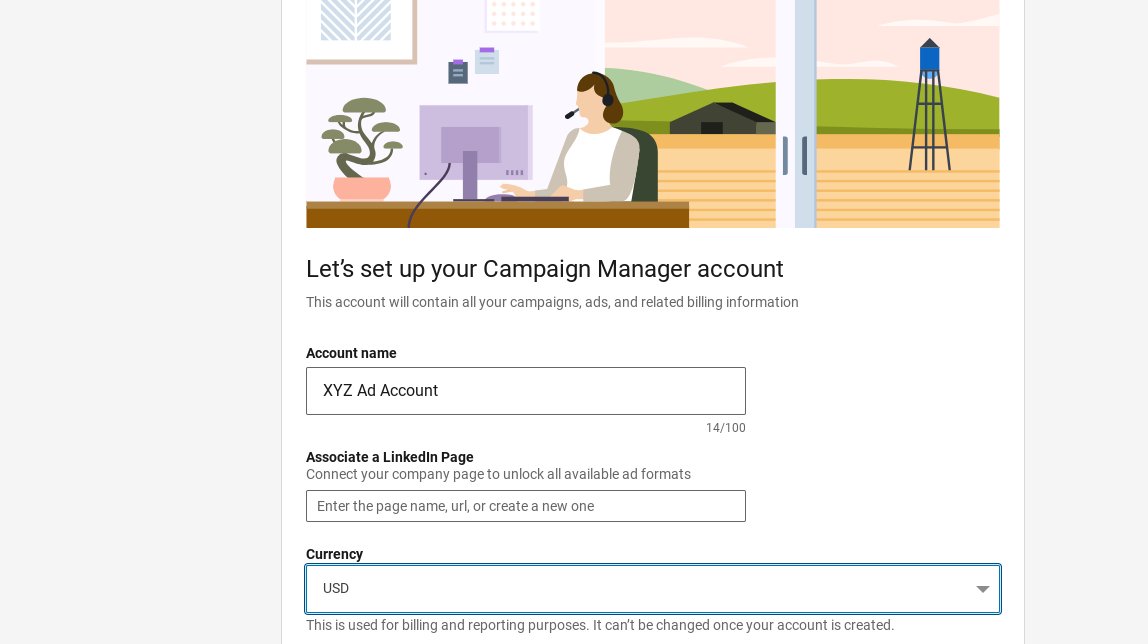 Step 2: Set Up Your Campaign Group & Choose Your Ad Objectives
Once you have performed the above actions, you will get access to your LinkedIn Campaign Manager dashboard. The Campaign Manager is the central ad management hub to manage campaign groups, campaigns and ads.
Now, you can begin creating your first LinkedIn ads campaign.
Click Create and select Campaign Group from the drop-down list:

Every LinkedIn campaign is part of a campaign group. Give a name to your campaign group:

Now select the group objective. It can be of the following types:
Awareness – If you want more people to learn about your business.
Consideration – If you want more people to visit your website.
Conversions – If you want to generate leads and conversions directly from LinkedIn.
Step 3: Decide on Your LinkedIn Ads Spend
The next step is determining your budget and schedule.
Click the slider to ON to turn on the budget optimization:

Once you have turned it on, enter the daily budget for every campaign in this campaign group: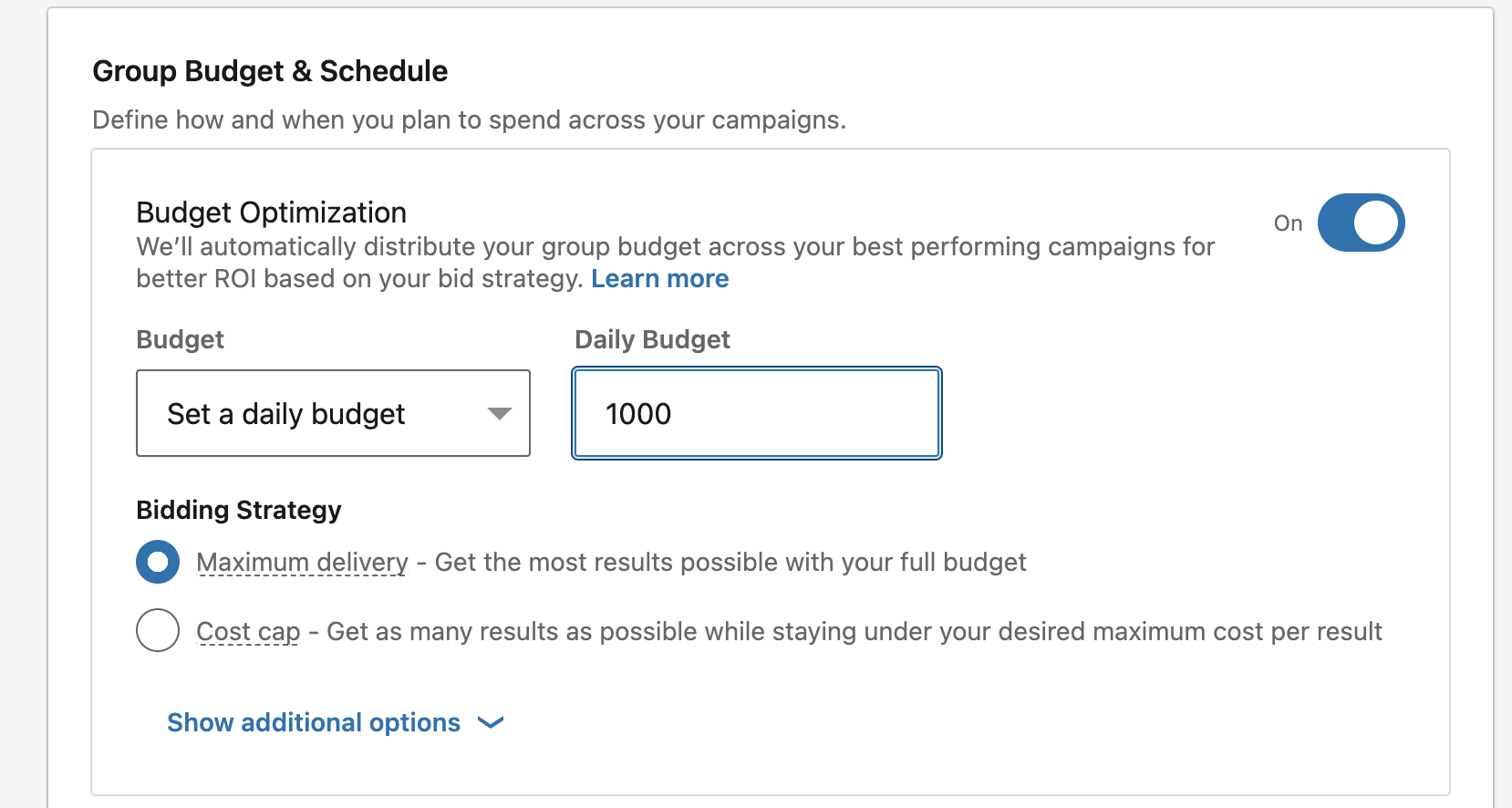 Next, you should add a start and end date for your campaign, and then click on Create:

Now you can find your newly created campaign group in your LinkedIn Campaign Manager dashboard: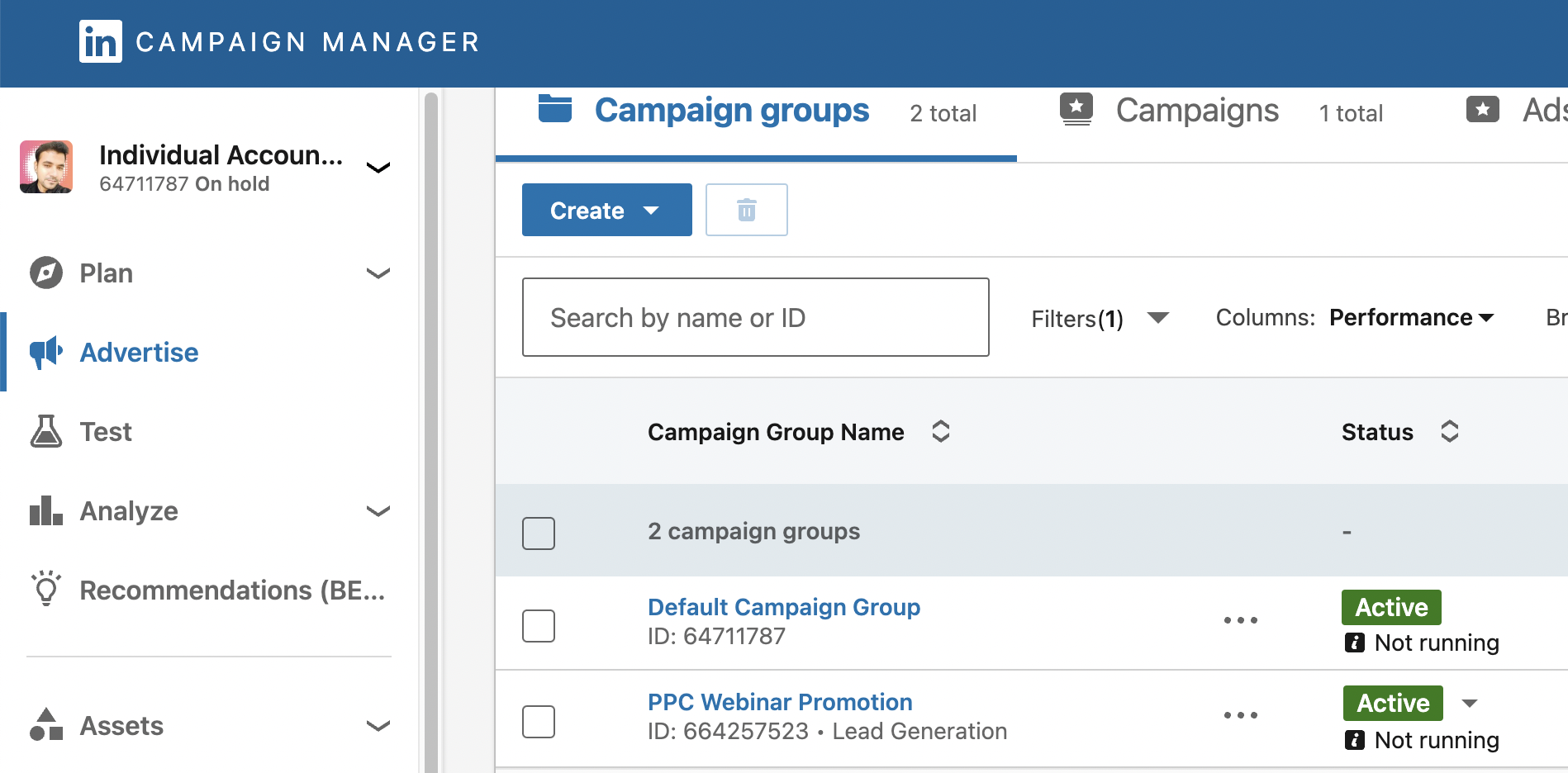 Step 4: Choose Your Audience
Click on your newly created group: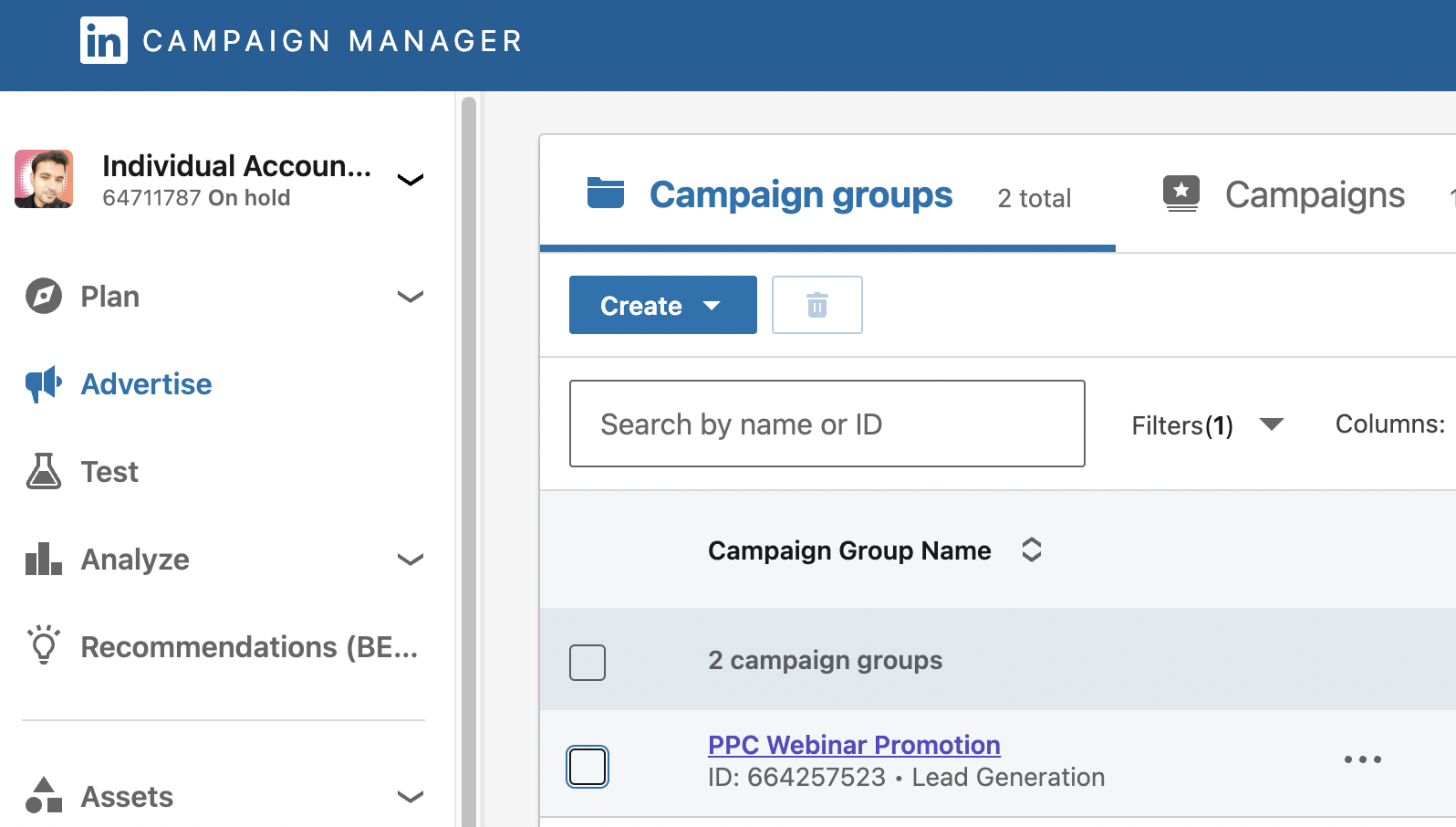 You will see there are no campaigns under this group. Click on Create and then choose Campaign from the drop-down menu: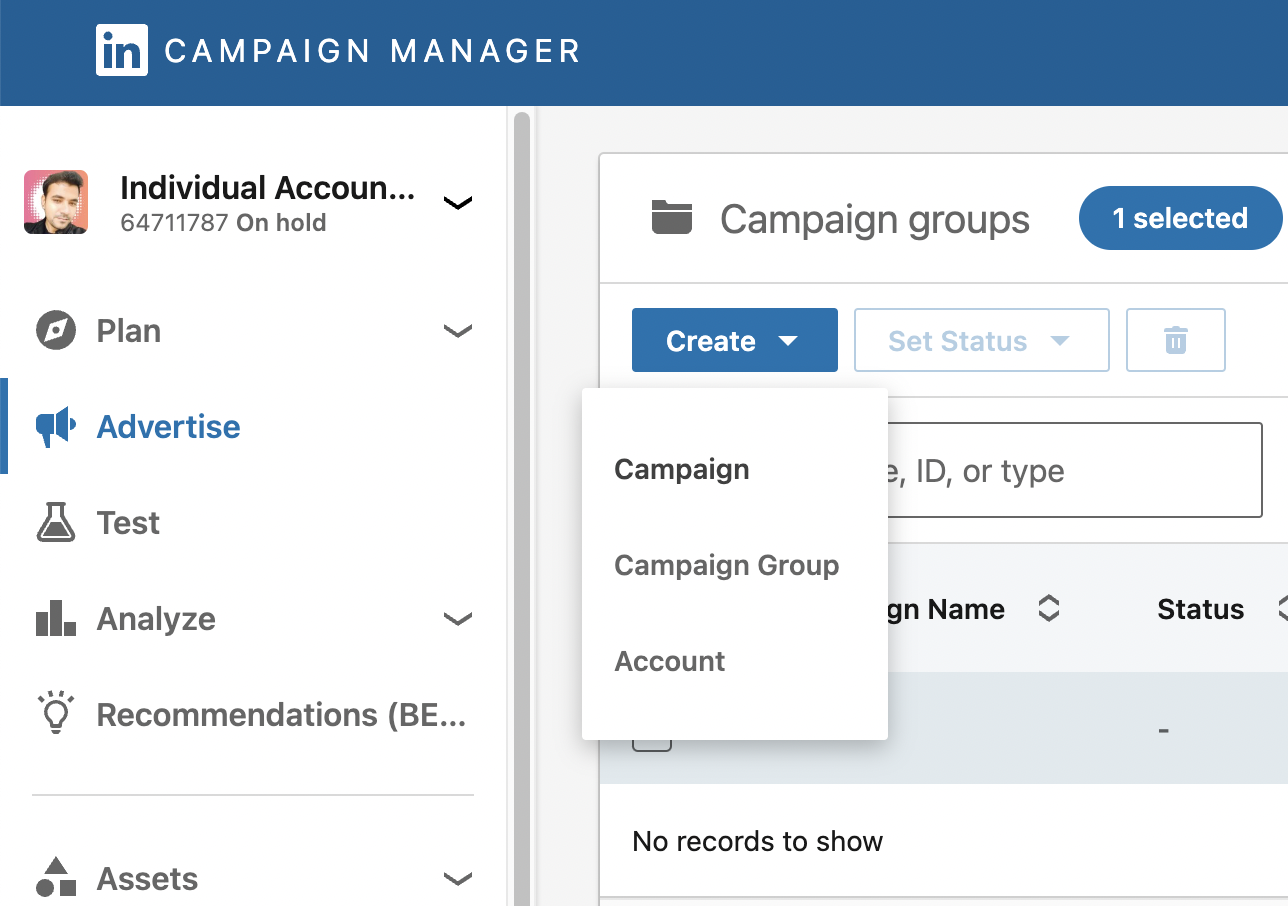 You will see your campaign group details. Click on Next: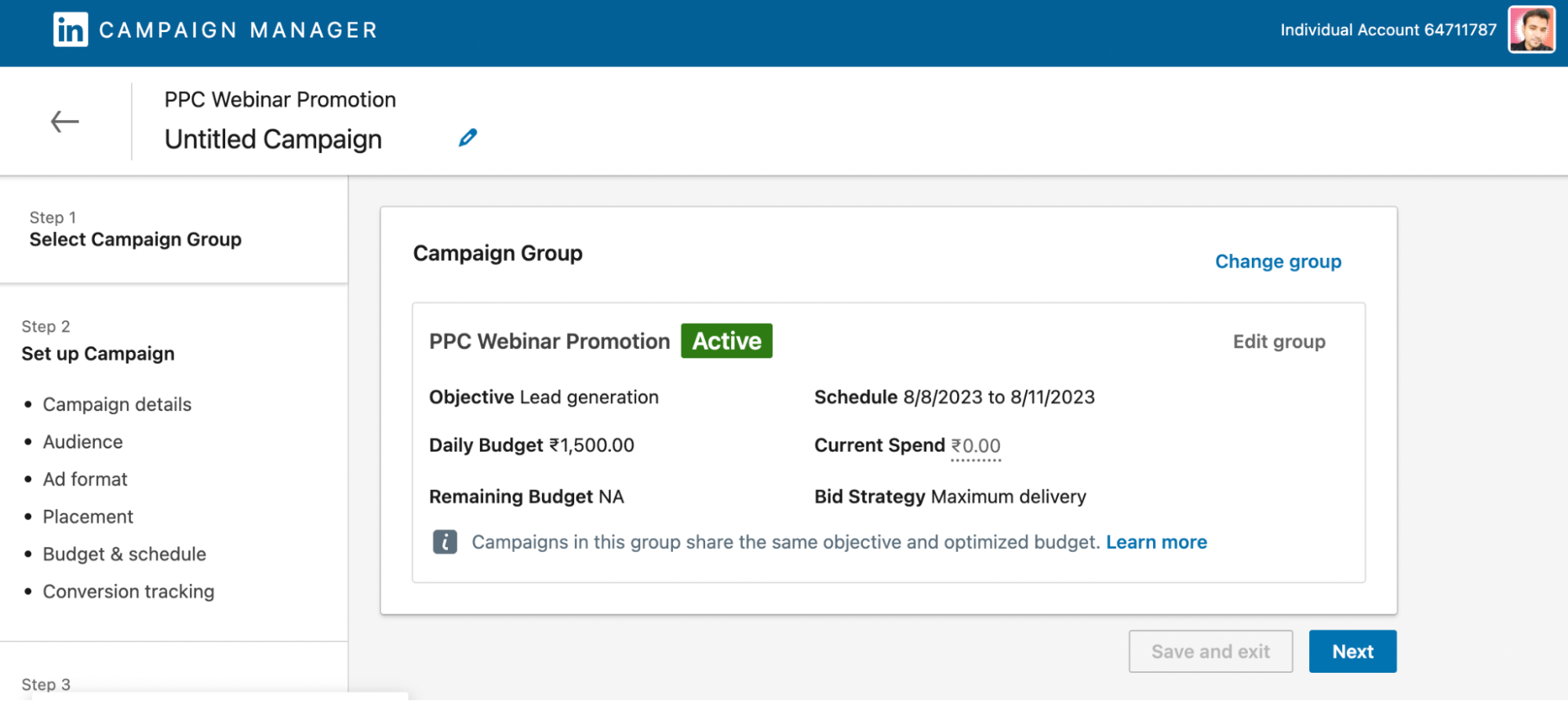 Here you can see your campaign details based on your selected group objectives: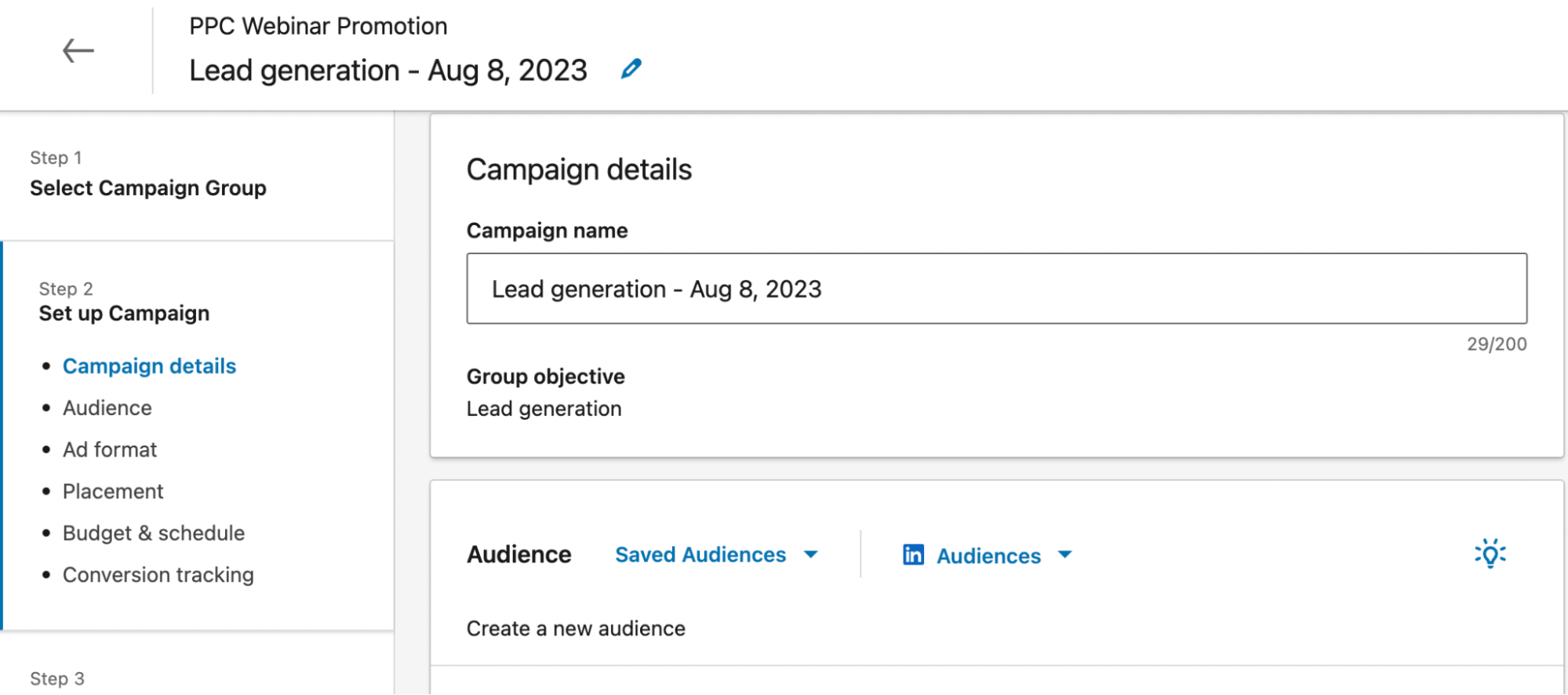 Now you can create a new audience based on locations or available LinkedIn audiences.
By default, LinkedIn lets you target professionals based on their expertise.
For example, if I am looking to get new attendees for my PPC webinar promotion, I will target PPC professionals. Hence, I will choose Marketing Professionals under the Audience drop-down: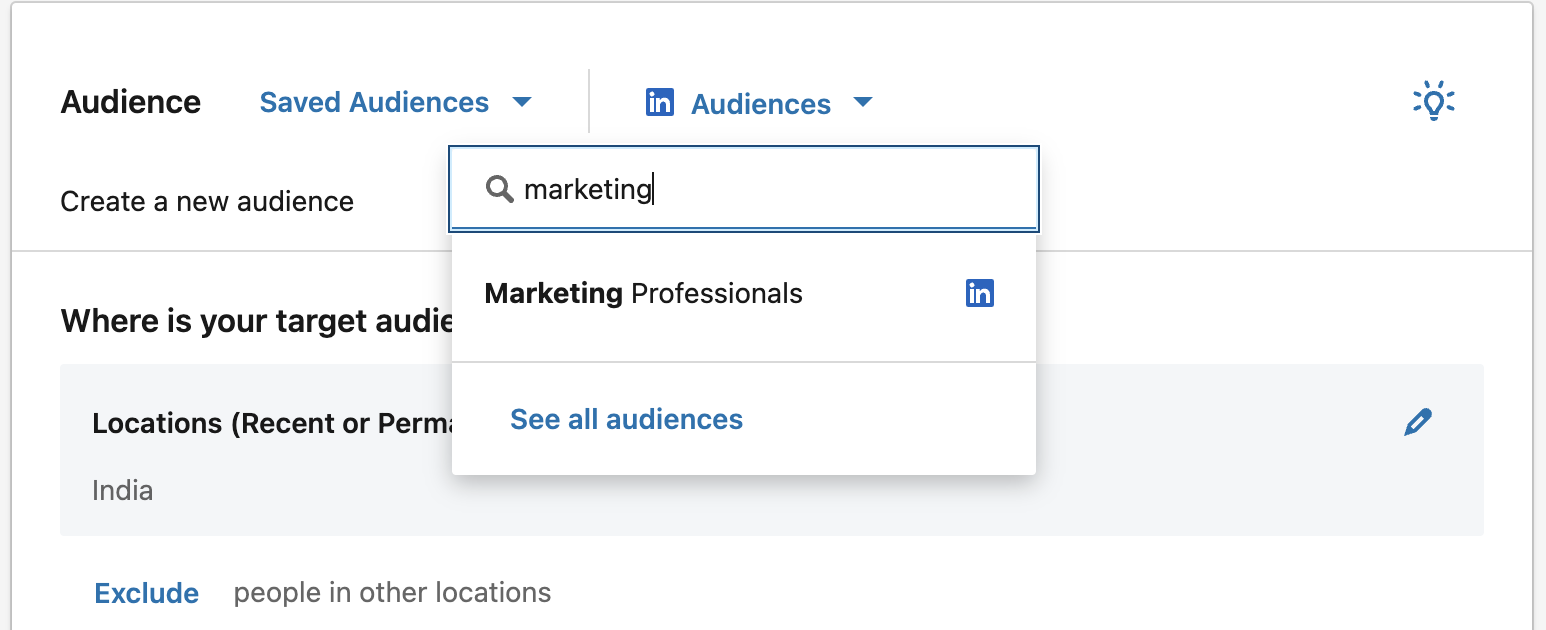 You can even remove the attributes that are not required in your campaign.
For instance, I am looking to target fresher digital marketing professionals, so I will remove Chief Marketing Officer, Senior Vice President Marketing, etc, from my list: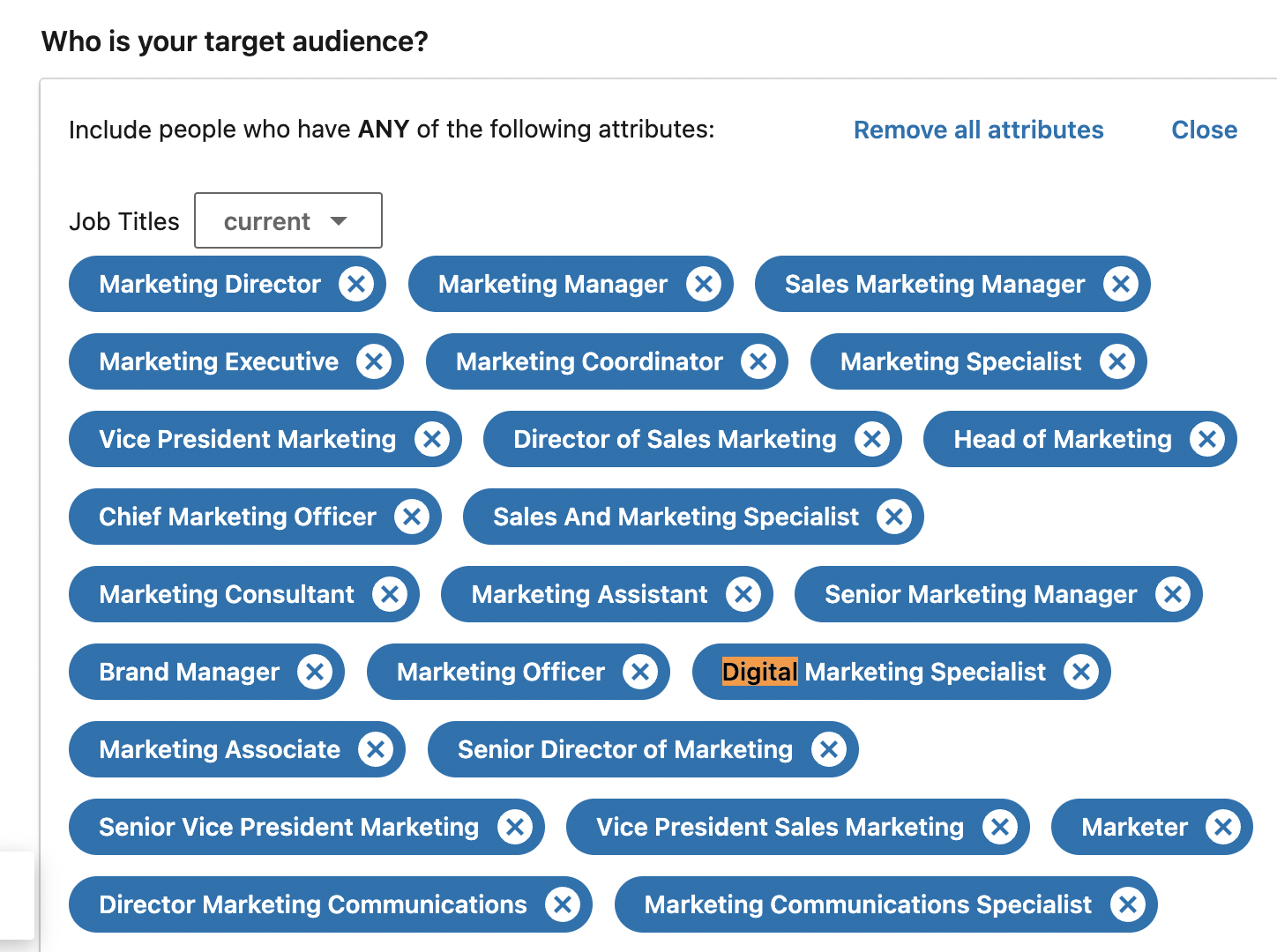 Based on your selection, you will see forecasted results displaying the reach of your campaign: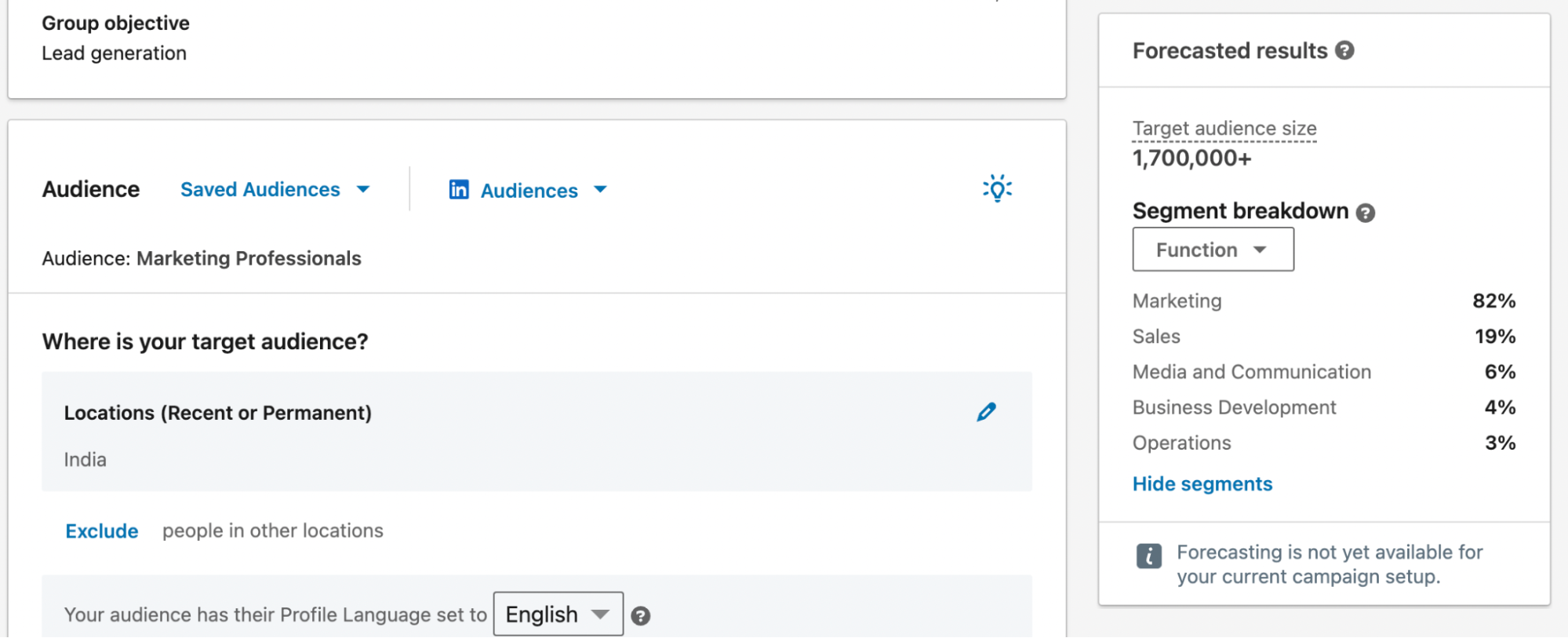 Step 4: Select Your Ad Format
Now you should select the type of ad format you wish to display to your target audiences. You will only see specific ad formats based on your campaign group settings.
Based on my selection, I can see four formats: Single image, Carousel image, Video, and Document: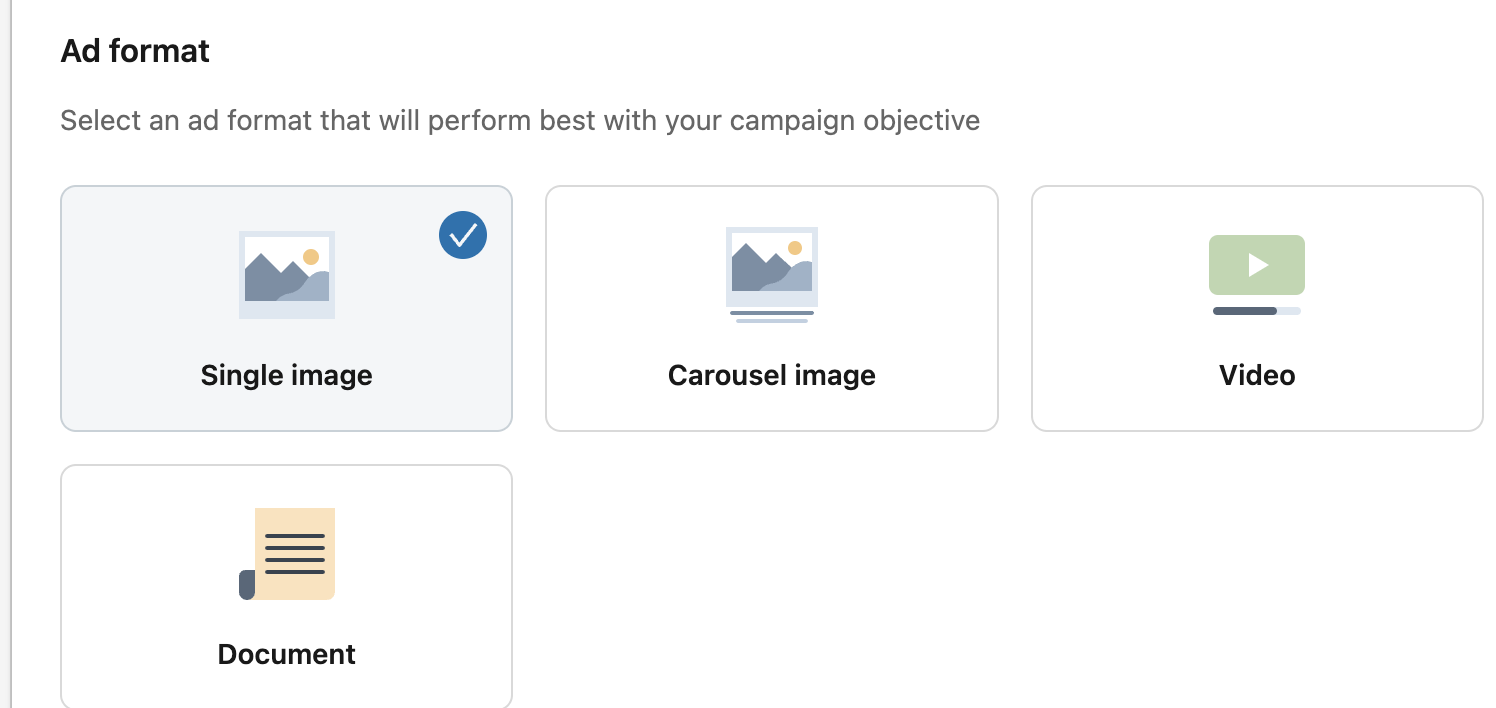 You can choose an ad format that best suits your preferences. I will choose the Video ad format.
Now enter the LinkedIn Page that you wish to associate with this account:

NOTE: Be careful when choosing a LinkedIn Company Page because this cannot be changed afterward!

Step 5: Choose Your Ad Placement
Once you've done the above, you can choose your LinkedIn Ad Placement.
You can select to display your ads in the LinkedIn Network or the LinkedIn Audience Network, which are third-party websites where LinkedIn audiences engage: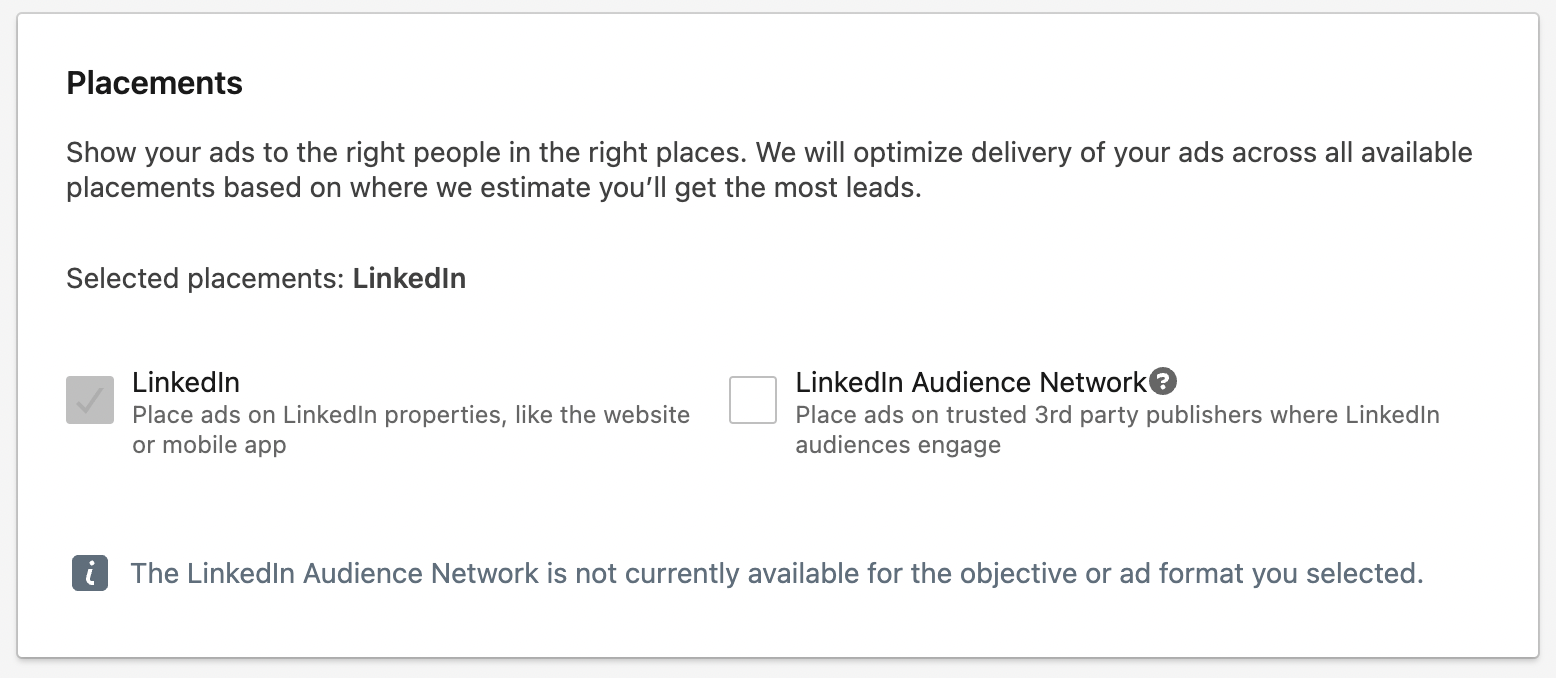 Click Next after you have selected your placement.
Step 6: Create Your Ad
After all the ad group and campaign settings, you can now create your ad creative.
In my case, I need to create a video ad. In your case, it can be any available ad format based on your campaign settings.
Name your ad, upload your video, choose an ad headline and your destination URL.
Once done, click on Save ad: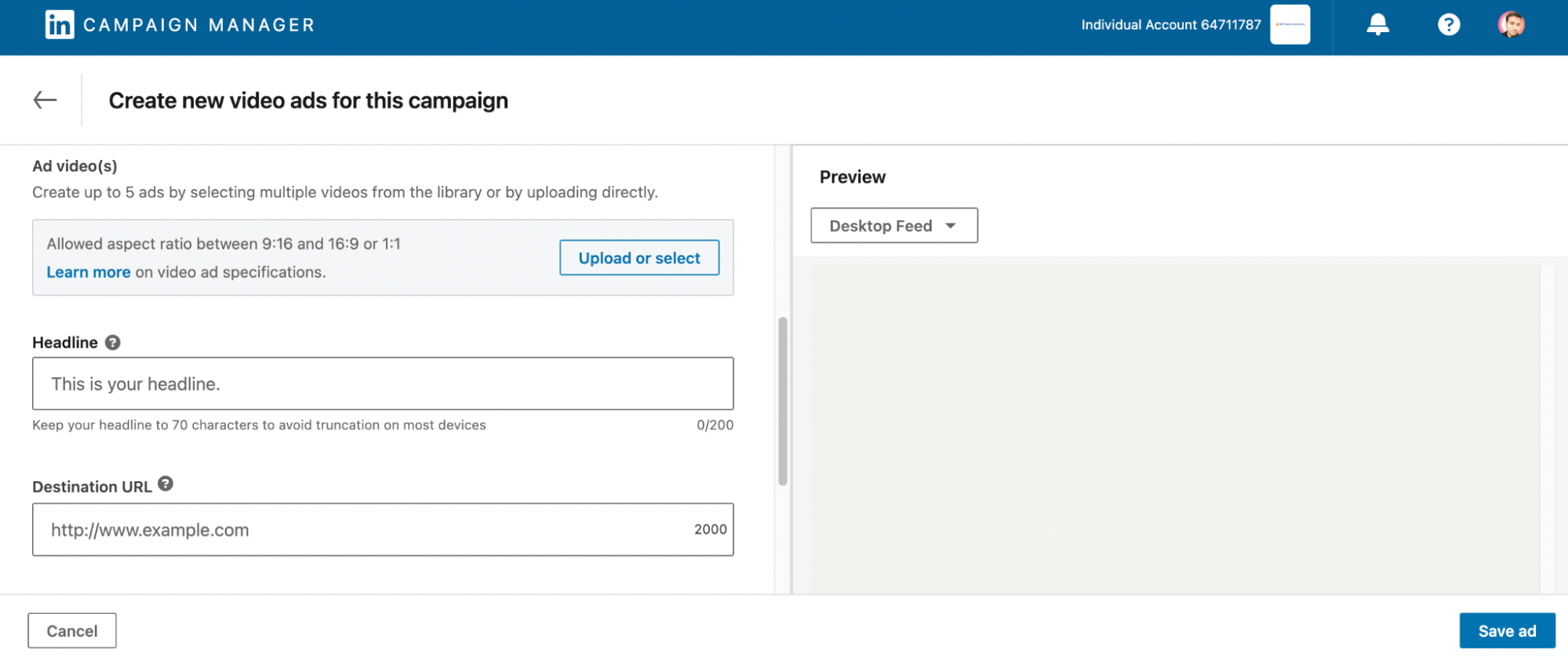 That's it! The final step is to review your campaign before it is launched.
After a quick review, you are ready to launch your LinkedIn ads campaign.
Remember, you can't run your campaign without adding a payment method. So make sure to add a payment method and review all the settings carefully, like your daily budget, before launching your campaign.
Get inspiration from: LinkedIn Ads for Enterprise B2B SaaS: The Only Guide You'll Need
Best Practices to Excel Your LinkedIn Ads Strategy
Now that you know how to launch a LinkedIn Ads campaign, here are the top tips to improve your LinkedIn Ads conversions:
Narrow Down Your Audience
It is essential to narrow down your audience so your brand can drive more convertible and qualified customers. There are numerous ways to segregate your audiences for better ad reach, such as:
Location-based targeting: It lets you refine your target audience based on a particular geographical area, including nations, states, cities, and districts.
Company targeting: This option allows you to segregate your audience on the basis of their company, industry, and professional circle.
Audience exclusion: This method allows you to narrow down audiences by putting various filters.
Lookalike audience: This method involves creating audience personas with characteristics mimicking your existing customer list, i.e. lookalike audience.
Job targeting: In this audience segregation method, you filter your audience and create campaigns considering the job experience, field, title, and role of a particular audience segment.
Interest-based targeting: This involves targeting your audience on the basis of their professional interest.
Use Relevant Hashtags
LinkedIn hashtags are one of the essential elements in LinkedIn Ad creation as it significantly enhances your brand awareness and takes your company to people worldwide. Additionally, it helps categorize your campaigns to keep up with the ongoing social media trends.
Understand and segregate your audience: Before creating LinkedIn Ad campaigns with hashtags, it is essential to know your target audience and your goal in each campaign.
Research your industry keywords: Find relevant keywords related to your industry, business, and services.
Select relevant and professional hashtags: Choose relevant yet professional hashtags that directly relate to your campaigns to reach the right audience.
Highlight your brand's USP: If your ad is promoting a unique feature, solution, or benefit, create a hashtag that highlights this aspect. It could be a branded term or a specific feature that sets you apart.
Include trending topics and events: Consider relevant events hashtags to align your ad with a current industry event, conference, or trend. This can help your campaign become part of larger discussions.
Incorporate location-specific hashtags: If your ad targets a specific location, consider including location-based hashtags to reach professionals in that area.
Avoid jargon and slang: While some industry-specific terminology can be useful, avoid using slang or jargon that might not be universally understood.
Test Drive Your Content
Test driving your content for LinkedIn Ads involves conducting tests to evaluate the performance and effectiveness of your ad campaigns before fully committing your budget.
Evaluating your campaigns helps optimize the ads and improve their impact on your target audience.
Here's a step-by-step approach for testing your content on LinkedIn ads:
Identify testing variables: Decide what aspects of your ad you want to test. This could include variables like ad copy, visuals, headlines, calls to action (CTAs), audience targeting, and more.
Create variations: Develop different versions of your ad with variations in the testing variables. For example, you might create two ad versions with different headlines or visuals.
A/B testing: It is a common approach where you compare two variations of an ad to see which one performs better. LinkedIn allows you to run A/B tests by splitting your audience and showing each group a different ad version.
Randomized sample: Randomly assign your ad variations to different segments of your target audience. This helps ensure that your test results are statistically significant and not influenced by external factors.
Testing duration: Let your A/B test run for a sufficient period to gather enough data. The duration will depend on your campaign objectives and the size of your audience, but it's generally recommended to run tests for a minimum of a few days.
Try Multiple Formats
Trying multiple formats for LinkedIn ads is a strategic approach to discovering the formats that resonate best with your target audience and drive the desired results.
LinkedIn offers various ad formats to choose from, each catering to different campaign goals and audience preferences.
Here's how you can effectively try multiple formats for your LinkedIn ads:
Understand available formats: Familiarize yourself with the various ad formats LinkedIn offers. These may include sponsored ads, display ads, and dynamic ads. Each format serves a specific purpose and targets audiences differently.
Align format with objective: Choose the ad format that best aligns with your campaign goal. For example, if you want to promote a new blog post, Sponsored Content might be suitable. If you're launching a product, Dynamic Ads could work well.
Create variations: Even within a chosen format, create multiple variations of your ads. Experiment with different visuals, ad copy, headlines, and calls to action to identify what resonates most with your audience.
Test different visuals: Ad creatives play a crucial role in grabbing attention. Try images, videos, carousel ads, or interactive media to see which format generates the most engagement.
Experiment with ad copy: Crafting compelling ad copy is essential. Test different messaging tones, lengths, and value propositions to determine what prompts users to take action.
Customize for audience: Tailor your ad formats to suit your target audience's preferences. For instance, professionals might engage better with informative content, while decision-makers might prefer data-driven visuals.
Use LinkedIn Insights and Analytics
Utilizing LinkedIn Insights and Analytics is essential to measure the effectiveness of your LinkedIn campaigns as it enables valuable insights into your target market's behavior.
Here's how you can make the most of LinkedIn Insights and Analytics:
Evaluate demographics: Explore the demographics of your audience, along with age, gender, location, and activity titles. These statistics allow you to refine your concentration and tailor your content to your target audience's possibilities.
Track engagement: Keep a check on how customers are engaging with your campaigns. This includes likes, comments, and follows in your promotional ad. Engagement information can indicate the pleasantness and relevance of your content material.
Compare campaigns: Measure the overall performance of different campaigns or variations in the usage of A/B testing. This allows you to discover which factors resonate together with your audience's effects.
Content performance: Assess which posts or updates produce maximum engagement for sponsored content campaigns.
Optimize budget allocation: Based on the insights collected, regulate your price range allocation to prioritize campaigns and formats which are delivering the very best.
Last Word on Running Ads on LinkedIn
Connecting your brand with the world's largest network of professionals comes with its own set of advantages. Use this beginner's guide to LinkedIn advertising to reach your desired audiences and convert them into valuable customers.
Remember to follow the LinkedIn ads best practices discussed in this article. With the right steps and strategies, you should be able to create high-ROI LinkedIn campaigns to maximize your brand's traffic, conversions, ROAS, audience interaction, and brand awareness seamlessly.
If you're ready to amplify your brand reach with ads, Single Grain's

LinkedIn Ads experts

 can help!👇
LinkedIn Ads FAQs
How can I measure the success of LinkedIn Ads?

LinkedIn offers various metrics to help you measure the progress and success of your ad campaigns. Here is how you can calculate the performance of your LinkedIn Ads:

Set up conversion tracking to keep track of actions performed by your audience.
Evaluate key metrics of your ads, including impressions, CTR, CPC, and conversion rate.
Set up insight tags to track the behavior of your audience.
Implement the use of LinkedIn's lead generation forms to calculate the lead numbers and CPL of your ad campaigns.
Measure your campaign demographics to check which kind of audience is interacting and responding to your campaigns.

How can I optimize LinkedIn Ads?

To optimize your LinkedIn ad campaigns, regularly monitor their performance and adjust targeting, bidding, and ad creatives accordingly. A/B testing different ad variations can also help identify what resonates best with your audience.

What is the minimum budget for LinkedIn Ads?

The minimum amount required to start your LinkedIn Ads is $10 for any ad format. Hence, both small business owners and individuals can start running ads on LinkedIn on a minimum budget.
If you were unable to find the answer you've been looking for, do not hesitate to get in touch and ask us directly.