A new visitor comes to your website, finds just what he/she was looking for, clicks on BUY and you're done. Ha! That doesn't happen, does it?
In reality, a visitor or prospect takes their own sweet time, researching and comparing across other websites, before they make the buying decision. But the least you can do is collect their email address so that you can start an email conversation, nurture the lead, and guide them through the sales funnel so that they finally convert.
Ask any email marketer about the top three important things to do and email list growth is bound to be right up there. An organically built email list – meaning those people who have willingly opted to receive emails from you – is an asset that every marketer holds close to their heart.
So, how do you make website visitors sign up for your email list? With the help of a lead magnet on your website.
A lead magnet is an incentive given to a prospect in exchange for their email address. This could be anything from an e-book to a white paper to a checklist to a free trial.
But it's not quite that simple. Your prospects are smart and they will not share their email address unless they find the exchange offer valuable. So your lead magnet has to be something unique and valuable, something for which they will readily share their personal details.
Let's dive into the best practices to follow while creating a lead magnet.
Best Practices For Creating an Irresistible Lead Magnet
It's not enough to know that you need a lead magnet to attract the right kind of email addresses; you need to be aware of how to create them by following the best practices.
Rule of the thumb is that a lead magnet should:
Be Valuable
Providing valuable information or data is of utmost importance. It will not only make the visitor willingly share their email address but help you achieve your goal of conversion in the longer run. And just having something valuable to share with your website visitors is not enough – you must present it well. Make it professional-looking and attractive. The look of it should convey the value that is being provided to the customer in exchange for sharing their email address.
Project Authority
Your website visitors are looking for expert advice on every problem. You thus need to make sure that your lead magnet exudes your expertise and authority. A visitor might have come to your website for the first time and if you succeed in conveying that you are the best at what you are doing, you are opening the gates to the opportunity to convert that lead.
Learn More: 5 Steps to Becoming an Expert Content Creator (According to Google's Phantom Update)
Solve a Problem
Does the content you are providing solve a problem that your visitors are facing? Well, it should. Just like results are important to you, they are important to your visitors and your lead magnet should help them with their pain point. That's the kind of content they are looking for and will be ready to download in exchange for their email address.
Target a Specific Issue
Be specific about the content you are sharing rather than writing on a vague topic. This enhances the value of the content, making the leads want more from you. For example, the lead magnet right below specifically delivers six case studies about writing the perfect cold email that actually got the prospects to respond well, and for people who are launching an email campaign but aren't sure about how to craft a good email, this targets their specific issue.
Learn More: The Secret to Collecting More Email Signups [podcast]
Be Easy to Access
Visitors want what you promised in the opt-in and are sharing their email address with the assumption (or at least hope!) that they'll get it instantly. Make the process simple and hassle-free. Do not make them fill in random information or take them through a long, tedious procedure to get what they want. You wanted their email address and you've got it; you can collect the rest of the information (if necessary) later as you nurture the lead.
Now that we know the best practices associated with creating a lead magnet, let's figure out what lead magnet is right for you.
How to Find the Right Lead Magnet for Your Audience
What kind of lead magnet will work for your business and what will not depends on your audience. Here are some things you need to consider while making the right lead magnet choice for your business:
What Are Your Audience's Preferences?
Putting yourself in the shoes of your prospects helps you understand their expectations, preferences, needs, and behavior and thus the perfect lead magnet for them. Knowing answers to questions like:
How much time they spend on your website
What kind of content they read
Whether they're looking for a solution or just gathering information
What format they like your content in (SlideShare/video/in-depth information), etc.
…can help a great deal in providing them with what they are looking for. And once you are ready to give them a solution, they will be ready to give you their email address.
Learn More: 6 Ways that Lead Bots Can Fuel Your Lead Generation Efforts
What Type of Problem Are You Targeting/Business Do You Have?
The format of the content you want to offer depends heavily on what kind of challenge you are trying to solve for your readers, which again depends on your kind of business. For example, if you have a B2B company with a complex product or service that requires facts and research to convince potential investors or you're trying to present yourself/your brand as a thought leader in the industry, a white paper is a great solution.
On the other hand, if you're a B2C business and you want to really showcase your product, a video would be a much better option than, say, an article. BUFF Headwear created this short, fun video to demonstrate their "seamless, multi-functional headgear [that] is simply the most versatile and effective article of technical clothing you'll ever own:
Learn More: How B2B Firms Can Acquire Leads with Programmatic Ads
What Are You Really Good At?
Figuring out your strengths is important before you start to create a lead magnet. A video might be the perfect content format for your audience, but you need the right resources and infrastructure for it. So, what is it that you can do with the resources you have? If video is not your strength, then maybe webinars are. Or maybe you're a design company so infographics are where your strength lies.
Lead Magnet Formats That Work
Here are some ideas for creating a lead magnet to help you grow your email list:
E-book/White Paper
E-books are one of the most popular lead magnets and can portray you as an expert in the field. A white paper is another form of content that has an authoritative tone to it. You can either create totally new content or a compilation of the content already on your website, and it can range from a few pages to many.
It's a flexible format where you can get creative with both your content and the design. However, as mentioned in the best practices above, your e-book or white paper should focus on one specific issue, deep dive into the challenges and try to solve them for the reader.
Minimalist Baker offers their Fan Favorites e-book in exchange for your email address: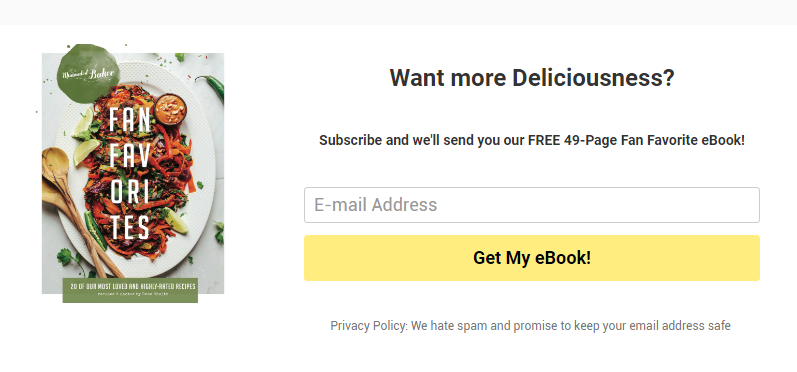 Learn More: How to Boost Lead Generation and Authority with White Papers
Checklist
Checklists come across as attractive lead magnets for quite a few reasons: not only is it easy to create for you, but it's handy and easy to digest for the reader. A checklist is a condensed version of an in-depth topic represented in the form of actionable content. If your checklist helps your subscriber solve a problem or easily deal with a complex process, it pushes them further into the sales funnel and makes them want more expert advice from you or learn more about the services you offer.
Check out this Re-engagement Campaign Checklist lead magnet offered by EmailMonks:

Free Trial
Another commonly used bait to collect the right email addresses to grow your list is offering a free trial of your product/service. It's a natural human tendency to buy a product or try a service only after trying it out or becoming familiar with it. A free trial helps them make that decision.
The freemium model is the most popular form of offering free trials. Your free trial can be a limited time offer and in order to continue using the service or to unlock advanced features, the prospect will have to buy. Generally, marketers nurture leads through emails that aim to encourage upgrades to paid plans.
Digital Marketer has used a free trial lead magnet and the GIF surely grabs eyeballs: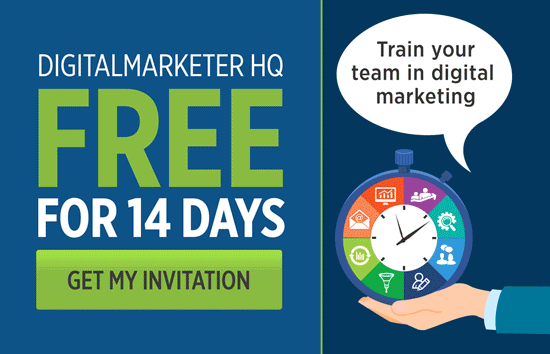 Quiz/Contest
We all like quizzes. They're fun. Using them as lead magnets is thus one of the most lucrative ways to collect email addresses. It's a neat trick in which the user participates in the contest or answers your quiz questions and submits their email address to know who won the contest or see the right answer in their inbox.
The best part is that only those who are interested in your products/services or what you do will participate, so you are getting the right kind of people to sign up. You can also promise to reveal the results via social media or to award the winner of the contest.
Take a look at this quiz created by Jeffbullas on their website: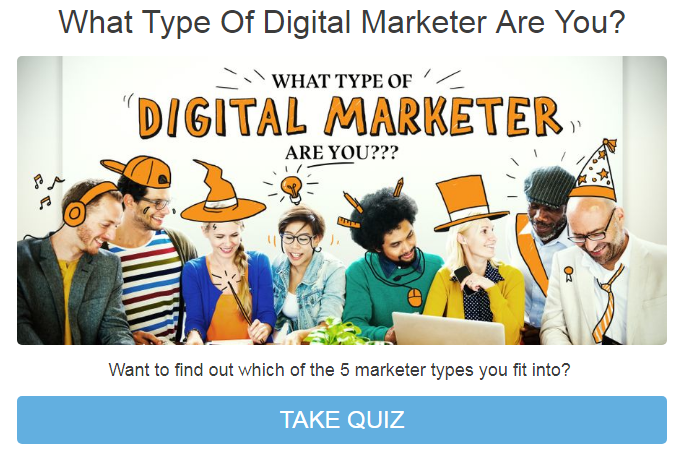 On completing the quiz, you need to enter your email address to see the results.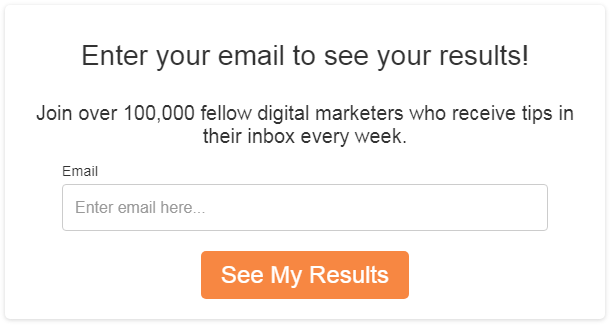 Learn More: Creating a Social Media Contest Strategy to Boost Engagement
Research/Report
A well-researched report can be a great piece of content to draw leads. It can be a study of data that is pertinent to your prospects or information on best practices associated with a niche topic, and the length can vary. Reports make for a great piece of content to anyone looking for professional help, as these are combinations of findings and actionable tips. The specificity of a report ensures that only those who are actually interested in the guide sign up so that you have a pool of highly potential customers.
To access Return Path's 2018 Hidden Metrics of Email Deliverability report, you need to give your email address:

Video
You need to understand the kind of audience that comes to your website and then decide what content format will work the best for you. While some like to read content, some like it in the form of videos. A video makes the content easy to understand and consume, and since humans are visual beings, this lead magnet has always worked for businesses to grow their email list.
This Marketo video lead magnet allows you to watch "short overviews of our Engagement Marketing Solutions" upon providing your email: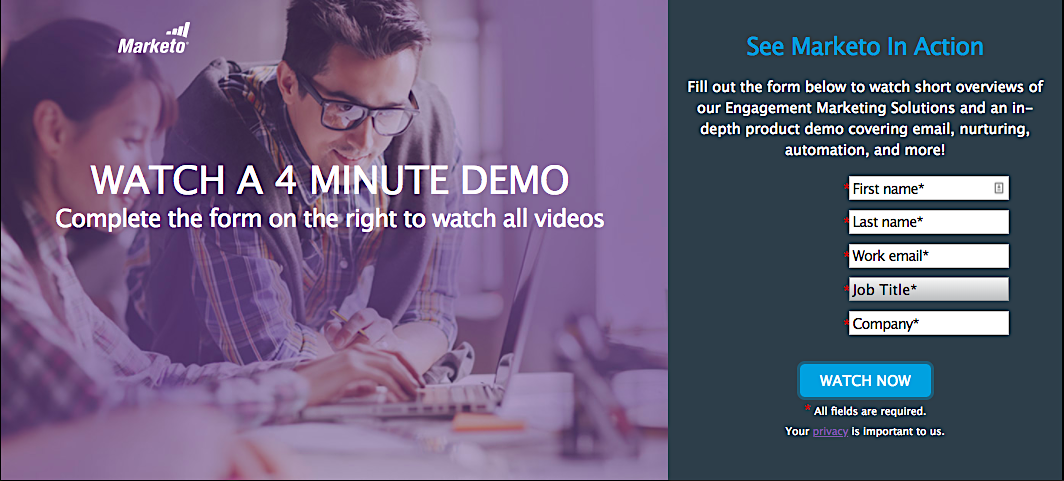 Learn More: 12 Engaging Types of Video Content that Viewers Love to Watch
Case Study
A case study is what many leads seek because it is unique data that tells a story about your business and how you successfully helped a customer or client solve a problem that others are sure to have. Apart from portraying you as an expert in the field, a case study also helps the prospect understand how you work, building the confidence needed to help them take the next step of trying your product/service.
Single Grain has a "case studies" page which provides the challenge, the approach, and the results, followed by an opportunity to get a free consultation, at which time you'll need to provide your email.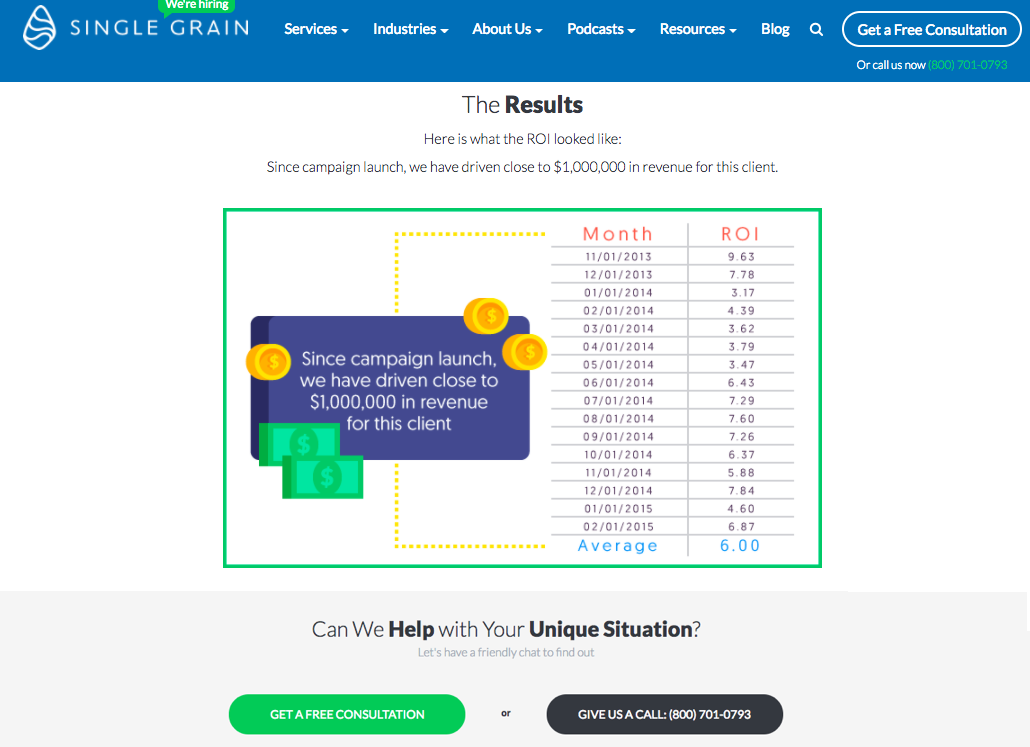 Learn More: [Case Study] The Content Sprout Method: How to Use Strategic Content Marketing to Grow Your Traffic From 0 to Millions
Free Course via Email
A free course via email showcases your expertise, addresses a problem faced by your prospects, and allows them to consume the information on their own time. This lead magnet can help to establish trust and rapport, something that works in converting prospects and retaining customers. The most efficient way to create course content is to repurpose your already existing content to fit into this format. Your blogs, webinar, or even an e-book can be split into chapters and delivered through an email series.
The free e-course offered by Rick Mulready is a great lead magnet: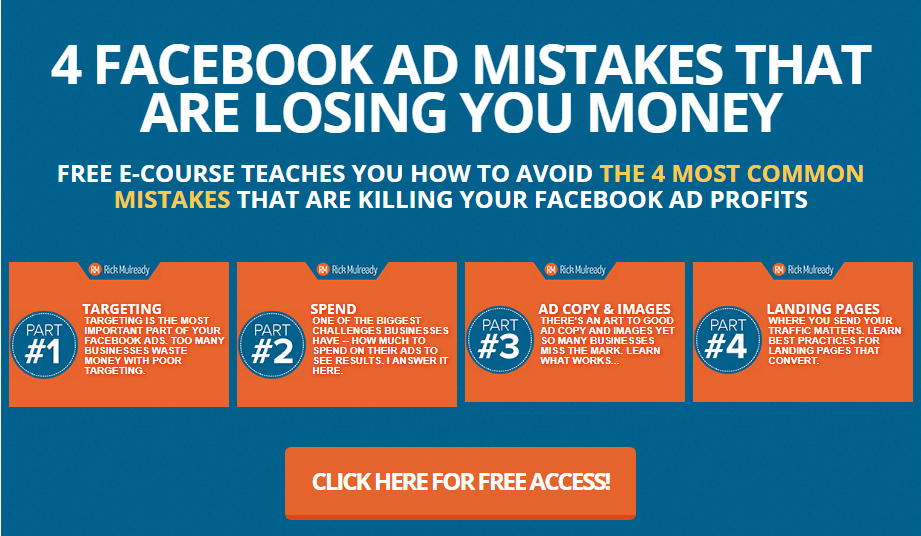 Check out this Growth Everywhere interview with Rick Mulready to learn how to use Facebook ads and automated webinars to create a perfect lead generation storm, the mastermind behind the creation of The FB Advantage.
Learn More:
Podcast
A podcast is a popular lead magnet used by many businesses as  85% of people listen to all or most of a podcast. As mentioned earlier, if your website visitors are not the types who like to read a lot of content, a podcast is the best bet for it can be listened to on the go.
Marie Forleo, life coach and motivational speaker, offers this free audio training called "How To Get Anything You Want" as a lead magnet: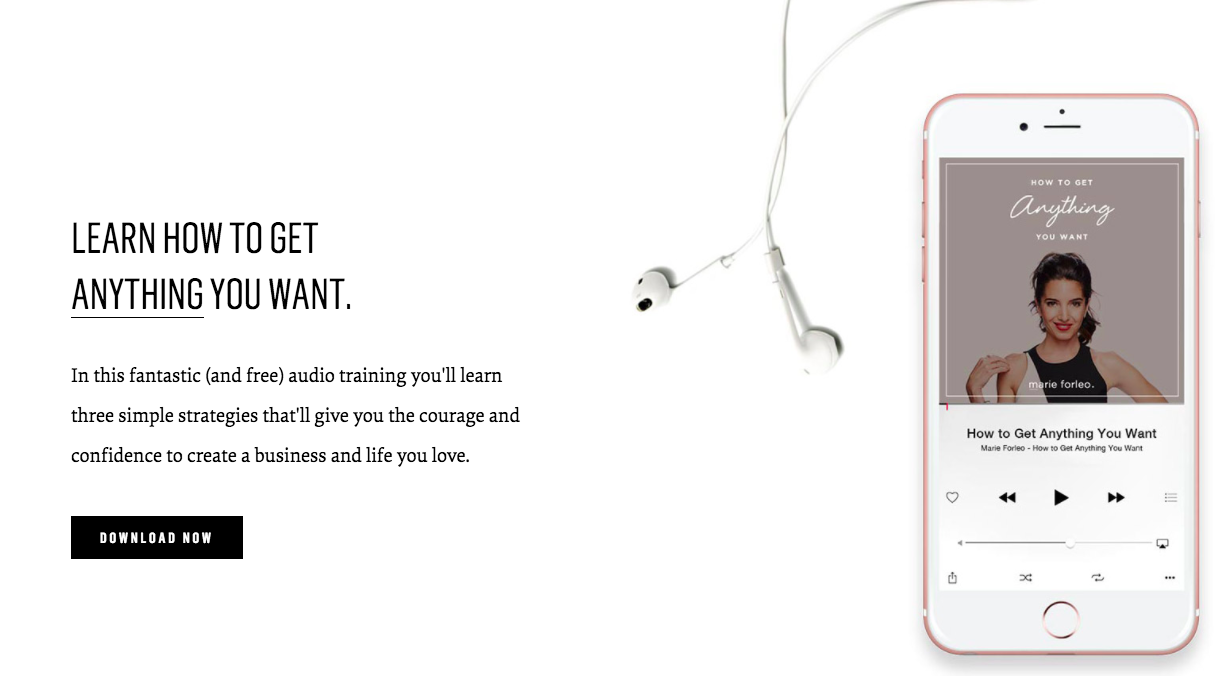 Learn More: How to Create a Webinar in Less than 45 Minutes [podcast]
Webinar
Webinars are a popular lead magnet used by many businesses to capture leads. While they help to portray you as an expert, the format (i.e. the audio/video component) makes a stronger connection with your prospects. Webinars can be repurposed afterwards in the form of a recorded archive. However, webinars find a more relevant place at the end of your sales funnel and should thus be used later in the sales process.
Single Grain and Growth Everywhere use this "13 Customer Acquisition Paths that Will Drive Growth for Your Business Today" webinar as a lead magnet: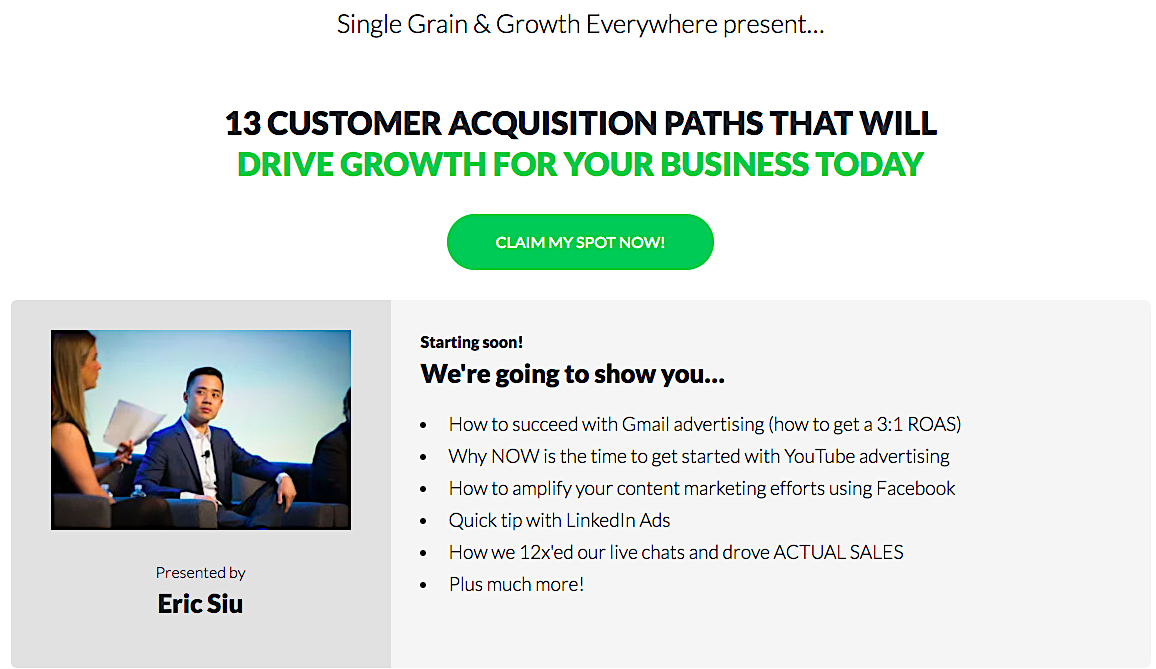 Wrapping Up
While it's important to chant the right email marketing and design mantras to get the best out of your email campaigns, building and growing your email list also plays a vital role. Hence, never think you're wasting your time and resources by creating free content that you offer as a lead magnet to grow your list. What you are getting in return is way too profitable when compared to the investment you put into creating the free content. Now go and create a great lead magnet!