Smartphones have emerged as a bright spot in the global market of booming mobile communication and are growing in an unprecedented way nowadays. Such emergence and trends are visible across the world with the rise of mobile engagement among consumers.
Your customers are using their mobile devices to browse your website, interact with apps, read messages and participate in sell/buy interactions, so you need to incorporate push notifications to engage these mobile users with valid content at the right time.
The Basics of Push Notifications
Let's start with a simple definition of push notifications:
"Push notifications are small messages that can reach audiences anywhere and any time. While pop-ups appear only when audiences are on the site they belong to, push messages are independent of sites."
Push notifications are a powerful marketing tool that play an efficient role in communicating your messages to your audience: They help users engage and re-engage with mobile apps or website browsers on any device. According to research by Localytics, 52% of users enable push messaging on their mobile devices.
Not only that, but using personalization and segmentation increases conversions:
7% open rate for segmented push messaging compared to a 3% open rate for generic, broadcast messages (a 2x improvement)
54% of users convert from a segmented push notification, compared to only 15% for broadcast messages (a 3x improvement)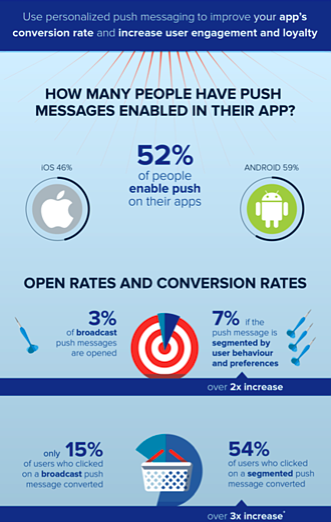 Dive Deeper: Marketer's Guide to Web Push Notifications
Tips for Sending Push Notifications for Your Business
Mobile push notifications offer an array of benefits that can bring success to your business – they are one of the fastest ways to drive user engagement for landing pages – so writing clear and concise information with a catchy one-liner message is a must.
The following points will help you write effective push notifications that grab the user's attention:
1) Limit the Number of Push Notifications
Keep your push notifications short and clear. This is the best way to attract mobile customers and prompt them to follow the included link.
The information should appear on a single line for better readability because many times users pull down their notification to see only the highlights.
If the push notifications are too long, the display will just cut off part of the text, and the user won't be able to understand what you are saying to them.
It is of utmost importance to keep the notifications on point.
The headline should be similar to the kind you use in your email subject lines.
2) Boost Engagement with Customers
Push notifications help you attract more customers to your brand by sending real-time updates and reminders to your audience, encouraging them to engage with your brand on a regular basis. But remember to make them short, personalized, and focused on re-engagement – not annoying or irrelevant.
Here are a few examples of good push notifications from different brands:
Amazon: The retail push notifications from Amazon are used to give customers shipping notice with personalized messages and user attributes, such as name, location and purchase history. Amazon also offers user preference settings to let people decide on the type of notifications they want to receive.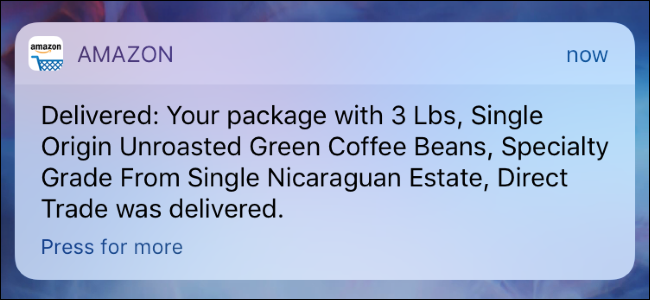 Kayak: Kayak allows its users to get flight price notifications, which they send out when the price drops. They understand the value of their users and help them find the best deals on flights in real time.
Netflix: Netflix makes use of notifications by personalizing them for every customer with messages that are specific to their interests and watching habits, and alert them about new episodes or the release of new shows, etc.

Dive Deeper: How to Increase Your Conversions with Online Customer Engagement
3) Promote Products and Services
Promote flash sales: Sending notifications about a flash sale can tease the user into buying something, even if they did not plan to do so, because of the fear of missing out (FOMO). People often have the perception that if they don't buy something quickly, they'll definitely miss out on a great deal.
Send timely updates: Sending notifications at an appropriate time – when your customers are more likely to read the notifications – is extremely important. Schedule your messages to get delivered according to the time zones of your subscribers, because precise timing and the right amount of frequency are two critical elements. Also, ensure that the system does not trigger notifications on offers that no longer exist on the website.
According to Marketing Land, push notifications:
Sent between 10 am-1 pm receive a 15% click-through rate
Sent between 1-5 pm receive a 12% click-through rate
Sent between 9 pm-1 am receive an 11% click-through rate
Sent between 1-6 am receive a 5% click-through rate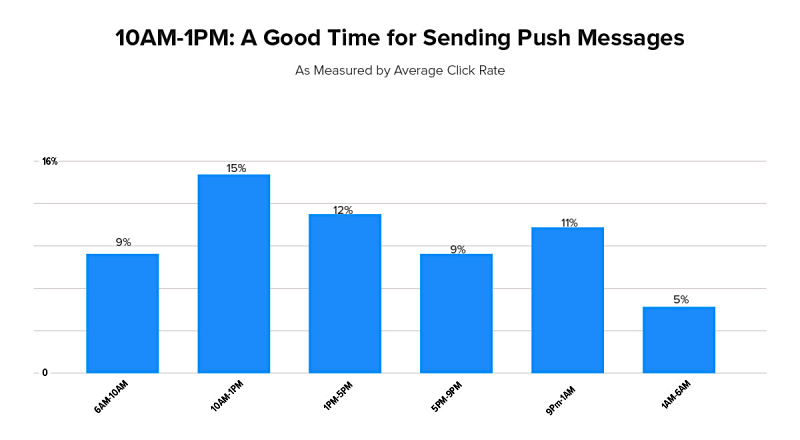 4) Enhance Your Customer Experience
You need to be very careful when preparing your push notification strategy. Remember that the user has the option to opt out, so your strategy could backfire if you send too many push notifications with irrelevant information. Annoying people with unrelated content will drive them away, and it is very difficult to get users back once you've been 'muted'.
To avoid losing customers, limit the number of push notifications you send out. It depends on your business, of course, but you shouldn't send out more than one notification per day. Studies show that the first notification of the day sees a CTR of about 9.17% and decreases with every additional notification that you send on the same day.
Send only appropriate content or updates that add value to the users, and trying adding useful emojis to make them more appealing.
Dive Deeper: 9 Ways to Deliver the Best Digital Experience to Your Customers
5) Personalization
Personalization is the most crucial element in the age of information. Sending just a hello message or reminding customers of general news is not the way to an effective push notification strategy – that will get you a bunch of opt outs instead of a boost to your business.
Here's how to personalize your notifications:
Segment Your Customers: It is critical to segment your push notifications because customers may respond differently to different notifications. Ask yourself what your customers are looking for, track their purchase history so you know what their buying behavior looks like, and adjust the kind of notifications you send them accordingly.
Know the Key Demographics: The importance of knowing the key demographics and understanding what works best for a particular audience is essential while targeting a user base. Geo-tracking your customers is also an important aspect when segmenting them. Other options for segmenting your users include:

Gender
Location
Age
Interests
Purchase history
Browsing history

Use Geofencing Technology: Location-based services to target users through your app is also an important element. Let's say you have a chain of restaurants in many locations. If users have your app downloaded to their devices, they can get an immediate notification about the restaurant's holiday hours, type of foods they offer, including new menu items, and discounts or promotions whenever they're in the proximity of your geo-fenced area.
Dive Deeper:
6) Apple and Android Push Notifications
Push notifications have gradually become an all-important part of mobile marketing these days and because they're quite effective at getting users' attention, it can be very easy to abuse them. Thus, it is important to understand push notification best practices in both Android and Apple devices.
Ensure that the notifications adapt to the different platforms' features and check out how it looks on both Apple and Android devices since there are variations between the appearance of notifications depending upon the device and software version.
According to Learnplum, iOS users open their push notifications 7x quicker than Android users. However, Android users get higher open rates (this happens because of the differences in the software on the respective devices).
Android users are automatically subscribed to push notifications when installing a mobile app. However, Apple users need to manually allow the app to send notifications.
Takeaway
Push notifications significantly improve sales from your mobile app. The above-mentioned tips will definitely help you improve your strategy by more effectively targeting mobile users.