Artificial intelligence (AI) is a super hot topic right now in marketing.
According to a Teradata study, 80% of enterprises report that their organization already has some form of AI in production. The study also revealed that one of the top planned areas for AI investment for brands was customer experience.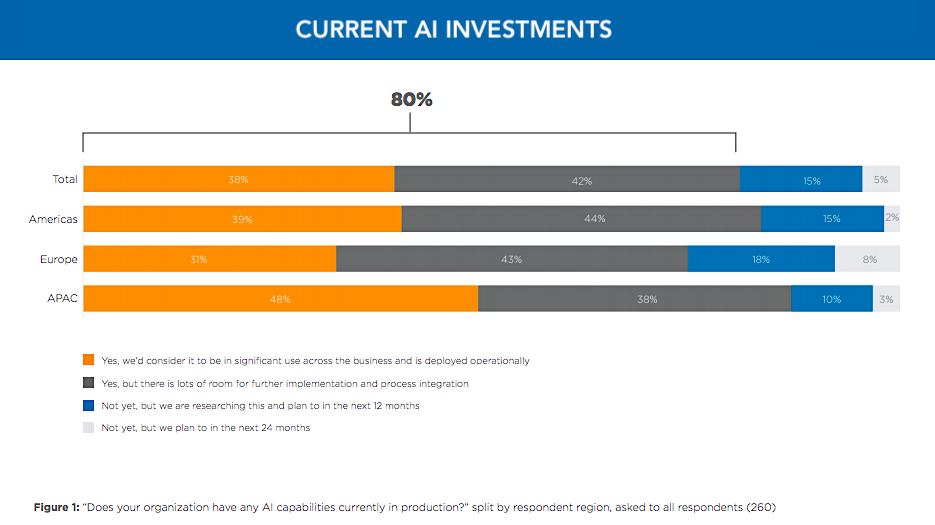 From providing a seamless omnichannel experience to better personalization, artificial intelligence opens up a lot of new possibilities. By tapping into the power of data far faster and more efficiently than humans ever could, AI can improve the overall customer experience.
First, a few quick distinctions:
Artificial intelligence is a collection of machines that respond to stimulation in ways similar to how a human would. It can make decisions that normally require a human level of expertise.
Machine learning is a technology that analyzes vast amounts of data in order to discover trends and glean insights. It provides AI systems with the ability to automatically learn and improve.
Deep learning is a subset of machine learning that is capable of learning from unstructured data without human supervision.
Data science is the study of where information originates, what it means and how it can be interpreted.
Big data is the analysis and extraction of complex, continually growing data sets that are too large for traditional data-processing software to manage.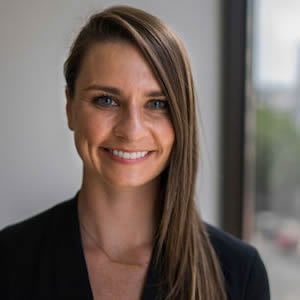 Jacqueline Foster
Demand Generation Marketing, Lever.co
We can count on them to bring new ideas to the table consistently
How AI Can Help You Improve Customer Loyalty
If you want to have skin in the consumer game, you need to jump on the AI trend. Do it right, and you're likely to win some loyal customers. AI is a great tool that enables businesses to nurture their customer relationships with ease.
In this article, we'll take a look at six ways that AI can help you improve your customer loyalty.
1) Use Predictive Analytics to Keep Your Customers Well-Stocked
What is predictive analytics?
Predictive marketing analytics is a branch of advanced analytics that harnesses all that big data to predict future events or results. It integrates various techniques from data mining, statistics, modeling, machine learning and artificial intelligence to process and analyze various data sets for the purpose of developing predictions.
Understanding the needs of your target audience is at the core of every successful marketing strategy. With AI, you can get insights into their behavior and predict what they are likely to look for.
Machine-learning algorithms look at customers' past buying patterns in order to predict their future actions. Using this strategy, you can identify potential threats that may affect their buyer's journey. It gives you information in advance, so you can act on it ahead of time.
Sephora uses predictive analysis for their email marketing campaigns. With this technology, they are able to easily keep track of their customers' purchase histories and then, based on the date of purchase, they calculate how long it will take for the product to run out: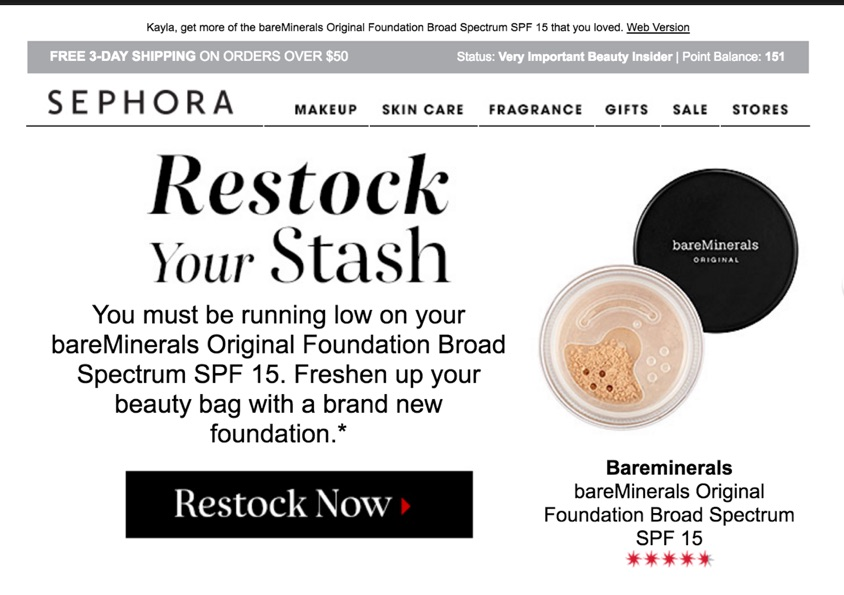 When the product is about to run out, they send their customers emails with relevant offers for the product. In addition, they feature complementary products in their emails, which is a great way to ensure that customers remain happy with and loyal to the brand.
Dive Deeper: How to Use Predictive Analytics for Better Marketing Performance
2) Give Personalized Recommendations for Individualized Experiences
Personalization is extremely important for customer loyalty. That's because consumers are more likely to make a purchase if you give them something that they will actually like or are looking for. After all, if you're getting what you want, you're not likely to move to a competitor brand.
For successful personalization, the key is to understand your customers' preferences. Rather than manually cull through each user's history, AI can help you discover exactly what your customers like quickly and easily. And then based on that, you can tailor the content you show them or the products you suggest for them.
Sound familiar? From Netflix to Amazon, many big brands use this AI strategy to improve the customer experiences they provide.
Recently, Spotify announced that they will use AI to provide personalized playlists based on a listener's tastes. When they tested this system, they found that listeners were more likely to listen for a longer duration when they were presented with personalized playlists.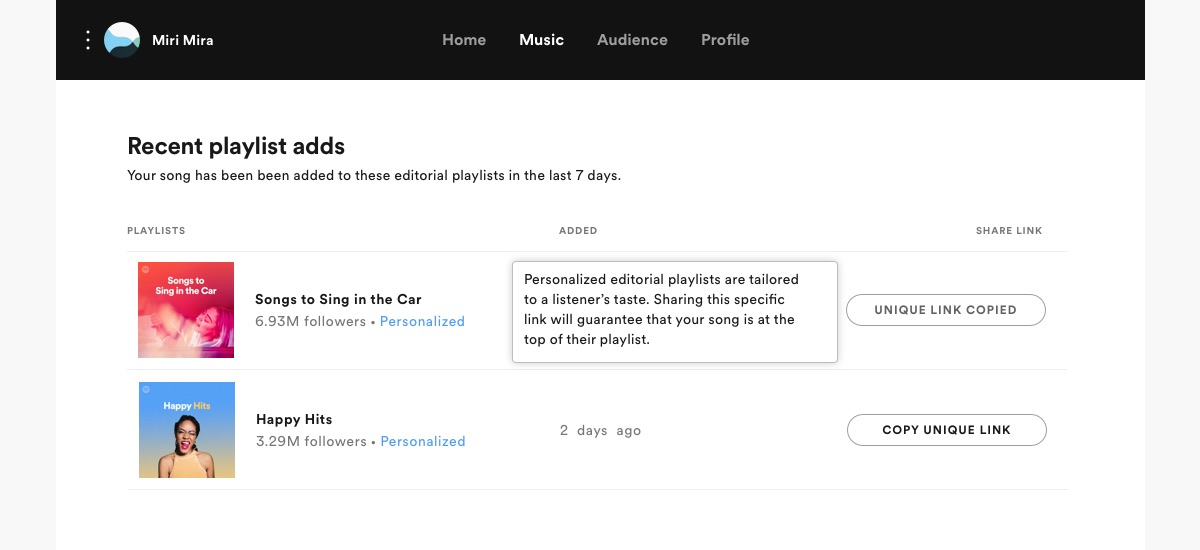 Moreover, they found that 80% of listeners sought out a track on their own after discovering a song in their personalized playlist. Not only that, but the number of times that listeners saved a track went up by 66%.
Dive Deeper: 3 Ways to Personalize the Customer Journey Experience
3) Use Chatbots for More Effective Engagement
What makes a customer loyal to a brand? According to a survey, one of the main drivers for loyalty is superior customer experience (CX). In the survey, respondents said that they would not only be willing to try additional products from brands that offered a better CX, but they'd be willing to pay a bit more, too – up to 16% more: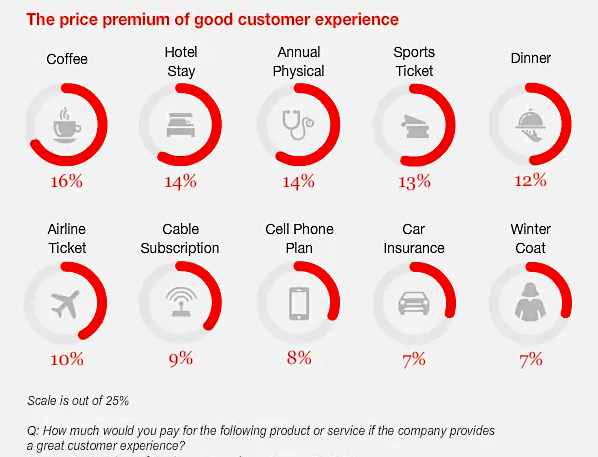 That's where chatbots can come in handy. Chatbots can handle customer queries and resolve them instantly. With 24/7 availability, you can definitely earn some brownie points for customer experience.
But there is more to intelligent chatbots than just answering a simple question. You can use chatbots to inform your customers about your new products, events, discounts and more. They can even notify users about the status of their orders.
For instance, many airlines now use chatbots for several tasks:
Icelandair uses a Facebook Messenger chatbot in which passengers can book flights right within the app.
Colombia's airline Avianca uses a Facebook Messenger chatbot so that travelers can check in to their flights within the app.
Mexico's Volaris uses a chatbot for their airline concierge, called Vale, that allows passengers to book flights and answer any flight-related questions.
Many airlines, including United, send text alerts to customers in the event of flight delays.
Airlines are not generally known for their efficiency and top-notch customer service, but with the use of AI and chatbots, effective communication can improve customer satisfaction. This, in turn, may improve your customer loyalty.
Dive Deeper: Facebook Messenger Chatbots: The Step-by-Step Guide to Getting Massive Results
4) Create AI-Based Customer Loyalty Programs
Whenever a customer takes any action – views an item, purchases an item, leaves a review – deep learning algorithms record it. Then when you analyze this information, you can create specific customer personas segmented by age, location, interests, and more.
With these segments, you can better personalize the incentives that you offer your customers. Instead of following a one-size-fits-all model, you can tailor it to meet each of their requirements. So if you have five different customer personas, you can come up with five different loyalty programs. Each one can have an incentive that meets the specific needs of the particular audience segment.
Another way AI can transform traditional loyalty programs is through digitizing them. With chatbots, you can move your loyalty program online.
Marriott International is one of the big brands that has nailed this strategy: They've linked their loyalty program to their chatbot, which is available on Slack and Facebook Messenger: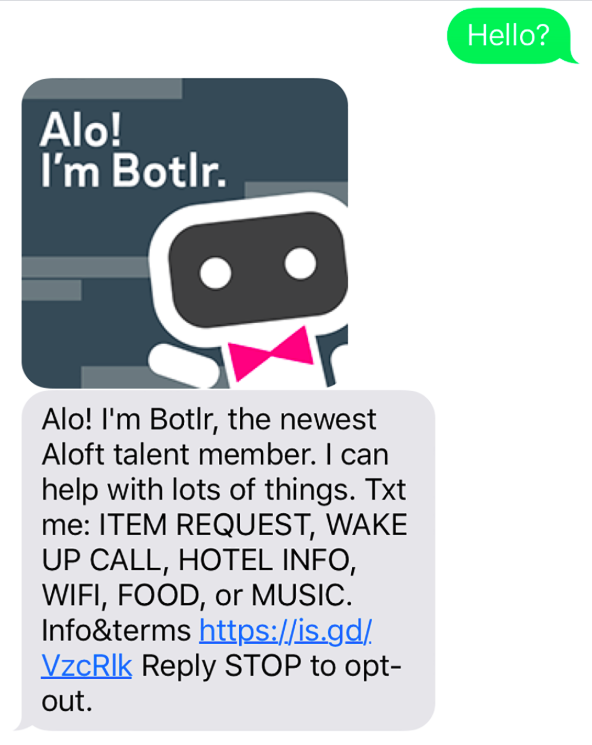 A customer can use their chatbot to see if a hotel room is available in New York. Even if they don't end up booking a room, the chatbot sends them links to content that they may be interested in. Their bot-based loyalty program allows members to review various benefits and explore frequently asked questions: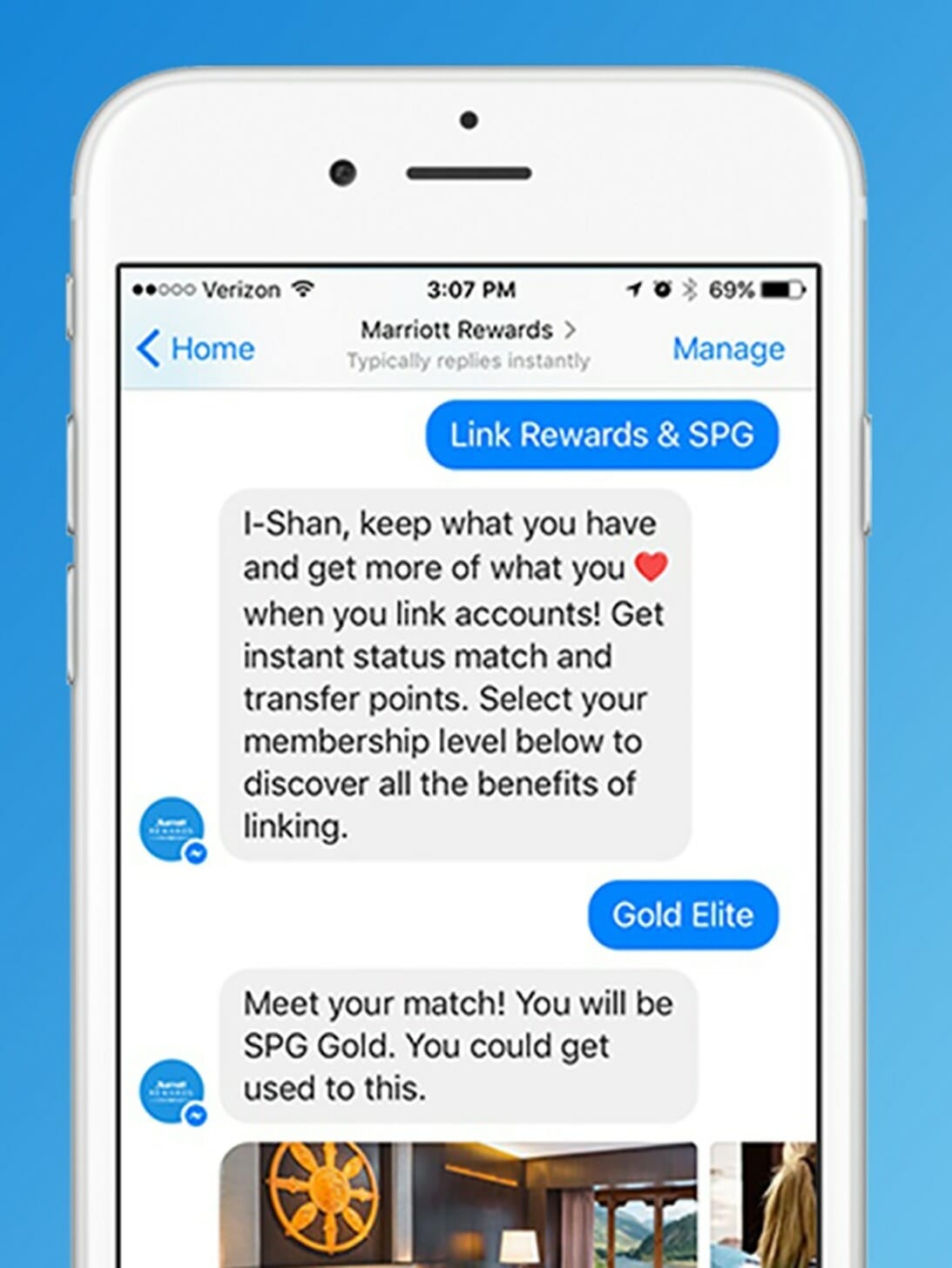 Dive Deeper: Segmentation 101: A Strategist's Complete Guide to Marketing Segmentation
5) Optimize Your Prices with Self-Learning Algorithms
Did you know that the most important factor for consumers when making a purchase decision is the  prices? So even if you have a stellar product, you may lose out on customers if you don't get your pricing right: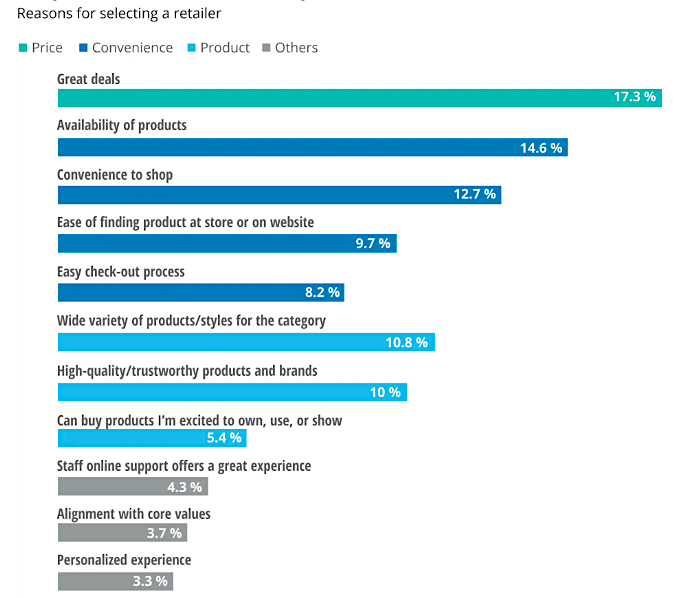 Getting the price right is an art (as the old TV game show The Price Is Right knew). You need to make sure that your business stays profitable, but at the same time, it shouldn't burn a hole in your customer's pocket. AI can help you strike a delicate balance between the two.
Some AI-powered software solutions use self-learning algorithms to suggest optimized prices. After scanning large amounts of data and analyzing different pricing scenarios, they come up with pricing suggestions. They look at past transactions, pricing of competitors, contextual data, and then conduct a win/loss analysis.
The findings can help companies gauge the willingness of people to pay a certain dollar amount for a product. It's a great solution that can help you predict the price that is most likely to get you sales.
It equips you with information to decide if a product is underpriced or overpriced. You can use that research to stay updated about pricing trends in your industry. That, in turn, can improve your negotiations with your suppliers.
Dive Deeper: The Competitive Pricing Strategy Guide (Covers B2B and B2C Businesses)
6) Implement AI for Better Product Innovation
Another under-utilized benefit of AI is product innovation. With artificial intelligence, you can better understand what your customers want. So why not use this knowledge to design products that meet their requirements?
Let your R&D department know what your customers are looking for so they can come up with solutions that address your audience's specific pain points. It's a great way to get an edge over your competitors.
Tommy Hilfiger's project "Reimagine Retail" is an excellent example of how artificial intelligence can help you innovate. They used AI research tools to understand the latest trends in their industry and to gauge how customers viewed their products.
They also used this technology to identify the main themes in colors, patterns, styles and silhouettes, and AI enabled them to analyze a massive database of visuals and text in a matter of minutes. This task of analyzing the findings would have been almost impossible for their designers to do on their own.
The company shared the results with their fashion designers and asked them to keep those findings in mind while designing their next collection. In this project, they leveraged the power of deep learning, computer vision and natural language processing to enhance their product design.
With AI personalization, you will no longer just be creating new products; you'll be giving your target audience what they actually want and need.
Dive Deeper: How to Use Amazon Reviews for Content and Product Development
Check out our 6-minute video How to Make a Sales Funnel that Converts Loyal Customers:
Wrapping Up
Building customer loyalty takes a lot of time and hard work. Smart companies are not only using AI to deliver a superior customer experience and thus brand loyalty, but 61% of organizations plan to employ a Chief AI Officer in the future: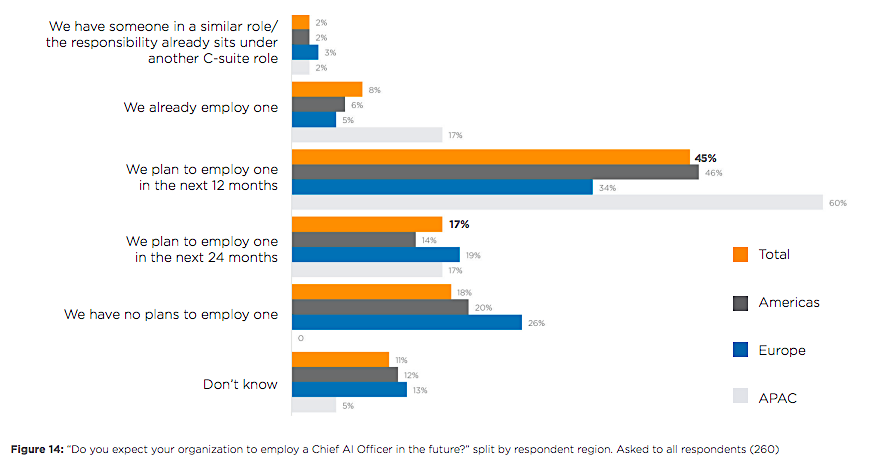 AI technology, including machine learning and big data, can help you to understand your customers better and thus predict their future behavior. By analyzing their behavior, you'll be able to ascertain their requirements, likes and dislikes. Accordingly, you can offer content and products that they'll like and improve their experience when interacting with your brand.
When customers feel like their needs are met and their voices are heard, they are likely to be more satisfied with your brand. This, in turn, can turn them into loyal customers.
Click To Tweet
If you want to boost your loyalty and improve your customer experience, it's time to embrace AI!