When it comes to growing organic traffic, many of us default to just producing more and more blog posts. We think that if we produce enough blog posts, traffic should go up automatically.
And it's true… for the most part. The data supports it. According to HubSpot, your organic traffic could grow exponentially if you publish several times a week instead of just posting once or twice.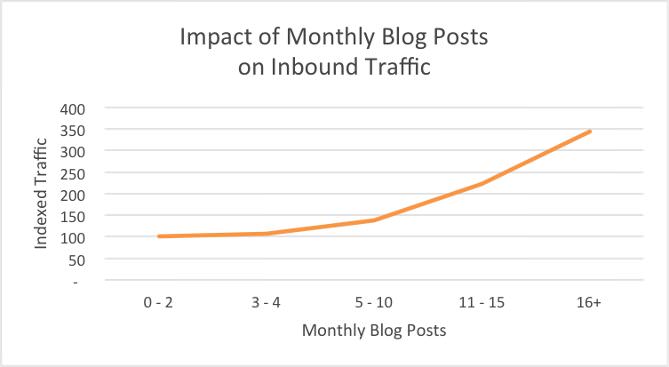 Source: HubSpot
But the reality is, there's a lot you can do with your existing blog posts to grow your organic traffic – without having to spend time and resources writing new posts and waiting for them to pick up steam in search. Your old blog posts have already stood the test of time, at least from Google's point of view when it sees that your posts have already gotten some traffic, shares, and general promotion.
Because of that, you could get a much bigger boost in search results by updating old content, instead of creating a new post from scratch.
Let's say you have old blog posts on your website that each get around 100 visits per day at a 2% conversion rate to e-mail subscribers – meaning, you get two subscribers on your e-mail list every single day. If you spend, say, 30 minutes adding another 500 words to that blog post, you could potentially skyrocket your traffic to 300, maybe even 400 visits per day. At the same conversion rate, that would mean you'd be getting up to eight subscribers a day.
Depending on how you're utilizing your e-mail list, those numbers could add thousands of dollars to your bottom line.
Learn More: 22 Potential Reasons Why Your Organic Traffic Recently Dropped
We picked ten old posts that were published on our blog and we added approximately 500-1,000 words to each one in order to gauge how many visitors we'd get after a 30-day period.
Here's what we found: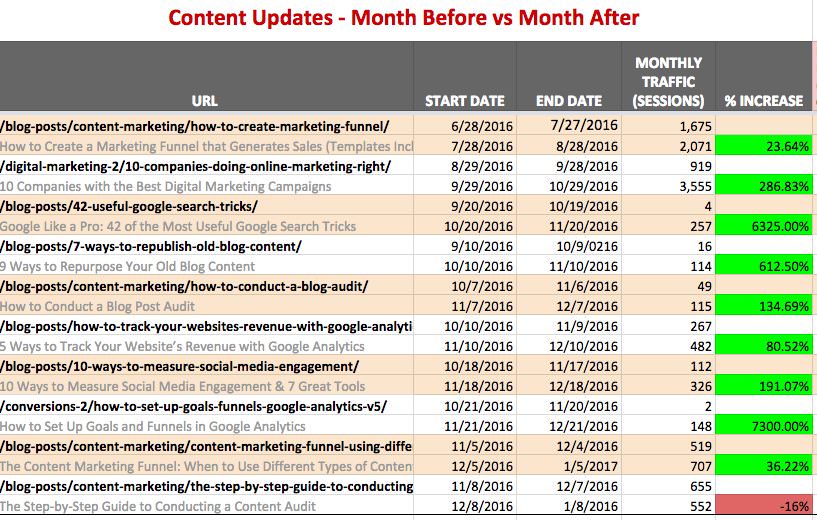 For example, on our post titled "7 Ways to Republish Old Content," we got 612.5% more traffic from 10/10/2016 – 11/10/2016 compared to 9/10/2016 – 10/10/2016.
On our post titled "10 Ways to Measure Social Media Engagement," we got a 191% traffic boost after updating it.
Out of ten blog posts listed here, we got an average lift in traffic of about 100%. Some went as high as 7,300%, while one actually decreased in traffic.
Notice how massive many of these traffic boosts really are. Depending on how many blog posts you have on your site, this could make a huge difference in the number of visitors and e-mail subscribers you get.
In this blog post, we'll talk about how we went about updating old blog posts to get such big traffic spikes.
How to Update Old Blog Posts
Old blog posts are typically much more valuable than new ones. Because Google has already indexed them and sees that they're legit, they're more likely to give them more visibility over a new post that hasn't "proven" itself yet.
Here are the steps we took to update old blog posts for a major traffic boost:
Step 1: Figure Out Which Blog Posts to Update
Figuring out which blog posts to update isn't as simple as picking random (or your favorite) posts you wrote long ago. It's important to go through and choose articles that will give you the most results for the time you invest in updating them.
One way we filtered out which blog posts were "worth it" was by going on Ahrefs, clicking the "top pages" link under our domain, and then looking at all the pages that were just outside the top 10 search results for the target keyword.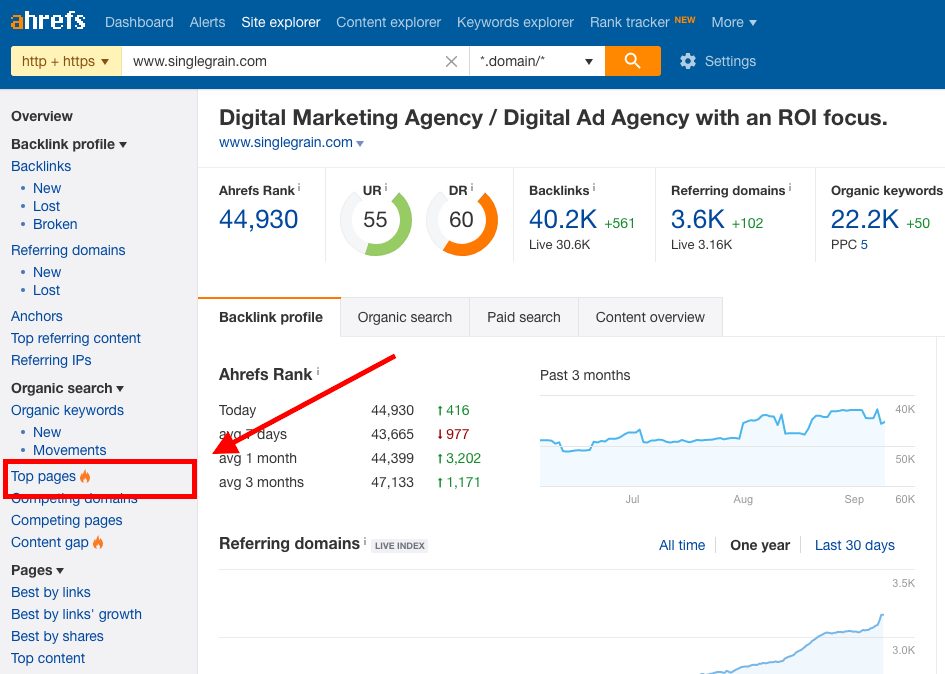 Once we accessed the "top pages" list, we saw a list of top pages on Single Grain's site. On the right site of the page link is the focus keyword, estimated search volume for the keyword, and the position in search results, respectively.


For example, in the image above, "Using Black Hat SEO Tactics in a White Hat Way" is ranking number 13 in search for "black hat SEO." The post on e-mail marketing funnel templates ("9 Proven E-mail Templates to Add to Your Conversion Funnel") is ranking number 10 for the keyword "sales funnel templates."
If we updated these blog posts, we'd likely bump up the rankings by a few spots. And because these keywords have relatively high search volume and we're ranking around the top 10 mark, it could make a big difference in the number of subscribers we get per post. That's why we prioritized these types of posts.
If we focus on posts that are lower in rank, we'd still get a traffic boost, but chances are, it wouldn't be as significant. Going from page 4 to page 3 makes less of a difference than going from page 2 to page 1.
Step 2: Update Out-of-Date Links
When updating new blog posts, the first thing we did was go through and update links that were out of date.
If you're writing long-form, well-researched blog posts, chances are you're linking to a lot of other resources related to your article's subject. But if articles you're updating were originally published over a year or two ago, then some of the resources you've linked to may be outdated.
They might be inactive, or they might contain stats from studies done years ago. In cases like this, you'd want to find other resources that were written more recently.
Updating your links to ensure that they're both up-to-date and from authority sources will allow your readers to trust you, knowing that you have put in the time to create a well-researched piece of content. This will also encourage people to link to your content rather than posts written by others.
Related Content: Step By Step: Unnatural Links Manual Action Removal Guide
Step 3: Add Additional Words and Improve Readability
Once we update links, we start adding more words to our blog posts.
There are different ways to expand on the material you already have in your posts. You might want to add more case studies and examples. You could add new tools and techniques that you didn't cover in your original post.
For example, on our blog post on writing effective e-mails, the original title was "7 Proven Email Templates to Add to Your Conversion Funnel." The new title, after our update, is "9 Proven Email Templates to Add to Your Conversion Funnel."
We added a couple of different types of e-mails that we didn't include in the original article, such as "Live Training":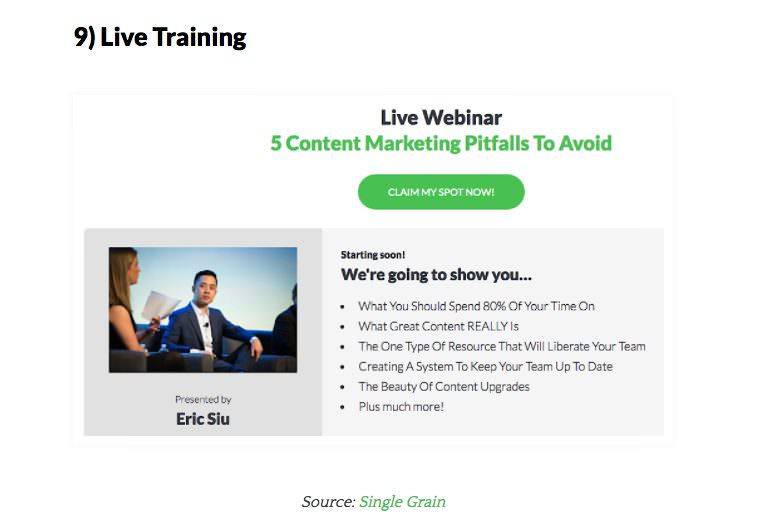 We also have pieces of content that we update based on the year in order to keep them relevant. For example, our post on effective SEO techniques was originally titled "Effective SEO Techniques that Work in 2016."

At the beginning of 2017, we updated the blog post with the latest information about SEO techniques and tools to keep the post up to date. We also changed "2016" to "2017" in the title and blog post image to reflect this, but not so much that it looked like a completely different post. At the beginning of 2018, we'll update this one again.

When updating blog posts, we usually shoot for a minimum of an additional 500 words, and a maximum of around 1,000. When we stay within this range, we typically notice that we're able to double, triple, or even quadruple our traffic from one single post.
Related Content: 
Conclusion
The easiest way to skyrocket your organic traffic without increasing your content output is by publishing content updates on your old blog posts. This way, you can grow your traffic numbers without investing more money in full-blown content creation from scratch.
By constantly publishing updates, we're able to get between a 100%-400% traffic boost from old blog posts, and push our ranking into the top 10 spot.