One of the biggest challenges enterprises face is scaling SEO campaigns with limited time and resources. But there is an easy solution: outsource enterprise SEO.
How do you know if it's the right time for your business to outsource? How do you know which vendor fits you best? What are the benefits of outsourcing?
This guide will answer all these questions and share key factors to consider when finding the right SEO vendor for your enterprise.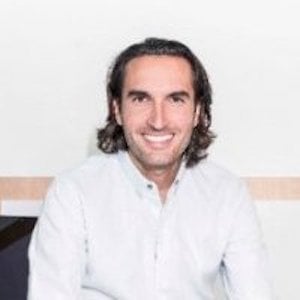 Yaniv Masjedi
CMO, Nextiva
Their expertise has helped Nextiva grow its brand and overall business
What Is the Best Time to Outsource SEO?
Whether or not you decide to outsource SEO (and when) depends on several factors, such as the size of your business, your budget and your current SEO knowledge. This may apply to you whether you're a small business, a startup or an enterprise company.
In a nutshell, it's best to outsource SEO when you already have clear goals for your business and a strong foundation for your website's technical SEO.
The right time to outsource SEO for your enterprise is when you face any of the following challenges:
Your in-house team cannot keep up with the SEO tasks at hand, impacting other aspects of your website performance.
Your website traffic and rankings have plateaued over time.
Your in-house team struggles to learn different SEO components: technical SEO, on-page SEO, and off-page SEO.
You are not winning against your competitors on search engine results pages.
You want to expand your online presence by targeting a wider audience.
Dive Deeper: Outsourcing: The Passive Path to Growing Your Business
What Are the Benefits of Outsourcing Enterprise SEO Services?
Here are the key advantages of working with external SEO experts:
Free Up the Workload on Your In-House Team
As an enterprise, the workload is huge and may even require team members to wear multiple hats. In such a scenario, the tasks are constantly increasing, as SEO is more than just fixing titles and meta descriptions.
By outsourcing enterprise SEO, you can reduce this workload and free up your in-house team to work on core business functions while the SEO agency handles the day-to-day SEO activities.
SEO requires a significant amount of time and resources, including keyword research and tracking, on-page optimization, link building and content creation. By outsourcing these tasks to an experienced SEO agency, your employees can shift their focus to other critical business tasks, such as product development, customer service and sales.
Work with Experts with Specialized Skills and Years of Experience
To win at SEO, your in-house team needs to stay up to date with emerging trends and evolving algorithms. Additionally, they must understand growth trends and develop SEO strategies to maintain your search presence. All of this can be challenging to excel at.
That's where outsourcing SEO to experts can reduce your stress and help maintain your search visibility.
For instance, here at Single Grain, we have 12+ years of experience offering SEO consultation to big businesses like Uber, Amazon, Lyft, Salesforce and Airbnb. Not only this, but we have delivered outstanding SEO results for them. As a full-service digital marketing agency, we have teams that are experts in SEO as well as CRO, PPC and content marketing.
This means that we can use our skills to do keyword research, increase site visitors and boost your link-building efforts, as well as optimize your website and landing pages, launch a PPC campaign or put together a content marketing strategy, if you so choose.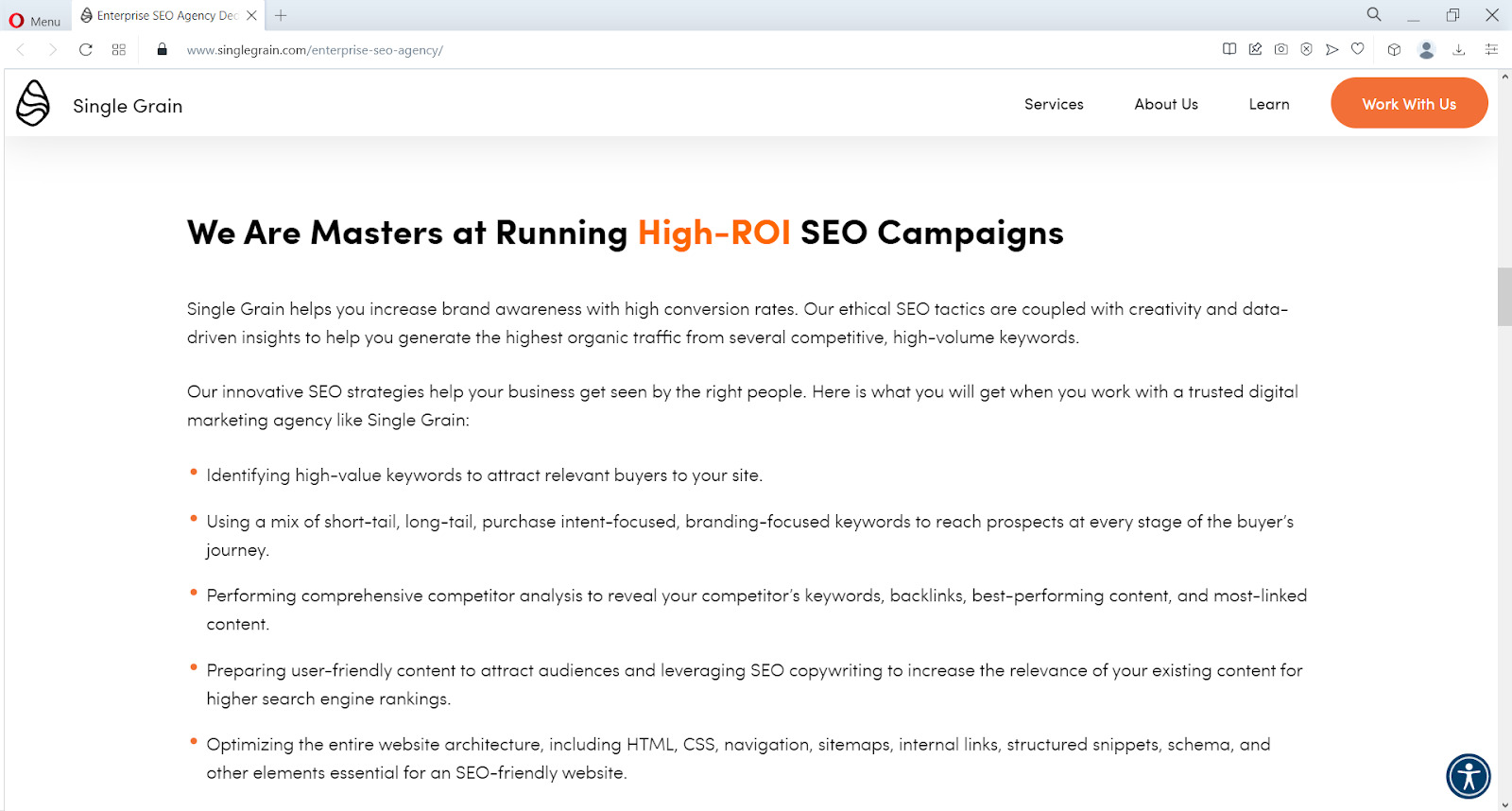 Better Accountability and Consistency
Outsourcing global or local enterprise SEO services can provide better accountability and consistency for your business by working with a specialized agency that is solely focused on delivering SEO results. SEO requires a long-term strategy and consistent effort, and hiring an expert can ensure that your SEO efforts are not neglected or interrupted due to competing priorities.
When you outsource SEO to a professional agency, you'll get regular reports that will keep you informed of the progress and results of your SEO campaign. The agency will also have a team of dedicated professionals who are focused solely on your project, so that your SEO strategy is executed consistently and with attention to detail.
Plus, hiring outside help will ensure that your business is using best practices in SEO that adhere to search engine guidelines. SEO firms are familiar with the latest SEO trends and techniques, and not only can they provide insights and recommendations, but also help reduce the risk of penalties or negative impacts to your website's search engine rankings.
Dive Deeper:
* The Benefits of Lead Generation Outsourcing
* 5 Ways Your Business Benefits from PPC Outsourcing
* Why You Should Outsource Link Building to Boost Your SEO Efforts

3 Ways to Outsource SEO for Your Enterprise
There are three ways you can outsource enterprise SEO. They are as follows:
1) SEO Freelancers
You can find these SEO freelancers on social media platforms and freelance websites like Upwork or Fiverr. These professionals can take up occasional SEO work, such as optimizing the pages that have dipped due to the latest algorithm updates. A contractor can perform this task much cheaper than an agency or company.
SEO freelancers are recommended for outsourcing enterprise SEO:
If you have a lower budget: Freelancers are cheaper than a company or SEO agency. Plus, a one-off project might cost less than a well-planned SEO project.
If you have minimal SEO needs. An SEO freelancer is ideally suited to handling one-off projects. For example, improving organic rankings for designated pages or getting a specific number of backlinks in a month.
SEO freelancers are not recommended for outsourcing enterprise SEO:
If you have high-end projects. In such a scenario, multiple people's involvement is required for the success of a given project, such as improving your enterprise's technical SEO.
If your enterprise requires more occasional work. More demand for occasional SEO tasks such as keyword research, building external links, etc., means you'll pay more to a freelancer. In this case, an agency or SEO firm would be your best bet.
Dive Deeper: How to Charge Clients: For Freelancers and Agencies
2) SEO Companies
When you outsource enterprise SEO to an experienced company, you get to work with multiple people skilled in different aspects of SEO. This signals that they'll take care of everything from planning to executing with their SEO techniques, reducing your team's workload.
SEO companies are recommended for outsourcing enterprise SEO:
If you want to scale your enterprise SEO. Outsourcing enterprise SEO is the best option if you want to diversify your brand presence or reach a new audience.
If you have a huge budget. As these companies are SEO experts, they often charge more than freelancers.
If you want to offload the majority of your internal SEO work. By outsourcing SEO services to them, you can involve your internal team in other digital marketing efforts.
SEO companies are not recommended for outsourcing enterprise SEO:
If you need help with non-SEO tasks. There may be tasks related to your SEO work that don't fall under the scope of an SEO company's offerings. For example, it may be necessary to optimize your landing page to improve your SEO performance:

3) SEO Agencies
Hiring an SEO agency is an ideal way to outsource enterprise SEO as you work with a specialized team at affordable prices. The best part is that you can streamline your workflow by offloading other marketing tasks. For example, the agency will handle code implementation, social media strategy or PPC audits, based on the SEO package you choose.
SEO agencies are recommended for outsourcing enterprise SEO:
If you want an expert's opinion. Agencies have a team of experts who can help you develop effective strategies to improve enterprise web page performance.
If you need help with various digital marketing tasks. SEO doesn't work in silos. It requires input from other team members, such as designers, developers, and copywriters. An agency often has these people and can help you with these services within the SEO package.
SEO agencies are not recommended for outsourcing enterprise SEO:
If you want quick responses and reports. Agencies serve multiple clients, so they might take longer to respond to your queries.
If you want more control over your campaign. Even though you have the final say about your SEO efforts, agencies will pitch in more based on your campaign's performance and results.
Dive Deeper: Best Global SEO Agency: Top 5 Picks for 2023
How to Choose the Right Enterprise SEO Service Provider
Once you decide to outsource enterprise SEO, you must identify which agency or SEO company will be the right fit for you.
The first step is to clarify your SEO goals. Much of your enterprise SEO service provider's research will boil down to the goal you want to achieve and your budget. It will help you narrow down the research and look for agencies or consultants to win.
Once you have that, look for these five key factors to make the right decision:
Learn About Their Experience and Expertise
Check if the SEO professionals have experience managing a large enterprise in your niche as yours. It will help you understand if they helped solve your pain points previously and assess if they could deliver the same results for your enterprise. Apart from this, dive into their industry knowledge and skillset.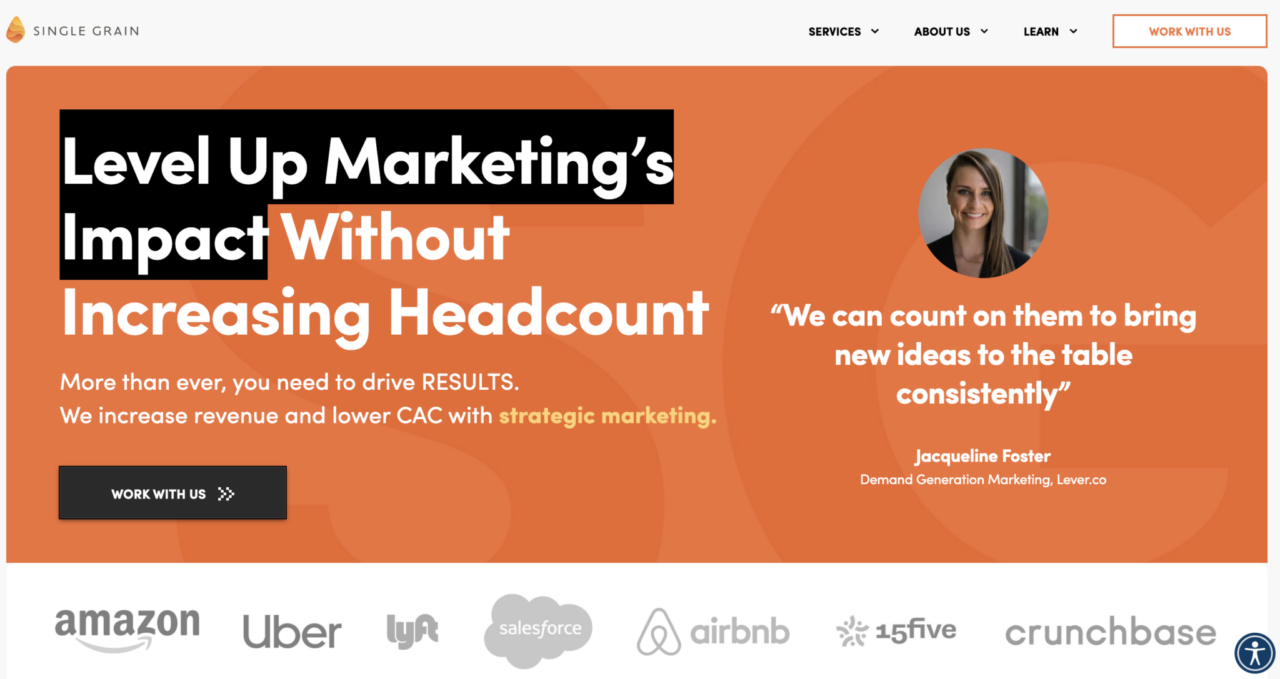 Make Sure They Maintain Transparency and Clear Communication
SEO can be technical, so work with someone who can explain it clearly in simple terms. Also, ensure that they maintain clear communication and share timely results with you. If they're hard to get hold of via phone or don't respond to emails during your initial consultation, that may be a sign of what's to come if you were to work with them.
Read the Case Studies on Their Site
Case studies can be an excellent source to learn about an SEO company's approach to solving specific pain points. Based on that, you can assess whether their approach can help you. Moreover, you'll get insights into the results they helped drive their other clients.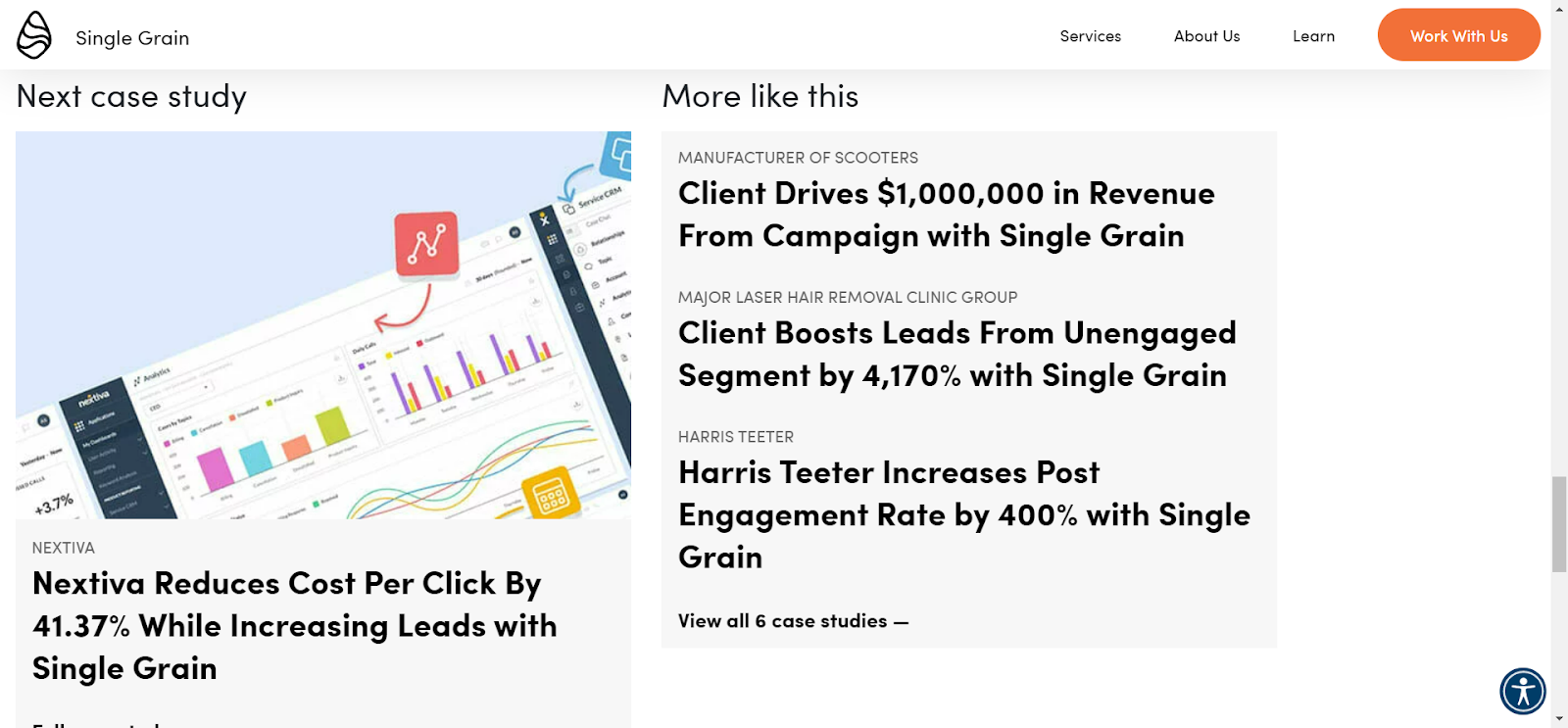 Check Reviews on G2 and Capterra
Capterra and G2 can also be helpful resources for finding the right SEO agency or consultant for your enterprise: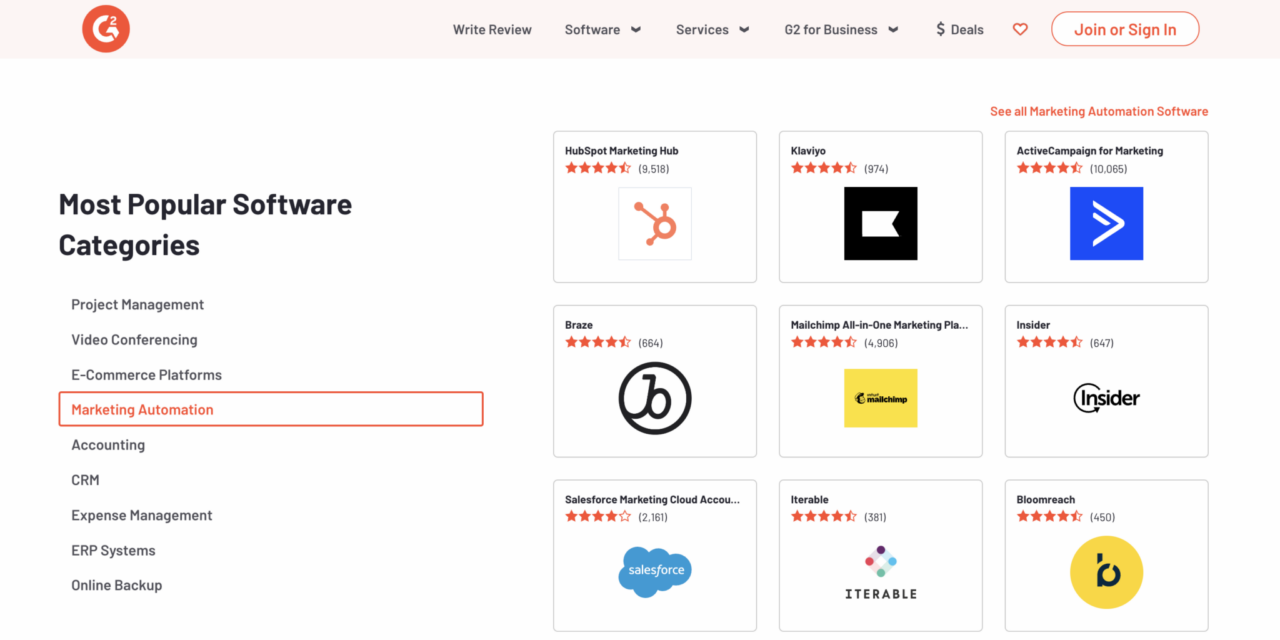 You can check the overall review and customer feedback and even talk to the reviewer to know more about the SEO service provider. This way, you'll get even more in-depth information than the vendor's landing page.
Ensure That They Can Collaborate with Your Team
While outsourcing SEO for your enterprise, check their willingness to collaborate with your team members. As your in-house team already knows about your enterprise's workings, they can work closely with enterprise SEO agencies or consultants to deliver desired results.
Once you have a short list of potential enterprise SEO providers, schedule a consultation call and ask the following questions:
What makes you different from your competitors?
Can you summarize your SEO techniques and process?
What is your pricing model, and what SEO services do you offer?
Which SEO software do you use to execute different SEO components?
How long will it take to see the desired results?
How do you track SEO campaign performance?
Can you give an overview of SEO metrics?
How many clients have you worked with in the same vertical?
Can you share some case studies in the same vertical as our enterprises?
Do you outsource or resell contracts?
How do you maintain our data's safety and confidentiality?
Dive Deeper: How to Choose an SEO Agency (to Help Grow Your Business)
Best Practices to Follow to Outsource Enterprise SEO
When you outsource SEO services for your enterprise, there are certain things you must remember to get a good return on your investment.
Here are some of the best practices to help you get there:
Ask for a Custom SEO Proposal
Even though you have done your due diligence, it's advisable to ask an agency or consultant to create a custom SEO proposal for your enterprise. Many agencies and contractors create a customized strategy by studying your pain points, target audience, existing website performance and other such factors.
The proposal can remove a lot of guesswork. It can help you get first-hand information about their approach to solving your enterprise SEO issues and goals. You can also book a free consultation call and learn their approach to understanding your enterprise requirements.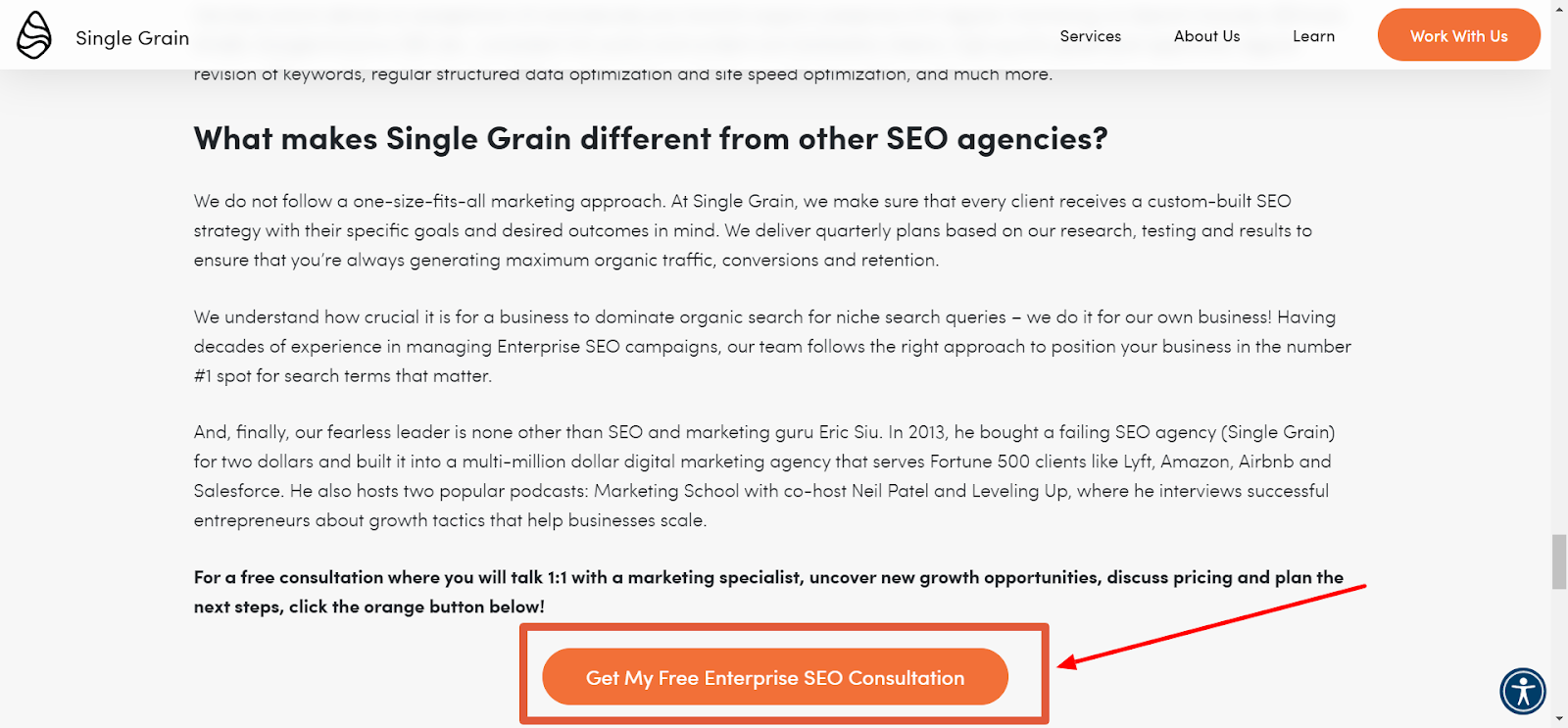 Provide Vendors with SEO Briefs
An external SEO service provider won't know about your website as much as your internal team does. So it's up to you to familiarize them with all the essential information they need. It will help them prepare an effective SEO strategy to deliver higher ROI.
Ensure that you handle this brief before they start working on the project. It will help them follow up on queries to avoid mistakes. Here are some key things to share in the SEO brief:
Outline your campaign objectives.
Give a brief overview of your website.
Outline expected deliverables and timeline.
Share your process regarding check-ins and follow-ups.
Always Sign a Contract
Getting a contract signed before working with an SEO outsourcing company or agency is always wise. A contract defines the scope of work so you can hold the SEO provider accountable for any lack of SEO services. As a legally binding agreement, it helps both parties resolve conflicts with pre-defined terms and conditions.
Last Word on Outsourcing Enterprise SEO
For an enterprise to improve its search engine rankings, you must provide them with a lot of information. For instance, you need to inform them about the target audience, the current SEO tactics, and the budget for SEO activities.
Working with the finest, most reliable, and most reputable enterprise SEO firm or agency is essential for success. To find such agencies or contractors, you must thoroughly research, consider different angles, ask for references, and make multiple consultation calls.
If you're ready to grow your enterprise business, Single Grain's enterprise SEO experts can help.👇