5 Ways Your Business Benefits from PPC Outsourcing
Why bother hiring a PPC outsourcing agency when you could do all the work in-house and keep 100% of those rewards for yourself?
After all, there's a whole host of free and affordable PPC tools out there, not to mention a plethora of information showing you how to make the most of them.
So what can a team of PPC specialists possibly do for your business that you couldn't do on your own?
In this guide, we'll go over the benefits of outsourcing your pay-per-click campaigns.
What Is PPC Outsourcing?
Pay Per Click refers to a form of digital advertising whereby businesses place ads on search engine results pages like Google and Bing, social media platforms like Facebook, and other high-traffic platforms like Amazon. Then they pay a fee every time a user clicks on one of those ads.
It's an approach that can prove highly effective in generating more traffic, leads, and sales, with the average business generating a 200% ROI on Google Ads alone.
PPC outsourcing is simply when you put your PPC campaigns in the hands of trusted experts who use their skills, experience and industry know-how to help business owners generate even higher returns by maximizing the efficiency of each and every campaign.
Dive Deeper: Beginner's Guide to Amazon PPC Ad Campaigns
5 Ways Your Business Benefits from Outsourcing PPC Campaigns
In this section, we'll explore five ways that your business can benefit from outsourcing your PPC campaigns to a specialized agency or expert. From improved campaign performance to cost savings, outsourcing PPC can be a game-changer for your digital marketing strategy.
1) Eliminate Wasted Ad Spend with a PPC Audit
If you're even considering outsourcing PPC services to an agency, there's a reasonable probability that you've already been running PPC ads and not seeing the results you want.
For some businesses, this can be a head-scratcher, especially if people are clicking on your ads but not actually buying anything from you.
A reputable PPC specialist can solve that conundrum by carrying out an in-depth PPC audit. They will:
Analyze your keyword selection
Improve the quality of your landing pages
Identify the missing links in your campaign
Recommend solutions and even implement them on your behalf
That way, you'll maximize the value of every dollar you spend on advertising.
After conducting an audit, the professional you hire can customize a PPC ad campaign for your business. They'll take the time to really understand your brand, your customers and your long- and short-term advertising goals, then employ a strategic approach designed to maximize your ROI on right from the get-go.
Once a campaign is launched, they'll also take the time to monitor your campaign, making real-time adjustments to ensure that there isn't a single moment when your search ads aren't fully optimized to generate as much revenue as possible.
To put this another way, though paying for PPC outsourcing services may initially cost more than doing it yourself, the kind of results you get are likely to mean that your account manager pays for themselves multiple times over.
Dive Deeper:
* PPC Audit Cost Analysis: How Much Should You Expect to Pay?
* 7 PPC Audit Tools to Optimize Your Ad Performance Across all Platforms

2) Cutting Edge Solutions and Tools from PPC Experts
The world of digital marketing rarely stands still. From new competitors arriving on the scene to advertising platforms upgrading their algorithms and introducing new features, there's a multitude of moving components affecting the success of every ad campaign.
When you're focused on delivering great customer service and growing your business, it can be difficult, if not impossible, to keep up with all these latest changes and developments, let alone determine how they impact your brand's ability to compete.
This is where a top PPC agency really earns its keep, staying ahead of the game so that you don't have to. Simply put:
The livelihood of a pay-per-click specialist depends on delivering maximum value for businesses like yours.
To do that, they must remain at the very forefront of their industry, engaging in continuous research and ongoing learning to ensure that they're fully armed with the next-level know-how and ability to achieve those results in an ever-evolving landscape.
In addition to being up on emerging advertising trends, a PPC agency will easily be able to implement cutting-edge solutions such as:
Artificial Intelligence and Machine Learning:

AI and machine learning are

revolutionizing digital marketing

, and PPC experts will know how to leverage these technologies in order to optimize ad campaigns and deliver more personalized ads to potential customers.

Conversion Rate Optimization:

CRO

experts can optimize your landing pages and ad content to increase the likelihood of visitors converting into customers. Such CRO techniques include A/B testing, heat mapping, and user behavior analysis.

Mobile Advertising: With mobile devices accounting for 58.4% of internet traffic, it's important to have a mobile-friendly PPC strategy. An expert can help you create mobile-specific ads and landing pages, as well as optimize your campaigns for mobile users.
Audience Segmentation:

Knowing how to use advanced analytics and data management tools, as ad experts do, can aid in segmenting and targeting specific demographics based on their behaviors, interests, etc. 
If you're still debating whether to tackle your next ad campaign solo or hand it over to a PPC company, this next point may sway you one way or the other. Technically, there's nothing to stop you from putting together your own collection of free and low-cost PPC tools to help with things like keyword research and landing page optimization.
But you probably won't get the kind of comprehensive data-driven insights from these tools as the experts.
Not only will this prove expensive, but it will also come with a pretty steep learning curve since most ad management tools aimed at PPC professionals are far more advanced, the kind of platforms aimed at business owners who want to do it themselves.
Ultimately, what we're getting at here is that when you outsource PPC services to a professional agency, your business enjoys all the advantages of best-in-class tools with none of the financial or time-consuming disadvantages.
Dive Deeper: 5 Great PPC Tools to Crush Your Competitors
3) Gain a Competitive Advantage with Minimal Effort
Outperforming the competition is a major challenge in all areas of online marketing and advertising. This is especially true with PPC advertising, where budding startups and small businesses lack the resources and ad spend budget to compete with the major players in their industry.
By outsourcing to a reliable PPC agency, you're essentially equipping yourself with the same tools, talents and knowledge employed by your toughest rivals without the huge financial investment required to hire your own in-house team.
The expert you hire will be able to carry out an in-depth competitive analysis, pinpointing the specific keywords your competitors are targeting, how much they're spending to target those keywords, and what they're doing with their landing pages to maximize conversions.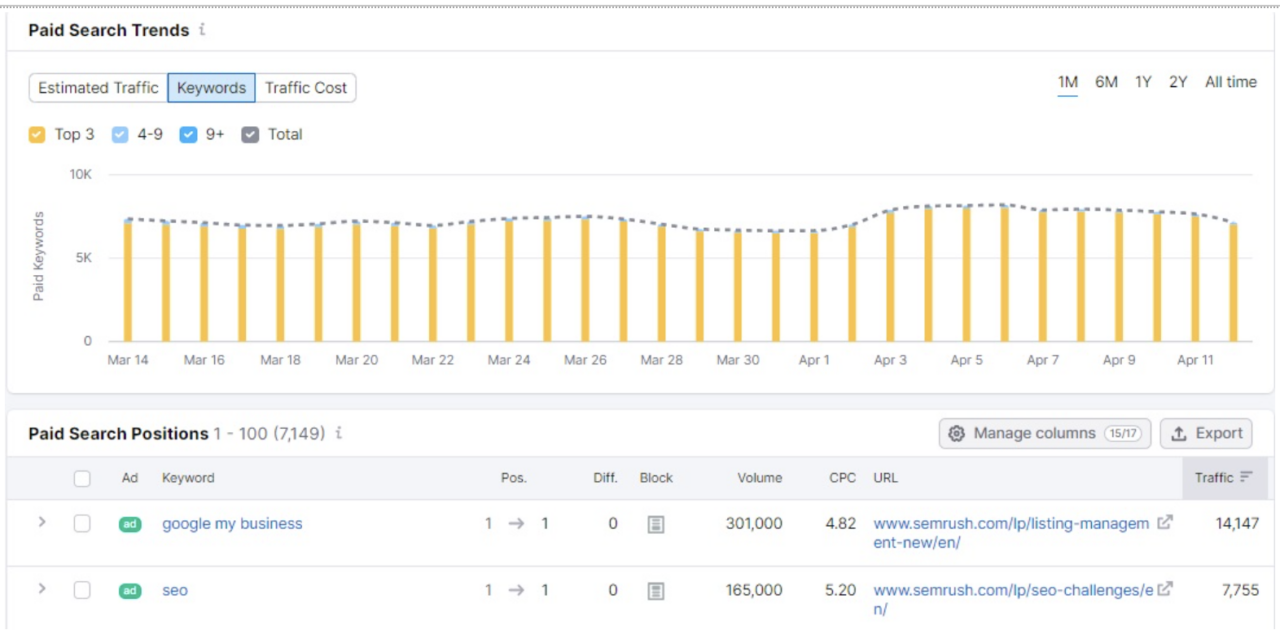 This data can prove to be an invaluable asset to your business for three key reasons:
It helps you to identify which competitive keywords are worth investing in
It helps you to identify gaps and opportunities, finding those valuable keywords your competitors may have overlooked
It helps you to boost brand visibility by running ad campaigns that get your business noticed when customers search for your competitors.
Dive Deeper: How to Uncover Your Competitor's Facebook Ad Strategy
4) Save Time 
If we had to sum up the main benefit of PPC management services in three words, it would be this: Better results, faster. 
When you outsource, you're hiring a dedicated specialist committed to your PPC campaign. They're not pulled away from essential keyword research to answer questions from your customers or staff, nor do they have to abandon work on crafting irresistible ad copy to tend to some operational emergency. 
From start to finish, a PPC agency is working on behalf of your business, using tried-and-tested, streamlined processes to carry out every task with optimum efficiency. 
What's more, advertising experts understand that timing is everything. They know what to do and when to do it, scheduling campaign launches for maximum impact. 
The specialist you outsource to will also have the time, capability and resources to carry out A/B split testing on your behalf, trying out different combinations of ad copy, calls to action, and landing pages until they hit on a golden recipe for success. By carrying out such tests, they're able to launch the most effective version as quickly as possible and start generating maximum results much sooner.
All this leaves you with more of your precious time to focus on running and growing your business, rather than focusing a lot of time on just one (time-consuming) project: PPC ad campaigns.
Dive Deeper: Top 6 Tips for Executing a Successful B2B PPC Strategy in 2023
5) Scale Your Business Faster and More Cost Efficiently
Outsourcing your PPC campaigns to an agency will help you scale your business faster and more efficiently for these reasons:
Access to expertise: PPC agencies specialize in managing and optimizing campaigns, and they have a team of experts who are knowledgeable about the latest trends and strategies. By outsourcing this hefty project, you can benefit from this expertise without having to learn effective pay-per-click advertising on your own or invest in hiring and training an in-house team.
Reduced costs: Outsourcing PPC campaigns can be more cost-efficient than hiring an in-house team, especially for smaller businesses that may not have the resources to invest in the technology and infrastructure needed to run successful campaigns. Agencies typically have access to advanced tools and technologies that allow them to optimize campaigns more effectively, leading to better ROI.
Faster results: A PPC firm can hit the ground running with established processes and technology. They have the ability to quickly set up, test and optimize campaigns to generate results faster than a company trying to manage their own campaigns.
Flexibility: Outsourcing PPC campaigns provides businesses with greater flexibility to adjust their advertising spend and pivot strategies based on changes in the market or business needs. PPC agencies can quickly shift their focus and adjust strategies to optimize campaigns as needed.
With all this going on in the background, you're able to divert your efforts onto other business growth strategies, safe in the knowledge that a team of specialists are working hard behind the scene to generate as much revenue as possible from your ads. 
When you outsource your digital advertising to a specialized agency, growing your business becomes a more data-driven and streamlined journey.
As a result, you not only scale your business much quicker, but also in a much more cost efficient way as you're only paying for a service that is specifically designed to make you more money, rather than paying for tools which, if you're not 100% sure how to make the most of them, may prove to little more than a sunk cost you can ill-afford. 
Dive Deeper: How to Optimize Your PPC Advertising Campaign to Get the Most Out of the Holidays
Should You Outsource PPC Campaigns for Your Business? Key Takeaways
By now, you've likely determined whether or not paying a PPC expert to manage your ad campaigns is worth it for your business.
As we mentioned earlier, while the short-term costs may be higher than they would be if you did everything yourself, so will the long-term results you enjoy.
Think about it. Running ad campaigns yourself means:
Determining the best tools and spending hours learning how to use them
Spending time researching keywords
Mastering the art of succinct and compelling copywriting
Crafting click-through-worthy CTAs
Developing the skill of building conversion-optimized landing pages
Split testing to ensure that your pay-per-click ads are fine-tuned for success
All this is time, energy and effort that could be better spent working on your business to provide value to your customers.
If you're ready to grow your business faster and more efficiently, Single Grain's PPC experts can help!👇
---
PPC Outsourcing FAQs
What services do PPC agencies offer?
PPC agencies offer a comprehensive range of services from doing initial keyword research and navigating the complicated audience targeting settings on top advertising platforms to ensure you're getting the right message to the right people, to writing captivating ad copy and building effective landing pages to convert those people into paying customers.
How much does PPC management cost?
How much you spend on hiring a PPC expert will vary from agency to agency depending on their experience, track record, and the size and scope of your search advertising campaign. Most will charge between 15 – 30% of your ad spend plus an on-going monthly management fee.
How do I choose a good PPC management company?
To find the best company to outsource PPC management to, look for those with verifiable client reviews or case studies that prove they can deliver results. You'll also find it wise to book consultations with a number of specialists and ask questions to determine which one best understands your business, your industry, and the challenges you face with your marketing efforts.