Introduction
Unless your marketing budget is astronomical, you probably won't find Google's list of 200 ranking factors that useful. There's a reason for that. Google doesn't want companies to be able to game the system. That's why it keeps adding different ranking factors to its algorithms. That's why it relies on
semantic search
to go beyond keywords.
Challenge
Ultimately, Google is on the side of its users, and it will do everything it can to empower them. So if a brand really wants to stand out from the crowd, it has to understand why Google has set up modern search the way it has. It's not that Google doesn't want to empower brands—it certainly does. But it only wants the right brands to win the SEO game, and it wants those brands to win in full sight of its users. That means playing by Google's rules.

As we mentioned earlier, basic SEO is about things like words, titles, links, and reputation. To be more specific, SEO factors can be divided into on-page SEO and off-page SEO. Everything a marketer needs to consider when trying to improve SEO will fall under one of those two categories.

What is On Page SEO?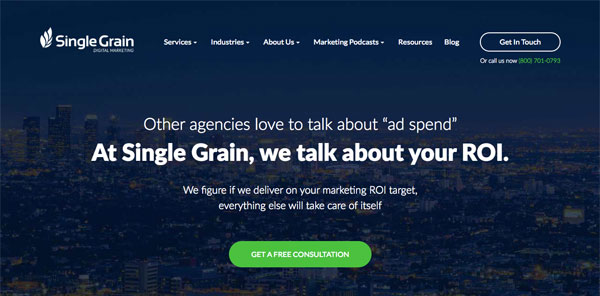 On-page SEO refers to everything on the page itself that affects your SEO. For example, on the Single Grain homepage, visitors can see everything from written content to visual design. But if they click CTRL-U (Windows) or Shift Cmd U (Mac), they can also see the HTML code. On-page SEO includes everything that exists on the page, both in published and HTML format.
The three major types of on-page SEO factors are content, architecture, and HTML.
What Is Content?
Content refers to the text and images you create for your website. In other words, everything that a visitor looks at or interacts with after stumbling upon your homepage for the first time. And as you may have heard, content is king.
Bill Gates made that prediction way back in 1996, long before Google won the search engine wars. By the end of 2014, over 211 million pieces of content were created every minute. Yet nearly 70%of all content doesn't make the SEO cut and continues to fall short of Google's SEO standards.
In order to improve content for SEO, marketers need to optimize:
Quality
Google rewards brands that produce high-quality content that people would want to read. This means extensive research that translates into useful information that actually answers a visitor's questions. Great content can't be "thin" fluff, either. That's why many marketers focus on creating long-form content that outclasses the competition.
"Big" content positions your brand as a go-to authority on a topic of interest to your target buyers and can greatly increase your brand awareness. Hubspot, for example, is the authority on Inbound Marketing Methodology, and has created an Inbound Certification for marketers.
If you want to learn more about content strategy and how to create quality content, click here:
To learn more about big content, read:
If you want to learn how to get the most out of your longform content, like high-quality PDFs and presentations and videos, take a look at:
Words
Of course, content wouldn't be anything without smart, strategic, and well-written (not to mention correctly-spelled!) words. Understanding how keywords work is essential to an effective SEO strategy.
Keyword research is always the first step in successful marketing plans, and focusing on long-tail keywords over short-tail keywords is the next step. Recently, Google has started to favor branded keywords as well.
It's important to note that old SEO tactics, like keyword stuffing (overusing a keyword in a page), no longer work. In fact, Google actually punishes web pages that resort to stuffing. Keyword placement is still important, but we'll get to that later.
For more on keyword research, check out:
To learn about branded keywords, read:
Freshness
The final factor for content SEO is freshness. How often are you updating your website? And are you producing new content regularly?
The best brands are always generating new content on as many distribution channels as possible to maximize their freshness factor. That's why most brands have blogs that they update regularly. Google also takes social media channels, vlogs, and new landing pages into consideration as well.
To make sure you're staying fresh, read:
What is Site Architecture?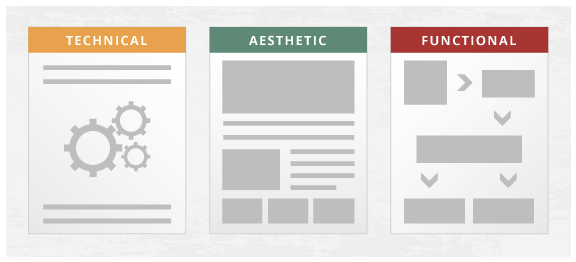 Website architecture refers to a holistic approach to website design that considers technical, aesthetic, and functional criteria at the back-end and sitemap level.
For example, did you know that 40% of visitors will abandon a site if it takes longer than three seconds to load? Or that 46% of mobile users have a hard time reading web pages on their phones? The best websites take these pain points into account and design accordingly.
To really nail site architecture, marketers must consider:
Organization
The way a site is organized matters a great deal to Google. Everything from site speed (loading times) to site layout (pages and subpages) matters for SEO. Google has ways to auto-detect whether your site is easy to use or stuck back in 1995, and will rank you accordingly.
If you want to find out more about how organization affects SEO, read:
Visual Design
You could have the best organization in the world, but if your website still looks like the official Space Jam site, you're not going to rank very high. Visual design is constantly evolving. to meet user demands and expectations.
One of the biggest drivers of visual design is mobile optimization. Mobile search volume surpassed desktop search volume in 2015, and will only become more important for marketers. It's why single page, scrolling websites are becoming popular, and multi-page websites are going the way of the dinosaur.
For more information on visual design best practices, take a look at:
Color Theory and Website Design: What You Need to Know
To learn more about mobile design, check out:
What is HTML?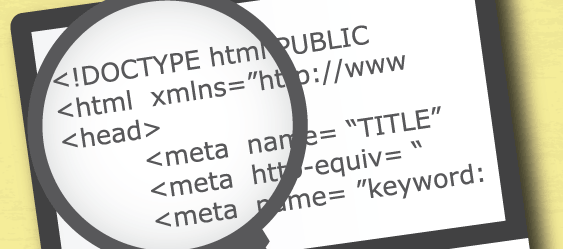 The final piece of the on-page SEO puzzle is HTML optimization. HTML is what a browser, like Google Chrome, uses to read your website. Think of it as the webby scaffolding on which Google's search engine spiders crawl. Poor HTML practices mean that Google's spiders won't know how to properly index your webpages or rank them in search.
Best Practices
The easiest way to make sure your HTML follows best practices is to do what WordPress does: pay attention to titles, headers, tags, and meta-descriptions. You can publish a webpage without optimizing any of this, but your page ranking will suffer greatly.
Titles and headers must be keyword-optimized, and every page of your website should be tagged accordingly to make them easier to find. Good meta-descriptions will help users decide whether to click on your link among several others in their search results.
If you use a WordPress website like the vast majority of small business owners, read:
If that all sounds a bit complicated and you just want to do something simple to improve your on-page SEO, check this out instead:
What is Off-Page SEO?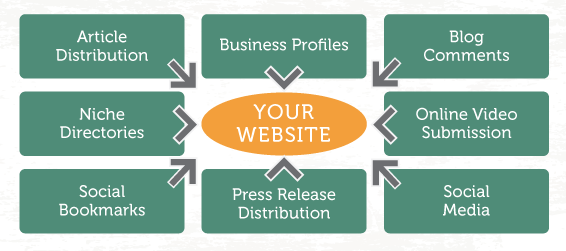 Off-page SEO refers to everything that affects a page's SEO that isn't necessarily tied down to the page in question; off-page SEO factors exist outside of the page. They're harder to optimize because they aren't under the page owner's control, but best practices still go a long way.
Off-page SEO factors include trustworthiness, link building, and social engagement.
What Is Authority?
A website is ranked using its domain authority, while each page on that website is also ranked using page authority. Both types of authority are based on several fluid factors. Google decides whether you're an authority in your industry and market based on how credible you are, how willing visitors are to engage with your brand, and whether you have anything to say that people actually want to hear. In other words, authority is measured by history, trustworthiness, and engagement.
History
How long a site has been around, and showing up in SERPs, matters to Google quite a lot. Newer sites will have a harder time ranking high compared to older sites.
This makes sense, and works a lot like credit history—the longer you have good credit, the more the bank trusts you and is willing to extend your line of credit. In this case, Google is the bank and your credit history is your site history. The longer your site has been around, the higher Google will rank you (assuming you have a good site history).
But it's not enough to just be. You need to make sure you have a good track record. Google actually looks at how websites behave over time. You can't employ spammy SEO tactics one month and then be good the next month and think Google will overlook it. Like Santa, Google keeps a long list of who's been naughty and who's been nice.
Trustworthiness
According to NewsCred, 62% of Millennials feel that online content drives their loyalty to a brand. And the most important driver of brand loyalty for this group is a great product (77%), followed closely by brand recognition and trust (69%). Trust is an incredibly important part of SEO because it determines which results a user will click on.
A page that Google deems trustworthy wouldn't engage in questionable practices. It wouldn't use black hat SEO tactics, and it wouldn't deliberately annoy its users by doing things like putting prominent ads above the fold. A trustworthy site is as transparent as possible, and even identifies all its blog post writers so that the site is easily verified. Google likes real brands with real people behind them creating really useful things.
To find out how to get your target audience to trust you, read:
Maximizing Conversions with Trust Symbols, Distance and Web Prozac
Engagement
Of course, the amount of traffic and engagement your page receives is still the most important factor for determining page authority. How many unique visitors does your page have? What about returning visitors? How much time do visitors spend on your page before moving to another one? Or do they bounce away from the site after a few seconds?
Engagement is a large and sprawling topic—one that's well outside the scope of this resource page. To learn more, start with:
What is Link Building?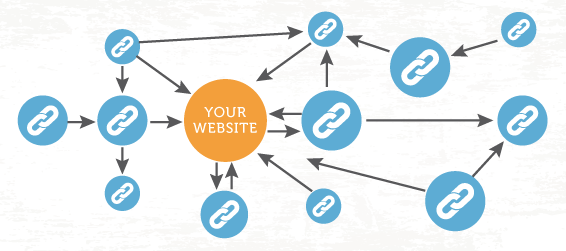 As we mentioned before, links matter. One of the primary ways Google fought back against keyword crammers in the 2000s was by taking links into consideration. Link building is the process of increasing the number of links in a web page or the number of links to that web page. Proper link building means understanding the difference between inbound and outbound links, and how to build both.
Outbound Links
Obviously, outbound links are easier to build—the page owner has full control over what to link to. By choosing only high-quality links from authoritative and trustworthy sites, and by hyperlinking to keywords, page owners can easily increase a page's SEO.
But be careful not to include too many outbound links on any given page—proportion is very important. Always keep the number of links per page under 100. If you can, try to use only one to two links per paragraph.
Inbound Links
Inbound links lead to the page in question, and are outside of the page owner's control. In years past, building inbound links by forming partnerships with other thought leaders and authorities for linkbacks was okay. But Google has started to downplay the importance of inbound link building.
Too many brands have tried black hat link-building tactics to build or buy fake links to their pages, and it seems the hammer has finally come down. Now, it's entirely possible that focusing on link building could actually hurt your ranking. The only right way to build inbound links is to earn them organically.
To learn more about link building strategy, see:
To learn more about how to build both inbound and outbound links the right way, read:
What is Social Engagement?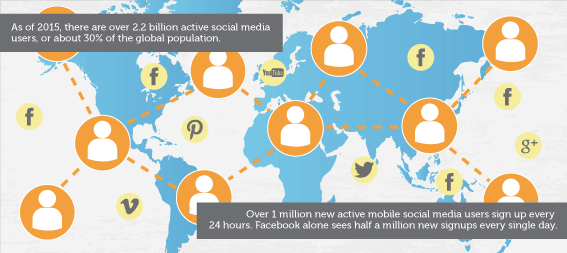 As of 2015, there are over 2.2 billion active social media users, or about 30% of the global population. Over 1 million new active mobile social media users sign up every 24 hours. Facebook alone sees half a million new signups every single day.
Despite these daunting numbers, as far as SEO goes, social media is fairly easy to understand. The more you share your content and the more your content is shared by others, the better your SEO. Social media SEO looks at channels of distribution, the reputation of users who share your content, and the total number of shares a page has, period.
Channels
Social media channels are the individual platforms you use to distribute your content. B2B brands, for example, will rely largely on LinkedIn and Twitter. B2C brands, on the other hand, would be wise to focus on Facebook, YouTube, and Pinterest (among many others).
There are dozens of social media platforms out there. None of them are created equal. Each social media platform has its own best practices, and getting good at all of them would be a massive undertaking. Instead, companies should focus on the channels that best serve their target market and buyers.
Social media strategy is an industry unto itself. It's a challenging topic, to say the least. To learn more about effective, targeted social media strategy, see:
For more information on social media best practices, read:
Reputation
The reputation of the users who share your content on social media matter, too. A thought leader or industry influencer who shares your content nets you a high-quality inbound link and tons of new visitors.
When they post any of your content, no matter how small, their countless followers will see it as well. This effectively turns a single shared link into a "guest update" that borrows traffic from a high-profile "site"—in this case an industry influencer profile.
To see how industry influencers build their social media networks, read:
Shares
When it comes down to it, social media is an SEO powerhouse because of its potential for "word-of-mouth", viral sharing. When someone posts something, all their friends will see it, too. If even two of their friends like it, they'll re-share, and the circle continues to expand. But you don't need to aim for virality (and you shouldn't, since it's impossible to predict).
Even if your social media updates don't garner thousands of shares, they'll still have significant visibility. And for new businesses that don't have tons of website traffic, that's very helpful. Often, it's much easier to build brand awareness within social media platforms than it is to drive more traffic to the site. And then once social media awareness is established, it becomes much easier to build website traffic as well.
To find out how to build your social media presence and get more shares, take a look at: