Enterprise SEO Keyword Tracking: 6 Best Tools to Monitor Performance
Rank tracking is an essential part of your enterprise search engine optimization strategy. Enterprise SEO keyword tracking helps identify the progress on keyword rankings by accurately monitoring keyword data with keyword tracker software.
This article will help you understand what keyword tracking is, why it is crucial for enterprise-level SEO success, and how you can use keyword tracking tools to determine the average position of your target keywords to monitor your site's performance.
Let's begin!
What Is Keyword Tracking?
Keyword rank tracking is a process that allows you to check the organic positioning of your website for your target keywords on different search engines and locations.
Your SEO campaign keywords should be monitored regularly to help you revise your enterprise organic search strategy in order to keep your website on the top or at least the first page of the SERPs.
Here is an example of keyword rank tracking using Google Search Console. The tool displays all the search term data where your website ranks organically, along with impressions, clicks, CTR, and other SEO data. This helps you identify your keywords' current rankings and tells you which searches are bringing organic traffic to your website.

Dive Deeper: The Best Way to Track Your Keyword Rankings
Why Is Enterprise Keyword Rank Tracking Crucial in SEO?
Enterprise keyword rank tracking is an integral part of your enterprise-level content optimization strategy. It helps assess how your keywords are performing organically.
Here are the top benefits of having a keyword tracker:
Helps you identify the enterprise SEO best practices that position your keywords at the top of the organic SERPs.
Provides valuable insights about your competitors' strategies and performance to help you stay ahead of them.
Boosts revenue as tracking the right web page and keyword directly impacts your website conversion rates.
Helps you troubleshoot ranking and traffic drops before it's too late.
Lets you identify which SEO tasks lead to increased rankings and traffic.
Dive Deeper: Enterprise SEO Metrics: The Key Metrics to Track for Success
What Causes Change in Organic Rankings?
It is essential to check your keyword positioning as they are volatile and change frequently based on constant algorithm changes. Here are the top reasons that cause fluctuations in organic rankings:
Constant changes in Google's algorithm.
Loss of backlinks which might lead to a decrease in URL authority.
Content and meta tag changes when you include or remove your target keywords from prominent places that Google considers necessary.
Increase in website or landing URL authority of your competitors.
Slow load times since Google demotes URLs that have a slower speed.
Content decay where the content is not updated according to latest SEO trends to include new and relevant information which users (and Google) prefer.
Dive Deeper: 10 Most Common Enterprise SEO Mistakes and How to Fix Them
How to Track Keyword Rankings Globally
SEO position tracking can be done both locally and internationally. There are several keyword rank tracking methods that you can use to track your enterprise website rankings in several locations globally.
Here are the top ways to check SEO keyword rankings globally:
Through Private Browsing
You can manually enter the keywords and run your private browser search to track keyword positioning globally. Open a private (or incognito) browser window which will help to prevent personalized suggestions based on your browser history.
Then open the country-specific Google TLD (top-level domain) where you wish to check your site rankings. For instance, if you want to check rankings in the UK, open google.co.uk.
After that, type the keywords you wish to check ranking for and count the results below the ads and featured snippets. The number that leads you to your website link is where your website is currently ranking for the specific keyword search.
Incognito-based keyword rank tracking can only be used to check rankings for a specific set of keywords. Since enterprise search engine optimization requires tracking hundreds or even thousands of keyword positions, this is not the preferred way to identify organic search rankings.
Through Google Search Console
If you want to discover all the search queries that users type to find your site and locations where your website is ranking globally, you can visit Google Search Console. Make sure you already have your website added as a property in GSC.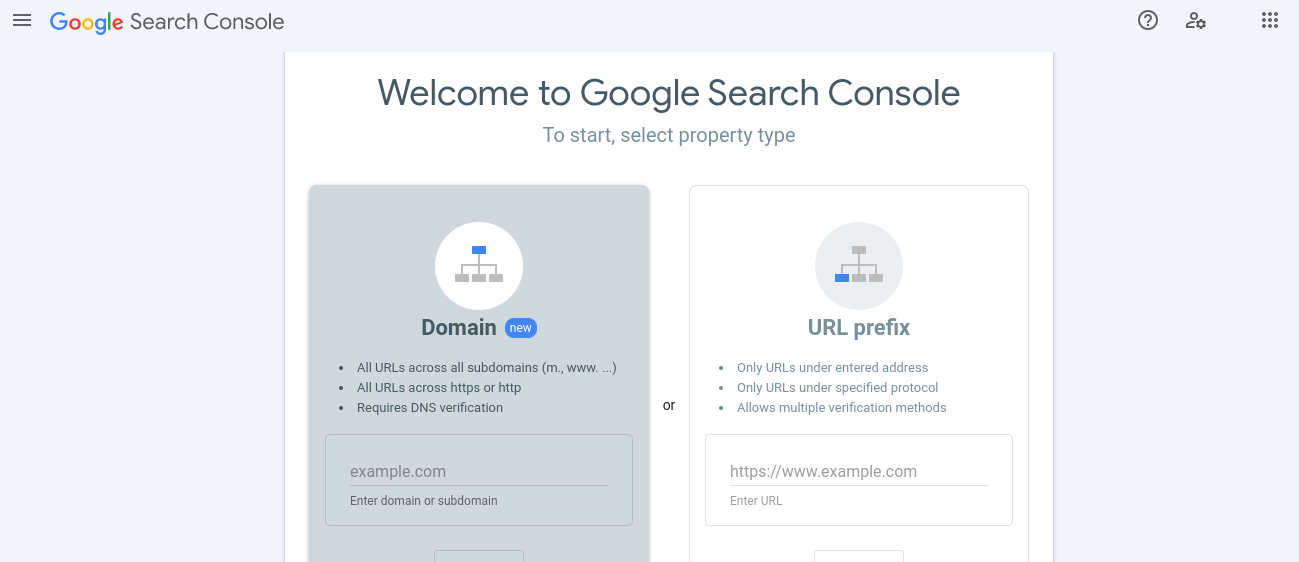 After logging in to your Google Search Console account, click on search results: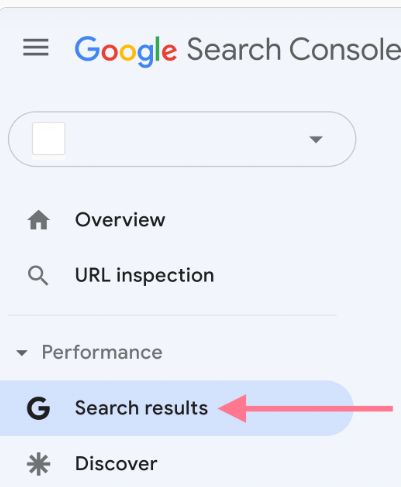 For example, you can see users' search queries, the top pages, the countries and the devices that are bringing traffic to your website. You can also check the number of impressions and clicks that your keywords generate.
The keyword position determines your website's average ranking for all combined keywords. A higher position leads to higher impressions and clicks.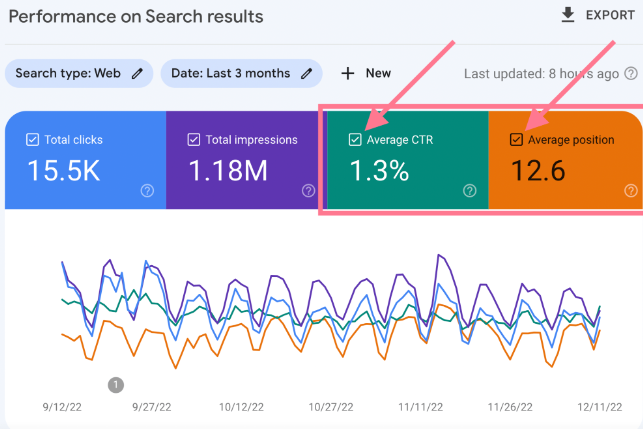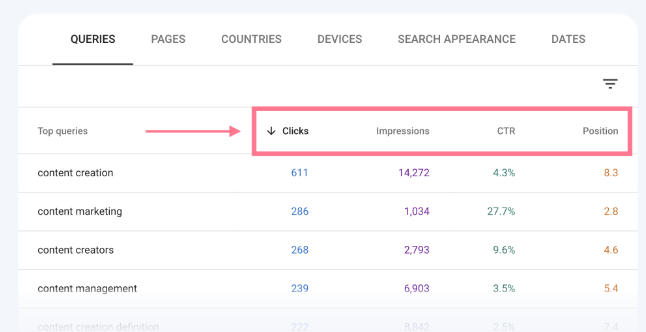 Through Keyword Research Tool
You can track keywords automatically on any location using several popular keyword research and organic position tracking software like:
Once you have chosen your keyword research tool, set up a keyword-tracking campaign. You can choose to receive a custom notification to get updates on any change in the ranking.
For example, I chose Semrush for enterprise rank tracking. To track current rankings on any location, add your website as a project in the Semrush position tracking tool. Select the search engine and the device you wish to use for tracking, and then specify the location you wish to track: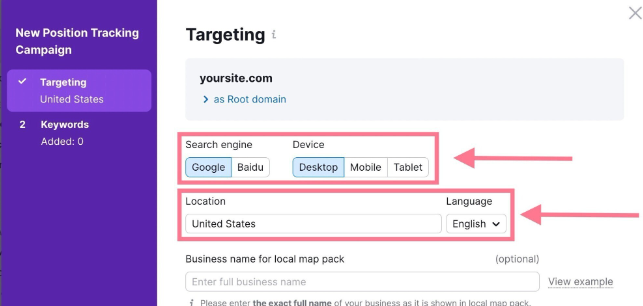 Add all the keywords and hit the add keyword to campaign button:

Tick the checkbox "Send me weekly ranking updates via email" to begin receiving automated SEO metrics summary of the campaigns weekly through emails. Then, click start tracking, and the tool will begin tracking the organic position of the added keywords: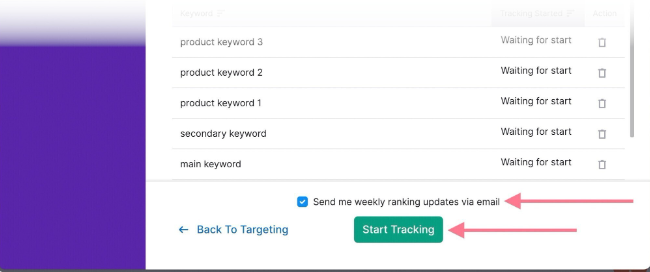 Once all the settings are completed, visit the dashboard and access the overview option as shown in the example below: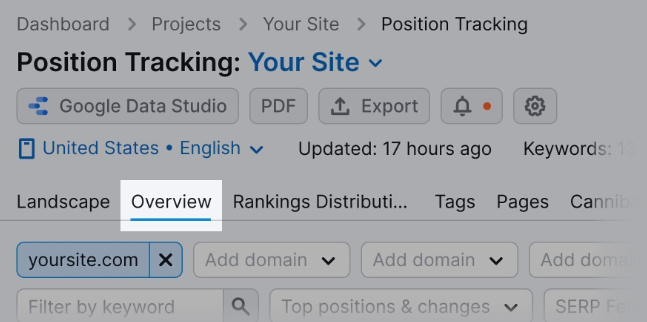 Select the filters with a specific date range to check the website's performance within that period: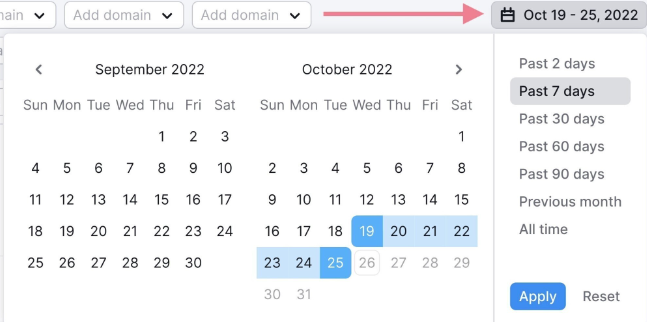 Now you can easily track the organic position of your keywords to analyze your SEO strategy. Plus, you will also receive instant updates when there is a change in ranking.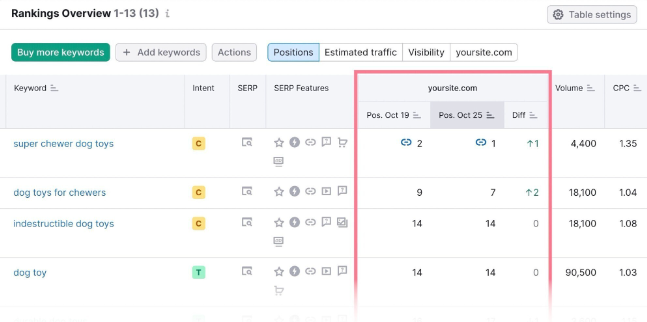 How to Track Keyword Rankings Locally
You can track search term rankings on different locations using:
Here is a step-by-step process to track local search term rankings on several locations using the Brightlocal local position tracker.
Log in to your Brightlocal account and click on the Local SEO Tools drop down menu. Then select Local Rank Tracker: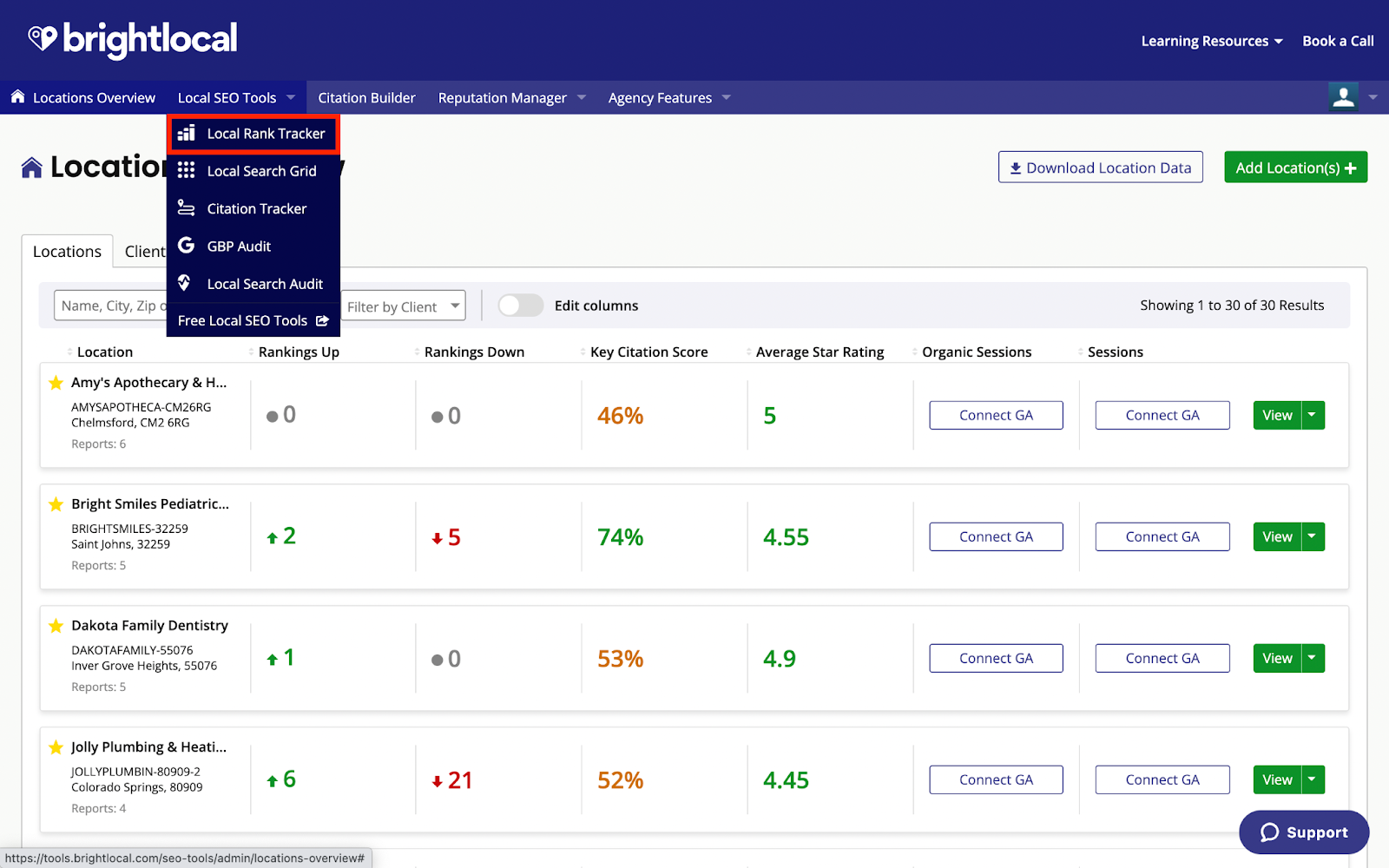 Next, click the Add New button located in the upper right corner of the dashboard: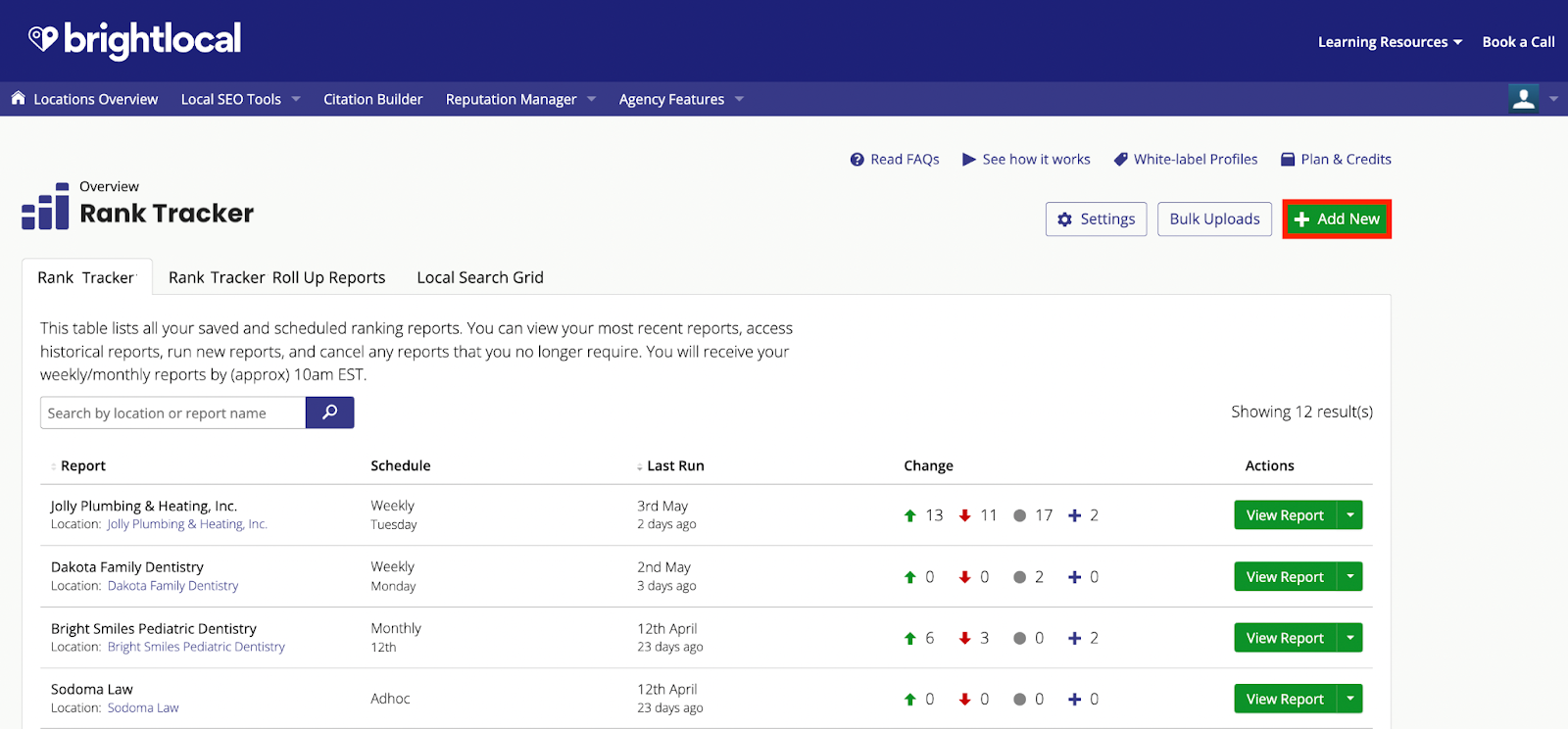 Now click Locations Overviews to display a list of locations, and then click on Add Locations to create a location tracking based on your target location: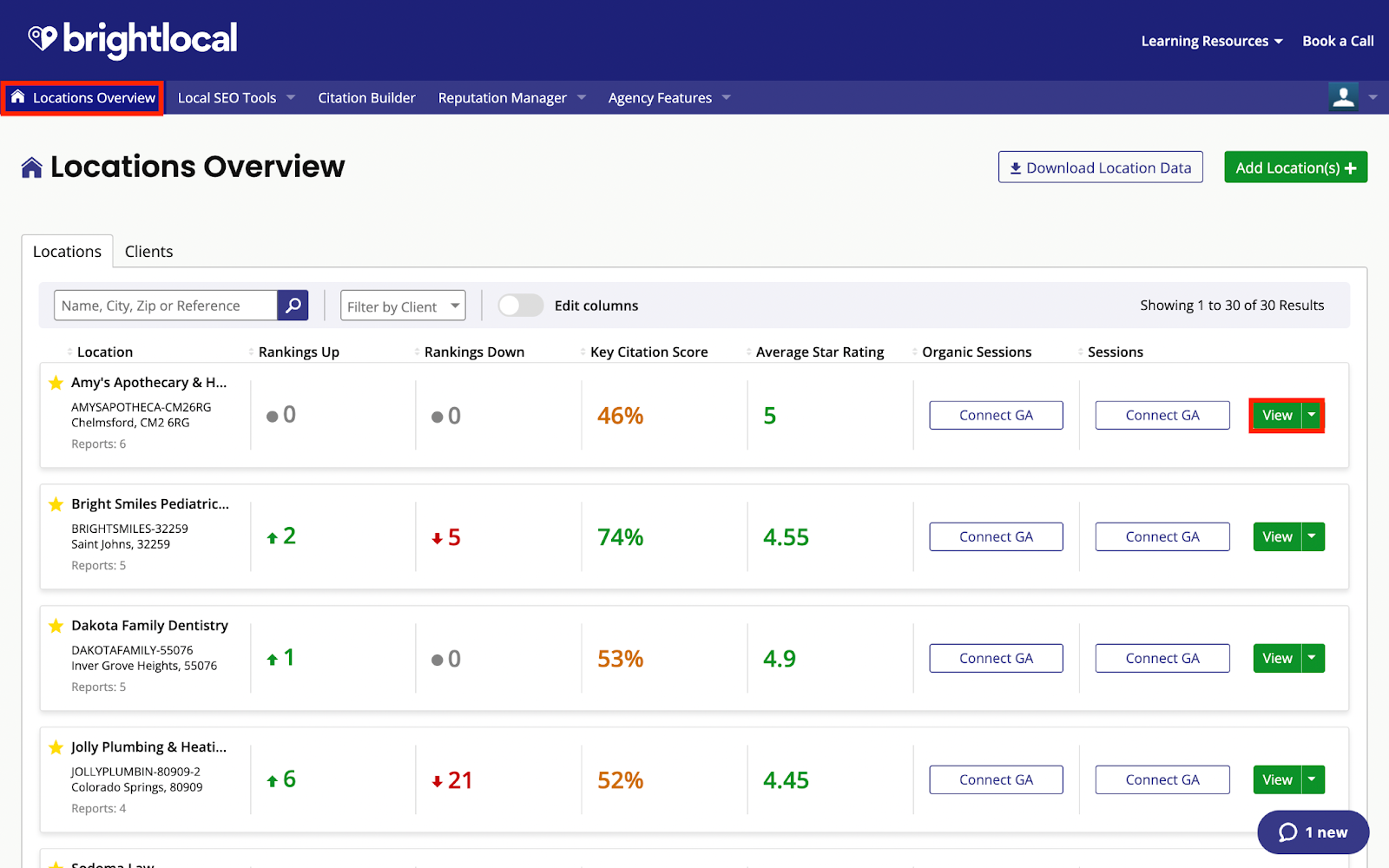 Click Rankings, and then Rank Tracker.
Next, click the Monitor Search Rankings button to set up your ranking report.
In the search settings, you can add your main keywords that you have selected after thorough keyword research: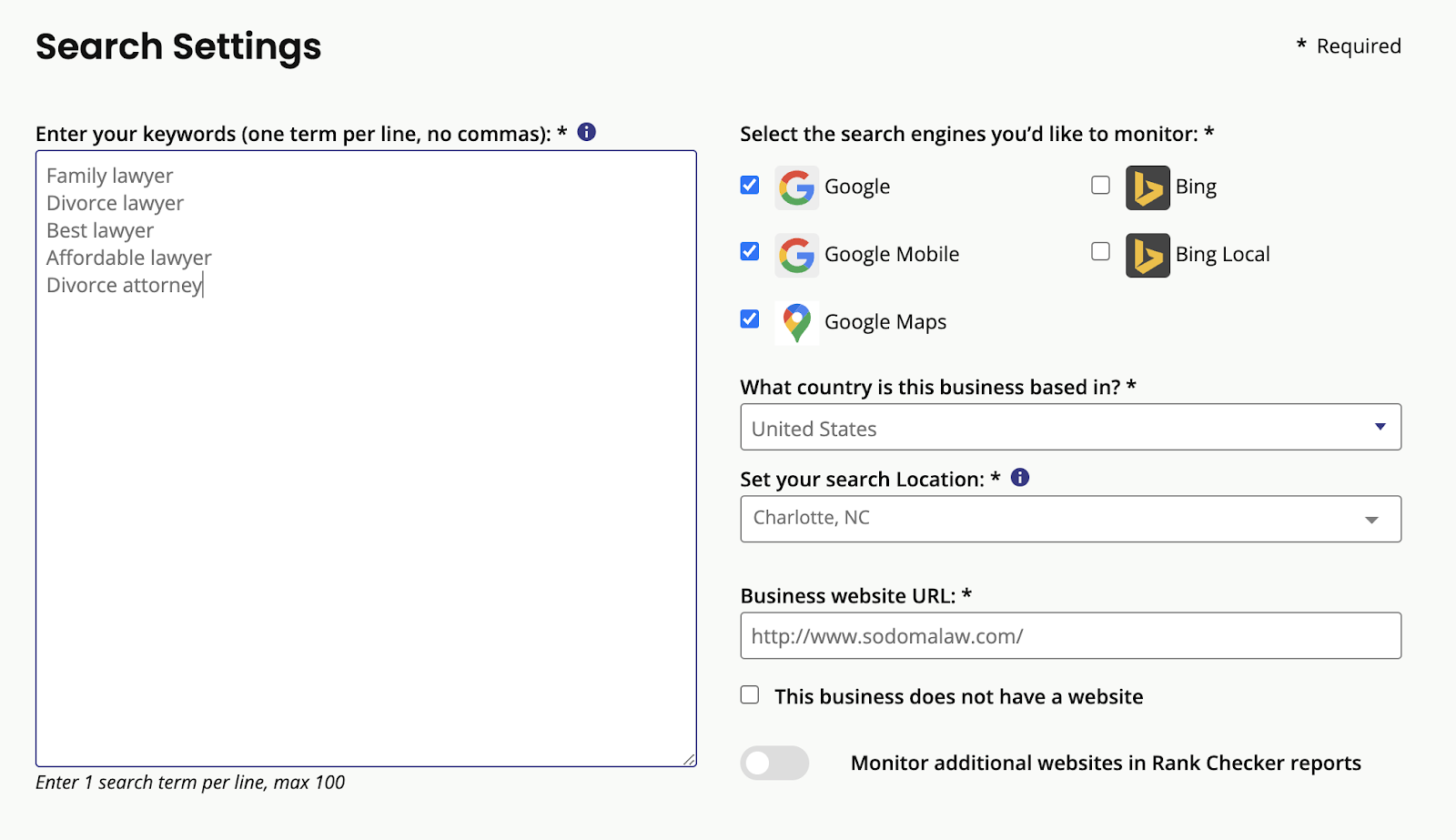 For accurate tracking, you can select the Location's Google My Business account. Type your location, and the dropdown will auto-suggest Google My Business profiles based on what you've entered: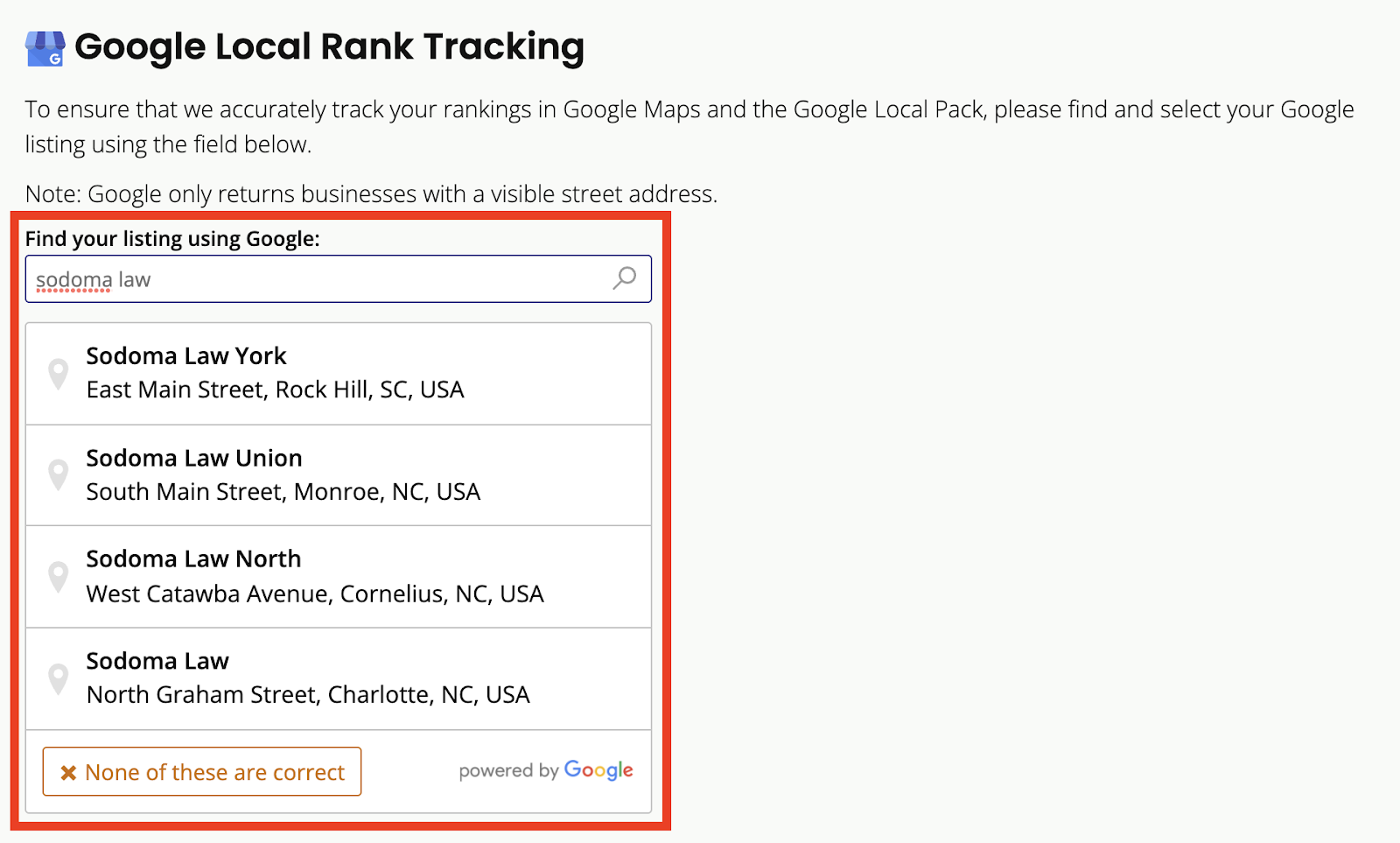 That's it. Now, you can easily track rankings on all the target locations where your enterprise serves.
Dive Deeper:
* SEO Keyword Research Made Easy in 2023
* How to Rank on Page 1 of Google for Thousands of Keywords
* How Zero Search Volume Keywords Can Generate a Ton of Traffic

Best Enterprise Keyword Rank Tracking Tools
Monitoring your organic rankings and other metrics helps you identify new keyword opportunities and track the keyword performance of your current SEO strategy.
Here are the top keyword rank analysis tools for enterprise users:
The SE Ranking keyword position tracking and keyword research tool is an affordable ranking tool for enterprises that helps track keyword positions with pinpoint accuracy across every major search engine.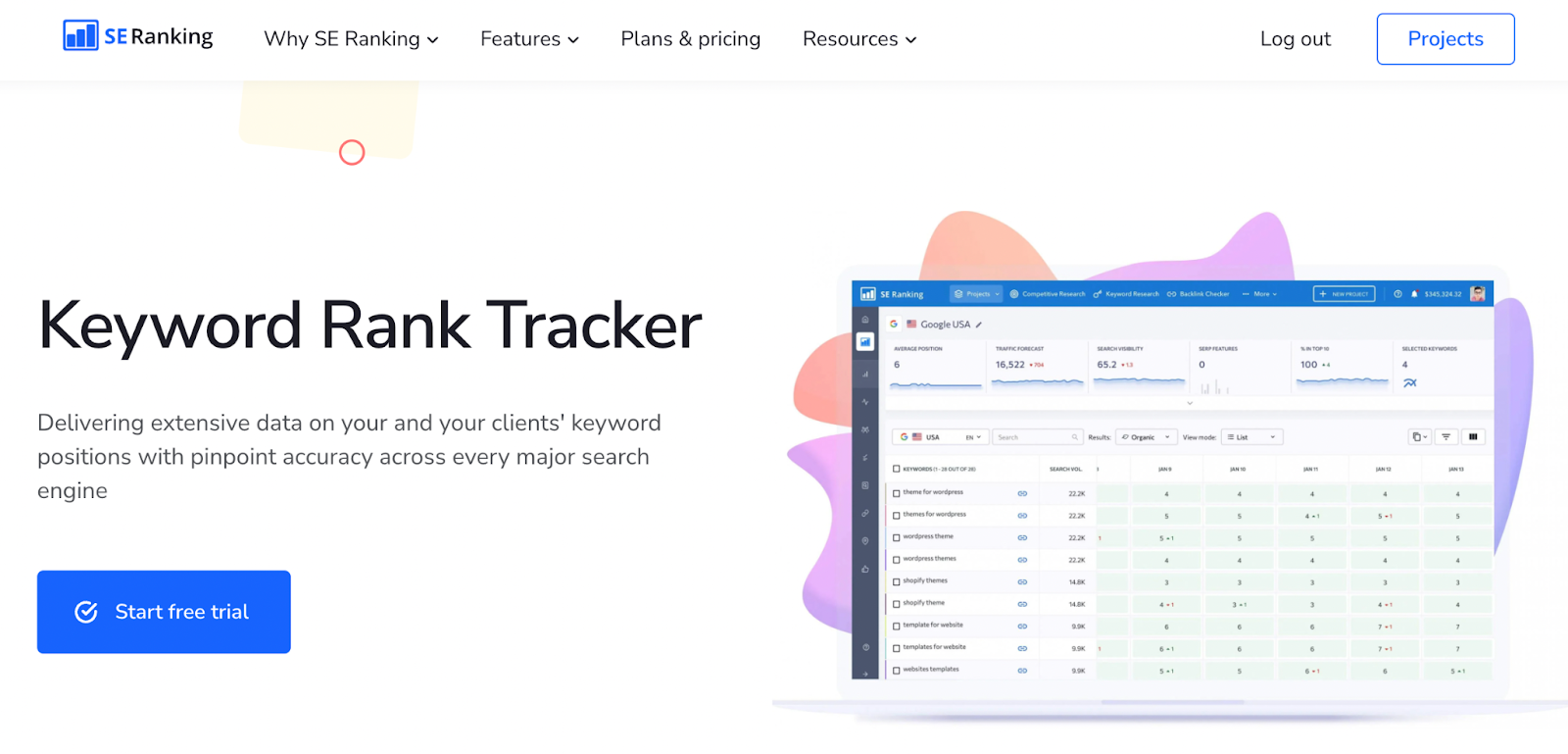 Top Features:
Helps you create organic rank tracking campaigns on major search engines like Google, Bing, Yahoo, and even on YouTube.
Offers insights on web pages competing for the same keyword to fix cannibalization issues.
Allows you to check website rankings on a country level or specify your target location down to the ZIP Code.
Pricing: The business plan for enterprises starts at $151.20, where you can track up to 2,500 words of keyword SEO data. You can even track up to 20,000 keyword data for $719.20 a month.
The Semrush keyword position monitoring and keyword research tool helps you check the search rankings of your website on different platforms.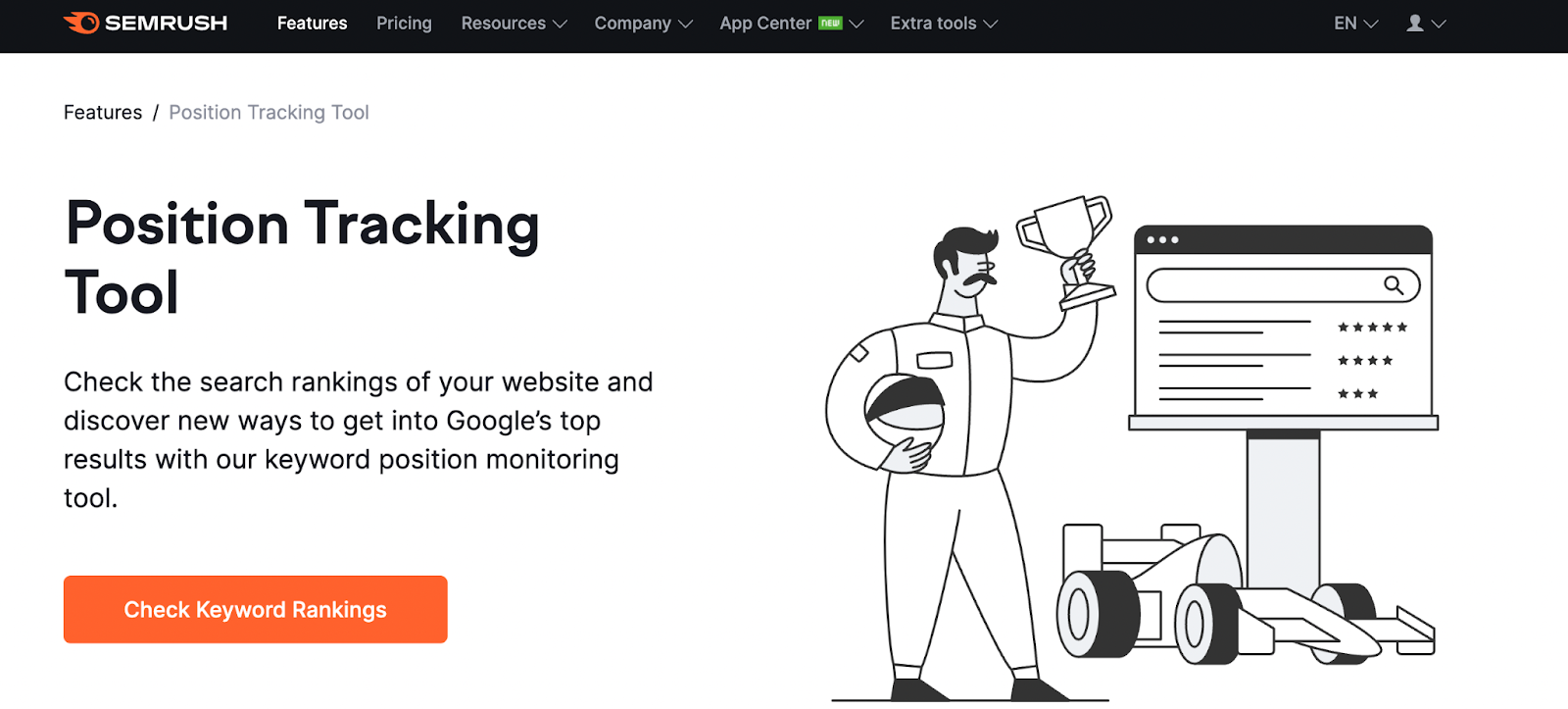 Top Features:
The Tags report in Position Tracking effortlessly segments thousands of search terms and other relevant SEO metrics.
You can easily get insights into how your website performs across different locations and devices such as desktops, smartphones or tablets.
The Overview tab displays detailed graphs of visibility, estimated traffic, and average position for tracked keywords.
Pricing: The Semrush enterprise plan is priced at $449.95 a month, where you can track up to 5,000 keywords.
Link Assistant is a powerful rank tracker from the house of SEO PowerSuite. It is a downloadable software that lets you track rankings and other metrics in over 597 search engines.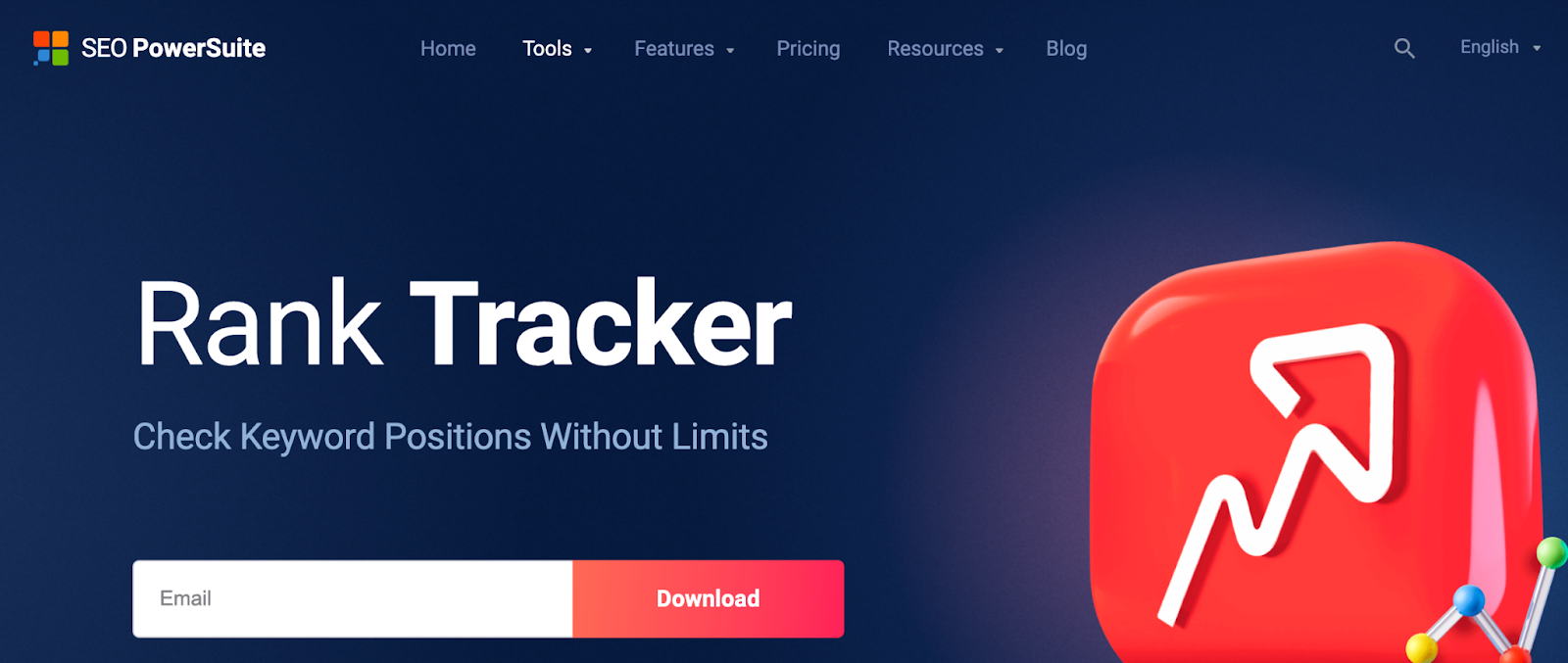 Top Features:
Supports unlimited desktop and mobile position tracking.
The tool lets you scan the top 1,000 search engine results, both globally and locally, in Google SERPs or any alternative engines.
Not just Google rankings, Link Assistant provides insights on rich search results, including featured snippets, FAQs, Google Maps, review snippets, and more.
Pricing: The SEO enterprise plan costs $499/year, which includes Rank Tracker, WebSite Auditor, SEO SpyGlass, and LinkAssistant. The best part is, you can add unlimited keywords to track.
Ahrefs is a popular keyword research and rank tracking tool that lets you monitor your Google rankings on desktop and mobile across 170 countries.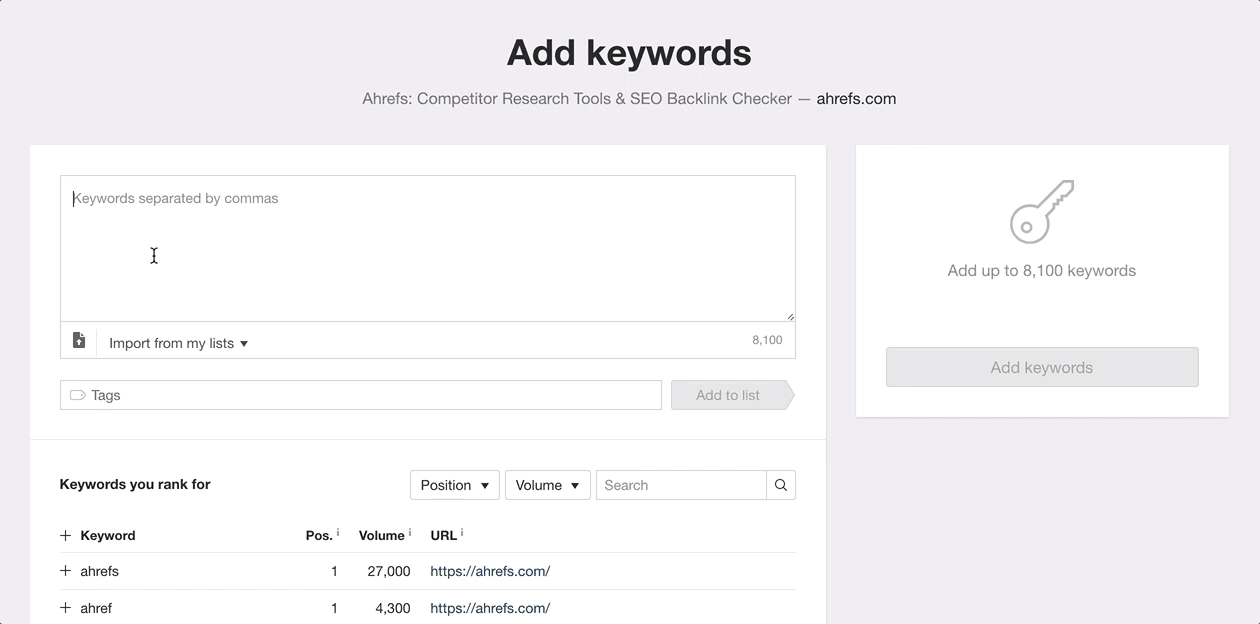 Top Features:
You can easily add multiple locations to track rankings of certain keywords, and the tool will automatically send you regular ranking summary updates.
The tool offers keyword rank analysis segmented via groups: Positions #1–3, Positions #4–10, Positions #11–50 and Positions #51–100.
Ahrefs' Rank Tracker compiles keyword data against up to ten competitors and automatically sends SEO metrics reports on three key areas: Ranking progress, search traffic, and SERPs features.
Pricing: The Ahrefs package for enterprises is priced at $999 a month.
Rank Ranger offers a suite of rank tracking tools to track, tag and evaluate your keyword performance.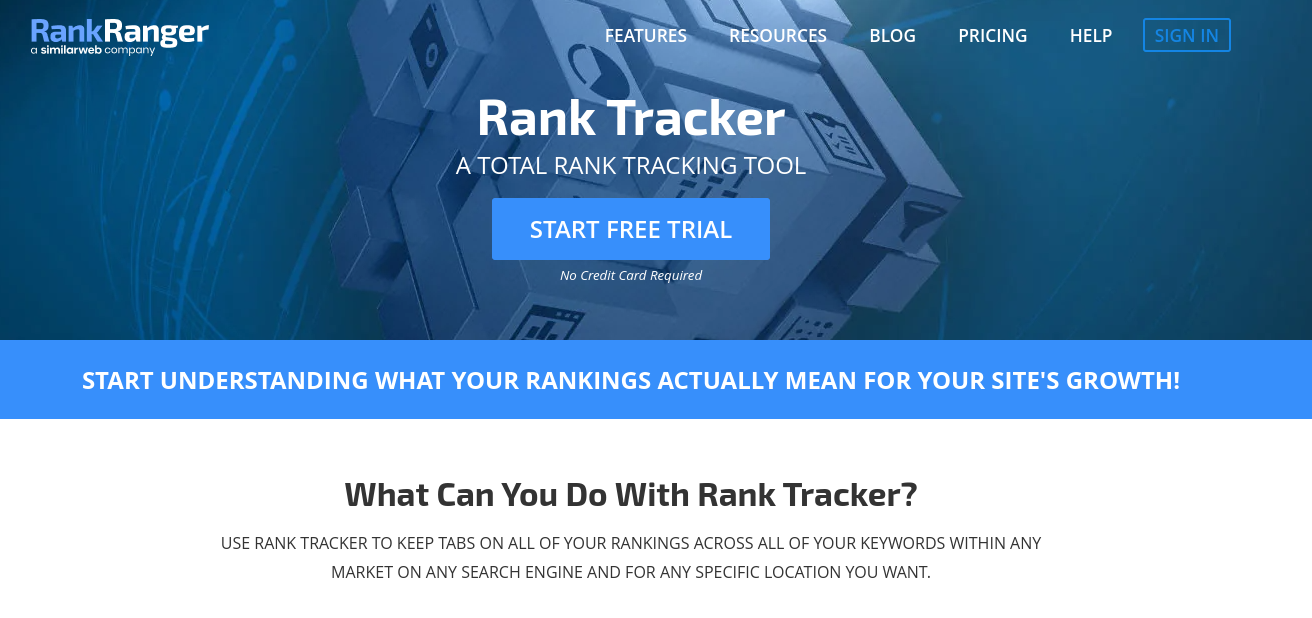 Top Features:
You can get ranking insights on leading search platforms like Google, Bing and even Baidu.
Efficiently identifies rankings of keywords on both mobile and desktop.
Offers access to powerful rank reports with search volume that automatically compare the correlation between your rankings and clicks.
Lets you easily locate which of your rankings are on an upward or downward trend.
Pricing: Their monthly SEO pricing starts at $79/month, where you can track up to 500 keywords. Their pricing plan, priced at $2,700 a month, lets you track more than 25,000 keywords.
Keyword.com is another powerful enterprise keyword research and position tracker, specially designed for enterprise SEO teams that supports rank tracking down to the city or ZIP Code level.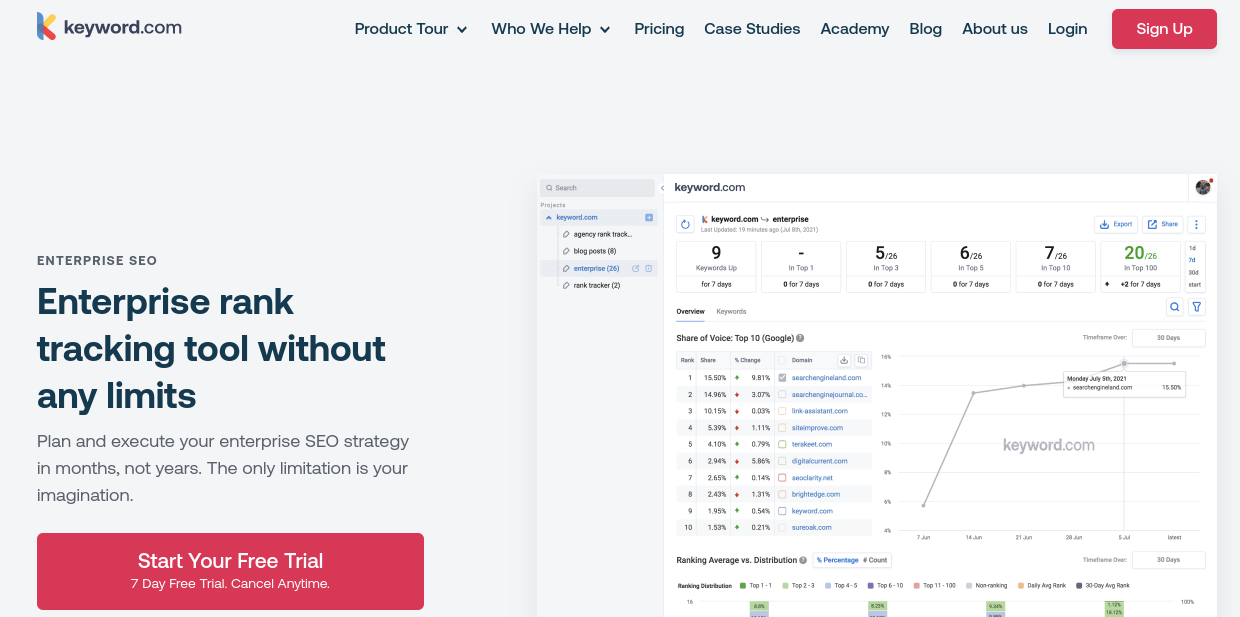 Top Features:
Lets you track the GMB listings and Google's Local "Snack Pack" of your or your competitor's business.
You can group high-volume keywords together to explore how your website ranks for particular topic clusters.
Allows rank tracking access for every single local Google TLD like Google.com, Google.ca, Google.co.uk, and others.
Pricing: You can start with a free trial of seven days, which can be canceled anytime. Their starting package is $16 a month, where you can track 50 keywords. Their Agency package is priced at $119 a month, which allows tracking up to 1,000 keywords.
Dive Deeper: What Is Enterprise SEO? (Definition, Examples & Tools!)
Conclusion
The right tools can help you track your organic rankings, identify new opportunities and stay competitive in your industry. After researching and analyzing the available options, I have identified the best enterprise keyword tracking tools: Semrush, Link Assistant, Ahrefs, Moz Pro, SE Ranking, RankRanger, Keyword.com and BrightEdge.
Each of these tools offers unique features and benefits that can help businesses of all sizes improve their SEO strategy and achieve their goals.
If you're ready to level up your enterprise business, Single Grain's enterprise SEO experts can help.👇
---
Enterprise SEO Tracking Keyword FAQs
What is enterprise level SEO?
Enterprise-level SEO service is specifically designed for larger organizations with complex website structures having thousands of URLs. Enterprise companies have a large number of products, and their offerings are available in multiple locations worldwide.
Enterprise SEO efforts are aimed at improving the organic traffic and boosting the SEO performance of the website by leveraging SEO tactics, like content creation, technical SEO audit, internal links addition, content optimization, search query rank tracking, optimizing the time spent by users on the site and link building.
What is the difference between traditional and enterprise SEO?
Enterprise SEO focuses on aligning SEO strategies with broader business needs and involving multiple websites. It typically requires a larger budget, as well as specialized keyword research tools and technology to support large-scale SEO efforts like updating the meta tags of thousands of web pages or adding more internal links.
In comparison, traditional SEO is usually done on a single website, and the campaign is run on a small scale with limited budget and resources.
What is keyword tracking in enterprise SEO?
Keyword tracking is the process of monitoring the organic positions of your business keywords on different search platforms. The average position of individual keywords is tracked to measure the organic site performance.
How many keywords should you track for enterprise SEO?
Enterprise SEO involves tracking hundreds of keywords in more than one business location. The total number of keywords to track depends on your campaign goals. You should perform keyword research to include all the important search phrases in your enterprise level organic search strategy. You can begin with your seed (primary) search term and slowly expand your list to include long-tail searches.