You're missing a massive market if your corporation only attracts a national audience on search engine results.
Most enterprises already do some form of local SEO, such as claiming their Google Business profile. But beyond that, are you investing in a local SEO strategy? Or maybe you are, but you're stuck on your next move.
This guide will explain the importance of local SEO for enterprises, how the local customer journey differs, and how to build an effective campaign.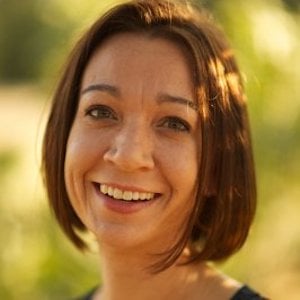 Kim Cooper
Director of Marketing, Amazon Alexa
Single Grain enables us to increase our impact without increasing our headcount
About Local Search Marketing for Enterprises
Local SEO for corporations involves using basic SEO knowledge and many of the same tactics as local SEO for SMBs, such as optimizing location-based keywords and monitoring local business listings. However, enterprise local SEO uses a larger-scale methodology to bring local foot traffic into a corporation's physical location.
46% of Google search queries are looking for local businesses, which is a huge opportunity if your enterprise has multiple locations.
But since an enterprise can have hundreds of locations nationwide, creating a local SEO strategy is more complex.
Why Do Enterprises Struggle with Local Search?
When it comes to local marketing, enterprises often face challenges due to one of the following reasons:
Lacking local enterprise SEO experts in the company
A company's local SEO presence doesn't align with enterprise goals
They focus on other SEO and marketing tactics
Since the strategies for enterprise local SEO are more complex than those for SMBs, there's more room for error. Going back to the first two pain points, a lack of internal local marketing teams can mean that enterprises don't receive the best local optimizations. They may set their marketing dollars toward other SEO tactics, missing this huge opportunity.
Now, let's focus on the last pain point. Some enterprises may have also ignored local SEO, prioritizing a strategy to target a national audience. However, investing in local SEO can increase profits and SEO rankings in these regional markets.
When Should You Prioritize National Enterprise SEO Instead?
Is there a time when enterprises should continue attracting web traffic from national queries on search engines instead of local ones? The best marketing approach is to incorporate both local and national SEO efforts. You can see this by looking at the data.
Let's say your enterprise is optimizing pages for different store location data, as well as some of your national pages ("about us," blogs, etc.), using specific keywords for each.
When you look at your SERPs results, you may draw in more traffic from the national keywords and general pages than the local ones. This shows that people are interested in learning about your enterprise at a national level and may not be trying to visit your store.
The traffic to your local keywords will almost always be smaller. This doesn't necessarily mean a lack of interest, as the targeted audience is smaller. Overlooking your local SEO strategy could mean a loss of valuable regional traffic.
That's why enterprises should develop a marketing plan that leverages both opportunities.
Dive Deeper:
* What Is Enterprise SEO? (Definition, Examples & Tools!)
* Enterprise SEO Metrics: The Key Metrics to Track for Success
* 10 Most Common Enterprise SEO Mistakes and How to Fix Them

Benefits of Local SEO for Enterprises
Local SEO can help your company in several ways. Since you're targeting a niche market, you open yourself up to leads in your geographic area, increasing foot traffic. Plus, it can improve your overall brand awareness.
Let's take a look at these local SEO benefits in more detail.
Attract More Local Leads
Your audience is using search engines for location-based keywords and phrases. And since 72% of consumers who did a local search visited that store, there's a good chance your efforts will succeed.
Let's use a general query with local intent as an example. Your prospect in Dallas is craving pizza, so they will search for a pizza restaurant in their area. Based on this search, they see that there are many local pizza places in Dallas, but the search results also list an ad for the restaurant chain Cicis Pizza. This ensures that the person searching knows that there is a nearby Cicis Pizza location.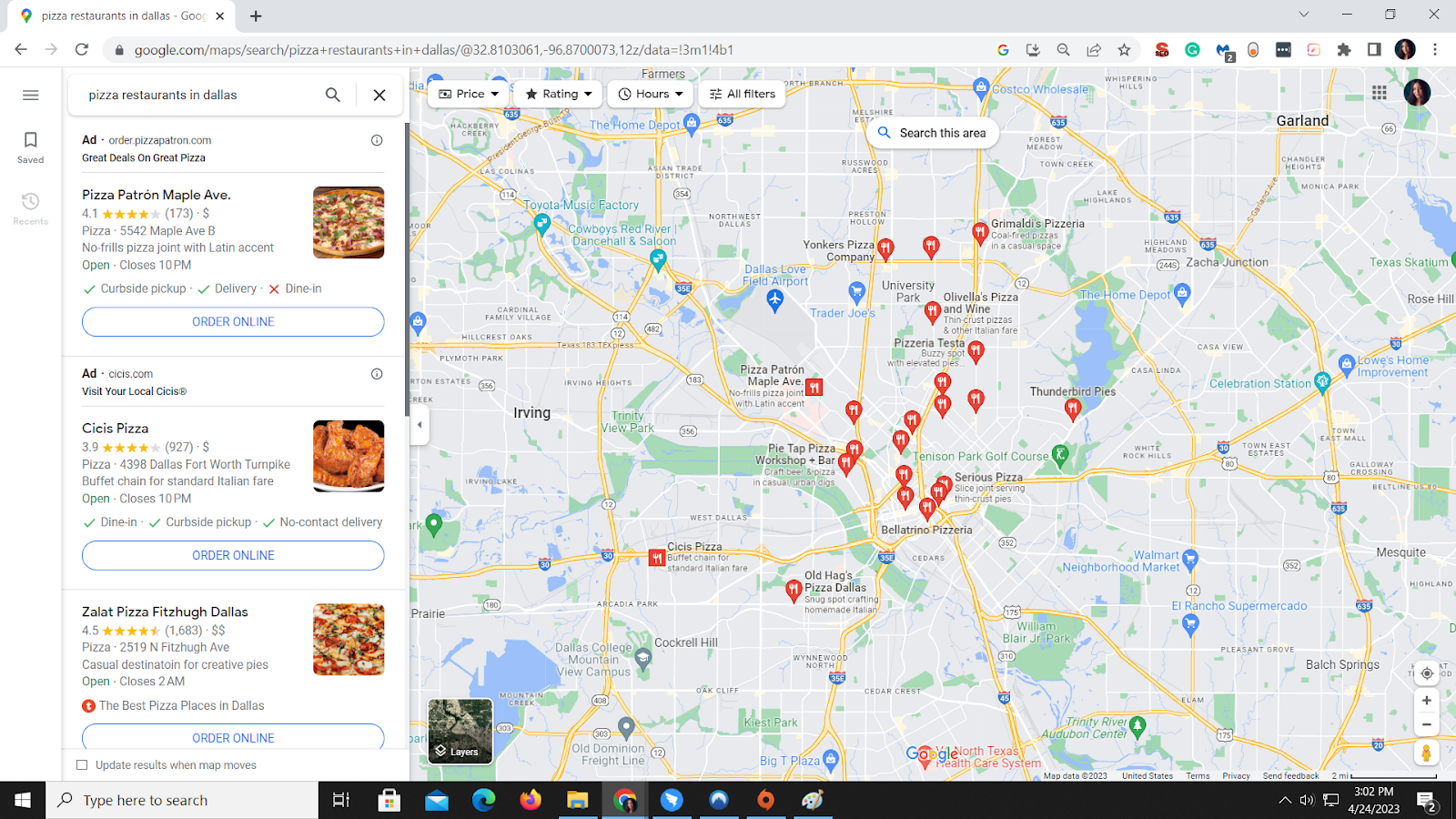 By using local SEO solutions and your Google business profile, you'll attract more leads that can become conversions when they shop in your brick-and-mortar stores. This leads us to our next point.
Dive Deeper: 9 Factors that Can Immensely Boost Your Local SEO
Increased Foot Traffic
There's a reason why local SEO strategies provide a high lead conversion. They capture the local search user at the moment they are seeking to make a purchase.
Let's say a lead craves their favorite restaurant chain, Applebee's. The problem is they have no idea where the closest one to them is.
The user may go on Google or other online directories and search "Applebee's Near Me" or "Applebee's in [city/zip code]." Now the user knows the exact location of the nearest Applebee's, making it more likely that this lead will dine there.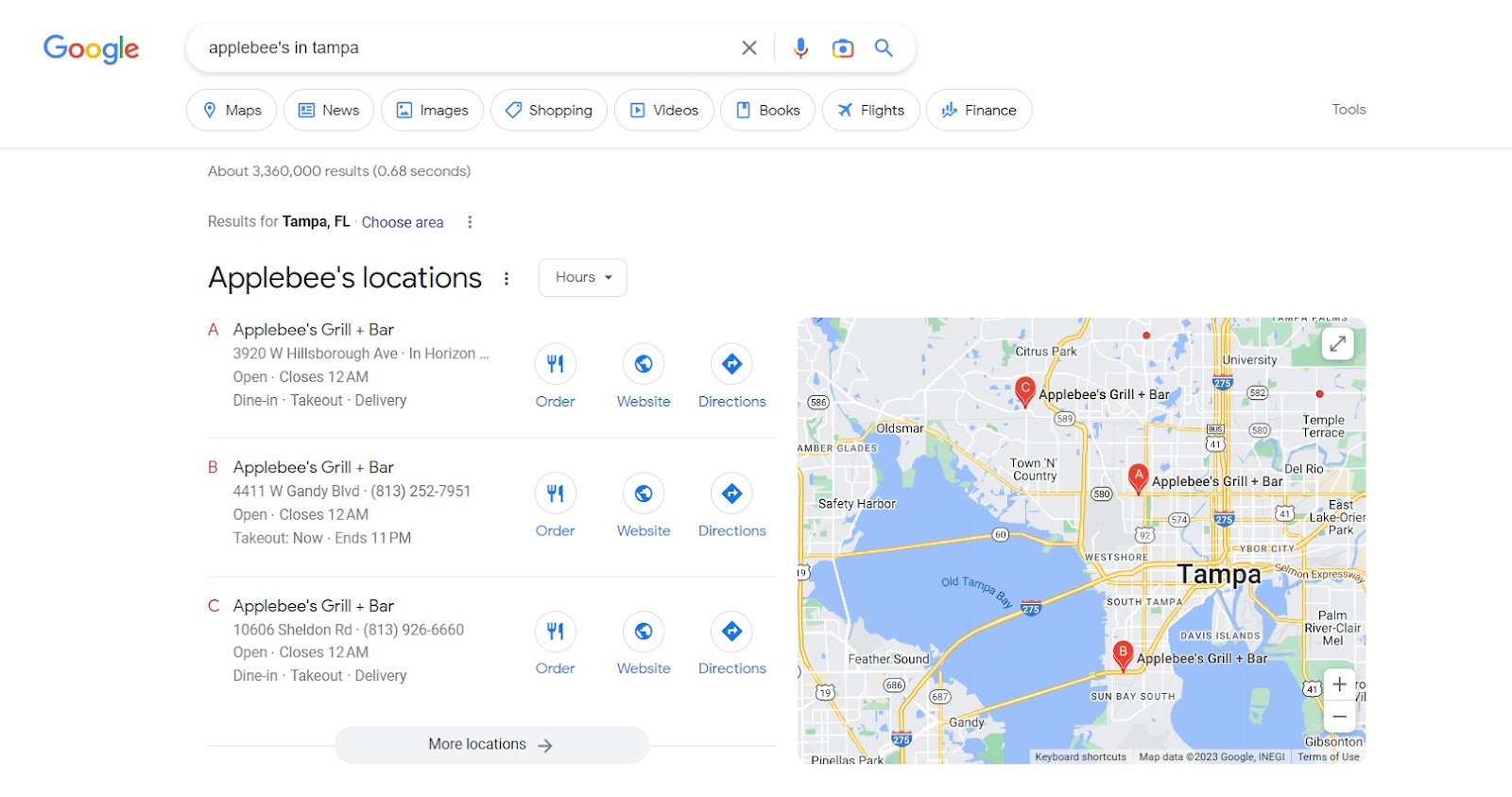 Dive Deeper: The Complete Guide to Brand Building (Must-Read for Digital Marketers)
Improve Brand Awareness
When you implement local SEO into your strategy, it will improve your brand awareness.
Still using Applebee's as an example, searching for the restaurant with local intent will improve their search engine rankings. Search Engine Journal calls brand awareness the "fifth pillar of SEO," since these users are seeking information about your company.
Targeting branded search provides higher commercial intent, which results in a higher conversion rate. The search query shows that the customer is already in the lower part of the sales funnel, putting them in a better position to make a purchase decision.
These efforts will also increase website traffic. That user may want to visit the Applebee's website and look at the menu or latest promotions before visiting the location. If the user clicks through the pages, this also increases their CTR, improving search visibility for Applebee's even more.
Local SEO Customer Journey
To understand how a local campaign will benefit enterprise SEO, it's essential to understand the customer journey and the steps your prospects will go through. This can be illustrated by applying local SEO to the main parts of the sales funnel: awareness, consideration, conversion, and post-conversion.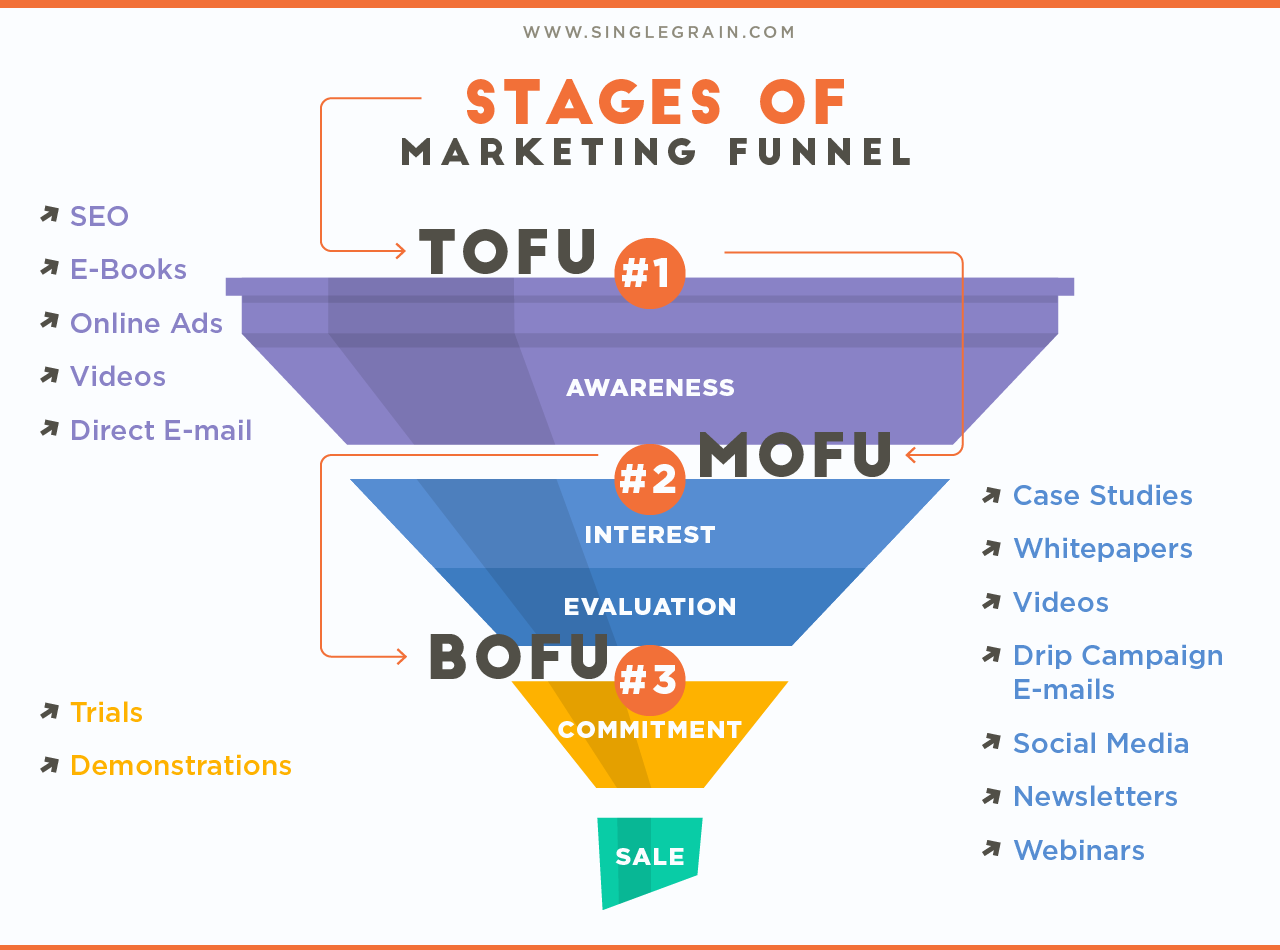 Awareness
At the top of the sales funnel awareness is the most important stage of your online search presence. Your prospects are being introduced to and learning more about your company. They want more information before they're willing to make a sale.
They will consume different types of content, such as blogs and videos, to make an informed decision before visiting your brick-and-mortar store. This content is also a great way to optimize your store for local keywords and key phrases, and you can repurpose content to improve your online presence locally.
Let's look at one of the most prevalent local businesses – car dealerships:

Take one of the biggest global car manufacturers, Toyota, as an example. On their YouTube channel, they offer multiple side-by-side car comparisons that help users decide which car they want: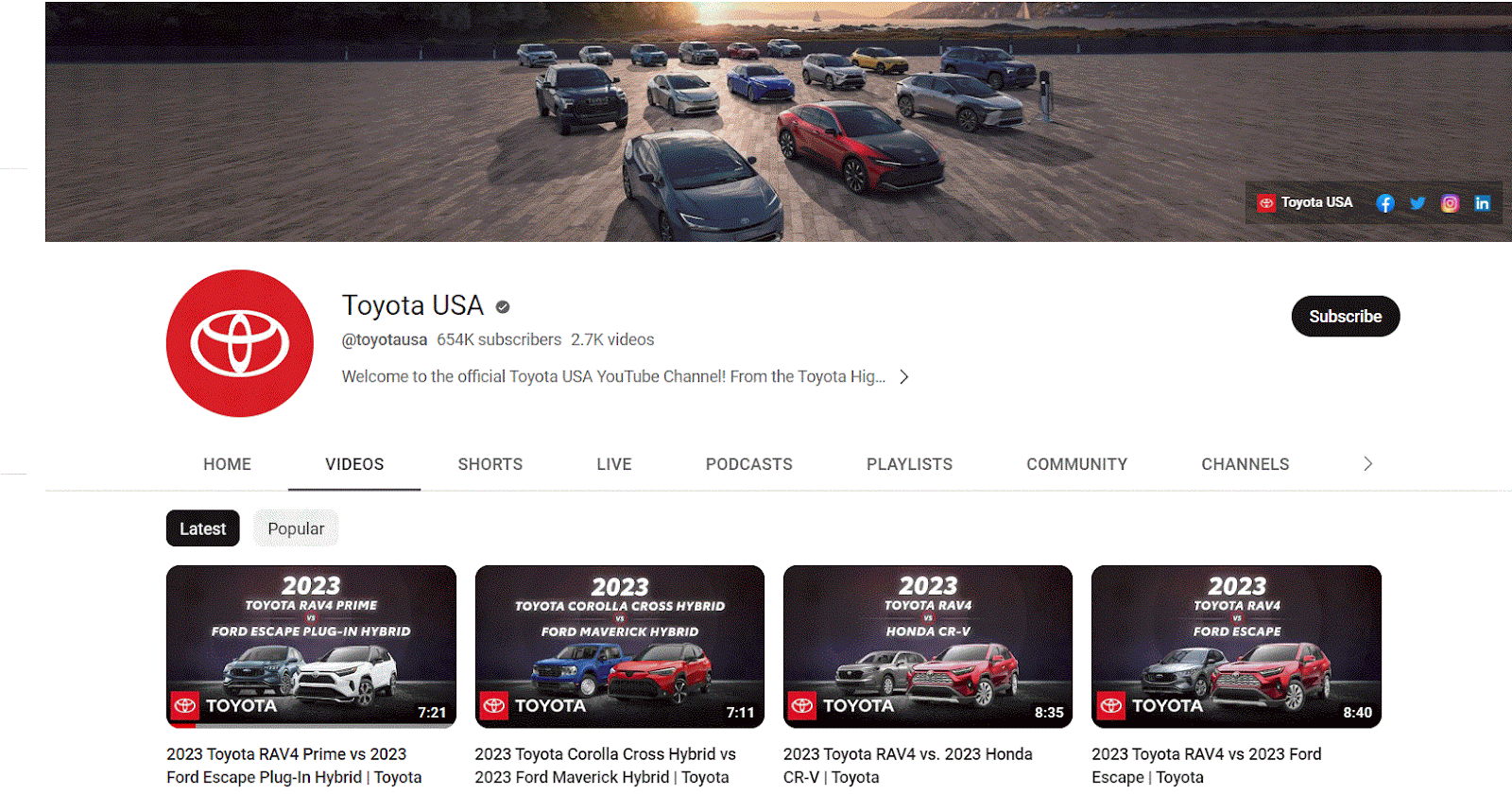 After viewing the videos, the prospect can go on Google to continue learning in the awareness stage or to find search results for the nearest Toyota dealership near them.
Consideration
This stage of the local SEO sales funnel is a little more specific. This is where your brand will build trust, a necessary element when making sales.
Your prospects are farther down the sales funnel and want to know more about the business side of your brand. They may explore other enterprise SEO pages like the FAQ, customer testimonials, your return policy, and even business listings on a third-party website.
If your enterprise offers a unique service, the consideration phase is a great place to share more information with specific prospects.
Let's look at beauty powerhouse Sephora and its in-house Beauty Service. In the menu, you can log in with your Beauty Insider information, and Sephora will automatically show you the nearest store location: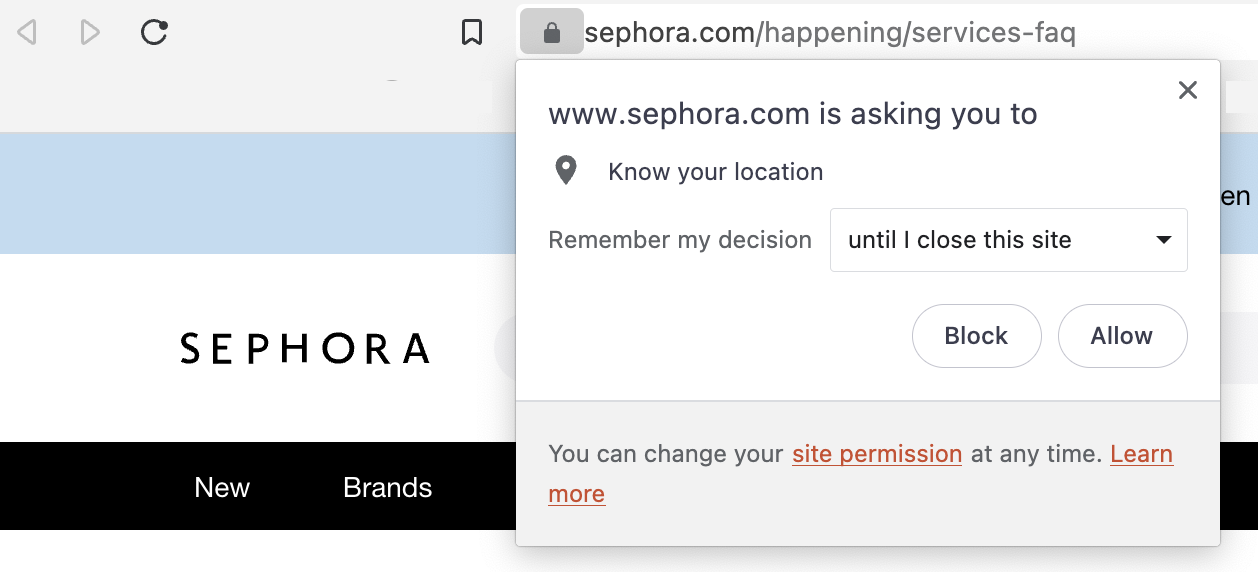 They also highlight the events and services their local store offers: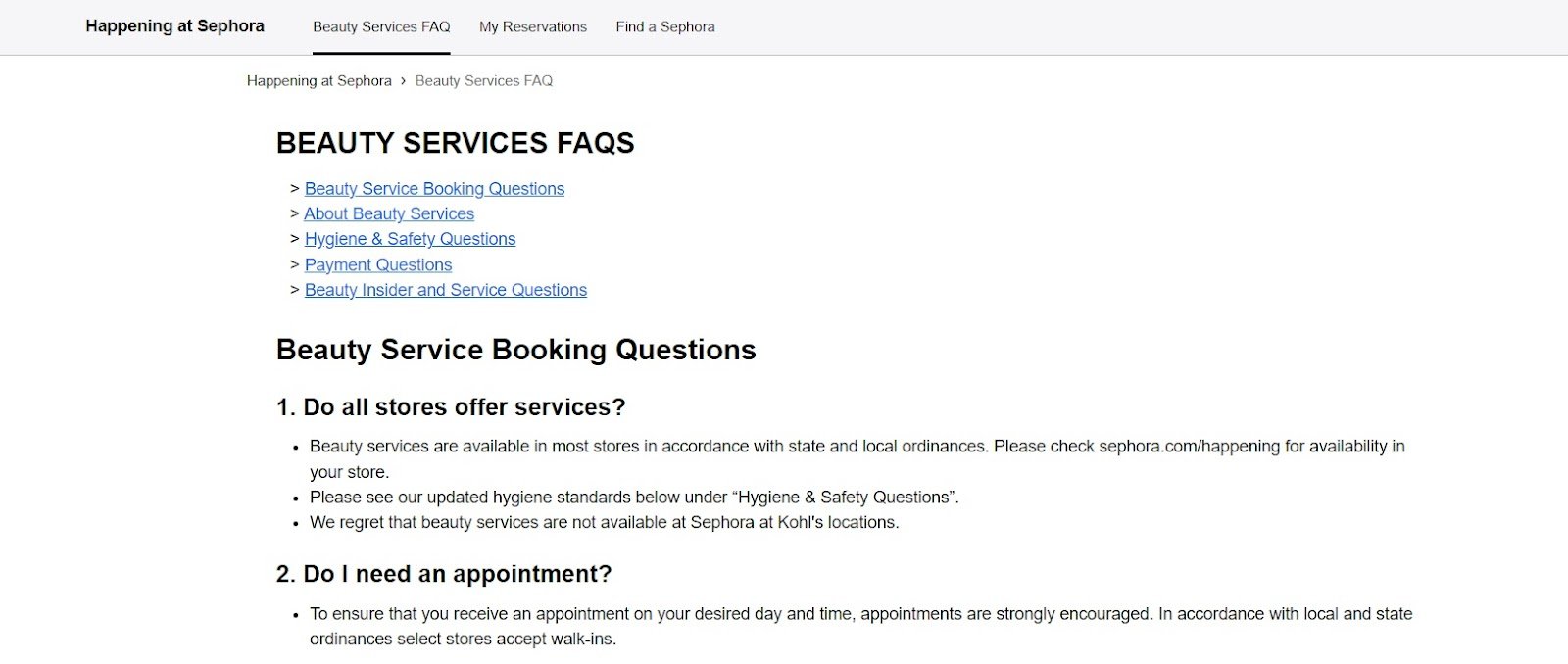 If users are interested in a full makeover at Sephora, they can head to the Beauty Service section and learn all about the service, how to book an appointment, how payment works, hygienic standards, and more.
Conversion
At this point, your customers are on the brink of making a decision. You must pull them in by using additional enterprise SEO techniques to solidify that decision.
While offering your store location and operating hours are great examples, enterprises can do more to convert local leads. For example, state that you offer store pick-up and delivery. If you partner with a third-party pick-up or delivery service, promote this on your website.
On the ABC Fine Wine & Spirits website, users will see one of the first items on the menu bar: "Choose Pickup or Delivery":

By highlighting these options, the company ensures that leads know they don't have to shop at any specific location or even leave home to get the alcohol they want. This is a huge benefit if they're hosting a party and need some last-minute drinks.
Dive Deeper: What's the Right Content for Each Stage of the Marketing Funnel?
Post-Conversion
The customer journey isn't a one-time task. Instead, enterprises should consider the value of loyalty and repeat purchases when creating their local SEO game plan.
Your customers will continue searching for your local enterprise on Google for information. This can include looking for your store's address and operating hours or visiting your website to learn about the newest deals.
A search on Google can reveal this information. Just one search for Target leads to the company website, with their weekly ad as one of the top page results. All the user must do is scroll down a bit to find the nearest Target location.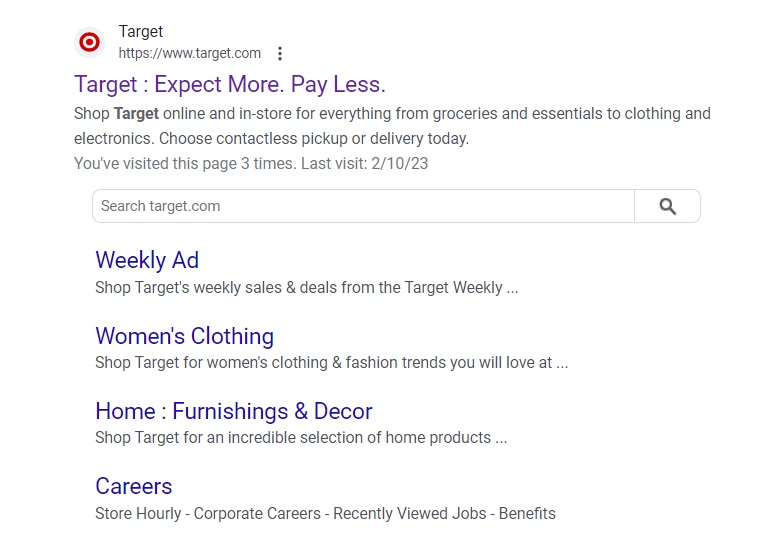 Dive Deeper: Geotargeting: How to Find the Right Customers for Your Brand
The Best Enterprise Local SEO Strategies
Since enterprises have more authority in their market, creating a local SEO strategy will take more strategic marketing efforts. Here are the best practices to follow.
Google My Business Management
There's a good chance you already have a Google My Business listing: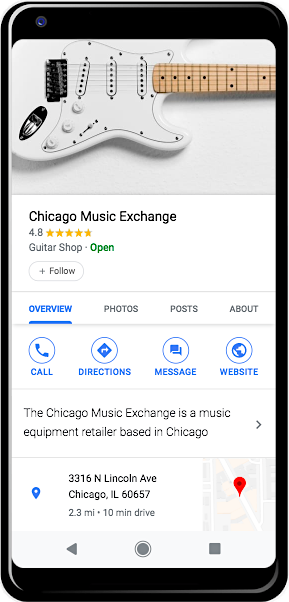 But how well do you manage it?
Managing your listing will ensure that all your information is correct, including a valid website URL, phone number and operating hours (including holiday closures). Don't forget additional data, such as if you offer in-store pick-up or delivery. If any of this information is incorrect, you could lose valuable customers.
This will also help you monitor local reviews, which is extremely important since Google is the platform that reported the largest percentage of fake reviews: (10.7%). Ongoing management will help your business catch a fake review before a potential customer. You can then report it and have it removed.
Dive Deeper: The Complete Guide to Google My Business
Optimize Your Website for Local Search
We will cover optimizing individual store websites in another section, but you can also optimize your national website to improve your local search presence.
Attaching your enterprise URL to your Google My Business listing is the first step. Once users enter your website, you can allow them to enter their zip code to find a particular store location, amping your local search game more.
You must also optimize your website with NAP (name, address, phone) data. While SMBs use this information on all pages, this isn't realistic for enterprise websites. However, you can create a dedicated page on your website with NAP data across all locations, like Sonny's BBQ does (sonnysbbq.com/locations):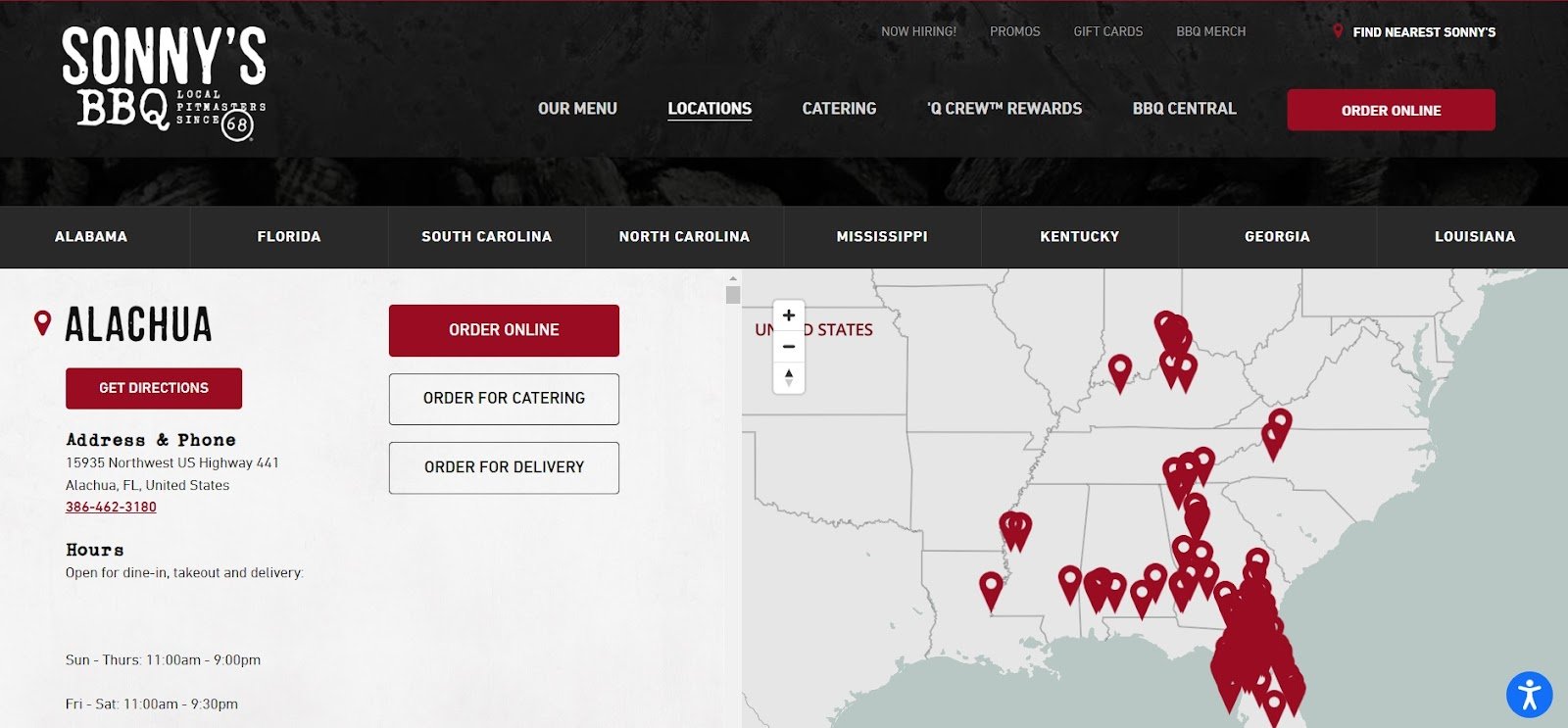 Make sure that this information is easy to locate for customers who are seeking regional information. Looking again at the Sonny's BBQ example, you can see the option to "Find Nearest Sonny's" is displayed clearly in the top right corner of the page.
Use Local Keywords
Location-based keywords can result in serious local rankings. But it's important not to just slap "near me" on every keyword, especially since "near me" keywords can harm a local SEO strategy more than benefit one. Instead, conduct serious keyword research and identify what your target market is searching for in order to improve your local SEO efforts.
First, research how often your users search for branded keywords. These are keywords that include your company name as well as individual products or services. For example:
Single Grain marketing
Single Grain blog
Eric Siu Single Grain
As opposed to just:
digital marketing agency
marketing blog
You'll want to note whether these ranking branded keywords include any type of locality (such as a city or zip code).
Since 92% of users search for long-tail keywords, you'll want to focus on these queries: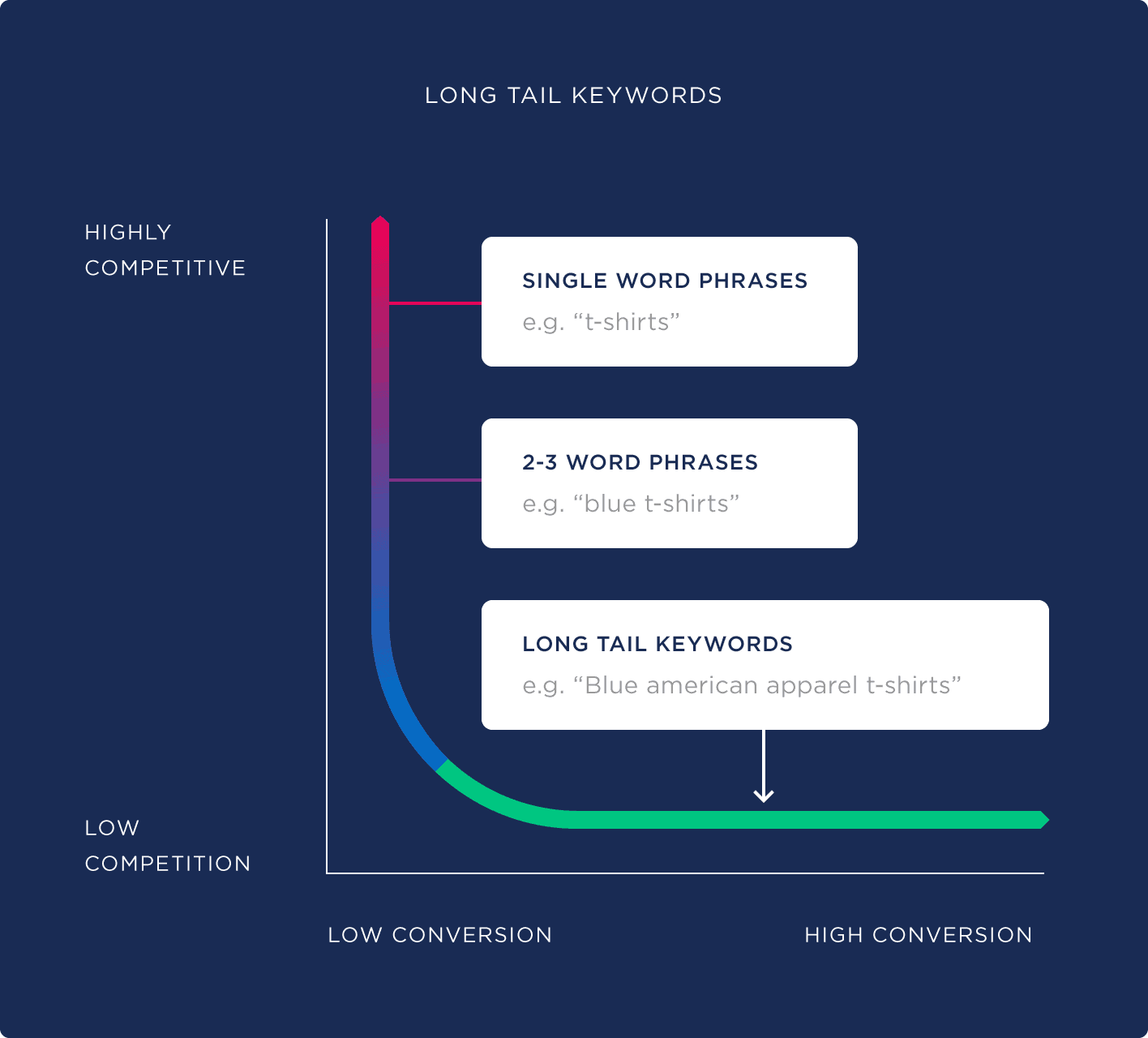 This is especially true for leads that use voice search because it's more likely that they will enter their query as a question. Common examples include:
Which restaurant has the best deals?
Where are they showing the latest Star Wars movie?
What are some local activities to do with the family?
Which coffee shops stay open until 11 p.m. in my area?
How can your enterprise optimize content for these queries? While the traditional advice is to answer them in a blog or on your FAQ page, this isn't realistic for enterprises. Instead, keep your content as close to the question as possible.
Here are some ways that you can address these queries as they pertain to all locations:
Offer an updated deals and promotions page
Keep location and hours of operation updated across your website and GMB listing
Add new and limited-edition products or events to your website
Include high-quality images, infographics and videos that answer popular questions
Dive Deeper: Why You Should Use Long-Tail Keywords in Your SEO Campaign
Optimize Store Locations
You can optimize the individual locations of your stores for local searches in many ways. One of the key methods is to create separate pages for each location. This ensures your store's location data accuracy, building trust among customers.
Retail chain JCPenny has stores across the country. However, customers can still search for their local store and enter the dedicated page that offers information about the store's services, address, hours of operation, phone number, local reviews and deals.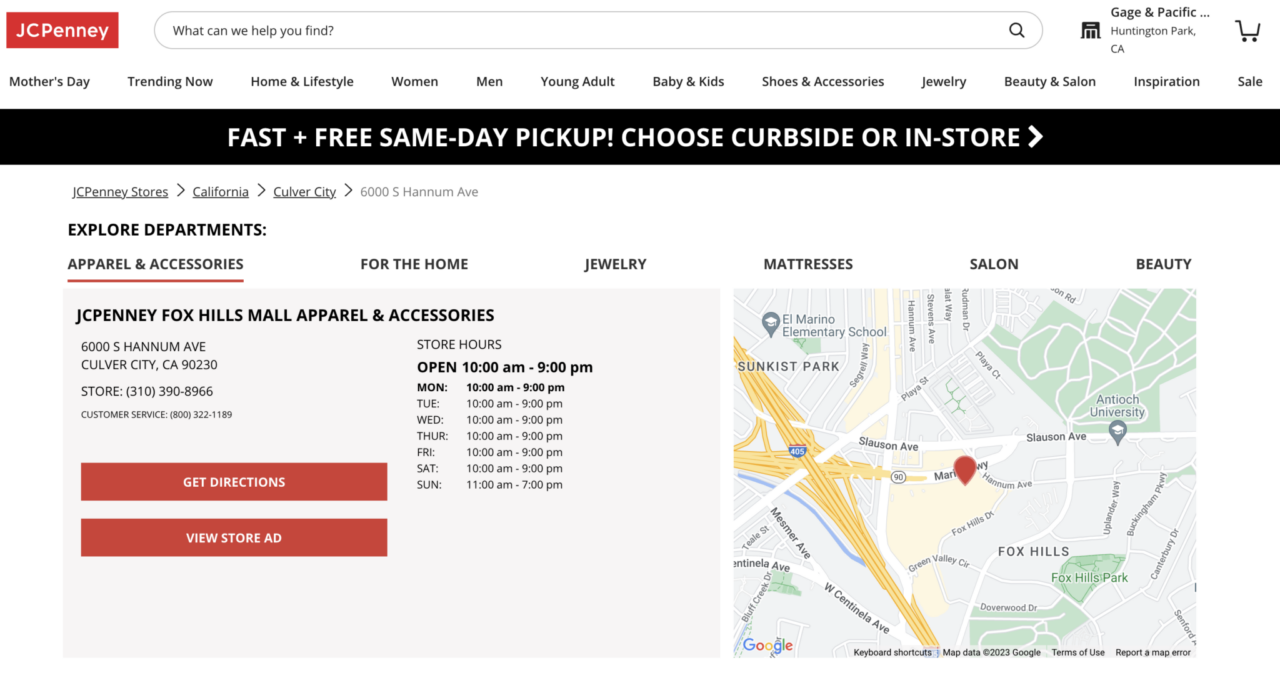 Even if your enterprise doesn't invest in creating individual location pages, you can partner with third-party companies, such as directories, that list all of this information for each location. This will also result in a backlink, which leads us to our next point.
Dive Deeper: 6 Powerful Enterprise Search Engine Marketing Strategies
Create a Local SEO Backlink Strategy
As with any SEM strategy, link building is integral to local searches. Receiving quality backlinks will tell Google you have an authoritative and reputable business.This will boost visibility and help you rank higher in local SERPs.
However, a local SEO backlinking strategy has different requirements, especially for enterprises. You'll want to collaborate with other local and authoritative businesses to receive the best results.
Let's take Amelie Arena as an example. Those visiting the area can find local information on the arena website, such as which hotels to stay at. They collaborated with major hotel chains, such as Marriott, and they offer a promotion to those who stay at the hotel:

Website visitors can click on the JW Marriott link from the Amalie Arena website, making this promotion an effective way to earn a backlink.
But this isn't the only way to earn a backlink. Having your website listed on authoritative online directories, such as Yelp and Angie's List, is a popular and effective method.
You may also like: How to Create a Winning Local PPC Strategy for More Conversions
Do You Need Help With Enterprise Local SEO?
Enterprise local SEO is necessary to convert location-based leads, especially if your corporation operates nationwide.
By optimizing for local search, creating consistent and accurate listings across directories, and leveraging location-based content, enterprise businesses can establish a strong local presence and attract customers in their target markets.
But there are many potential challenges, such as investing more in a national enterprise SEO strategy and not hiring internal local SEM experts. By following the advice in this article, you can increase online visibility, drive more foot traffic, and ultimately boost revenue.
Or you can always hire a professional enterprise SEO agency.
If you're ready to grow your enterprise business locally or globally, Single Grain's enterprise SEO experts can help.👇