The first meeting with your hired SEO agency is always exciting because you have lots of expectations from them. You have confidence that your business will be able scale to the next level because of your decision to invest in SEO services.
When you set up your first meeting with your chosen search engine optimization company, there are some things that you definitely must ask them and there are some red flags that you need to beware of in order to distinguish a genuine SEO company from a scammer.
In this article, we will answer all your questions and concerns that you might have when you're thinking about making your first investment in SEO.
Questions to Ask Your SEO Agency in that First Meeting
If you come to your first SEO agency meeting with these questions, you'll be positioned to better understand exactly what they can and can't do for you:
How long have you been in service?
Can you share some of your previous work? Can I see some case studies?
What are your best SEO achievements so far?
What is the process that you follow to improve search engine rankings?
What specifically can you help my company with (link profile, web analytics, etc.)?
How will you divide the number of hours amongst the SEO activities that you will perform?
How often will you keep me updated about the changes you make on our site?
What are the risks associated with SEO? What impact can it have on my business?
Do you follow the search engine guidelines?
How will you calculate the SEO ROI?
When can I expect to start seeing the results?
Which tools do you use to perform different SEO activities?
Have any of your clients faced Google penalties? If so, how did you tackle the situation and how is that business doing currently?
Can you show me some examples of your past SEO work in [your niche]?
Can you provide details of your past clients as SEO references?
Are they any guarantees that you offer?
Do you have any experience in my city/country?
What is the most important SEO technique that you always follow?
What do you know about our company and its customers?
Do you know who our competitors are?
How exactly can SEO help our business grow?
Are any of our competitors using SEO services? What results have they achieved in the past?
What type of reports will you provide us with weekly or monthly?
Do you need any help from us while doing your regular SEO tasks?
What are your payment terms?
When can we terminate the contract if needed?
Who will our customer relationship manager/SEO manager be and how can we contact him/her?
What an SEO Agency Should Be Able to Do
Your chosen SEO agency should be able to perform the following tasks efficiently:
1) Keyword Analysis
Keyword research is a critical component for any SEO campaign. Your SEO company should be able to identify the best keywords for organic optimization campaigns. Keep in mind the following factors the agency should be thinking about when choosing your keywords:
Who are your target customers?
What are the keywords your competitors are targeting?
What are the keywords that will give you the maximum ROI?
What are the keywords that you can target on your website's existing pages?
How many keywords are required to boost your current profit?
Have they taken into account the keyword's competition before finalizing them, because low-competition keywords can give you the most effective results the fastest.
Which keywords can earn you a place in the answer box?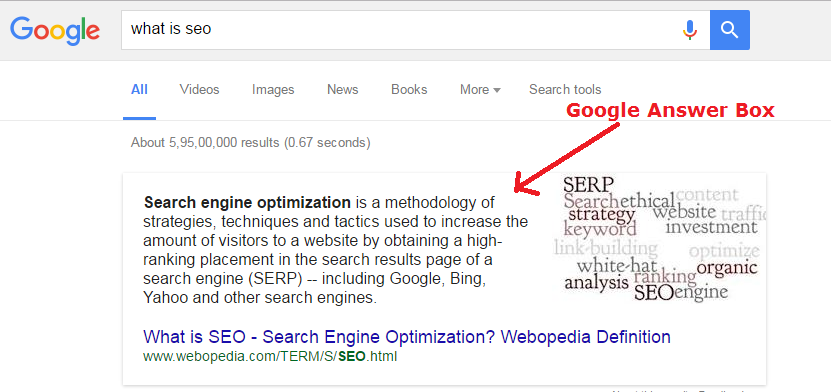 Are the keywords divided on the basis of customers' micro-moments?
How many of the suggested keywords are long-tail? The longer the phrase, the higher the conversion: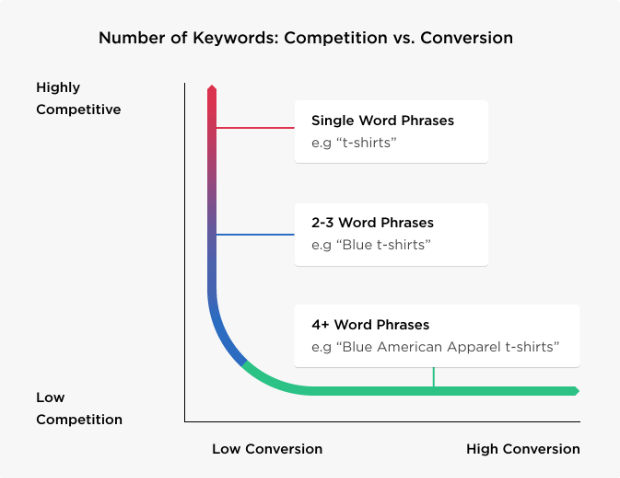 How many new pages are required to be added to your site for targeting all the chosen keywords?
Have they taken into account factors like Latest Semantic Indexing before selecting a keyword?
Have they divided the keywords on the basis of navigational,  investigational, informational and transactional query?
Have they taken into account voice search and identified question keywords? Keywords that start with how, why, what, when, where, should, can, is, etc. are normally asked by searchers using voice command; the future of SEO is voice search over text-based search. Your SEO should be able to identify the best question keywords as per your niche.
Have they used a combination of SEO tools such as Keyword Planner, Ubersuggest, Answer the Public, SEMrush, Ahrefs, Moz or any other tool? (Check out our list post 44 Must-Have Marketing Tools, broken down into categories such as SEO, content marketing, CRM, PPC.)
Have they estimated the top of page bid for the transactional keywords? These are the ones that will be responsible for sales because a high top of the page bid means the keyword has a high commercial intent: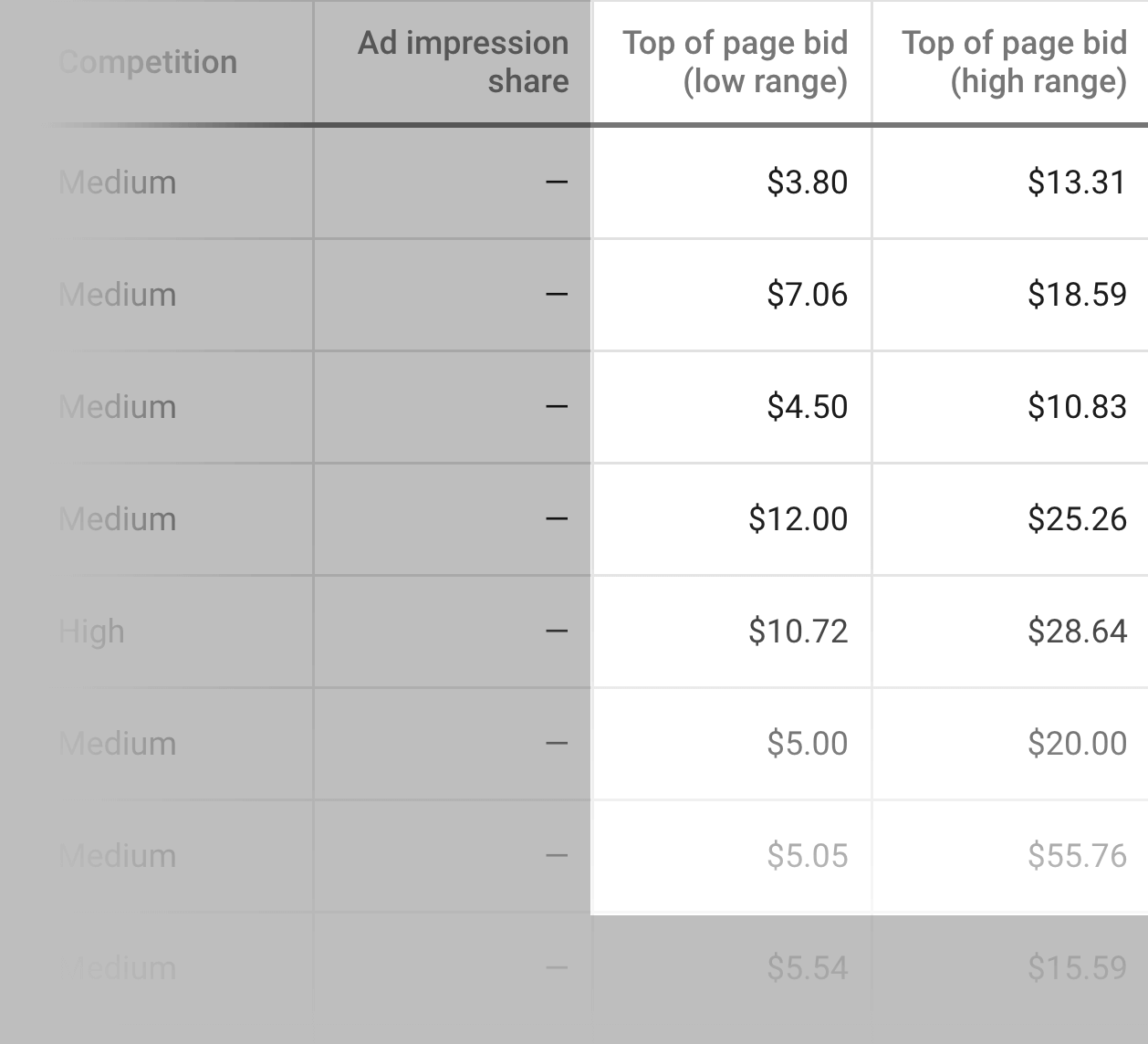 Dive Deeper:
2) Technical On-Page Audit
Technical SEO audits are performed by all SEO companies, but a competent SEO services provider will carefully review each and every aspect of a website because it can have a direct impact on the optimization ROI. However, your SEO agency should not force you to do audits every month.
Usually an SEO audit is performed at the start of your optimization campaign and some regular tweaks are suggested to keep the website in accordance with the search engine guidelines and the latest UX best practices. The start of each quarter is generally frequent enough.
The following points can serve as a checklist to ensure that your SEO agency is performing a comprehensive technical SEO audit of your website:
The SEO company must ask you about the objectives of your campaign. What are you trying to achieve through SEO?
All KPIs should be chosen beforehand so that there are no discrepancies later on, and the chosen KPIs (Key Performance Indicators) should be easily measurable.
All the pages on your site should be grouped according to the target keywords.
A comprehensive competitor analysis should be performed to find relevant keyword opportunities, missed link opportunities and to identify content topic effectiveness.
All the keywords for which your website is already ranking on Google (but the position is fairly low) should be identified. These low-hanging fruits have a greater chance to make it to the top with minimal efforts. These keywords can be easily identified using Search Console.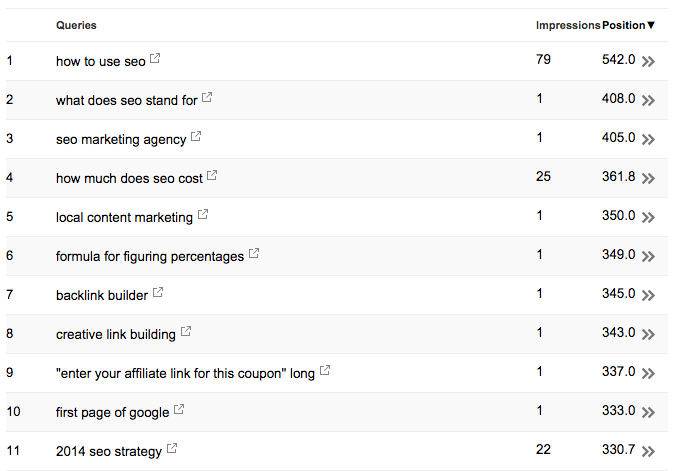 The company should be able to identify thin content pages on your site and remove them. Some of the content that you don't want to have on your site are tag pages, archive pages and boilerplate content.
A proper check on mobile site friendliness should be performed because more than 60% of Google searches now comes from mobile devices: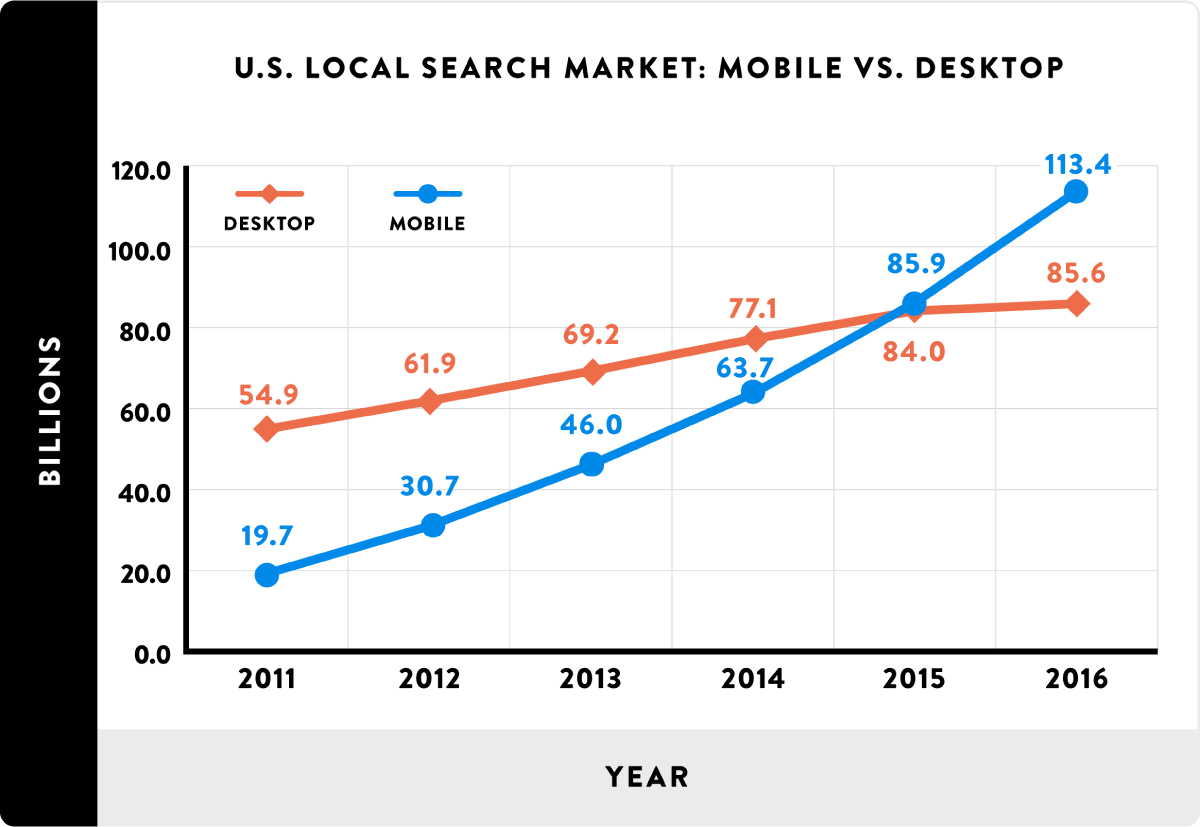 All the important pages on your site should be optimized for your target keywords. The title, description, meta tags and content should be rewritten to make them both SEO friendly and user friendly.
Navigation and internal linking should be optimized.
URL structure should be made user friendly.
Proper alt tags should be added on all the images and image optimization should be done for increasing page speed.
Any canonicalization issues must be checked thoroughly to avoid being penalized for duplicate content.
Your website should be analyzed based on the data obtained via Google Search Console and Google Analytics.
Proper steps should be taken to speed up your website because a page load offers a better user experience.
Any index issues should be found and fixed on priority.
Dive Deeper:
3) Content Audit
A content audit is an extremely important part of search engine optimization because it helps align your content with the searcher's intent. When your content syncs with the exact intent of the searcher, it is prioritized by the search engines and thus ranks higher.
A detailed content audit should be done when your SEO agency first gets on board and then once a year thereafter. This audit involves examining all the content on your site to learn what's working, what needs to be updated, and what's not working, and will provide great insights into and will inform your content marketing strategy. It's a qualitative assessment and evaluation based on the KPIs that you put into place beforehand.
You need to ask your SEO agency to provide details of the content audit they do so that you can implement the suggestions on your website. A basic content audit template (in which your action is simply "leave as-is," "update & improve" or "delete") might look like this:

Or it could be a little more detailed about the exact steps that need to be taken in order to make the content on the page SEO friendly, like this: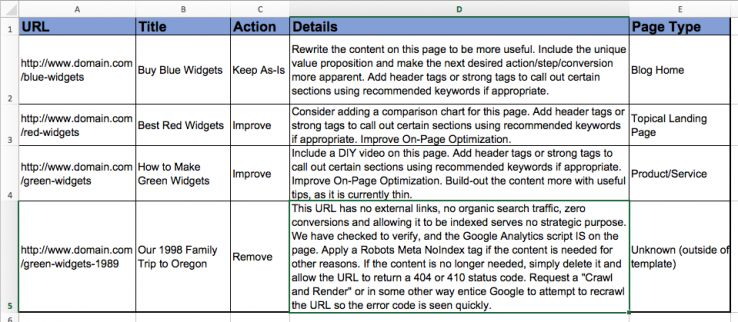 Dive Deeper:
4) SEO Tool Selection
Your SEO company should be able to help you choose the perfect SEO tools to carry out all the tasks you need to do to improve your ranking: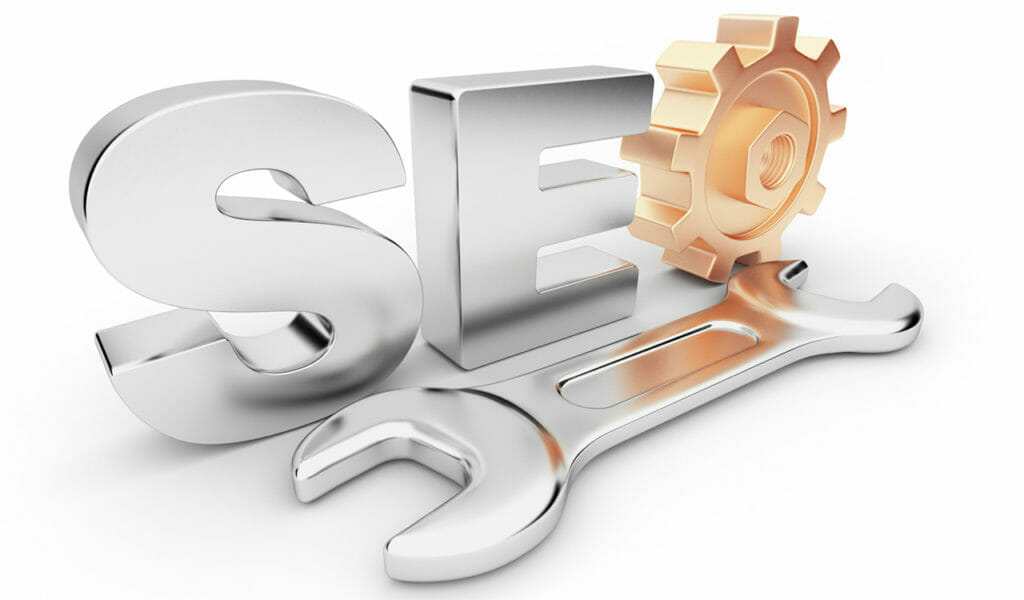 Every business' needs are different and your expectations of an SEO campaign depends on your business goals. There are many SEO tools available and the selection of a particular tool should depend on specific tasks that you are interested in achieving from your campaign.
For example, your SEO company might suggest that you to buy an outreach tool in order to amplify your link-earning efforts if they find that you have few broken or otherwise insufficient links that are affecting your ability to rank on Google.
Similarly, they might ask you to buy a paid version of SEMrush because it can help them accomplish several tasks related to SEO. Additionally, they might suggest that you buy the premium version of tools like Ahrefs, Moz, Serpstat, Long Tail Pro, etc.
It is always best to ask your SEO agency to provide reasons as to why they are selecting a particular SEO tool and what benefit will it have on the overall campaign.
Dive Deeper:
5) Link Audit
Backlinks remain one of the top ranking factors in the search engine ranking algorithm.
Google continuously monitors each and every link that points to your website and uses them to rank your website in the search results. The higher the number of high-authority backlinks your site has, the greater your chances are to rank at the top of Google's SERPs. On the other hand, if your website has too many irrelevant links or few links then your chances of ranking on Google diminishes.
Too many spammy links might result in a manual penalty, meaning that your site might get demoted in the search results unless you fix the issue of unnatural linking. Here is a set of link schemes that Google does not allow and if Google finds that your SEO company is building unnatural links that falls under any of these categories, then it might apply a penalty to your website.
Before starting any link-building campaign, your SEO must conduct a comprehensive link audit in order to identify the types of links your site has and suggest the next plan of action based on the quality and quantity of the links.
Your SEO team might suggest filing a disavow request if they detect any of the below issues while auditing your site's link profile:
There are lots of irrelevant links coming from spammy domains or country-specific domains like .ph, .ru, etc. (if your business doesn't serve those countries but has a lot of links coming from them)
There are links coming from pages or sites that link to spammy sites like porn or gambling
You have lots of links coming from low-quality web directories or blog comments
You have lots of links coming from sites having a high spam score
There are lots of links with keyword-rich anchor text
The ratio of links versus referring domains is fishy (for example, if your site has 1,000 links from a single domain then this might look unnatural to Google)
There are lots of links coming from low-quality article directories
Your SEO team will also analyze your competitors' backlinks and identify potential link opportunities for you. Always ask for specific reports from your SEO agency on the link audit or link-building activities that it carries out on behalf of your website.
Dive Deeper:
6) Website Monitoring and SEO Reporting
A competent SEO team will always do regular website monitoring and SEO reporting. You need to ask them what type of reports they will provide and when, as well as what their mode of communication is. Will they be available to talk via chat or calls, or do they prefer email?
Website Monitoring
There are several tools that can assist in website monitoring, but the most common one is Google Search Console, which will highlight any of these issues:
You will receive a notification if Google is unable to crawl and index your website.
You will receive alerts if Google finds spam or other issues on your site.
You will be able to troubleshoot issues related to mobile indexing, crawling, AMP and other search features.
It will help you highlight and fix server errors, site load issues and security-related issues.
SEO Reporting
Your SEO team must provide you with a set of reports from time to time, which will contain instructions about issues that need your attention and solicit approval from you to further proceed with the different SEO tasks.
These are some of the common SEO reports that you must ask for from your SEO team:
Keyword Research Report: This report will contain the total number of keywords that your business needs to target and the SEO costs associated with it. You are free to choose the keywords that you wish to target contained in the report, but it is always advisable to trust your SEO team and move ahead with all the keywords suggested by them. You should ask the team to provide relevant KPIs for measuring the performance of each and every keyword: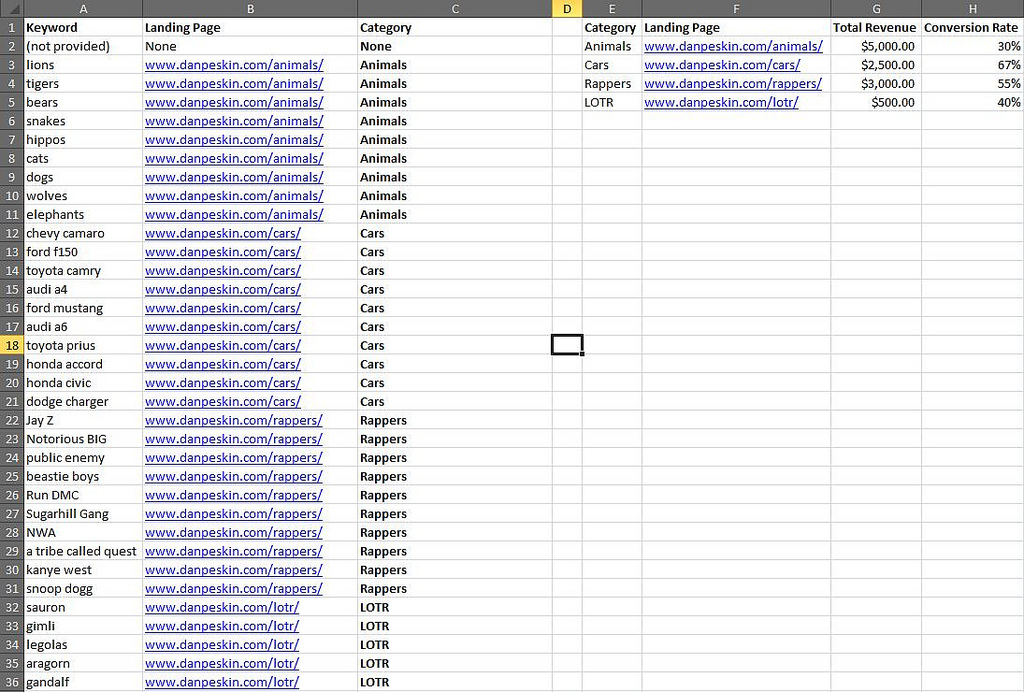 Competitor Analysis Report: This is a comprehensive report highlighting all the SEO strategies used by your competitors, top organic keywords targeted by them, types of links created/earned by them, number of content pieces produced by them each month, their overall engagement on the content and their current website SEO metrics. This report will give you a clear idea of the amount of working hours needed to defeat your competitors in the search results. It will also help you decide your SEO budget accordingly.
On-Page SEO Audit Report: The on-page technical audit report will highlight any SEO issues that your website has and the recommendations to fix them. It will also have a content audit section that will give you a clear idea about the type of content you need to have on your website. You should carefully implement all the suggestions provided in the report or provide site access to your SEO team to allow them to perform the fixes themselves.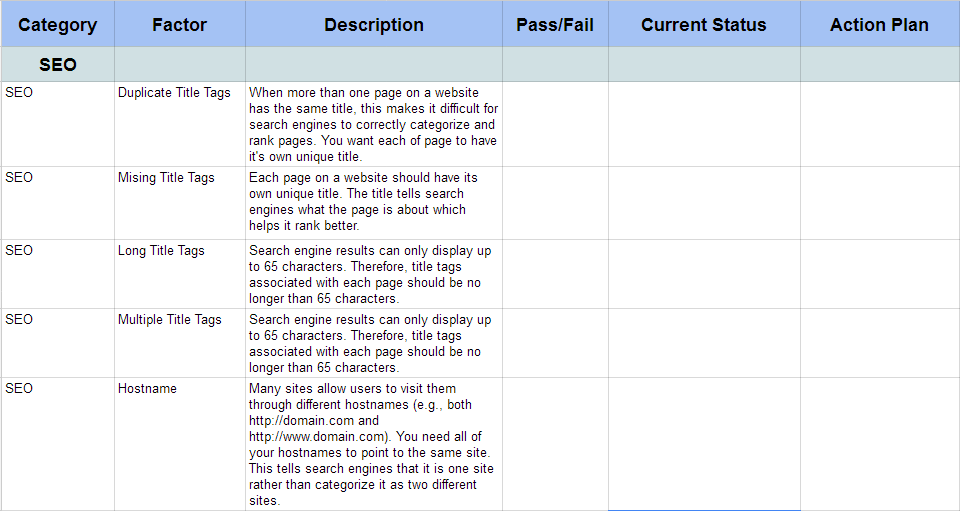 Link Audit Report: You must always ask your SEO team for this report because links are by far the most important ranking factor. The link audit report will highlight the type of links your site has and the number of links needed each week/month for regular SEO activity. You must ask for the costs associated with every link that your SEO team creates/earns.
Link-Building Report: This report will present a list of links that your SEO team has created over a period of time. You must check this report carefully. Metrics like DA, spam score, organic traffic, Majestic Trust Flow should be present on the report for every link created as this will help you to judge the trust factor of every domain.
Weekly/Monthly Work Report: Your SEO team will provide you with a weekly/monthly summary of all the tasks they have carried out. This can include site audit, meta tag creation, link audit, link building or any other tasks.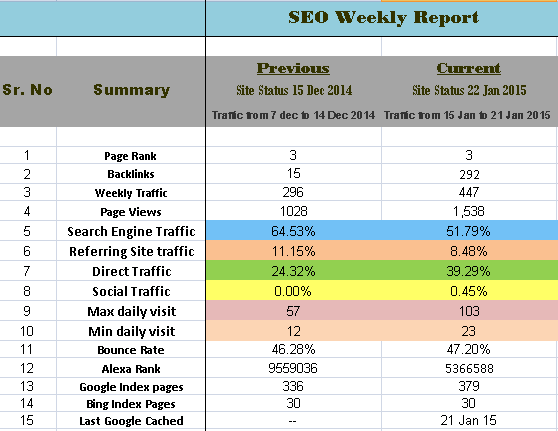 Keyword Ranking Report: This report will present your website's current rankings in the Google search results. You can always compare this report at a later stage to identify any drop in rankings. Ask your SEO team to specify the reason for a drop in rankings and what steps they have taken to fix it.
Traffic and Conversion Report: Your entire SEO ROI is based on this report, which will highlight the number of conversions happening on your website. You can always compare this report at a later stage if there is a drop in conversions and ask your SEO team to provide suitable reasons for the drop.
Dive Deeper:
Red Flags: How to Determine if an SEO Company Is a Scam
You will know whether your chosen SEO provider is a scammer if they engage in any of these practices:
You are unable to contact your SEO agency as and when needed.
Your SEO company does not follows the Google guidelines.
When your SEO team comes up with with any recommendations, do they provide a proper reference to follow the suggested recommendations? Does the recommendation come from a trusted source like Google or Bing?
They are using deceptive redirects or shadow domains.
They are creating "doorway pages" with keyword stuffing that they claim can rank for a number of search queries.
Are they providing a guarantee of number one ranking? No SEO can guarantee number one ranking on Google and if your SEO is promising this then it is a red flag.
Are they getting your site involved in link schemes that are banned by Google? If your SEO provider asks you to buy links from a domain then this is a red flag. Participating in a link scheme can result in a manual action against your site, meaning that your website won't be found in organic search results.
If they don't disclose the activities they perform in order to make your site rank in Google, be wary. A company that remains secretive about its practices and does not clearly explain what they intend to do is not legit.
You suddenly realize that your website is getting a lot of fake traffic coming from spam sites or direct bot visits.
They suggest that you submit your site on thousands of web directories or create hundreds of blog comments.
They create content for you to by rewriting someone else's work.
They are operating their SEO business under falsified Whois info or with multiple aliases.
Does your SEO agency rank on Google organically for its service keywords? If not, then probably that company is not the best one to approach.
Are they placing your site in the advertising section and claiming that they have achieved top organic rankings? (Yup, some SEO agencies do that.)
If your SEO company isn't sending you any reports then they are probably doing nothing. SEOers deal with massive amounts of data, so you must always ask for an SEO report. If they don't provide it then, move on.
If they aren't able to generate qualified leads for your business, then you have no reason to employ them. It is important to understand how they measure ROI, and if they are measuring it on the basis of rankings and traffic then they are not qualified enough to do SEO. The best SEO agencies will measure ROI in terms of real sales and customer lifetime value.
Final Thoughts
If you're thinking about hiring an SEO agency, or you've already made the decision to, you need to ensure that you set the right expectations for both parties right from the beginning. Hopefully this article has been a useful guide for your first meeting with an SEO company and for every phase of your SEO strategy in a long and fruitful partnership.
At Single Grain, we have nearly a decade of SEO experience and we've proven that we can increase your online visibility, search ranking and site traffic. We've helped Uber, Amazon and Salesforce grow their businesses, and we can help you, too!
Click the orange button below to have a friendly chat!