How to Implement a Cost-Effective SEO Strategy in 4 Steps
Running an SEO campaign takes a little more effort than simply plugging keywords into your website. If you're going to do it right, you need to make sure that you're leaving no stone unturned. It all starts with finding the right keywords, coming up with an effective marketing strategy, and building links that drive traffic to your website.
Unlike traditional marketing, SEO is all about impressing Google by creating a meaningful experience that truly appeals to your viewers.
Click To Tweet
Just about every company is dabbling in the world of SEO these days, so the competition is going to be stiff. Unless you know how to properly implement your SEO strategy, you run the risk of getting drowned out by all the noise from your competitors, especially if your business belongs to an industry with lots of heavy hitters.
Getting ahead means devoting resources to understanding the latest SEO trends, as Google is constantly updating their SEO best practices. But make sure that the resources you use are up-to-date because SEO guidelines from just a few years ago are already in danger of becoming extinct.
If you're reading this article, you're already taking a step towards getting a sense of the current SEO landscape. This piece is designed to give business owners an introduction into the steps they should be taking to implement an effective SEO strategy without blowing their budget. After all, SEO is a massive undertaking and you need to use your money wisely.
Here is a step-by-step guide to learn how to implement a cost-effective SEO campaign.
Step 1: Research Keywords and Your Competitors
Every SEO campaign is based around certain keywords that you'll be using throughout your website and its content. These keywords should accurately describe your business and the goods or services you provide. But remember: Google will penalize your website by moving your site down in its search rankings if you use popular keywords that have nothing to do with your business.
While your website might break into the top five or ten search results on a page, Google wants people to stay on your website for more than five seconds. So if people click on your website only to find out that your site isn't what they were expecting and doesn't contain what they were looking for, chances are you're using the wrong keywords.
Your brain might be swirling with keywords already, but you need to make sure that you're on the right track by doing what's known as keyword research. To get started, try using Google's keyword research tool. It's completely free because Google wants to business owners and digital marketers like you to know exactly what kind of keywords they should be using.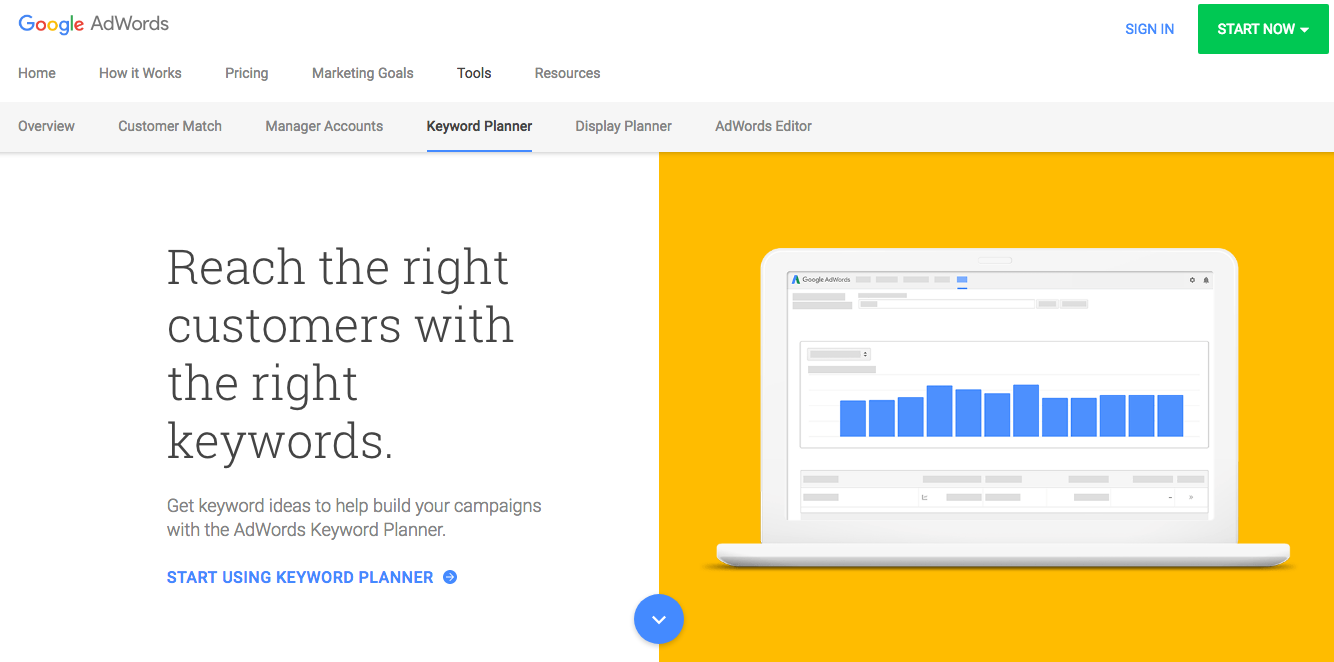 There are plenty of other effective SEO tools out there that you can use, like Moz or SEOProfiler, but many of them will cost your business a pretty penny, so a free resource is probably the best place to start.
Further Reading: 
Website URL
You'll need a URL for your website and a Google account to start using the keyword planner tool. As soon as you enter your website's URL, Google will start analyzing your content to get a sense of what your site is all about.
They'll ask you what you want your users to do once they land on your website. You can choose from options like calling your business, visiting your storefront, or taking action directly on your website. Based on your content, Google will ask you to focus your SEO campaign on a certain geographic area based on where your target audience is located.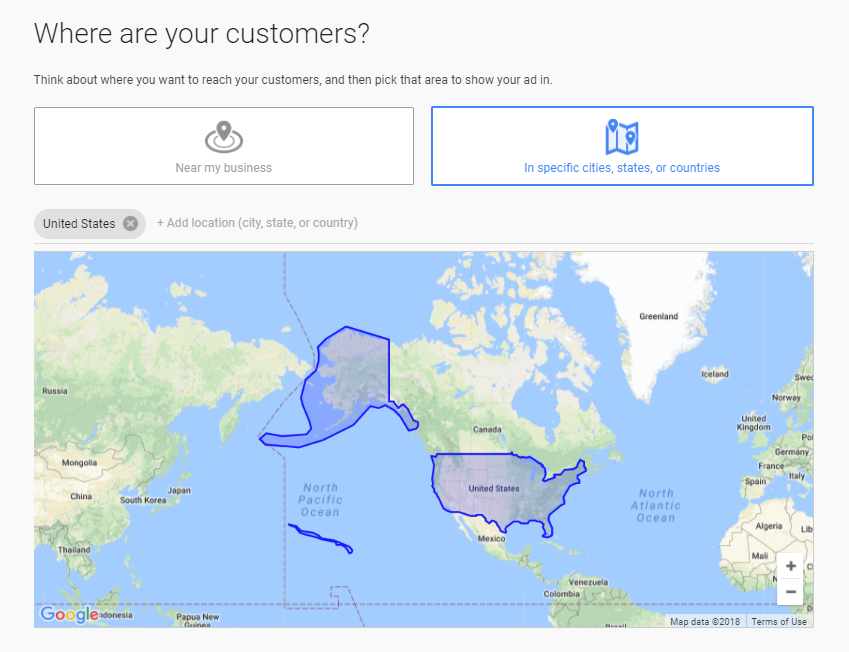 Product Description
Google will also ask you to define your product. The algorithm will make some suggestions based on the data from your website. You can then add images and pick your budget. Plans range from several dollars a day to thousands of dollars a month. The cost is based on how many people end up clicking on your ads. You can cancel anytime, and you don't have to worry about running over budget.
Target Keywords
You can then choose your target keywords. Try plugging different terms into the tool to see what some of the most commonly used keywords are for your industry. But doing your research is a little more complicated than simply picking the most popular keywords. Generic keywords with a high search volume that appeal to a wide variety of businesses and geographic locations will be the toughest to crack.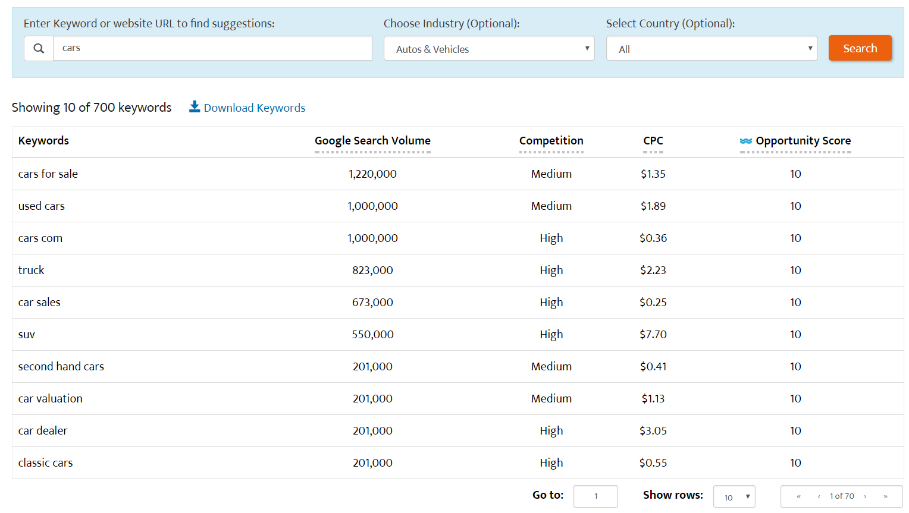 As you can see in the example above, the keyword "cars for sale" gets a lot of traffic but you'll be going up against every other car dealership in the country. Generic keywords can drain your budget because so many businesses are targeting them, but incorporating a few into your strategy will help you reach a wide audience.
More specific keywords that are less competitive are what we consider "low-hanging fruit". These keywords tend to have a much lower search volume on Google, which means that people aren't searching for these terms as much on Google, but your website will have a better chance of making it to the first page of results.

According to HubSpot, 50% of search queries are four words or longer, so it's best to cast a wide net by using a combination of both high-volume and low-volume keywords. The more specific keywords will be more of a short-term goal, while those high-volume keywords can be a part of your long-term strategy.
You'll be able to see the results once your campaign is live. If some keywords are underperforming, take them off your list. Even if you decide not to launch a campaign on AdWords, you can use their Keyword Planner to find the right keywords for your business.
Step 2: Map Out Your Content
Once you have your eye on a few keywords, it's time to start incorporating them into the content on your website. You'll need to focus your efforts based on the individual pages of your website:
The homepage should include a mix of all your keywords.
Other pages should feature keywords that relate directly to the topic on that page.
Location-based pages for different cities or neighborhoods should use geotargeted keywords.
Pages with individual services should feature keywords that highlight those products.
The more keywords you use per page, the more diluted your results will be, so focus on 2-3 keywords per page with 2-3 secondary terms.
Click To Tweet
You can also think about adding new pages or a blog to your website, so you'll have more real estate to work with. If you're an e-commerce shop, don't waste your money optimizing every single product page. There are more effective ways to spend your cash. It all depends on the structure of your business and the number of goods and services you're trying to sell.
Generally, the more content you're putting on your website the better. Studies have shown that:
Longer copy generates more leads, so a webpage with over 1,000 words of quality content will lead to more conversions than a webpage with just a few hundred words.
Click To Tweet
Marketing Experiments conducted a series of tests which showed that long copy outperformed short copy by 40.5%. And the average first-page result on Google contains 1,890 words, as reported by Backlinko.
Google will also scrutinize your copy more diligently if you're plugging keywords into only a few paragraphs of content, or what Google refers to as "thin content". If Google suspects that you're just spamming users with keyword-stuffed content, you'll get knocked out of the top search results.
Step 3: Perform On-Page Optimization
SEO used to be about filling pages with a certain number of keywords, but times have changed. As Forbes illustrates…
Google doesn't need to see more than 2-3 keywords to get a sense of what your website is about. So if you're still obsessing over keyword density and percentages, it's time to reevaluate your strategy.
Click To Tweet
It's best to come up with a content strategy that clearly outlines the basics of your business without being too spammy. The flow of the content should feel natural and straight to the point. If you're hiring a content writer, focus on quality instead of keyword saturation. Everything on your website should feel like it was written by a human being, not a robot that's been trained to target a few keywords. That's what Google and your customers want to see.
Further Reading: 
Optimizing your website is also about squeezing keywords into what's going on behind the page. That means you need to use keywords in your:
Title tags
Meta descriptions
Image alt text
Header tags
Those Google web crawlers are looking at a lot more than just the content on your site, so don't forget to use a well-rounded approach when optimizing individual pages. Widely considered the best SEO resource, Google's Search Quality Rater's Guidelines is an in-depth guide that will help you optimize the behind-the-scenes aspects of your website.
Learn More: Google's Search Quality Rater's Guidelines: Here's How to Ensure Your Site Gets a High Quality Rating! [Infographic]
Step 4: Build Your Backlinks
As important as on-page optimization is to any SEO strategy, there's still a good chance that you'll get lost in the shuffle without launching a robust backlinking strategy, also known as off-page optimization.
Backlinking, which means you have other websites linking back to your website, shows Google that your website has authority, which gives you a boost in their search rankings. Massive websites like news organizations, government agencies, and big e-commerce businesses tend to get a lot of organic backlinks, giving them an edge over smaller websites that are just getting their feet wet in terms of SEO. According to a recent report:
Links to a webpage account for 22.33% of Google's ranking algorithm.
Click To Tweet
Boosting your website's profile with backlinks doesn't happen overnight. You need to spend lots of time reaching out to other websites and blogs with content ideas, cross-promotional incentives, social media posts, and content syndication.
You can use websites like Just Reach Out that connect you to journalists and bloggers from all different industries. Just create an account and you can start pitching guest blog ideas to websites and digital publishers from your industry.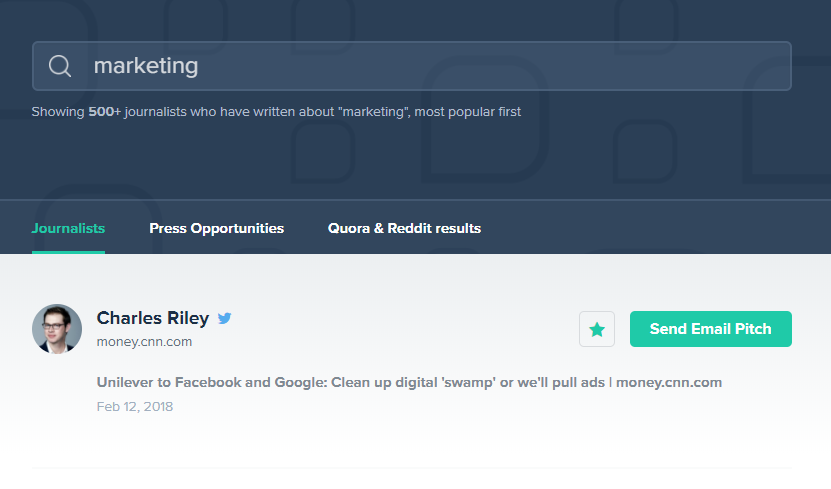 It's all about building a relationship with the other players in your industry, which means you need to have quality content and a good reputation in your community. If you're just paying other websites to link back to your site, Google will start to catch on after a while, so make sure you're actually writing content for other publishers in order to get people to backlink to your site.
Some popular backlink strategies tend to include:
Writing guest blog posts for other websites
Interviewing some heavy hitters in your industry and offering to link back to their site
Working with other websites to invest in case studies and white papers
Submitting to directories where writers are encouraged to add content to your site
Engaging with social media influencers related to your industry
Your backlinking strategy should target a variety of websites and influencers. The more people that are linking back to your website, the more Google will recognize your website as an authority in your industry.
When it comes to auditing your off-page SEO strategy, you can use some DIY tools on the internet such as: 
Just enter your website's URL and the program will produce a checklist that tells you what areas need to be improved in order to boost your SEO rankings. You'll get an analysis of every page, telling you how each aspect of you site measures up when it comes to important factors like internal and external link optimization and page authority.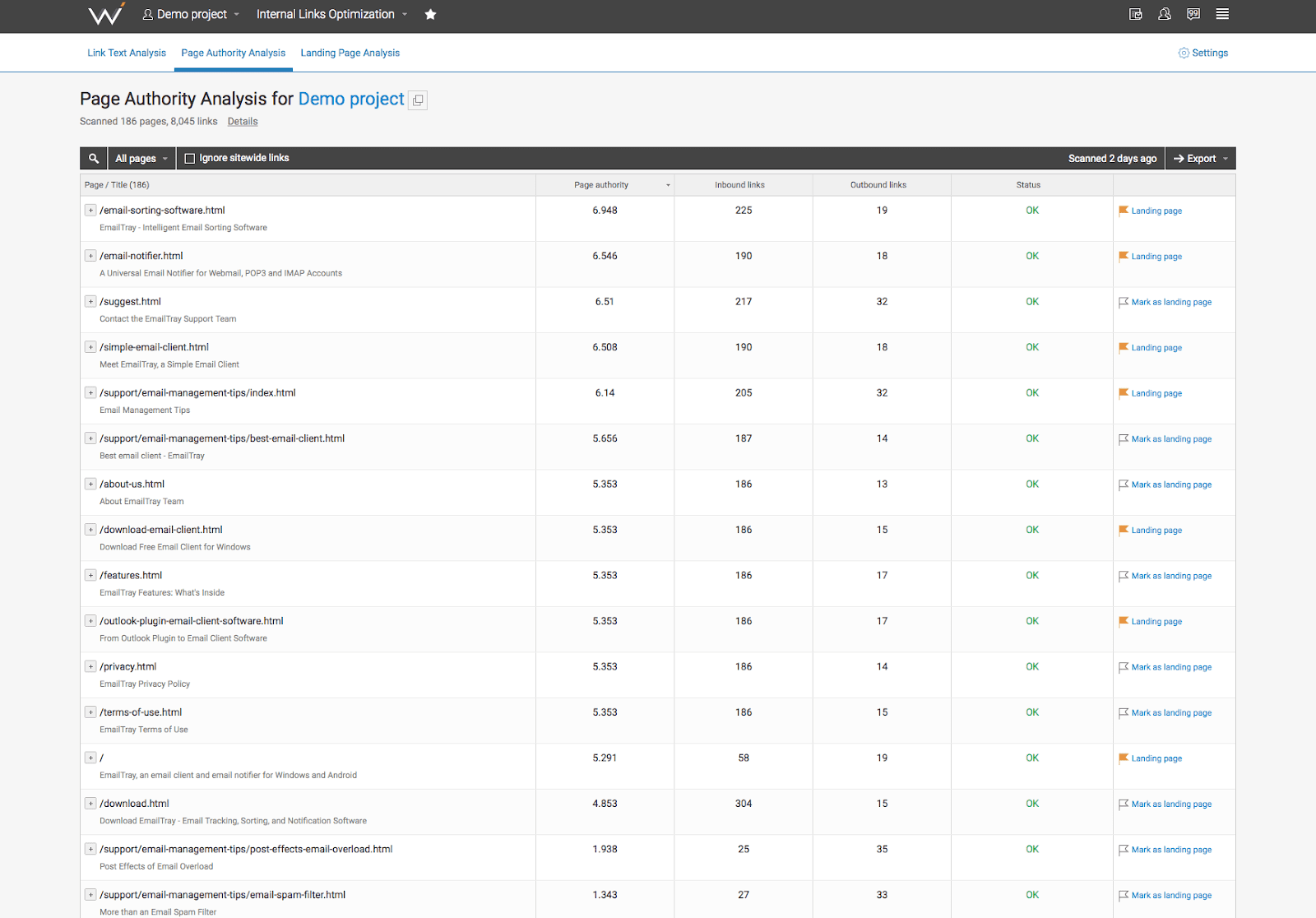 Some SEO experts will try to tell you that doing an SEO audit every three months will help you get the most out of your strategy. But these constant audits are just a way for SEO pros to make some extra money. The truth is that you don't need to spend a fortune on regular audits unless you're constantly making some big changes to your site.
But don't forget to keep up with Google's SEO Best Practices, as the company is constantly making changes to its algorithm. If Google makes any serious changes, that's a sign you need to invest in another audit. As HubSpot reports, 40% of marketers say the most challenging part of SEO is Google's changing algorithms, so remember to stay informed.
Summing Up
When you're trying to figure out how to best spend your money on SEO, focus on keyword research, generating great content, and creating a robust backlinking strategy. Google wants its users to find what they're looking for by giving an edge to websites with meaningful content, so SEO is shifting away from technical keyword stuffing and moving towards overall quality.