7 LinkedIn Growth Hacks That You Might Not Know
LinkedIn is a powerful social media platform that is often overlooked when it comes to marketing and growth hacking.
However, it still remains a golden opportunity for businesses and individuals looking to grow their brand, establish themselves as thought leaders, and connect with professionals in their industry.
In this blog post, we'll go over seven LinkedIn growth hacks that you might not know about.
Carousels Have Better Reach
According to a LinkedIn algorithm study, carousel posts – don't confuse this with carousel ads – tend to have a 1.8-2.3X better reach than text posts.
Carousels are a format that allows you to add multiple images or videos in a single post to create a more interactive experience for your audience. It can be a PDF document that people can scroll through. The left/right arrows are instant indicators that this is a carousel post on LinkedIn: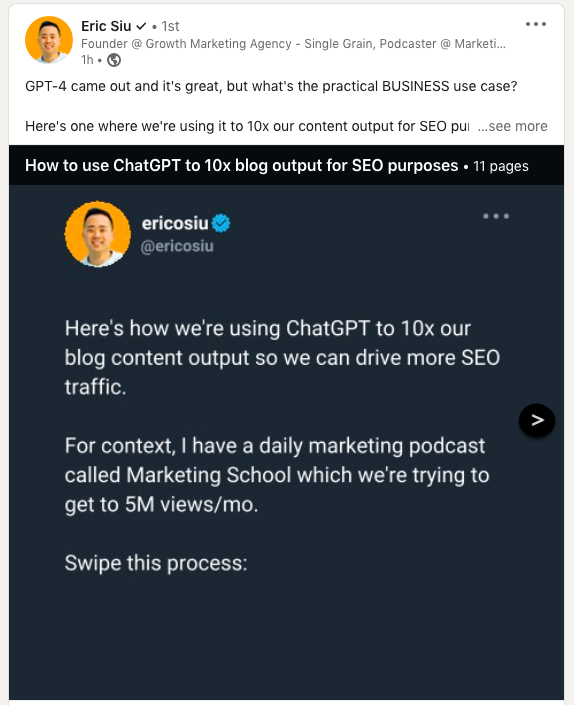 LinkedIn carousel posts are best suited for:
Infographics Lessons learned (one lesson per slide)
Step-by-step instructions
New product highlights
Listicles
Conference slides
Because of the eye-catching design factor, carousel posts stand out in a news feed compared to text-only post formats.
From LinkedIn expert Adam Houlahan, here are 5 reasons why it's worth considering carousel posts in the first place:
They help increase engagement without spending money on ads.
People who don't like reading ads will read a carousel post designed only to inform.
They're easy to create. You can use material you've already created for other purposes.
They stand out in the news feed because they occupy more space than other posts.
You don't need any extra gear as you would if you want to do great videos.
Related Content: Best Paid Social Media Agency: Top 5 Choices in 2023
LinkedIn Live Videos Help You Stand Out
In 2022, new LinkedIn Live users increased 74% (personal profile) and 126% (company page) from the previous year. Plus, average engagement of a live video is 2.5X higher than on a native video post in the feed.
So going live on LinkedIn is a great way to get your content out in front of more people. Not many people think about going live on LinkedIn – a feature launched in February 2022 – which means it won't be that hard to stand out.
Your livestreams can include interviews, panels, AMA sessions, new product demos, short "classes" with visuals on a subject you're an expert in, tips and tricks in your niche, etc.
Here are the engagement metrics for different types of live videos on LinkedIn:
Average engagement rate: 3.4%
Interviews (external): 5.6-8%
Live events: 4.2-6.8%
Interviews (internal): 2.6-4.4%
Milestones celebrations: 2-3.6%
Product demos: 1.4-3%

Going live on LinkedIn can help you reach a wider audience in several ways. First, although LinkedIn's algorithm no longer technically gives preference to live videos, these types of posts are still more likely to be shown to users in their feeds and have higher engagement rates, as these stats demonstrate:
37% of people say that live video is their preferred form of in-feed content because it's the most engaging.
LinkedIn Live videos can see engagement soar by 24X.
LinkedIn Live streams receive 24X more comments and 7X more reactions than native videos.
But also, using a streaming platform like Restream to simultaneously broadcast your live video to multiple social media channels can reach those people who might not be following you on LinkedIn but who are active on other social media sites.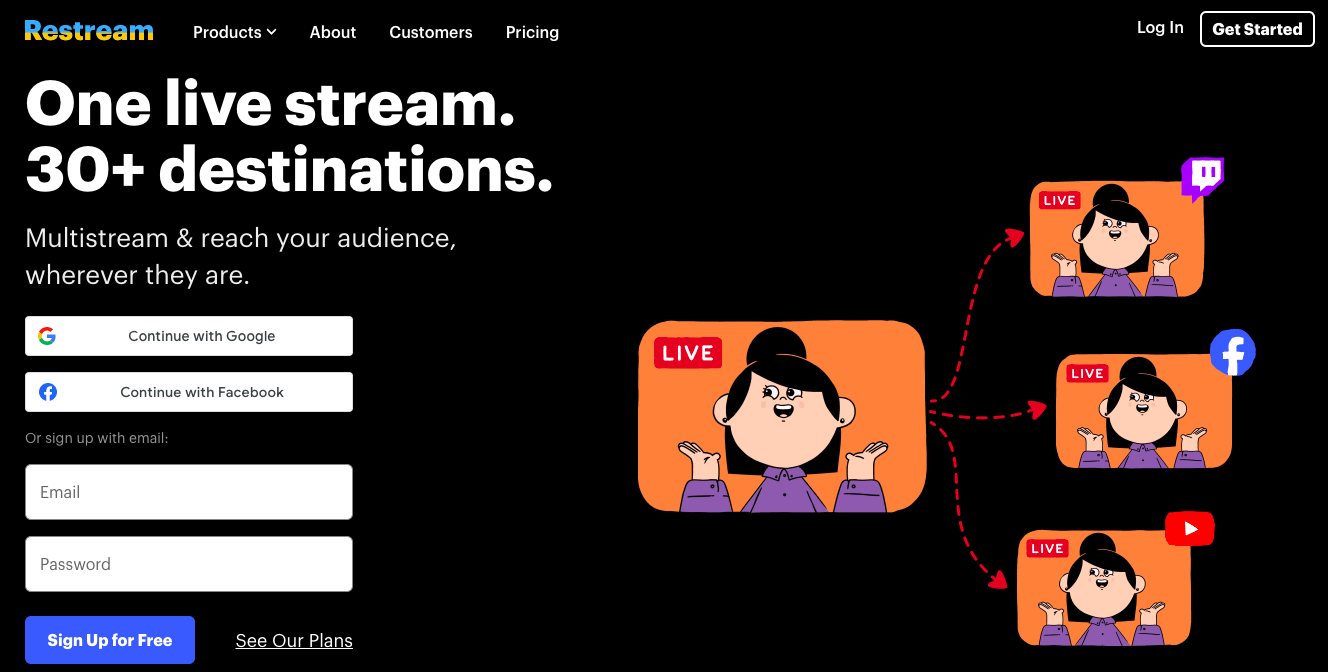 Other third-party broadcasting tools that LinkedIn recommends are:
The best times to go live on LinkedIn, a predominantly professional social site, are before the workday starts (7-9 am) or when the workday ends (5-7 pm).
Longer LinkedIn Live Videos Perform Better
If you're planning to go live on LinkedIn, consider creating longer videos to keep your audience engaged:
The average LinkedIn Live video is 28 minutes.
Live videos under 15 minutes perform poorly (-3X engagement).
LinkedIn recommends that live streams run for at least 10 minutes and no longer than four hours. That's quite a wide range. Generally speaking, the sweet spot for live video length is between 15 minutes and one hour, with an average length of about half an hour.
Neil Patel does a lot of LinkedIn Live webinars, and he's never done one that's shorter than fifteen minutes. Most are almost an hour and they've done extremely well.
But the most important way to know what's working in terms of length is to track the drop-off point. At a certain point, if your audience starts leaving your live video, you'll either need to shorten them in future or try a different subject or format.
Best practice tips from LinkedIn:
Consider series-based content. By committing to a weekly or monthly series, you teach your audience to tune into your Page at a specific time.
Refrain from going live more than once a day. Pinging your followers more than once per day can lead to a suboptimal experience for members.
Avoid pre-recorded videos. Promoting previously recorded content as live may reduce trust with your viewers.
Promote your event multichannel, tagging speaker and using the hashtag #LinkedInLive
Use at least two devices and moderators to respond live to engage your audience and keep them hooked.
Repurpose your LinkedIn Live content. Create YouTube shorts, 30-second Instagram teasers (and link to the Live), audio-only podcasts, Instagram Story post, blog posts from the transcripts.
Related Content: 9 Ways to Repurpose Your Old Blog Content
Be Careful When Posting External Links
If you're going to post an external link, avoid posting the link initially. Instead, wait about 12 hours or until you post your next external link. The first 12 hours after posting a link matter a lot, so you want to make sure you're optimizing your post for maximum reach.
Posts with one external link have a 0.4-0.5X average reach, and posts with more than one external link have an average reach of 0.2-0.4X.
This isn't an algorithm issue; it's about the behavior of users on the platform. Think about it: People don't want to leave the site, so they don't click on the external link.
From LinkedIn, here are your best options for external links: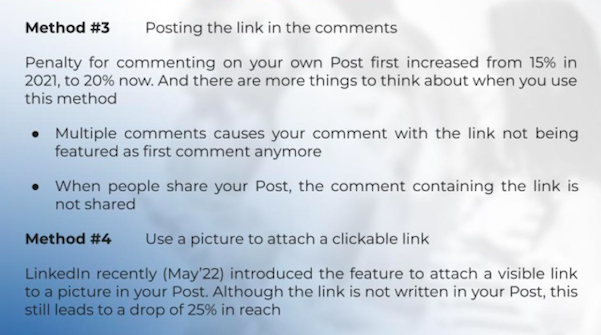 Related Content: 8 Ways to Use External Links to Improve Your SEO
Autofill
As a business, if you're trying to collect more leads, LinkedIn Autofill will make it easy: You just put a button on your form fields. Users click the button and in the snap of a finger, it fills in all the info, like name, company, title, automatically for them.
Neil found that Autofill boosts conversions by over 10-16% (it varies by industry). And if your business is B2B, you definitely should check it out. You'll get a lot more people willing to fill out a form if they can just use that button.
And not only does it increase conversion rates, but you're getting more data, which helps you score and qualify leads much better than if you didn't have that data. People are also less likely to fill out junk data, because you know their LinkedIn profiles are, in most cases, filled with accurate information.
LinkedIn Autofill includes these fields:
First name
Last name
Title
Company
Email
Phone
City
Zip code
State
Country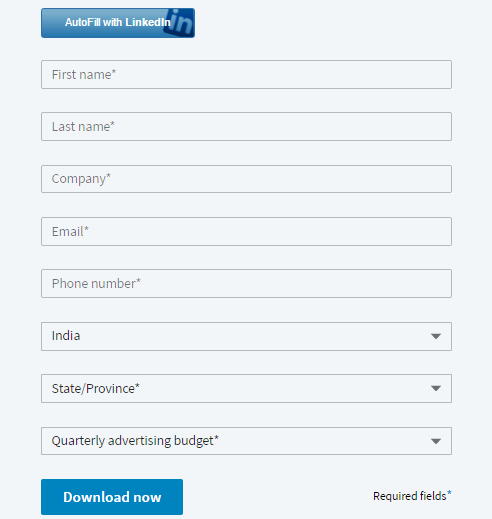 Check out LinkedIn's AutoFill Set-up Guide here.
Related Content: How to Target Effectively on LinkedIn
Engagement Pods
I've seen a lot of people grow their audiences using engagement pods.
What is an engagement pod? It's a bunch of LinkedIn creators who work together to engage with each other's posts by commenting on, liking and sharing them. The key thing is that these people are legit. They're posting legitimate content in there and they're actually engaging with real comments. So it's not like it's like a spam group or anything like that.
This helps to boost the reach of your LinkedIn post.
And so when you have an engagement pod, I've seen people in the group that have four or five hundred thousand subscribers. They get a lot of reach. And that's because they're just really consistent about helping each other and commenting.
Let's say I post something in one of these groups. Then maybe ten people will engage at the same time. So it gives a signal to LinkedIn that this is actually legit. And that's going to help you foster the initial engagement to give the push that a post needs to have to go viral.
Engagement pods work best with about fifteen to thirty members who are active on LinkedIn. These pods usually have their base on LinkedIn, but they can also be based or managed on WhatsApp or other messaging apps.
Here's a detailed guide on how to set up your engagement pod on LinkedIn:

Related Content: LinkedIn Ads for Enterprise B2B SaaS: The Only Guide You'll Need
Post Less on LinkedIn
Many social platforms, like Instagram, Facebook and TikTok, suggest that you post multiple times a day. But we found that if you post multiple times a day on LinkedIn, it actually hurts the reach of the previous post. So we tend not to post more than once a day and we try to spread them out by at least twenty-four hours.
We found that when we do that, the post gets way more reach than if we just continue posting back to back to back. And that seems counterintuitive because everyone is saying: content's king, you need to continually post, LinkedIn's craving it.
But if you post too often, we're just seeing the reach is not as great on the post that you are putting up, so try to limit your post to one today.
Conclusion
LinkedIn is a powerful platform for growing your brand and connecting with professionals in your industry. By implementing these seven LinkedIn growth hacks, you can maximize your reach, increase engagement and establish yourself as a thought leader in your field.