The best NFT PR agency could be the ultimate tool you need to get your Non-Fungible Tokens trending in front of the right audience. Capable of protecting your brand reputation, boosting awareness of your NFT project, and strengthening relationships with your target market, an NFT agency could be essential to your new venture.
While it seems like almost every artist, entrepreneur and innovator wants to get involved with the NFT landscape today, very few know how to properly promote their projects.
An NFT marketing agency could be the answer.
---
---
What Is an NFT PR Agency?
NFT PR agencies are a relatively new sub-brand of the advertising landscape. The promotional professionals in these organizations usually have a deep knowledge of not just the latest marketing techniques, but of the expanding NFT market, and everything associated with it.
The NFT market is growing at an exceptional rate. Non-Fungible Tokens ballooned to a value of more than $41 billion in 2021, and demand is growing every day.
Although the NFT landscape is growing at an incredible pace, it's still something a lot of people don't fully understand. For NFTs to be truly valuable, companies need to know how to generate not just excitement for their releases, but genuine commitment and support from NFT communities. It takes a unique knowledge of the industry, and specialist skill as a marketer to excel with NFT PR.
A PR agency combines everything from helping you to build extensive marketing campaigns, to ensuring that you have the right disaster plans in place if anything should go wrong with your NFT growth strategy. PR firms focus heavily on:
Brand development: A PR agency can help you to develop the brand behind your NFT. They'll help you to build an image, voice and identity based on the specific audience you're trying to reach. Often, this involves extensive research into your target audience, the competitors in your space, and the wider NFT market.
Demand generation: PR agencies usually have dedicated advertising teams to help you build awareness for your brand. They'll take advantage of multiple forms of advertising on your behalf for demand generation, including SEO, social media, paid ads, and even content creation.
Reputation management: PR agencies are experts in reputation management. They can help to ensure that every message you send has the right emotional impact on your customers, improving your chances of building a strong NFT community. They also have strategies in place to protect or repair your brand if something goes wrong.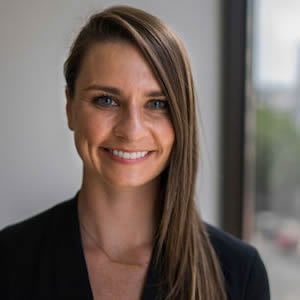 Jacqueline Foster
Demand Generation Marketing, Lever.co
We can count on them to bring new ideas to the table consistently
What Do NFT PR Agencies Do?
Because NFT Public Relations and marketing companies are still such a new concept, guidelines around what kind of services they should offer are still being developed. For the most part, your NFT PR agency will perform many of the same tasks as a typical PR agency, but with a greater focus on the NFT market. Usually, activities include:
Reputation management: One of the main services offered by PR firms is reputation management. Through the use of email newsletters, website copy, blog content, and social media, your NFT PR agency will make sure that people can trust your NFT brand.
Media relations: The media is still one of the best ways to generate attention for a new start-up. A PR agency can handle the relationship between your NFT brand and the media groups you want to interact with. They'll be responsible for getting the right message out to other news outlets, blogs and various forms of media to drive attention to your project.
Market education: The NFT landscape is still a complex and often misunderstood environment. PR agencies in this space are likely to spend a lot of time simply educating your target audience on what your NFT can offer, why it's valuable, and what the details of your project are. They create educational content designed to generate public interest.
Social media marketing: Public relations and social media often go hand-in-hand. Your PR agency is likely to spend a lot of time handling your social media accounts for you, creating campaigns to connect with your audience, and answering questions when they arise. They can even invest in influencer marketing strategies on your behalf to build brand credibility.
Community building: Community development and nurturing is one of the most important strategies in NFT marketing. PR agencies can help you to build communities not just on social media, but across forums, blockchain websites, and sites like Discord.
Content marketing: As mentioned above, the creation of content will be important for market education, but it will also be an essential part of building your presence online. Your NFT PR agency can help with the creation of all kinds of content, from videos to blogs and infographics. They can also use that content to boost your rankings with SEO.
Paid advertising: To generate more demand for your NFTs and boost your potential for greater sales, your PR agency can also help you to build paid ad campaigns across channels like Google, Facebook and Instagram.
Depending on the kind of NFT PR agency you choose, you may be able to access a wide range of additional features, such as consultation for your marketing strategies or website design. Some companies even offer experts in conversion rate optimization.
Learn more about NFT marketing:
* What Are NFTs and How Do They Help Business?
* NFT Strategy: Everything You Need to Know to Get Started
* How to Promote Your NFTs the Right Way

The Benefits of Hiring an NFT PR Agency
Though interest in NFTs is growing, so too is the number of people trying to gain attention for their own crypto projects. In this environment, it can be difficult to not only connect with your audience, but convince them that your NFT is worth their hard-earned cryptocurrency.
As specialists in brand growth, your NFT agency can give you an edge over countless other NFT enthusiasts and improve your chances of your campaign being successful.
With an NFT PR agency, you can benefit from:
Reputation protection: Your reputation is everything with an NFT project. If people don't believe in you, they're less likely to believe in your NFT, which means they won't want to spend a fortune on your projects. A PR agency helps you not only develop the right image to connect with your audience, but protect that image over time.
Improved ROI: A team of experts in NFT strategies can analyze your target audience and your NFT project, then use forward-thinking campaigns to reach your customer. These specialists understand what it takes to form crucial connections with NFT fans, which means they're more likely to drive up the price of your offering and generate engagement from your community. The more engaged your investors, the more your NFT prices grow.
Expert guidance: Promoting any kind of brand can be a minefield, but promoting an NFT company is even more complex, as it's still an area so many people don't understand. An NFT agency can give you behind-the-scenes knowledge and expert guidance to help improve your chances of long-term growth. They can be a source of useful advice whenever you're unsure about your next SEO campaign or social media ad strategy.
Connections with leading media: It's much easier to convince potential investors that your NFT project is worth their time if you already have the backing of various well-known media publications. Unfortunately, getting media groups to share the news about your NFT isn't easy. An NFT PR agency can leverage their existing relationships with leading publications to improve your chances of being featured.
Time saving: With an NFT PR agency to handle your marketing, demand generation, and social media campaigns on your behalf, you can focus on doing what you do best – developing your NFT project.
The extensive experience and knowledge of an NFT PR agency is invaluable when it comes to capitalizing on the NFT trend.
How to Choose an NFT PR Agency
As mentioned above, NFT marketing and public relations is still an extremely niche area. Not just any PR agency will be able to navigate the unique nuances of this marketplace with you. To ensure that you're investing in the right support, you'll want to verify the following:
Expertise and Experience
Above all else, your NFT PR agency needs to understand the Non-Fungible Token market. This is a unique environment where specialist marketing techniques and community-building strategies are required. Making sure your chosen agency has experience working with other NFT groups in bringing their projects to life is essential.
You should be able to find evidence of the PR company's experience working with other NFT artists, blockchain companies, and NFT projects in their "case studies" section. If your agency mentions that they can support NFT groups, but doesn't have any evidence of prior projects, ask them for proof.
For example, Single Grain founder Eric Siu has created his own NFTs, so he has intimate knowledge of the space: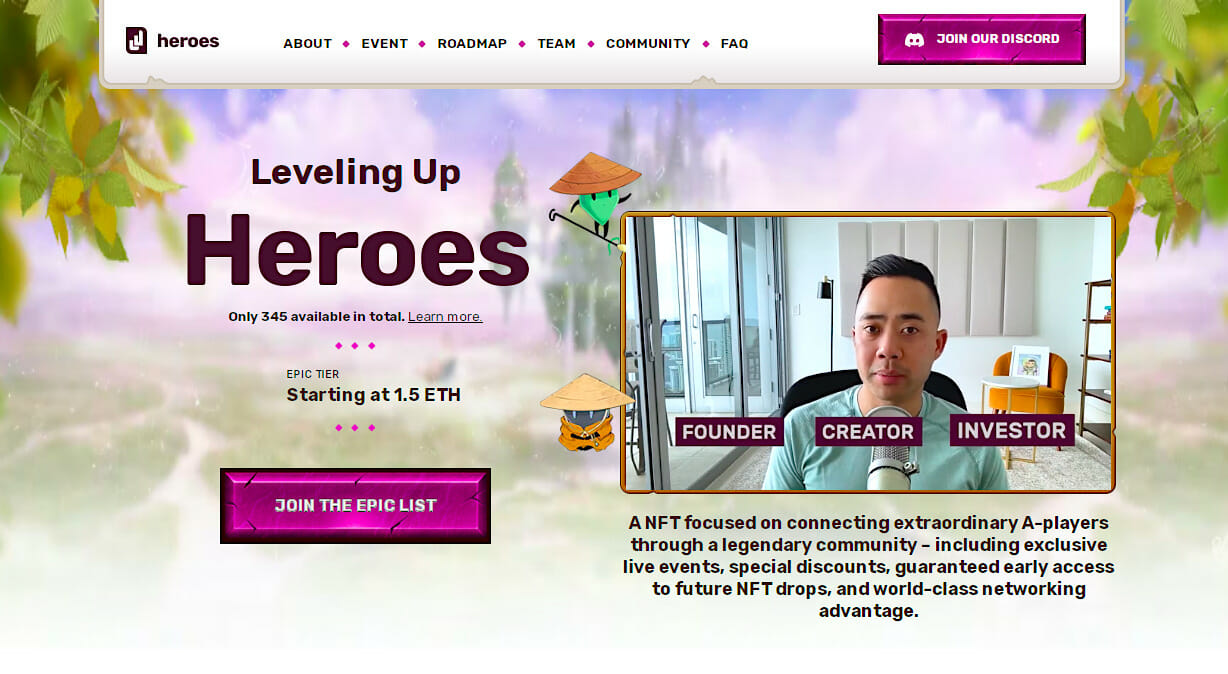 A knowledge of the NFT marketplace isn't just important when it comes to reaching your customers; the NFT industry is also subject to strict regulatory standards that your agency will need to be fully aware of. Make sure the company you choose knows how to keep your brand compliant.
Excellent Customizable Service
Every NFT is different and every strategy used to market an NFT should have its own unique elements, too. With that in mind, look for a PR agency willing to sit down with your company at the beginning of your partnership and discuss your project and vision in depth.
Your agency should be able to provide a bespoke service based on your individual needs, rather than simply offering a handful of one-size-fits-all suggestions. They should also be able to offer access to a wide range of skilled professionals with expertise in various marketing and PR skills such as:
Paid ads
Community building
Social media marketing
Influencer marketing
Market education
During your initial discussions with an NFT PR company, it's also worth paying attention to their overall approach to service. How quickly do they respond to your questions? How comfortable do you feel discussing your needs with them?
Strong Community-Building Skills
As mentioned above, a lot of the success of your NFT PR project is likely to revolve around your PR agency's ability to build a powerful community for your project. With that in mind, consider looking into the impact your chosen agency already has in the NFT community.
Does your agency of choice know how to navigate common forums, Discord channels, and other environments where NFT collectors are likely to congregate? Do they have strong professional relationships with publications and media outlets related to the NFT industry?
Look at how well your agency connects with its own community, too. A great presence on social media, a strong commitment to producing engaging content, and a powerful position in the Google search rankings are all a good sign.
🚩Red Flags to Watch Out For 🚩
Since we're still in the relatively early stages of the developing NFT PR market, red flags for untrustworthy brands are still making themselves known. The first and most obvious issue to watch for is a lack of knowledge about any regulation surrounding NFTs.
It's also worth watching for any signs that your potential agency isn't fully versed on what an NFT is and how it works. For instance, if your agency frequently refers to your NFT as a "cryptocurrency," this may be a bad sign.
A conversation with your chosen agency should give you some peace of mind when choosing a provider you can trust.
Dive Deeper:
* An NFT Marketing Checklist for Your Crypto Project
* What Is Web 3.0? The Future of the Internet

Top 5 NFT PR Agencies
Now that you have a better idea of what an NFT PR agency can do and what you need to look for when hiring the ideal one for your business goals, let's examine some of the best agencies you might consider working with.
Specializes In: Inbound marketing, NFT advertising, PR
Top Clients: Bittrex, Polymath, Blockgeeks
Pricing: Custom based on your requirements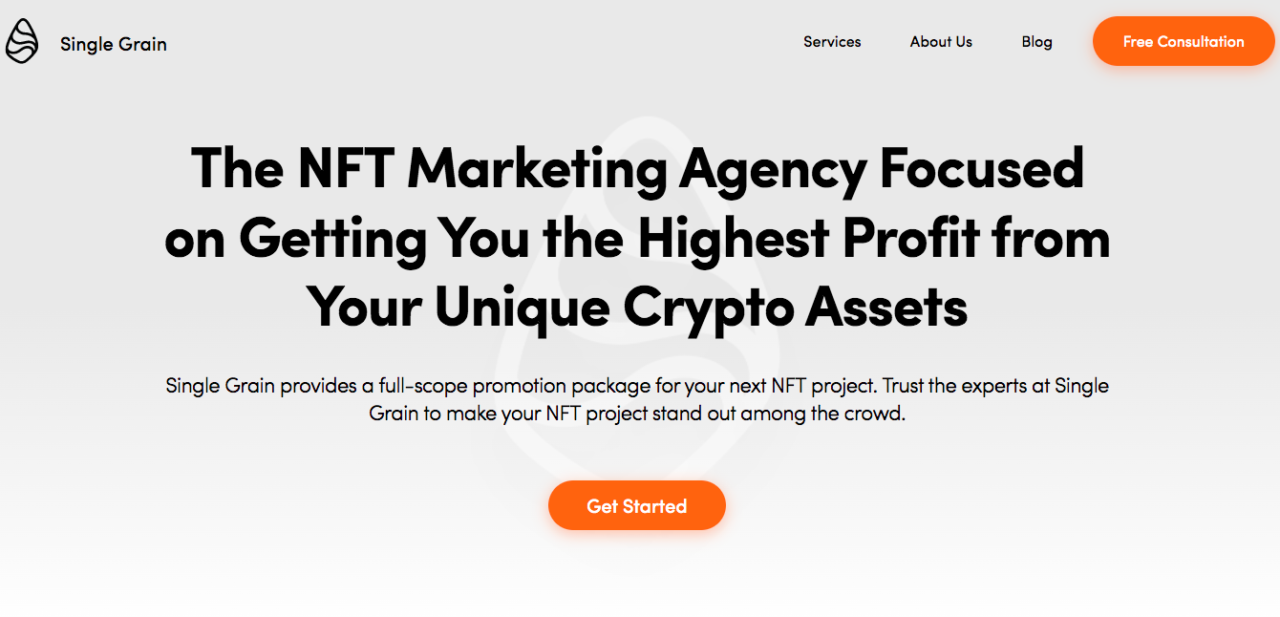 One of the most reputable NFT PR and marketing companies on the market, Single Grain delivers data-driven strategies to leading digital companies around the world. The company is committed to offering full-scope promotional packages built around the specific needs of your NFT project.
With Single Grain, you get a comprehensive approach to demand generation, SEO, site design, content marketing, and paid ads, all packaged into one service. This agency also offers assistance with community building, social media marketing, and influencer marketing.
With an extensive background working with crypto companies and NFT brands like Bittrex and Blockgeeks, Single Grain can offer the dedicated NFT support you need to capitalize on the trend. If you need a true NFT specialist, Single Grain has you covered.
To learn more about Single Grain founder Eric Siu's approach to NFT marketing, check out this video:
Specializes In: NFT marketing, digital PR, social media marketing
Top Clients: Expedia, Beauty Bay, Kumon
Pricing: Custom based on your requirements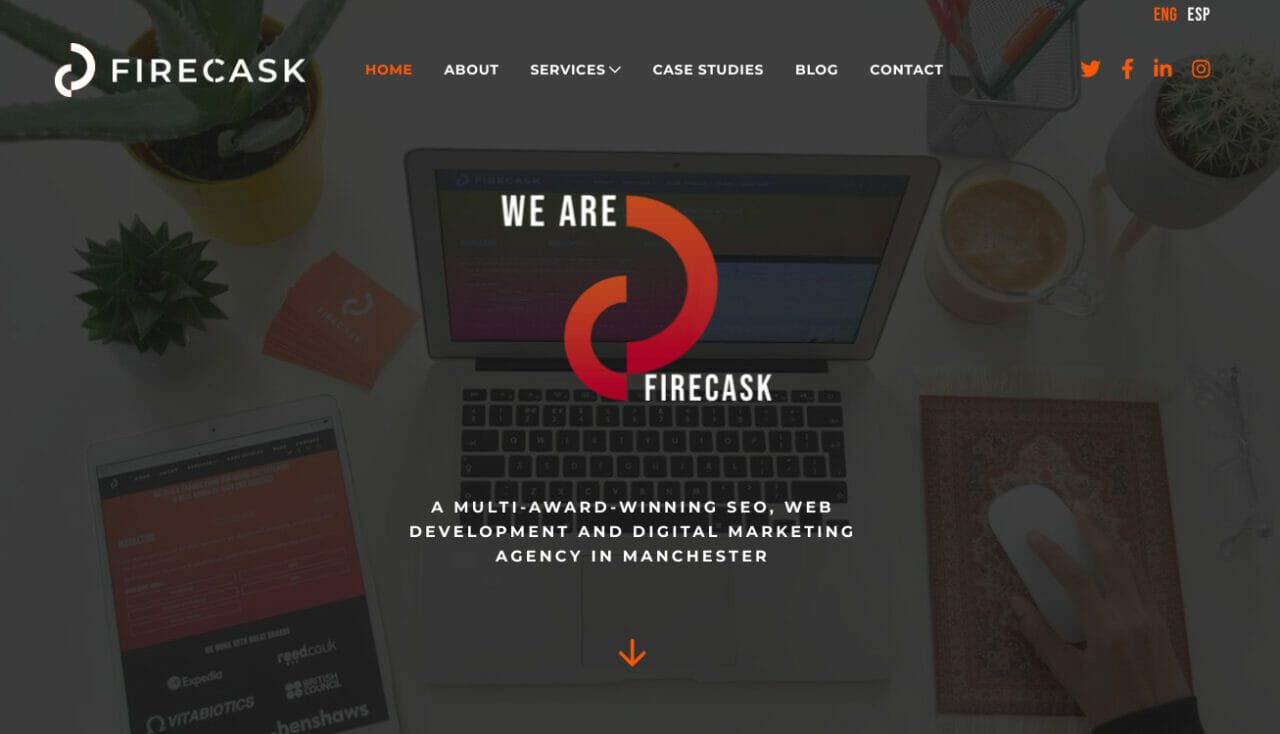 An award-winning web development, digital marketing and SEO company with experience in the NFT landscape, Firecask is an excellent choice for your PR needs. The company has years' of experience working with brands in the digital landscape to build immersive experiences.
This agency has a strong connection with various leading publications and can help with all kinds of marketing areas, including building a community presence on social media channels. Firecask also has dedicated NFT SEO experts on-hand to help ensure that you're making the right impression in the search results.
While this company is based in the United Kingdom, they work with organizations all around the world and have developed quite a name for themselves already in the NFT and cryptocurrency marketing space. There are plenty of case studies to check out on their website.
Specializes In: NFT marketing, digital PR, crypto marketing
Top Clients: Edsgecoin, Nexum, Next Earth
Pricing: Custom based on your requirements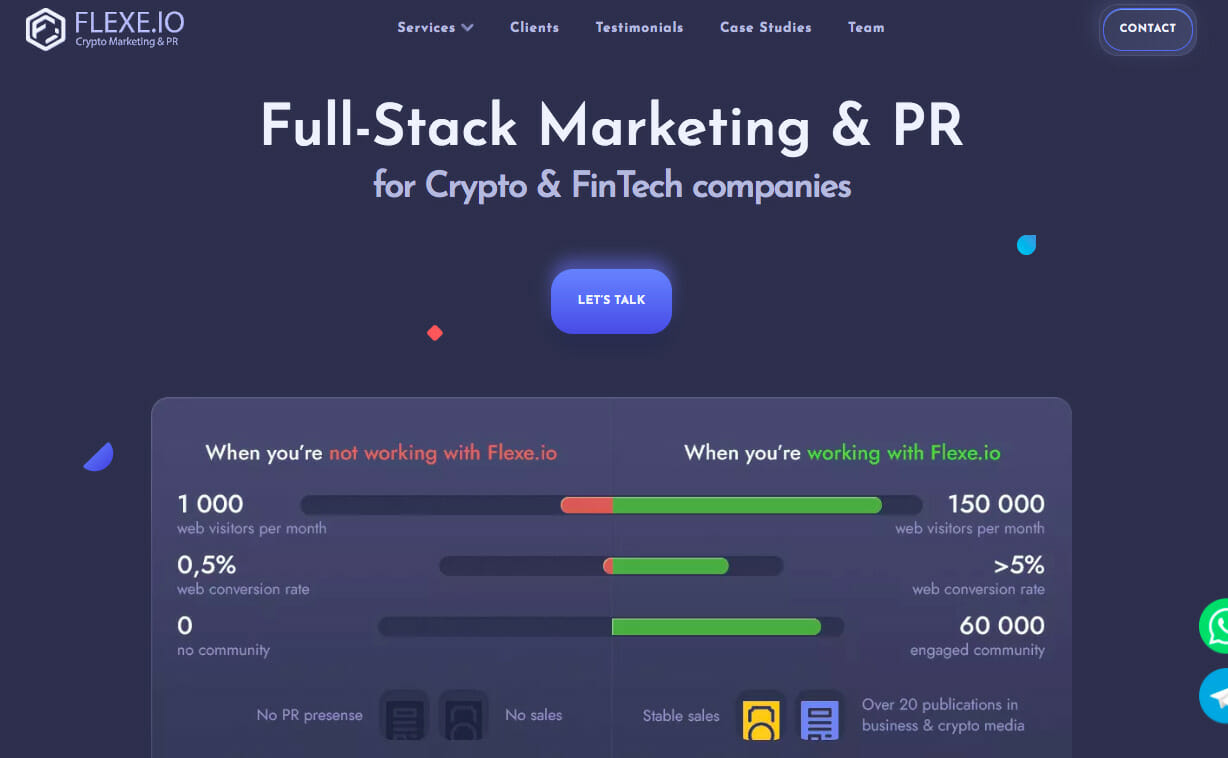 One of the few marketing companies available today with a focus specifically on cryptocurrency, blockchain and NFT projects, Flexe.io is an innovator in its field. The company has experts to help with every aspect of building your NFT presence online.
With Flexe.io, you can get help with Discord promotion, Google Ads, Facebook, and crypto influencers. The organization makes it easy to develop strong connections with media companies and publications committed to helping your organization grow. Plus, they can help with basic SEO and content marketing, too.
For all-in-one support for a growing digital entity, Flexe.io offers phenomenal levels of consultation, guidance, and support, with services they adapt to suit you.
Dive Deeper: How to Think About Investing in Long-Term NFTs
Specializes In: NFT marketing, digital PR, social media marketing
Top Clients: Ulotto, Bitforex, NDAX
Pricing: Custom based on your requirements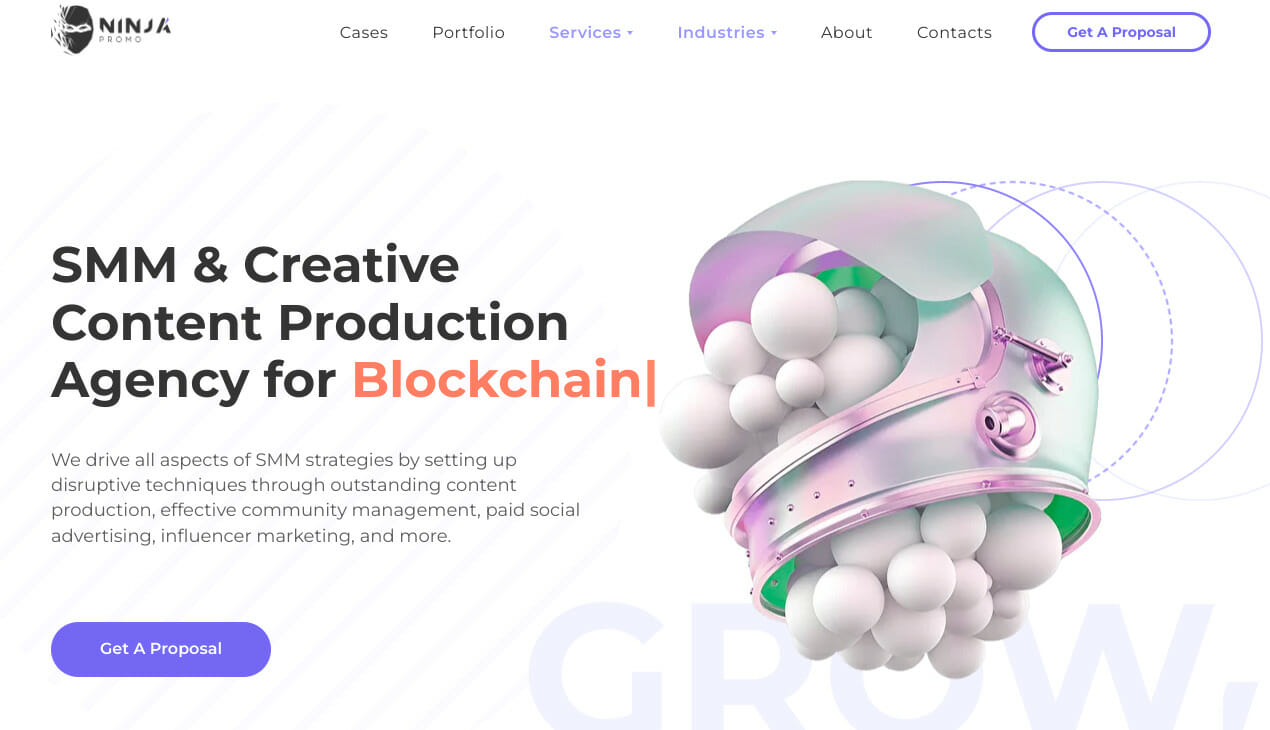 Another promotional brand focused on the technology landscape, Ninja Promo supports companies in generating higher levels of attention and support from their communities. The agency specializes in disruptive marketing campaigns, content production, and community management.
If you're looking for an NFT PR company sure to help you improve your connection with your target audience, Ninja Promo has you covered. They can help with SEO, paid media, social advertising, and earned media. You'll get a fully customized media relations strategy built to suit your NFT brand, too.
Outside of essential PR and marketing capabilities, Ninja Promo can also help with your initial branding and website building strategy to help improve the overall image of your NFT brand as you're just getting started.
Specializes In: NFT marketing, PR, crypto influencer marketing
Top Clients: Solana, Jaxx, Jamcity
Pricing: Custom based on your requirements
As one of the better-known NFT marketing and PR agencies, CROwdCreate ensures that projects of all sizes get the attention they need. The top-rated company provides customized strategies to help you strengthen your position online. These services include connecting you with leading NFT influencers and media publications.
There are tons of case studies on the website you can read to get a sense of how CROwdCreate helps NFT projects grow. The main benefit of this company is their huge thought leadership and influencer network, brimming with tons of influential names in the crypto landscape.
CROwdCreate can also provide a highly personalized service for your business, including consultations and various levels of support to help you better understand your market and audience.
Dive Deeper: How to Find Legit NFT Artists & Work with Them Effectively
Ready to Hire the Right NFT PR Company?
For companies or individuals hoping to take advantage of the full potential of the NFT marketplace, few things are more important than having the right support. An NFT marketing and PR agency can help you build the community and attention you need
Remember, when looking for your NFT PR agency, focus on a business capable of offering dedicated support within the NFT space. The right agency should understand your landscape and the opportunities it has to offer.
Schedule your FREE consultation with Single Grain's NFT experts to discuss your NFT PR requirements.  👇
Or learn more about what we can do for you here 👉   NFT Marketing Agency