When thinking of social media teams, I always imagine the war room created by the Oreo team.
Back in 2013, an 11-member team from 360i, MediaVest and Oreo assembled at 360i's New York offices to show the world the power of "real-time marketing". The brands quickly tweeted: "Power out? No problem. You can still dunk in the dark," which became one of the most viral phenomena in digital marketing.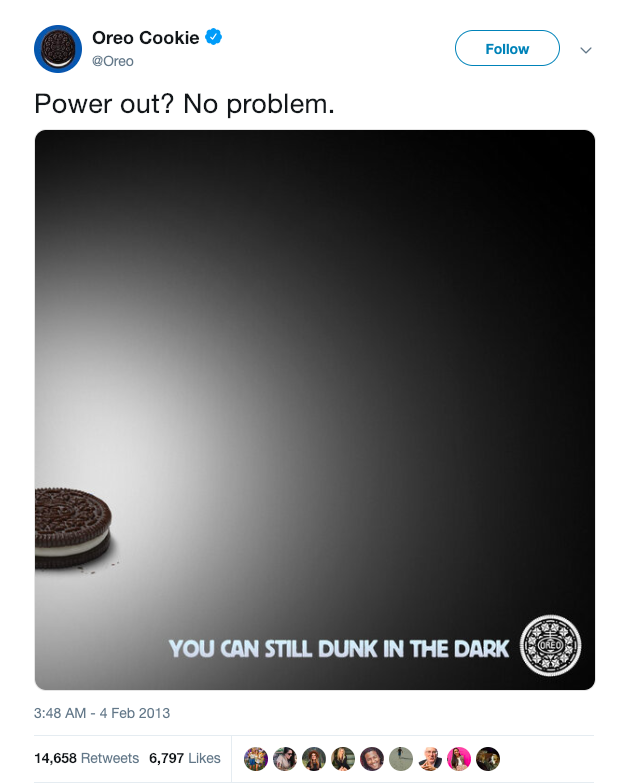 Social media is not about tweeting at the right time or plying the algorithm with growth hacks. It's about teams working together and having the right people, plans, workflow and thought processes in one single epicenter.
Social teams are working toward business goals and marketing objectives. They're reacting to what's happening now, engaging in a way that fits their brand best and creating content they're proud of.
Click To Tweet
You probably think that it's impossible to establish a social media team if you're a small or medium agency. Don't worry about that. When it comes to building the social media teams of the future, collaboration platforms such as Slack, Asana, Trello, InVisionApp, Front and Planable are empowering them. It's all about having the right structure, workflow, established goals and knowledge of the product. 
Getting Started: Where Are We Now?
I believe it's best to start from what's happening at this moment at your company or agency. Building a social media team requires many factors that may influence the quality of content, agility to stay relevant and, most importantly, the budget.
Let's take them one by one.
Commitment
Here's one of the most important traits of social media: if you're not present then forget about it. If you quit for a few weeks, you're not relevant anymore. Your followers have long forgotten about you. If you do social media, then stick to it.
Ask your team: How much time can we commit to social media for this brand or client? Answer frankly.
Budget
Money is always a problem. Duh! Your budget will have a huge influence when trying to make a decision on tools, equipment, workforce and time spent. It will be handy when establishing your goals.
Ask your team: What's the budget allocated for social media for a month, a quarter, a year, and what are the results expected?
Resources
Let's say that you have a social analyst on the team who has exceptional design skills. Perhaps they might use their time best by joining the design team. Think of relocating the company's resources to use them at their best. Resources are everything you have on the team: people, tools, assets.
Ask your team: What's the most important resource we need to succeed while promoting this brand on social?
Learn More:
Goals
We're talking about both business and team goals. Setting goals is the best way to learn about performance and what help is needed to make better decisions in establishing your social media team. There are many goals you could work towards, like brand awareness, traffic, conversion rate, media mentions or revenue. You just have to decide which are the most reasonable and logical social media goals for your company right now: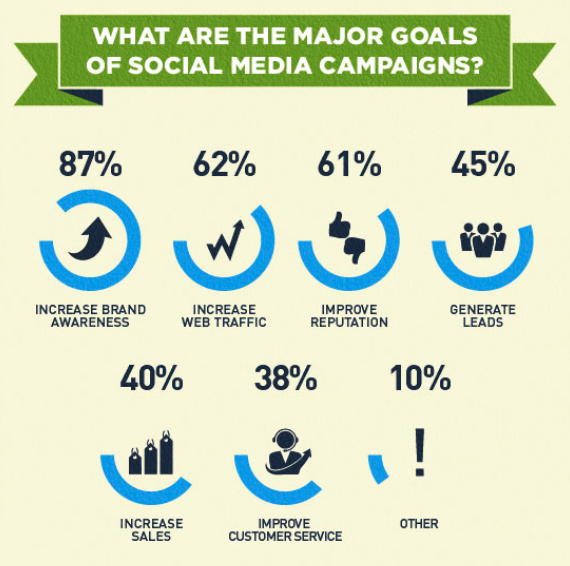 Ask your team: What's the most relevant and significant goals that we have to focus on? Choose just one, if you really want to make the best of it.
Platforms
Since there are more than 60 social networking sites and more than 2 billion users who use social media apps, your team has to decide which few are the most relevant and important for your brand. Is it Facebook, YouTube, TikTok, Instagram? That's completely your call.
Ask your team: What's the one social media platform that will actually make the difference for our brand and we can direct all our resources there?
Social Media Team Structure
We often forget to ask ourselves what kind of people are part of social media teams and how many are actually involved. We've already mentioned that Dunk in the Dark tweet had an 11-person team. Fact is, most social media management teams in small and medium brands and agencies are managed by just a few people with a variety of skills.
On the other side, large businesses, corporations and agency groups tend to have a team of five, fifteen or even fifty people. It might be complicated to define the ideal size, but it's usually dependent on the budget, goals, needs, resources and time available to create a social media team.
Let's see what the data says: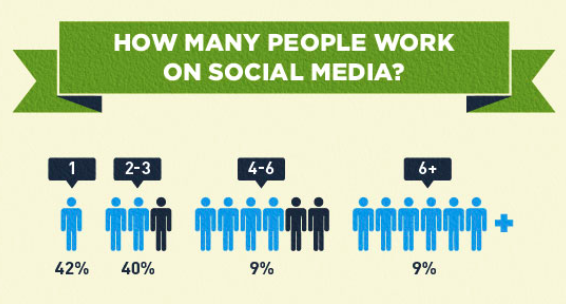 At a first glance, it seems like ideally there are up to three or four people on your social media team. In reality, there are numerous other roles and teams involved in the social media planning and reviewing, so don't be fooled by these numbers. Also, let's not forget that it depends on the industry you're in as well. For some industries, it will always be more important to invest a lot in social than others.
Social Media Team Roles
I think that one trait that most of the social specialists and digital marketers have is the readiness to learn new skills and adapt to new situations. Social media strategists are always educating themselves about new trends, features, possibilities, customers, audiences, tools and platforms, and this is what makes for an excellent social teams. There are many roles on a good social media team, such as:
Social Media Manager
We know them. Content creation is what they do. SMMs look through the social media calendars, create the content, add visual assets, and schedule the content. Also, brainstorming content topics with content producers and writing is part of the job. Each week they might write blog posts, long-form content or some lead generation pieces, like e-books, PDFs, cheat sheets, etc.
Learn More:
Social Analyst
This one is for the data lovers. Analysts will keep an eye on the campaigns, put reports together to track progress, go over sessions/impression reports from various verticals or platforms and find opportunities. They also might investigate ad revenue, better targeting and maximizing monetization.
Customer Support
Although 42% of consumers expect a response on social media within 60 minutes, it's not just about having a 100% response rate and getting back to your audience immediately. Good customer support is about speed, positive attitude and empathy. Customer support agents should be able to handle stressful situations, take responsibility for their words and collaborate with their teammates for better feedback.
Community Managers
If you're a small team then this is combined with customer support. CMs will monitor pages to ensure audience satisfaction and dedicate time to interact and engage with the audience on social media. This means liking their comments, writing replies, and being receptive to all the feedback on your social pages. As we know, engagement is what matters in the end if you want to succeed.
Designer
Designers are always the ones you're always asking for input from. There's never too much design to do in a social media campaign. You want a great image for a Facebook post, some editing on the cover picture or a personalized GIF, a catchy visual for your social media ads – that's the job of a designer. And eventually, you need one. If you can't afford a designer, then there are always solutions like:
Other Stakeholders
Besides the social media team, there are many other people in your organization that are part of the content creation process. These are people like the legal department that ensures company safety in terms of statements and replies, which is especially important if you're in the Healthcare, Construction, Telecommunications, Pharmaceutical, Airlines, Petroleum or Hotel industries.
Besides that, there are brand managers who need to make sure the content respects brand guidelines. The Human Resource department will help you a lot by providing new content from company events or for employer branding. Here are tons of examples on how HR contributed with content for the LinkedIn pages of some of the best brands: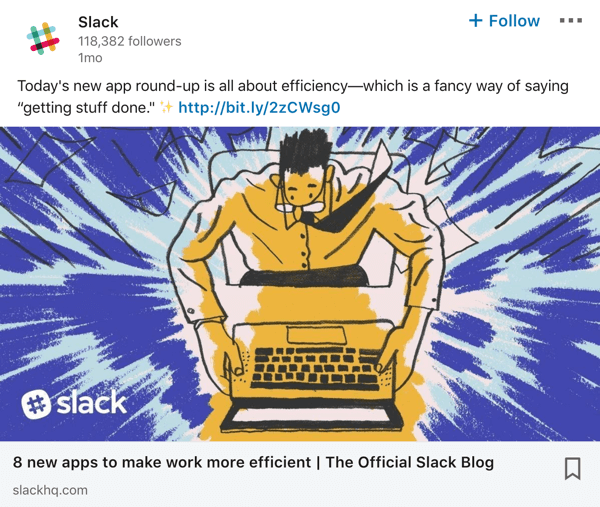 Nonetheless, any member of your organization is here to help you, give you feedback on the content, and offer new input and insights. Collaboration is key when it comes to social media. That's why the right workflow and processes have to be established from the very beginning to make sure that everyone is on the same page.
One Man/Woman Show
If you're a solopreneur, well, it's going to be a lot of work just for you to cover all those important positions on a social media marketing team. That's why it will be even more important to create the right system at the beginning to ensure that you make the most of it. You have to be organized and make collecting feedback, content, and assets as streamlined as possible.
Every morning should start with a plan of five things you want to achieve that day, like reporting results, plan content for the next week and prepare the media assets for tomorrow. Choose one thing that takes 2-3 hours and stick to finishing it first. It's the same strategy I use to ensure that I'm productive the whole day.
Learn More:
Knowledge About the Product & Service
So now we have a team, structure, goals, examples, platforms, and we know how much time our teams need to put into social media each week. It sounds like a robust venture. What's next?
Product/Service
Knowing how the brand works is essential when it comes to marketing and communication with the outside world. That's why the social media team should prepare the war room with research. Start a conversation with the CEO, other C-level executives, VPs and people on the front line of the brand to understand it more.
Your job is to identify all the tiny details of the company and the way it works. When it comes to social, everything is be important to know: people, brand, colors, offices, mission, vision, and obviously the product and service. What makes people care about your brand? That's the answer you're looking for.
Brand Fans
You're building an audience-centric social media marketing strategy, right? So a solid understanding of your target audience and the current fanbase is required. There are many free research tools that can help you do that.
Facebook Audience Insights and Instagram Insights are the most powerful free tool to analyze demographics, activity, age, gender and more. Twitter Audience Insights and LinkedIn Analytics offer valuable info, too.
Audience
Your audience comes by building personas. It's likely that you already understand who the target audience is for your brand (if not, look at the analytics/insights we discussed just above). Now you need to build multiple personas to have the information about which demographic is more likely to engage, interact and ultimately buy your product.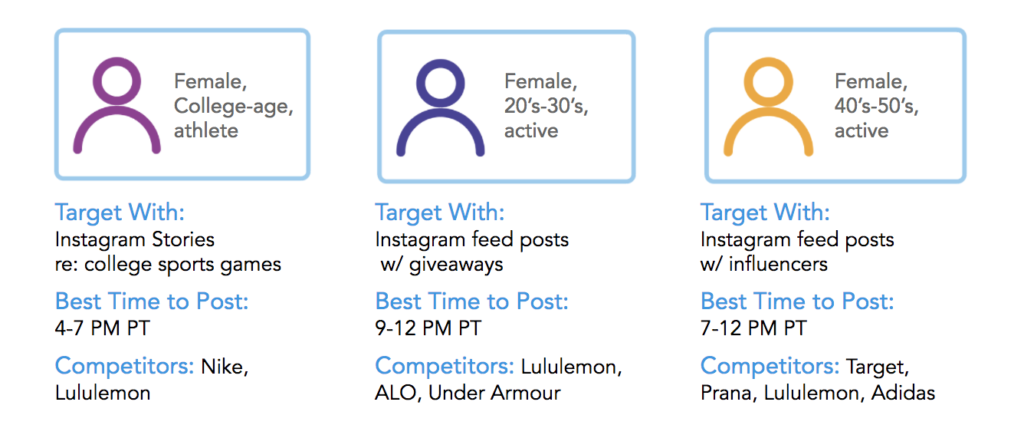 With more information about the main activities of your buyer personas, you'll know how to target each of them differently and which social channels are best for them. Most likely it will offer you great answers on what kind of content works best and times to post.
Learn More:
Process Designing
So there's team, structure, goals, audience and understanding of the brand. I don't get why so many teams I speak with ignore this next important step to succeed: building a workflow.
Content creation happens across borders and time zones, and marketers are spending hours a day gathering all the information they need. The marketing channels are expanding and brands are creating more content than ever before, which leads to marketers being overworked.
By 2020, content will become marketers' biggest bottleneck. Today, production of content happens across a mishmash of spreadsheets, Power Points, and endless email threads, but this process is slow and frustrating for those on the frontlines. The right processes, workflow and collaboration tools will empower you to make sure everyone is on the same page.
Last Thoughts
Social media is more than just viral social media posts and thousands of likes, and it takes a team with the right people, plans and workflows to do it well. Collaboration is key to understanding what kind of content resonates with your community, how social media algorithms works, and how to find your unique voice as a brand.
So it doesn't matter if you're a small, medium or large company. Put together the right team and your social media campaigns will skyrocket.