Twitter is the perfect place for your business to connect with customers and potential customers. Most brands use Twitter to keep in touch with their fans in real time, but the third most popular social network (310 million unique visitors each month isn't too shabby!) has a lot more to offer than this simple benefit.
Savvy businesses use Twitter to:
participate in and stay up-to-date on industry-based conversations
build brand awareness and identity
check out the competition
locate and engage with your target audience
promote sales, giveaways and contests, and offer coupon codes
market your blog content, products or service for free (you can also use paid advertising — Twitter Ads)
People spend an average of 170 minutes per month on Twitter, which is roughly 5-6 minutes a day, so to successfully grab a user's attention, you'll need to Tweet multiple times a day. Doing that manually is near impossible because it's very time-consuming to write, post, monitor, read, retweet and reply to everything that's going on, but with the right social media tools you can hit that target and reach your marketing goals.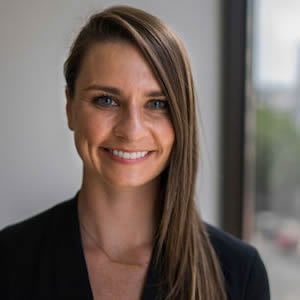 Jacqueline Foster
Demand Generation Marketing, Lever.co
We can count on them to bring new ideas to the table consistently
Here are 10 content marketing tools that will help you increase your Twitter engagement:
1. DrumUp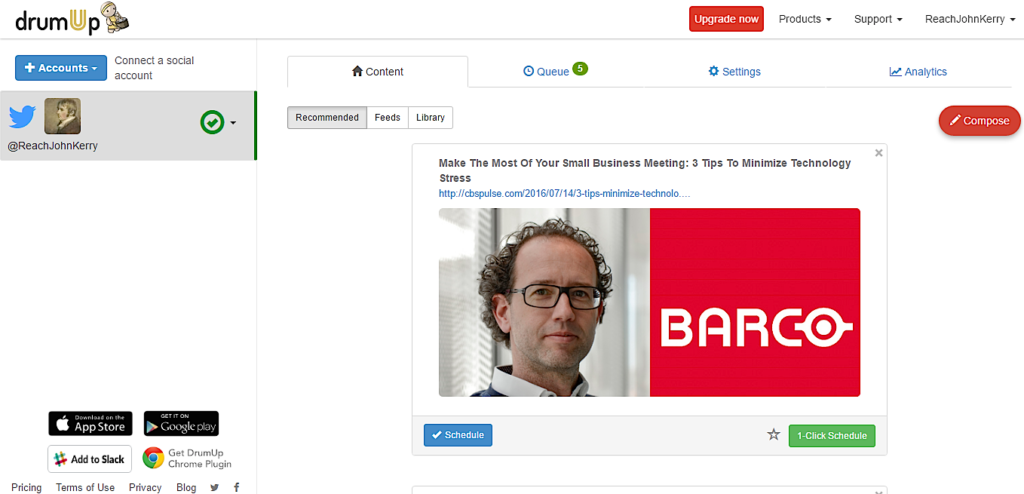 What better way to relate to your audience than with quality articles. DrumUp is a social media content marketing and employee advocacy platform that lets you curate content from a large variety of sources, schedule social media posts on multiple accounts, and create/schedule custom posts. You can even add your favorite RSS feeds and save posts to your content library to make sharing easier.
This app provides you with fresh content on a daily basis and comes with a one-click scheduling feature that saves you a ton of time. Additionally, it recommends smart hashtags for your content to help you get seen more.
Sharing helpful posts, videos or infographics with your audience — from your iPhone, Android or Chrome extension — is more likely to start a discussion and you can turn your employees into brand advocates with DrumUp's employee advocacy program.
2. TweetDeck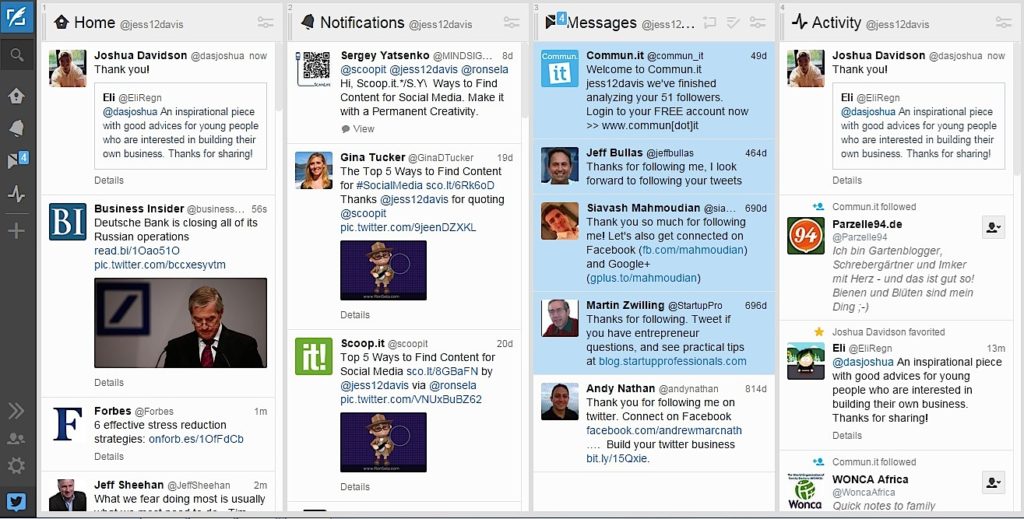 TweetDeck is an all-in-one Twitter management tool that is particularly useful for audience engagement. You can keep track of multiple accounts, topics, hashtags and mentions — all in one convenient place. You can see when users are talking about your brand and respond to them instantly without leaving the dashboard.
Plus you can create Twitter lists, monitor analytics and trends, and export custom timelines to your website. This is one of the best tools for real-time Twitter management.
3. Nurph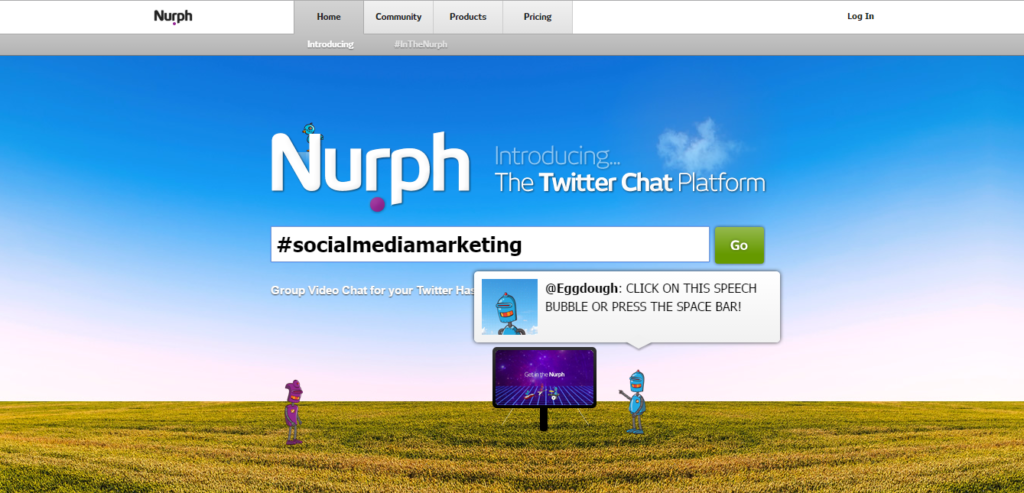 If you host Twitter chats on a regular basis to talk to your audience, Nurph is a great tool to use. You can instantly start a real-time video-to-video Twitter conversation by sending invitations with hashtags to your followers through text, audio and video.
Unlike Periscope, Twitter's live streaming video mobile app, which is not exactly social (yes, brands who broadcast live can interact with their audience but that's not the same as a conversation), Nurph allows "free-flowing group chats." And if that's not enough, Nurph also offers sound effects and emojis.
With this platform, you can integrate hashtags, replay chats in real time and get insights into your community. Once the chat is done, you can use the post-chat analytics feature to find out details like most influential participants, most active participants, most re-tweeted tweets and much more. In case your subscribers tend to forget, you can also send SMS reminders.
4. Bit.ly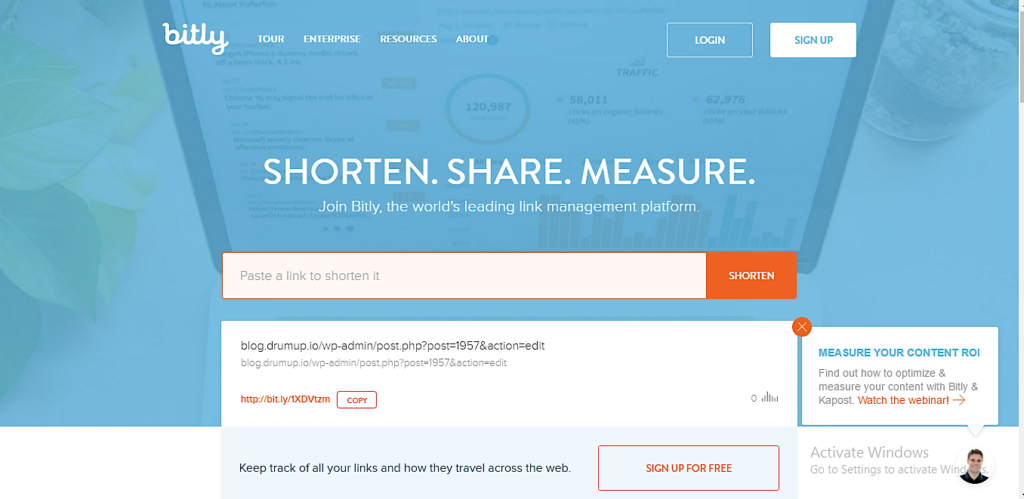 Bit.ly, a link management platform, is mostly known as a URL shortening service (especially helpful on Twitter where every character counts), but it has so much more to offer.
You can shorten or create custom URLs and share them across multiple platforms and then track the link you shared via a bitmark to find out which ones work best for your audience — the stats page will show you how many people clicked on it, shared it, and which websites are driving traffic. This is helpful for boosting engagement as you can target a specific set of people with certain links.
The tool also provides analytics so you can monitor and improve what and when you share — just add a plus sign (+) to the end of a bitmark and you'll be able to see statistics for that URL. It also adapts to different platforms, detects when a user is on mobile or not and guides them accordingly, and can be integrated with 75 publishing platforms.
5. Hashtagify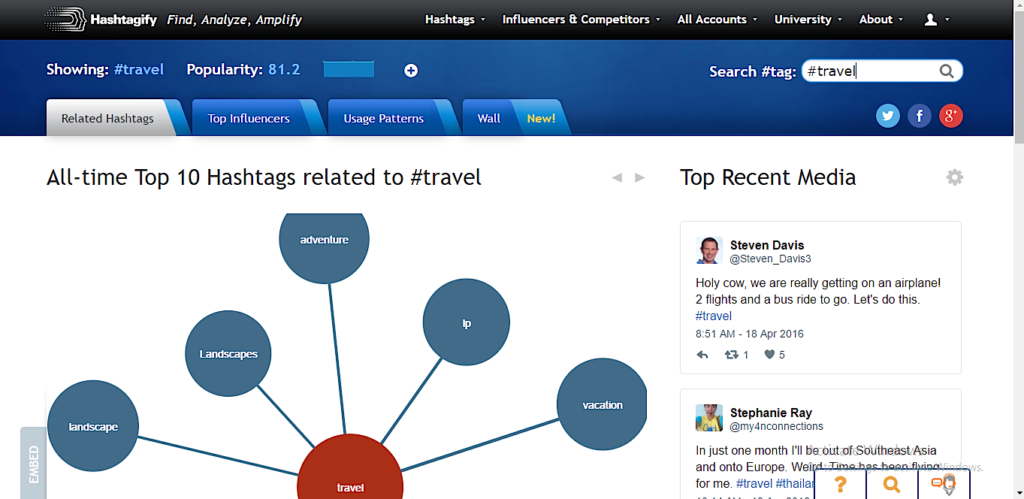 Hashtagify is an app that gives you information about any hashtag. Once you enter a hashtag, a word or a phrase, the tool can find up to 500 related hashtags. It can also find the most influential people for your hashtag. It offers four main features: the Hashtags Lab, Users Lab, Hashtagify Library and the Hashtags Cafe.
The Lab can be used to find, track and analyze any hashtag. The USers Lab suggests the best hashtags for you by analyzing your previous tweets and you can find influencers by tracking hashtags. The Library contains over 40 million hashtags to choose from and gives you stats about any given one.
And the Cafe is the ultimate hashtag suggestions tool as it prioritizes hashtags by analyzing your tweets. It can also deliver suggested hashtags through email to make it easier for you to use. This tool is great for finding the target audience in your niche and interacting with them.
6. Piktochart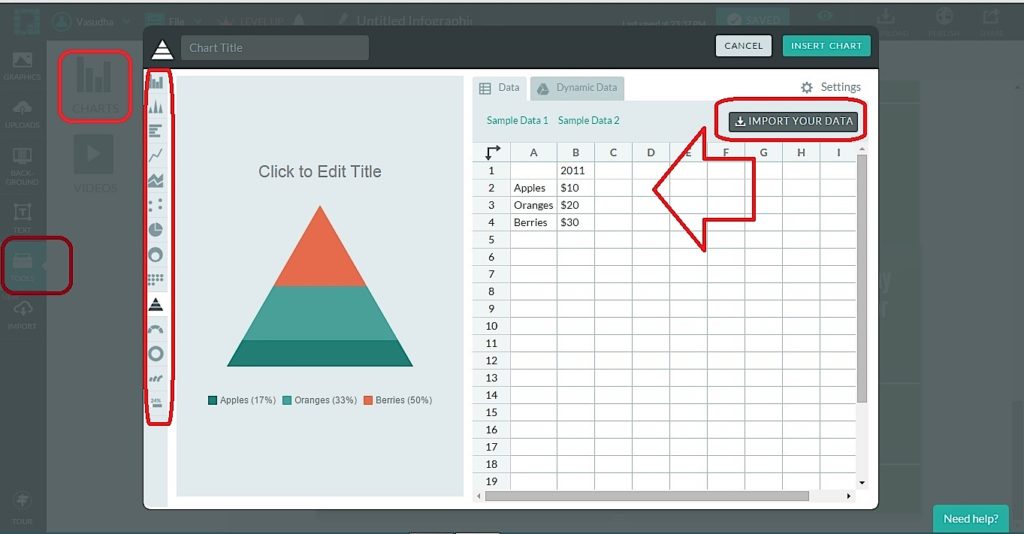 Visual content is a must on social media because it is more likely to capture and hold the audience's attention. Piktochart is a simple tool that helps you create visual content in a matter of minutes and share it on multiple social media accounts.
All you have to do is follow a simple process – choose a template that matches your style or message (they have over 500), add images, data, icons, text or videos, customize font and color, and voila! When you've perfected your infographic or pie chart, you can share it on multiple platforms, create presentations or simply download it for later.
7. Commun.it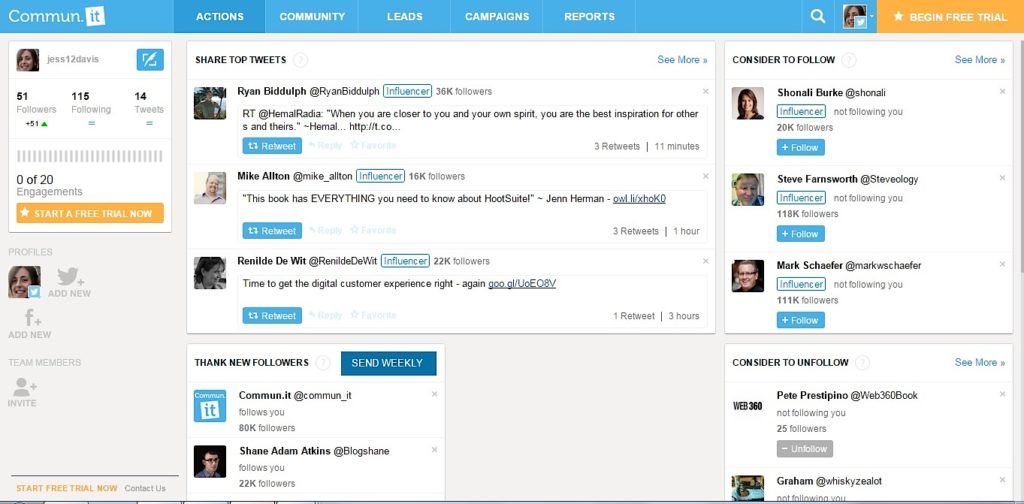 Commun.it is a valuable tool to build relationships by providing insights into your Twitter community. You can manage multiple profiles, know who to follow or unfollow, identify key influencers and monitor hashtags.
It separates the real information from all the noise and gives you the ability to prioritize your Twitter tasks by dividing users into three categories: Influencers, Supporters and Engaged Members, depending on multiple factors. You can then browse through these categories and establish your target audience and influencers. The tool also provides free analytics and allows you to invite your colleagues to manage your community and see reports.
8. Audiense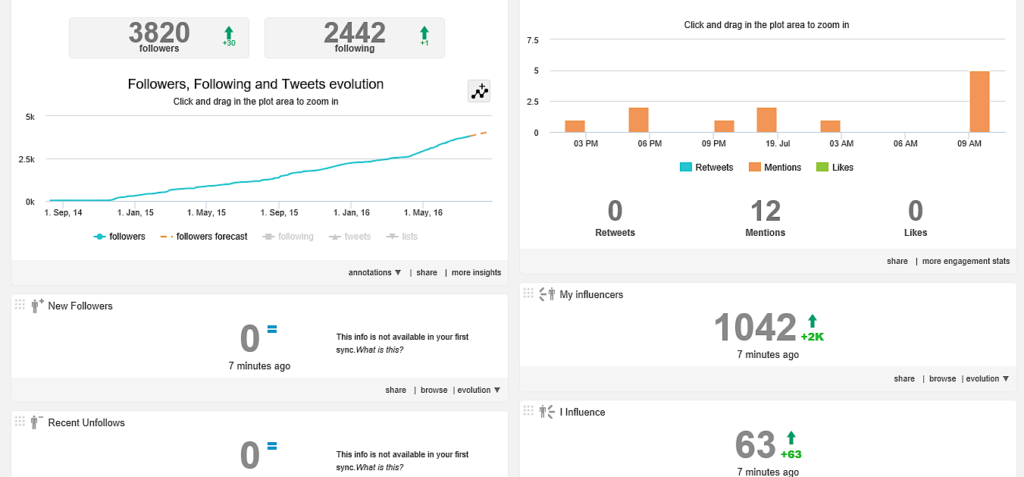 Note: Audiense was formerly called SocialBro.
Audiense is all about audience insight. It's a combination of various tools that can enhance your community management by giving you a much more precise understanding of your community, including what kind of content they like, gender ratios, languages spoken, influential people who follow you, and so much more. With all this information, you can make informed decisions about your audience instead of guessing.
You can also target them better by using Ad and Direct Message campaigns. It is a paid tool but if you're serious about marketing, this platform can be an amazing resource.
9. ManageFlitter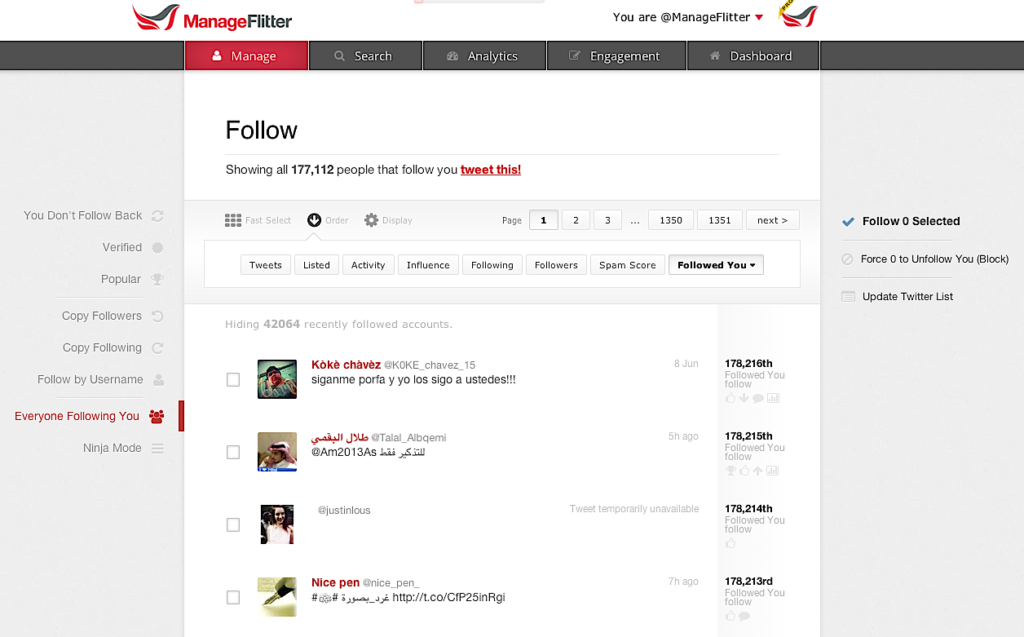 As your Twitter account grows and your brand becomes more popular, managing your followers is a lot more difficult. ManageFlitter is "the most powerful Twitter bio search on the planet" and suggests users that you can follow (or unfollow) based on various factors.
For example, it will identify people who are inactive, don't follow you back, have no profile picture, etc, so that you can remove them from your list. It also features PowerPost, an in-app tool that shows you the best time to post in order to be visible to your target audience, analytics, and you can manage multiple accounts.
10. SocialRank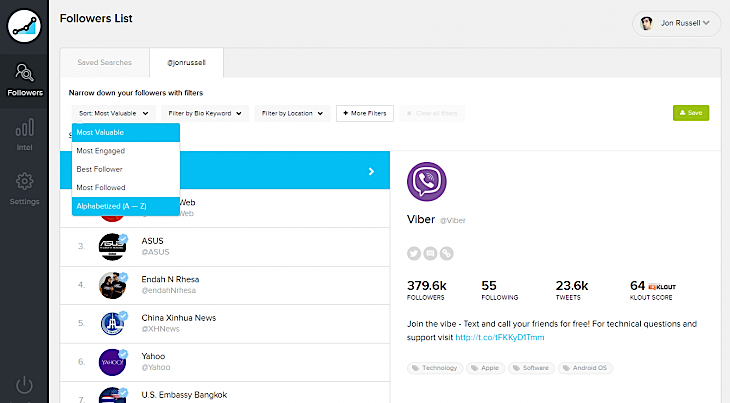 SocialRank is a tool to identify whom you should attempt to get to retweet you by using your connections to boost your social presence. It essentially uses the Halo Effect by providing you with endorsements from your followers. If X Brand is following you and I love X Brand, then that automatically makes me more prone to seeing you in a favorable light. Co-founder Alex Taub calls it "endorsements for the 99%."
SocialRank sorts your followers into 5 categories — Most Valuable, Best Followers, Most Engaged, Most Followed and Alphabetical — so you can easily decide who is worth starting conversations with. You can also target specific groups of users by sorting followers through geographical location, verified accounts and interests.
Twitter Tips
These 10 tools are valuable resources for businesses looking to form relationships with their customers as well as a wider audience  — provided that you know how to use them right. Keep in mind that you don't have to use all of them; experiment a little to discover which ones suit you best.
In addition to these 10 tools, here are 10 useful tips to help you rock your presence on Twitter: