Search vs. Social: Why Social Media Still Matters in the SEO Landscape
Facebook is getting a bad rap these days for its latest algorithm changes, which makes it increasingly challenging for businesses to gain organic visibility on the platform. But it's not the only social network that is making algorithm adjustments – Twitter, LinkedIn, Instagram, and practically every major social media platform are following suit.
The end goal, of course, is a better experience for users – and increased in-app engagement – but that rarely translates to better opportunities for brands. In response, many brands are returning to tried-and-true SEO strategies to recoup some of those organic losses on social.
But marketers shouldn't hang up their social media hats just yet. Social media still plays an integral role in the digital marketing landscape, and the best approach is one that breaks down silos to leverage benefits across channels. The game is changing, but wins are within reach if you know how to play.
Facebook Has Bad News for Brands and Publishers in 2018
Facebook kicked off 2018 with a heaping plate of doomsday by announcing that posts from family members and friends will now have priority placement – essentially downgrading content from brands and publishers in the news feed: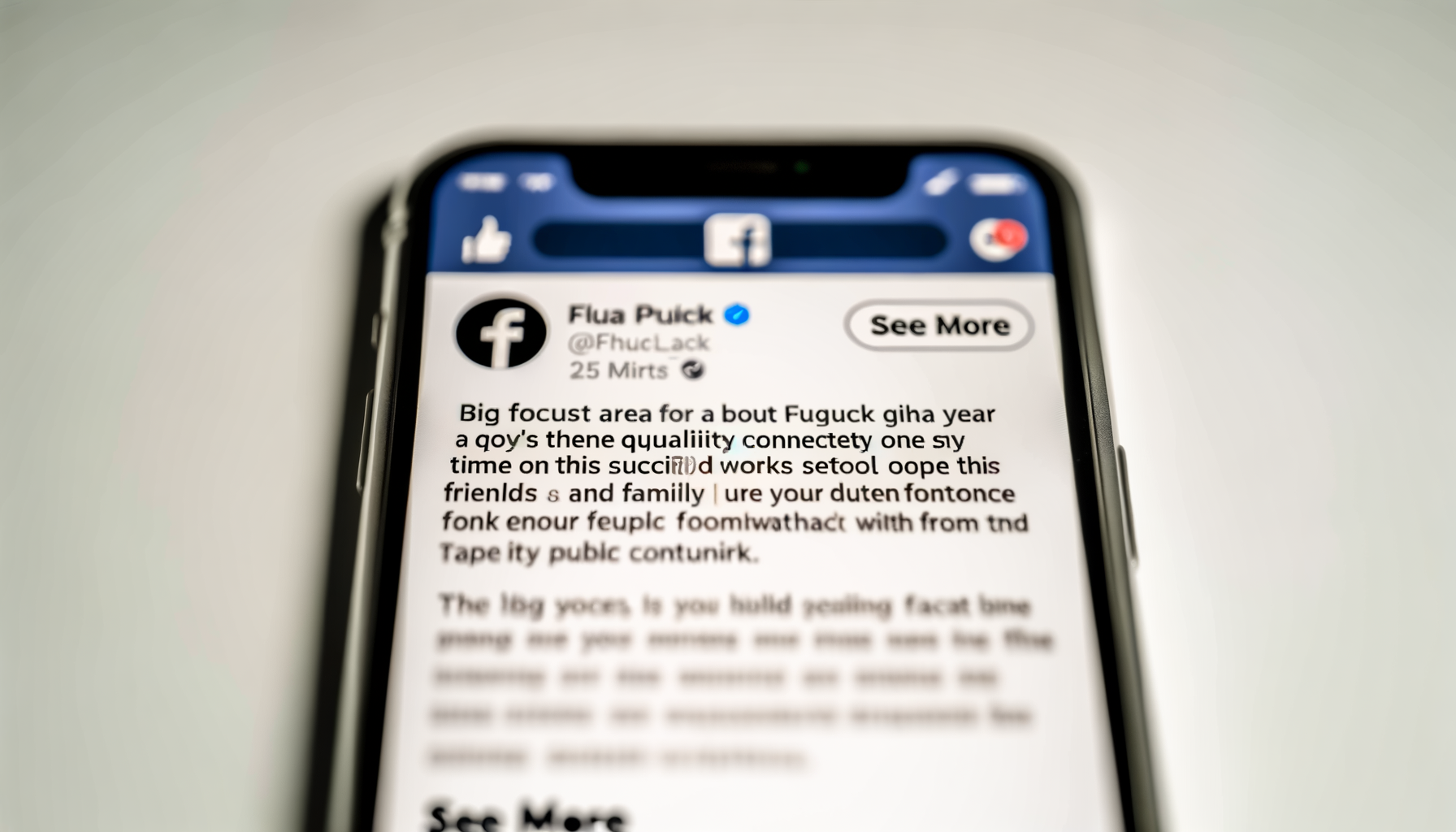 The move doesn't immediately spell the end for every Business Page; those with posts that generate meaningful interactions and discussion may experience a less drastic drop in factors like referral traffic, video watch time, and overall reach, compared to Pages with content that generates little to no interaction.
Facebook organic reach has already been on the decline, yet many publishers still rely heavily on Facebook, along with other social media platforms, for a large portion of total traffic:
Topix, for instance, generates nearly half of its total traffic (48.2%) from social media
38% of Buzzfeed's traffic comes from social
Bustle generates 26% of its total traffic from social
And Slate generates 23.2%of their traffic from social
It's these brands and publishers who stand to lose the most as a result of Facebook's latest algorithm change.
This isn't the first time new obstacles emerged for brands in the digital marketing landscape. Google's major algorithm updates have created similar mass hysteria, as well as substantial losses in rankings and even penalties for major websites and small-time players alike. In fact, challenges in the SEO landscape have led some marketers to place greater emphasis on social media to generate traffic and leads.
Google still holds the majority of search market share (63%), but social networks like YouTube and Facebook are becoming bona-fide search engines in their own right. YouTube is now considered the second largest search engine, with more than 1.3 billion users and more than 30 million visitors daily, while Facebook's Graph Search and, more recently, Facebook Local, put the platform on the search map, particularly for local search.
Now it's coming full-circle, and marketers are once again seeking ways to fill the gaps and keep those traffic and lead pipelines full.
Further Reading:
Despite the Challenges, Social Media Still Matters
The solution isn't a one-or-the-other proposition; it's leveraging the benefits of multiple marketing channels in a cohesive strategy for a mutually-beneficial boost. In other words, leveraging social media to boost SEO, and vice-versa.
Major social networks still account for a significant portion of external referrer traffic for digital publishers. According to Parse.ly's data as of May 2018, the top 10 external referrers include:
Google Search: 46%
Facebook: 32%
Twitter: 2.1%
Flipboard: 1.6%
Google (Other): 1.3%
Pinterest: 1.2%
Bing: 1.1%
Google News: 1.1%
Yahoo! Search: 0.89%
Apple News: 0.55%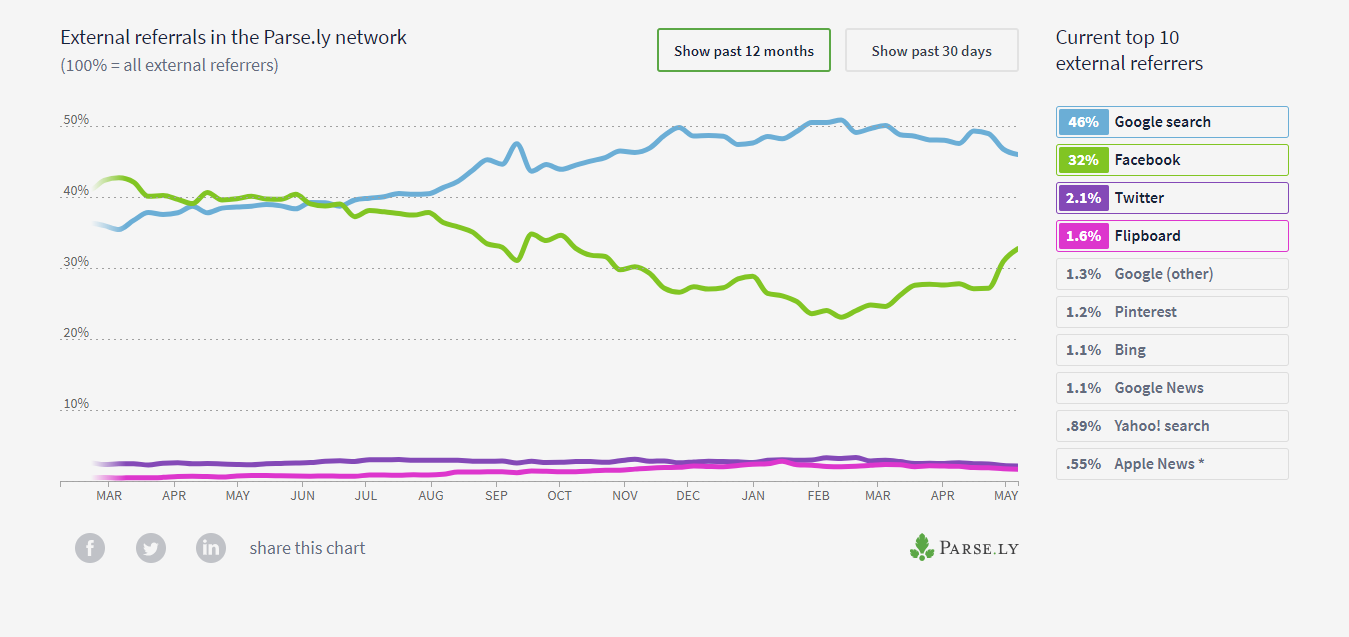 Together, Google and Facebook comprise a whopping 78% of external referrer traffic. When you add Twitter to that equation, more than 80% of external referrer traffic is generated from a mix of search and social media.
It's clear that marketers can no longer put all their eggs in one digital marketing basket. Diversification is key.
What's more, the effort that marketers put into social media marketing can have a positive impact on SEO rankings. While Google doesn't rank pages based on the number of followers a brand has, other social signals, such as links shared on social networks and native social media content (Tweets, Facebook articles, etc.), do matter.
Plus you can use SEO strategies like keyword research to optimize your social media content for search. Google crawls social media sites, and while it doesn't index every Tweet or Facebook post, sharing your content on social networks helps Google find your new content faster, resulting in faster indexing.
Google has been indexing Tweets in both mobile and desktop search for a few years now, so your Tweets might even show up in the SERPs, boosting your organic visibility.
Click To Tweet
Social media and SEO are not mutually exclusive, but the landscape is changing, forcing marketers to continuously adapt.
How to Leverage Social Media for Success
With businesses struggling for organic reach on the most popular social media platforms, marketers are turning to creative strategies to work around algorithmic obstacles. Use the following proven tactics to leverage the best of both worlds.
1) Focus on Engagement, Not Views
One of the main drivers of Facebook's recent shift in focus was the meteoric rise of low-quality, branded clickbait content shared across the platform. Some publishers relied heavily on vaguely relevant and exaggerated clickbait titles in order to generate clicks or views.
Previously, generating a large number of clicks could increase organic visibility on Facebook, serving as an indicator that the content was interesting to the platform's users. But as it turns out, some such content had misleading headlines, and many users weren't actually reading these articles before clicking the share button. The result was a proliferation of misleading or downright false information across the social media ecosphere.
Marketers should focus on engagement rather than clicks. Content that receives the majority of its traffic from a single source may now be viewed as an indicator of clickbait.
Click To Tweet
In other words, focusing on getting tons of clicks without regard for value is an ill-advised move.
Instead, prioritize the value that users get from consuming the content. Measure metrics like time spent on a page and bounce rates to hone in on the content that your audience finds most valuable.
Make it easy for users to share content from your website with social media share buttons to boost likes and shares across multiple social media platforms. Remember, consumers place a high value on content shared by friends and family members – plus, those posts get priority placement in Facebook's news feed.
2) Tap Into Influencer Marketing
Influencer marketing has been around for a while, but it's growing in prominence. Because influencers are real people with authentic connections, most influencer profiles aren't getting hit by algorithmic changes, and if they are, it's minimal.
Leveraging influencers to share and promote content proves an effective tactic for brands that have been negatively impacted by Facebook's changes, and makes it possible to earn their content priority news feed placement. That's not to say that Facebook and other social networks won't start downgrading sponsored content in the same way that they do brand and business content, but for now, influencers are one of the most effective ways to regain lost reach.
But don't just stick to macro-influencers (those with 10,000-plus followers or connections). Stakla's 2017 Consumer Content Report: Influence in the Digital Age found that, when it comes to making purchase decisions, consumers are three times as likely to be influenced by content from friends and family members than they are by content shared by celebrities, so generating engagement and shares from users with smaller networks can have a valuable influence.
3) Cultivate User-Generated Content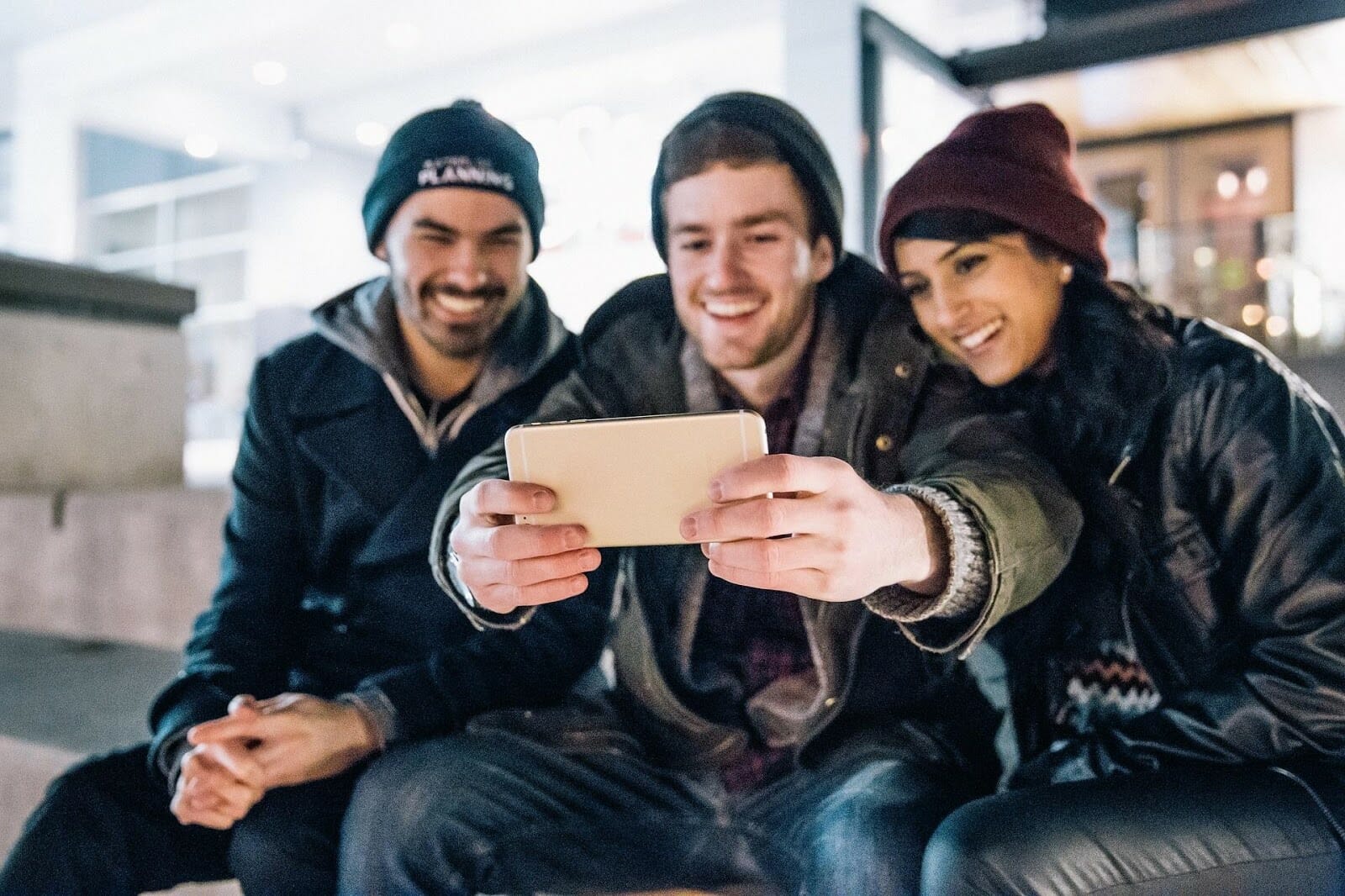 According to Stakla's research:
Nearly nine out of ten consumers (86%) say that authenticity matters when deciding which brands they support
60% of consumers surveyed say they view content created by other consumers as most authentic
Just 20% of consumers perceive marketer- or brand-created content as most authentic
When asked to rate the authenticity of a series of photos, 47% of consumers rated user-generated content as more authentic
For marketers, this means that cultivating user-generated content must be a priority. The good news is that consumers already share experiences on social media. In fact, 78% of respondents said that they post on social media about positive buying experiences, such as purchasing a car, dining at a restaurant or traveling.
Rather than banking on the possibility that users will create content about your brand, go the extra mile to incentivize your audience to create authentic content through contests and giveaways, or provide discounts for product reviews or testimonials. User-generated content is particularly powerful not just for social proof, but also for SEO: one-fourth (25%) of search results for the 20 largest brands worldwide are links to user-generated content.
Further Reading:
4) Consider Paid Social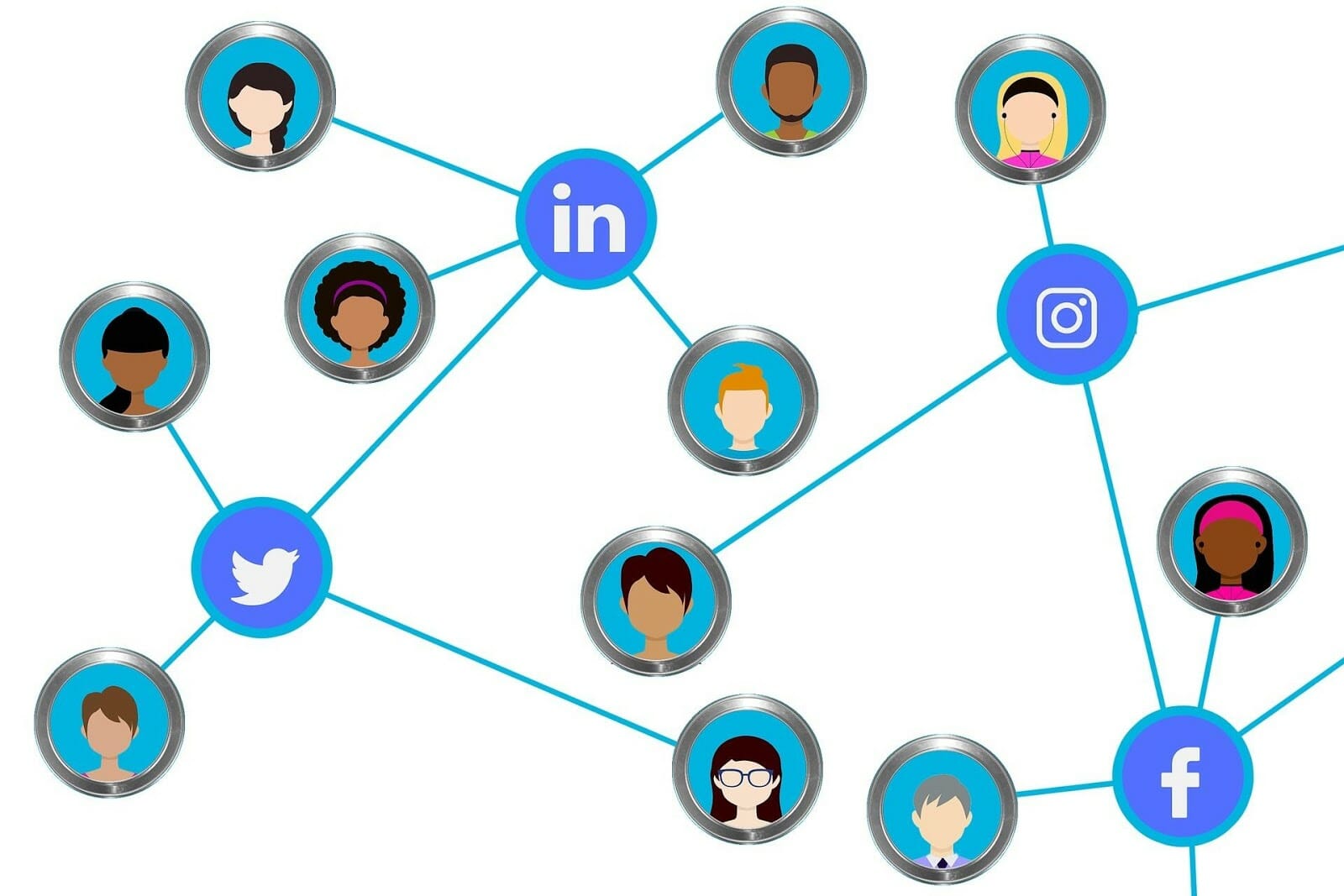 Quick wins are possible with paid social, and Facebook's audience targeting options are considered the gold standard by many marketers. Optimize both organic and paid ad campaigns by taking advantage of Facebook's rich audience targeting and other features, such as:
Set a target audience for every post
Determine when your audience is online and most engaged
Get detailed metrics on boosted post performance
Auto-optimize your ad campaigns
Run A/B tests on different audiences or with different headlines or content
Facebook isn't the only social network with paid advertising options; every major social network, including Twitter, LinkedIn, Instagram, Snapchat, YouTube, and Pinterest, also offers paid advertising. Each network has its own ad and targeting options, as well as its own analytics tools to measure performance, or you can opt for a third-party paid social optimization tool to get the biggest bang for your buck.
Where should marketers run paid social campaigns? It depends on where your audience is. Facebook is generally considered a viable option for most brands, and a majority of marketers (95.8%) in a March 2016 survey said that Facebook produces the best ROI, with Twitter (63.5%) and Instagram (40.1%) rounding out the top three:
This doesn't mean that these platforms are the right (or the only) choice for you. Dig into your data to find out where your audience is spending the most time and when.
Further Reading:
5) Diversify Your Social Media Presence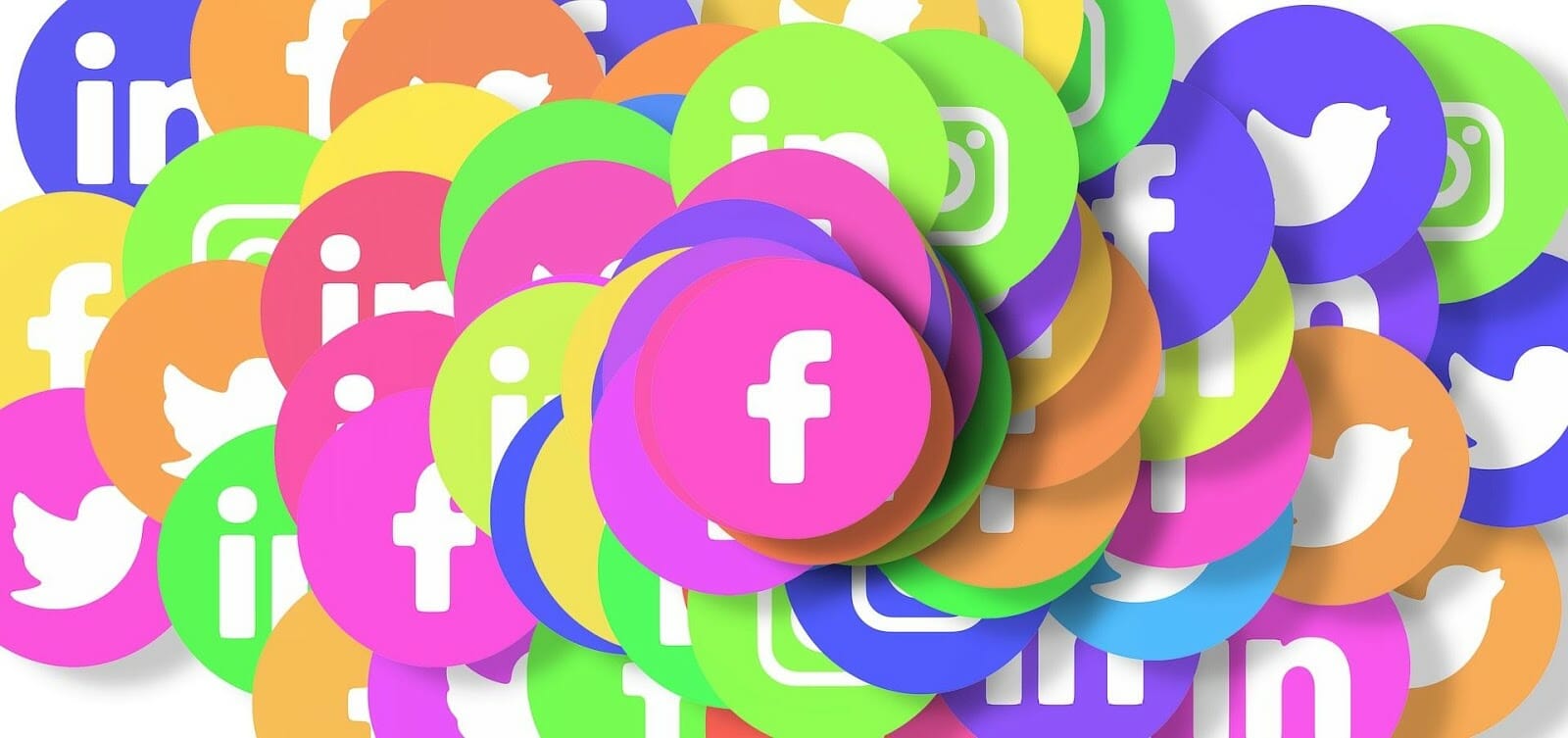 New social media platforms are cropping up all the time. Some take off like wildfire and others flop. Social media marketers have their work cut out for them when it comes to staying on top of the social media landscape and managing an increasing number of social media campaigns across channels.
Cross-channel diversity is imperative because algorithm changes significantly impact reach, clicks and other metrics. If you're not relying exclusively on one social platform, these sudden changes are less devastating.
Click To Tweet
Again, marketers should focus on the social media platforms where their target audiences are spending the most time. For some, that means a heavy focus on Facebook with a lesser focus on platforms such as Snapchat and Instagram. For others, it may mean devoting most of your resources to visually-oriented platforms like Instagram and Pinterest. Consider not only which platforms are best for reaching your target audience, but how much of your resources you devote to each.
This helpful 2018 Social Audience Guide by Spredfast breaks down audience stats by platform: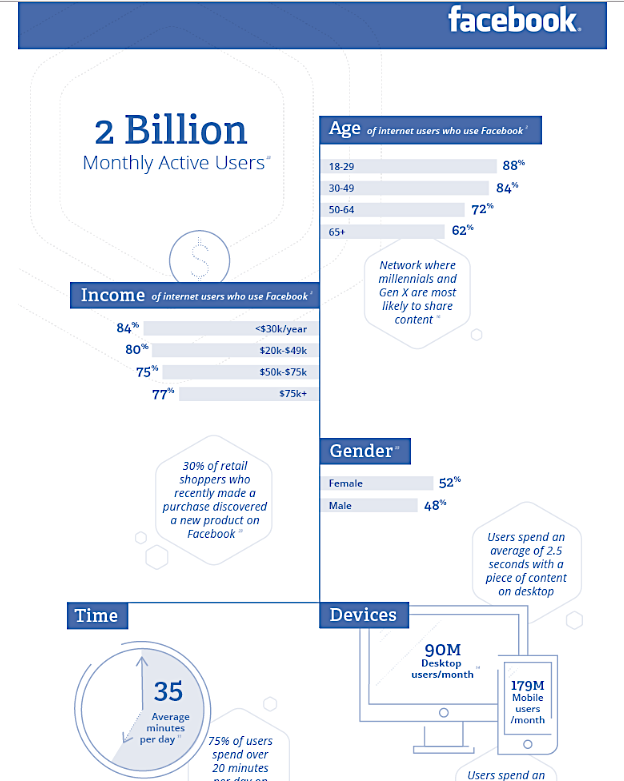 It's not just about diversifying the social media networks you use, but also the types of content that you create and share on those platforms. Some consumers prefer to watch a video over reading an article, while others prefer graphics and shorter content. Repurposing content in various formats and optimizing for the target audience you're reaching on every social media platform makes it possible to cater to unique behaviors and audience preferences.
Use interactive content to boost engagement, and ensure that you've got a healthy mix of promotional, informational, entertaining, and curated content. Sharing curated content from influencers, for instance, helps to nurture those relationships for your influencer marketing campaigns and can net you reciprocal shares and links.
Final Thoughts
Brands, marketers, and publishers are facing an uphill battle in the digital marketing landscape today. Challenges in both SEO and social media mean that marketers need to get creative and develop holistic, cross-channel campaigns for better visibility and growth. At the end of the day, social media remains an integral component, and brands that readily adapt to the new rules are poised to win the game.
Main blog image source: Pixabay