Facebook is one of the biggest social media platforms in the world, with 2.27 billion monthly active followers: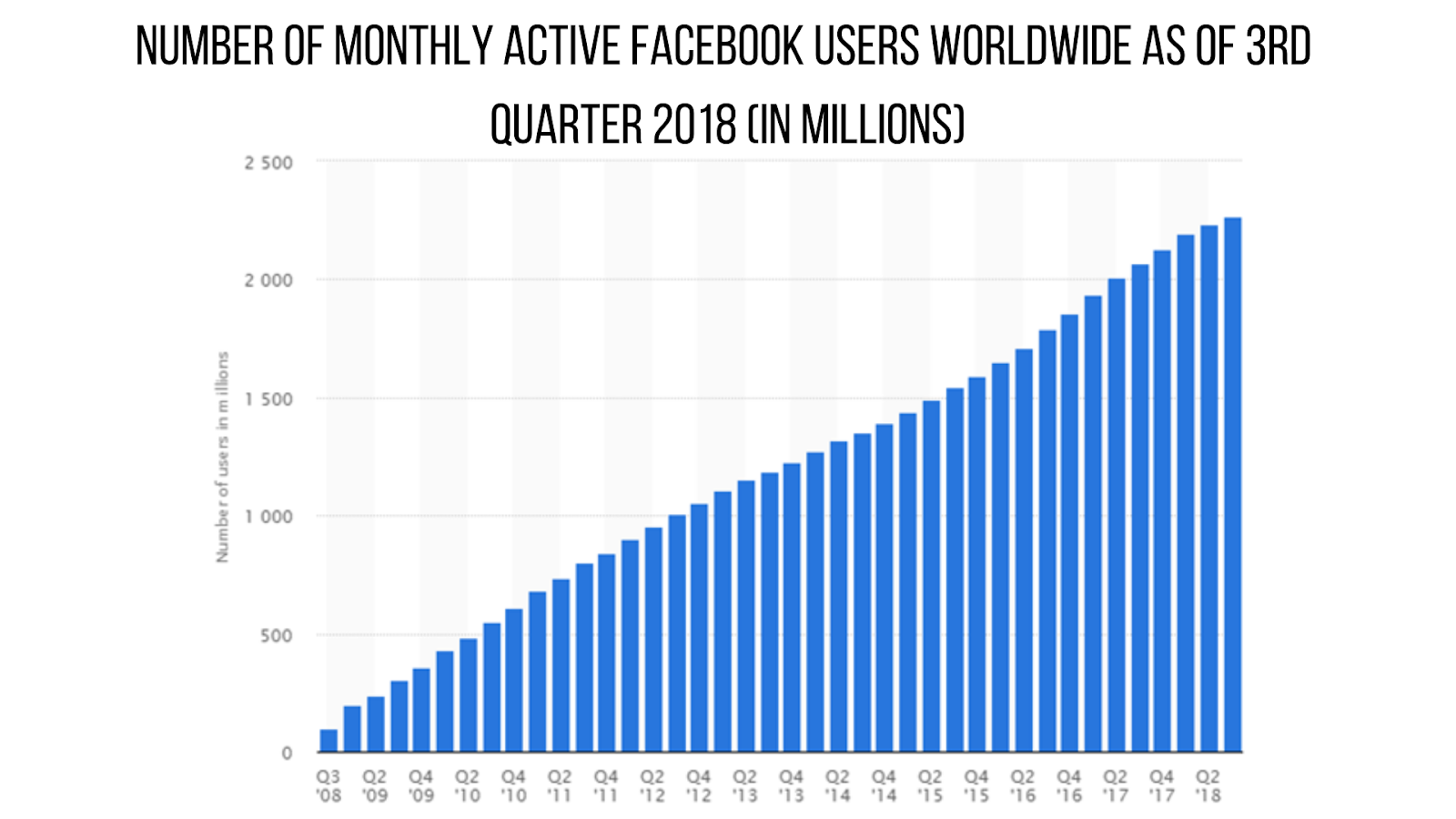 While it's not generally easy to get results from the platform, it can deliver fantastic benefits for your brand and business. But to gain more visibility on the platform, you must know Facebook's most important features in order to market your brand and business effectively.
Your Facebook marketing strategy works best if you're optimizing your Facebook profile, groups, and pages to connect with potential customers and to reach a broader audience.
In this article, we'll talk more in depth about the twelve crucial Facebook features that you should be taking advantage of today to attract more leads, and ultimately boost your sales.
1) Spy on Your Competitors with Facebook Insights
Do you have any idea how your competitors are doing or measuring up against you on Facebook? If not, you must certainly take advantage of the Page to Watch feature. By comparing your results side by side with how the rest of your competition is doing, you can gain useful insights: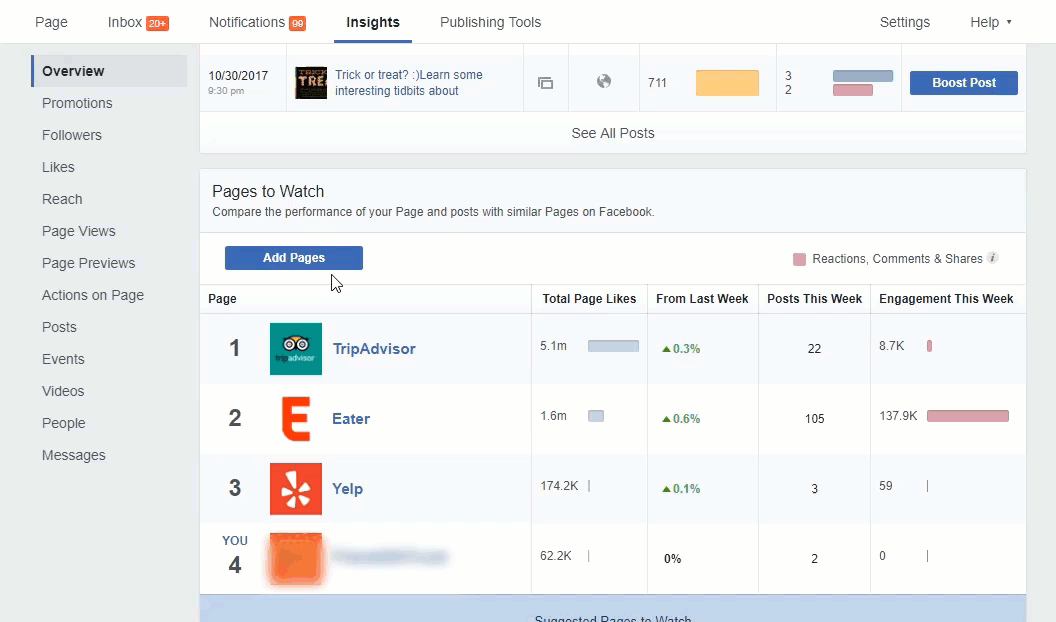 In Facebook Insights, the Pages to Watch feature allows you to keep an eye on your competitor's pages so that you can compare engagement, activity and your audience growth.
It's especially useful if you want to see what is and is not working for your competitors: How often do they post and what particular content is working well for them? What drives the most engagement? Armed with that knowledge and insight, you can tailor your content and game plan accordingly.
Learn More:
2) Export Your Facebook Page Insights Data for Business Analytics
If you're looking for information on how your audience responds to your marketing tactics, you can export your Facebook Insights files so that you can improve your content strategy and drive engagement. Think about how Facebook provides a great depth of data and analytics in your business page. You should familiarize yourself with these vital data and statistics that are helpful in improving your business goals.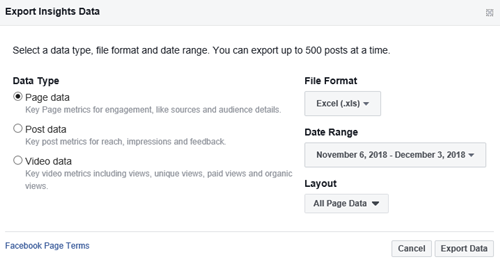 To download your Insights data, go under the Insights tab. There you will see the "Export Data" link; click it. A pop-up window will appear (like the image above). Select the "Page data" among the three choices to download the engagement metrics of your Facebook page.
You may want to opt to download your data once a month and save a copy of that file. That way, you'll have access to it anytime.
3) Target the Perfect Audience for Each Type of Content
If you want to boost your news feed exposure, then you can improve organic visibility through the platform's Audience Optimization feature. As Facebook caters to an increasingly massive audience worldwide, it's also becoming saturated by other brands, so it's a challenge to increase visibility in your feed and come up with engaging content for your target audience.
To target your preferred specific audience, locate the News Feed Targeting setting on the Write Something field (if you do not see this, that is because it isn't activated yet):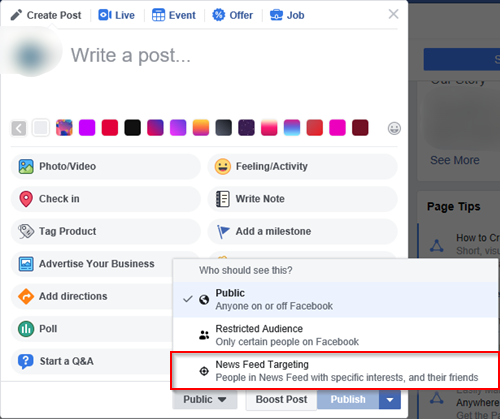 To activate this feature, go to the Settings tab, then click on General, and the look for the Audience Optimization for Posts section. Tick the checkbox to allow this. Save the changes you've made, and the targeting feature will now appear.

By using the organic post targeting tool, you can specifically target your audience based on their interests. Doing so creates a massive opportunity to optimize your content and your page for engagement. Audience optimization improves your outreach efforts, so you can target the people who are most interested in it.
4) Be Mindful of Your Relevance Score on Facebook
Facebook's relevance score metric measures the effectiveness of your ads. This score is an essential ad quality signal as it directly affects the ad delivery, as well as the total costs on those ad campaigns.
Here's how it works. There's usually a negative and positive feedback factor in the overall relevance score equation. Positive interactions are conversions and video views, while negative interactions are when people hide your ads from their dashboard. The moment people report or hide your ads, then your overall relevance score tends to suffer.
Over time, as people interact and view your ads, that score will be updated on a regular basis. The higher your relevance score, the lower the cost your ad delivery will be. So the more ads you produce that are both relevant and timely for your audience, the more Facebook will reward you for it.
Learn More:
5) Make Use of Facebook's Free Stock Images for Your Ads
A good advertising campaign includes using stunning, high-quality images that have the capacity to wow your audience. This means that you always have to find incredible photography to market your business and brand.
But did you know that you can use Facebook's free stock images? Currently, there are over 25 million Shutterstock images that you can choose from to find the perfect photo that goes well with your brand!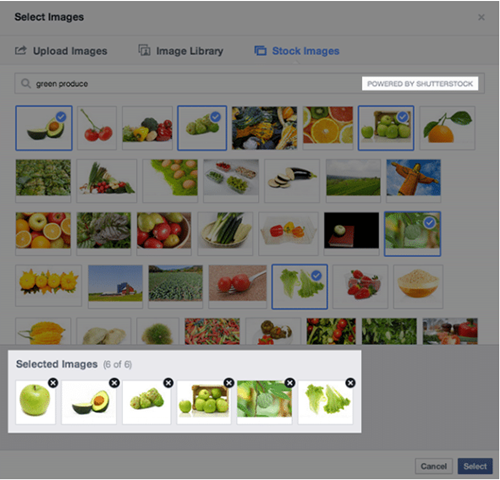 6) Install Facebook Pixel for Retargeting
It's every marketer's dream to create highly engaging ads, useful integrations, and a laser-focused targeting campaign. However, the most compelling of all is the powerful targeting ability of Facebook Pixel: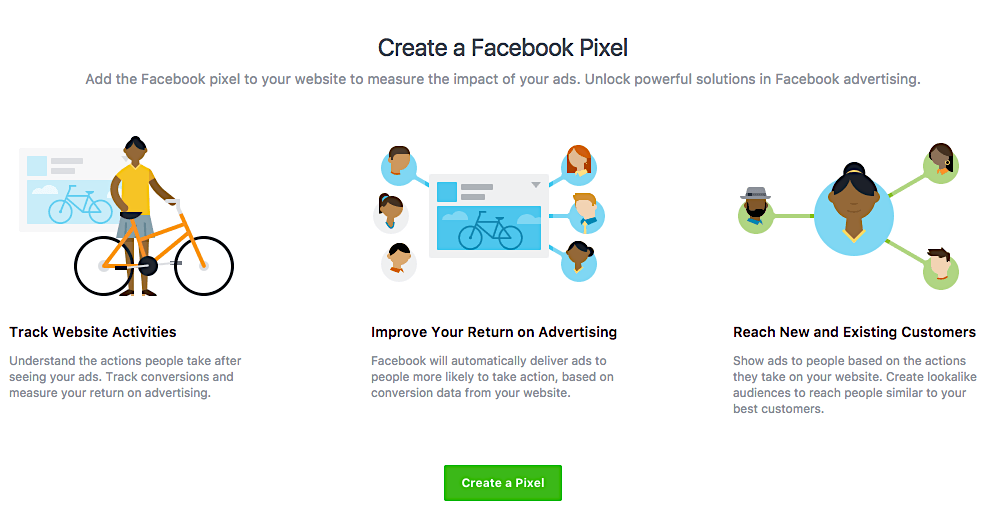 In its most basic form, Facebook Pixel is a snippet code that can be inserted in the backend of your site. It's an analytics tool that helps brands and businesses establish and improve their ROI by effectively measuring your ads.  You can use pixel data to:
Make sure your ads are being shown to the right people

Build advertising audiences

Unlock additional Facebook advertising tools
So instead of building your network on Facebook's self-serve ad tool, the feature does this for you. As a result, it makes the entire process easier and faster. More than that, it also improves the effectiveness of your ad campaigns.
7) Save Exciting Posts to Share on Your Page
While scrolling through your News Feed, you often come across posts that have interesting content. The problem is, sometimes you don't have the time to click on them immediately.
Facebook has feature wherein you can save specific items on your list to read later when you have the time. It allows you to keep different items that range from places, movies, music, and TV. You're also the only one who can see your saved posts, yet you have the option to share them with friends.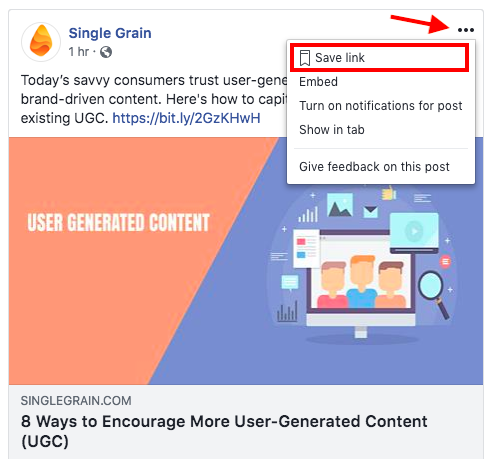 You can go back to these items later on by hitting the "More" tab on mobile or the "See More…" link found on the left-hand corner on Facebook.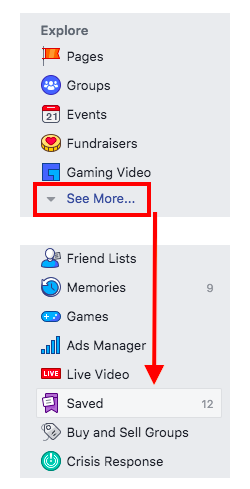 Learn More:
8) Convert Your Post Likes into Page Likes
Did you know that it's pretty simple (and free!) to gain additional likes on your Facebook page after you finish with a specific campaign? Simply scroll down your Facebook page and look at the posts that you've promoted in your recent marketing campaign. Then click through the blue-thumbed icon found underneath your post. That will show you the people who liked your specific post.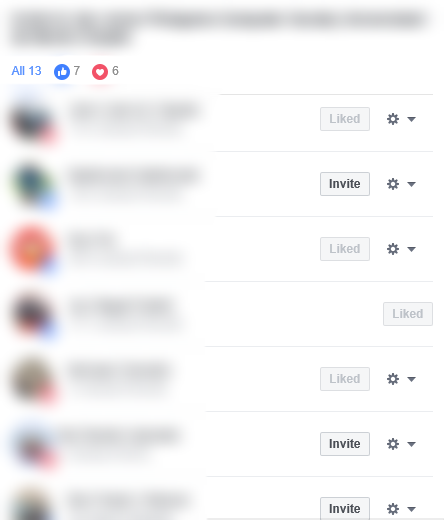 You can then see who liked your page and who didn't. If they haven't "liked" your page yet, you can invite them to do so by hitting the "Invite" button.
9) Know the Best Time to Post Your Content
If you want to know what the best times are to post on your page, then it's time to gather useful data on Facebook Insights. This tool is essential if you want to improve your content marketing efforts.
From your Facebook page, click on "Insights" on the top menu and then "Posts" on the left column: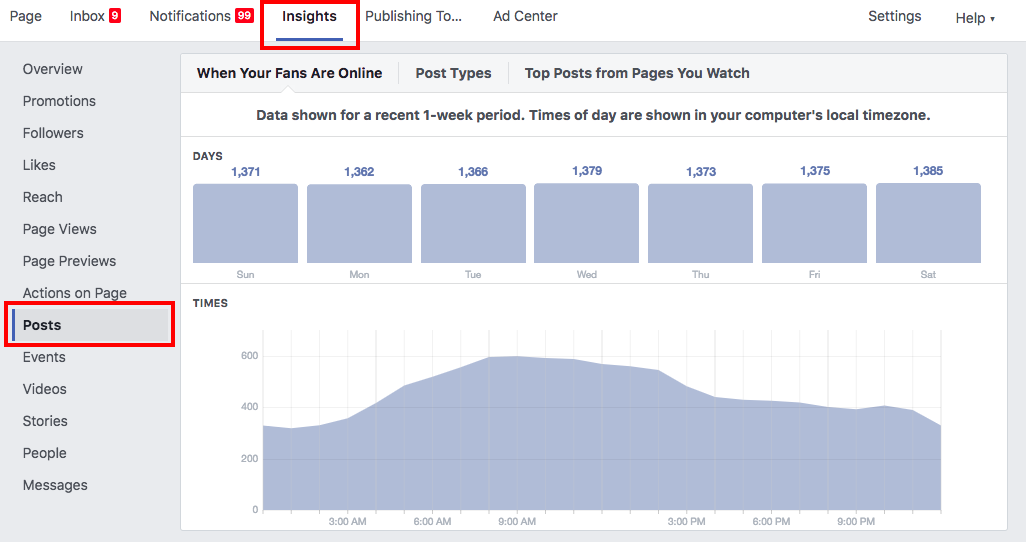 It shows you when your fans are mostly online by day of week and time of day so that you can choose the best times to post. Also, by viewing the reach and the engagement of your posts, you'll have a better idea of the best type of content to post.
By knowing the engagement rate, you'll see the success of an individual post. Regularly reviewing these metrics helps you better understand the type of material your audience is most responsive to. That way, you can create more compelling, high-quality content in the future.
10) A/B Test Multiple Target Audiences
Facebook's Create Multiple New Ad Sets feature allows you to make more than one ad at a time – meaning that you can create multiple ad sets in age segments, location, and custom audience in just one campaign. When you're targeting ads, it's quite hard to identify your target audience.
To create multiple ad sets, go to Ads Manager and click Create. Select your objective, name the campaign, and then hit Continue. Then click Create Multiple New Ad Sets:

Try testing different target audiences to figure out which one delivers the best results. One effective way to create a split-test campaign on the platform is through the "Create Multiple New Ad Sets" feature.
Learn More:
11) Customize the Look of Your Page
As Facebook continues to be one of the biggest platforms on social media to date, more and more marketers and business owners realize that they must create an up-to-date and informative Facebook page.
While Facebook Pages are not as useful as your website, they do tend to rank high. As more people come to Facebook looking for vital information about your business, one of your main goals should be keeping your page in top shape. Although Facebook pages aren't customizable, you are provided with options on organizing different parts of your page.
Click on "Settings" on the top menu of your Facebook page (not the "settings" from the drop-down menu on the very upper right corner), and you'll come across the "Templates and Tabs" tab on the left-hand side. From there, you can choose a particular Facebook layout that you like: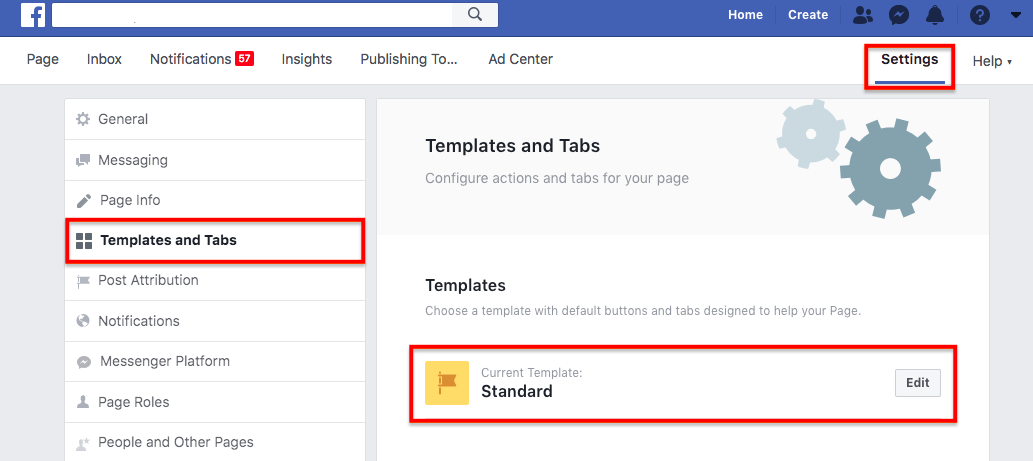 You can select from the several layouts Facebook has, like Standard, N0n-profit, Business, Restaurants and Cafes, etc.: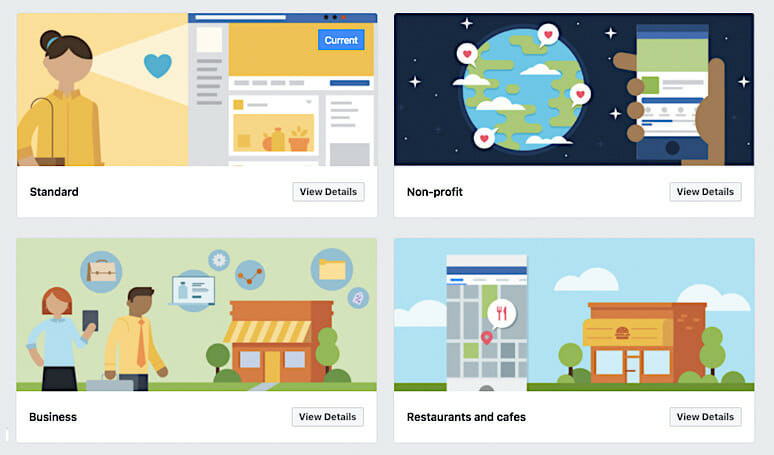 So plan accordingly. What are your goals? If you have a lot of loyal customers visiting your page, then you might want want to display the "Reviews" section on the front and center to show potential customers what others like most about your business or brand. Other essential elements also include your profile image, cover photo, and about page.
The bottom line is that you need to optimize your layout for success. See to it that it makes a good impression on anyone who visits your page and remember to keep it consistent (in terms of color theme, logo, info) with your website.
Learn More:
12) Pin Important Posts at the Top of Your Page for Visibility
Did you have a Facebook post that received high levels of engagement (likes, reactions, shares), and you want that to be visible to your audience, not just for several days but for weeks?
One of the most effective ways you can do this is through pinning, which will make it the first post that they see when they arrive on your Facebook page: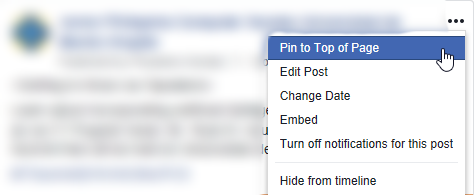 Here's how you can pin a post:
Find a particular post that you want to pin on your timeline.
Click the "More" icon (the three dots) on the upper right side of your post.
Choose "Pin to Top of Page."
And voila! A thumbtack icon will usually appear on the post and will move to the top of your page. Choose to unpin it anytime by clicking "Unpin From Top of Page."
You can also pin posts to any Facebook group that you manage through group announcements. The only limitation is that these are posts can only be pinned one at a time. Also, you can opt to set an expiration date on these posts. That way, they will automatically disappear, so you don't have to worry about forgetting to remove them when they aren't relevant anymore.
Here's how you can make the most out of pinned posts:
Pin your latest or best-performing blog post to boost your traffic.
Make announcements in groups about upcoming events.
Utilize announcements to make other members aware of the group rules and to maintain peace and order.
Rotate pinned posts every once in a while.
Boost your Facebook Audience Insights.
In Summary
Billions of people use Facebook every single day, and this massive platform has succeeded in making people more connected all over the globe. However, if you're a business owner or a marketer, you might be missing out on some of the most vital Facebook features that have the most potential. Although Facebook has been around for over a decade, some marketers are only using its basic features!
By using these handy Facebook features to your advantage, you'll save more time and effort, boost your likes and improve your ROI.