The Impact of Social Media on Business in 2023
Social media has had a huge impact on how businesses find and communicate with their audiences.
Prior to social media, businesses had to travel to live events to find a targeted group of prospects. Unfortunately, the average cost to attend even a small business conference comes in around $1,000, making it very difficult for startups to get in front of their target audience.
Social media has transformed that by:
Allowing startups to get in front of a targeted group of people virtually
Changing the way businesses communicate with their audience
Replacing business cards (which often end up in the trash) by popping up in your audience's feed
Making it easy for businesses to provide value upfront prior to asking anything from a prospect
The Value of Social Media
Gary Vaynerchuck sums up the value of social media very nicely:

Considering that 3.5 billion people (about half the world's population) are on social media daily, it's not surprising that 73% of marketers agree that social media is somewhat or very effective in their business strategy: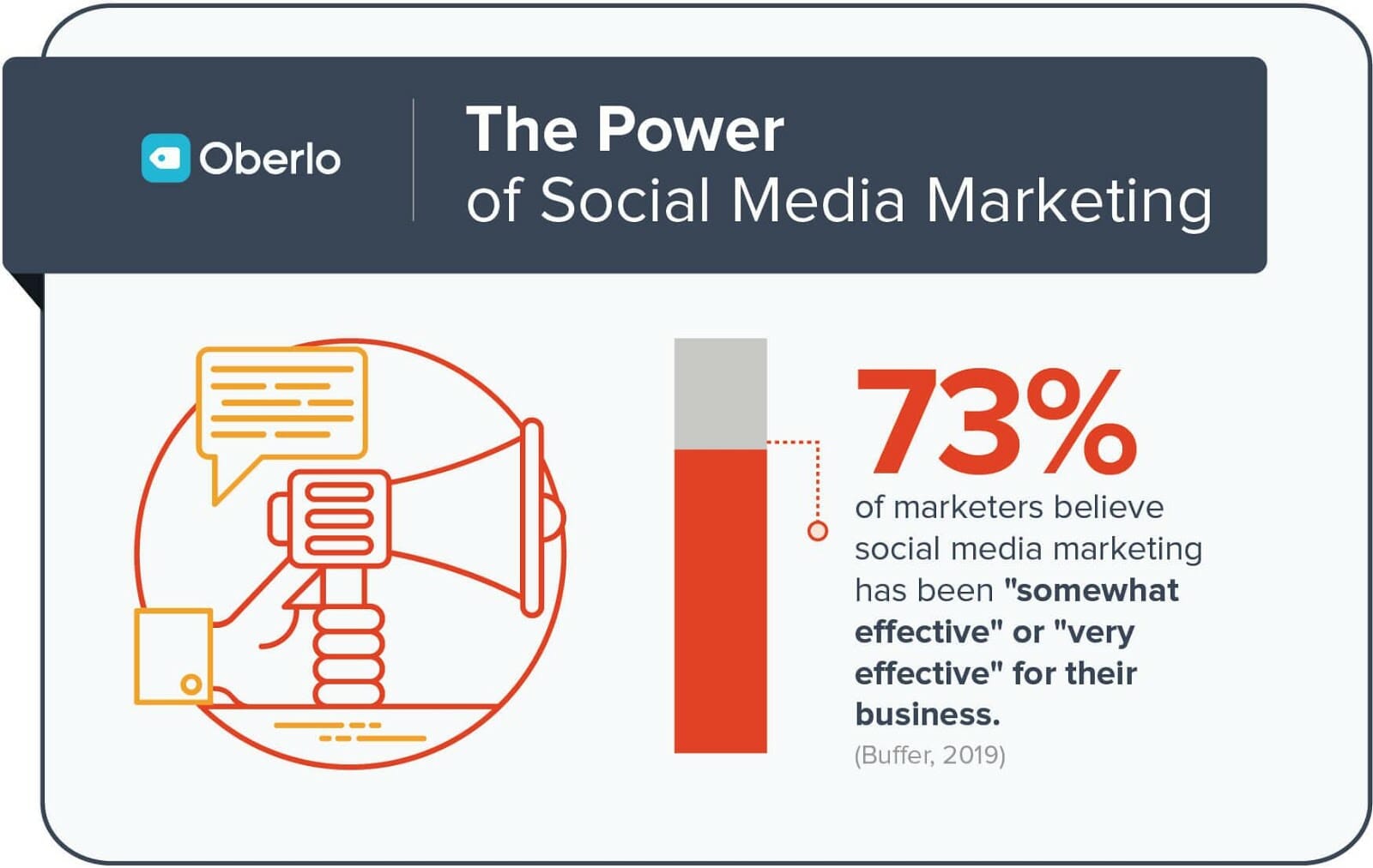 And about 54% of customers use social to research products: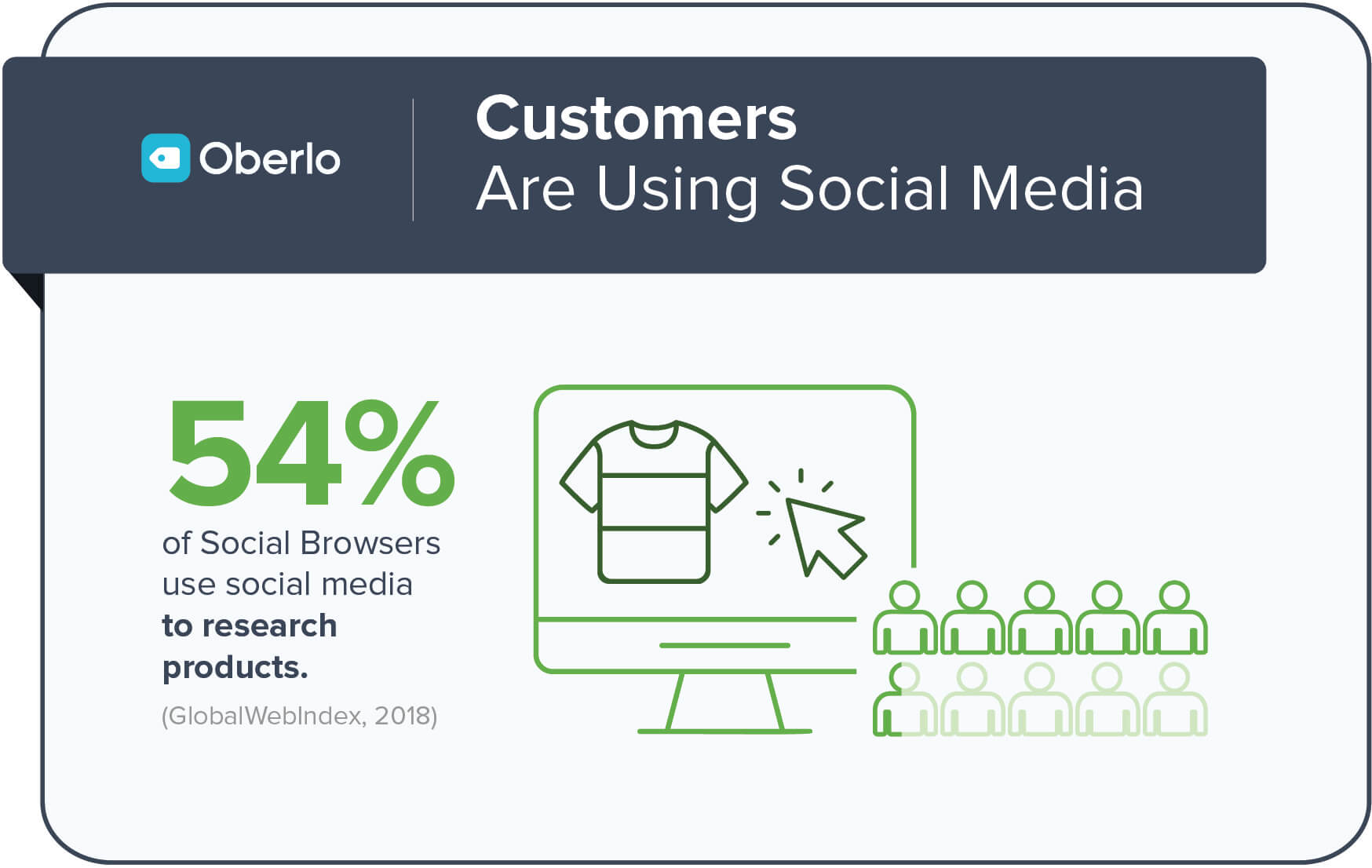 That said, social media doesn't impact your business overnight. In fact, building a presence and seeing the ROI will likely take years. However, if you use social media correctly, it can build long-term relationships that will transcend any ads you might run.
Dive Deeper: Social Media Marketing for Business Owners: How to Get Started in 2023
8 Ways that Social Media Impacts Your Business
In this post, you'll learn not only the impact of social media marketing on small businesses but also how the most successful brands in the world leverage it with simple examples and actionable takeaways.
Table of Contents:
1) Allows Businesses to Become Omni-Present
The average person today has about eight social media accounts (nine for people aged 16-24). If your brand is present on even a few of those platforms, you will appear to exist "everywhere" in that person's life.
You've probably heard of the rule of seven, which states that prospects need to see a brand's message seven times prior to purchasing. That number is likely much higher in 2023, as people encounter over 5,000 branding messages in a day. Therefore, social media is an amazing tool to help your brand rack up views and gain better brand awareness.
Here at Single Grain, we tripled our traffic from 2017-2018 by using an omnichannel approach. A large part of that approach involved repurposing content with social media:

We also spent a lot of time testing various types of content and posting natively on each platform.
For example, we do a variety of pre-recorded and live videos, as well as written posts, plus we leverage Single Grain's CEO Eric's personal social accounts to help us gain traction: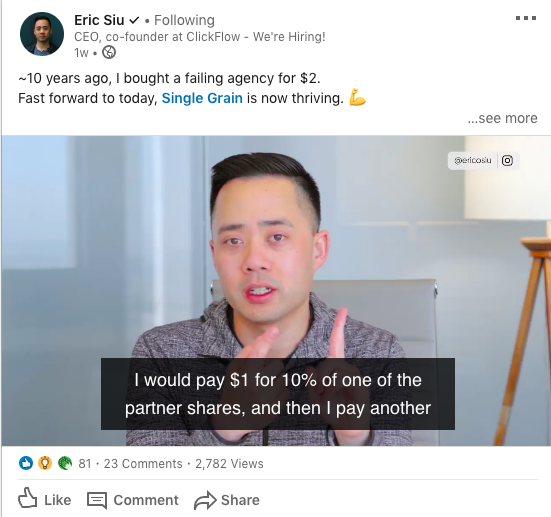 Even without paying for ads, platforms like LinkedIn and Twitter still give decent organic reach, especially if your employees and friends are sharing and liking your content.
Dive Deeper:
* The Best Twitter Traffic Hacks to Grow Your Business
* LinkedIn's Algorithm Is Changing, so Milk It While It Lasts
* Omnichannel Marketing: Using the Content Sprout Method to Overcome Info Overload

2) Increases Personalization
A major impact of social media in today's business world is the new level of personalization that brands can achieve: One third of marketers claim that developing a more personalized experience is a priority. Additionally, 81% of consumers appreciate brands that get to know them and understand when it is and isn't appropriate to sell to them.
With social media, it's easy to slide into your prospect's daily activities unobtrusively. That helps you develop a more personal interaction, as you can serve them ads depending on their interests and previous interactions.
For example, this HubSpot ad was shown after someone had looked into CRM software but not purchased it: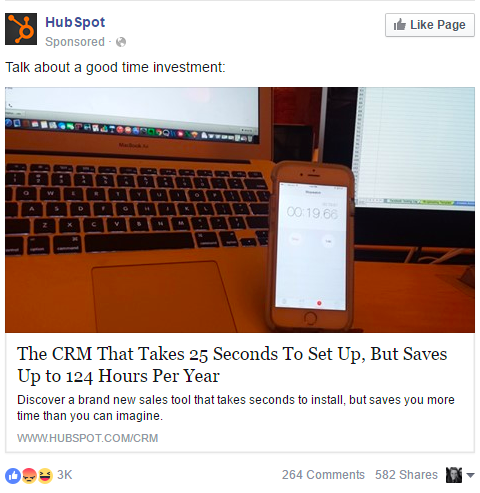 The image itself, which effectively conveys the product's value, appears to be a simple cell phone picture. As most of your friends' images on Facebook are not professional, the cell phone shot helps HubSpot blend in with your those posts rather than stand out as a slick advertisement. It gives the brand a much more personalized and humanized appearance.
Another feature that is helping many businesses stand out are messenger bots (primarily on Facebook and Twitter). Used correctly, these bots have the potential to bring personalization to another level. Why?
Chatbots are also a much less crowded channel than email:
By appearing next to messages from friends and family, your prospects will begin to see you in a more personal light.
Here's an example of a business effectively using a chatbot: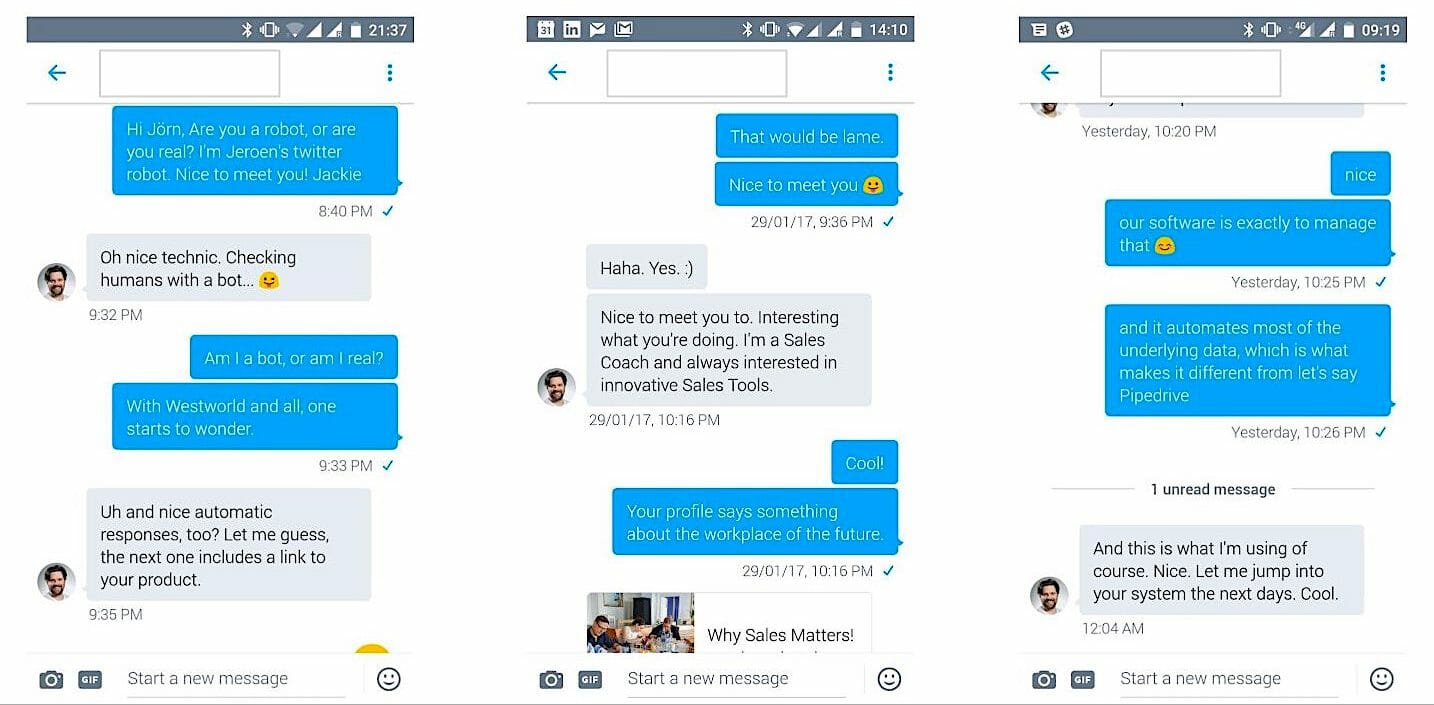 But you have to be smart about your chatbot use. In this example above, only the first message is an automated one. If the message recipient is actually a bot, they wouldn't reply. If a person does reply, it triggers a human being to take over the communication. Chatbots can get annoying if the bot can't answer your prospect's questions, so make sure that humans are available to jump on!
In addition, this company doesn't use the chatbot to sell anything at the start. The conversation is directed toward understanding what the prospect wants and needs. Notice that during the chat the sales rep also mentions a piece of content that the prospect shared, which furthers the personalization.
You can get started with chat through tools like MobileMonkey.
3) Generates More Loyalty
Social media has had another positive impact on businesses: It helps them generate more loyalty.
The first way that businesses can do this is by creating their own page on one or more social networks and encouraging interaction.
A stellar example of a brand that interacts heavily with its customers and has a truly loyal following is Glossier. How many other brands have customers who are so loyal that they print posters ("Missing lip balm: If found please return to Zain Ameen year 13") in an effort to find a lost product they bought from your brand?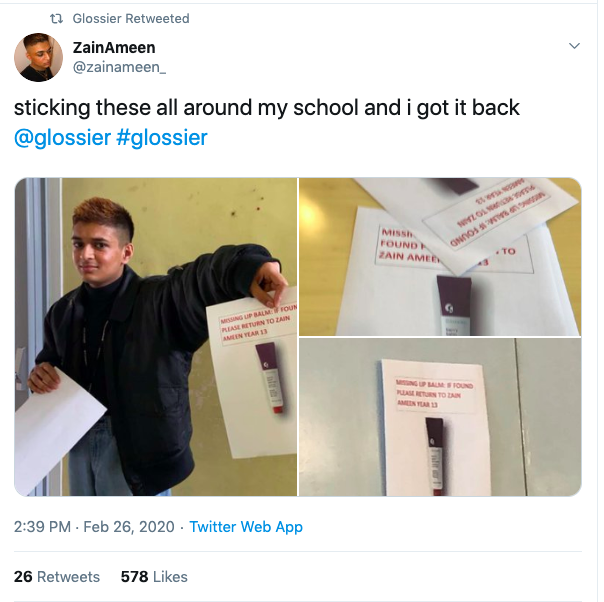 The best part here? The customer then posted it on Twitter, generated just under 600 likes, and the brand retweeted it!
By sharing your customer's posts, social media allows you to cultivate a loyal following as you can see how customers use the product after the sale. The love for your product becomes contagious and before you know it, you have hundreds of brand evangelists.
Another amazing way social media allows us to build a loyal following is by creating private groups. Noah Kagan of Sumo believes that building a platform on social media is one of the best ways to grow a loyal following.
Social platforms already have your customer's attention. It breaks down the barrier of trying to make them open an email or click on a link because they're already right there.
The key to actually building a following is to engage with people in the group on a regular basis. Noah offered to do a free 30-minute session with someone live in the group. Check out the engagement: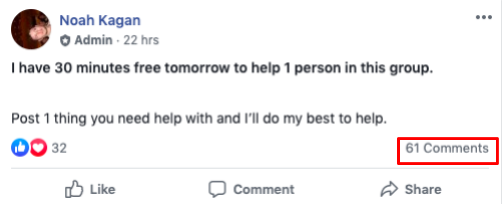 One of the keys to creating a truly loyal following is consistency over time. Social media is also a great way to build a loyal following and then transition them into a channel you own such as email.
Dive Deeper:
* 6 Ways to Improve Customer Loyalty with AI
* How to Use Personalization to Increase the Impact of Email Marketing
* Facebook Messenger Chatbots: The Step-by-Step Guide to Getting Massive Results

4) Increases Industry Collaboration
Social media can significantly impact businesses that rely on growth through collaboration.
Influencer marketing is perhaps the most common form of collaboration and is also extremely effective: 65% of marketers say that their influencer marketing budget will increase in the upcoming year: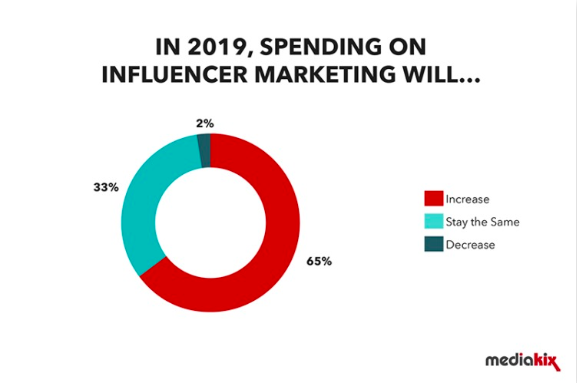 For example, GymShark has been leveraging influencer marketing with great success on TikTok. Here's an example of a video that brought them over 600,000 likes and 1,500 comments: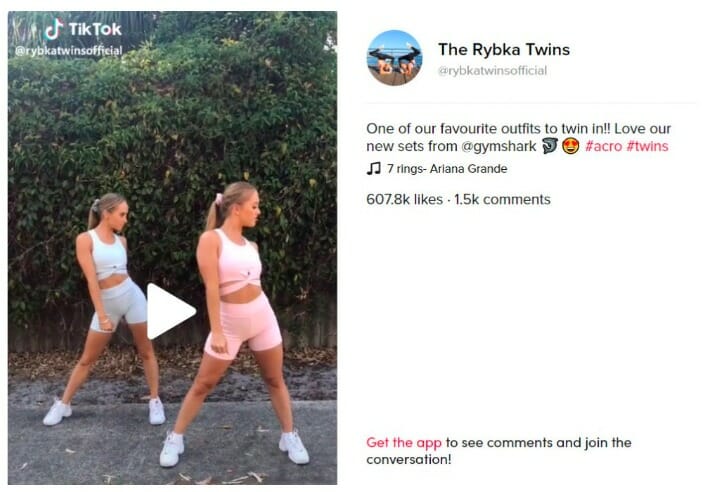 However, social media is more than just a platform for influencer marketing. It also allows brands to frictionlessly collaborate and expand their audiences by simply sharing a post.
Without social media, collaboration is much more involved and usually requires either sending out a dedicated email to a partner's list or even hosting a webinar.
This is particularly useful for startup websites looking to earn traffic. My Ignite My Site marketing blog is a great example of this – the website grew through interviews with influencers who then shared the content on social media. In fact, 73% of the traffic we earn still comes from social media!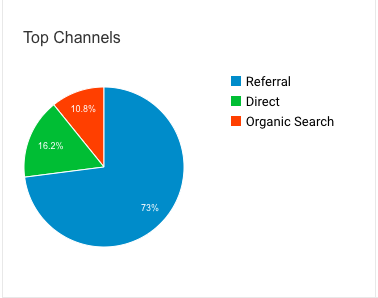 Dive Deeper: The Ultimate Guide to Growing Your Business with Influencer Marketing
5) Adds Credibility to Your Brand
If someone is researching a business prior to making a purchase, one of the first places they'll probably check is the brand's social media accounts to see if they have any discounts or just to make sure that they're still active. Prospects can also see your fans and likes, which increases your business's credibility.
Seeing a business page with thousands of excellent reviews, like this one for a local sushi restaurant, gives you confidence to try them out for the first time: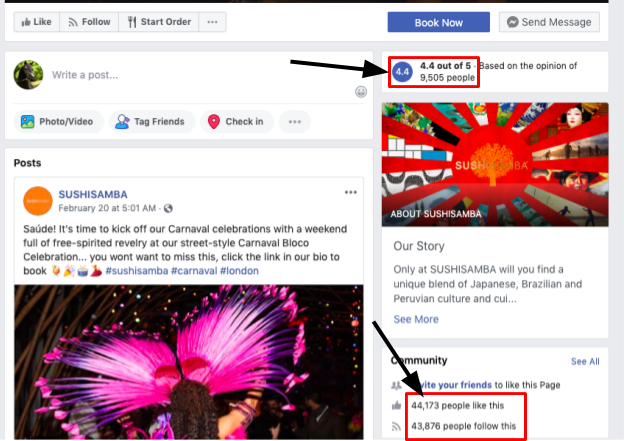 The average customer expects a business to have at least 40 reviews before they will trust its star rating – though businesses have an average of 39: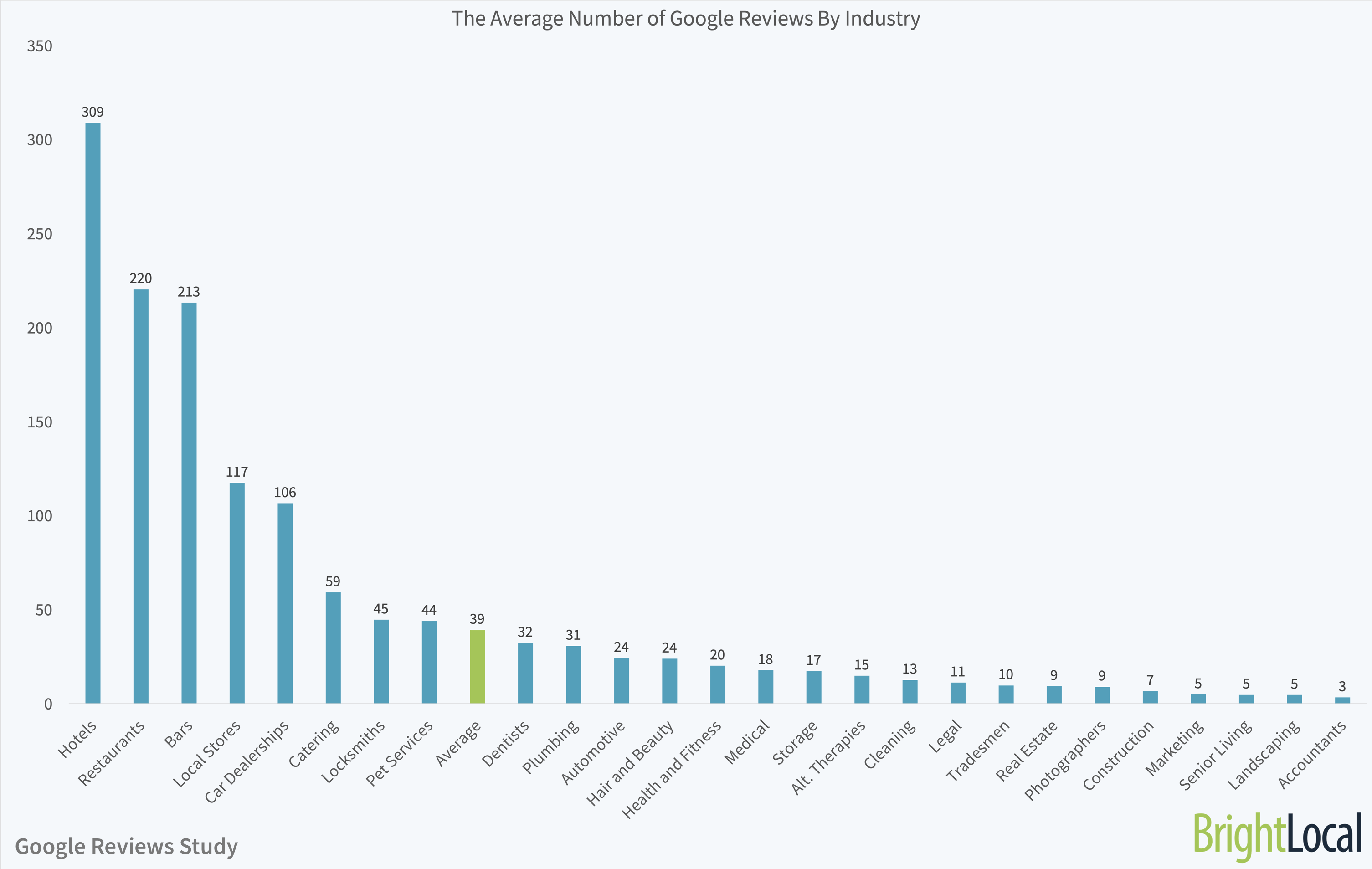 Social media is a great way to help generate reviews, since your customers are already accustomed to using social platforms like Facebook. To further increase reviews, consider sending emails to your customers asking them to leave a review, and be sure to include links to your social accounts. Post it to your website as well.
Social media also allows businesses to take control over reputation management. Even if you have a dissatisfied customer, potential customers can see how you respond to the situation. This is important because 30% of people view businesses that respond to online reviews in a positive light.
Here's an example of an ideal response to a negative review from an attorney: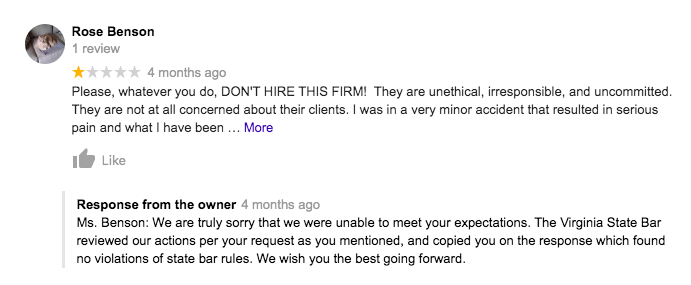 6) Increases Referrals
One of the biggest benefits of social media is that it's a virtual word-of-mouth platform. If you are like 71% of other consumers, you will buy a product based on social media referrals at some point in time. There are a number of businesses, like Dropbox and Evernote, that were built on referrals.
So how can you increase referrals? Start by offering an amazing service and make every customer a raving fan. If you already have an amazing product or service, you can leverage social media by running contests.
Unfortunately contests like "share to win" have become banned on Facebook. That said, you can still run contests that allow you to ask for likes, messages or comments. And they work – even if you're a B2B company.
Noah Kagan held a giveaway contest every day in January on products he likes and uses (books, snacks, shows, coffee, etc.). The rules were simply to like and comment on the post: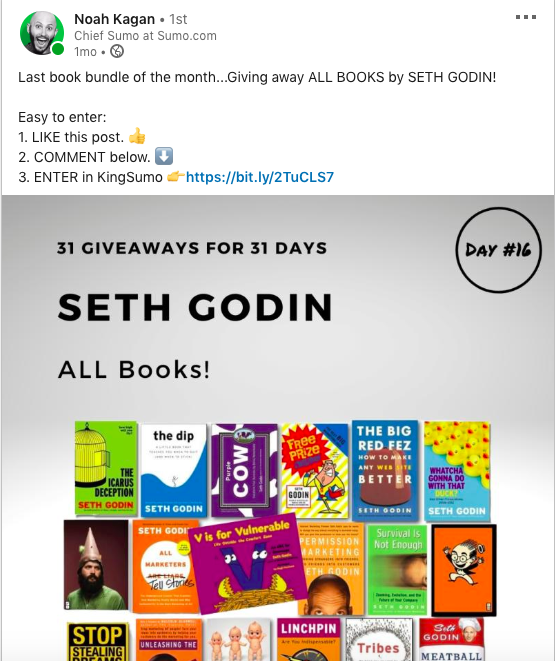 As a result, he generated hundreds of likes and about 30-100 comments per post:


While these engagement numbers might not be as high as some contests, it helps keep his fanbase active and looking at his posts. The giveaway prizes (such as Tim Ferriss' and Ryan Holiday's books) were targeted at people who were a good fit with his brand, rather than just generating random likes from the public.
Dive Deeper:
* Putting Together a Social Media Team for Your Brand
* 10-Step Checklist to Digital Branding for SMBs
* How to Boost Your Website Traffic with a Giveaway
* Word-of-Mouth Marketing — What Is It and How Do You Do It?

7) Helps You Build a Personal Brand
Regardless of whether your business is B2B or B2C, building a personal brand can be valuable. In marketing, experts like Neil Patel, Rand Fishkin and Larry Kim all leverage social media to grow their brand.
Check out the regular engagement that Neil gets on his LinkedIn posts: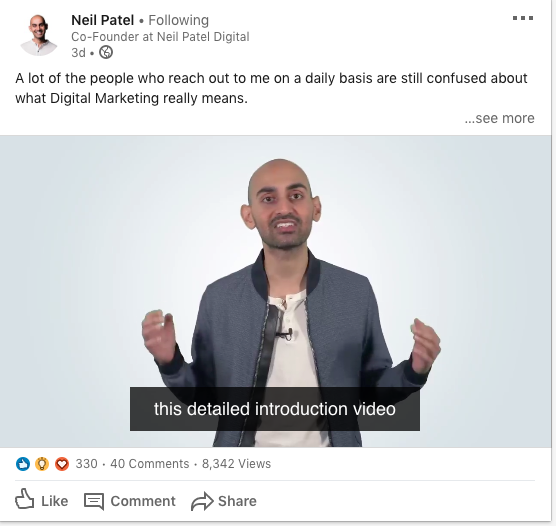 Most of Neil's content are educational videos. He presents potentially complicated concepts in simple, easy-to-understand formats that anyone can take actionable tips from. He also posts very consistently with about 4-6 posts per week. On LinkedIn, he always posts more videos than text-based posts, probably because this platform prefers to show video and live content over text-based content.
As you're trying to increase engagement and build a loyal following, don't forget to respond to comments on your posts: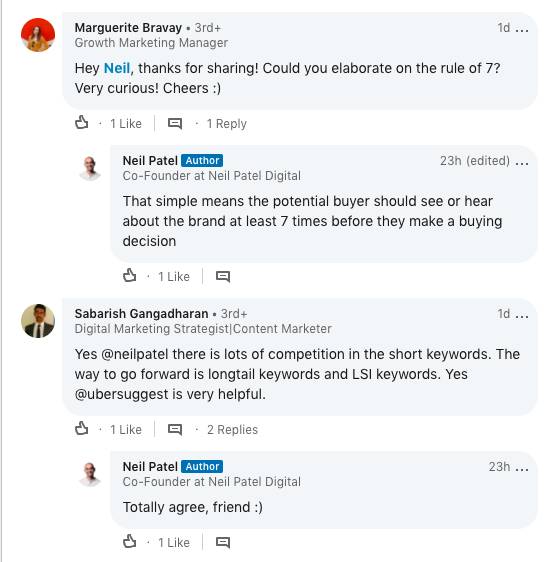 Even if you're using a scheduling tool like Buffer, make sure that you still check on your posts once they're live.
If you check out Neil's Twitter feed, you see that almost all of his posts are short motivational quotes with some links mixed in: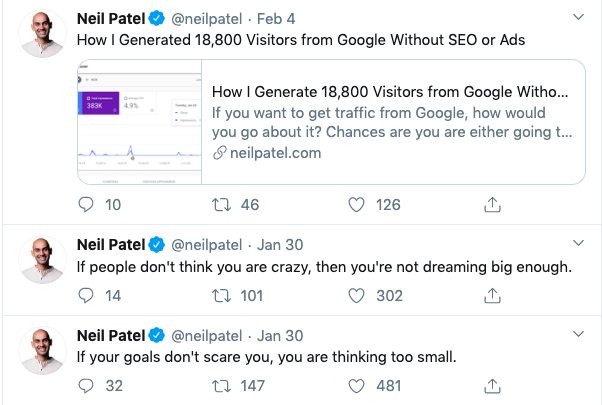 These short quotes are a great way to generate engagement and keep his brand top-of-mind.
Larry Kim does similar Twitter posts, only his motivational quotes are usually in the form of a meme or image such as this one: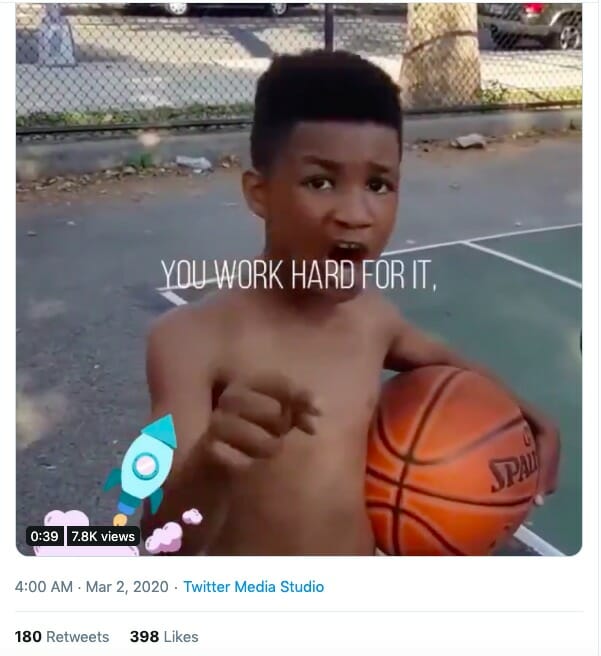 So experiment with different content formats for each social channel and be sure to post natively to that channel. Not all channels want the same types of content.
Notice also that almost all influencers are omnipresent when building their personal brands. Make sure that you have accounts across all relevant social channels for your business and that you post on a consistent schedule.
8) Helps You Gauge Audience Feedback
After launching a new product or service, the first thing you want to know is how people perceive your new launch. Is the product easy to use? Is it missing any important features? Did you list it at a good price point?
While it's not uncommon to have complaints from people who don't even buy, social media is a great way to start a conversation with your audience and gauge their satisfaction.
Below is a great example of some comments that helped Neil gauge customer satisfaction for some new features he's releasing: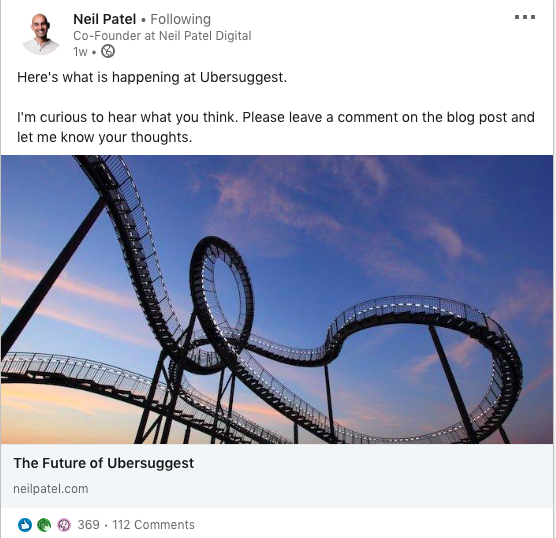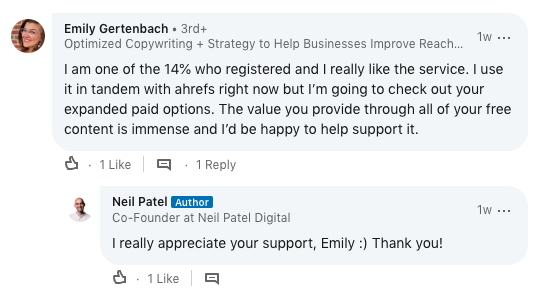 If you're about to release a new product feature, you can also ask your audience for suggestions or to test it out before launching it. Here's an example from Noah Kagan prior to launching his Shopify product: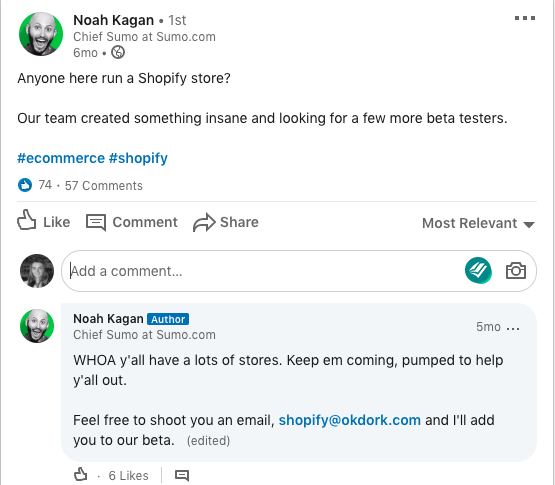 Make sure that after you ask for feedback, you take the time to respond to your customers. You don't have to implement everything they say, but do respond and explain why you can or can't do something. This helps keep up your engagement as well.
Where You Should Start
Now that you've seen several excellent examples of how social media can impact a business's growth, it's time to start implementing these tips.
If you already have social accounts set up on all relevant platforms, take a look at your posting schedule. Are you posting several times per week? Try also testing a mix of written posts, live videos and prerecorded videos.
You might even want to test a collaboration with a bigger industry influencer or periodically post links to onsite content, where you can more accurately assess user engagement. Post each one natively to the platform for maximum impact and respond to your user's comments.
Your social following won't take off overnight, but the long-term payoff is well worth the effort. The key is to stay consistent and don't give up!