Instagram Stories Ads provide you with a unique and new way to engage with your customers and your target market.
Fashion brand Ralph Lauren was able to increase sales by 18% by reaching millennials with the help of Instagram Stories Ads. Moreover, they were able to increase product page views by 41% among the Gen Z audience:

 Restaurant reservation service Dineout was able to decrease its cost per app install by 17% and decrease its cost per purchase by 39% using these ads:

With over 500 million daily active Stories users worldwide, your brand should definitely take advantage of Stories ads to improve your branding and raise sales: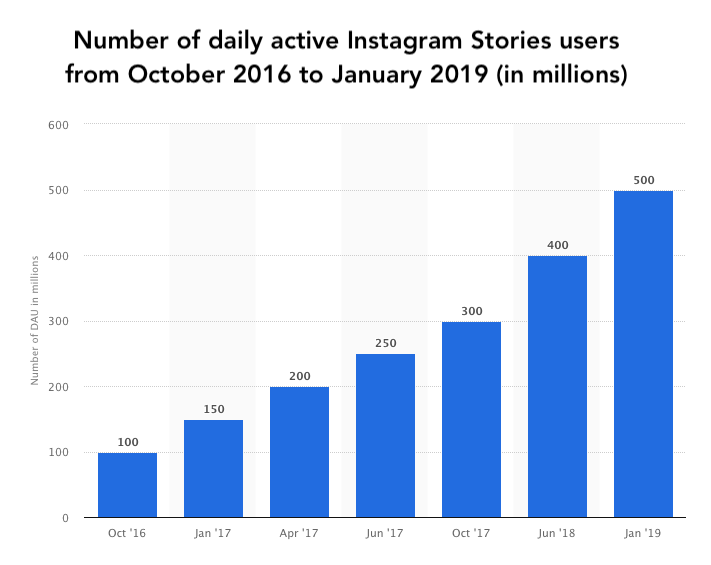 Let's take a look at how you can use them to develop your brand.
What Are Instagram Stories Ads?
For those on a social media diet, Instagram Stories are 24-hour, self-destructing video and photo streams, similar to Snapchat stories. Once a user starts watching the stories of people they follow, the videos automatically play one after another until they're all caught up or decide to swipe out.
Instagram Stories Ads allow you to insert a short advertisement between users' stories. The ads fit the format of a story, keeping the user experience consistent and the flow uninterrupted. Here is an example of an Instagram Stories image ad: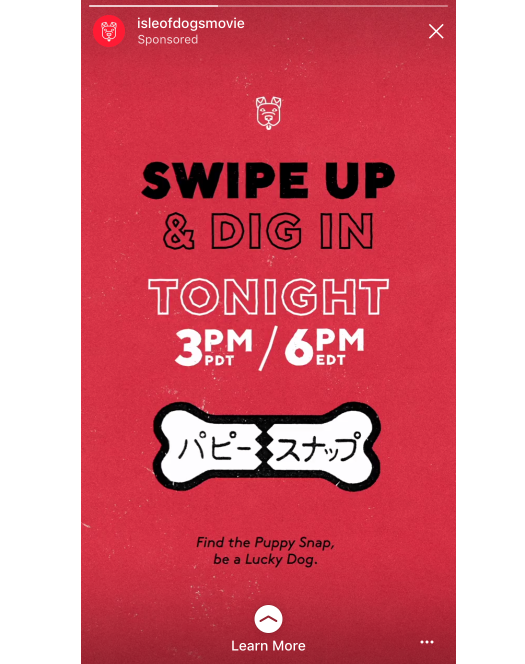 The ad can be composed of either a single photo or a video up to 15 seconds long and can be used to target various business objectives, from brand awareness to website sales.
Here is a Louis Vuitton video ad example: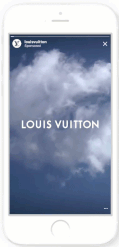 Like any Instagram Story, ads are easily skippable with a tap on the screen. In order to take advantage of your placement, you'll need to create a compelling and attention-grabbing advertisement.
Learn More:
Creating Your Instagram Stories Ad
To create a successful Instagram Stories Ad that stands out from the competition, follow these essentials points:
Quality Images or Video
It's important that you catch the viewer's attention immediately, so the first thing you need to do to create a strong impression quickly is to use only high-quality media whether you opt for photo or video.
If you go with a photo ad, make sure that you use a bright, bold photo with clear branding and simple messaging. The user should know who you are, what you do, and how you can help them quickly before the ad runs out.
Be sure to follow the proper specifications for your images and videos to ensure that your ads run optimally in Stories.
Image:
Aspect ratios: 9:16 and 4:5 to 1.91:1
Maximum duration: 5 secs
Maximum file size: 30 MB
Supported image types: .jpg, .png
Recommended resolution: 1,080 x 1,920 pixels
Minimum resolution: 600 x 1067 pixels
Video ratios: 9:16 and 16:9 to 4:5
Video File Size: 4GB Max
Video Length: 1 to 60 seconds
Video Captions: Not available
Video Sound: Optional
Video thumbnail images that consist of more than 20% text may experience reduced delivery.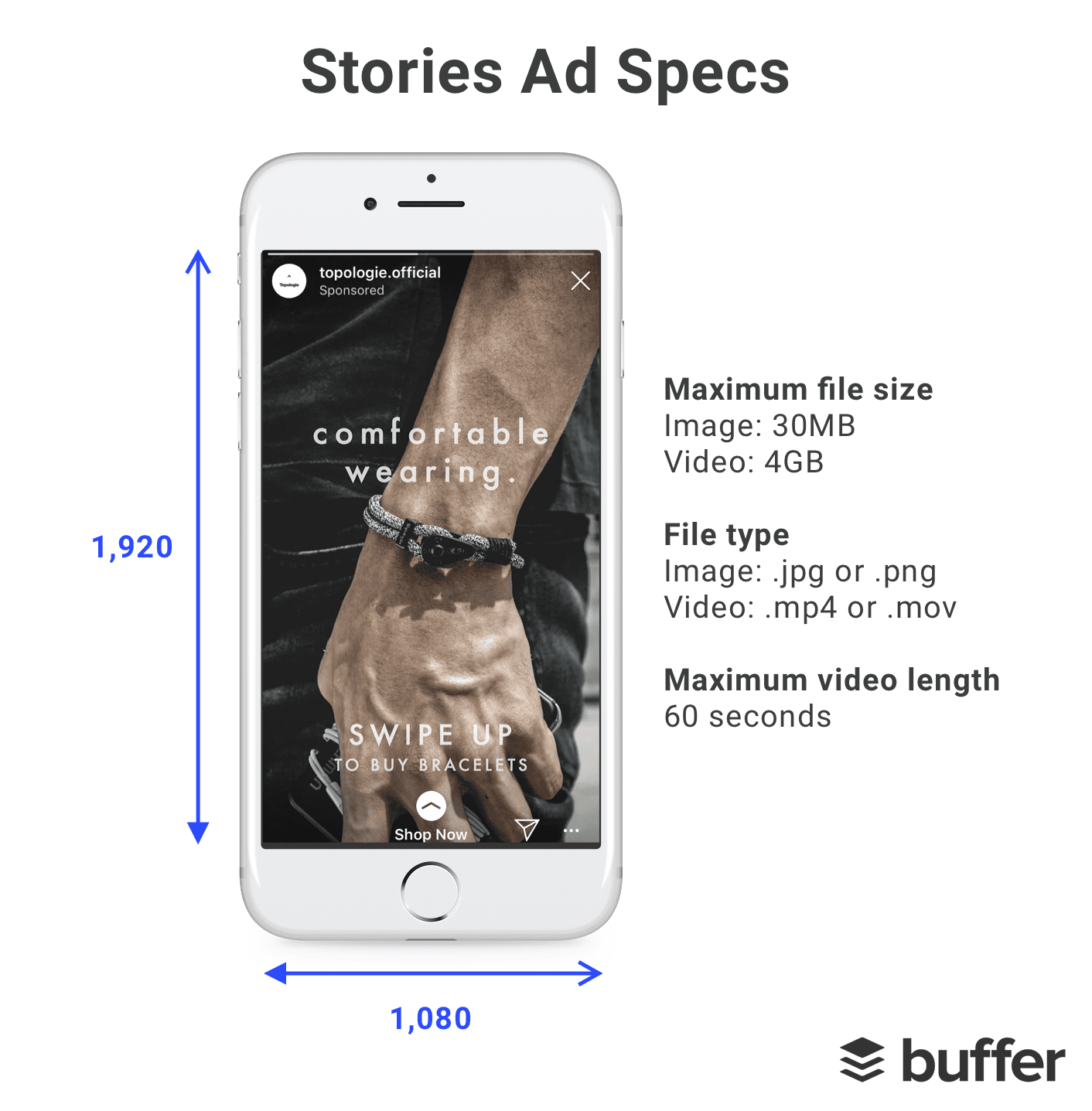 Those First Few Seconds: Make It Memorable
Photo ads only last 5 seconds and video ads last up to 15 seconds. Users won't be able to return to them later, so it's important that they grasp the message of your ad in the first few seconds so they can decide to take action or follow up for more information.
The below ad from Saint Chic does a good job of grabbing the attention of the user almost immediately: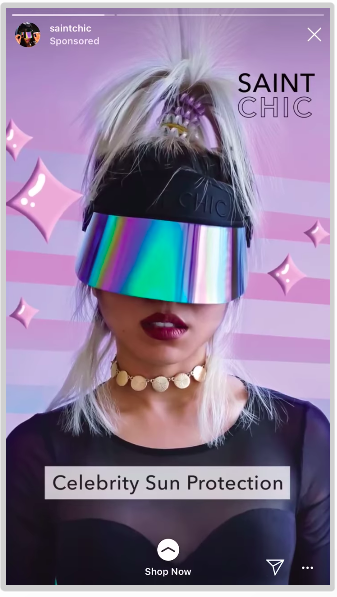 You must interest the user with strong visuals (Saint Chic's unique apparel, like this "Paparazzi Visor"), engage them with clear messaging ("Celebrity Sun Protection"), and then spur the user into action ("Shop Now").
The below ad from Nykaa, a cosmetics brand, presents a common question that many women ask and then two answers, both of which lead to the CTA "Swipe Up To Shop". This campaign was initiated for generating website clicks and does a great job engaging the user and persuading them to take action: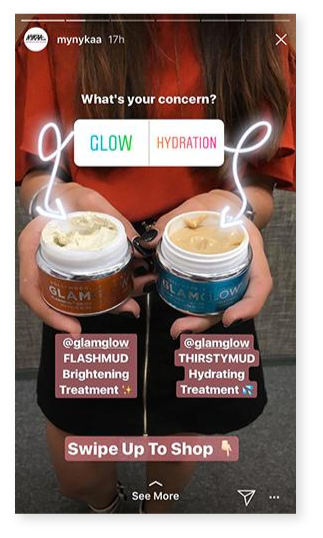 Fashion brand Express uses Instagram Stories image ads to announce sales and discounts – a surefire way of standing out and making it easy for people to head to your website or e-commerce store to take advantage of your deals: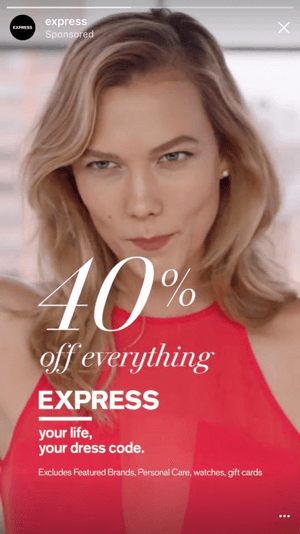 If you use video instead, keep in mind that you aren't allowed to use any supporting sales copy, titles, etc. – so your video needs to be 100% self explanatory.
Once again, make sure that customers know who you are, what you do and how you can help them. In the case of a video, it's especially important to keep the audience entertained or interested so that they watch until the end, like this Red Bull advertisement for their "Flying Illusion Show". They use awe-inspiring breakdancers shot in an exciting way: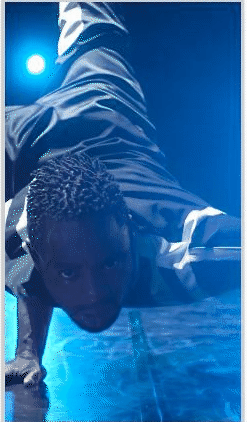 Learn More:
Connect Your Instagram to Facebook Ad Manager
If you've never run Instagram Ads before, you'll have to start by connecting your account to your Facebook page. If you've already done this, just skip ahead to the next section.
First, navigate to your Facebook Business Page.
Click on "Settings."
From there, click on "Instagram."
Then, click on the "Log in" button.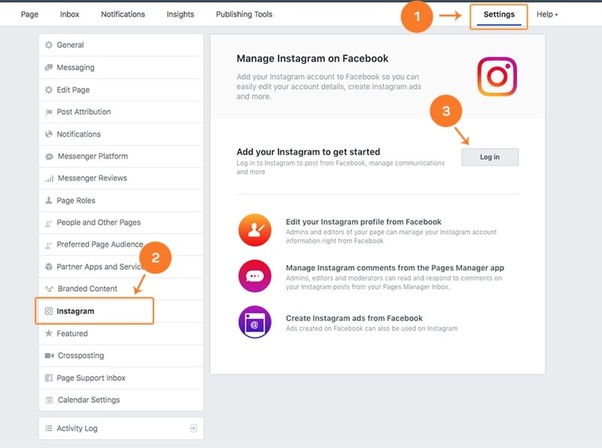 Log in to your Instagram account, or create a new account if you don't have one.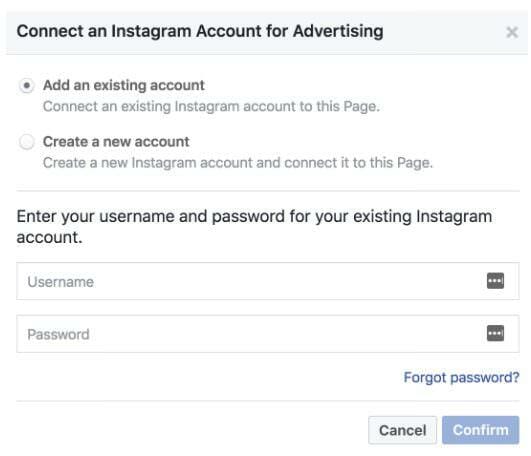 Then, click on the "Confirm" button.
If you linked the account successfully, it should look like this:
And you're set! You can now create Instagram Stories Ads for your business!
Creating Your Instagram Stories Ad
Once your account is set up, it's time to create your ad.
Step 1: Go to Facebook Ads Manager and click the green Create button.
Step 2: Choose an objective for your campaign. There are 11 ad objectives broken down into three main categories that you can choose for creating your Instagram Stories ad: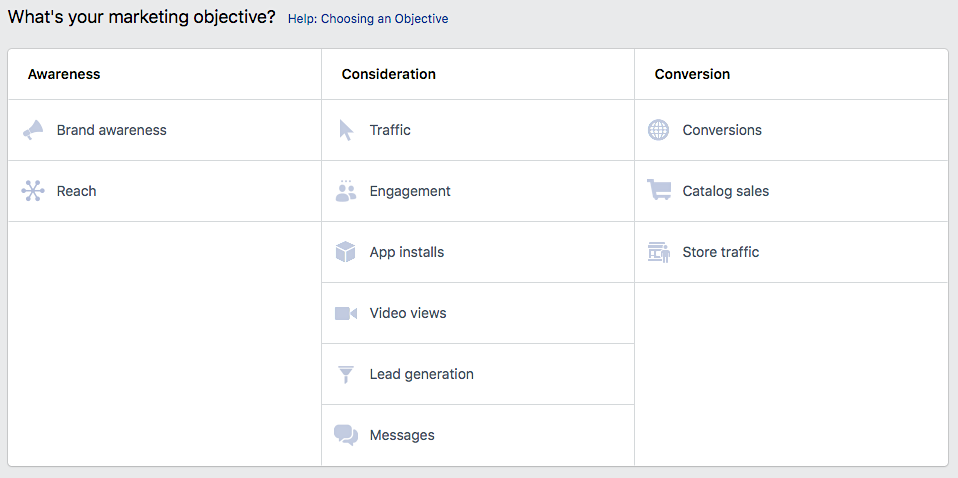 Awareness
Consideration

Traffic
Engagement
App Installs
Video Views
Lead Generation
Messages

Conversion

Conversions
Catalog Sales
Store Traffic
Step 3: Name your campaign and define your audience.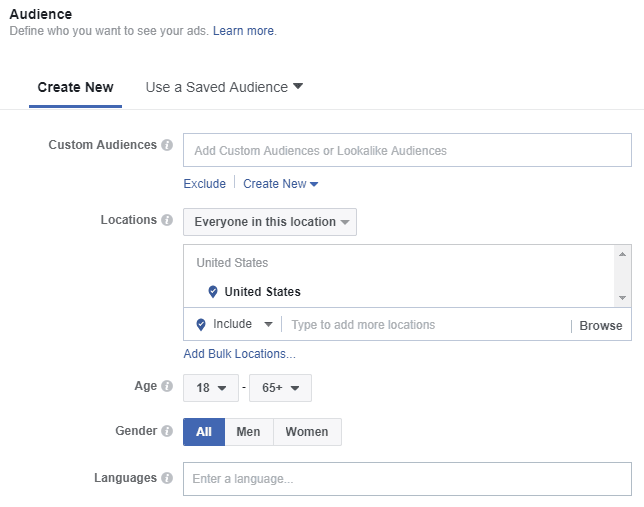 Step 4: At the placement level, choose "Edit placements". Now, click on "Instagram" and then check the box for "Stories".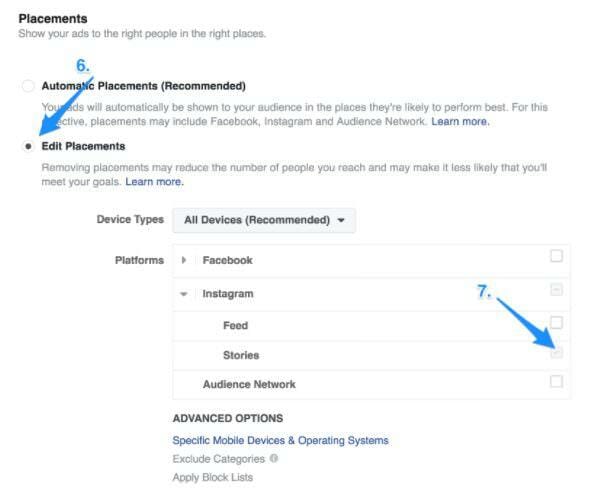 Note: once you select Instagram Stories, all other options will become grayed out. You cannot use multiple placements for these types of ads.
Step 5: Choose your audience. Just like any Facebook ad, you can use or create any new, custom, saved or lookalike audience.
Step 6: Set up your budget and schedule.
Step 7: Select what page will represent the advertisement.

This will be the name that people see while your ad is playing. You can either use one of your Facebook pages or your Instagram account.
Step 8: Select the Ad format.

If you select photo, you'll be able to create up to six different ads with one photo each. You can only create one video ad at a time.
Step 9: Upload your media.

If you selected video, you'll also set the thumbnail: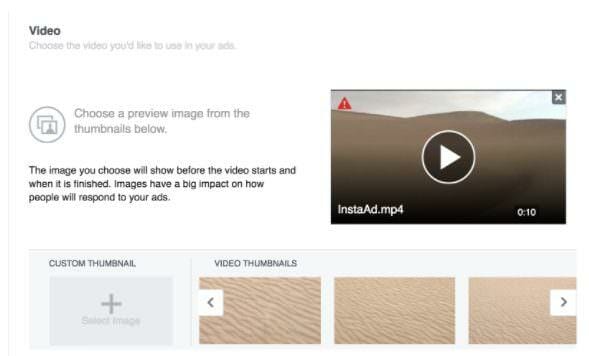 Step 10: Finish up by deciding how you want to track the campaign.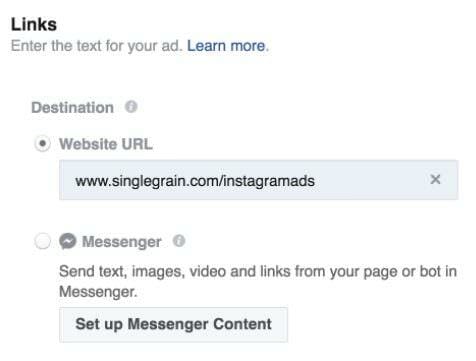 This section may look different based on your choice in step 2. Since we're targeting website traffic, we'll track success by people who visit our Instagram Ads landing page.
Step 11: Define your Call to Action.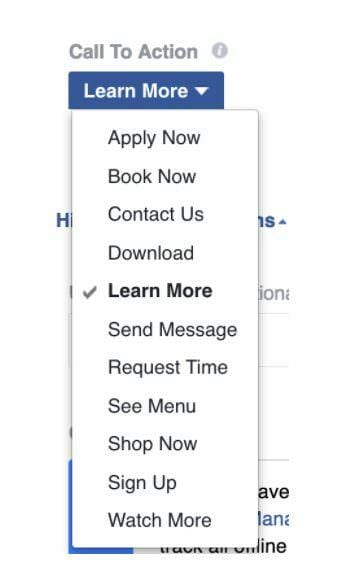 You can select from a list of triggers to encourage users to swipe up and engage with you.
Step 12: Review your order at the bottom and make sure everything looks good.
Step 13: Place your order!
Your ads will be set up and start appearing between users' Instagram Stories shortly.
Learn More:
How to Use Instagram Stories Ads
A) Drive Brand and Product Awareness
Launching a new product? Breaking into a new market? These ads provide a great way to quickly introduce your product to potential customers. Have a look at the below ad from Spotify that does amazingly well to make people aware of their product and drive engagement: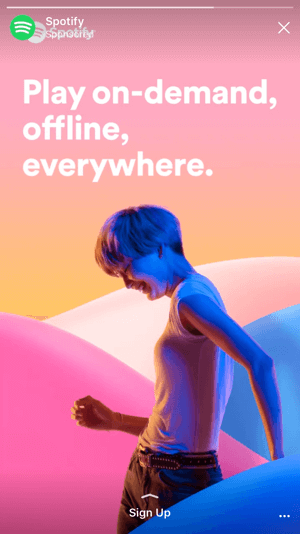 B) Announce Sales or Special Events
You don't need to reinvent the wheel for every media format. If your company has a special event or sale coming up, let your customers know! With the introduction of calls-to-action, you can now have customers swipe up and jump straight to your store.
In the below ad, French gourmet food producer Maille presents an offer to their audience which is both straightforward and exciting: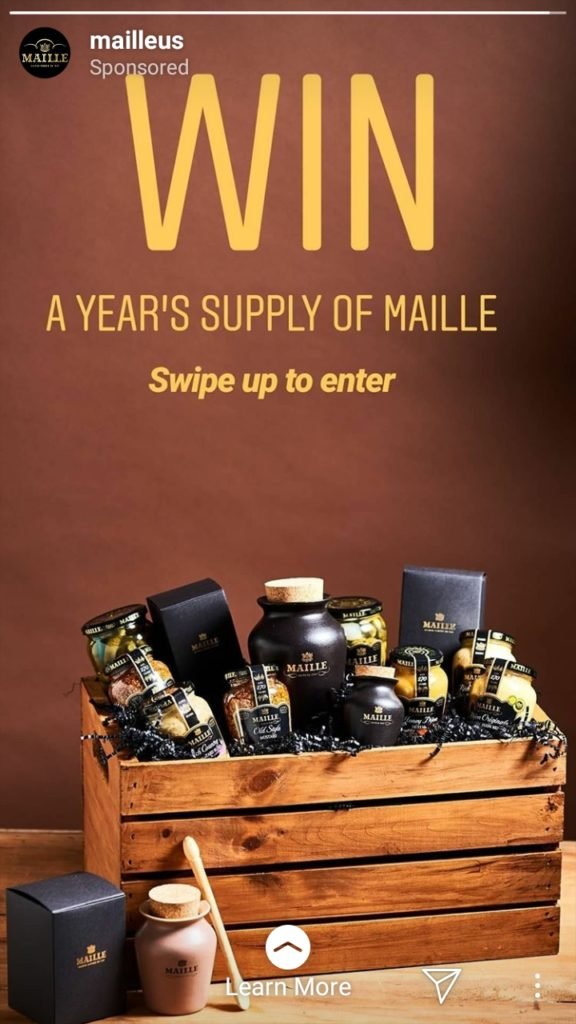 C) Start a Public Conversation
Prompt users to create and share their own content by starting an online dialogue with them. Ask them a question, throw down a challenge – anything to get them talking and sharing your brand with their followers – like this ad from Target: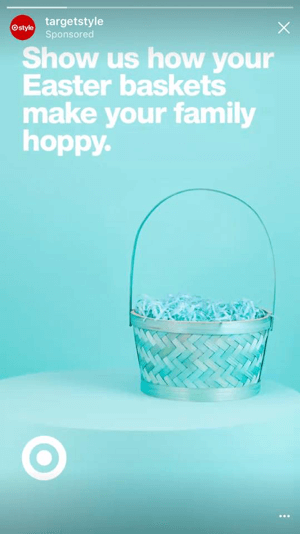 D) Start a Personal Conversation
Another angle is to prompt your users to open a live Facebook chat with you. This could be especially useful for companies that offer consulting services or sell big-ticket products that require a sales call. If your company is not staffed with an army of sales reps, consider using a Facebook Messenger Chatbot to schedule sales calls or collect their contact information.
E) Share Your Behind-the-Scenes Moments
Taking your fans on a "backstage" tour not only makes your brand more "human" and accessible, but it's just plain fun for people! Calvin Klein did exactly that when it gave Instagram users a sneak peek at Stranger Things' star Millie Bobby Brown's dress fitting for the 2018 Emmy Awards:
F) Retarget Customers
Since Instagram is linked up with Facebook, you can even use these ads to set up retargeting campaigns based on behavior tracked with your Facebook Pixel.
Retargeting is a key way for online sellers and service providers to boost marketing ROI and you shouldn't leave Instagram out of that equation.
Tips & Tricks to Create the Perfect Instagram Stories Ad
You definitely need to know a few tricks and tips to design the perfect Instagram Stories Ad. Here are some best practices to follow:
1) Design Native Ad Creatives
Your ad should match the look of the organic stories that Instagram users see every day. Keep in mind the vertical screen that most people will see your ad on, so don't create your ad for Facebook users, as they view the ad differently. Using a caption that is longer than 190 characters will be truncated and discourage people to swipe up your ad.
Have a look at the below ad that was created for Facebook users and adjusted for Instagram users: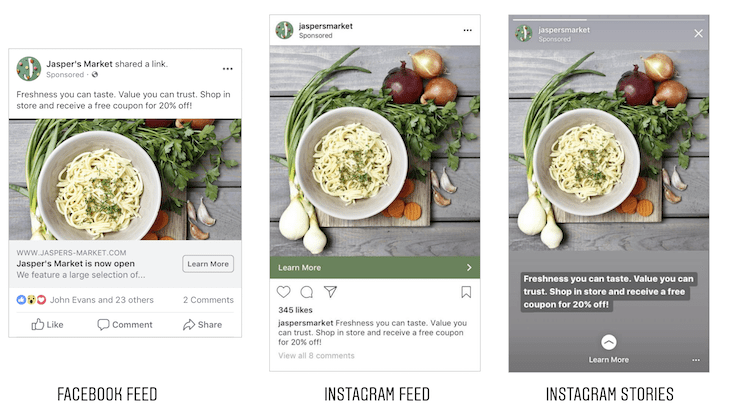 Does it look good to you? I bet you will swipe up on it!
Now, have a look at the same ad that was created specifically for Instagram users: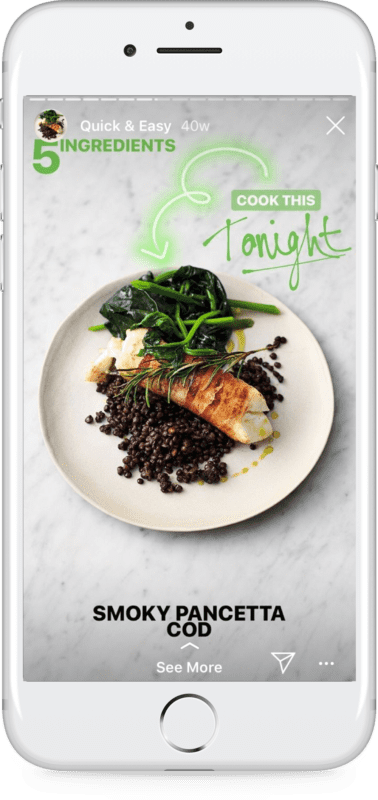 This ad looks amazing and resembles the organic stories on Instagram that you see every day – which is why you must design native ad creatives specifically for this platform. (Check out these free Instagram Story templates on Canva.)
2) Create a Sense of Exclusivity in Your Ads
People want things that are reserved for a few or that are in limited supply and high demand. This is human nature. We are always more interested in stuff that is scarce and don't take things as seriously when it is abundant and readily available. This is the law of exclusivity that you need to follow in your ads.
Establish a sense of missing out in your Instagram Stories Ads in a similar fashion as done by EA Sports: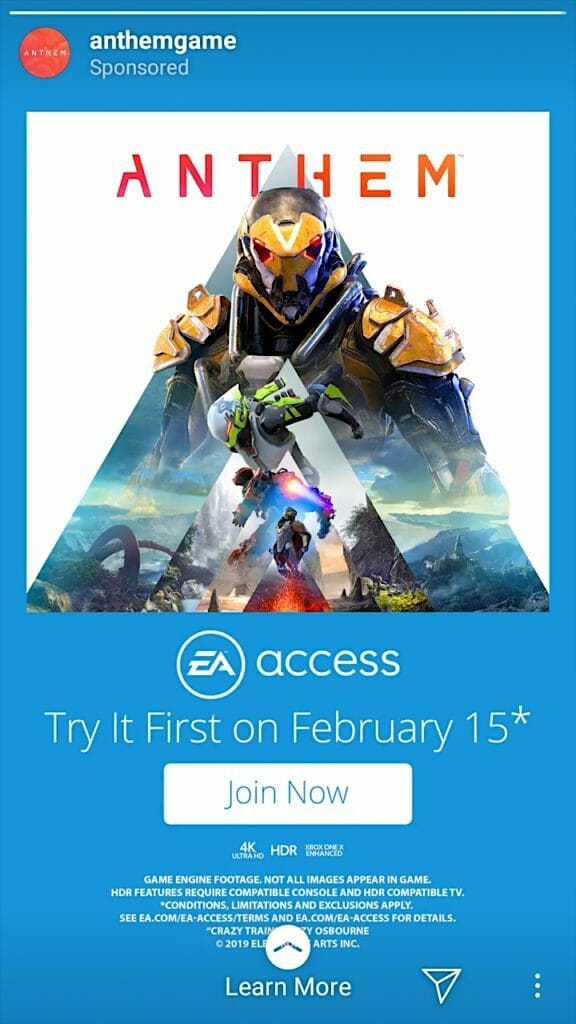 EA Sports used the Fear of Missing Out (FOMO) principle in this ad by giving Instagram users the unique and limited opportunity to be the first to try the new action role-playing game Anthem. It's exclusive and this ad persuades users to swipe up – before it's too late!
3) Think Outside of the Box
Anything that's unique is always appreciated. Take some time to think of a creative that's totally unique. Have a look at the below ad from Morning Brew that resembles a chat conversation from a customer and the business. It tells the customers what exactly needs to be done in order to sign up.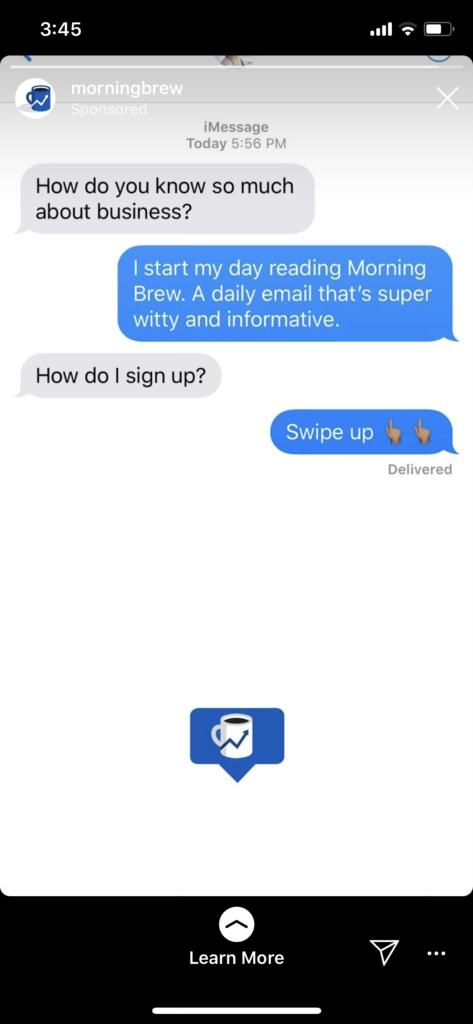 The ad is unique because it doesn't looks like an ad. It looks like a personal conversation, meaning that people find it to be more authentic and are therefore more likely to take action on it.
Learn More:
4) Use the Power of Influencers
Instagram users influencers. If your brand leverages the power of an influencer to attract your audience, then this can work like magic for you. Have a look at the below video ad from Wild Turkey that features actor Matthew McConaughey to attract their target audience: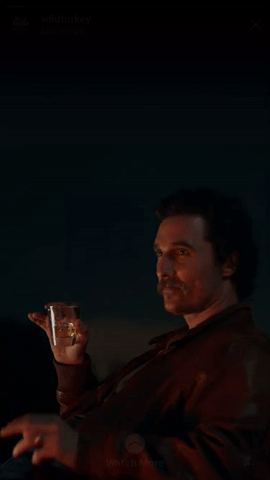 5) Grab the User's Attention in Half a Second
Successful advertisers grab the attention of their users in half a second. This is the reason you need to ensure that your design is unique and visually appealing.
Have a look at this ad from Chanel Beauty that does a great job at capturing the attention of the user the moment they see it: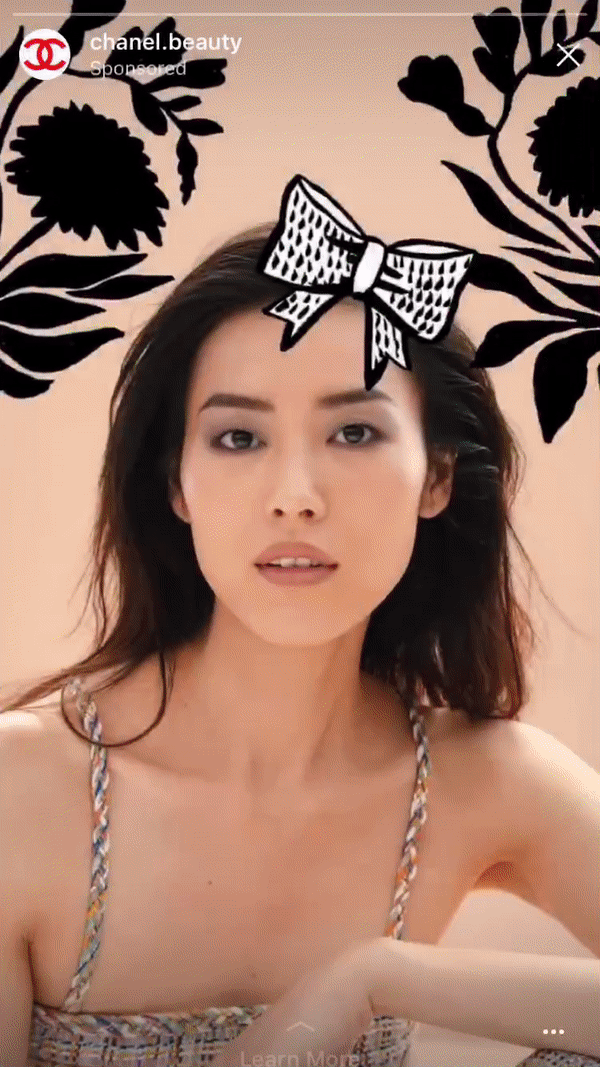 Conclusion
Instagram Stories Ads is a great way to connect with potential customers. It's one of the few formats that gives you the audience's complete attention and comes fully equipped with Facebook's mountain of demographic data.
You can manage these ads like any other Facebook or Instagram campaign from the same dashboard, making it easy to adopt and stay on top of. So what are you waiting for?